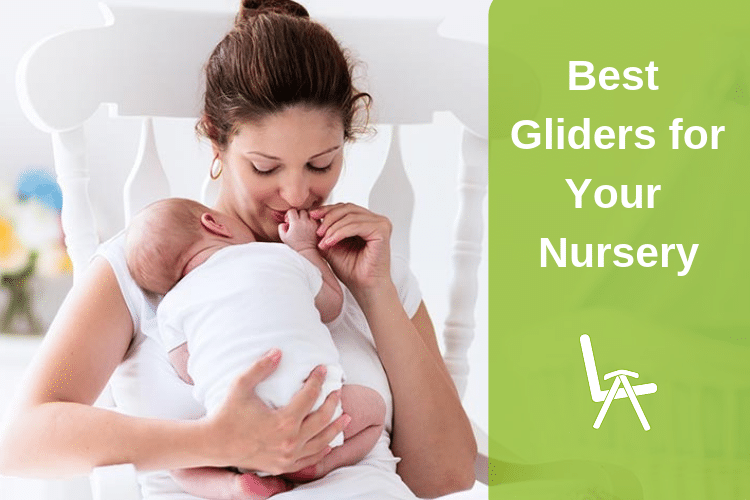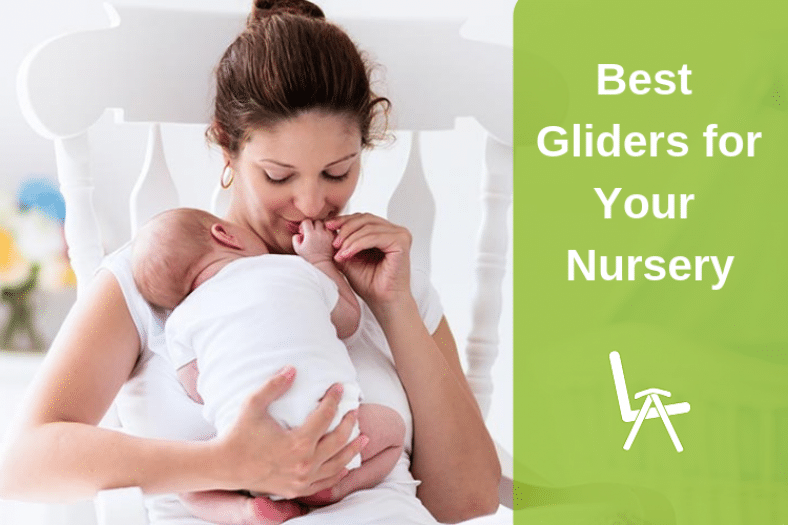 Does your baby prefer constant motion? Are you looking for a comfortable way to cuddle your baby to sleep? Do you get tired carrying your little one around and swaying them to sleep? The best glider is exactly what you need, and we can help!
Glider chairs are an excellent addition to any nursery or home with a baby. They can be extremely beneficial. The truth is that most babies do prefer continuous motion and it can often be the best way to settle or soothe a baby.
Babies are hard-wired to crave the motion of being carried as well as the closeness of their mother or other caregiver. The problem comes in that even a tiny newborn can start to feel very heavy when you're up swaying and walking with them for long periods of time. Gliders provide an amazing way to provide this important and comforting closeness and motion to your baby without completely wearing you out.
A great glider chair can make such a huge difference in your day-to-day life with a baby. I, honestly, don't know how we would have made it through the baby-stage with our kids without our glider! I'm even planning to upgrade to an even more comfy glider chair before this next baby arrives!
---
How do glider chairs work?
A glider chair works more similarly to a swing than an actual rocking chair. It is basically a chair connected to a stationary base using a system of bars and suspension that allow the chair to move smoothly above the base.
The result is a chair that swings back and forth in a way that simulates a motion similar to that of a rocking chair. The biggest difference in the motions of the different chairs is that glider chairs tend to be a little smoother and don't typically tilt as much. Instead, it moves forward and back.
Are glider chairs safe?
Glider chairs are certainly very safe. In fact, they're safer than rocking chairs. Due to the way rocking chairs move, it's easy for little hands and toes to get caught underneath base if the chair is rocking while your baby is moving around on the ground. This isn't an issue with glider chairs since the base of a glider stays in place.
Obviously, you wouldn't want to leave your little baby in a glider chair alone or allow them to sleep there if you are not actually holding them in the chair yourself. You'll also never want to nap with your baby in the glider. Sleeping with a baby in a chair or on a couch is exceptionally dangerous and should always be avoided for baby's safety.
Are glider chairs necessary?
Glider chairs are an important nursery addition that most parents would not want to go without. They are extremely helpful and beneficial for many reasons. They will provide an easy and comfortable way for you to effectively soothe your baby. They also help reduce strain on you while also allowing you to keep a continuous comforting motion going. Glider chairs also serve as an excellent place for you to feed your baby – especially for those middle-of-the-night feeding sessions!
How to Choose a Glider for Your Nursery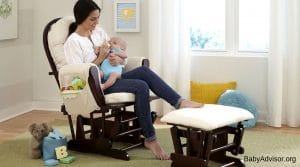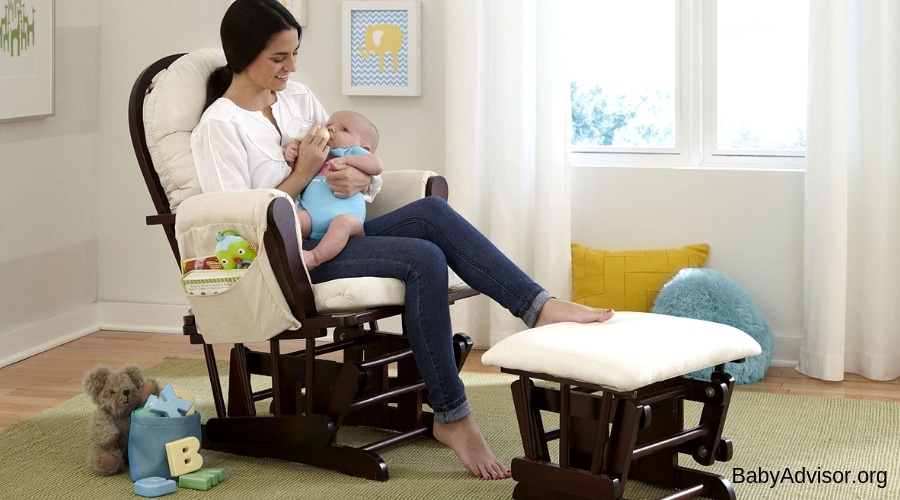 When it comes to shopping for a glider chair, you might be surprised to learn just how different some of your options are. I certainly was. I had always thought of glider chairs as looking and working in a very specific way. Before my first baby was born, I had no idea how many choices were available now! So, when shopping for your glider chair, you'll want to be on the lookout for a few specific things.
You may like to read more about The Best Baby Walker.
Lots of glider chairs include an ottoman, but some do not. This can be a determining factor for some parents while others don't care one way or another. The benefit of an ottoman is that you can put your feet up while using the chair and that it actually makes it that much easier to propel yourself for gliding back and forth.
Some people prefer to keep their feet on the ground, though. Not having an ottoman can also save space which may be an important consideration for anyone with less space to spare. If you do choose an option with an ottoman, you'll also want to think about a stationary ottoman versus a gliding one. Some ottomans are designed to glide along with your glider chair while some simply stay in place.
Another big factor with glider chairs is if they are able to swivel in addition to the back and forth gliding motion. There are more and more swivel glider options available now and you'll have to decide if this is something you want. Many times, swivel gliders are more expensive. However, the swiveling motion does add an extra element of motion that may show beneficial to soothing baby as well as remaining comfortable yourself.
Most glider chairs have some upholstery, but the amount varies. Some glider chairs have cushioning with exposed wooden frames while some chairs are fully upholstered. This effects the style more than anything. Although, fully upholstered options are often padded thicker for increased comfort.
The details of the upholstery are also something to consider when it comes to style. Some options are very simple without any special details. This can be nice if you want something more minimalistic. Other choices have special details like button tufting and welt trim for more elegance and formality.
You'll also often have choices when it comes to the color of your upholstery. Common colors are greys, beiges, and other neutral colors. If you want something more specific, there are some options with lots of color choices available.
Beyond the basics, there are a lot of glider chairs that have more specific special features. This can definitely make a big difference in value and help you choose what glider is best for your nursery or home.
One special feature you will come across in some gliders is the ability to recline. Reclining gliders do not include ottomans because they provide built-in leg support whenever you want it without taking up extra space when you don't need it. Other special features can be things like storage pockets on the side, removable cushions, and included lumbar support pillows.
Our Picks: 8 Best Gliders Reviews
1

Baby Relax Mikayla – Best Glider Recliner
Features:
Recliner
3 functional positions
Grey microfiber
Welt trim
Button tufting
Swivel glider
Track arm design
Check Pricing and Availability
For a high-quality and super comfortable glider, you can't go wrong with Baby Relax. This chair in particular is the Baby Relax Mikayla and is our top pick for the best glider recliner!
The reclining feature is what really sets this glider apart. Lots of gliders out there come with an ottoman, but options that actually recline are not nearly as common. That makes this a slightly more unique choice with special benefits. It gives a good place to prop up your legs when you want to without taking up extra space in the room or ever being in the way when it's not needed like an ottoman could be.
This Baby Relax reclining glider chair comes in a nice grey microfiber design. It is easy to care for, super comfortable, and matches virtually anything. Careful details like the welt trim and button tufting add dimension to the chair and bring together the aesthetics nicely. The track arms add extra comfort for you while also adding to the overall look of the chair!
3 Functional Positions:

Another cool thing about this glider recliner is that it works in 3 different positions! You can choose to keep it in the default setting without using the recline function at all or choose between two different reclining modes! Either you can have the foot-rest just partially lifted up for leg support, or you can fully recline the entire glider into a position where you can comfortably lay all the way back with your feet up as well!

While this isn't quite the most expensive glider chair that we've reviewed, it is still relatively pricey. The fact that it is super high-quality, has a beautiful design, and reclines increase the value, though. So, while it won't be in everyone's price range, it is still well-worth the purchase if this is the type of chair you're after!

PROS:
Ability to recline provides optional leg support without taking up more room space
Swivel gliding motion provides added versatility and comfort
Grey microfiber matches well with almost any color scheme
Welt trim and button tufting provide elegant details for a good overall aesthetic
CONS:
Relatively expensive option
This is a really nice glider option and certainly the best reclining glider out there. It costs a little more than a lot of choices but is still reasonable considering the high quality and unique features. It works well and looks amazing too!
2
Storkcraft Hoop Glider and Ottoman Set – Best Nursery Glider
Features:
Ottoman set
Gliding ottoman
Cherry wood finish
Beige upholstery
Side pockets
Button tufting
Check Pricing and Availability
Storkcraft is a name you'll find more than once in our glider recommendations due to an impressive array of well-made glider chairs. This is the Storcraft Hoop Glider and Ottoman Set! It's our pick for the overall best nursery glider!
This glider option has a much more classic take on the design. It has the construction and appearance that most people think of with a traditional glider. The high-quality wooden frame has a lovely cherry finish that is accented perfectly by your choice of either warm-tone beige or cool-tone beige cushions and upholstery.
The cushions cover the seat, back, and arms of the chair for maximum comfort. This is also a glider and ottoman set! The matching ottoman is also upholstered with a comfortable cushion for increased comfort. One of the coolest things about his particular ottoman is that it also features a gliding motion to allow you to easily continue gliding even with your legs up.
Side Pockets:

Here is one of my personal favorite features on this Storkcraft glider! It has helpful, built-in side pockets. The side pockets are super convenient and give you the perfect place to put anything you might need while comforting and soothing your baby. You can keep toys, teething rings, pacifiers, small blankets, books, or anything else you may want right in the side pockets of the glider for easy access when you most need them.

The one thing that some parents do complain about with the Storkcraft Hoop Glider is that overtime, the cushions start to flatten out. This reduces the overall comfort of the chair. However, it can be expected with an option as affordable as this one.

PROS:
Classic, neutral colors go well with a wide variety of color schemes and décor
Included ottoman adds impressive value to an already affordable glider
Soft cushioning and upholstery add extra comfort
Side pockets provide convenient storage
CONS:
Cushioning tends to flatten out over time
This is a great, more traditional glider option that is convenient, comfortable, and even very affordable! We love that it comes with a gliding ottoman and convenient side pockets!
3
DaVinci Olive Swivel Glider – Best Swivel Glider Chair
Features:
Modern design
Swivel glider
Lumbar support pillow
Stationary ottoman
Multiple color options
Check Pricing and Availability
The clean lines and modern design of this glider chair make it a very attractive option that will fit well with almost any décor. What we really love about the DaVinci Olive Swivel Glider, though, is the swivel motion! That's exactly why it's our top pick for the best swivel glider chair.
Sometimes just gliding back and forth isn't good enough to calm a fussing baby, that's where the swivel motion comes in handy. The swivel motion gives you much more freedom in how you're able to move in the glider chair. You can swivel side to side as well as rock back and forth. All the motions are very smooth and easy in this swivel glider.
This is another ottoman set as well! The included ottoman features the same clean and modern design as the chair itself. The only problem you may have is that the ottoman is completely stationary. Some ottomans glide the same way their chair counterparts do, but this is not one of those. Many people won't be bothered by this, but it could be an issue for some.
Lumbar Support:

Another bonus of this great swivel glider is that it also includes a special pillow for good lumbar support. The pillow is the perfect size, shape, and firmness to properly support your lower back. This is extremely beneficial when you're up rocking baby all hours of the night as you can get sore from doing so. The pillow helps provide optimal support to reduce stress on your body. That way it's easier for you to focus on that precious baby!

It is no surprise that this incredible glider is actually the pricest option of those that we've reviewed. It's about twice the price of the previously listed Storkcraft option. Of course, it is very high-quality, looks absolutely stunning, and features the unbeatable swivel option with the bonus of a lumbar support pillow.

PROS:
Swivel motion gives you much more freedom and versatility
Includes upholstered ottoman
Modern design is sleek and attractive
Lumbar support pillow provides optimal lower back support
Multiple color options help you find the perfect fit for your nursery
CONS:
High price compared to other options
Ottoman is stationary
There is no doubt that this is an amazing option of glider chair for your nursery. It is super sleek and attractive, versatile, comfortable, and very well-made. It's absolutely worth the money if this is a look you are going for!
4
Babyletto Madison – Best Modern Glider
Features:
Metal frame
Modern design
Rounded back
Microsuede fabric
Swivel glider
Small footprint
  Check Pricing and Availability
Here we have our pick for the best modern glider! This clever glider is very unique compared to almost any other option out there. It even varies a good bit in design from most other more modern glider options. It's the Madison Swivel Glider from Babyletto!
This swivel glider features smooth and clean lines on a simply designed chair with a rounded back. The back flows smoothly down into the comfortable arms of the chair. You have your choice between 3 different neutral colors. You can choose Ecru – a sharp, clean, off-white color; mocha – a rich and cozy brown; or slate – a stony, medium grey.
In addition to looking fantastic, this chair is highly functional thanks to the swivel ability. Just like the DaVinci glider we reviewed, this option moves very freely. It can rotate a full 360 degrees in addition to providing that sooth back and forth gliding motion. It also happens to have a smaller footprint as to take up less space.
Microsuede:

This little glider chair is made with a metal frame for increased durability and longevity. The especially nice part is that it is upholstered with a clever microsuede fabric. This fabric is both water-resistant and stain-resistant. These are two things that are extremely beneficial when it comes to little babies and will be even more helpful as your little one grows into an even messier toddler!

There is no ottoman or recline option with this glider chair. That does mean that it lacks any kind of leg support, which may be an important feature to some families.

PROS:
Modern design is extremely stylish while remaining nice and simple
Rounded back is unique and comfortable
Microsuede fabric is both soft as well as water- and stain-resistant
Metal frame increases durability
CONS:
No ottoman or other leg support options
This is one of my absolute favorite glider chairs and we are strongly considering purchasing this before baby #3 gets here. It is so nice-looking, isn't too expensive, and has the clever microsuede fabric to help keep it looking good for years to come!
5
Storkcraft Tuscany – Best Glider for Petite Moms
Features:
Multiple wood finish options
Multiple upholstery color options
Included ottoman
Gliding ottoman
Sleigh design
Included lumbar support pillow
Check Pricing and Availability
If you're on the shorter end like I am, you'll understand that most chairs are just not made for adults of smaller stature. I really don't come across a lot of chairs that I legitimately fit well into. That's why we have chosen the Storkcraft Tuscany as the best glider for petite moms (and dads)!
There are a couple of different factors that we took into consideration that helped us land on this incredible glider chair as the best option for petite parents. First of all, it is a bit shorter than most recliners, which definitely makes a big difference. This is helpful for shorter people and still works as a great option for average-height folks as well.
The other really helpful thing is that just like the DaVinci glider, this option from Storkcraft includes a lumbar support pillow. This doesn't just provide better back support, but also puts a cushion between you and the back of the chair. That extra space keeps you a little closer to the front of the chair – which makes it easier for petite moms to get up and down from the glider!
Highly Customizable:

This is easily the most customizable option on our glider guide! When you purchase this glider, you'll have the choice between 5 different wood finishes including cherry, white, and black! Then you'll have even more options of what color upholstery you want. The upholstery colors include pink, blue, grey, brown, and more!

Just like with our previous Storkcraft glider option, the cushions on this one will likely become slowly less comfortable over time. This does seem to take a long time, though. It's also a pretty affordable option, so it makes sense that it might not last as long as some of the pricier choices.

PROS:
Slightly shorter seat is great for petite parents
Tons of color options and wood finish options make this a highly customizable choice
Sleigh design is classic and goes well with any style
Lumbar support pillow helps provide optimal lower back support
Included ottoman glides along with the actual glider
CONS:
Cushions can become somewhat flattened over time
If you're one of the shorter moms or dads out there like I am, you'll appreciate this awesome glider chair. It's much more comfortable and easier to use for anyone that's on the petite side and has other great benefits as well like being highly customizable!
6
Windsor Glider and Ottoman – Best Budget Glider
Features:
Included ottoman
Gliding ottoman
Storage pockets
Multiple color options
Wooden frame
Removable cushions
Check Pricing and Availability
If you are on a tighter budget for your glider chair, this option from Windsor is ideal! This is a simple, yet very high-quality option that also happens to be the least expensive option on our entire list of glider recommendations! That's why we have chosen it as the best budget glider!
This is another simply designed glider chair with that traditional glider look. Its classic design is timeless and will work great in any nursery. You can even choose from a variety of different finishes and upholstery colors to help match your specific taste or theme.
The fact that this is another glider and ottoman set adds even more value to it as the best budget glider. The included ottoman glides right along with the glider for smooth comfort. The sides of the glider also include convenient storage pockets perfect for pacifiers, small blankets, toys, and more!
Removable Cushions:

Something that you get with this Windsor glider that not all similar gliders feature are the removable cushions! Since you can easily take these cushions off, they couldn't be easier to effectively spot clean anytime you have a mess to clean up. Since messes happen often with little ones, this can be a very helpful feature that makes care so much easier!

The only real downside with this option is that it does tend to be squeaky. Most people don't have a severe problem with squeaking, but some noise is fairly common.

PROS:
Super affordable price works great for anyone on a budget
Included ottoman glides along with the seat
Side pockets provide convenient storage
Multiple color options and classic design go well in any nursery
CONS:
Some people experience a squeaking sound during gliding
This isn't the fanciest glider in the world, but it is a decent quality that looks nice and has great convenience factors. The best part is, of course, that it is extremely affordable!
7
Delta Children Emerson – Best Glider Chair for Living Room
Features:
Arm chair design
Whisper quiet
Welt trim
Button tufting
Swivel motion
Fully upholstered
Thick padding
Check Pricing and Availability
Glider chairs are an excellent addition to any nursery, but some people will prefer their glider in a more common area like the living room! That's actually how we prefer it, so that its easy to cuddle your baby during nap time while also still spending time with the rest of the family! If you think you would rather have your glider in the living room, you'll want to consider the Delta Children Emerson glider – our pick for the best glider for living room!
This is such an excellent glider option for common areas like living rooms because of its appearance. This glider looks like a normal arm chair that you might find in any living room. It goes great with almost any décor and style. You can even choose it in 2 different neutral colors – dove grey or beige! Details like the welt trim and button tufting really give it an elegant look perfect for your living area. The thick padding adds even more style and lots of comfort to this awesome glider!
Super Quiet:

Something else that you'll appreciate about the Delta Children Emerson glider is how quiet it is! The designers at Delta Children worked tirelessly to carefully design this glider chair in a way that would allow it to glide ultra-smooth with virtually no sound at all.

This is one of the few gliders that we included in our recommendations that does not come with an ottoman and also does not recline. So, this glider will not provide any type of leg support if that's something that is important to you.

PROS:
Super quiet design won't disturb anyone including baby
Full upholstery and armchair design make it fit perfectly into a more common area
Swivel gliding motion provides good freedom of movement
Welt trim and button tufting add style and elegance
CONS:
Does not recline or include ottoman
This is a nice glider chair as long as you don't mind not having a leg support option. It is high-quality, super quiet, glides and swivels smoothly, and goes perfectly in any area of the home including the living room!
8
Delta Children Upholstered Swivel Glider – Best Glider for Small Nursery
Features:
Swivel motion
Fully upholstered
Multiple color choices
Steel mechanisms
Removable seat cushion
Thick padding
Poly linen fabric
Check Pricing and Availability
A lot of glider chairs take up a decent amount of a space. This can be a problem if you've got less space to work with. Smaller nurseries are relatively common. So, if you're looking for the best glider for small nursery, look no further than this incredible Delta Children option!
This is one of the smallest glider options available. The base of this swivel glider measures at 30.25 inches in length and 32.5 inches in width. This means that the entire glider chair takes up considerably less than 3 square feet of floor space. The fact that it does not come with an ottoman saves even more space.
This is a glider with a nice and simple design. The fact that it is so minimalistic actually makes it a great choice for more modern nurseries or a more classic look. It adapts well to whatever décor is around it. The really nice thing is that it is a swivel glider, so you do have that nice freedom of motion, which can make it even more functional in a smaller space. It's also fully upholstered for a really lovely look that comes in multiple colors like grey, beige, black, and navy to best fit your preferences.
Steel Mechanisms:

The parts inside of this chair that actually give it the ability to both glide back and forth as well as swivel around are made of steel. These steel mechanisms inside of this glider are excellent for increasing the overall durability of the glider chair, but that isn't all they're good for. They also make a big difference in the sound the chair makes. The steel creates a very smooth and quiet motion for increased comfort and convenience.

Just like the previously listed Delta Children glider, this option does not recline and also does not include a recliner option. While this actually makes it even better as an option for a small nursery, it can be annoying or inconvenient for some to not have the leg support option that many glider chairs offer.

PROS:
Thick padding provides optimal comfort
Small size fits well within even tighter spaces and small nurseries
Swivel motion provides good freedom of movement
Multiple color options and simple design fit well with any decor
CONS:
No ottoman or reclining feature
This is a simple, yet high-quality swivel glider that is absolutely perfect for those smaller spaces. It doesn't take up a lot of room, but still remains highly functional and convenient.

See more about The Best Potty Chair in our review.
Final Words on Nursery Gliders
If you're anything like I used to be, you might have been surprised to find so many different choices when shopping for a good glider chair for your nursery. There are certainly a lot of things to take into consideration in order to ensure you choose the best option for your specific needs. You don't want to make a larger purchase like this on a whim. Carefully consider all of your options and what things are most important to you.

Deciding on basic features that are important to you will help narrow down your choices. Once you choose if you want a swivel option, if full upholstery is important to you, and if you need an ottoman included, you'll have a much easier time choosing a specific glider chair. Hopefully with the help of our glider buying guide and top 8 best glider recommendations, you'll have an even easier time!