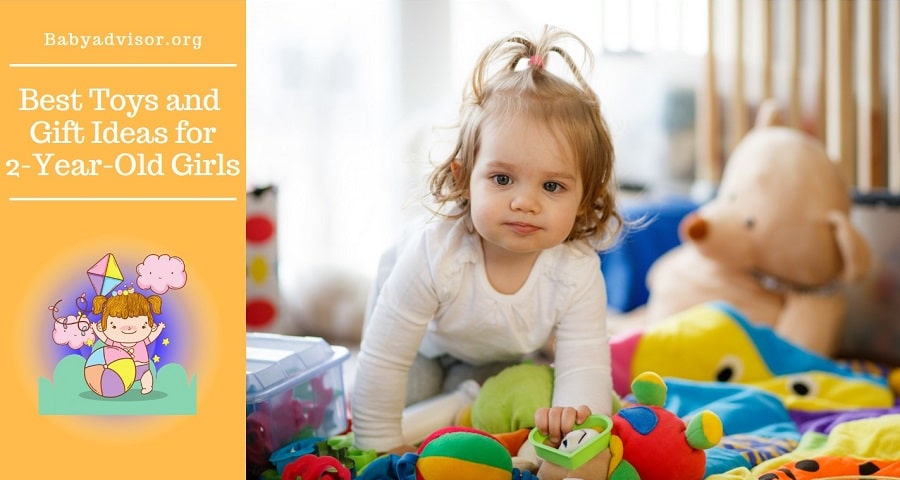 Not sure what gifts and toys are best and safe for a 2-year-old girl? We got you covered. In this list, you'll find the ultimate toy selection that will promote your kid's development.
It is time for your little girl to transition from a baby to a toddler, and this means new gift ideas. Kids grow rapidly, and we have to keep up with their growing interests and skills. So, at two years, you need to get engaging toys for your daughter because they offer lots of options for manipulative play.
As your little one achieve various developmental milestones, it is essential to get toys that foster skills like motor skills, communication and language skills, social and personal skills as well as cognitive skills. And that's why we have selected highly-ranked gifts for your 2-year old princess. Every play with these smart toys brings delight and amusement to a toddler. Check out our list below!
Best Toys and Gift Ideas for 2-Year-Old Girls
At two years, girls love to role play, and so is your little angel. This Sweet Baker's Kitchen is beautiful and has all the fun and realism for her to appreciate. It has a real microwave, oven, and refrigerator doors for your baby girl to feel like a big person baker. The accessory set come with 30 cute pieces including utensils, pans and pots, play cupcakes, play ingredients, storage bins, servingware and a cell phone. There is also a doll seat reserved in case she wants a pal to join her while baking. It could be a teddy bear, doll, or unicorn.
---
This delightful pink princess tent will lighten up your little girl's world as it gives her a place to play on her own. She could also invite her pals or family to watch the glowing stars in the dark. The castle play tent improves your little girl creativity and imagination while providing her with a comfy shelter. The package comes with durable sock-corded fiberglass poles and no accessories needed to assemble or fix the tent, so you'll have an easy time. Your princess will have endless amusement with this gift!
---
Your baby girl will have endless creativity with this colorful, award-winning building blocks! By now, you must have noticed that at her age, she love using her toys to build her own creations, and that's why we thought this imaginary toy would be a great gift. The 80 pieces of Mega blocks are soft and easy to hold for your girl's little hands. They are also completely safe because they are PVC-free and BPA-free, so no harm when you see putting the blocks in her mouth.
---
This charming Barbie Rainbow mermaid doll will allow your princess to make a real splash! All she needs to do is dip it into the water to see her mermaid tail glow with its bright lights that resemble colors of a rainbow. We assure you that your daughter will love it as it will give her a complete wow moment. The Barbie doll has a button on her necklace for activation before dipping her in the bathtub or pool. Since this doll cannot swim or stand-alone, your little one will enjoy holding her.
---
With this cute VTech Spin and Learn Color Flashlight, your daughter can shine her light anytime and anywhere, including the car and her bedroom. The toy prepares her for a bright future by introducing exciting things like songs, colors, animals, and numbers. What is required of her is to press the buttons on the flashlight! Each button introduces a different play mode; it can ask your child a question, teach her numbers or play music. It is unique and a real entertainer that will keep her engaged for hours while having fun.
---
All kids enjoy sliding, and your little girl will love this excellent gift too! Little Tikes First Slide is the right size for young kids. Its compact size will allow your baby girl to both inside and outside as long as it is placed on a soft surface. Storing the tikes is easy and convenient as it does not take a lot of space when folded. You'll also not require assembly tools. It is fun, and kids can slide on it for hours.
---
Does your princess love to watch you apply your makeup? My First Princess Make up Kit is the perfect gift to meet her dreams. It sparks your kid's imagination by helping her unleash her creativity. This makeup kit includes eye shadow, lip gross, princess designed girls bag, two nail polish, three brushes, eyebrow pencil and two lipstick. It is fabulous and 100% fun, so today is the day to spoil your daughter, granddaughter or niece, and we guarantee you that she will love it.
---
This is not just a toy; it is a fully functional watch with a stopwatch, timer, clock, and alarm. Every time you ask your little one "what time is it?" you'll notice her excitement as she checks the watch. It engages the kid and strengthens her problem-solving skills.  Some of the characters that come with the watch include a pilot pup, Skye, and a paw patrol. The watch also includes the real voice of Ryder and popular phrases that your princess can listen to.
---
This soft, cute purse makes little girls feel like a grown-up just like they see their moms, aunties and grandma. Essentials included in this decorative purse are car keys, a smartphone, credit card, lipstick, hairbrush with an applicator. The accessories and all items included in the purse are safe for your princess. Our kids always have high expectations, and this is the ideal gift for little girls as it is precious, fun, and durable. Your girl will find this gift as her natural habitat, and we know it!
---
This adorable Chelsea Doll Cottage is an ideal present for a 2-years-old girl because at this age she has wild imaginations. It comes with cute 17 pieces of furniture that will excite your little girl. It is constructed in three levels, five rooms and a balcony which makes it look like a real house. The windows of the cottage can open and close. If your baby girl has pals to invite, the cottage is large enough to accommodate mini-dolls and multiple children.
---
Your little girl will love this cute and engaging Booster and Activity Seat. It is comfortable, soft and keeps toddlers entertained with the toys for hours. The seat is multipurpose as its tray spins full 360 degrees with different activities each side to keep baby busy. If your baby girl is big, you can remove the soft seat by simply pulling the straps through the slots. The snack tray is also removable, and the six playful toys can be detached from the toy bar.
---
Let your baby girl expand her play with this cute Piggy Bank. It features learning content that grows with her while storing all her coins. The toy comes along with more than 40 sing-along songs, tunes and phrases to entertain your baby. It also includes ten colorful coins for her to drop into the piggy bank, which is a great way of encouraging motor skills. While having fun, she will learn different colors, Spanish, counting and many more things as she develops and grows.
---
Check Pricing and Availability
This LeapFrog Musical Rainbow Tea is all your 2-year-old girl need to invite her pals for a tea party. The toy will help her become more interactive, imaginative and social. She will also learn to identify different colors and match colors as well as counting with this adorable rainbow tea party. The set comes with a cute light-up teapot in six distinct colors, sweet surprises in the teapot, and a colorful cake to encourage your daughter's motor skills. This educational toy helps kids learn while having fun, and that's what's we love most about it.
---
Related,
---
At the age of two, all little ones love to doodle on just any surface they wish, and we want that done on the house walls, seats and floors. No one wants a messed house while this incredible doodle mat can be the solution. It is portable and large enough for two kids to enjoy their painting time. The doodle mat is a fantastic educational toy that promotes a kid's imagination and creativity skills while inspiring them to explore. Your kiddo will only require water to paint and don't worry about wetting the floor as the back of the mat is water-resistant.
---
Disney My First Minnie Plane is a cute gift that features different lights and sounds depending on the pressed button. Your little angel can press the key button to fire up the plane. She can also press other buttons to hear Minnie's phrases and braking noises. Don't worry about the propeller because it is made of soft foam for the safety of your child. When not in use the wings are foldable for easier storage.  Other features about this plane that you might need to know to include the wheels, rear bumper, handle, and a multi-directional extra wheel at the front.
---
This cute interactive ride-on will encourage imaginative play while helping your baby girl develop both gross and fine motor skills. Your daughter can ride on it or push it as she learns to walk. If she has never tried this kind of walker, fret not because it is safe for new walkers. The creativity car provides endless amusement for your toddler girl with is 17 sensory activities.  The seat can flip open for her to take along with her favorite toys whenever she goes for adventure.  Other features that your kid will find interesting include the sliding beads, dashboard and the fun horn.
---
Now that your toddler girl is two years, she can join you for shopping with her cute Pink Shopping Day Grocery Cart. The toy passed the toddler test, so there is nothing to worry about. Its plastic construction is durable and sturdy, and the size is perfect for little hands. Along with the shopping cart, the package comes with a mineral bottle; pear juice can, milk bottle, a loaf of bread, and six eggs in a plastic carton, chicken, a banana and a chicken noodle soup can. However, these food items may vary.
---
If your little girl is a lover of animals, this VTech Care for Me Learning Carrier will impress her. She will have her own pet to carry around in its carrier. During her playtime, she can repeatedly open and close the door of the carrier while learning opposites and phrases. It has sliding letter beads to introduce kids to letters along with over 100 songs. Apart from the carrier and puppy, the set also comes with a bowl, comb, and bottle. We believe that this toy will be a great gift to prepare your daughter for caring for a real dog or pet in the future.
---
Check Pricing and Availability
Make learning easier and fun for your daughter with this smiley Alphapup. It will teach her words and letters and build her vocabulary and phonics skills. She can pull the dog around or even take it for a walk while singing its three learning songs. It has a button to press to introduce the music and doggie phrases. The floppy ears are so soft, making it a sweet pal and fun to pet. When your baby girl is walking it around, you'll notice the Alphapup's paw-shaped wheels that give it a cute swagger.
---
Young ones like pretending to be like their mom and dad! That's why this My Own Leaptop is a must-buy for your little girl so that she can feel like a big person. The toy features 26 fun animal animations and has four learning modes that includes messages, alphabet, music, and games. In the message mode, your little one can pretend to receive and send emails with scout. In the alphabet mode, she can hear letters with their sounds. In the music mode, she has up to 16 entertaining melodies and songs to choose from. And finally, in the games mode, she can have fun playing animal trivia.
---