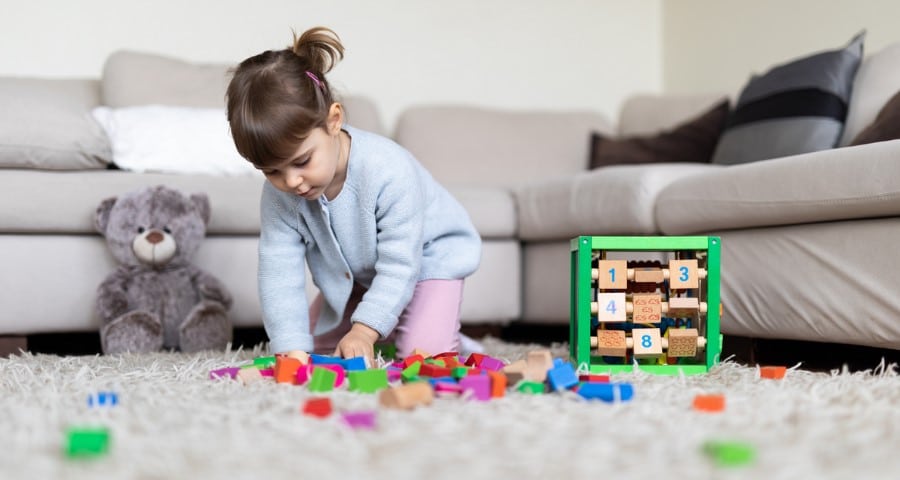 Do you have a three-year-old girl in your life but not sure which gift will brighten up her face? We've highlighted a couple of unique gifts and toys on this list to solve that dilemma for you!
When buying toys and gifts for a three-year-old girl, you need to consider her interest yet something educational and developmental. At this age, girls are so curious, energetic, and love exploring their imaginary world; that's why it's a great idea to get them a toy that will allow them to explore, move and learn new skills.
In the list below, we have several toy suggestions of all kinds to help your little girl develop skills from different categories. Get a cup of coffee and take your time to go through each one of them to make a unique and informed selection.

---
Best Toys and Gift Ideas for 3-Year-Old Girls
---
Why we choose it: The toys are realistic and great for building confidence and skills. They also help kids develop fine motor skills and coordination while boosting their sense of purpose.
The type of gift: Cleaning toy
These beautifully made cleaning toys are what your little girl needs if she loves helping you dust the house. Let her dream come to reality while having hours of fun. The dust sweep mop was developed to inspire pretend play to motivate children's independence and imagination. If you look at the tools, they look so real, only that the set is kid-sized and colorful to appeal.
The packaging includes a mop, broom, brush, duster, and an organizing stand. Each tool here will spark your child's creativity and encourage hands-on, scree-free, and open-ended play.
Check Pricing and Availability
PROS:
Builds confidence and skills
Great set of toys for pretend play
They are realistic
Boosts child development
---
Why we choose it: Good for girls Emotional development. The drum set also teaches along with the melodies, sounds, and music, where kids can learn numbers and letters.
The type of gift: Educational toy
Let your little angel feel like a real drummer and rock star with this colorful VTech KidiBeats Drum Set. It comes with two drumsticks to tap the four different electronic drum pads and cymbal. Every time she hits a drum, she will hear a unique sound. She can also find her beat since the drum set features four different music genres and nine melodies.
And the most exciting thing is that your little drummer will never get bored because there are four different ways to play: freestyle, Alphabets, number jams, and follow me. You'll also love the drum set because its automatic shut-off feature preserves battery life, saving your money.
Check Pricing and Availability
PROS:
A great learning toy
There are four ways to play
It is parent-friendly
Has a volume control for quieter play
Brings joy and excitement to kids
CONS:
A great gift but too small
---
Why we choose it: An incredible kitchen play set for little girls to learn to cook. It also encourages imaginative and social play as kids can invite their friends to do some cooking.
The type of gift: Imaginative toy
Unlike boys, girls love cooking, and your little girl will be delighted to have this Sweet Baker's Kitchen. The play set has accessories that a typical kitchen have so the details are realistic to a three-year-old girl. Just like she sees you in the real kitchen doing the cooking, she will have fun doing it in her own little play kitchen.
She will adore some of the things about the gift include a cute accessory set that comes with 30 pieces, a doll seat for her little pal, fun sounds while cooking, and real doors for the oven, refrigerator, and microwave. She will learn to cook and gain physical and motor skills, creativity and role play, and language skills.
Check Pricing and Availability
PROS:
Bolsters creative and imaginative skills
The details are realistic
Makes pretend play fun
Encourages motor and physical skills
Promotes critical thinking
CONS:
You might need to get a drill to make holes when assembling the pieces
---
Related,
---
Why we choose it: Contributes to good health significantly as it encourages kids to go off the screen and keep fit while having fun at the same time.
The type of gift: Exercise toy
With this fantastic healthy hopper, your baby girl will maintain fit and have endless bouncy fun. No more staying on the screen all day as this jumper will motivate her to get off the sofa to become active. She can use it both indoors and outdoors, and that's what we most about this toy. It improves balance, hand-eye coordination, and motor skills.
It features beautiful colors and characters, allowing you to choose her favorite. If safety is your biggest concern, there is nothing to worry about because the handles were built to give support and comfort.
Check Pricing and Availability
PROS:
Has high-quality, durable foam
Made to be used by kids and adults
A great health bolster
For indoor and outdoor use
CONS:
The squeaking sounds can become irritating
---
Why we choose it: The right size for young kids and can be used both indoors and outdoors. Children also love sliding on boards, making it an ideal gift.
The type of gift: Fun toy
This Little Tikes First Slide is the right size for your three-year-old and comes with all the fun to make her happy. Nothing feels good than seeing our kids' smiley faces, and this is the ultimate gift to make that trick happen. Your daughter will never tire sliding on it. In fact, you'll remind her to take a break.
After you've received the package, assembly is required, but you won't need any tools. Not forgetting storage is easy as the toy folds and unfolds in seconds.
Check Pricing and Availability
PROS:
Both for indoor and outdoor use
Perfect size for little ones
Doesn't require tools to assemble
Easy storage
CONS:
Needs to be placed on a soft play surface
Only one kid can slide at a go
---
Why we choose: Provides vocabulary skills to help your little one express herself with confidence and clarity. It is also a word book proven by experts as a fantastic learning toy.
The type of gift: Intelligence toy
In this brightly-colored book, your princess will explore different things and learn more than 100 age-appropriate words. Some of the things she will discover include animals, pets, colors, mealtime, foods, clothes, vehicles, activities, fruits, opposites, outside, and the body. The features of the book are pretty charming, and that what's excites kids tremendously.
It has three different play modes, light-up star and bilingual play. She can flip the switch to hear words in English and Spanish, which is a great way to learn a new language.
Check Pricing and Availability
PROS:
Easy to use
Offer vocabulary skills
The music makes learning to become exciting
Kids can hear words in both English and Spanish
CONS:
The book is pretty loud even in low volume setting
---
Why we choose it: Great for kids and the whole family as adults can join in for fun as well. With this game, kids will develop critical skills as they practice memory, focus, and matching.
The type of gift: Matching game
Does your daughter love to watch Disney? This matching game has all her favorite characters, including Goofy, Daisy, Figaro, Mickey, Minnie, Donald, and many more. If you have ever heard her mention these characters, she will adore this toy. Learning is pretty easy as it comes with an instruction manual that will only take her less than five minutes to grasp the world of matching. The tiles are thoughtfully designed for kids and of high quality for longevity.
Although your little one can play alone, she can also decide to invite friends over or join her to experience the fun!
Check Pricing and Availability
PROS:
It encourages playful development
High-quality and durable
The design is kid-thoughtful
The tiles are beautifully colored
---
Why we choose it: Every girl wants to look pretty, and this is the ultimate gift to meet their dreams. It is an excellent toy for sparking a child's imagination ability.
The type of gift: Creativity toy
Are you looking for a stimulating and glamorous toy for your little diva? This My First Princess Make-up Kit is the ideal gift. Every three-year-old girl has seen her mom put on some makeup, and she definitely wants to feel pretty too. The makeup kit comes with two nail polish, two lipstick, three brushes, glitter lip gloss, blush trio, eye shadow, and a cute cosmetic bag to allow your little girl to enjoy endless pleasurable hours.
The makeup set is non-toxic and washable, so it is safe for kids. While your daughter is having fun with this set, she will also develop essential skills like hand-eye coordination, communication skills, and fine motor skills.
Check Pricing and Availability
PROS:
The lipstick is smooth
Gives little girls hours of fun
Develops essential skills
Sparks child's imagination
CONS:
Its real makeup, not for pretend play
---
Why we choose it: The toy has several learning activities with progressive learning levels. It also helps children practice creativity and language development while having unlimited fun.
The type of gift: Learning toy
Kids can play like mom and dad with this fabulous VTech Little Apps Tablet! It is excellent for introducing learning skills like basic math, counting, words, letters, and many more interactive activities that involve daily life. Your little girl can experience imaginative play with A-Z keyboard, a camera, or even create musical tunes. She can unleash her creative skills and develop implausible skills like language development.
While it's not all about kids, the manufacturer was thoughtful enough to consider the parents. Hence, the tablet features volume control, automatic shut-off to save battery, and durable design.
Check Pricing and Availability
PROS:
Has parent-friendly features like volume control
Makes learning fun
Offer several interactive activities
Helps practice creativity and language development
CONS:
There is no option to change the brightness
---
Why we choose it: The calculator cash register is classic and helps kids learn early math skills while having unlimited fun.
The type of gift: Learning toy
This cash register will bring nothing but lots of fun to your little girl. But that's not all. She will learn to identify coins and bills, and addition, subtraction, and multiplication. She will play shop with it all day long without a single dull minute. You'll find many educational toys out there, but this one is relatively cheaper and easy to use with minimum supervision.
It is durable enough for your daughter's carefree use and performs very well. We give it thumbs-up, and we know you'll like it too.
Check Pricing and Availability
PROS:
Introduces early learning
Promotes math and money skills
Its functionality is realistic
Has a decent build-up quality
CONS:
The money drawer flies out so fast
---
Why we choose it: A classic gift with great stunning features to impress little girls, it also comes with a charming storage trunk to captivate the dress-up fun.
The type of gift: Dress-up toy
Dressing up will never be the same for your little diva because this gorgeous Disney Princess Dress Up is perfect for every day, birthdays, parties, and so on! It is 100% polyester and comes with four different Disney character outfits to choose from. If she is a fan of Disney Princess, she will love dressing up as her favorite character.
Does she love Cinderella, Belle, Snow-white, or Aurora? Know first to make a great impression. With exclusive 21 pieces like bracelets, one necklace, and rings in the trunk, this gift will undoubtedly impress your little girl.
Check Pricing and Availability
PROS:
Captivates imagination
Come with exclusive 21 pieces
Allows girls to have hours of fun dressing up
CONS:
Made of polyester; not an excellent material for machine washing
---
Why we choose it: A sturdy and comfortable chair desk and the right size for your little one. It also makes kids take great pride sitting down on it.
The type of gift: Sitting toy
Your daughter will feel like a cool queen sitting on this sturdy and comfortable chair desk! It will be a fantastic birthday or Christmas gift, and you'll love to see that cute smile on her face. Putting the chair together is pretty straightforward. You just need to ensure that the holes align well to hold things in place. Even better, if you have a screw gun as it will make it easier.
The chair is the perfect size for your little girl so that she can have a snack on the tray. It is heavy and durable for long-term use, so it is a great value gift.
Check Pricing and Availability
PROS:
The seat is low for easy access
The finish is scratch-resistant
Has a removable cup holder
Its graphics are appealing to the eye
---
Why we choose it: A sturdy toy that offers comfort, convenience, and fun. The seat is also adjustable for your kid to use it in the years to come.
The type of gift: Riding toy
This is an excellent bike that will give your little girl lots of fun! It is sturdy and cute to impress her. Since girls always like to carry their dolls and other toys along for an adventure, the tricycle has a storage compartment that your daughter will find useful. It has an easy to grip handle to give her comfort and confidence when riding.
The steel construction is also durable, and the ride wheels are not noisy, like with other brands. Buy this exceptional rider today, and it will create smiles and warm memories for your child!
Check Pricing and Availability
PROS:
Comes with a storage bin
Made of sturdy steel construction
The grip handlebars provide comfort
The seat is adjustable
CONS:
Requires assembly tools like screwdriver, hammer, and spanner
The seat is far from the pedals
---
Why we choose it: Builds kids' motor skills as they match, sort, stack, empty, and fill. The toy also encourages pretend play and learning.
The type of gift: Educational toy
Set a space for learning, sharing, and fun with this tremendous picnic basket! It will help your kid explore colors, shapes, manners, and many more. She can lift the basket lid to hear sound effects and instrumental music. This beautiful basket also has sing-along songs that are educational and fun to keep your little girl entertained for hours.
It has enough room for two, so she can share it with you or her friend. And once done with the picnic, it's easy to clean-up.
Check Pricing and Availability
PROS:
Builds fine motor skills
Encourages pretend play and independence play
It is fun and educational
CONS:
The music/sound is repetitive
---
Why we choose it: This tiny colorful toy has everything in between! It is excellent for building vocabulary and developing essential skills for reading.
The type of gift: Intelligence toy
Fridge Phonics Magnetic Letter Set is an excellent opportunity to introduce your little girl to new words associated with letters every day. She can do it independently or help her out. The colorful letter tile includes 26 interactive alphabets and a magnetic tile reader to help your little girl explore A-Z.
There is also an alphabet song for her to sing and dance along. As time goes, she will gain phonics skills and build up her vocabulary level.
Check Pricing and Availability
PROS:
Develops early vocabulary skills
Makes learning fun
It is interactive
Easy manipulation for little hands
---
Why we choose it: Allows children to explore several features and functionalities while having fun on their birthday. The toy is also specifically designed for little hands.
The type of gift: Fun toy
Is your little girl turning three soon? This Disney Mickey Mouse Clubhouse Mickey & Minnie kit is the ideal gift for her because it's a fun hit! Even better, if she is a biggest Mickey fan. She will enjoy playing with the train and counting the numbered blocks as well as labeling the colors.
The toy features a buildable cake and a train. Other accessories to make the party even more fun include a candle, balloons, and three cute decorated bricks as story starters.
Check Pricing and Availability
PROS:
Comes with a buildable cake
Designed for little hands
Makes a great birthday gift
Offer so much fun
CONS:
The cupcake set can't be stacked
---
Why we choose it: The puppies are lovable, huggable, and classic. They are a perfect size, and kids can use them as their own pets.
The type of gift: compassionate toy
If your daughter has been showing some interest in puppies, this Pound Puppies Classic Stuffed Animal Plush Toy the right gift for her. The puppies are looking for love, and we are confident your little girl will receive one puppy warmly. She can adopt and give it the name of her choice. It comes with an editable name tag and the certificate to adopt the puppy making it so realistic.
The puppy is adorable, huggable, and soft enough for your baby girl to cuddle all night long. Collect as much as you want, and they will love her very much!
Check Pricing and Availability
PROS:
They are adorable and classic
Super soft and well-made
The perfect size for little hands
---
Why we choose it: Kids can take real photos with this digital kidizoom camera. It is kid-friendly and has a durable design.
The type of gift: Creativity toy
The pink color alone will suit your little diva! This cute VTech KidiZoom Camera Pix was designed to impress little girls who can take real digital selfies and full photos. Your daughter can set the camera to selfie mode, which then detects her face to take a perfect picture automatically.
We suggest this as a gift because it offers various exciting templates for her to create her own photo collages while exploring creativity and having fun. Besides, she will use it now, and when she is eight years old, it's worth the price.
Check Pricing and Availability
PROS:
Enhances creativity
Cute and adorable
Offer exciting templates
It is kid-friendly
CONS:
Requires 4 AA batteries, but they are not included
---
Why we choose it: The perfect gift for little girls to treat their 18-inch doll. It also comes with accessories to make hair play exciting.
The type of gift: Imagination toy
It's a perfect day for your princess to treat her doll with a new hair-do! This salon chair is realistic, and you can raise it up and down with a foot lever. Its metal base is made of a suction cup for stability so that your little girl can have an easy time doing different hairstyles. The pretty chair comes with accessories like a straightening iron, two hair clips, a hairdryer, and two hair curlers, all in pink and purple colors. With a little imagination, your little girl can design as many hair-dos as she wants without any limitations.
Check Pricing and Availability
PROS:
The chair is adjustable
Bolsters creativity and imagination
Makes hair play fun
Has a suction cup on its metal base to provide stability
CONS:
Adult assembly is required
---
Why we choose it: The best riding bike ever! It comes with added protection like heavy-duty wheels to ensure kids are safe and stable on the ride.
The type of gift: Riding toy
Give your toddler baby girl her first taste of freedom with this adorable Schwinn Petunia and Grit Steerable Kids Bike. Since it will be her first time doing this, the manufacturer ensured additional support by including a parent push handle. You'll always be in control during her learning phase to keep her in check. However, this handle is comfortable to remove once she is ready to ride alone.
The most exciting thing about this bike is that everything, including a water bottle, is on board in case your little girl is thirsty during her adventures.
Check Pricing and Availability
PROS:
It has a comfortable rear steering handle
Comes with a water bottle
It has cute graphics, a bell, and a training wheel
The seat adjusts quickly and efficiently as your kid grows
CONS:
Little ones need parent support
---