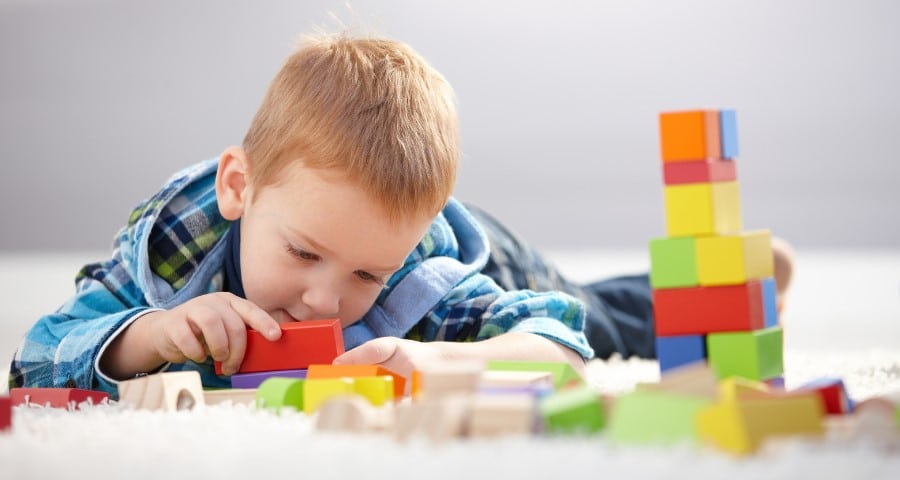 Working from home and would like to keep your 3-year-old boy quite? We've put the best toy selections found on Amazon. They are all excellent in various ways and will keep the boy busy.
Is your little guy already three years old? He needs a new set of toys, as this is a stage of exploration and discovery. By now, you might have noticed his ever-growing curiosity and the willingness to want to know things. That's a good sign as he is getting ready for preschool, but which are the best toys to prepare him for that? No idea? Don't worry because we got you covered!
Toddlers at the age of 3 need to have educational toys to challenge the developing minds and prep them for preschool. For that matter, we've selected the best gifts and toys to bolster their imaginary world and other development skills. Some of these toys will keep them engaged through their interactive nature, and others are meant to make them more active. Each one of them comes with tremendous benefits for your young man, and we believe you'll love their handy aids. Have a look below!

---
Best Toys and Gift Ideas for 3-Year-Old Boys
---
Why we choose it: These wooden cleaning toys are realistic and great for developing practical skills and confidence. Kids can also boost their imagination and independence while having fun at the same time.
The type of gift: Imaginative toy
Get Melissa & Doug Dust! Sweep! Mop! for your son today, a pretend play set built to motivate children to use their imaginations and model independence while having fun. Each tool in this set will give your toddler boy an imagined role and pretend task to play. This colorful set looks so real and is the right size for kids. You will find a mop, brush, duster, organizing stand, and a wooden broom in the package to encourage pretend play. Your child will gain a sense of purpose with this confidence-boosting and skill-building set of toys.
Check Pricing and Availability
PROS:
The set looks so real
Teaches kids model independence
Builds fine motor skills and coordination
Great for creativity and imagination
CONS:
Brushing trash into the dustpan is a bit hard
---
Why we choose it: Good for health as it gets your child to get off the couch for some exercise. It is also a great toy to train balance while enhancing gross motor skills.
The type of gift: Active toy
Hopping with this pogo stick is fun and healthy for kids. It is designed with durable foam to support both kids and adults. The jumper will help your little boy become fit hence boosting his health. He can also use it indoors and outdoors to improve his balance and enhance gross motor skills and hand-eye coordination. Although its base is designed with some soft foam, you're assured of your kid's safety. The grip handles are strong and very comfortable.
Check Pricing and Availability
PROS:
Great for boosting kid's hand-eye coordination and balance
It is safe for kids
The foam is durable and long-lasting
It encourages fitness, which contributes significantly to your kid's health
CONS:
Adults may find the squeaking sound annoying
---
Why we choose it: Perfect toy to Build up kids' courage and burn off energy while developing balance, fitness, and coordination.
The type of gift: Exercise toy
This exciting Little Tikes 3′ Trampoline allows kids to stay active indoors. Its plastic construction is sturdy and safe for your little guy. The Trampoline also has an easy-to-move design, and we believe you'll definitely love it. Kids never get enough of the bouncing, and the more they do it, the more fit they become while developing coordination and balance skills. The good thing about it is that it has a handlebar to increase stability and confidence when jumping. Buy it today, and your 3-year-old will start having hours of bouncing fun!
Check Pricing and Availability
PROS:
Great toy for burning energy
Develops balance and coordination skills
It has an easy to move design
Provides stability and safety for kids
CONS:
Can only be used indoors only
Assembly is required
---
Why we choose it: A great toy for kids and families that makes a fantastic gift for holidays and birthdays, and encourages active development.
The type of gift: Matching game
At three years, your little boy can polish his memory skills with this incredible Story 4 Matching Game. He can either play alone or with his friends. To keep track of time while playing along, he can use a timer or clock to see how much time he took matching the tiles. It takes less than 5 minutes to learn and a maximum playtime of 15 minutes, which will show how fast your kid is at grasping things. The game is classic, durable, and of high quality. With time, your son will develop critical skills to practice memory, focus, and matching skills.
Check Pricing and Availability
PROS:
The design of the game is thoughtful and colorful
It is of high quality and durability
Promotes playful development
Kids can play alone or with their friends
CONS:
The cards are too many, and younger kids could find it overwhelming
---
Why we choose it: The toy is fun yet educational as kids can discover and explore things like shapes, playful sounds, and numbers. Kids can also develop motor skills by kicking and tossing.
The type of gift: Sports toy
If you would like your child to get off the TV screen, this cute shot sports center will do the trick. The toy is buttoned for discovery and exploration, so your kid can press them to learn numbers and shapes. Its sound effects and animations catch kids' attention and enhance their urge to know things. We adore the sports center as kids can play in two ways because it includes a soccer ball and basketball, allowing your son to either score a goal or shoot a basket. He can listen to over 50 songs, melodies, and phrases while playing to add to the fun.
Check Pricing and Availability
PROS:
Encourages kids to become more active
Its scoreboard is animated
It is fun and educational
It builds motor skills
CONS:
Works on 3 AA batteries, but not included
---
Related,
---
Why we choose it: The authentic expressions, designs, and the postures of the characters are so ideal for storytelling play. It also gives kids endless hours of fun and laughter.
The type of gift: storytelling toy
Your son will have hours of laughter and good times with this magical toy story! This stimulating two-pack makes a special gift for kids above three years old. While decorations and colors may vary, you can select the most appealing one for your little man. The two characters: Woody and Bulleye, included in the package doubles the fun, and he takes them in his adventures. These figures are detailed and highly posable, making it so real for authentic storytelling. We don't doubt that your kiddo will love every single moment with the two-pack.
Check Pricing and Availability
PROS:
Gives kids some good time
The characters are authentic for storytelling
Well-made and of great value
---
Why we choose it: Has outstanding features with over 20 activities, 100+ vocabulary words, and more than 20 melodies and songs to keep kids excited.
The type of gift: Interactive toy
With all the engaging content filled in this activity desk, you can tell why we chose it for a 3-year-old kid. This learning desk will allow your child to explore 200+ touch and learn sports, with each card offering up to four learning modes. It has a real chalkboard for him to doodle and scribble while learning. This chalkboard can also act as an art station by merely using a clip to hold a paper to create a masterpiece. The desk is a multipurpose toy that encourages play and discovery, making it a great value.
Check Pricing and Availability
PROS:
Offers several activities
It is interactive and engaging
Encourages play and discovery
Easy to assemble
CONS:
Requires 4 AA batteries but not included
Although it provides expansion packs, they are sold separately
---
Why we choose it: Delta products are well-known for their affordability, high-quality, and simplicity. Also, this particular toy box is perfect for little fingers to open.
The type of gift: Play toy
Kids can get excited by the little things that we do for them, and buying your 3-year old son this toy box will make him super excited. You know why? The gift features colorful graphics of his favorite paw patrol pups, Marshall, Chase, Skye, Rubble, and Everest. Since these graphics excite kids the most, the manufacturers ensured that they would last long by having a scratch-resistant finish.
The box also has an easy to clean finish making your life easier when cleaning up after your kid's playtime.
Check Pricing and Availability
PROS:
Its wood construction is durable
Easy assembly
Has a slow-closing lid, which is safe for kids
Colorful design
---
Why we choose it: The set is every boy's favorite. Not to mention, the racers cheers up kids and lets them dive into the world of imagination.
The type of gift: Play toy
It's every little boy's dream to have all sorts of cars in the house, and this Paw Patrol Racers 3-Pack Vehicle Set is the ideal surprise gift. Does he already have a bunch? Trust us. He will appreciate you adding these cute rescue racers to his collection. These racers are made for speed with play and push action for its real working wheels to get going! Each vehicle will make your 3-year old imagine the bravery and heroism of the paw patrol, and that's the most adorable aspect about the set.
Check Pricing and Availability
PROS:
No batteries required
Builds up kids' imaginations
It makes a beautiful gift set
The toys are durable
CONS:
Characters do not come out of the vehicles
---
Why we choose it: A great creativity toy with interactive activities. It provides a fun way of learning letters, objects, shapes, vocabulary, drawing, and music.
The type of gift: Learning toy
Let your son become more creative with this beautiful write & learn creative center. It has on-screen instructions to teach him writing and drawing skills. He just needs to follow the provided demonstration, which introduces him to correct stroke for lowercase and uppercase letter writing. The creative center is also customizable to allow him to write his name step-by-step. He can as well learn drawing lines, objects, and shapes gradually. The package includes two magnetic stamps, a magnetic pen, and eight stencils to allow your kid to create unique drawings.
Check Pricing and Availability
PROS:
Makes drawing and writing fun
It is customizable
Allows kids to explore creativity
It has interactive activities
CONS:
There is only one color available to write
---
Why we choose it: Allows kids to unleash their wild ideas by recreating their favorite scenes from this incredible paw patrol. Also, they can interact with it all day long.
The type of gift: Imaginative toy
This masterpiece of a toy will give your son the chance to expand his imagination and develop spatial awareness. It is two and a half feet tall and was built to keep your toddler baby up and moving! Paw Patrol My Size Lookout Tower features authentic sounds and interactive lights. Your kiddo can hear each signature phrase produced by various characters with a simple press on the button. The packaging comes with one my size lookout tower, a chase figure, chase vehicle and chase pup packs, two Marshall Pup packs, and one Marshall Figure.  Let your son go on an adventure and start zooming with the vehicle launcher today!
Check Pricing and Availability
PROS:
Has unique features
Allows kids to go for more exciting adventures
It is easy to put together
A fantastic special gift to a paw patrol fan
CONS:
One of the tower's door does not stay closed
---
Why we choose it: The toy brings some realism to the world of kids and encourages pretend play. The bubble maker also produces lots of bubbles for kids to have endless fun.
The type of gift: Fun toy
Does your little boy always want to help you out with the garden yard mowing? He will undoubtedly have more fun with this automatic bubble blowing mower tool. It encourages kids to go outside to the sidewalks, grass, park, and garden and share a moment of fun with friends. It has a flexible handle and easy to push around while inspiring your little one's love for walking outside. So, if you are looking for ideal Christmas, Halloween, and birthday gift, this bubble mower has all the fun to excite a toddler. It will be your son's next favorite toy.
Check Pricing and Availability
PROS:
Features realistic gear sounds and bubble maker
Encourage pretend play
Assembling and disassembling is straightforward and pretty quick
The tons of bubbles produced creates a fun
CONS:
Requires 3 AA batteries but not included
---
Why we choose it: The tools are made from durable soft plastic safe for toddlers. They also encourage imaginative play and perfect for developing various skills.
The type of gift: Imaginative toy
A perfect learning toolset to build your kid's fine motor and imagination skills! The New Sprouts Fix It is incredibly impressive as it comes with chunky-sized tools that are safe for your toddler son. These tools include a screwdriver, hammer, saw, wrench, and a drill that makes a whizzing sound to excite your little contractor. He only needs to squeeze the drill to hear these sounds. You can expect him to develop unique skills like vocabulary and language development, hand-eye coordination, problem-solving, and sequential thought with time.
Check Pricing and Availability
PROS:
Bolsters imagination and motor skills
Teaches problem-solving skills
The tools are toddler-safe
The plastic is soft for little hands
---
Why we choose it: The right size for little hands and easy 2 do the conversion. Kids can also use the pieces in either vehicle mode or bot mode.
The type of gift: Imagination toy
Playskool Heroes Transformers Rescue Bots Griffin Rock Rescue Team is an excellent option for your son's little hands and big imaginations. The bots figures are easy to convert from robot mode to vehicle mode, and this is a fascinating part that all kids love. During playtime, your little guy will feel like he is in a movie as he goes out there in a rescue mission but in his imaginary world. The package comes with chase police-bot figures, Heatwave the fire-bot, the construction-bot, and blades the fight-bot.
Check Pricing and Availability
PROS:
Constructed for little hands
The pieces are easily convertible from bot mode to vehicle mode and back again
Encourages big imaginations
CONS:
They are too delicate; they could break easily
---
Why we choose it: The chopper is classic and environmentally responsible. It is also durable and sturdy to support your kid's soaring imaginations and active play.
The type of gift: Imagination toy
Want to see your 3-year old child lost in his imaginary world? This Green Toys Helicopter is the ideal gift for his birthday or Christmas. It encourages the development of fine and gross motor skills, as well as imaginative role play.  Not to mention, he can play with it both indoors and outdoors. The design is durable and made of 100% recycled milk jugs. The helicopter has a bear pilot, two spinning rotors, and sleek skids fitted at the bottom for a comfortable landing. It is easy to clean, or even a dishwasher would do the cleanup for you.
Check Pricing and Availability
PROS:
Has a sturdy design
Makes learning fun
Easy to clean
Great for imaginative play
Promotes gross and fine motor skills
---
Why we choose it: The toy makes learning fun and enjoyable through interactive discovery and independent play. Kids also have the freedom to build what they want.
The type of gift: learning toy
These colorful Mega Bloks First Builders will allow your child to create anything he imagine directly onto the table while experiencing tons of speedy fun. If your family is on the go, these building blocks are the ideal present for your 3-year-old boy as they are portable. The table folds up easily and has interior storage for the blocks. The set includes more than 20 blocks and two rolling wheelbases. If he is a first builder, no need worry as the construction is perfect for little hands.
Check Pricing and Availability
PROS:
It is portable for travels
Has an easy interior storage
Makes learning easy
Inspires imagination and independent play
CONS:
May require close supervision
---
Why we choose it: Brings so much delight as kids launch and race to the rescue. It is also a great toy to stimulate imagination and creativity.
The type of gift: Excitement toy
The time for your son to unleash his imaginations is now! This rescue Paw Patrol, Launch'N Haul PAW Patroller, includes one Robodog real metal, one flame accessory, and an instruction sheet to help your little one save the day. He can load up to seven metal cars inside to roll to his next mission just like he watches on the hit TV show. He can also transform the exciting PAW Patroller from a team vehicle into an enthralling track set.
Check Pricing and Availability
PROS:
Easy to assemble
Brings excitement and fun to kids
Made of an actual metal construction
CONS:
It's a bit hard to open and close
---
Why we choose it: The perfect size for your little one. Also, the padded seat is 100% non-toxic and has an artwork character to catch kids' attention
The type of gift: Imaginative toy
Delta Children Upholstered Chair is a must-have toy for all. The graphics of the chair are vibrant to add to the world of fun. It is also designed for your kid's size and an ideal addition to his play space or bedroom. It features a sturdy wood frame and a cushioned padding to withstand several years of use. It is a great gift to inspire your kid's imaginations for adventures and beyond. Apart from sitting on it and watching toy story, he can also flip it for caves and jump on it. Dirt is one of the last things of your concern as the chair has an excellent finishing that is easy to clean.
Check Pricing and Availability
PROS:
It is easy to clean
The construction is durable
Easy to put together
Perfect size for little ones
CONS:
It is cool but not that soft
---
Why we choose it: This toy is award-winning and real-life simulation to meet the dreams of little builders who can fix, build, and rebuild for hours without tiring.
The type of gift: Simulation toy
Is your toddler boy always curious and has an inquiring mind? This Master Workbench is the kind of gift you should get for him to make his dream come true. It will help him develop fine motor skills and nurture his understanding of science, Arts, technology, engineering, and mathematics. The package comes with 35 pieces, including screws, wrench, hammer, screwdriver, saw bolts, gears, nuts, and other creative building parts. These tools are realistic as they are designed for your kid's little hands, for him to fix anything he wants.
Check Pricing and Availability
PROS:
Has a convenient storage
Develops fine motor skills
The height is adjustable for future use
Encourages building skills
CONS:
In case holes do not line one is required to create new ones to put the workbench together
---
Why we choose it: The ride-on toy was designed to empower kids' imaginative play. It is comfortable and safe while providing endless hours of fun.
The type of gift: Riding toy
Radio Flyer 500 with Ramp, Toddler Ride on Toy will be your child's new favorite because he will enjoy to the fullest. It comes with a classic-style race car and a six-foot-long track for your chap to ride on. The race car is versatile, and he can use it for both on and off-track riding. Its front wheel makes the ride comfortable and safe as it is built footrests. Once the playtime is over, the car and ramp are put into the base for easy transportation and storage.
Check Pricing and Availability
PROS:
Has a strong step
Comes with a mini racing car
Can be folded for easy storage
Provides fun and safe racing
CONS:
Has a weight limit of 50lbs.
It's a bit steep
---