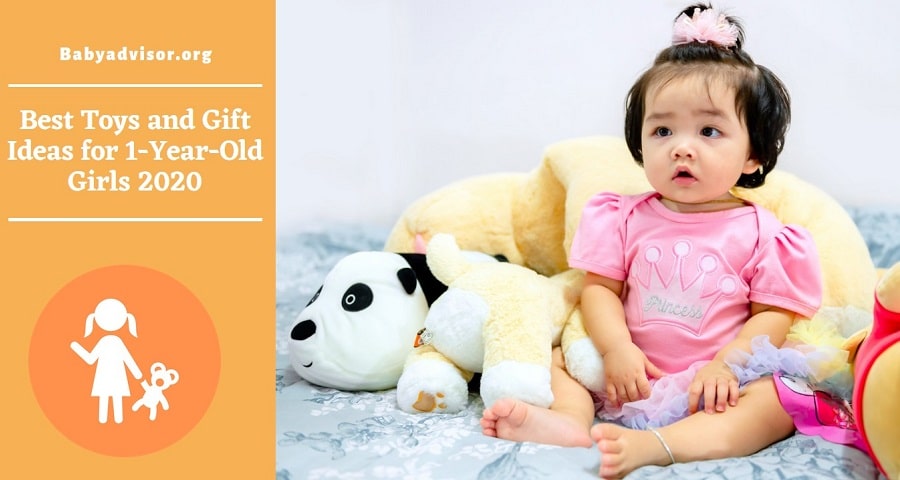 If you want to get a gift for your 12 months old baby girl, there are so many ideas. But how do you know the best? This list will help you select the most pleasing toy.
Finding toys for 1-year-olds can be particularly challenging because they are barely in the toddlers' group. Parents even wonder which gift could excite these squirrely little ones. But there are plenty of toy ideas for them. Since they are active either by crawling, scurrying or taking a few steps, they need to explore the world around them.
As toys help kids become more active by providing plenty of action, you should consider getting one or two or even as many as you want for your one-year-old daughter. Check out below to find the best gifts and toys that you feel your little one will love the most.
Best Toys and Gift Ideas
VTech Sit-to-Stand Learning Walker is an interactive learning toy with several developmental benefits, such as the ability to sense and motor skills for your baby. It cheers them up and provides endless fun for your little one. Some of the features include a removable play panel that helps kids play on the floor, colorful spinning rollers, five piano keys, and a telephone handset. Not forgetting, it has more than 70 songs, sound effects and fun phrases etc. with this toy, your 1-year-old girl will discover shapes, music, numbers, animals and colors.
---
Flappy the Elephant Baby GUND is a fun, cute gift for your little girl that is always ready to play with her. This stuffed animal can have exciting moments by singing and playing with your child. Since it has two different modes, all you simply need to do is squeeze one of its feet to activate a single mode, and the elephant's ears will start flapping back and forth. This gives delightful baby moments as she plays and listens.
---
These sensory and colorful blocks give kids developmental and educational experiences as they discover animals, numbers, shapes, and colors. So, the toy encourages early learning. They are classic, durable and super soft for babies, so no possible harm to your little one. The blocks come in a cute reusable bag that is 100% recycled fabric. In the box, you'll find 10 pieces that are well made and easy to clean.
---
Fisher-Price Laugh & Learn Smart Stages Chair is a perfect gift to keep kids jovial. Three smart stages of technology feature the chair. The first phase, "explore," meant for 12M+ kids, sparks their curiosity through first words and sounds. The second "encourage "and the third level "pretend" are for 18M+ and 24M+ babies. What makes the chair interesting is that it is musically interactive with over 50 sing-along songs, phrases and tunes. These songs are activated when the kid sits and stands. The toy also has busy activities like a remote control with buttons to press, and demonstrated flip-book.
---
Radio Flyer 4-in-1 Stroll 'N Trike is an incredible gift that helps your baby grow in different riding stages. It is easy to convert by merely removing accessories in between the growing stages. Some of these accessories include headrest, UV protection canopy, footrest, seat belt, parent push handle, and wrap-around tray. This tricycle gives you the most effortless fold and can be stored anywhere. It also has a rear basket to keep your child's favorite toys while going for an adventure.
---
Check Pricing and Availability
This multifunctional musical toy gives babies a delightful moment while exploring different sounds and notes produced when the balls fall on this instrument's keys. It is a great gift to help your child develop incredible motor skills like hand-eye coordination, arm movement, agility, manipulation, cause and effect. It will also help your kid gain problem-solving skills of spatial relationships, logic, critical thinking, and matching things. The instrument is safe for kids as they enjoy the water-based paint with beautiful bright colors and shapes.
---
Check Pricing and Availability
Munchkin White Hot Inflatable Duck Tub is a baby approved toy for your little one to enjoy her warm bath. With this tab, you don't need to continually test and guess the temperatures to ensure the bathwater is right. It has a unique feature that turns white when the water is too hot and blue when it's just fine for the baby's sensitive skin. If you want to travel with it, you simply need to deflate the air inside and fold.
---
Check Pricing and Availability
In the package, there are six adorable textured balls perfect for little hands. The set helps in sensory development, and each textured ball gives your little one a tactile experience. Surface textures may vary from grooves, ribs, divots to bumps. They are comfortable to hold and facilitates discovery and exploration. You can help your play with the ball by rolling it at them for them to rolls back.
---
Little Tikes Go and Grow Lil' Rollin' Giraffe Ride-On is a riding toy that makes kids happy through its friendly face. It is easy to ride because of its foot-to-floor format. The seat is adjustable, allowing children to use it for a long. The back wheel is oversized to add more stability and a wheel guard to ensure that your baby is safe. Additionally, it does not only give your kid a happy moment but also helps in promoting their gross motor skills.
---
Check Pricing and Availability
This pop up plays tent leaves your baby cheerful as they crawl, jump, shoot, or lay down inside t making future memories. To ensure that there is safety for children it comes with a guideline. It is Suitable for both indoor and outdoor adventures. It is highly colorful and built to last for years. You can easily fold it for simple storage. Some of the benefits that your little one gets from this adorable toy include pretend play, motor skills, imagination, and development.
---
Check Pricing and Availability
Little Tikes Rocking Horse Magenta comes in a contemporary style to entertain your little one. It livens up any playroom or bedroom. It is the right size for small kids and every mom's favorite, as it is easy to clean. It has a low saddle design that supports kids very well. The toy also comes fully assembled, so you don't need a manual to put it together.
---
Check Pricing and Availability
With VTech Musical Rhymes Book, kids can have lots of fun as they turn each page listening to their musical rhymes and sounds. Its features include six classic nursery rhymes; more than 40 songs, sounds, melodies, and phrases; light-up star flashes, and easy to turn pages. Buying the musical rhymes book for your little one also comes with significant benefits like building their motor skills and putting them in a learning mode.
---
Sort and Discovery Activity Cube by VTech has incredible features to allow your kid to have lots of fun activities. It offers more than 75 sounds, songs, phrases and melodies. It also has electronic panels that introduce your little one to colors, animals, numbers, etc. Additionally, a five-key piano allows the child to explore colors, music, and numbers. One great benefit of this activity cube is that it develops your child's hand-eye coordination. She can also develop motor skills by turning the cube's book pages.
---
Check Pricing and Availability
LeapFrog Alphapup is a playful toy that allows children to hear the alphabet and learn through the ABC song. The velvet pup has floppy soft ears and fun to pet. The stripes on the alphapup's sweater are colorful, representing each letter. It has a music button on which the kid can press to sing along the three learning songs. Besides, the Alphapup has paw-shaped wheels for your little one to walk along with it. Some of the skills that kids learn from this fantastic toy include phonics, broad motor skills, and the alphabet.
---
Melissa & Doug First Shapes Jumbo Knob Puzzle is a charming cottage with five big puzzle pieces. It is designed in such a way any little hands can grab and lift effortlessly. Beneath each piece lays full-color matching images. It is a perfect activity toy to encourage your little girl's visual perception and eye-hand coordination skills. As NBC News calls it "the gold standard in early childhood play," it facilitates creativity and imagination as kids explore their fantasy world.
---
This is a highly engaging toy with great colors and detailed graphics. It acts as a toddler's caregiver by making them happy and fully engaged. Kids can practice fantastic motor skills while exploring all of the fun. Some of the activity center features include spinning dials, classic toddler fun activities, gliders, bead runs, springy flaps, and shape recognition. It is a great imaginative play wooden toy with a non-toxic finish and water-based.
---
The award-winning toy is designed with vibrant colors to catch every kid's attention. It is easy to grab and hold while rattling the sliding beads. It has a unique shape that interconnects the wooden dowels that are easy to recognize from a distance. The wooden construction is of high quality, which is chip and splinter resistant. When not in use, it can be compressed because it has elastic ties, and it can always turn back to shape. It is not only cool to play with but also safe for kids.
---
Pewi Walking Ride On Toy is one of a kind your child will adore and use for several years. It is used for sitting, riding, pushing and supported walking for indoor/outdoor smooth surfaces. This versatile toy is accommodative for your little one's different developmental stages. Its features include a molded plastic seat, comfortable grip handle, non-marking caster wheels, lightweight aluminum frame, and leg clearance for easy movement.
---
These toys are recycled 100% and are dishwasher safe. Each piece can easily slide into the chute cut-outs on both the bottom and top of the sorter, which opens by a single twist. The weight and size are perfect for little hands and come in 8 different colorful shapes (2 triangles, two stars, two squares, and two circles). Some of its benefits include problem-solving, gross and fine motor skills and hand-eye coordination.
---
---
Read more,
Fat Brain Toys are of high quality and well crafted. They have ideal shapes, textures, colors, and words unique, featuring silicone buttons. The buttons are super smooth, and colors match the words. Some of the toys' benefits are shape learning, reading skills, sensory exploration, color learning, high-quality materials, and English/Braille features. With the toys, your kid is assured of authentic and safe play.
---