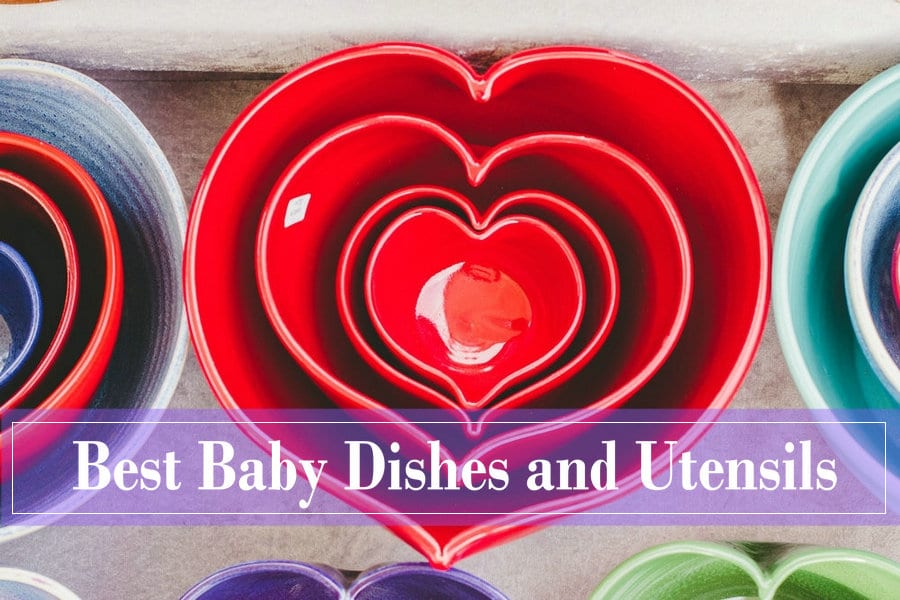 Your child is finally old enough to eat real food – yay!
As you enter the world of table foods and meals, you want to have the proper feeding tools for success. Sure, you could use the plates, bowls, and utensils you have in your cabinet, but many of them aren't for your child. That's why you need the best baby dishes, including plates and bowls.
Imagine putting your new Fiesta Ware plate on your baby's high chair. We know what would happen! Baby would toss it on the ground, and there is a good chance it might shatter, along with your heart. Try giving little Susie an adult-sized metal fork. She might stab out her eye or, at the very least, injure her mouth. Babies need baby appropriate feeding tools for success!
---
---
The Battle of Materials - What's the Best?
One of the things you will quickly notice is that the best baby plates and bowls are all made with different materials. Everyone has their opinion about what material is best. There is no right or wrong choice, but there is the right choice for your family. Let's take a look at how the materials line up to make your decision easier!
Silicone bowls and plates are made from a rubber-like material that is safe, durable, and pliable. Silicone is hygienic, hypoallergenic, and resistant to bacteria. Best of all, it's extremely easy to clean. You can even boil it to sterilize the plates and bowls or put them in the dishwasher.
You never have to worry about silicone warping or facing damage underexposure. It can withstand hot and cold temperatures because it is able to evenly distribute heat. Silicone cools instantly after heating. It's no wonder why silicone is one of the most beloved choices for baby dishes! 
You want to look for heavyweight, high-quality, steel called 18/8 304 stainless steel. This type of stainless steel is dishwasher and oven safe.
Bamboo is a natural, renewable resource, and sustainably sourced bamboo is great for our planet. Did you know that bamboo is one of the fastest growing and most resilient plants in the entire world? It's incredible! Bamboo trees don't require much water and no fertilization at all.
The only downside to using bamboo for baby dishes is that it needs to be washed by hand. Using a dishwasher can cause the plates to fade and crack. Bamboo is oven baked and uses no stains or dyes. You never have to worry that bamboo will absorb flavors or odors.
Are you surprised to see glass on the list? Many parents love glass bowls for their babies! Tempered glass is durable and safe for babies. Believe it or not, tempered glass is 2.5 times stronger than standard glass. Tempered glass is shock-resistant because its created with a process of extreme heating and rapid cooling.
Plastic gets a bad reputation for good reason. It's not an ideal choice for baby dishes because once you rough up the material, it starts to release chemicals into food. Heated plastic or scratches can leach these chemicals.
The elephant in the room when it comes to plastic and baby dishes is BPA. You've probably heard about BPA! BPA is a synthetic chemical component that is found in everyday items that use hard plastic. Studies and experts say that food and drink items that contain BPA are dangerous, especially if you heat liquid or food inside of it.
You can find BPA everywhere, like in plastic containers, canned foods, household electronics, and toiletries.
So, what's the issue with BPA? Evidence shows that exposure can lead to some health problems, such as:
Hormonal interference
Type 2 diabetes
Reproductive disorders
Heart disease
Most manufacturers have stopped using BPA several years ago but look for reassurance on the packaging before purchasing.
So, You should get what's the best material for baby dishes!
---
The Features to Look for in Baby Bowls and Plates
There are several features that you will want to look for when you want to purchase baby dishes. Here is what you should consider!
We talked about above the different materials that baby dishes are made with typically. You want to purchase something that will hold up to a lot of use. The plates and bowls shouldn't break or crack if your baby decides the bowl needs to take flight across the floor. All of the baby dishes should withstand multiple drops per day.
When your child is getting used to using dishes, non-slip ones are a great choice. Several choices form suction cups on the bottom. Some have non-skid bottoms. Babies love to pick up their dishes and throw them, causing a mess everywhere. If you've noticed your baby seems to have a good arm, look for the suction cup bottoms or, at the very least, non-skid bottoms.
Take a look at what ages the manufacturer recommends for their baby bowls and plates. Some are better for older babies. If you want a bowl or plate for a small infant, you need to look for that feature!
Adult bowls and plates are too large for babies. You want bowls and plates that are the right size. The bowls should be smaller with the right portions. Plates that are smaller with multiple sections for portioning food – or stopping food from touching – are ideal.
You need to look to see if the plates or bowls are microwave safe. No one wants to dirty more than one dish. Who wants to put their child's food in one dish for the microwave and then to their bowl? Not you! Take a look at the approved warming methods. Some baby dishes are considered oven safe as well!
Portion sizes are a huge deal for everyone, and now is the best time to teach that to your child. A divided baby plate or mat helps parents keep portions in check.
You have enough to do in your life, so you don't want baby dishes that are hard to clean. Ideally, the bowls and plates will be dishwasher safe. Also, you don't want the plates to retain odors or stains. Easy to clean is very important for baby dishes!
---
The Best Baby Plates
1

WeeSprout Silicone Divided Toddler Plates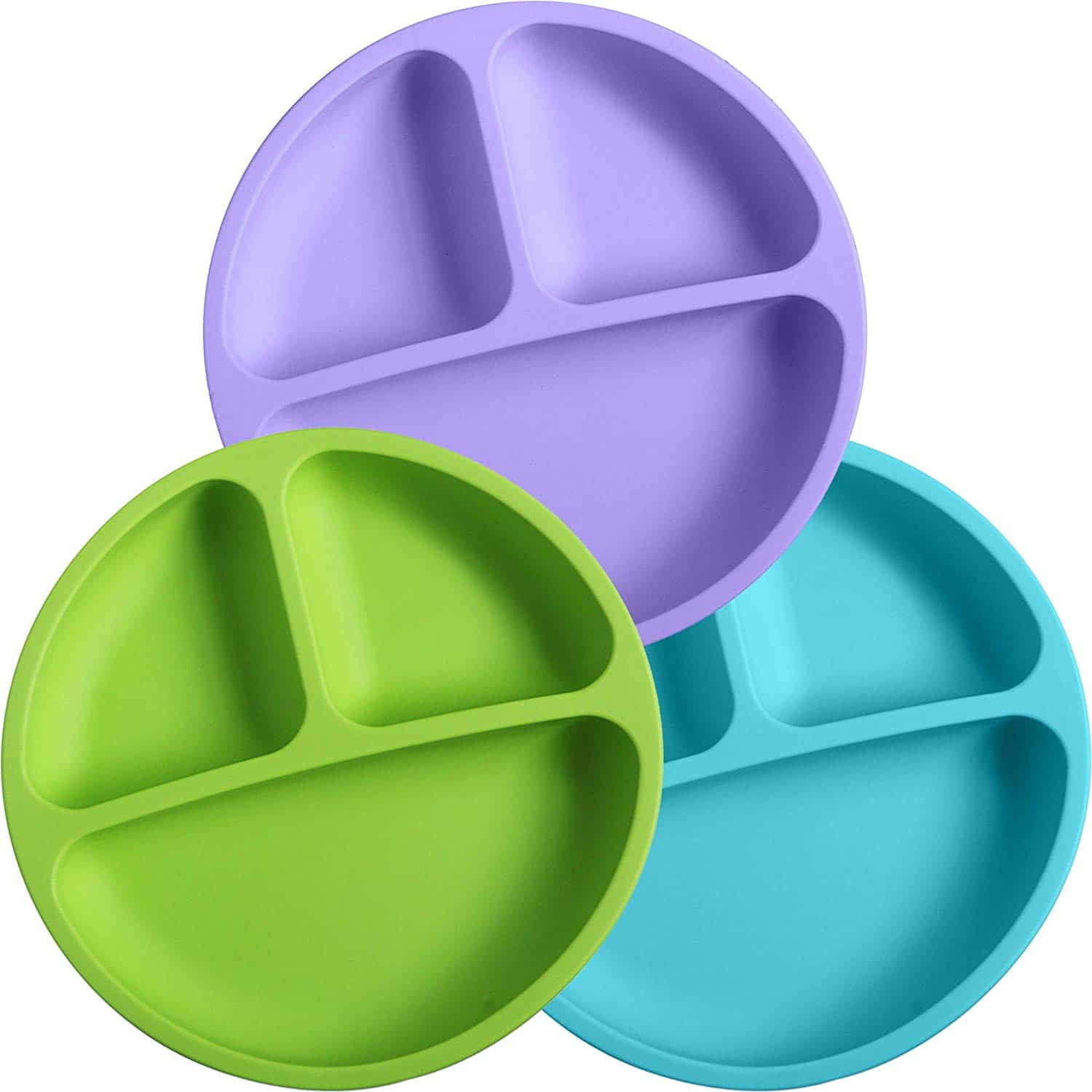 The WeeSprout Plates are perfect for little ones! They are practical and made with silicone, which happens to be unbreakable aka toddler-proof. These plates are microwave and dishwasher safe, so clean up is super easy! Surprisingly, WeeSprout plates are also oven and freezer safe, and they don't transfer heat! Those are some awesome features in a toddler plate.
The plates come in a set of three, and they are made of 100% FDA certified silicone. Unlike other silicone products, these don't have a weird taste or smell. They are also BPA-free for safety. It's one of the best silicone baby dishes which I really recommend.
Check Pricing and Availability
PROS:
Afford Set of 3
Dishwasher and Microwave Safe
Divided into 3 Sections
100% Silicone
CONS:
Might Retain Flavors of Soap
Strong Scent
---
2

Kiddobloom Children Premium Stainless Steel Dinnerware Set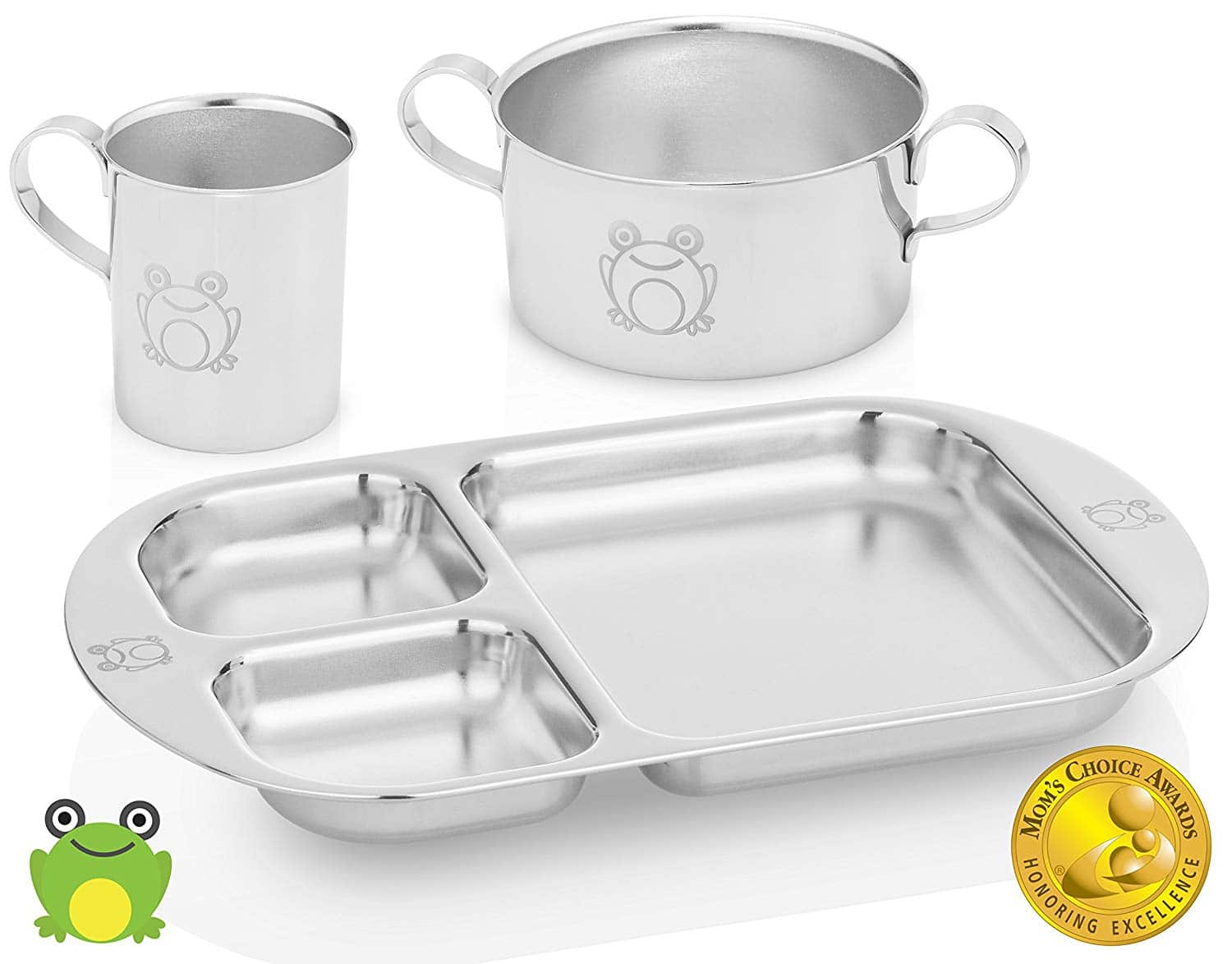 Some parents are leery about using plastic or materials that might contain toxins for their children's food. It's easy to understand the fears! If that is your concern, Kiddobloom Stainless Steel Set is a great pick!
Kiddobloom used FDA approved food contact material, and they are confirmed safe and non-toxic according to lab testings. This Dinnerware Set meets FDA and CPSIA requirements. You don't have to worry that the plates will rust, and the materials are designed to survive drops and bumps.
The plate is divided, making serving portions easy, especially when your toddler hates his food to touch! The set includes a cup, which is light to hold even if filled. It's the perfect cup for toddlers who are learning how to drink from an open cup.
We love the Kiddobloom is easy to keep clean. Everything washes off easily, and stainless steel doesn't retain odors. There are no weird crevices to trap food which could cause mildew growth. Parents also love that the set stacks perfectly, so your kitchen can stay as organized as possible with a baby!
Check Pricing and Availability
PROS:
Each Set has 1 Bowl, 1 Cup, and 1 Plate
Easy to Clean
Made of Food Safe Stainless Steel
Will Last for Years
Non-Toxic
CONS:
Expensive
Will Need More Than One Set
---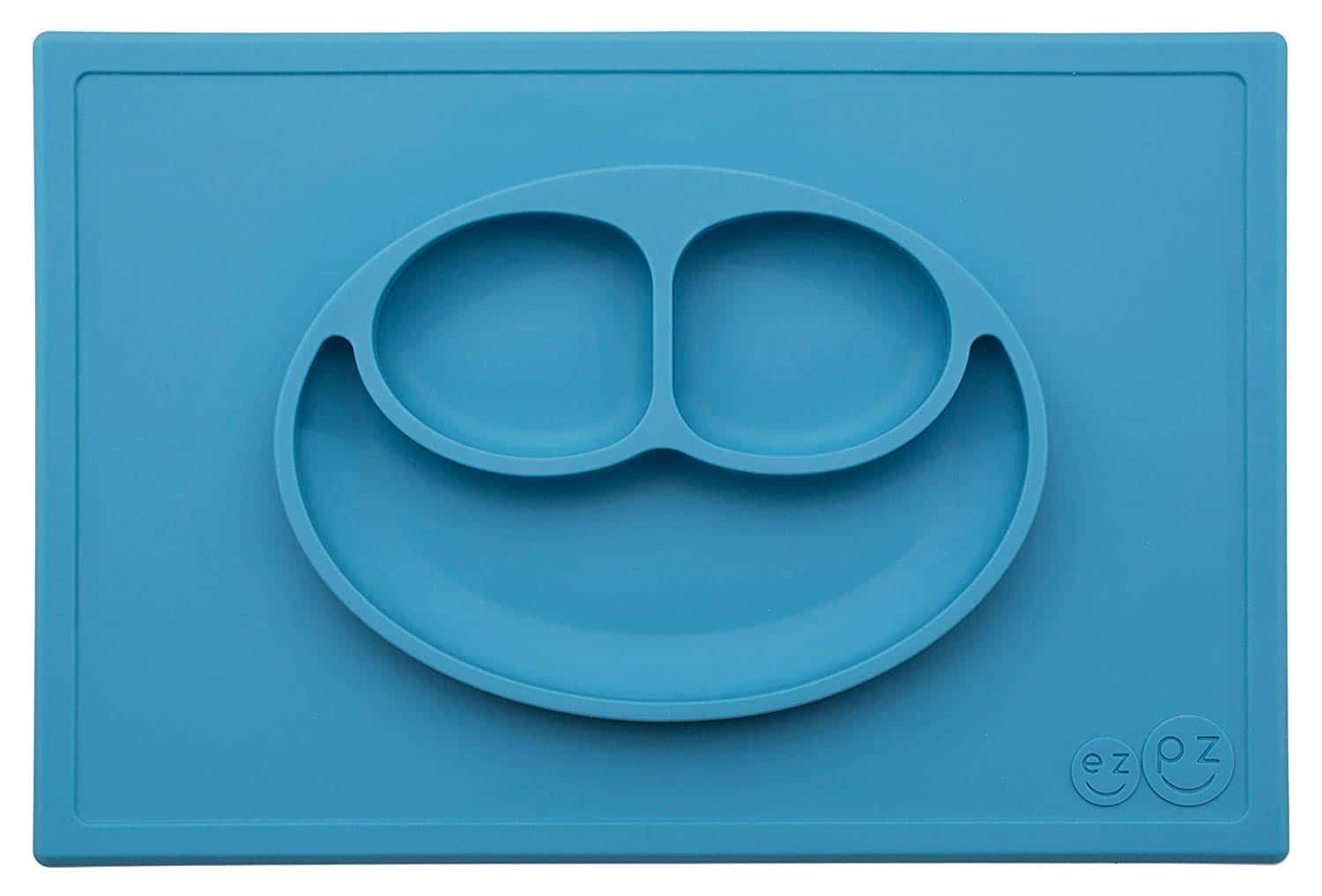 Let's be real for a minute – babies and toddlers love to throw their plates. If you turn your back for a second, that plate full of spaghetti becomes a projectile. It's not fun, at all! Ezpz knew this and created what every parent needs – the Happy Mat. It's probably named the Happy Mat because it keeps moms happy and sane.
The Happy Mat is an all-in-one placemat and plate that suctions to your table. It contains the mess and stops the plate from tipping over. There are three sections for portions, stopping food from touching and giving you an area for each food group. Each section is the correct portion – 4oz, 4oz, and 10oz.
Ezpz used high-quality silicone that is BPA, BPS, PVC, lead, latex, and phthalate free. We love that the design makes it possible for parents to stack and serve two or more mats at a time. That means you can easily use these when you have more than one little child at the table. These mats are dishwasher safe or you can wash with warm, soapy water.
Need something smaller to fit your high chair tray better? Give the Ezpz Mini Mat a try! It has all of the same features in a smaller size
Check Pricing and Availability
PROS:
Suctions to the Table
Three Portion Sections
High-Quality Silicone
Stackable Mats
Dishwasher Safe
CONS:
Large – May Not Fit a High Chair
Expensive
---
4

Bobo & Boo Bamboo Kids Plates
If you are looking for eco-friendly toddler plates, Bobo & Boo are some of the best choices! Sold in a set of four, they are also some of the best-priced bamboo baby plates! These plates are beautifully designed with adults style in mind but meant for little fingers!
These plates are made with sustainably sourced bamboo, which means they're non-toxic, BPA and PVC free. Bobo&Boo uses FDA-approved, food-grade bamboo, which means they are baby and environmentally friendly! You can feel good about using these with your child!
We also love that, instead of paint, Bobo&Boo mixed natural pigments into the bamboo by-products, so you never have to worry about them chipping or flaking in your child's food.
Check Pricing and Availability
PROS:
Sustainably Sourced Bamboo
Comes in Set of 4
Affordable
Natural Pigments for Coloring
Easy to Clean
CONS:
May Break Easily
Could Fade with Dishwasher Use
---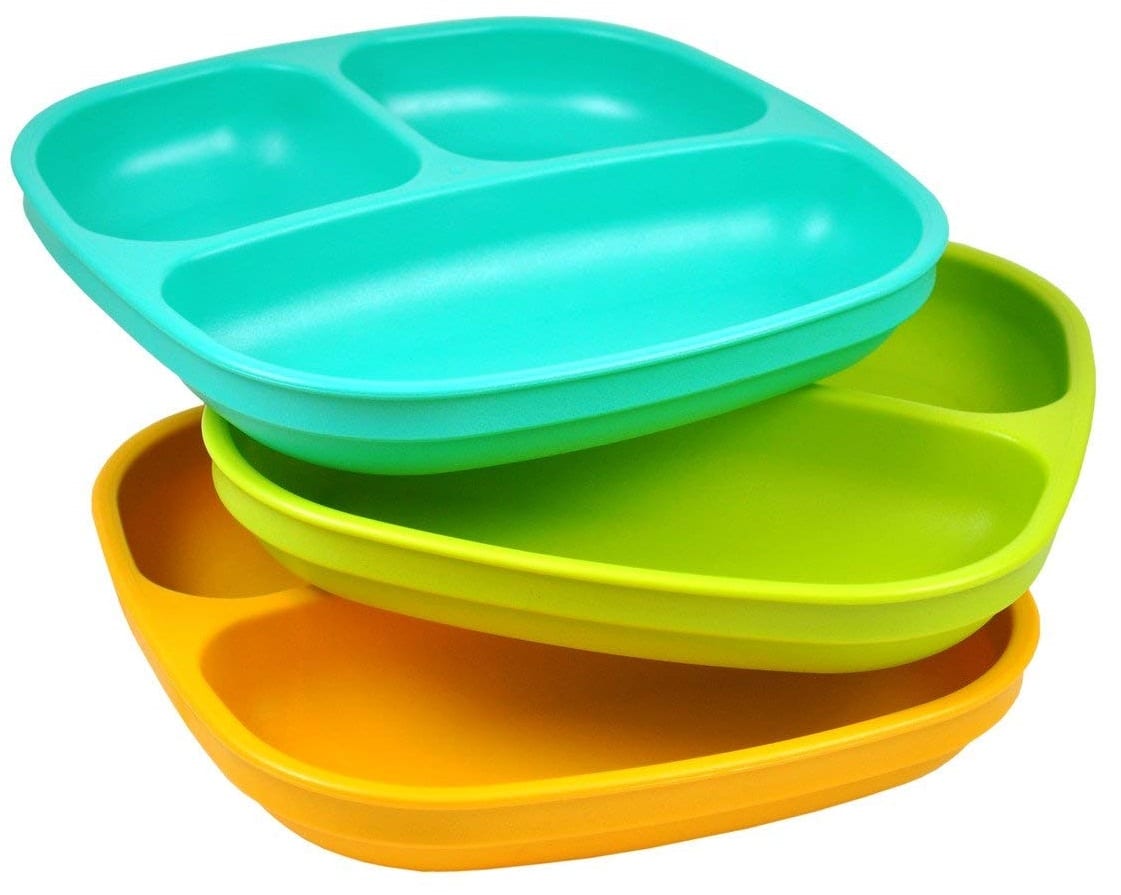 Re-Play plates are meant to last through multiple children! They can survive spills, drops, and anything your child can toss at it. We love that Re-Play products are thoroughly tested by this family-owned company to ensure everything will stand up over time. Everything goes under third-party testing.
What makes Re-Play plates so cool? Re-Play creates their products from recycled milk jugs. When your child is older, you can recycle these plates. Isn't that so cool? Recycled plastic reduces greenhouse gases and saves energy, perfect for the eco-friendly families.
These divided plates have unique, high walls that stop food from going over the sides. They are divided into three sections for easy portioning. All of the Re-Play products are BPA and FDA approved. They are also dishwasher safe.
Check Pricing and Availability
PROS:
Divided into Three Sections
Deep Sides to Keep Food in Plates
BPA and PVC Free
Dishwasher Safe
Made of Recycled Plastic
CONS:
Not Microwave Safe
Easy to Throw
Holds Stains
---
The Best Baby Bowls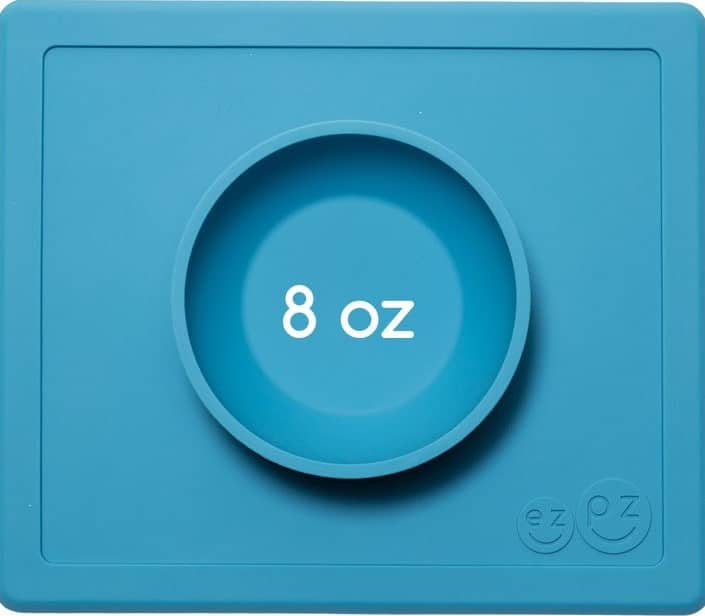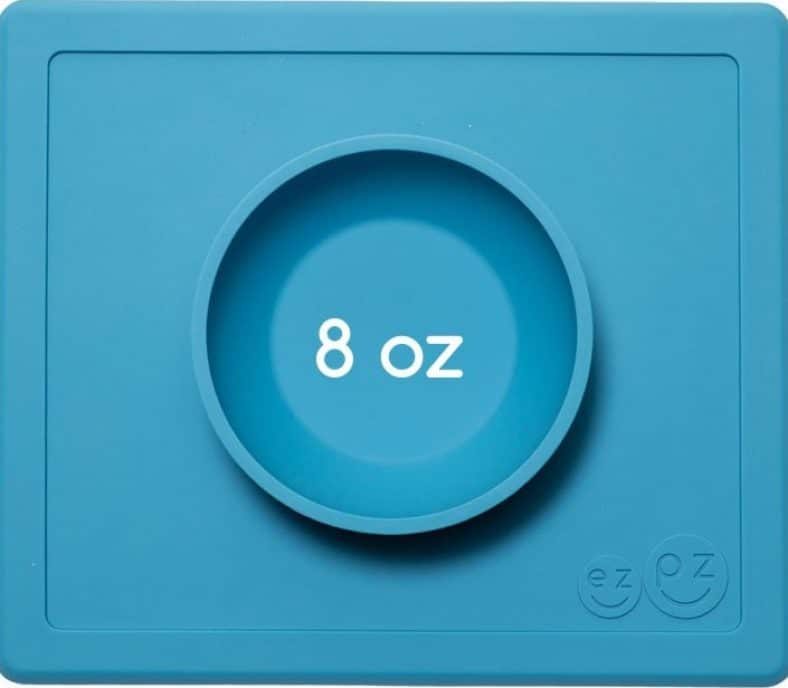 Remember that awesome Happy Mat listed above? It has a cousin called the Happy Bowl, and we love it just as much as we love the Happy Mat! It is an all-in-one placemat and bowl that suctions to any surface that you pick. That means the bowl of cereal doesn't need to meet the floor.
The bowl holds 10 ounces, and it's awesome for all kinds of food like pasta, soup, oatmeal, and more! The silicone is microwave safe, so you can warm up his oatmeal right in the bowl. Ezpz designed their Happy Bowl with infants over six months in mind.
It shares the same awesome features as the Happy Mat. Parents can stack more than one Happy Bowl at a time for easy meal times. You can place it in the dishwasher or use warm, soapy water – whatever you prefer!
Check Pricing and Availability
PROS:
Suctions to Surfaces
Holds 10 ounces
Microwave and Dishwasher Safe
Great for Infants
---
2

Munchkin Stay Put Suction Bowl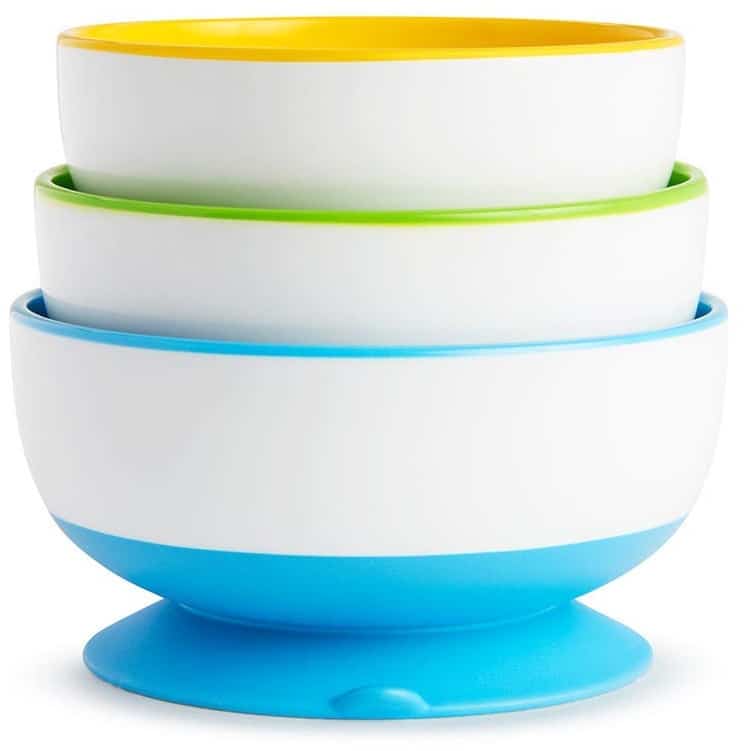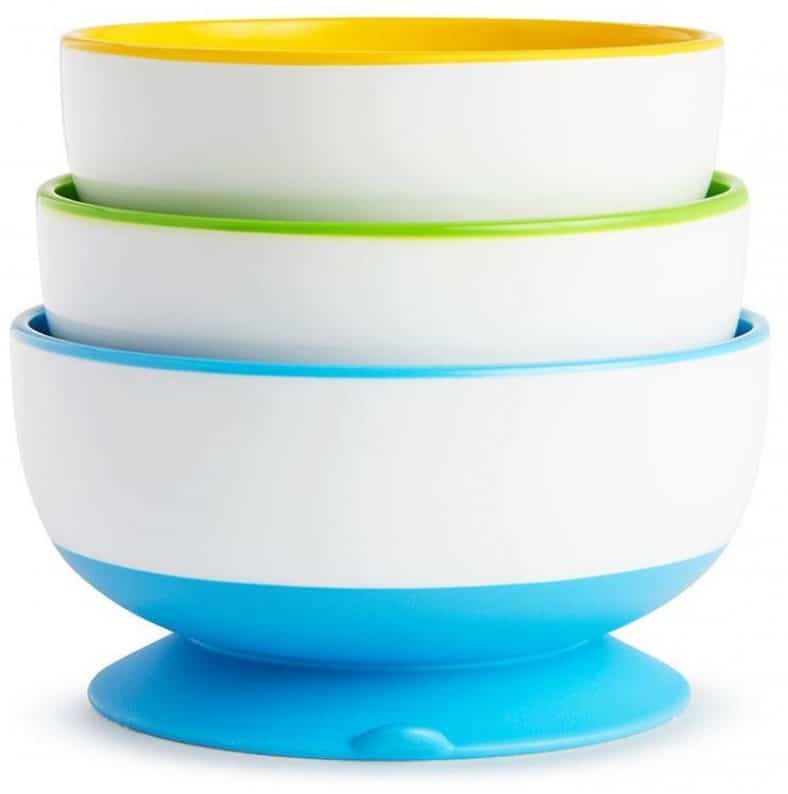 Munchkin is a well-known brand in the baby world, making some of the most affordable options. Their Stay Put Suction Bowls come in a set of three, and they're super affordable. Actually, they're downright cheap!
The set includes three different bowl sizes, perfect for different meals. You can use them whether you are serving a snack or soup for dinner. These bowls are perfect for self-feeding infants and toddlers. We like that the suction base is permanently attached to the bowl. That means you have fewer parts to lose and less of a chance of the bowl coming off the high chair or table.
Munchkin created these bowls to have a strong suction base that will attach to most surfaces. It has a quick release tab that makes removal for adults easy, but your toddler won't be able to figure it out! These bowls are microwave and top-rack dishwasher safe. Clean up is so easy!
Check Pricing and Availability
PROS:
Affordable Set of 3
Attaches to Most Surfaces
Includes Different Size Bowls
Quick Release Tab for Parents
Microwave and Dishwasher Safe
CONS:
Strong Toddler May Be Able to Remove
Doesn't Come with Lids
---
3

Bobo & Boo Bamboo Kids Snack Bowls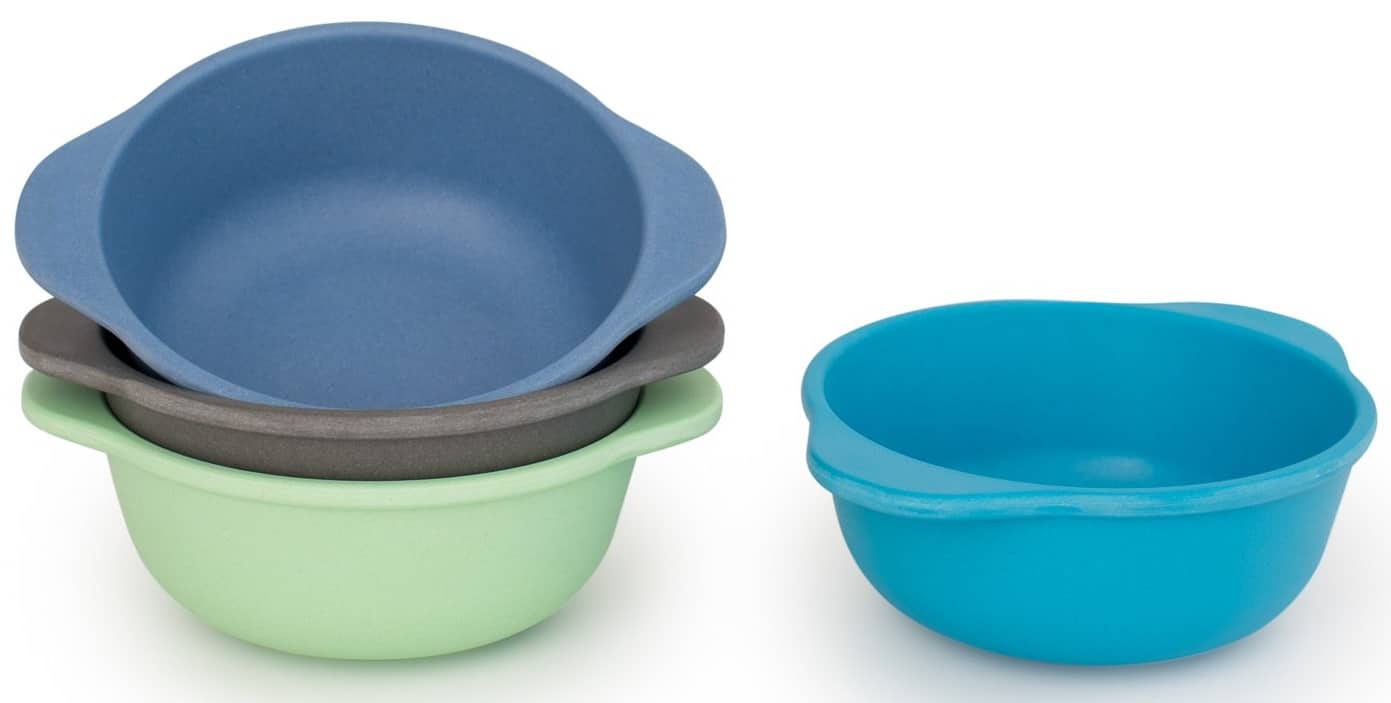 Just because you have kids doesn't mean you can't have fun and modern dishware for your children. Bobo&Boo sells some of the best-selling bamboo bowls on the market, and they're incredibly durable AND adorable!
These bowls are super kid-friendly, perfect for families who are focused on raising healthy kids and are earth conscious as well. These bowls are BPA and PVC free. In fact, they are totally non-toxic, made with FDA-approved, food-grade, sustainable bamboo.
Bobo&Boo uses bamboo by-products which are biodegradable. That means it won't end up in the landfills. While each bowl is colored, don't worry! Bobo&Boo didn't use a coating, finish, or paint. You don't have to worry that the plates will flake, peel, or leach color into your child's food. Instead, this awesome company uses food-grade, mineral pigments that are added to the bamboo by-product rather than layered on top.
Check Pricing and Availability
PROS:
Perfect Size for Little Hands
Easy to Wipe Clean
Sustainably Sourced
No Paint Used
CONS:
Dishwasher May Fade Colors
Some Parents Experienced Cracking Bowls
---
4

ThinkBaby Complete Feeding Set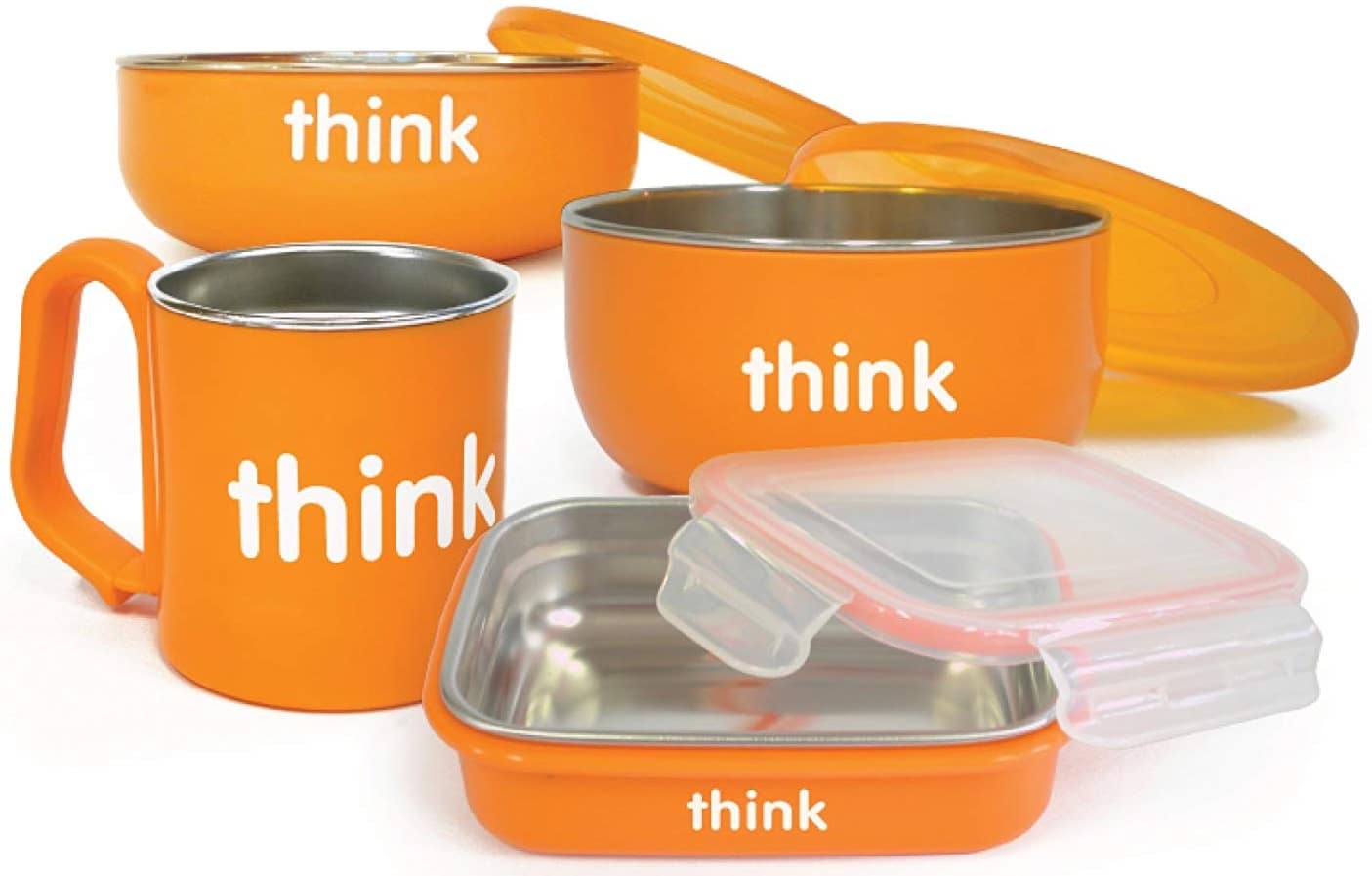 Here is another awesome choice for a non-toxic feeding set that parents and babies love! The set comes with a baby bowl with a lid, a soup bowl with a lid, and a kid's cup. ThinkBaby goal is to provide feeding utensils that are free of BPA, phthalates, nitrosamines, lead, melamine, and PVC. This set is recommended by Healthy World Healthy Child.
Parents can use this feeding set as soon as their baby is old enough to start eating! We love that the bowls include lids, so we can take them on-the-go for snacks and meals. The cup is great for kids who are old enough to start using regular cups, so your baby may not use it yet. However, he will in a short amount of time!
All of these bowls and Bento box are made from 18/8 – 304 medical grade stainless steel. Then, they are wrapped in polypropylene. For easy cleaning, the interior and exterior separate to avoid any food from getting into a crevice and turning into mold. All of the parts are dishwasher safe, so cleaning is even easier!
Check Pricing and Availability
PROS:
Free of any toxic chemicals
Includes Bowls with Lids and a Cup
Made with Medical Grade Stainless Steel
Dishwasher Safe
Comes Apart for Easy Cleaning
CONS:
Not Microwave Safe
Smaller Than Expected
Pricey
---
5

Avanchy Baby Feeding Bamboo Spill Proof Suction Bowl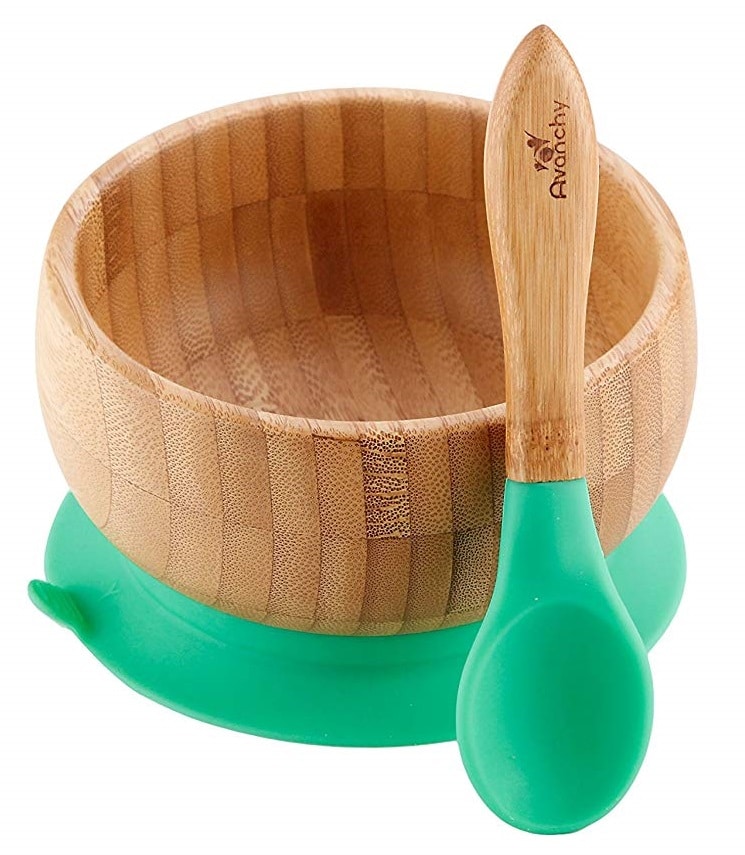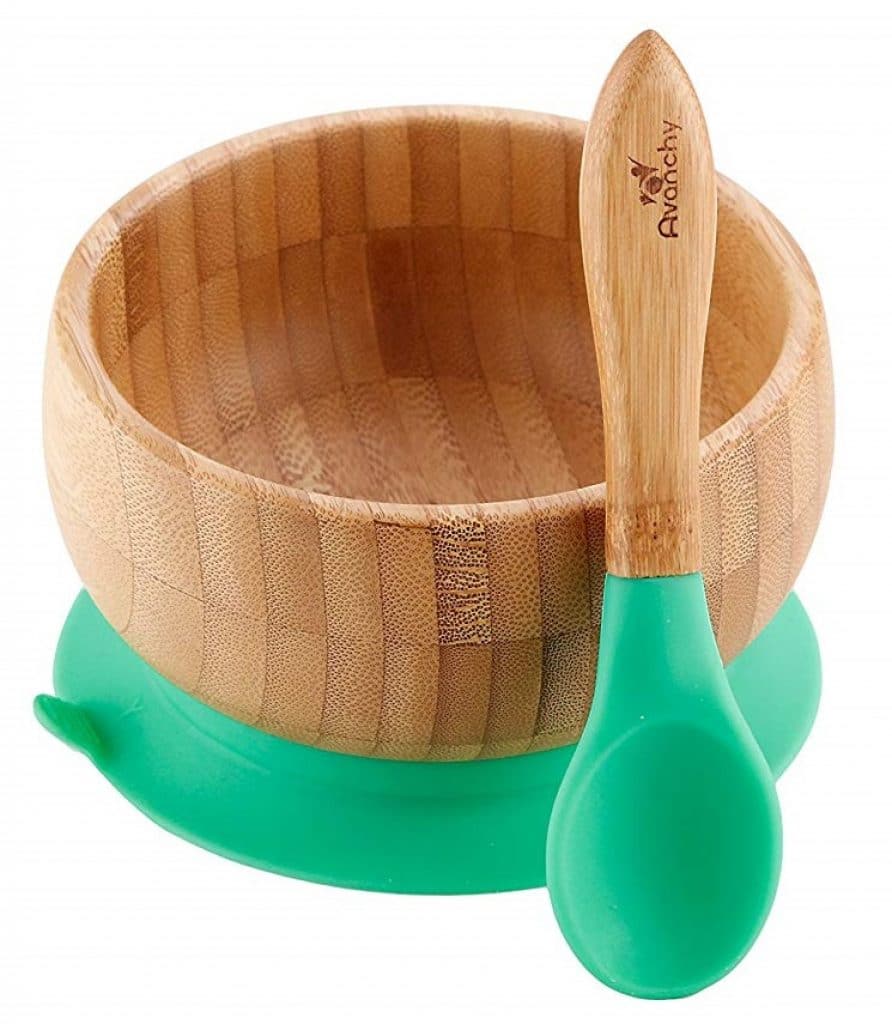 If you want bamboo and a suction cup bottom, you found your solution. With this bowl, you don't have to worry about a large mess because the bowl attaches to any flat surface. There is a quick release tab at the bottom for easy removal. The silicone bottom lets you hand the reins to your child when he is ready to self-feed. To activate the Airtight Lock mechanism, all you have to do is firmly press down onto any flat surface.
We love that Avanchy uses organic bamboo with no fillers. These bowls are BPA, lead, plastic, and phthalate free. Only FDA, SGS, and UTV approved materials are used in the making of these bowls.
Let's not forget has aesthetically pleasing these bowls are! They don't look like baby bowls. They are beautiful and makes your child feel like part of the family. We like that the silicone suction piece is removable for more thorough cleaning. You also can remove the silicone for when your child is old enough to no longer toss his bowls and plates!
Check Pricing and Availability
PROS:
Beautiful Design
Suctions to Most Surfaces
Holds Strong
Non-Toxic
Quick Release Tab
CONS:
Not Dishwasher Safe
Not Microwave Safe
---
6

Olababy Silicone SteamBowl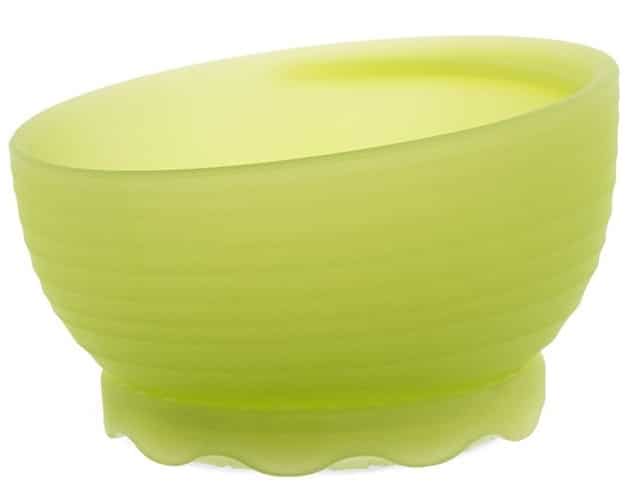 The Olababy SteamBowl is a unique choice for your baby. You can use it to prepare and serve your baby food purees and other yummy meals. The bowl is made from toxin-free, BPA-free, food-grade silicones. What makes the Olababy so unique is that you can use it as a steamer and a serving bowl! It's combined into one item.
When you want to steam your baby's puree, you place the Steam Bowl on a saucepan or a pot of shallow water, filled with your baby's favorite food. Soon, the food is ready to eat! It really makes prepping food for your baby a breeze! Because it's made of silicone, it doesn't absorb the heat of the boiling water and cools down randomly for you to hold it safely in your hand.
We love that the Olababy is easy to clean, and it's heat safe up to 428 degrees F! It's also top-rack dishwasher safe as well as microwave safe. If you are looking for a bowl to make life a bit easier and reduce how many dishes you need to wash, the Olababy is a great pick!
Check Pricing and Availability
PROS:
Food Grade Safe Silicone
Easy to Clean
Heat Safe
Can Steam Food in the Bowl
BPA-Free
CONS:
Doesn't Come with a Lid
Gives Off Chemical Scent
Looking for lead free best dinnerware for your baby? See our top picks of baby dinnerware!
---
The Final Word on the Best Baby Dishes
Baby plates and bowls are awesome tools for teaching your child how to feed themselves and to eat with the family. You have a lot of options on the market! Look for a set that will grow with your child and work with him until he is able to eat with regular dishes!