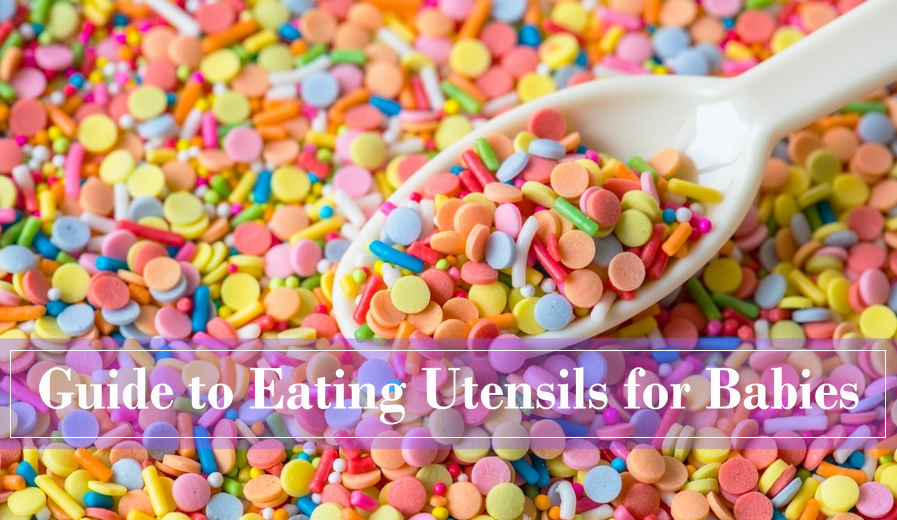 Now that your baby is old enough to eat solid foods, you have to pick up a few of the best baby utensils. Most babies are ready for solid foods around six months of age, which is the recommended age by the American Academy of Pediatrics.
Obviously, you need food to feed your baby, but other tools are necessary too. Bowls, plates, spoon, and forks are a few necessary accessories to make meals easier. You get a lot of use out of these tools because your baby has to eat three meals a day plus a few snacks. Any money you spend is well-invested in these tools.
---
What Baby Feeding Tools Do Babies Need?
We know that feeding time can be fun, yet stressful, for parents, especially once your baby reaches the age of chucking all of his food onto the floor. Unbreakable items are a must-have for babies. Don't even think about giving that angel your Fiesta Ware bowl. It'll be on the ground, in pieces, for sure. Ask us how we know!
There are a few tools that we recommended for baby feeding time.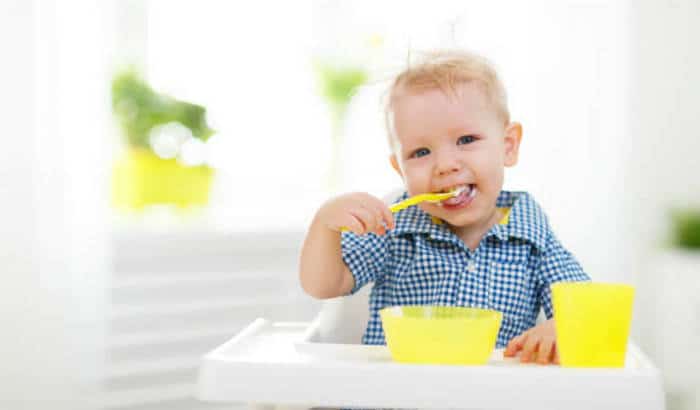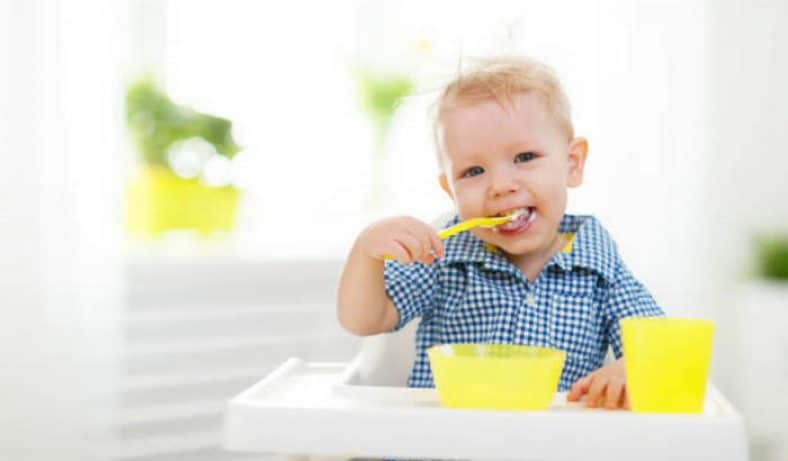 Bowls & Plates – Check Our top picks.
Forks
Spoon
High Chair
Bibs
---
Are Baby Spoons and Forks Necessary?
Some parents like to save money and only purchase items for babies that are necessary, so you might wonder if baby spoons and forks are REALLY needed? Can't you just use the spoons you have in your drawer? After all, if it's good enough for you, why isn't it okay for a baby?
You COULD use a regular spoon or fork, but most pediatricians recommend using a shallow, plastic children's spoon for feeding. It's much easier for them to eat from and it won't hurt their delicate mouths. Babies and toddlers with more teeth could use a metal one without much harm.
---
The Different Kinds of Baby Spoons and Forks
There are different utensils for different feeding styles – parent and self-feeding. Parent feeding is just what you might assume. That's when YOU feed your baby! Self-feeding is when the baby is in control over his food, whether he is an older baby or young toddler OR parents who use baby-led weaning.
Silicone Spoons: These spoons are made of soft, silicone that you can just toss into the dishwasher. Silicone is easy and safe for babies to chew, so it is a great way for them to learn how to eat. Make sure you guarantee they are BPA-free.
Bamboo Handled Spoons: Some parents love these spoons! They're biodegradable and adorable! The plastic or metal spoon part can be washed separately because they are removable.
Combined Spoon and Teether: These spoons are made larger with a chewy texture. That lets your baby chew and chomp on them comfortably. The teething part encourages kids to learn how to use a spoon.
Ergonomic Spoons: It can be hard for little hands to learn how to hold a spoon correctly. Ergonomic spoons are chunkier and are shaped easier for babies to learn how to handle. It helps develop their fine motor skills.
---
How to Pick the Best Baby Utensils
Here are the factors to consider when picking the best baby utensils.
The most important feature to consider is what the spoon or fork is made of. Babies aren't coordinated enough to use metal forks and spoons. They could hurt themselves by biting down on the metal with their gums. Softer materials are a good idea. Plastic, rubber, and even wood is good for babies.
Look at the different types of utensils above. Are you feeding your baby or is he feeding himself? The style of handle matters when your child starts to independently feed. You want one that is comfortable for him to hold and handle on his own.
Some spoons and forks have removable ends because the handle may no be dishwasher safe. If you want that style of utensil, make sure you keep a close eye on your baby. You don't want that end coming off and becoming a choking hazard.
Baby utensils SHOULD be smaller than yours. It might look small to you, but it's probably the right size for your infant. It should be able to fit into your baby's mouth
Many baby utensils are cheap, so you don't have to sell an organ to afford a few sets. That doesn't mean you need to rush out and buy the cheapest set. Some don't last long. They end up breaking or full of teeth marks before long. Those super-cheap ones may contain harmful chemicals as well.
---
Our Baby Utensils Review: Get Best Spoon & Fork Now!
1

The First Years Take & Toss Flatware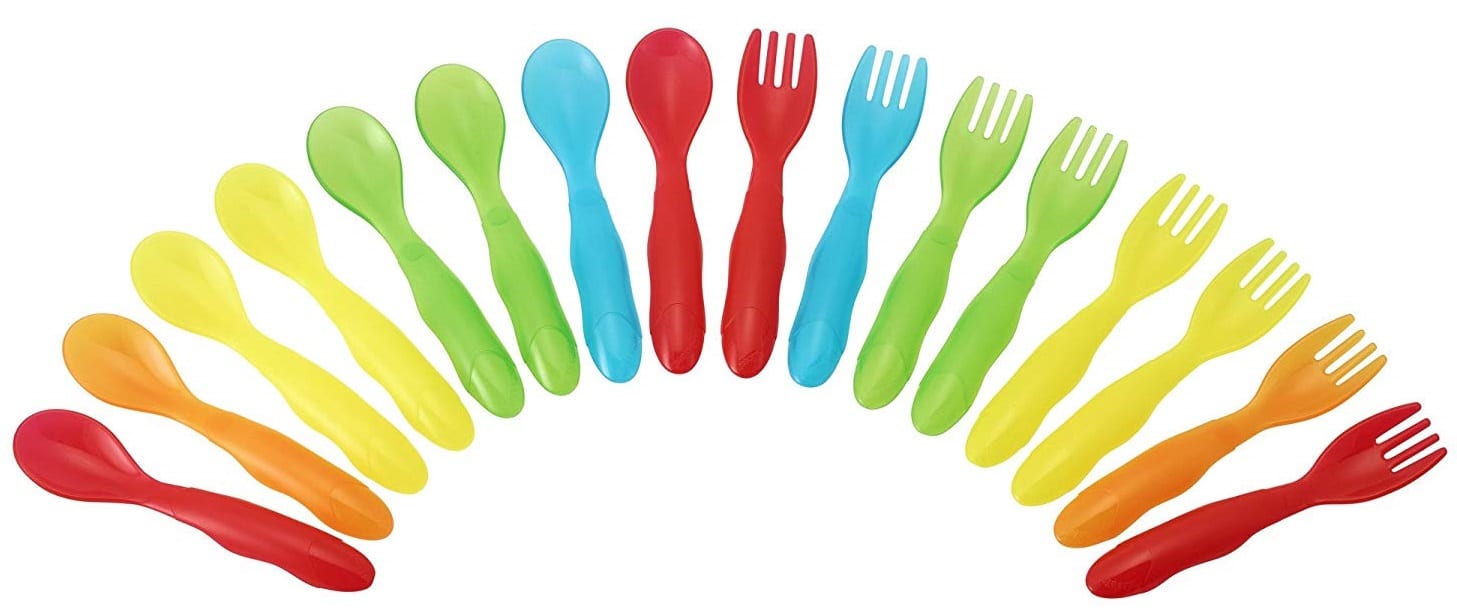 The Take & Toss line includes a variety of feeding tools, such as forks and spoons. They are a durable plastic that you can use multiple times, but they are cheap enough that you can treat them as disposables. Believe it or not, the Take & Toss utensils hold up wash after wash.
The set comes with 8 forks and 8 spoons, which is enough to keep some at home, in the diaper bag, and at grandma's house. You won't feel so bad when you leave one at a restaurant because they're so inexpensive!
These utensils are far from fancy, but they do the job. They have textured handles with finger grooves to help your toddler, plus they're dishwasher and microwave safe. All First Years products are BPA free!
Check Pricing and Availability
PROS:
Dishwasher Safe
Inexpensive
16 Pieces of Flatware
CONS:
Deep Spoons Make it Hard to Get Out
Short Handle
---
2

ChooMee FlexiDip Starter Spoon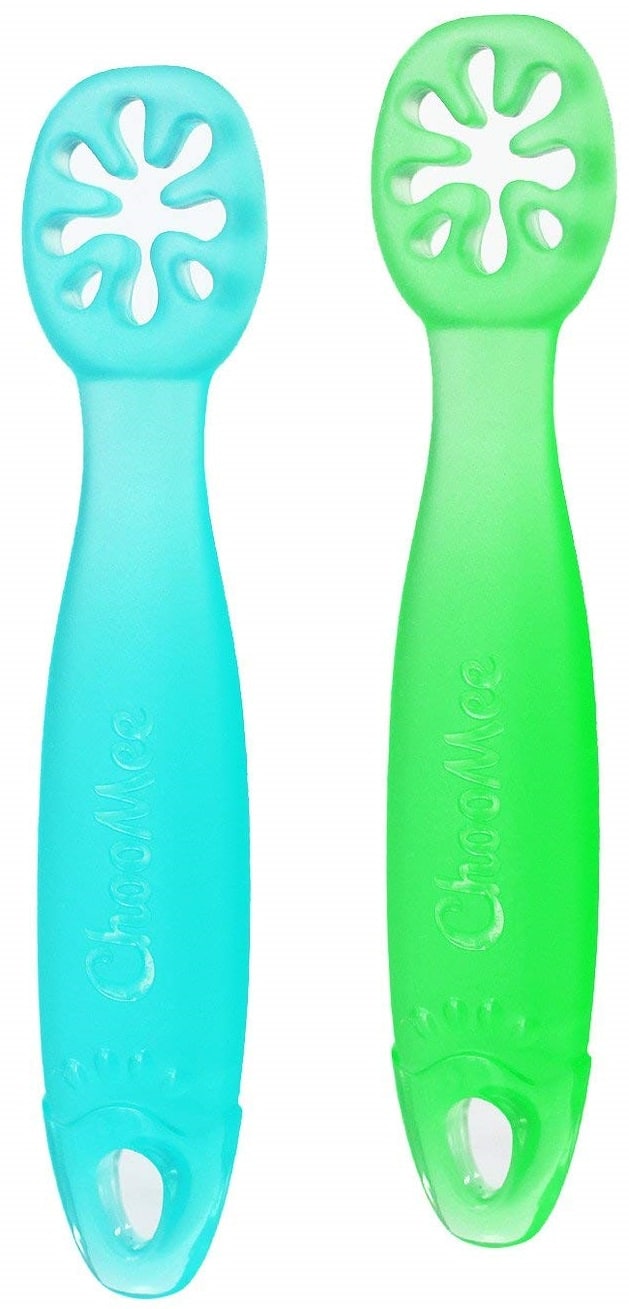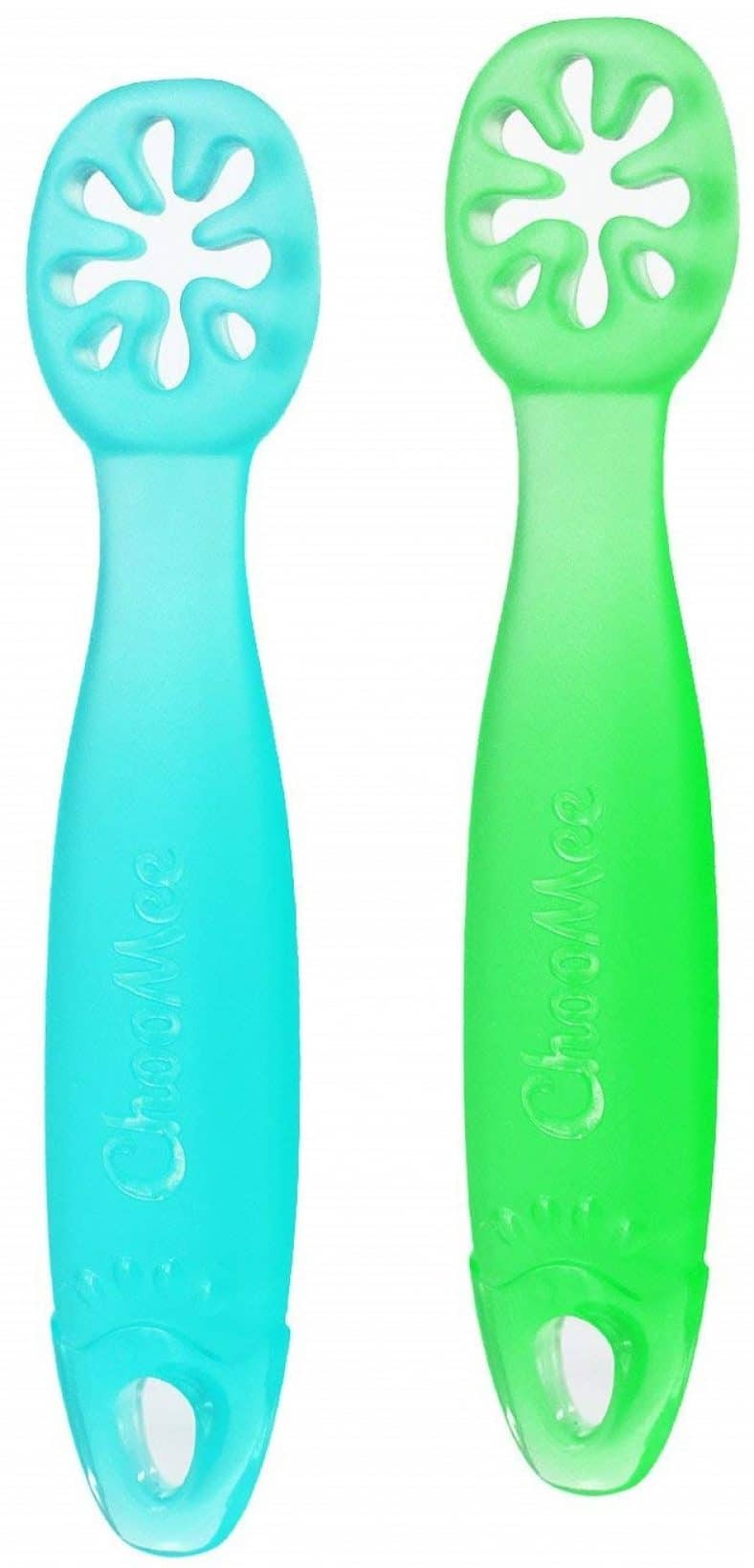 Self-feeding can be challenging for babies. ChooMee spoons aren't rigid, so it makes it easier for your baby to use until his motor skills are better. The necks are bendable, but the handles are firm, so your baby has a good grip.
The set comes with two spoons, and each spoon is made out of BPA-free silicone. Silicone feels soft in your baby's hand. The most noticeable difference is that they have a cutout in the scoop part, which means that the spoon isn't solid there.
It seems counterintuitive but the purpose is that it helps your baby since they aren't able to scoop up baby food at first. Some food will get trapped in the hole as your child dips it into his food. Babies get so frustrated when they try to scoop and it doesn't work, so this design is fantastic.
If your baby is practicing his self-feeding skills, the ChooMee is the perfect transition rather than a frustrating, painful one. It lets your baby experiment and learn without frustration. The design promotes independence and confidence.
Silicone is hygienic, dishwasher and microwave safe, BPA, PVC, lead, and phthalate free. These spoons meet and exceed all US and European testing standards.
Check Pricing and Availability
PROS:
Comfortable grip
Reduces spills and frustrations
Helps baby master self-feeding
CONS:
Expensive
Doesn't work for runny foods, only purees
---
3

Beaba First Stage Baby Feeding Spoon Set
If you plan to spoon feed your baby solid foods, you need a spoon that is suitable for the first stage foods and learning how to eat from a spoon. We love the Beaba spoons for this! They're a great, safe tool to use to introduce solids to your child, designed with those first feedings in mind.
Beaba uses ultra-soft silicone, which is the perfect material for new feeders. Silicone protects your baby's gums and teeth. You don't have to worry about any rough edges harming your baby. The ergonomic handle makes it easy for parents to feed baby from any angle, and it's the perfect length to scrape the bottom of the jar. No one wants to get baby food all over their hands!
As for the spoon itself, babies love it. It's the right depth that helps baby transfer food without scooping off too much food at one time. You can trust Beaba and their products, which are always BPA, lead, and phthalate free. Plus, they're dishwasher friendly!
Check Pricing and Availability
PROS:
Great for teething babies
Easy to grip and doesn't slide out of hands
Durable
Won't tip over a bowl
CONS:
Spoons might stain.
Hard for baby to use for self-feeding
---
4

Lullababy Fork and Spoon Set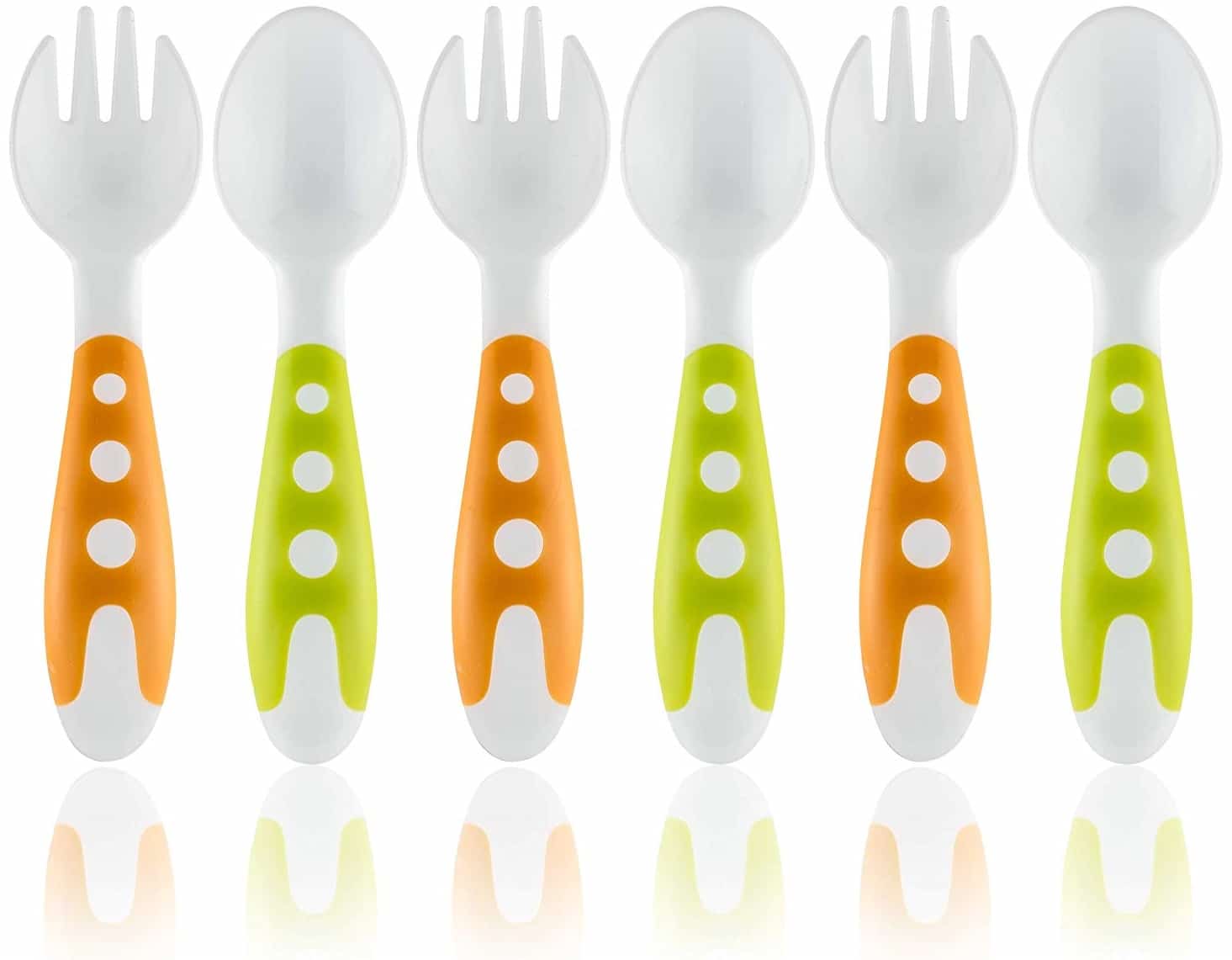 The Lullababy set includes three forks and three spoons along with a convenient traveling case. The case makes it easy to take your utensils wherever you go, whether it's on vacation or to a restaurant. Frustrated parents designed the Lullababy spoons and forks, who were sick of utensils that were too shallow or too deep for self-feeding. So, they decided to fix the issues.
The utensils hold plenty of food, and the forks are shaped just like a spork. So, your baby will be able to get food with the safety of a spoon. The round edges of the fork are soft, so you don't have to worry about your baby stabbing his mouth on accident.
Lullababy added non-slip material on the handles and thick, making it easier for your baby to hold them. The design prevents them from sliding out of your child's hands as they eat. Lullababy is made of food-grade safe materials, and they're all BPA-free!
Check Pricing and Availability
PROS:
Colorful appearance
Great for traveling or at home use
A safe option for a fork
CONS:
Pricey
Doesn't pick up food as easily as traditional forks
---
5

Miniware Teething Spoon Cutlery Set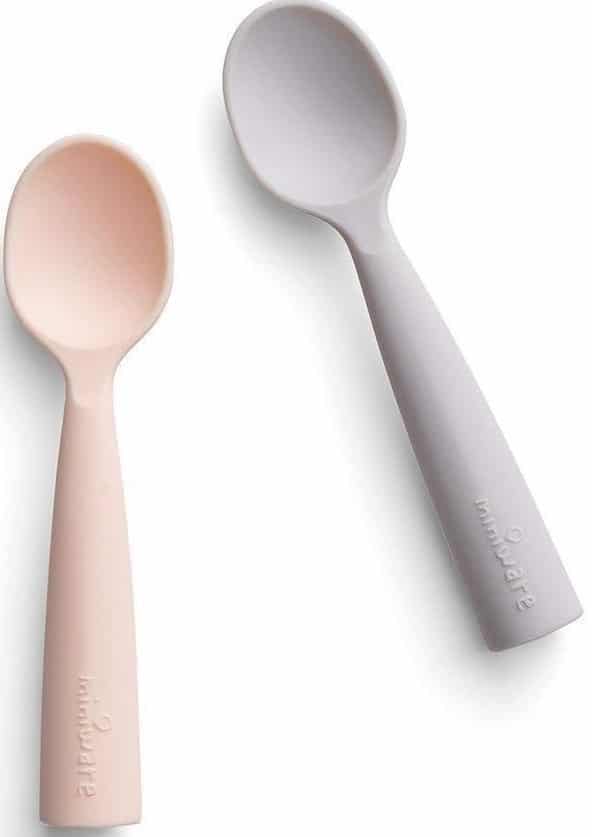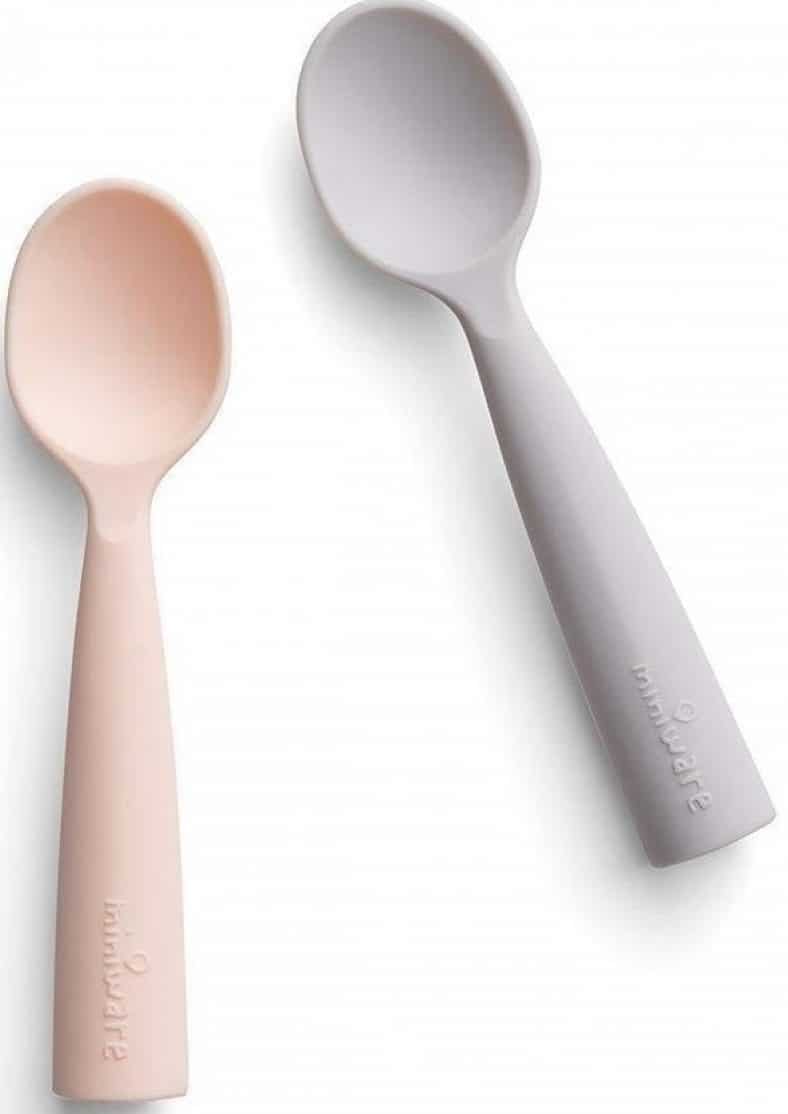 Miniware makes a great spoon for babies who are just getting started with solids. Ergonomically designed using super-soft silicone, Miniware spoons are comfortable for babies to bite and chew as they learn how to self-feed.
Each set includes two silicone spoons in different colors along with an clean carrying pouch. Babies love the rounded handles that make it easy for them to grip as they learn how to feed. Each spoon is the ideal weight, so balancing and controlling the spoon is easier. Learning how to guide a spoon is hard enough without a heavy spoon!
Parents like the notch on the bottom of the spoon that lets you hang it on the side of the bowl. No more spoons sliding into a bowl of applesauce – yay! Miniware utensils are always dishwasher safe.
Check Pricing and Availability
PROS:
Modern design
Great for self-feeding babies
Perfect size for babies to hold
Soft silicone won't hurt baby.
CONS:
Spoon is too deep.
Too big for some baby's mouths
---
6

Olababy Silicone Spoon Teether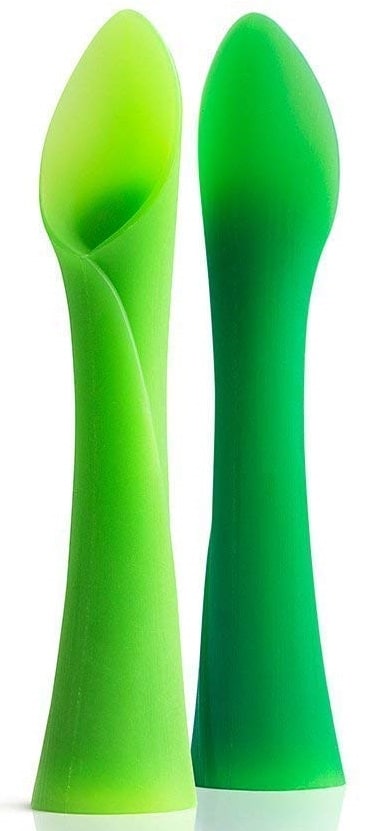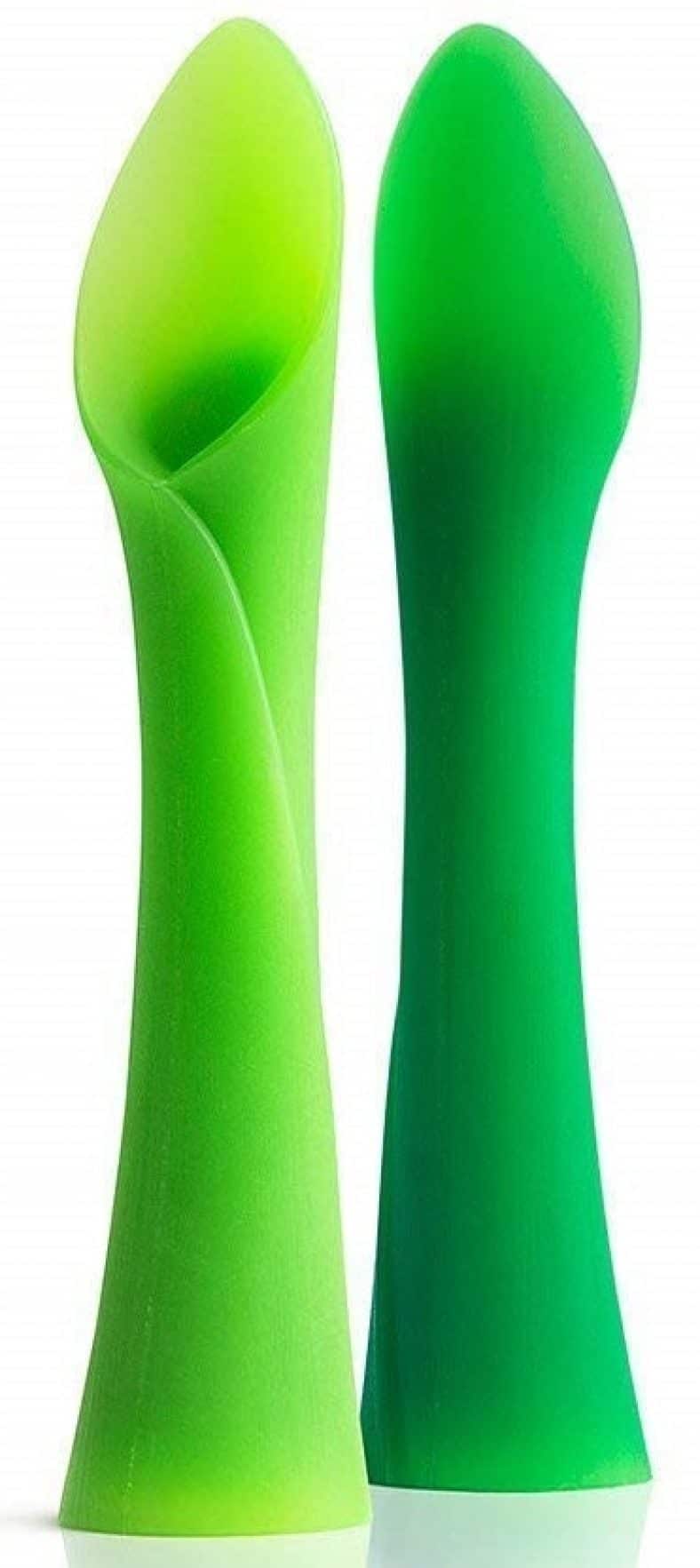 Olababy makes adorable, yet practical, baby spoons that look like chunky leaves. The spoon handle is flexible and ergonomic for little hands. You can stand up the spoon on its sbase – isn't that so cool? The purpose is for added hygiene. You don't have to lay the spoon down on a restaurant table.
Olababy uses food-grade silicone, so you can toss them in the dishwasher once your baby is done eating dinner. While the design might look strange, these spoons are perfect for infants and toddlers who are learning how to self-feed. The soft material makes a great teether, and the flexible tip won't hurt your child's mouth.
It's a great starter spoon for your baby. Whether your child is spoon feeding, self-feeding, or baby-led weaning, he can benefit from the Olababy spoon! Best of all, this spoon is toxin free, BPA, latex, and phthalate free!
Check Pricing and Availability
PROS:
Small, easy for babies to hold
Doesn't stain
Dishwasher safe
Perfect teething material
CONS:
Strange odor at first
Expensive
---
7

Re-Play Spoon and Fork Set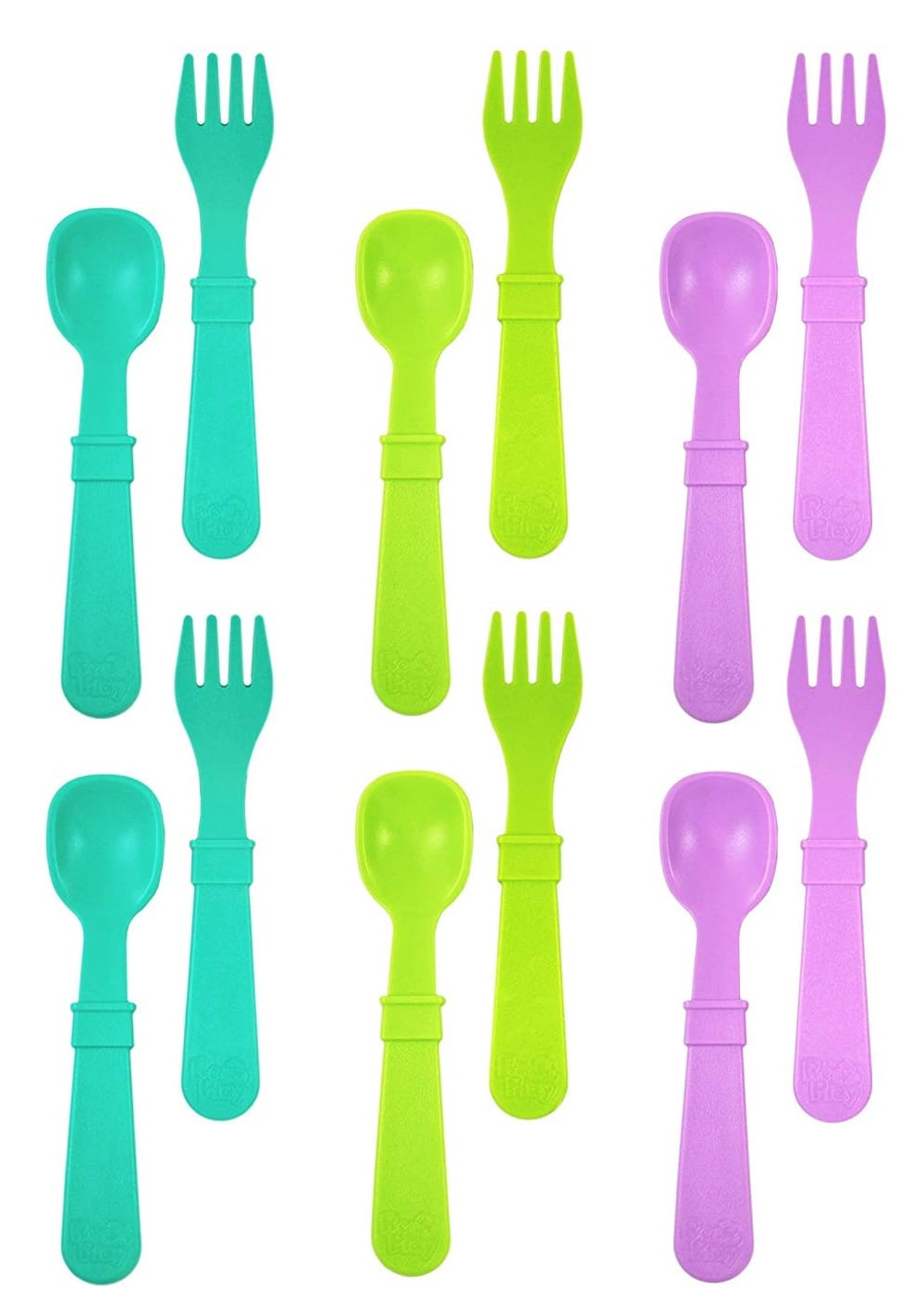 Re-Play is one of the top picks for the best baby utensils. All of their products are made in the USA using FDA approved, recycled plastic that is approved for food contact. So, not only are these great for your baby, they're awesome for the environment – double win!
The Re-Play spoons have deep scoops, great for older infants who are learning how to self-feed. The forks have durable, rounded tips that won't hurt your baby. We love the thick, pudgy handles that are easy to grip and learn how to use.
As soon as you hold one of these utensils, you'll notice how durable they feel. Re-Play designed them to last from one child to the next. They had a goal to make self-feeding easier, and their products are loved by babies and parents alike!
Each set includes six spoons and six forks, plus they're budget-friendly. Re-Play items are dishwasher and microwave safe. Their items are free from BPA, BPS, PV< lead, phthalates, and melamine. In addition, all Re-Play products surpass FDA and EU purity standards.
Check Pricing and Availability
PROS:
Made in the USA
Great for little hands
Forks aren't flimsy
Lasts for a long time
Affordable
CONS:
May be too wide for baby's mouth
Made of plastic
Not a good choice for baby to chew on
---
8

Bambusi Bamboo Weaning Spoons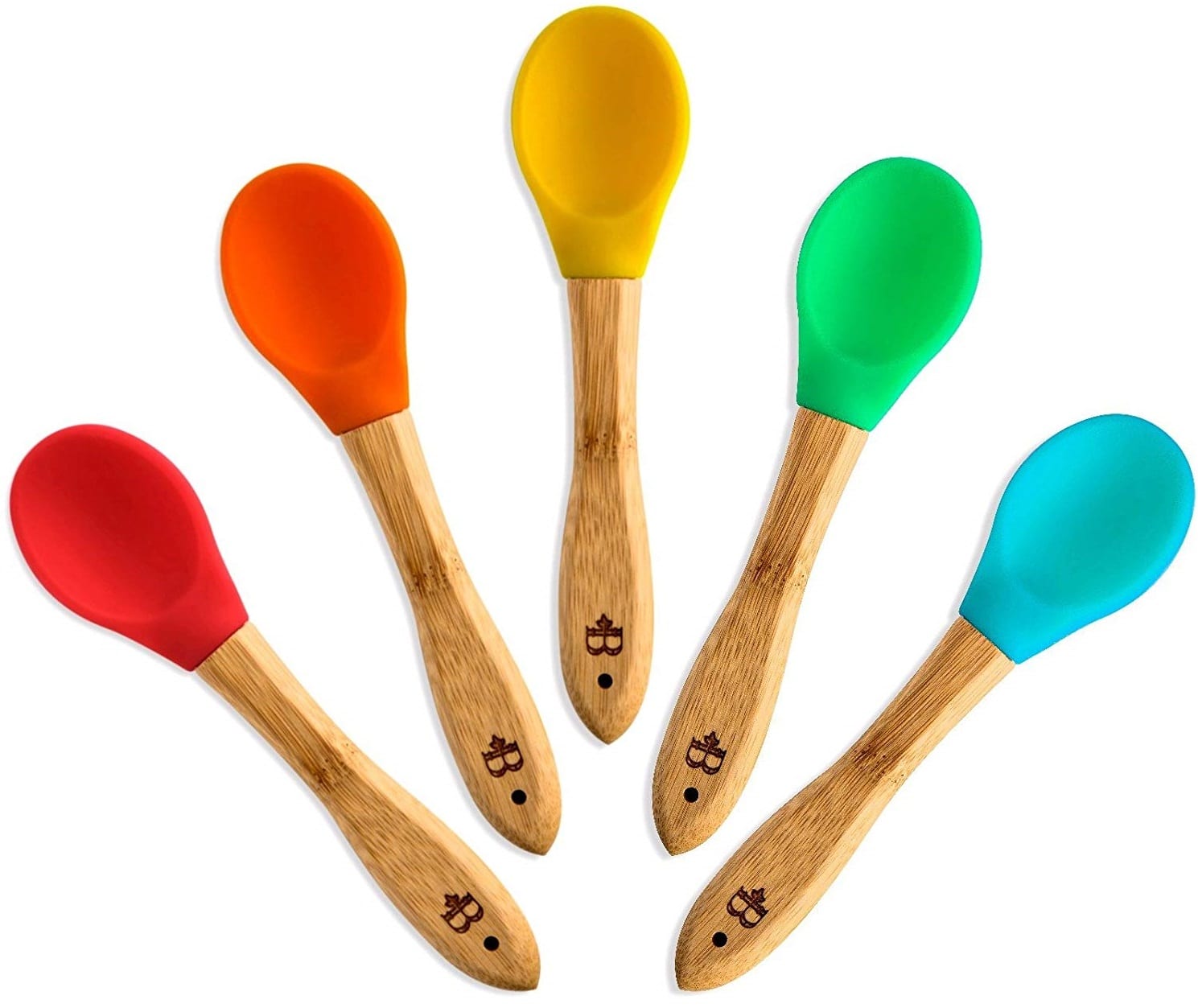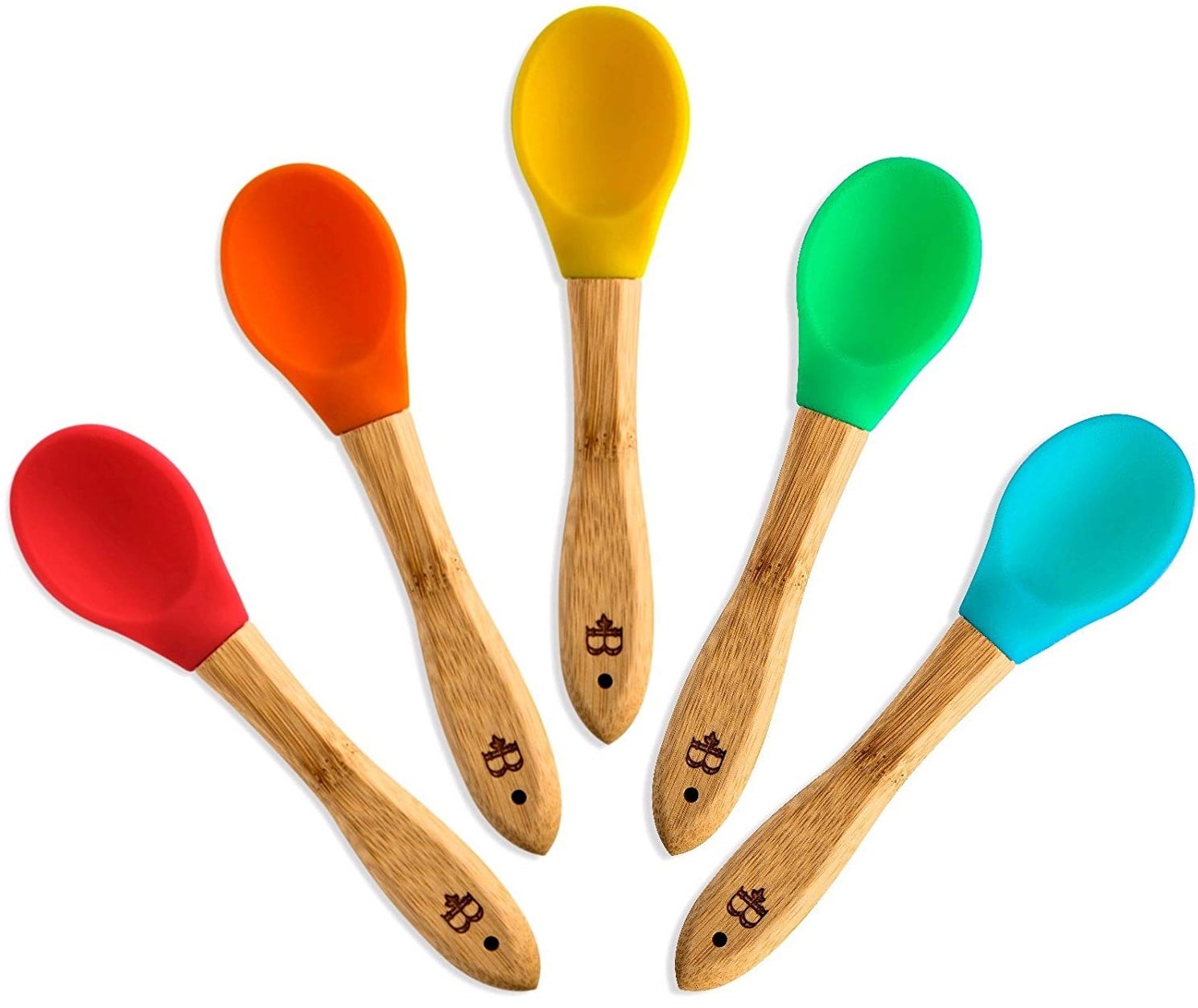 These baby spoons are designed for the first time solid eaters. They encourage self-feeding at the first stage. You never have to worry about these spoons hurting or scraping your child's gums because there is nothing sharp or rough. The set comes with five spoons at an awesome, affordable price!
Bambusi uses germ resistant, organic bamboo along with food-grade silicone tips for the perfect combination of materials. The spoon will feel soft and flexible in your child's mouth. These spoons are lightweight and easy to tuck into your diaper bag whenever you need to leave the house. The lightweight design also makes it easier for babies to hold by themselves.
The combination of silicone and Moso bamboo makes the spoons totally BPA free. Bambusi products are also plastic, phthalate, and lead free, perfect for little babies! One unique feature is that the silicone portion of the spoon is detachable so you can place that in the dishwasher. The handle needs to be hand washed.
Check Pricing and Availability
PROS:
Toxin free
Lightweight for baby to use
Perfect for first-time eaters
Bright colors are fun!
CONS:
Handle isn't dishwasher friendly.
Detachable head could be a choking hazard.
---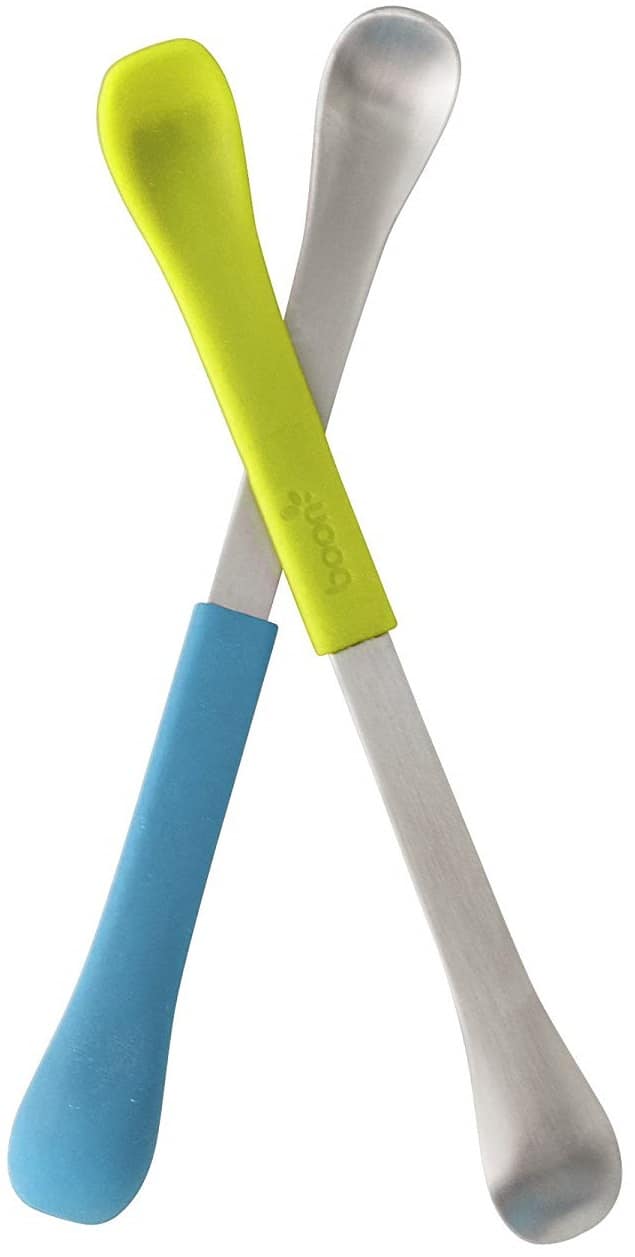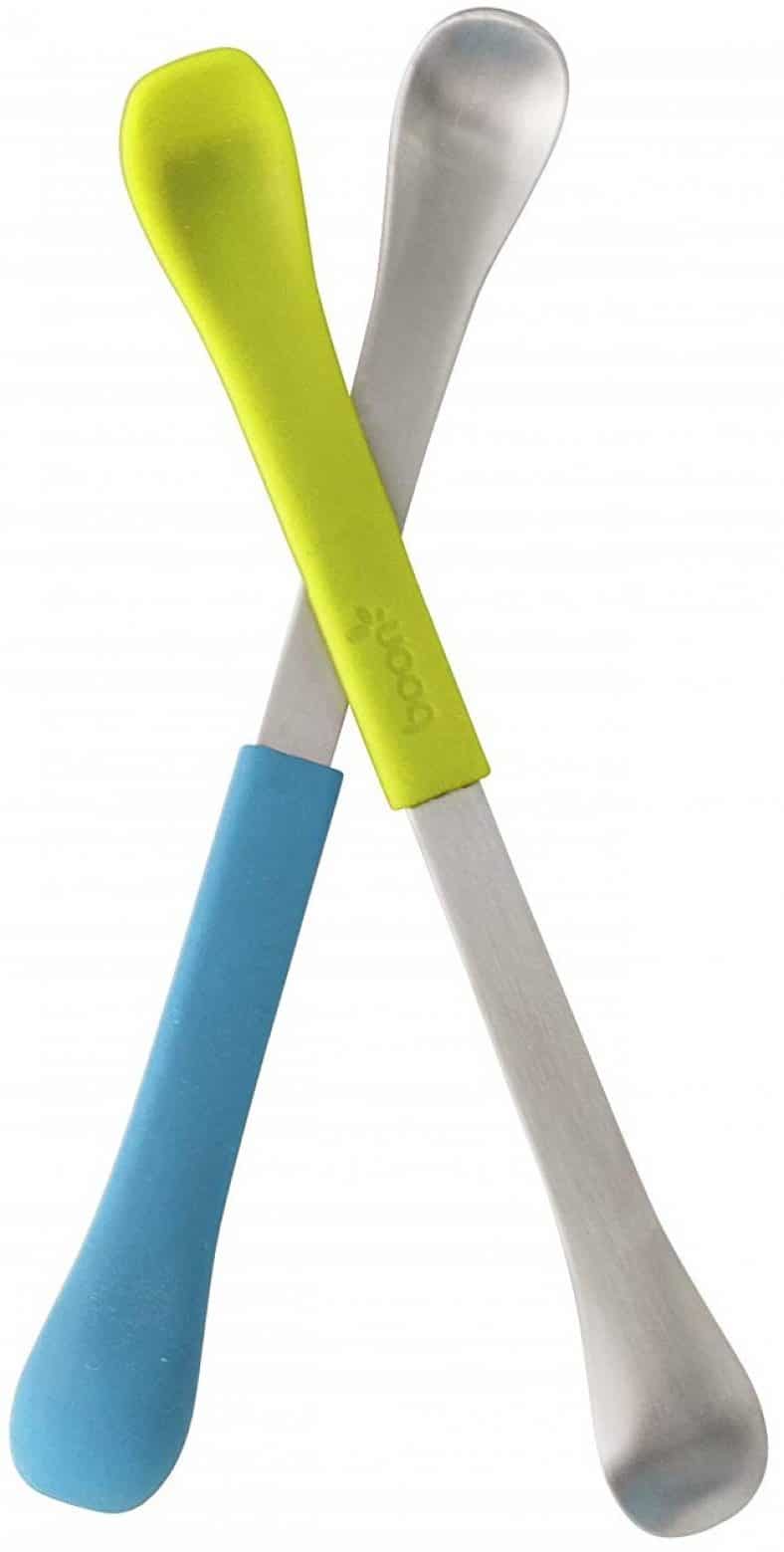 If you want small baby spoons, you'll love the Boon Swap spoons. They are narrow and streamlined, and their length is perfect for feeding your baby. A better spoon creates less mess when feeding your baby.
One of the unique features of the Boon Swap spoons is that they're a 2-in-1. You can flip it over to pick between the plastic or metal ends, depending on what your needs are at the time. It gives you a chance to see what your baby prefers. Some babies do like metal spoons!
Boon created these with a smaller sized scoop, which makes it easier for your babies to transfer the food from the spoon to their mouths and down their throat.
Check Pricing and Availability
PROS:
Metal and plastic sides
Dishwasher safe
Non-toxic
Angled sides so you can scrape sides of bowls
CONS:
Plastic stains
Spoon angle might be too steep
---
10

Munchkin 6-Piece Fork and Spoon Set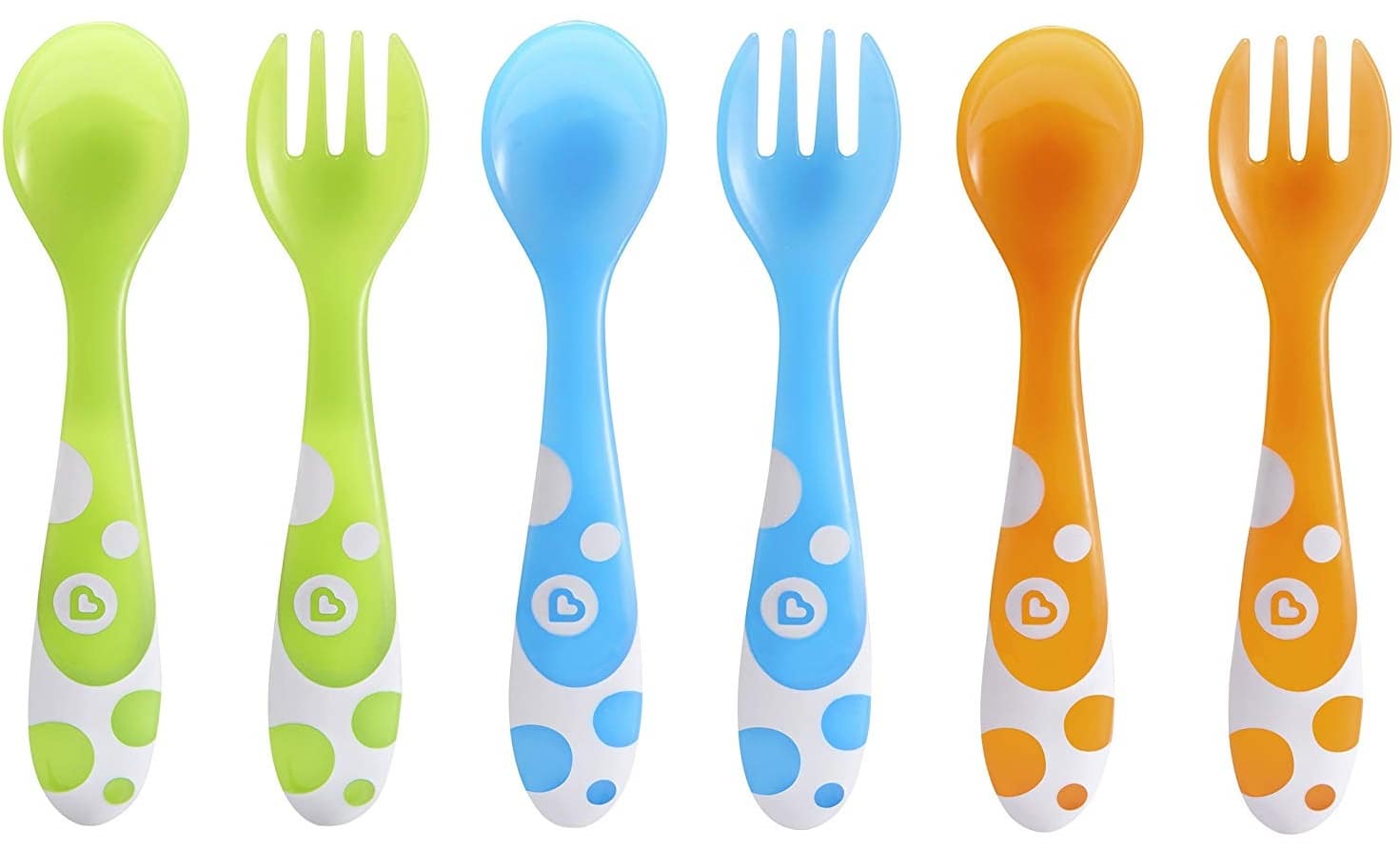 Every parent knows the Munchkin brand! You can find it readily available at most stores, such as Walmart and Target. These are a very basic, plastic set of forks and spoons, perfect for the diaper bag. The price means you won't worry if one or more gets lost. You get three forks and three spoons in each set.
Munchkin used polypropylene plastic to create these utensils. Each one is BPA-free, and they're awesome for self-feeding and parenting feeding. The spoons are deep to hold more food and to make scooping easy. The curved fork is safe and rounded, so your baby won't stab himself. However, the design is meant to encourage the transition to using cutlery.
These forks and spoons are top rack dishwasher safe, perfect for babies who are 12 months and older!
Check Pricing and Availability
PROS:
Handles have grip for easy holding
Affordable
Great for self-feeding toddler
Perfect depth for scooping food
CONS:
Made with plastic
Stains easily
For babies who are 12+ months
---
When Can I Introduce a Baby Spoon?
Pediatricians recommend that parents introduce solid foods around six months old, but some say you can as early as four months old. Your baby is used to eating by pushing their tongues out to latch onto the breast, but they have to learn how to move their tongues inward to eat from a spoon.
Here are the signs that your child is ready to eat solid foods from a spoon.
They're interested in what adults are eating around them.
Baby starts to drools more often.
He puts toys or teethers into his mouth.
He is at least four months or older, ideally six months old.
Baby can hold his neck upright without any support.
---
When Will My Baby Use a Spoon By Himself?
Using a spoon may seem like the easiest feat for you. You don't even have to think about it anymore! For babies and toddlers, it requires a lot of motor skills.
Self-feeding is a huge milestone for children. It isn't a task that they suddenly learn overnight. You will mark improvements over time. The first dozen (or hundred) attempts will be messy – so make sure you have bibs on stock!
After a year old, you will notice your child starts to have more success, but it'll be slow. Let your child use it when they're ready. It's not a skill that you can force to develop faster. Some may need your help longer. Some babies master self-feeding rather quickly.
No matter what, your child should learn to use utensils around 18 months old, but it may be sloppy for awhile. By the time that your child is 3 or 4 years old, he should have utensil skills and table manners fully mastered.
---
When Can I Introduce a Baby Fork?
Most older infants and toddlers can be introduced to a fork once they start trying to use a spoon independently. Show him the poking action of the fork and hand it back to your child for him to try. It will take time for him to master it! Sometimes, he might get irritated with the process.
Make sure you let him practice with easy foods that won't flop off his fork. A few options are:
Cooked potatoes
Green beans
Pasta shells
Melon chunks
Toast square
Soft fruit
Chunks of canned fruit
Most babies prefer to use their fingers, which is absolutely fine and developmentally normal. Some cultures eat with their fingers more often than not, even for adults! Around 15 to 18 months, your toddler will show more interested in the fork. You can expect him to have a decent grasp of the motion of a fork around 2 years old. Complete mastery comes around 3 years old. Some foods are just harder than others!
---
Final Word – The Best Baby Utensils
Baby utensils are usable for years to come, and the right ones can be passed down through multiple children. It's a good idea to invest in nice ones for home and some cheaper ones for the diaper bag. It's easy to lose them at restaurant or at a relative's house. Having a few sets is wise.
Do you have a favorite baby utensil that your child uses often? Let us know in the comments!