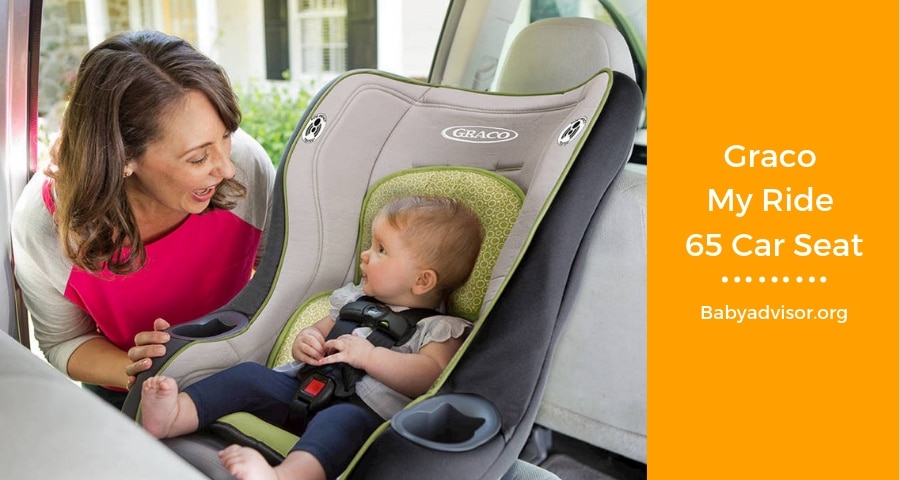 The Graco My Ride 65 was one of the first car seats to offer a 40-pound rear-facing weight limit. It continues to be a favorite among parents. Check out the details here.
The Graco My Ride 65 is a convertible car seat that was one of the first to offer a 40-pound rear-facing weight limit, changing how we saw rear-facing. My Ride has a 65-pound forward-facing weight limit, along with a deep, tall shell that gives you the longest possible usage out of a car seat. You could potentially use this car seat until your child is 5 or 6 years old.
Are you interested in the car seat that revolutionized how we saw rear facing? Keep reading to see all the details.
Key Features of the Graco My Ride 65
Key Features
Rear and Forward Facing Modes

5-40 pounds

Five harness slots

Two removable cup holders

EPS foam for extra protection

Exceeds safety standards

Machine washable fabric
Check Pricing and Availability
---
Height and Weight Limits of the My Ride 65
Rear-Facing
Weight Range: 5-40 pound

Height Range: 1" inch from the top of the seat
Forward-Facing
Weight Range: 20-65 pounds

Height Range: Up to 50 inches
Unlike other car seats, when your child is rear-facing, Graco doesn't specify a standing height limit. Instead, your child's head needs to be one inch from the top of the shell, which measures 24 inches tall. So, this provides plenty of growing space for toddlers.
Measurements of the Graco My Ride 65
Shell Height: 

24 inches

Weight of Seat: 

15.8 pounds

Width of Seat: 

20.8 inches

Base Width: 

11 Inches

Overall Height: 

27 inches
The My Ride 65 isn't the bulkiest, but it's far from the smallest car seat on the market. It will take up a decent amount of space in your back seat front to back. This wouldn't be a good car seat for someone with a compact vehicle, but it's better for medium or large cars.
Pros and Cons of the Graco My Ride 65
PROS:
Rear and Forward Facing
Machine Washable cover
Integrated LATCH system
Easy to Install
Removable cup holders
Several harness heights and lengths
CONS:
Limited adjustments
Hook-on LATCH
Lacks reclining positions
Too wide for three across seating
---
It's a Versatile Car Seat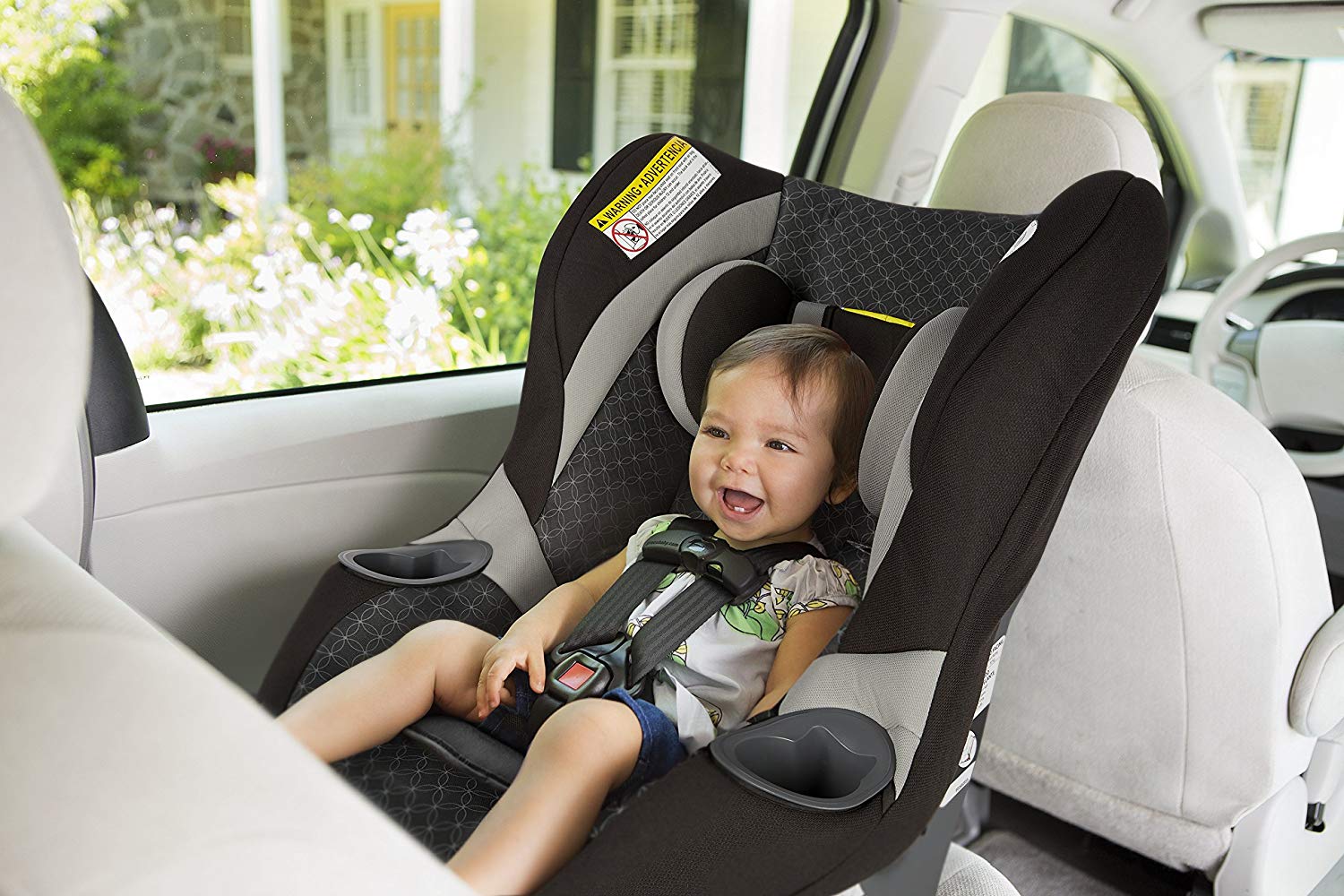 Let's first start with the two modes offered by the My Ride 65 – rear and forward facing. You could leave the hospital with your baby safely tucked in this car seat if you wanted. Remember, you don't have to use an infant car seat unless you want. Graco includes an infant insert which offers your newborn head and body support.
Once your child outgrows the need for the insert, just remove it from the car seat. You can keep your child rear-facing until your child reaches the maximum rear-facing weight limit, which is 40 pounds. That means you should be able to rear face until your child is at least two-years-old.
Then, turn the car seat around, so it faces forward. My Ride lets you forward-face with a harness until your child reaches 65 pounds. At that point, you'll need to transition to a high back booster and need to purchase a new seat. However, due to the 65-pound forward-facing weight limit, you should be able to keep your child harnessed for at least four to five years old.
---
Safety First
Graco engineered to meet and exceed all federal safety standards when they created the My Ride. They put the car seat through rigorous testing, including side-impact testing. Graco used EPS energy-absorbing foam to help protect your child during a crash.
---
Easy to Install
First, one of the nicest perks of the My Ride is that it's install rear facing and forward facing. You can use the seat belt or lower LATCH anchors for a safe install. The My RIde has two lower anchor straps. One of them is the forward-facing belt path, indicated by the black, and the rear-facing belt path, shown by gray. You don't have to switch the straps because it's already there for you.
On the side of the car seat, a bubble level indicator lets you know that the car seat is installed correctly at the right angle for your child. An indicator is a huge help to ensure proper installation.
---
Pick the Right Harness Height
This car seat has five harness height slots, so the seat grows with your child. You use the bottom four slots for rear-facing. Remember, the harness needs to be at or below your child's shoulders while rear-facing.
The top four slots are for forward-facing positions. When your child is forward facing, you need to use the slot that is at or just above the child's shoulder level. Once your child is taller than 49 inches and reaches over the top harness slot, you know your child has outgrown this car seat.
---
Harness Lengths
Another exciting feature that the My Ride 65 added is three harness strap lengths. The straps attached to the car seat have different lengths to pick, depending on which slot you use. That was added to help the car seat accommodate a variety of kids and their sizes.
The top loops are when the harness is the lowest slots. Use the middle loops for when the harness is in the second or third slot, and the most extended loops are when the harness is in the top two slots.
---
Other Features that Parents Love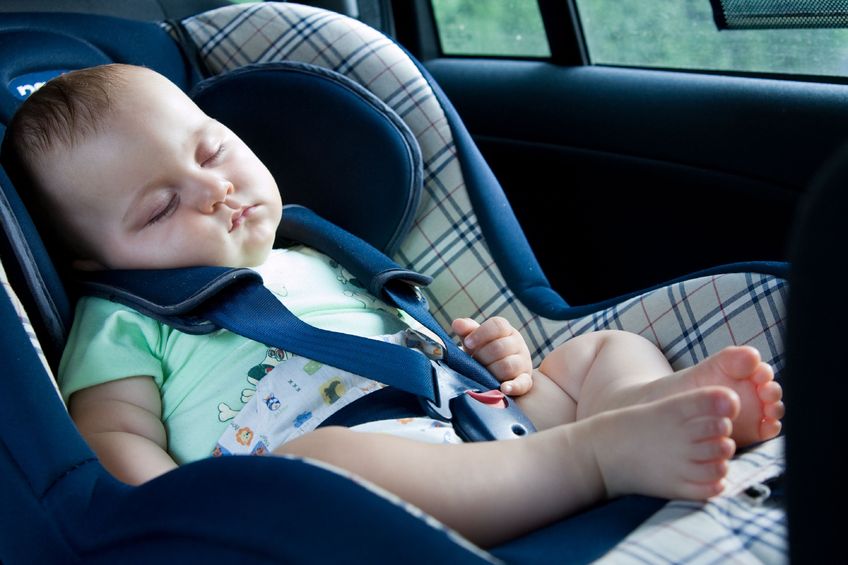 Of course, the perks of the My Ride 65 don't stop there. Parents have plenty to say about this great car seat, so let's take a look at a few other favorite features.
All car seats should be machine washable, and the My Ride 65 isn't an exception. This car seat has a removable cover that is totally machine washable. You do have to spot clean the buckle and harness if your child has a spill or mess.
Graco offers two wide cup holders with the My Ride 65. They're large enough to hold drinks and snacks for car rides. Plus, you can take them out to clean because you know that they're going to get dirty with drinks and snacks.
---
The Cons of the My Ride 65
The My Ride 65 overall receives fantastic ratings from parents, but there are a few flaws that parents wish could be changed. These negatives are:
Unlike other Graco car seats, the headrest of this car seat doesn't adjust, and it doesn't feature the excellent no-rethread harness feature. So, that means as your child grows, you have to rethread the harness each time. That can be a pain in the butt.
Having limited adjustments mean that the seat doesn't give a customized fit for your child like the no rethread harness does. It can be troublesome, having to uninstall the seat each time you need to adjust the harness.
Changing the height of the harness means you have to take the straps off the splitter plate in the back of the car seat and pull them back through the slots. Then, you put the harness straps through the new slots and hook them back onto the splitter plate.
Graco added the newborn insert to increase the padding in the car seat. However, aside from the infant insert, the car seat has limited padding, making it an uncomfortable seat for long car rides and road trips. Padding also acts as a safety feature, so less filling means less protection for your baby during a car accident.
If you're looking for a car seat that can fit three across in a back seat, the My Ride 65 isn't the one for you. It measures 20.8 inches wide, making this a large and wide car seat. It's not suitable for a small car, and you'll find it hard to install the seat if you have more than one car seat in your vehicle's back seat.
Lack of Reclining Options
The newer style car seats offer a multitude of reclining options, so you can pick the one that works for your baby. Unfortunately, the My Ride 65 doesn't provide any reclining options, so that means the seat might be at an awkward angle. You will have a harder time finding the right angle for the car seat.
Tricky Installation at Times
We love that the My Ride includes the LATCH system, but it can be challenging to install. Instead of using push-on connectors like other Graco car seats, Graco used the old-style hooks for the LATCH system, and those can be hard to clip onto the anchors. Also, the belts can be harder to tighten.
---
Some best car seats of Graco:
The Final Verdict
The Graco My Ride 65 changed how parents were able to rear-face their infants. For the first time, we had a car seat with a higher rear-facing weight limit, and that is exciting. This car seat is cheaper than more recent additions to the Graco line, and therefore it lacks some of the popular features that the newer models have, such as the no rethreading harness.
Overall, the My Ride 65 keeps your child safe and rear-facing for longer, and that's the most thing – your child's safety. It doesn't offer tons of bells and whistles, but the price reflects that. If you want a basic car seat that will let you rear face for 40 pounds, you can't go wrong with the Graco My Ride 65.