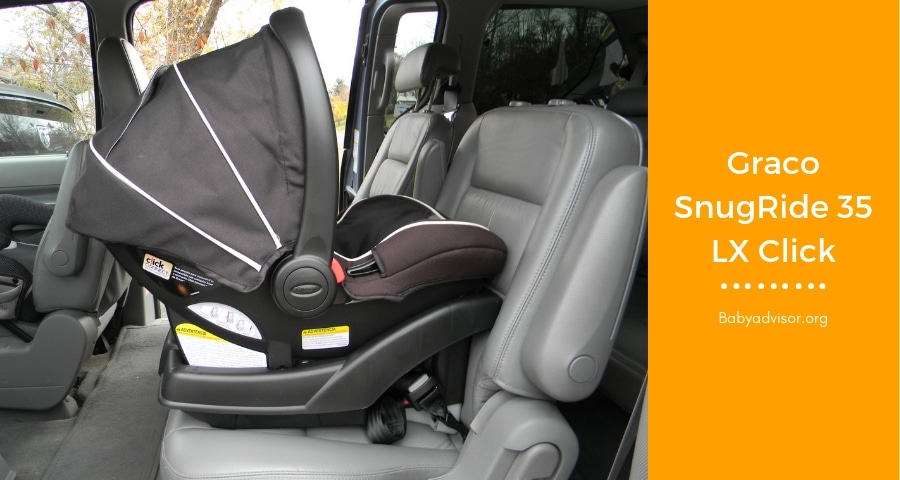 You want to pick the perfect infant car seat for your new baby. The Graco SnugRIde 35 LX Click Connect is a lightweight, easy-to-use, favorite among parents.
The Graco SnugRide 35 LX Click Connect is one of Graco's rear-facing only car seats, and parents are raving about how awesome it is. it's lightweight, clicks easily into place, and works with all Graco connect strollers. With a 7-year expiration date, you can use it for several children, making it worth the money.
It is in the upper range for price when compared to other infant car seats, but it's still affordable. Some families might consider it a large investment for only a short time frame of usage, but you do get what you paid for in quality.
Key Features of the Graco SnugRide 35 LX Car Seat
Key Features
35-pound weight limit

7-year expiration date

Handle can be in any locked position

Two positions for crotch strap

No-rethread harness

Infant insert for smaller infants

Adjustable recline foot

Push button lower anchor connectors

FAA approved
Check Pricing and Availability
---
Pros and Cons of the Graco SnugRide 35
PROS:
Lightweight
Clicks into place audibly for a secure placement
Clicks into strollers
35-pound rear-facing weight limit
7-year expiration date
CONS:
False clicking
Small canopy that doesn't fully cover infant
Difficult to tighten
Weight and Height Limits of the Graco SnugRide 35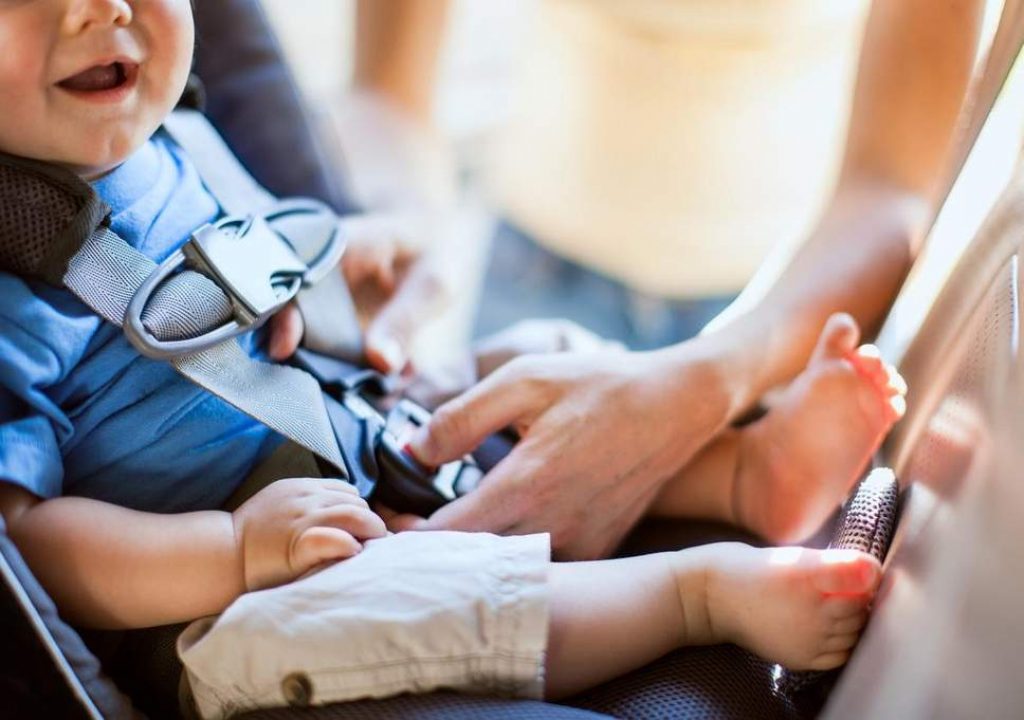 The name SnugRide 35 indicates that the maximum weight limit for this infant car seat is 35 pounds, which is fairly standard. Some models are still only at 30 pounds, but 35 pounds allows for extended rear-facing and accommodating larger infants.
Weight Range

: 4-35 pounds

Height Range

: 32 inches or less
One of the great things about the Graco SnugRide is that it works for babies as little as 4 pounds. Having a premature or small baby makes it quite frustrating to find the right car seat. Graco ensured that this car seat will fit these tiny babies while also being adjustable enough to fit a 35 pound infant to keep your child rear-facing for as long as possible.
The Measurements of the Graco SnugRide 35
Shell Height: 19.5 inches
Weight (Carrier Only): 7.5 pounds
Weight With Base: 14.17 pounds
Seat Depth: 30.67 inches
Seat Width: 18.66 inches
Seat Height: 15.59 inches
The SnugRide 35 is one of the lightest infant car seats on the market, weighing only 7.5 pounds. It's easy to handle and maneuver because of its light frame. This feature is awesome because it's easier to carry your baby inside and wherever else you need to go. The width of this car seat allows you to fit it in the backseat of almost any vehicle, even compact and smaller cars.
---
Important Install Features for the Graco SnugRide 35
Installing the Graco SnugRide is fairly simple, and Graco added several features to make it the top-of-the-line choice. Remember, your child is only as safe as the install. An improper install means your child isn't as safe as he could be.
The crotch strap has two positions, measuring 5.5 and 7 inches, so it can accommodate your growing infant. Graco doesn't tell you when you need to move the crotch strap, so you just have to use your best judgement. The buckle should be as close to your child as possible without the child sitting on the strap.
To adjust the harness, you squeeze together the two red buttons on the back of the car seat. Then, slide the adjuster upwards to the correct position. Doing so moves the head support and harness at the same time.
If your child is smaller than 12 pounds, you'll need the included infant insert. It helps to keep your child in the proper position and comfortable. Without the insert, your child will flop around, including his head, in the infant car seat. Without the infant insert, this car seat wouldn't be able to accommodate preemies or newborns. What an invaluable item!
You can adjust the recline of the car seat by twisting the red knob on the front of the base. It will allow you the ability to recline properly to fit a variety of vehicles. The car seat has six different reclining positions.
Push Button Lower Anchor Connectors
The connectors are stored on the underside of the base, and they're very easily pushed onto the lower anchor connectors. To release the connectors, simply press the red button.
Multi-Age Level Indicator
Graco added this level indicator on the base to help you get the correct recline for your infant. The indicator shows where your child under 3 months of age should be positioned and the proper upright recline after your child is 3 months and older. Using the indicator lets older kids see outside better while avoiding any head slump that might be uncomfortable for your baby.
---
Snap into Place
The name of this infant is Click Connect because it clicks when its securely connected to the base of the car seat. No extra buttons, straps, or harnesses are needed to secure the infant car seat to its base.
Not only does the Click Connect fit into its base properly, but it also snaps into any of the Graco Click Connect strollers. So, you can pick whatever stroller fits your needs. You can even get a double stroller if you have twins! So, if you want to leave your child sleeping when you head into the store or to take a walk, just lift the car seat out of the vehicle base and click connect it to the stroller. Easy!
NOTE: Some parents have noticed that the car seat gets a bit stuck before coming out of the base. It seems to be common, but annoying, and it won't affect the function of the car seat. It just means you have to pull up a little harder, just an annoyance.
---
Safety Matters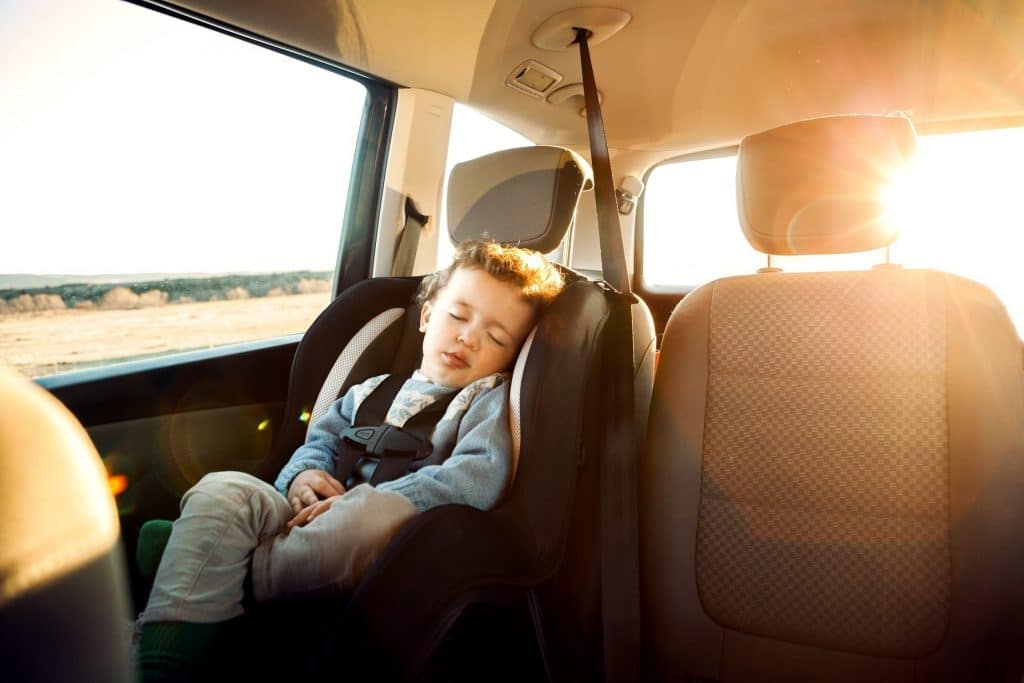 Graco is renowned for its safety features. The SnugRide has been crashed tested to meet and exceed US federal safety standards. Graco uses a program called SafeSeat Engineering and they test their car seats in their own facility in Georgia.
The seats are made with materials that can withstand a wide fluctuation of temperatures without degrading the safety of the seat. Graco performs tests between 0 and 140℉. However, some parents have noted that the fabric used isn't as breathable as other models, so your baby may end up with a sweaty back on warm days.
---
Negatives to Consider
Of course, the SnugRide 35 has a few negatives to consider before purchasing. These are based on reviews left by parents who have used this car seat. Many of the parents report very similar issues, so let's take a look.
False Clicking: So, the Graco SnugRide is known for its clicking when connected to its base oe stroller. It's one of the best-selling points, but some parents have noticed that this car seat can make a clicking sound even if it's not securely attached to the base or stroller.This negative is a pretty big easy and can cause a security issue. If your baby's not properly secured, the car seat could be ejected during an accident or even if you happened to turn too hard while driving. The car seat could tumble right off the stroller
Wobbly Base: 

Another issue is that the Graco SnugRide seems to commonly have issues securely attaching to the base. It wobbles from side to side. A wobbly base may or may not affect the safety of your car seat, but it's hard to know for sure.

Smaller Canopy: 

All infant car seats have an attached canopy, and the Click Connect is no exception. This canopy is smaller than other canopies, and, since it only attaches to the back, it doesn't move to cover the infant from all angles.
---
Here's an another model you may interested: Graco Milestone All-in-One Convertible Car Seat.
---
The Final Word
The Graco SnugRide 35 LX Click Connect is a great choice, loved by parents because of its lightweight design and easy to use features. However, there are downsides that can mess with the proper installation, so you do need to double check to ensure the car seat is installed correctly.
Overall, the Graco SnugRide 35 offers a safe infant car seat for your infant, letting you rear-face for longer than other choices. It's FAA approved, and considering how lightweight it is, you could easily carry it through an airport. You can hook the car seat into a seat with the base, so you don't need to bring it along, making this a great choice for traveling.