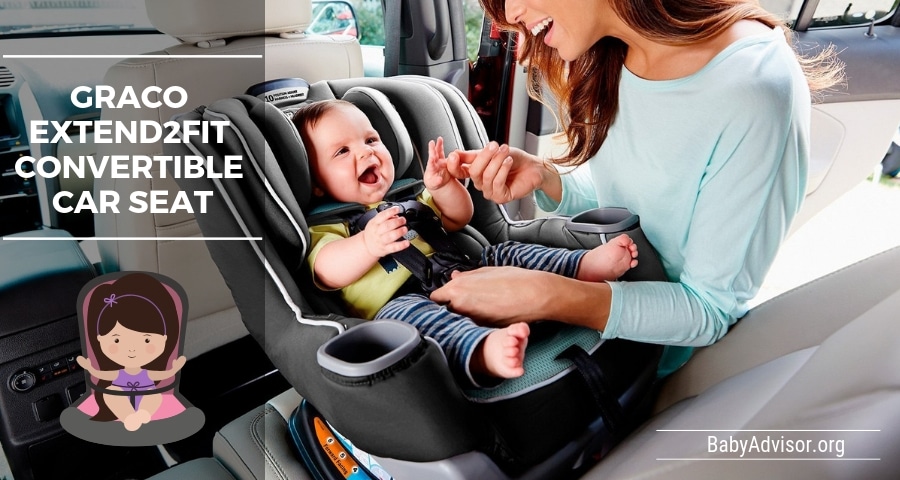 Keeping our children rear-facing for as long as possible is safest for your child. The Graco Extend2Fit offers a higher weight limit and an extended leg platform for extended rear-facing.
Parents know that keeping our children rear-facing for as long as possible is safest for your child. That becomes problematic if your child is larger and approaches the car seat weight limit before his 2 year birthday or before the parent is comfortable turning the child forward facing. Graco found the solution by creating the Extend2Fit with a higher rear-facing weight limit and an extended platform for the child's legs.
Most car seats have a rear-facing weight limit of 40 pounds, but the Graco Extend2Fit allows you to rear-face up to 50 pounds. That's impressive, especially if you want to follow the National Highway Traffic Safety Administration's recommendation of rear-facing until 4-years-old. 50 pounds, in most cases, allow you to reach that 4 year recommendation with ease.
Let's dive into the key features of the Graco Extend2Fit, along with the pros and cons of this incredible car seat.
Key Features of the Graco Extend2Fit Convertible Car Seat
Key Features
50 pound rear-facing weight limit
4-position leg extension
10-position headrest
No-rethread harness
6-position recline
10-year expiration
LATCH system with push-on connectors
Check Pricing and Availability
---
Pros and Cons of the Extend2Fit
PROS:
Rear-facing up to 50 pounds
Adjustable leg extension for 5 inches of extra legroom
Ball level indicator for correct recline
Easy LATCH installation
Machine-washable cover
6 recline positions and 10 headrest positions
CONS:
Hard to remove and replace the cover
Seat belt installation is tricky
Might be too big for preemies
Check out the measurements of the Extend2Fit
Total Seat Weight: 18.4 pounds
Seat Depth: 12 inches
Height with Headrest: 27 inches
Widest Point: 19.6 inches
Height at Shoulders: 13.75 inches
You can see that the Extend2Fit is far from the bulkiest and widest seat on the market, but it's also not the smallest. Parents will find it challenging to fit three car seats in a row unless you have a larger vehicle. Also, because of the headrest height, it might block the rear window.
At 18 pounds, the Extend2Fit isn't as heavy as some of the other choices, but it's also not the lightest. It isn't light enough to be a travel or city car seat. Who wants to carry 18 pounds with them? So, if you need to travel around, it might not be the ideal choice.
Weight and Height Limits of the Graco Extend2Fit
Rear-Facing: 4-50 pounds

Forward-Facing: 22-65 pounds
Rear-facing: 1-inch below the headrest, adjuster at full extension

Forward-facing: 49 inches or less
---
Understanding the Extend2Fit Reclining Positions
One nice features on the Extend2Fit is the multiple reclining positions, which makes it a comfortable fit for your infant and toddlers. Graco does have some rules regarding the recline, but they made it incredibly easy to adjust. All you have to do is pull the lever and the seat easily slides up and back. You can do it while hooked into the car seat, which makes it even easier.
Positions 1-4 can be used only in rear-facing positions, letting you adjust it as your child gets older. You can use the forward-facing position 4 for kids who are under 40 pounds. Positions 5 and 6 are for kids over 40 pounds.
On the side of the seat, Graco added an angle ball indicator to let you know if you have it correct. For babies who are 3 months and younger, the ball needs to be in the light blue circle. After 3 months old, the ball needs to be anywhere in the next range of color. It makes it very simple to be sure you have it appropriately adjusted.
---
Extended Rear-Facing Made Easier
We already talked about the higher rear-facing weight limit, which alone is enough to help parents reach their rear-facing goals. Graco went above and beyond creating a new, innovative car seat with a leg extension.
When parents think about extended rear-facing, one of their top concerns is what about the child's legs. They imagine that their legs must be cramped, and they have expressed concerns that their child's legs might be broken in the event of a car accident.
While a broken leg is a small injury in comparison to the injuries that take place when forward-facing too soon, it's a valid concern. That's why Graco added the 4-position leg extension that provides up to 5-inches of additional leg room space.
Positions 2-4 are meant for kids 40 pounds and up. You can use the first position before your child reaches 40 pounds. Once you extend all of these positions, you can add up to 5 inches of leg space, letting your child stretch his legs. It also gets rid of those fears of a broken leg.
---
Is It Easy to Install?
Installing car seats can be a pain in the butt, but the Extend2Fit is simple compared to other convertible car seats. The LATCH installation lets you snap the straps into the vehicle's anchors and release with the push of a button.
It's good to note that the LATCH can only be used up to 45 pounds for this car seat. If you decide to keep your child rear-facing past 45 pounds, you'll need to reinstall using the seat belt and tether.
A quick read through the manual for this car seat shows a few things you should note for proper installation.
If you use the leg extension in rear-facing mode, you will need to move the base of the car seat out. You must ensure that at least 80% of the base is on the seat. Graco added blue and orange stickers on the base to show you where this is, making it easier than just trying to guess.
When you flip your child around forward-facing, you do need to move the crotch strap to the forward-most position. You also are unable to use the leg extension and harness covers.
Some parents have reviewed that using a seat belt installation is a bit harder because the belt path is smaller than other car seats. It makes it harder to stick your arms through to reach.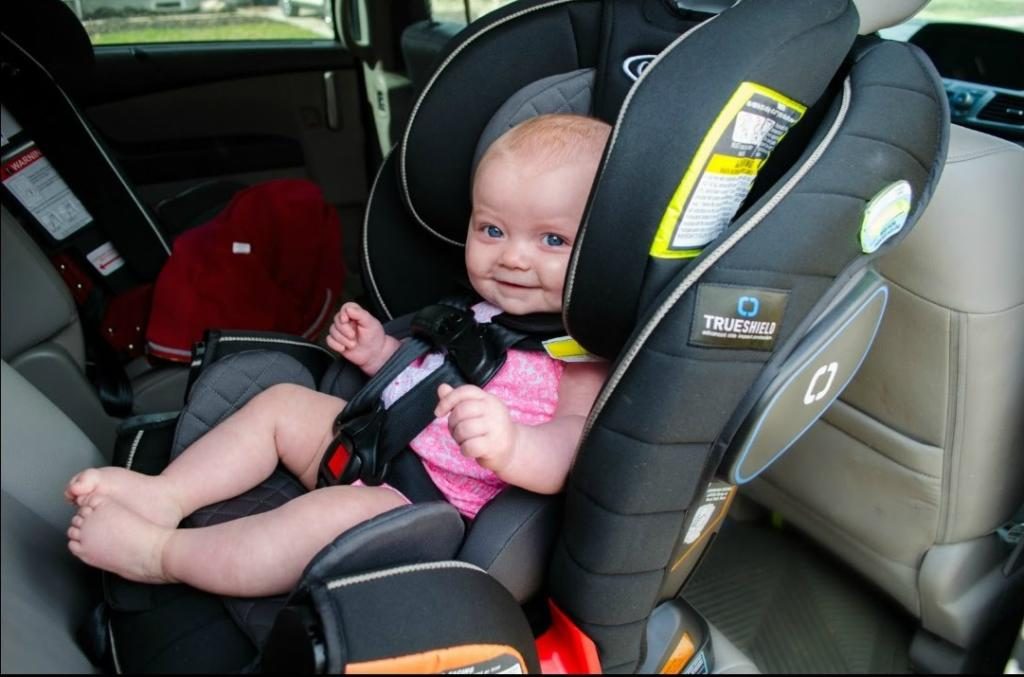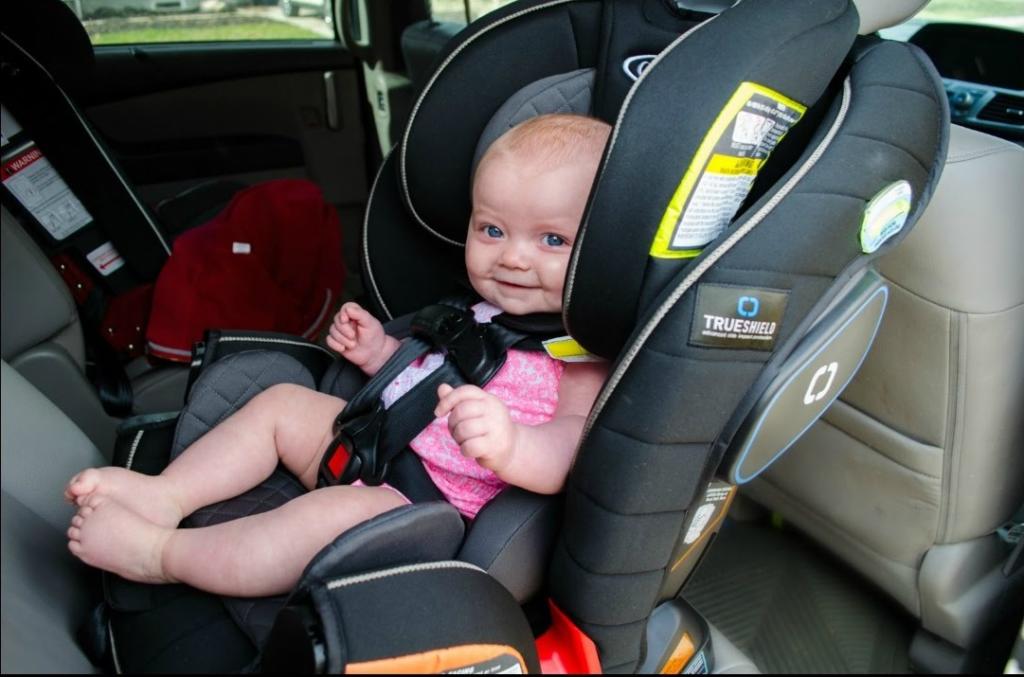 ---
Other Features You Might Like
Graco added other features that might make you happy! Let's check those out.
Graco added the Fuss Free pockets for buckle storage for when your child isn't in the seat. That means you don't have to dig around your child's hips for the buckle tongues. They just slip into these little pockets. Easy peasy!
The Extend2Fit offers two cup holders, which is great for older infants and toddlers. Cup holders are handy for drinks, snacks, and little toys that your child might want to bring along with them on car rides.
Adjusting the harness is a huge pain in the butt for parents, so Graco uses a no-rethread harness design. All you have to do is pull up on the lever, allowing you to slide the height of the car seat frame up and down. No more having to rethread the harness, but you do have to rethread the crotch strap, which can be quite frustrating.
---
What About the Negatives?
No car seat is perfect, but many parents think the Graco Extend2Fit is pretty close. One of the biggest complaints is the removing and replacing the fabric cover for washing. It is machine-washable, which is a good thing, but it's complicated to get back onto the car seat frame.

Graco didn't make this part easy. There are a bunch of little loops that keep the cover in place, and some of the hooks for the loops are tiny and hard to reach. It's the most troublesome part of the design, and young babies tend to cause a lot of messes.

Another problem is the padding. While it's a great looking seat with adequate padding, it doesn't feel as comfortable or as durable as the competitors. The padding could be thicker for more comfort, and the fabric weave is loose. That means it grabs and holds onto dirt easier, so you will notice stains developing faster.
---
Here's an another model you may interested: Graco Contender 65 Convertible Car Seat Review.
---
The Bottom Line on the Graco Extend2Fit
If extended rear-facing is important for you, the Graco Extend2Fit is definitely an excellent choice. With a 50 pound rear-facing weight limit and the leg extension, it blows other competitors out of the water for extended rear-facing.
Graco made this seat even more appealing by keeping the price point affordable for most parents. It's great if you're on a budget, and it'll last until your child is ready for a booster seat. Best of all, the Extend2Fit performs well in real-life crash scenarios and exceeds safety standards. You can't beat that!