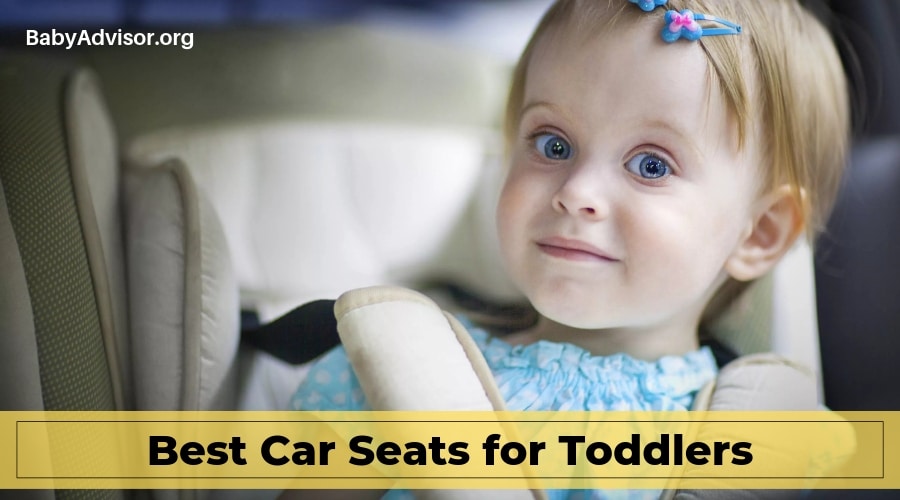 You've looked through tons of car seats and are having trouble finding the best car seats for toddlers. You may have looked at every make and model and found them either too big or too small.
Do you want to find the Best car seats for traveling with toddler? And Are you tired of searching?
How would you like to narrow your search down and find the one that is going to be just right for you and your toddler? We can eliminate your stress and you can find the one that is going to work for you!
Wait, if you have knowledge about toddler car seat then Let's check quick check the comparison table at first,
There are literally thousands of toddler car seats available in the marketplace today. It can be confusing and overwhelming trying to sort through them all to find the best of the best. To make it simpler to parents and caregivers like yourself, we spent hours researching product information, customer reviews, and located the models that had the best rating and are a Best Seller. And as promised, we've narrowed down the car seats available and found three we felt rounded out the top. Here are our top three.
Top 3 Best Rated Car Seats for Toddlers
1

Evenflo Tribute LX Convertible Car Seat: Lightweight for toddler travelling
Meet Evenflo's Tribute LX! It has over two thousand customer reviews and is a #1 Best Seller on Amazon now. It's ideal for a first purchase because it can be used a long time. It can be used as a rear facing for infants and then turned around to us as a forward facing for toddlers. Its versatility is a huge plus.
There are lots of things customers liked about the Evenflo Tribute LX. The first concern for most parents is the safety of the seat they buy for toddlers. This particular model has been tested extensively. It was sided impact tested to ensure it meets (or exceeds) the safety standards set by the federal government. It was also put through a battery of tests to ensure it is structurally sound.
The harness design is also a huge plus on this model. First of all, it has more than one shoulder harness so it will fit the toddler better and it can be used longer. The harness is easily adjusted and has an easy release button.
Another great feature of this particular product is that it is super lightweight. So light in fact, that it is often taken on flights or uber rides. It's easy to put in the vehicle, and to take out.
Some of the extra features that go above and beyond standard baby car seats include a removable pillow for toddlers, a removable seat cover that can be machined washed and a cup holder that is perfect for using with a sippy cup that toddlers like to take along with them on trips both short and long.
While this is a top-rated seat for toddlers, there are also a few things consumers voiced they didn't like about it. Some customers stated they didn't get the included cup holder and had to contact customer service. Others who did get it said it was flimsy and didn't attach securely to the seat. Others noted that they had some difficulty installing the seat in their vehicle.
So, what do we think? If you want a nice, inexpensive toddler car seat that is safe for your child, this is the one for you. It's a high-quality seat, but it's the little extras that make it one of the best.
2

Evenflo Maestro Booster Car Seat: Comfortable for kids
This one is listed second in our top three, but that doesn't mean it's not a great buy! The Evenflo Maestro Booster Car Seat has a lot of positive customer reviews and good customer rating. Lots of customers love it and there are some very good reasons why.
What did customers love about this model from Evenflo? There were many pluses that were notable. The most notable is perhaps the way the car seat transforms from a 5-point harness to using a seatbelt to secure children from 22 to 110 pounds. The 5-point harness accommodates children who weigh between 22 and 50 pounds and once it's transformed into a booster using the vehicle's seat belt, it can hold a child from 40 to 110 pounds. The belt will automatically adjust so it ensures each child gets the right fit. And there are several positions for the harness and crotch buckle.
Of course, safety is a prime concern with parents, and this model has been rigorously tested to meet all the federal safety standards. It's undergone side impact testing and been tested for its structural integrity.
This model has dual cup holders which are nice for toddlers. With the well-padded seat, toddlers are assured of a comfortable ride on shorter and longer distances. Many customers noted the unique design that is slim enough for toddlers to have leg room even in vehicles that have limited space.
We found a few cons customers felt were worthy of noting as well. The chair does make it difficult for toddlers to sleep in and some mentioned the need for another strap to make sleeping more comfortable. It was also mentioned that it's not easy to take it along on flights.
Overall, this is a great car seat for toddlers, especially for those who do not want to take it with them when travelling abroad. Its multi-use straps make this one well worth the expense and it's got our vote.
2

Graco Highback Turbobooster Car Seat: Good for airplanes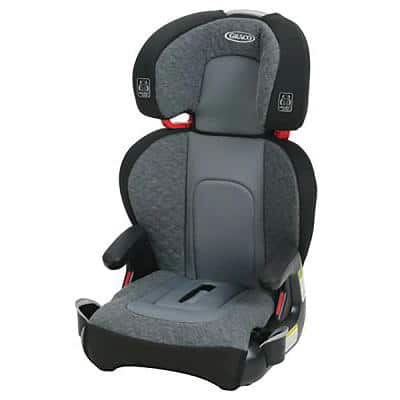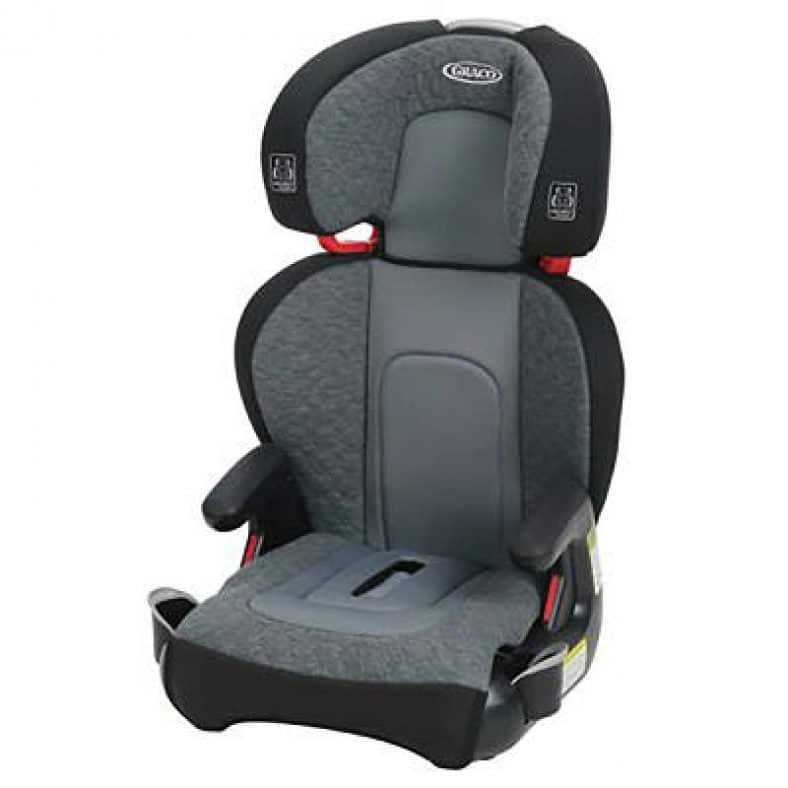 Graco has produced a real winner with this toddler seat as well. It has a high star rating and many customers have already reviewed it on Amazon. We chose this one because of its design and top rating we found in some of the premier consumer publications and magazines.
Of course, safety is first so we checked that out to start with. It has been run through some very rigorous testing. It was crash tested to ensure it at least meets the US safety standards. It is designed to accommodate children who weigh between 30 and 100 pounds. The highback structure helps keep children safe and can accommodate them up until they are 10 years old. This model grows with the child and transforms into a booster seat when the child is ready.
The toddler car seat has a uniquely designed headrest to ensure the child is comfortable. The headrest is adjustable to keep children secure and changes with them as they grow. The armrests are also padded and wider than normal seats, and it has two integrated cup holders which older toddlers tend to like. They are lightweight and easy to use, and it's easy for children to get in and out of. The back is higher than many other designs and this offers good side and head protection and the cushions on the sides help hold the toddler's head upright, especially if they doze off.
As usual, customers also noted a few things they disliked and we have compiled them here to assist you in making your final decision. One of the primary complaints parents and caregivers had was that the cupholders were not deep enough and cups tended to fall out easily. And the other thing that bothered them was that the fabric was very easily stained. Many found that even with frequent washing it was hard to keep clean.
Our final take on the Graco Highback Turbobooster is that it is great for kiddos who are sitting upright. If you travel short distances most of the time, we don't think this one can be beaten in terms of comfort and convenience. It's tested and one of the top picks by consumers.
Editor's Final Comparison & Advice
Now that you've looked over all the pros and cons we've compiled about these three toddler car seats, it should be simpler to decide which one is going to work for you. Hopefully, by gathering this information for you and recording it all in one place, it was easier to get a broad view. Maybe you have already narrowed your choices down to two items.
We looked at all the information too, and we decided that Evenflo's Tribute LX is the best for families who like to travel and fly a lot. This is because it is slimmer and lightweight so it's easy to take on planes or long trips.
If you are not considering longer trips, including flying, then we recommend the Graco Highback Turbobooster for you and your family. It's safety tested and the highback offers a new level of security for toddlers.
There are a few things to consider and think all the way through before making that final selection. Here are a few tips to use as your own personal buying guide.
Shop for Brand New Car Seats
 It can be tempting to give in and purchase a used car seat for your toddler, but it's always better to buy one new. You may not be aware of any damage a used car seat sustained in a previous car accident. You may also not have access to information regarding how it meets (or doesn't meet) the latest safety regulations.
 Don't forget to weigh your child and measure their height so you can compare the chair with your child's measurements. These standards are set for a purpose, so it's important to make sure your child fits inside the recommended height and weight requirements.
Remember to purchase rear-facing seats for children younger than 24 months of age
If you want a chair that works for toddlers and babies you will need to make sure to look for one that can be used in a rear-facing position as well as a front facing position when it's time. Some car seats are not convertible so read the product information carefully.
Look at the car seat's features
Car seats for toddlers should have a 5-point harness and other straps to secure them safely. But other features like the materials and padding can seriously affect their comfort levels.
Always register your product
 After you've made your purchase, make sure to register it with the manufacturer. This way if there are any defects or a recall you'll be notified. Most manufacturers today let you register online. If for some reason it cannot be registered with the manufacturer, then fill out a Child Safety Seat Registration Form when you are online.
---
Wrapping it Up
We hope you have read and enjoyed the information we have shared with you here. Our goal was to make your job of shopping for the best and safe car seats for toddlers easier. Take your time to research the products and determine which one will work best for you. Then make that purchase – and enjoy taking your toddler along with you on trips both far and near.
Please take a moment to leave us a comment if you are satisfied with the product we have recommended. Our other writer and my dear friend – Bethany Hayes who also provide a deep review and guide to buying the Booster Car Seats for Toddlers. Our goal is to help you, let us know how we did. You can also leave a review on Amazon about your experience with the recommended product. Thank you for reading.