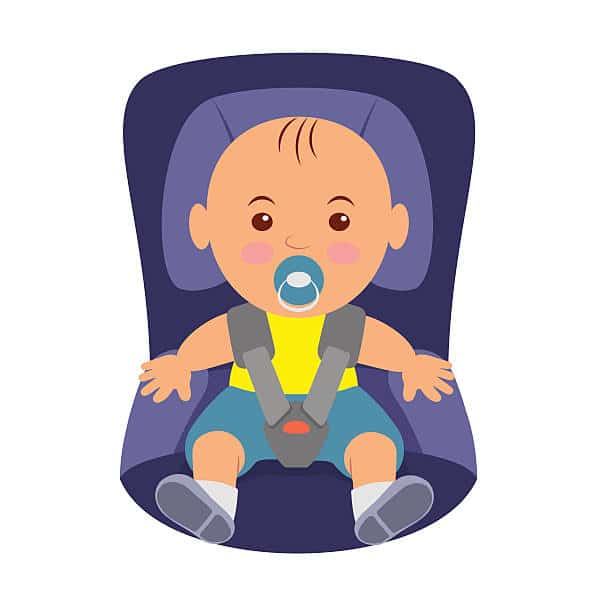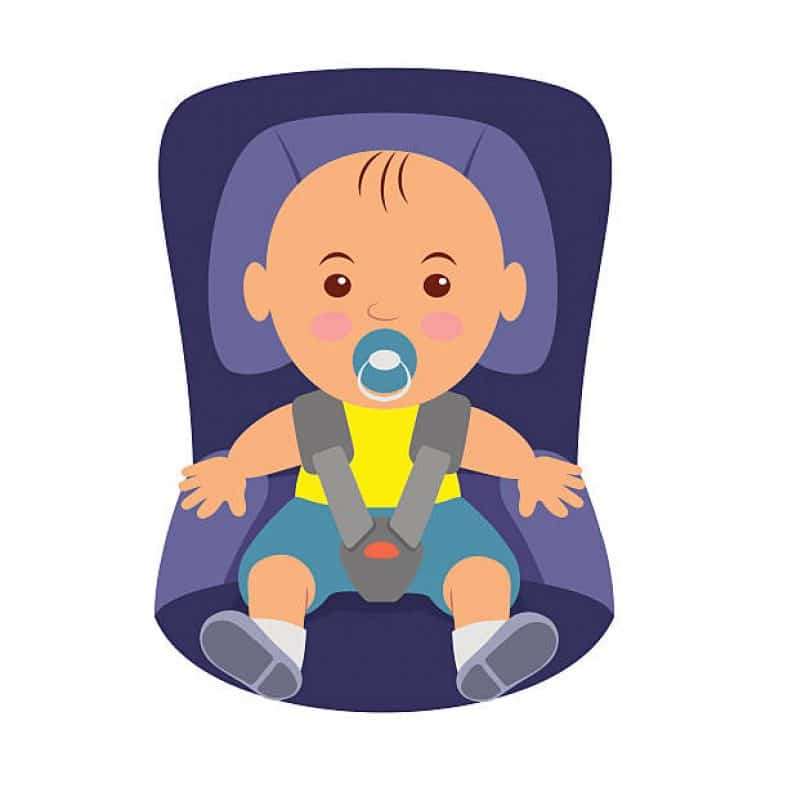 Can you believe your child is old enough for a booster seat? It feels like just yesterday you brought your child home from the hospital, and now you're transitioning to a booster seat. That's a huge milestone! Picking the best booster car seat will keep your child safe while traveling.
Parents don't realize how important it is to pick the right booster car seat. Car accidents are still one of the leading causes of childhood death and injuries, and improperly using a booster increases your child's risk of injury.
---
Does My Child Nechildhooded a Booster Car Seat?
Laws do vary from state to state based on when and how big your child must be before he is allowed to ride without a special seat. Most states do require that a child is in a car seat until they're 8-year-olds. Some parents do skip from a convertible car seat directly to seat belts, but that's not recommended by the NHTSA. The purpose of a booster seat is to properly position the lap and shoulder belts across your child.
When Can My Child Ride in a Booster Car Seat?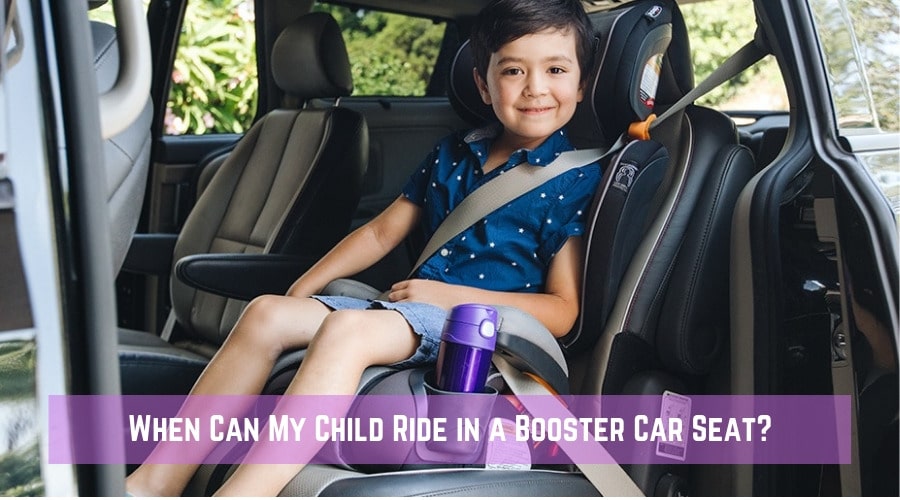 Most families pick a convertible car seat with a five-point harness for the first four years of their child's life. A convertible car seat allows you to rear face your child, which you should do until the child is two-years-old or older. Then, you can forward face with a harness until your child is AT LEAST four years old and 40 pounds.
You have to make sure that you don't rush to place your child into a booster seat. A booster is a seat that relies on the vehicle's seat belt to restrain your child. That means it needs to fit your child properly in order to properly restrain them during a vehicle accident.
Small children have little frames that aren't meant to work with adult seat belts, so the booster acts works with the car to raise and position the child properly. It ensures that the lap and shoulder belt fit your child properly across their body. A proper fit keeps your child in place during a wreck.
If the lap belt is too high, it can cause abdominal injury during a vehicle accident. A shoulder belt that is too high can cause neck injuries because it will sit at the child's neck rather than his shoulder.
Before you switch your child to a booster car seat, ask yourself these questions!
Has your child outgrown the weight and/or height limits for his harnessed, forward-facing car seat?
Is your child 4 to 8 years old and at least 35 inches tall?
Is your child between 40 and 80 pounds and under 4 feet 9 inches tall?
Can your child sit still with his back against the vehicle seat, with his knees bent comfortably over the edge of the seat cushion without slouching?
If he sits directly on the vehicle seat, does the seat belt still not fit properly across his shoulder and over the lap? It should not be on his neck or over the abdomen.
If you answered yes to everything, your child is ready to transition into a booster seat – yay!
When Can My Child Sit Without a Booster Seat?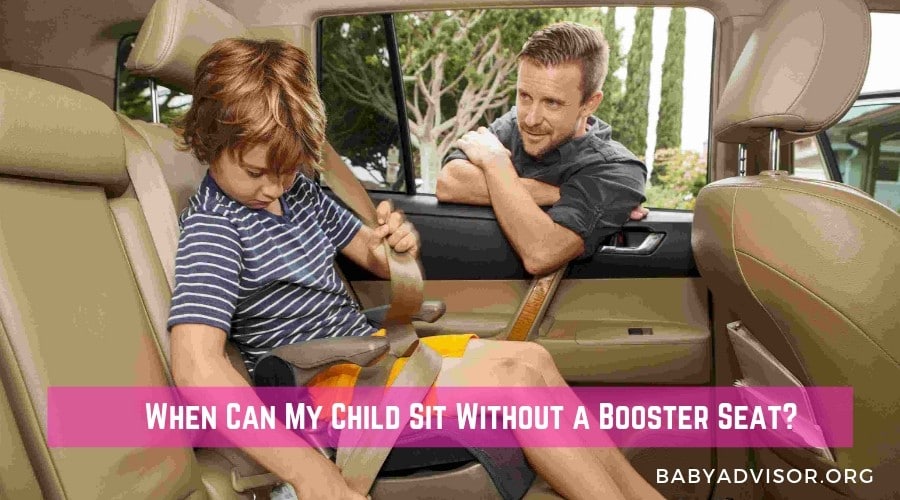 You probably want to know how long your child needs to sit in a booster seat. The National Child Passenger Safety board recommends that your child graduates from a booster if he meets these criteria.
He is tall enough to sit without slouching.
He is able to keep his back against the vehicle seat.
He can keep his knees naturally bent at the edge of the seat.
His feet are flat on the floor in the car.
The American Academy of Pediatrics recommends that children should stay in a belt-positioning booster seat until he is at least 4 feet 9 inches in height and 8 to 12 years old. Even if your child is out of a booster seat, children should sit in the back of a vehicle until they're at least 13 years old.
How to Pick the Best Booster Car Seat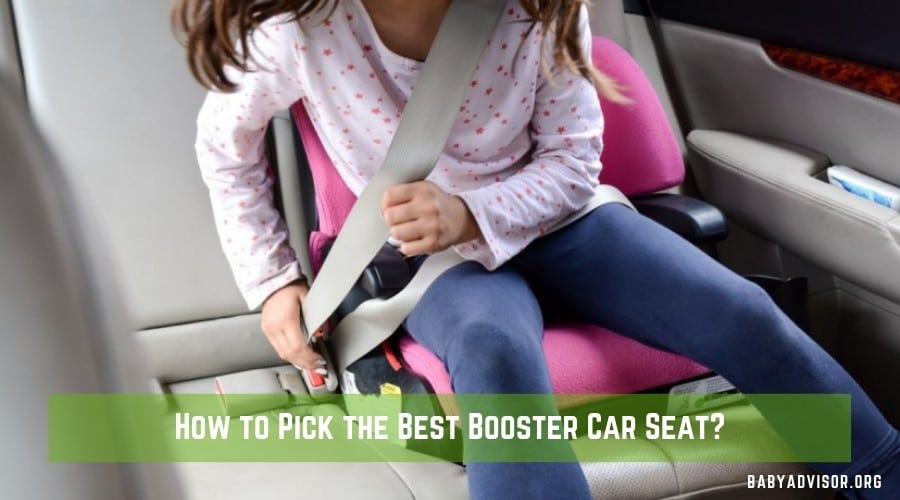 Booster vs. Combination Car Seat
First, you have to decide whether or not you want to use a combination car seat or just a booster seat. A combination seat is often called a harness booster. Here are some considerations.
Booster Seat: A booster seat uses the vehicle's seat belts to keep your child in the seat, just like it keeps an adult on the seat. Some booster seats do use the LATCH system, but it's simply to keep the booster in place when not in use. For example, it won't become a projectile if you're in a car crash when your child isn't in the seat.
A regular booster seat won't have a built-in harness system, so you can only use them for kids over 40 pounds. You have to be sure that your child is developmentally ready and legally allowed to use a booster seat.
Combination Car Seat: A combination seat is different because it includes a 5-point harness for smaller kids. You can use it immediately after your child forward-faces after rear-facing for two or more years. Then, the seat will transition to a belt-positioning booster using the vehicle's safety belt.
These seats may not be as comfortable for your infant because the reclines tend not to be as deep. They're also typically more expensive than an average convertible car seat. They're a great choice if your baby is ready to transition to front-facing but your child isn't 40 pounds and not ready for a booster seat.
High-Back vs. Backless Booster Seats
The next thing for you to consider is if you want a high-back or a backless booster seat!
High-Back: A high-back booster has back and head supports, and there are typically seat belt guides that help to position the vehicle's seat belt across your child's shoulder and lap properly.
You should move to a high-back after your child outgrows a traditional harness seat. The head and neck support is great for those kids who still like to take naps in the car or longer road trips. Most have adjustable headrests so you can make it work with your growing child.
Combination seats are high-back boosters, and many of them transition to a backless booster.
Backless: The last step before your child can ride without a safety belt is a backless, or low back, booster. These are seats that just boost your child's height without any additional neck and head support.
Backless boosters are lightweight, compact, and budget-friendly. They're a good choice for carpooling as well.
Booster seats, in particular, should be easy to use. Since your child is older, he should be able to buckle and unbuckle himself, so ease of use is crucial. You want to find a car seat that has an easy latching mechanism and a reach-over to buckle that's not difficult to use. Those make it easier to transition to a booster.
Your Child's Weight and Height
Currently, the recommendations are that you can use a booster seat from 4 years old (and a minimum of 40 pounds) up to 12 years old (or until the maximum weight limit of your seat is reached). Most parents have their child stay in a booster seat until they're 8 to 9 years old.
You should take a look at the weight and height requirements. Most booster seats work from 40 to 100 pounds, but some do go over 100 pounds. Make sure that you look at the height limits. An average height limit is 38" to 60", but if you have a tall child, you might want to see if you can find one with an even taller limit!
Price is always a factor when picking any type of baby product. Booster seats are typically cheaper than convertible car seats, which should make your budget happy. However, combination booster seats are pricier because you get more for your money.
You don't have to blow your budget on a booster seat. Remember they all have to pass the same safety standards to be on the market. The extra features are what increase the price. If you really want a plush booster seat with soft, high-quality fabrics, you might pay more.
Just remember that more expensive car seats are NOT necessarily safer. All booster seats will meet the same safety requirements picked by the NHTSA – National Highway Traffic Safety Association.
Decide whether you want a booster that has a LATCH system included. Some options do provide a LATCH system that secures the seat in the car to keep it in place when not in use. It's not meant for your child's safety.
Converts to a Backless Booster
Some parents prefer to have a seat that serves them for a longer period of time. A seat that converts from a high back to backless booster adjusts to better serve your older, larger child. It means you don't have to purchase an extra seat
The Best Booster Car Seats
1

Britax Frontier ClickTight Combination Harness-2-Booster – Best Combination Booster Car Seat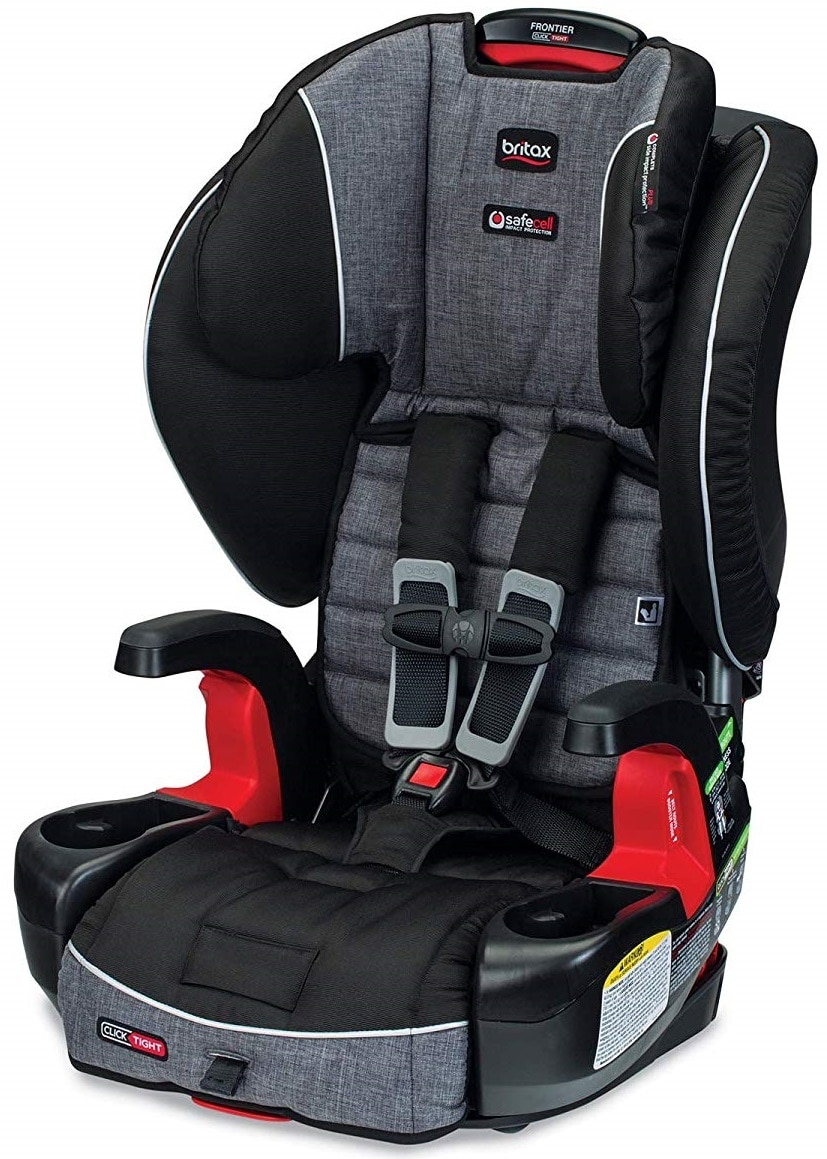 Britax offers some of the best selling car seats on the market, and their Frontier Harness is no exception. In fact, Britax sells several varieties of booster car seats: the Pinnacle, Frontier, Pioneer, Highpoint, and Skyline. The Pinnacle is the most expensive choice, and the Skyline is a budget-friendly option.
The Frontier, along with the Pinnacle and Pioneer, is a combination booster seat that transitions from a booster with a 5-point harness to a belt-positioning booster. Britax gives us everything that we expect, quality-wise, from soft fabric to high-quality construction,
It has several features that make it a fantastic choice, such as:
Uses true side impact protection. There are two layers of side impact protection – headrest and the shell.
SafeCell impact absorbing material
Equipped with easy-to-use LATCH connections
ClickTight Installation lets you use your vehicle's lap and shoulder belt, and it threads through easily to firmly secure the car seat.
Very well-built and meant to last for years, even when used heavily.
It has a steel frame inside of the booster, but this frame does increase the weight of the seat to around 25 pounds.
Harness height adjustments – 9 levels
Two cup holders integrated into the seat.
Parents can use Frontier from 2 years old (25 pounds) up to 120 pounds, so you can use this for YEARS! The harness works from 25 to 90 pounds, using either the vehicle's seat belt or included LATCH system. You can use the LATCH until around 40 pounds.
The harness stores behind the seat once you're finished using it. You can transition away from the harness when your child is 40 pounds, but make sure he meets all of the requirements for safety purposes.
PROS:
Meant to last for years
Machine washable cover
Front-access incline adjustments
Combo harness and seatbelt booste
CONS:
Expensive
Heavy – not good for carpooling
Wide 19" base
2

Graco Affix Booster Car Seat – Budget-Friendly LATCH Booster Seat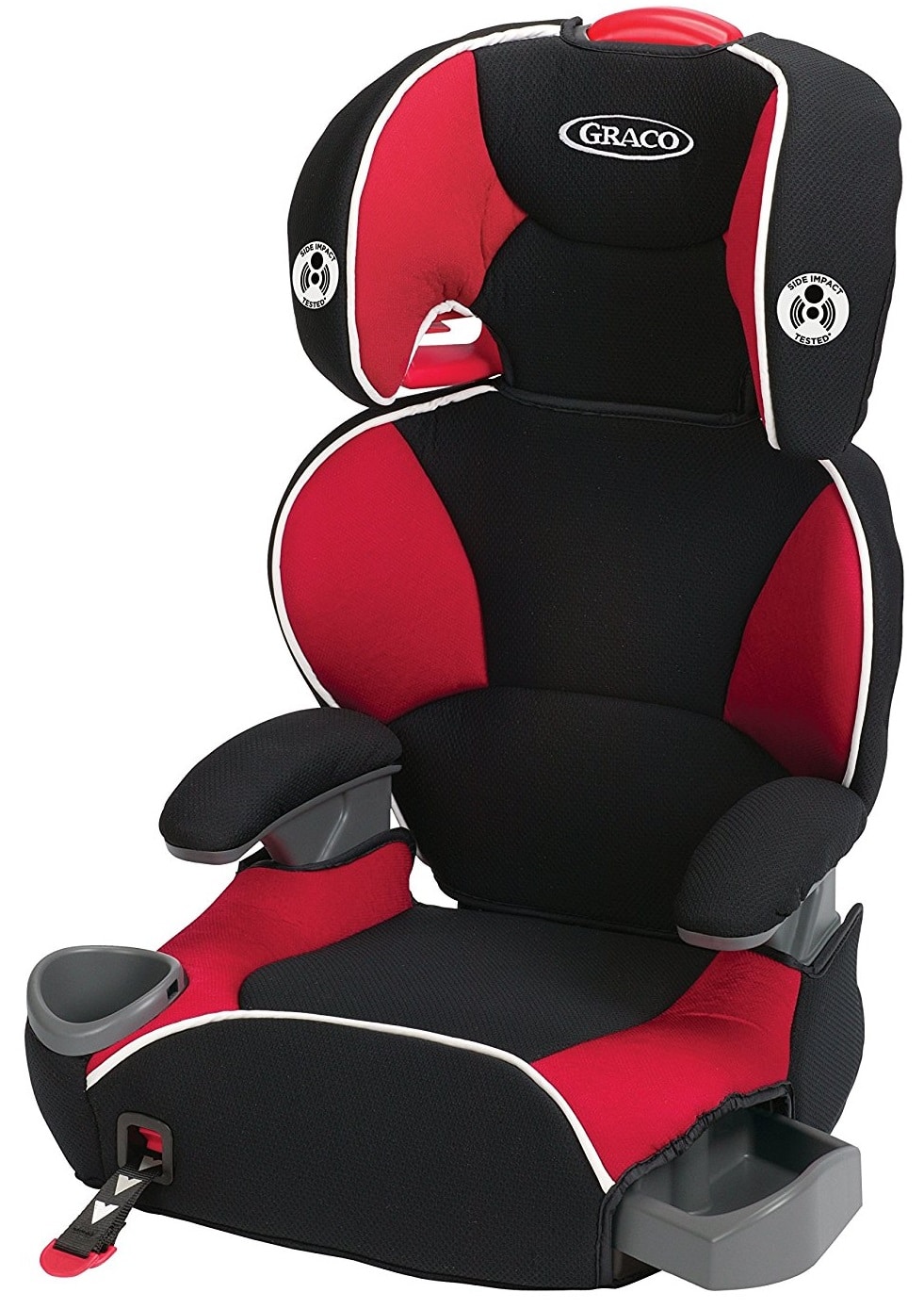 Parents love everything that comes from Graco! Graco offers everything that parents want in a car seat – high quality, soft fabrics, extras like cupholders, ad easy to use! The Affix is loaded down with style and comfort, which is exactly what parents want for their children.
Unlike other booster car seats, the Graco Affix has the LATCH system that lets you secure it to your car. It has a LATCH tightener on the front of the seat that you pull to make it fit snugly into your car. That makes securing the seat into your vehicle so much easier!
Best of all, the Affix is very budget-friendly. Other features that you'll love about this booster include:
It supports kids from 40 to 100 pounds.
Graco added a fully adjustable headrest that grows with your child throughout the years.
It has a side storage where your child can keep food, drinks, and small toys.
Kids can easily buckle themselves into the car seat.
PROS:
Lightweight – weighs only 9 pounds
Budget Friendly
CONS:
No lap belt positioning system
Also, You can read more about our ultimate guide to Graco Car Seats with full review.
3

Clek Oobr High Back Booster Car Seat – Luxury Booster Car Seat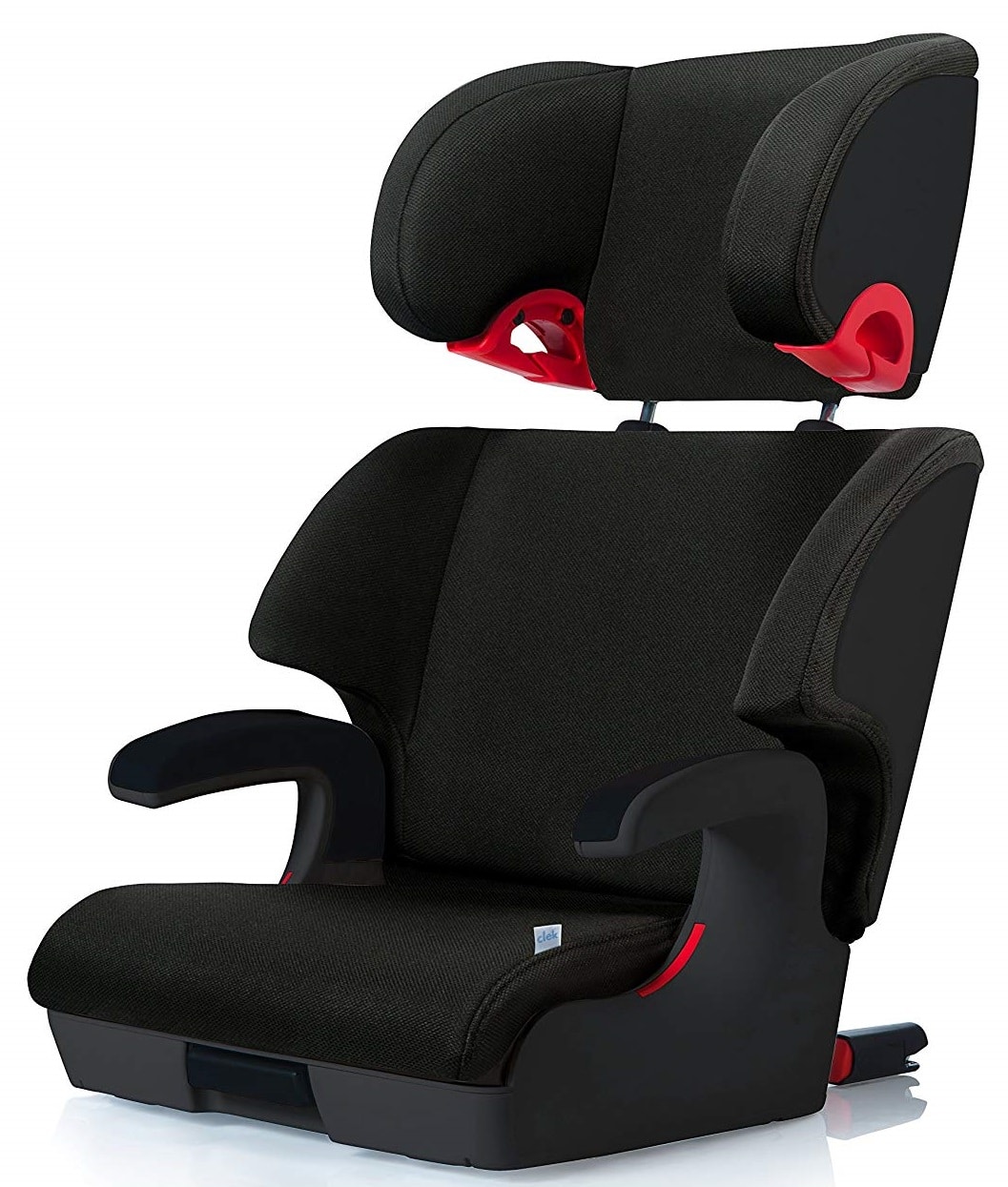 Clek is a high-quality, luxury line of car seats that took the market by storm when they introduced their convertible car seats – the Fllo and the Foonf. The Clek Oobr booster seat is just as impressive as their convertible seats!
We love the very European style that comes with these seats, featuring clean lines, very simple color patterns, and a smaller form. The base is only 18" wide if you remove the cup holder, so you could fit other passengers beside the seat. The bottom edge of the booster is only 15.5" inches wide! That's pretty narrow when compared to other choices.
The Oobr has other features you're sure to love, such as:
It has the LATCH system to keep the car seat in place when not in use.
It's rated from 33 to 100 pounds and 38" to 57" tall.
You can remove the back and use the backless mode from 40 to 100 pounds or 40" to 57". Overall, it has a great weight and height range.
Clek built their booster car seat for safety. It features a full metal structure, energy-absorbing foam, and structural headrest with deep side impact protection.
Has an adjustable recline, but it can only be used if the seat is using LATCH.
The seat feels sturdy and durable.
Uses a belt positioner to keep the vehicle's seat belt right where it should be.
You should note that the Oobr weighs around 19 pounds, so it's not a great choice for traveling or carpooling. If you need a booster seat to give back and forth to grandparents who take your child, the Oobr isn't a great choice. However, the impressive crash test results, high-quality construction, and the ability to secure the booster when the child isn't in the car make it a fantastic choice.
PROS:
Easy-to-use recline function
The fabric is soft and easy to keep clean
All of the fabrics are GreenGuard certified, which means no harmful chemicals.
Easy to assemble and install
Impressive crash test results
CONS:
Not as plush and comfortable as a booster at this price should be.
Expensive
Really heavy
4

Chicco MyFit Combination Booster Car Seat – Newest Combo Seat on the Market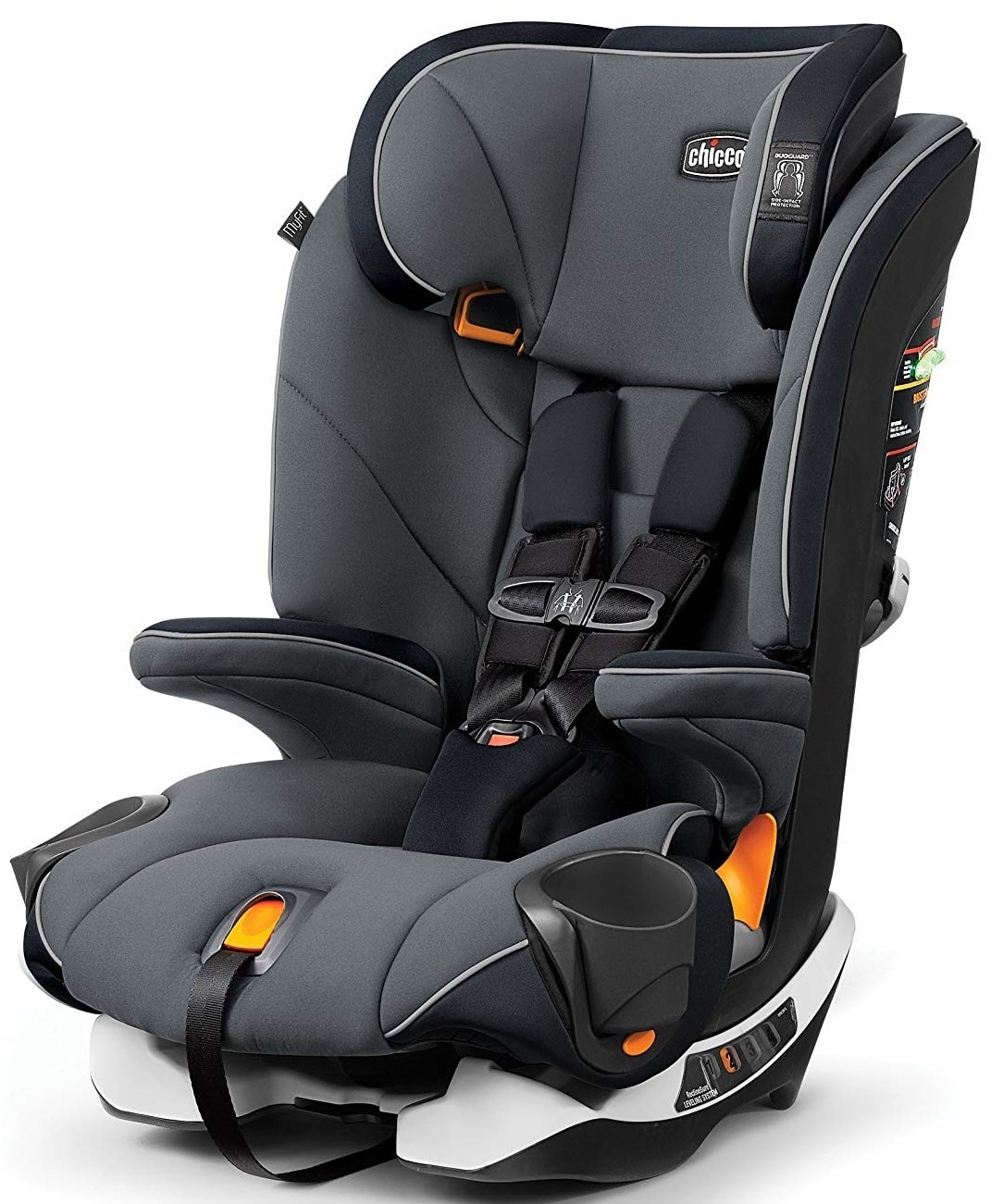 Chicco introduced the MyFit in 2018, and parents immediately started to rave about this booster! Just like the Britax Frontier, the MyFit is a combination booster seat. That means it acts as a forward-facing car seat with a 5-point harness to a belt-positioning car seat.
We love several features of the MyFit including:
The weight limit for the harness is 25 to 65 pounds and 40 to 100 pounds for the booster.
We love the high-quality booster seat, with extra padding, soft fabrics and plastics, and easy to use connectors.
The harness comes with shoulder pads for comfort.
It has two removable cup holders that are dishwasher safe – AMAZING!
The headrest features 9 different positions, and it's easy to adjust.
Installation is very easy. It has LATCH connectors and seat belt lock-offs. You'll find a bubble level indicator on the side and easy adjustments can be made for both forms of installation.
Chicco added safety features that we love such as side impact protection, a steel-reinforced frame, and EPS energy-absorbing foam.
PROS:
4-position recline
No-rethread harness
Installation is very easy.
Vehicle seat belt lock-offs for when you aren't using LATCH
Lightweight
CONS:
Expensive
Large but narrow, so while you can fit two car seats in a row, it's still large.
Not great for napping
5

Graco Highback TurboBooster Car Seat – Least Expensive Option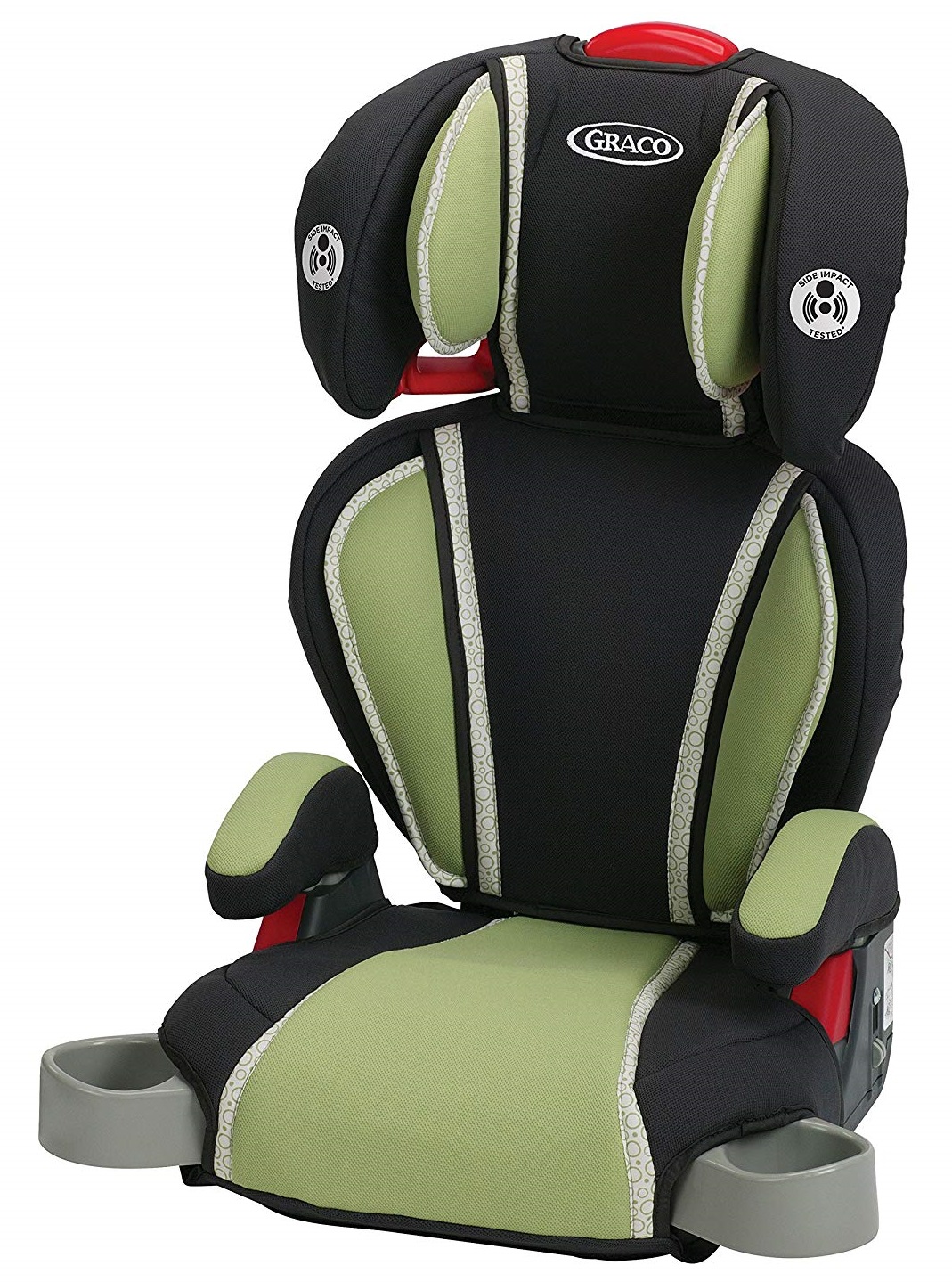 Our next choice is also from Graco, and it's one of the top-selling choices for parents who don't to spend tons of money. It has all of the features you could want like soft, easy-to-clean fabrics, two cup holders, and several color options.
The biggest difference between the Affix and the TurboBooster is that the Affix has the LATCH system while the TurboBooster does NOT. That's one of the reasons why it is cheaper than the Affix. It supports kids from 30 to 100 pounds. The backless booster seat is for kids 40 to 100 pounds. We love that it's super-lightweight, weighing only 8 pounds! That's one of the lightest choices on the market.
We love a few other things about the TurboBooster, including:
It's very easy to install and take out of the car when you need to switch locations!
You can put more than one car seat in the back seat. In most midsize cars, you'll be able to fit three of these across.
Converts from high back to backless.
Features padded, height-adjusted armrests
PROS:
Affordable
Narrow
Converts from high back to backless
Lightweight
6

Evenflo Big Kid AMP Booster Car Seat – The Basic Booster Seat
If you're looking for a basic booster car seat, Evenflo is one of the best-rated choices. It has all of the necessary features and comes at a super-low cost. Evenflo is known for making affordable baby products for kids that are still high-quality.
You can use the Big Kid AMP for kids from 30 to 110 pounds. The Big Kid AMP has plenty of great things to love, such as:
Easy-to-clean fabric
Two cup holders
Side impact protection along with neck and head support.
Head height adjustment
Lightweight, weighing only 8 pounds.
Check Pricing and Availability
PROS:
Affordable with basic, necessary features
Converts into a low-back booster
Six height options
Budget-friendly
CONS:
Small and awkward cupholders
Not the best head and neck support
Thin foam padding
How to Keep Your Child Safe in a Booster Car Seat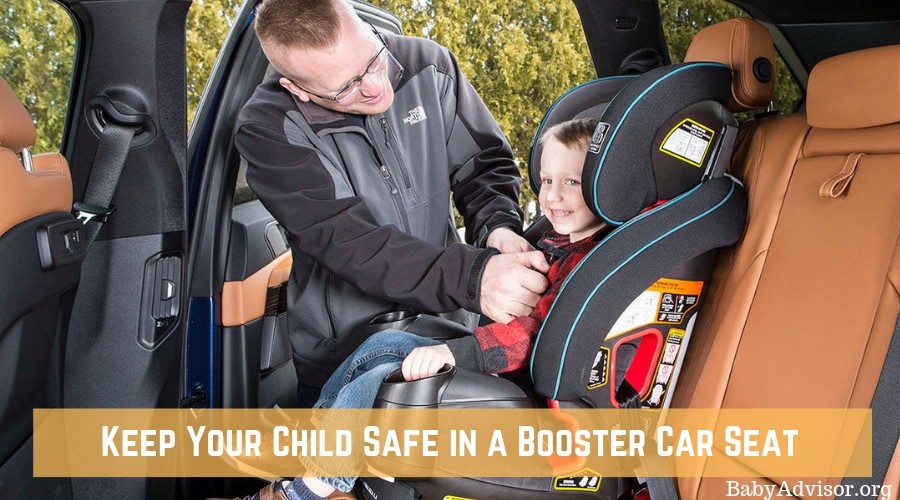 You can put your child in a booster seat, but that doesn't automatically make them safe. Here are some tips for keeping your child safe in a booster car seat.
Always read the manufacturer's user manual to make sure you know how to use the seat properly.
If you're using a backless booster, your child's ears should not go above the top of the vehicle seat. Ensuring this guarantees that your child has proper head support and stops whiplash from occurring.
The seat belt should always make contact with your child's shoulders and chest. It also must lie across the tops of the thighs, NOT the stomach or abdomen area. If you can't get the right fit, try a different booster seat or try a different location in the vehicle.
---
Final Words – The Best Booster Car Seats
At some point, all children transition to a booster car seat, and that can be an exciting, yet scary, milestone! Even though your child is older now, you still need to ensure he is always safe when in the car. Picking one of the best booster car seats makes sure your child has a properly fitting seat belt on him at all times. Safety is a parent's top concern!