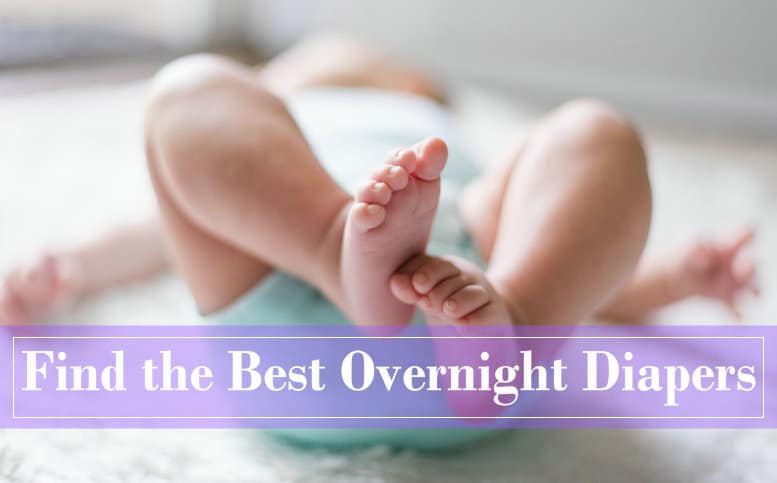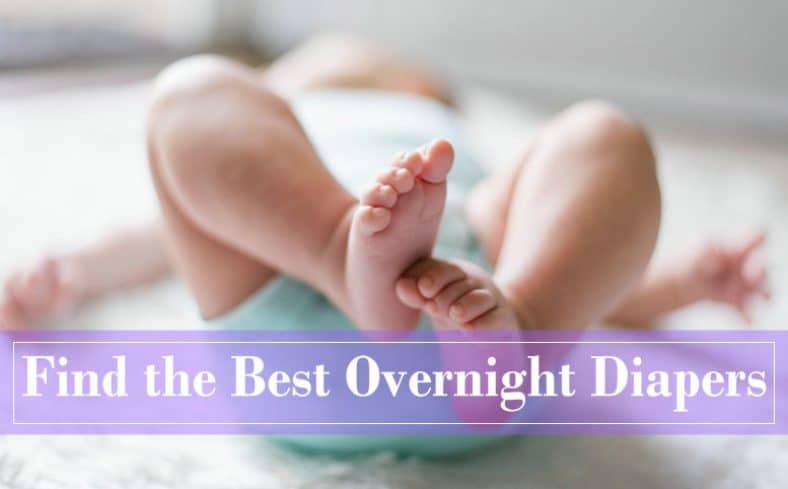 Are you sick of changing wet sheets in the middle of the night?
Parents and babies want to get the most sleep possible, but diapers not designed for overnight sleep can leak everywhere. A diaper isn't just a diaper. There is a huge difference, and you'll realize that soon as your baby wakes up night after night leaking all over their bed.
Then, to make it worse, your baby is now wide awake, and its 3 am! Picking the best overnight diaper makes a huge difference in the amount of sleep you get – and you want the most sleep possible!
---
How Do Overnight Diapers Differ Than Regular Diapers?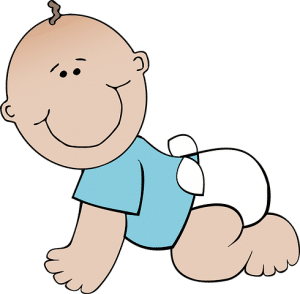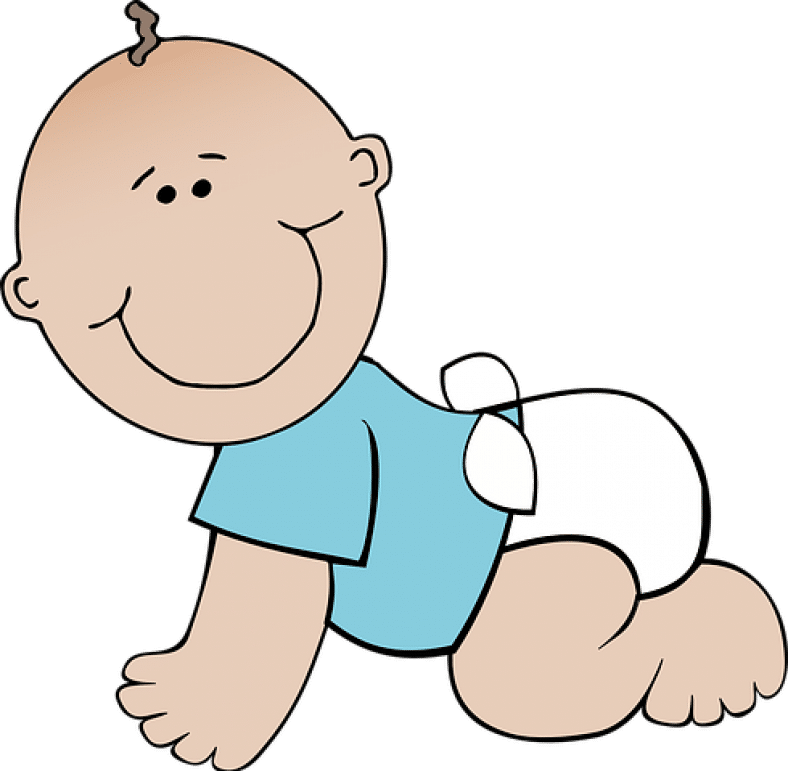 Diapers aren't all created equally. If so, we wouldn't need dozens of brands on the market. Overnight diapers are different than regular diapers in a few ways.
Regular diapers are for the day and afternoon usage when you change your child's diaper more frequently. These diapers are absorbent, but thinner so that they can fit under clothing easier.
You should change your baby's regular diaper every 2 to 3 hours. The absorbency isn't strong enough to last longer.
Overnight diapers can go up to 8 hours before requiring a change.
Overnight diapers have more padding and a lot more absorbency. You'll notice that these diapers also offer a snugger fit around the thighs to avoid leakage. The snugness won't bother your child; they're sleeping!
Most babies sleep better when you use an overnight diaper because they don't leak and feel dry all night. I can't sleep if I feel wet – can you? Probably not!
In the morning, you'll be surprised how full the diaper is, but your baby will still feel dry! It's pretty awesome. Overnight diapers contain more SAP, or Super Absorbent Polymer, than regular daytime diapers. SAP absorbs and holds the moisture throughout an entire nighttime.
It's important to note that some diapers not marked as an overnight diaper work well for day or night. For example, Pampers Baby Dry diapers advertise a 12-hour protection window. That means you can use them whenever you want, and many parents find that feature appealing.
The Best Overnight Diapers - Top Picks
1

Huggies Overnight Diapers – Most Popular Pick by Parents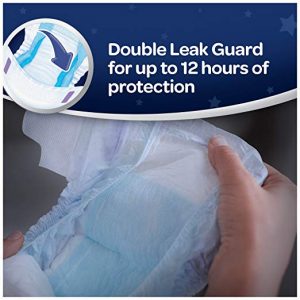 Everyone knows Huggies is a reliable brand of diapers, and their overnight diapers are no exception. Huggies Overnight Diapers is the old-reliable choice. It's a guarantee several of your friends use these diapers! The results are tried and true, so it's no wonder they make our top pick.
These diapers are extra-absorbent, providing over 12 hours of protection against leaks. The stretchy back material keeps the diaper flexible, but snug. No leaks will come out of these diapers! The double grip strips fasten at four points to make sure your baby's diaper stays in place while fitting through every movement and turning.
An embossed inner liner pulls moisture away from your child's skin. The outer cover is breathable and helps your baby stay dry and comfortable. The Double Leak Guard keeps moisture inside of the diaper, right where it belongs.
---
Other reasons that we love Huggies Overnight Diapers:
Extra-wide tabs that work for all body sizes.
You can always find coupons for these diapers!
Patented LeakLock fabric and SnugFit Waistbands keep baby dry.
A baby-friendly character is on the front of each diaper.
---
Some parents refuse to use these diapers because Huggies are not organic, which means they use a lot more chemicals and potentially harmful materials to create their absorbency. However, if your overall goal is to prevent leaks and keep your baby comfortable, these diapers perform their job well.
Huggies Overnights are the most absorbent diaper made by this company, making it a viable option. Babies love these diapers because they pull wetness away from their skin. No one wants to feel wet, including your baby, and these diapers will prevent that from happening!
Check Pricing and Availability
PROS:
Perfect for deep sleepers
Leakproof for 9 to 10 hours
SnugFit waistband
Perfect for heavy wetters
Extra-wide Tabs
CONS:
Not Organic
Expensive
Only available in sizes 3 to 6.
2

Pampers Baby Dry Diapers – Budget-Friendly Choice for Parents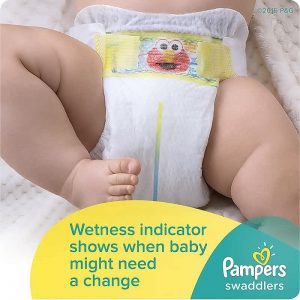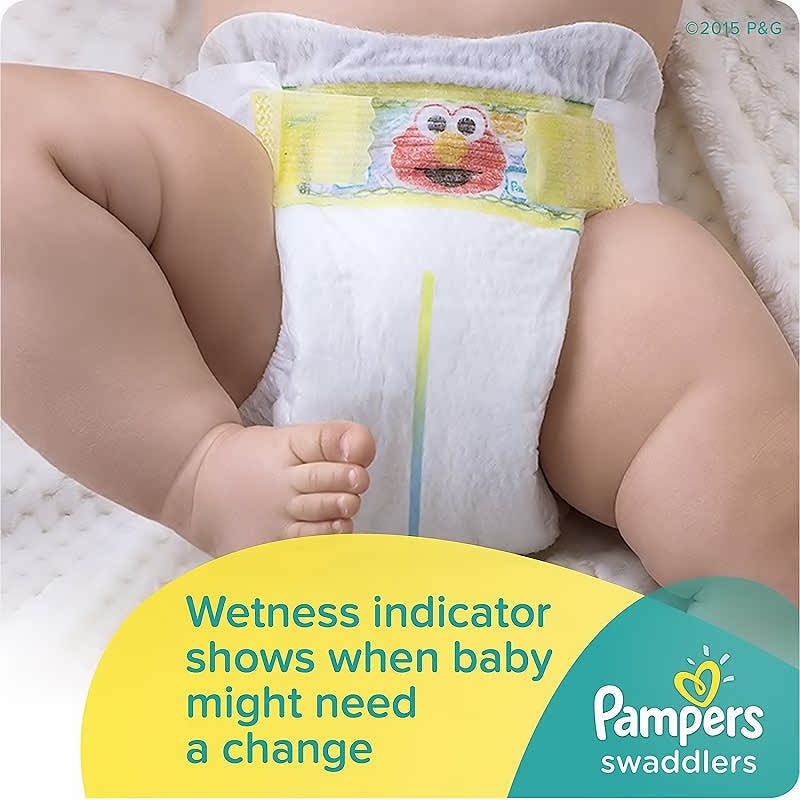 Pampers is the second most common disposable diaper, and Pampers Baby Dry Diapers are a budget-friendly option for parents. The interior is very soft, with an almost cloth-like texture. Pampers add smooth tabs that will bend and flex with your baby without causing any chaffing issues.
It's important to note that these are not labeled overnight diapers, but Pampers recommends them for nighttime usage and extended wear. They are perfect for bedtime and long travel hours, lasting up to 12 hours between changes!
---
We also love the Pampers Extra-Dry because:
They're super soft, so your baby will be comfortable.
The extra-dry zones place maximum absorption materials right where your baby needs them.
Comes in sizes 1 to 6
Color changing wetness indicator on the front of the diaper for sizes 1 and 2.
---
Just like Huggies, it's important to note that Pampers aren't organic and use petrochemicals to add extra absorption to the diapers. Pampers doesn't rely on natural ingredients, so that may be a factor for some parents. Also, these diapers are known to split open if too full, exposing your baby to the hydrated SAP (super absorbent polymer) crystals.
Overall, Pampers Baby Dry diapers are an economical choice if you want an extra-absorbent diaper that works for day and nighttime.
Check Pricing and Availability
PROS:
Soft and comfortable
Affordable price tag
A lot of absorbencies
CONS:
SAP core may expose if too full
Contains fragrance
No newborn option
3

Pampers Pure – Fewer Chemicals, Same Absorption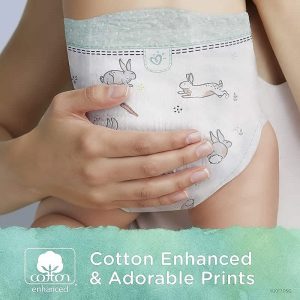 Pampers understand that some parents prefer to purchase items with fewer chemicals, so they crafted their Pampers Pure line. Pampers Pure stops leaks for up to 12 hours, but they don't use chlorine bleach, fragrances, lotion, or parabens. These diapers are made with cotton and soft, plant-based fibers.
Parents can purchase Pampers Pure in a variety of sizes from newborns through toddlers. If you've used Pampers Baby Dry, these diapers are very similar in fit and comfort.
---
We love Pampers Pure for these reasons as well:
Hypoallergenic
Non-irritating for sensitive skin
Wetness indicator
Adorable prints on the front of the diaper.
---
You will pay to have the quality of regular Pampers but without chemicals. These diapers are some of the most expensive on our list.
There is no reason to compromise! You want to have a whole night of protection against leaks, but you don't want your baby exposed to dangerous chemicals or chlorine. Pampers Pure offers everything you want!
Check Pricing and Availability
PROS:
Stops leaks for up to 12 hours
Fragrance, bleach, and chlorine free
Made with plant-based fibers
Sizes Newborn through Size 6
Hypoallergenic
4

Luvs Ultra Leakguards – Cheapest Option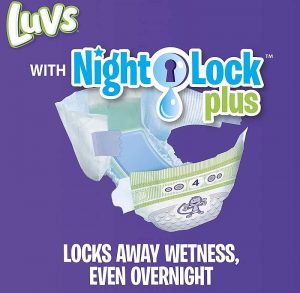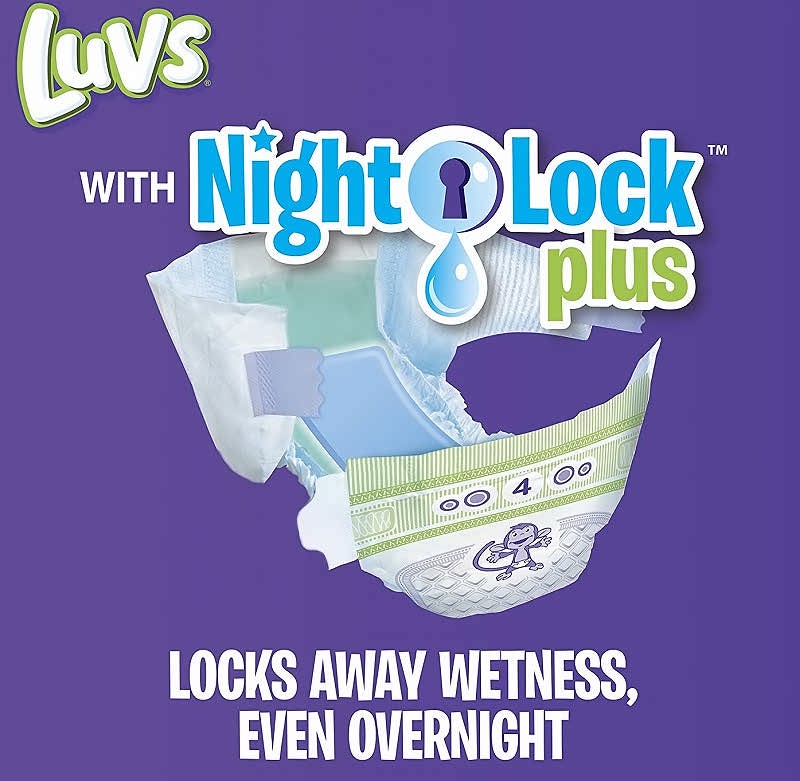 Luvs Ultra are designed to be the cheapest option while still being totally effective. The diaper uses a patented ultra absorbent NightLock Plus fabric that makes sure your baby stays dry all night. Then, Luvs add their patented Leakguard Core, which ensures the diapers last for up to 12 hours. Large tabs make changing and adjusting your baby's diaper easy.
Parents love Luvs Ultra for an all around 24/7 diaper. Sometimes, buying a diaper specifically for nighttime can be annoying and hard to remember! Buying one type of diaper that lasts all day is ideal.
---
Other reasons to love Luvs Ultra LeakGuard diapers include:
A wide range of sizes from newborn to six 6.
Wide fastening area for easy changes
Money-back guarantee if you aren't satisfied
---
Some parents note that Luvs have a very strong fragrance that they don't like, and these diapers aren't ideal for a child with sensitive skin. The chemicals in Luvs may be too strong for many babies, so its best to get a small pack first to see how your baby handles them.
Overall, Luvs are an economical choice for parents that are 24/7 diapers. Your child can wear them in the daytime or nighttime without any leaks.
Check Pricing and Availability
PROS:
High absorbency rate
Cheap
Newborn to Size 6
CONS:
Could irritate sensitive skin
Strong Fragrant
5

Honest Overnight Diapers – Best Natural Diapers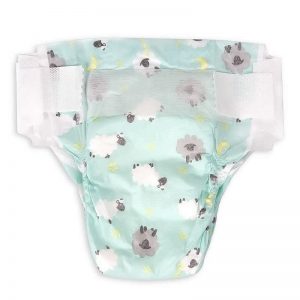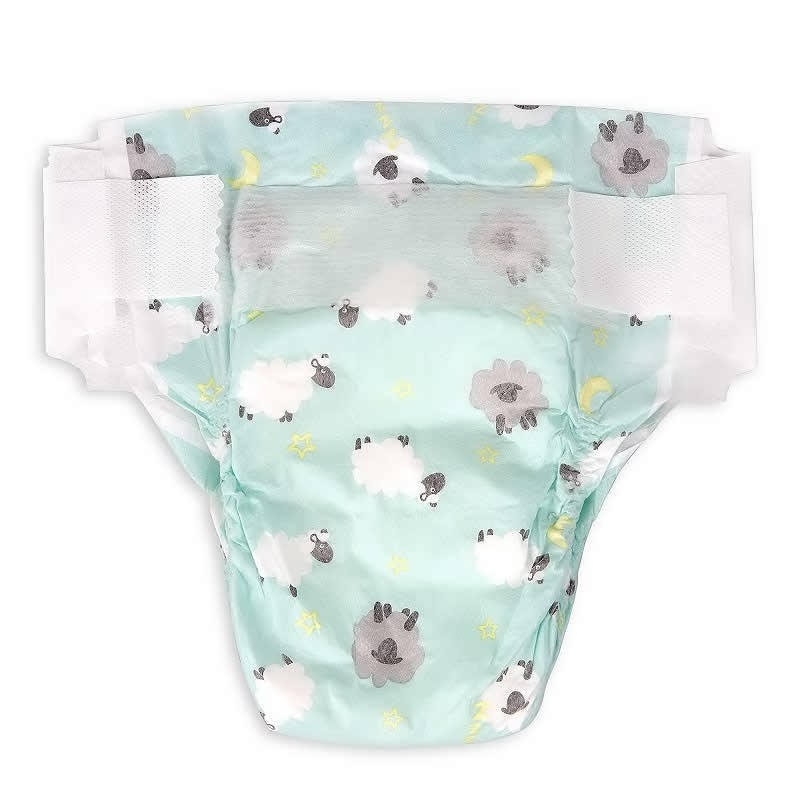 The Honest Co. has made a name for themselves over the last few years, offering a diaper delivery service that also sells baby bath products. Parents rave about their diapers, and you can find them in different stores around town.
The Honest Overnight diaper includes all the features a parent could want in a nighttime disposable diaper, such as advanced leak protection, comfortable fabric, and a secure, snug fit. Also, Honest diapers are hypoallergenic and made with sustainable materials. No chlorine, bleach, synthetic fragrances, lotions, or latex are in these diapers, and the core is made with pulp harvest from sustainably managed forests.
---
Some more awesome features of the Honest Overnights are:
Lasts up to 12 hours.
Baby feels dry in the morning.
No weird gel or chemical residue left on the baby.
---
Unfortunately, Honest Overnights only comes in sizes three to six, and they are a more costly choice for some parents. For parents who are willing to spend the money on cute designed overnight diapers, Honest Overnights are a good choice.
Babies with sensitive skin might react to these diapers because they do use pigments to create cute designs on the front of the diaper. Make sure you try a small package first to ensure your child won't react! Overall, parents do love these diapers, and those cute designs suck you into the purchase. Honest Company makes adorable designs for each season and holiday!
Check Pricing and Availability
PROS:
Advanced leak protection
Comfortable fabric
Secure, snug fit
Hypoallergenic
Made with sustainable materials
No chlorine, bleach, or fragrances
CONS:
Expensive
Only comes in sizes 3 to 6
Reports of faulty tabs
6

GoodNites Bedtime Bedwetting Underwear – Best for Potty-Trained Toddlers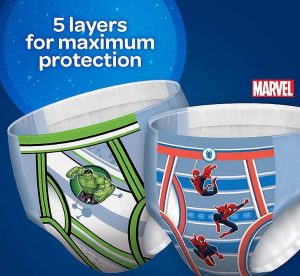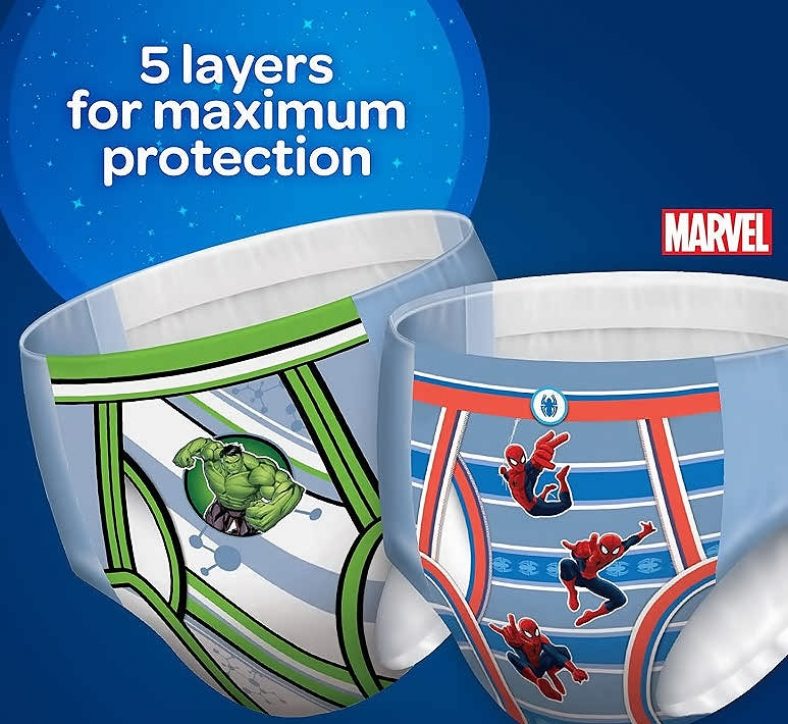 Yay! Your toddler is officially potty trained! However, that doesn't mean your toddler won't have accidents throughout the night. It's really common for kids to have nighttime accidents for years, especially during really deep sleep or if they drank liquids before bed.
GoodNites Bedtime uses five layers of absorbent materials along with stretchy sides and leg barriers to prevent any leakage. These features are perfect because older kids have bigger bladders, which can hold more urine at night, but the extra layers of materials will keep your child dry ntil morning. No more changing sheets for you!
Unlike other nighttime diapers, you purchase either a male or female version. The male version has additionl absorbency to the front of the diaper, while the girl version adds extra absorption towards the bottom.
---
You'll love these overnight training pants for other reasons like:
They absorp odors.
Rarely leak
Very stretchy to fit all body types, tall and short!
Perfect for sensitive skin.
The child can easily pull up them up and down in the middle of the night.
---
GoodNites are more expensive than other overnight options because they are typically nighttime pull-ups and have higher absorbency rates. Also, you might notice that one style is cheaper than the other. At times, a boy or a girl style could be cheaper than the other!
One of the best reasons to love the GoodNites is that they are discreet and thin enough that no one will know your child is wearing them. You don't have to change your child's clothing sizes to fit. Kids who are insecure about their bedtime wetting will appreciate the discreetness, especially if they have a friend who wants to spend the night!
Check Pricing and Availability
PROS:
Perfect for potty trained kids
Five layers of absorbent materials
Stretchy sides and leg barriers
Comes in male or female varieties
Absorbs Odors
7

Seventh Generation – Best Choice for Parents Who Want to Avoid Chemicals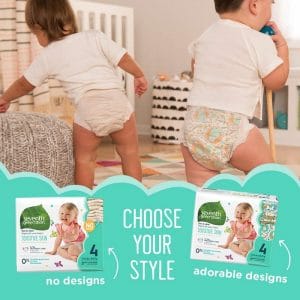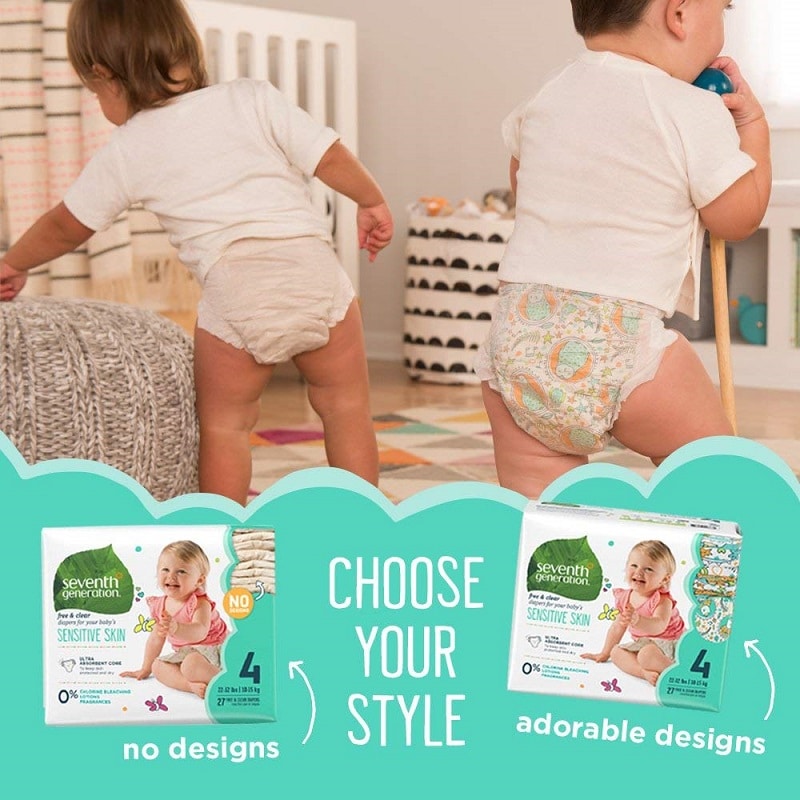 The amount of chemicals and fragrances in disposable diapers can be scary, but Seventh Generation is a brand that parents can trust. Their diapers are free of any harmful chemicals or fragrances that might irritate your child's skin.
One thing that stands out is that Seventh Generation disposable diapers are very soft, cloth-like, so your baby feels very comfortable wearing these diapers. A comfortable baby sleeps longer, especially when they stay dry, and these diapers can keep your baby dry and leak free for 10 hours.
---
Other reasons that parents love Seventh Generation diapers include:
A stretchy back that is comfortable but creates a snug fit.
Diapers are made from renewable resources.
The center of the diaper contains wood-pulp, corn, and other extra-absorbent materials. No petrochemicals come in contain with your baby!
---
Seventh Generation isn't completely made without synthetic materials, but they do disclose every materials they use. The core contains SAP, polyurethane, polyethylene, and a few other synthetic substances. Also, there are pigments in the diaper, otherwise they'd be white and see-through, which wouldn't be an appealing feature.
Check Pricing and Availability
PROS:
Free of chemicals or fragrances
Soft, cloth-like materials
Stops leaks for 10 hours
Keeps baby dry
Uses sustainable materials
CONS:
Expensive
Only available in sizes 4 to 6
Some experience leaks with these diapers.
8

BumGenius Freetime – Most Affordable Cloth Diaper for Overnights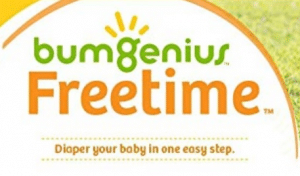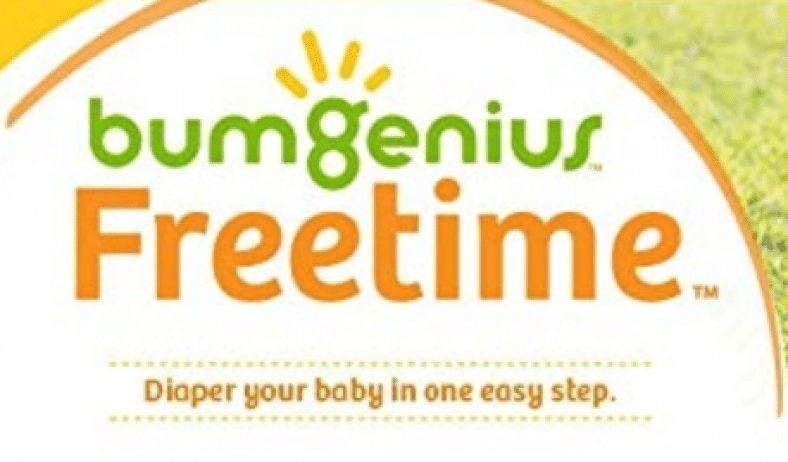 BumGenius is one of the leading brands of cloth diapers, and their Freetime cloth diaper fits babies weighing 8 to 35lbs. Laminated polyester covers the exteriors of the diaper, which prevents any leaks. Inside, moisture-wicking polyester lines the diaper which prevents tor baby from feeling wetness.
Along the front of the diaper, the BumGenius Freetimes has butterfly snaps – no toddler can remove these diapers! Unlike other cloth diapers, the Freetimes come with a stay-dry insert that adds additional absorpotion for nighttime.
---
We love the Freetimes for a few other reasons like:
All the adorable prints available!
Semi-attached stay-dry inserts to adjust absorbency
Gentle elastic
An extra layer of microfiber sewn into the shell
3×3 snap down design so you can adjust to small, medium, and large.
---
However, unlike disposable diapers or other cloth diaper brands, the BumGenius Freetimes are rather bulky due to the extra layers of pads inside the diaper. Those layers keep baby from leaking in their bed, but it may mean you have size up their sleepers or clothes for nighttime.
The night thing about the design of the Freetimes is that you can adjust the absorbency by adding extra inserts without any troubles. BumGenius makes economical and cute diapers for parents who want a cloth diaper overnight option.
Check Pricing and Availability
PROS:
8 to 35lbs
Affordable
Stay dry interior
Strong butterfly snaps
9

Sposie Booster Pads – Best Booster Pads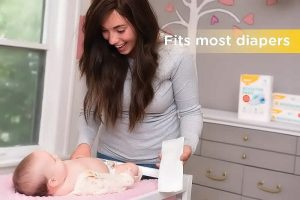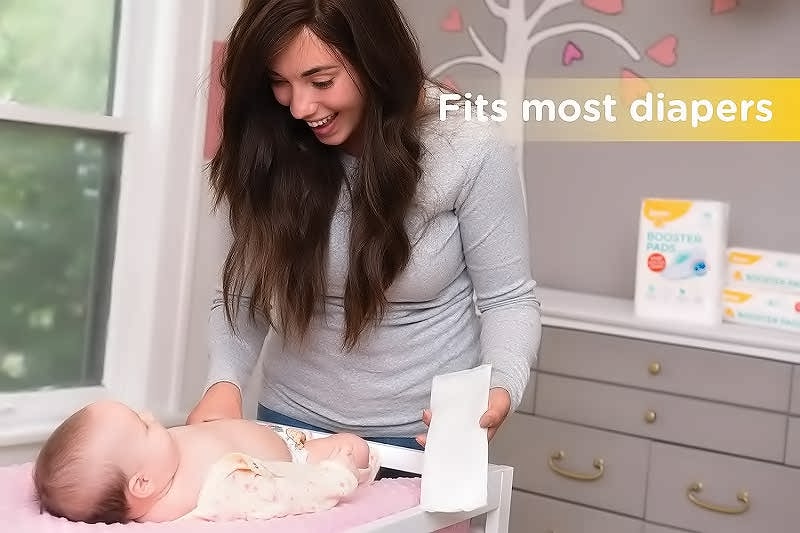 Sometimes, no matter what nighttime diaper you pick, your baby just leaks through their diapers. In those cases, a booster pad can make a huge difference. The Sposie Booster Pads are an absorbent strip you can place in any type of diaper or training pads.
These little pads can absorb eight ounces of liquid! That is impressive, making them perfect for nighttime use or during long trips. Babies who like to sleep on their bellies struggle with leaking and these booster pads are perfect for tummy sleepers who need a bit more protection in the front of the diaper.
---
Sposie Booster Pads have other great features, such as:
Fragrance, latex, and chlorine free
Wicks away moisture from your baby's bottom to prevent leaks
---
One thing to note is that the Sposie Booster Pads don't have any adhesive materials on the bottom of them, so they might slip or fall out of the diaper if the diaper isn't on correctly. Also, these pads may not wick away moisture as good as traditional diapers, so you might want to consider using a stay-dry cloth liner on top of the pads.
Overall, these booster pads are a great thing to try if you've already tried different brands and sizes but still experience nighttime leaking. They could be the answer to your problems!
Check Pricing and Availability
PROS:
Absorbs up to 8oz of liquid
Fragrance, latex, and chlorine free
Keeps baby dry
Great for tummy sleepers
CONS:
No adhesive backing
Subpar moisture wicking
10

Nature Babycare – Top Eco-Friendly Diaper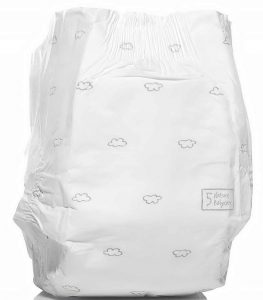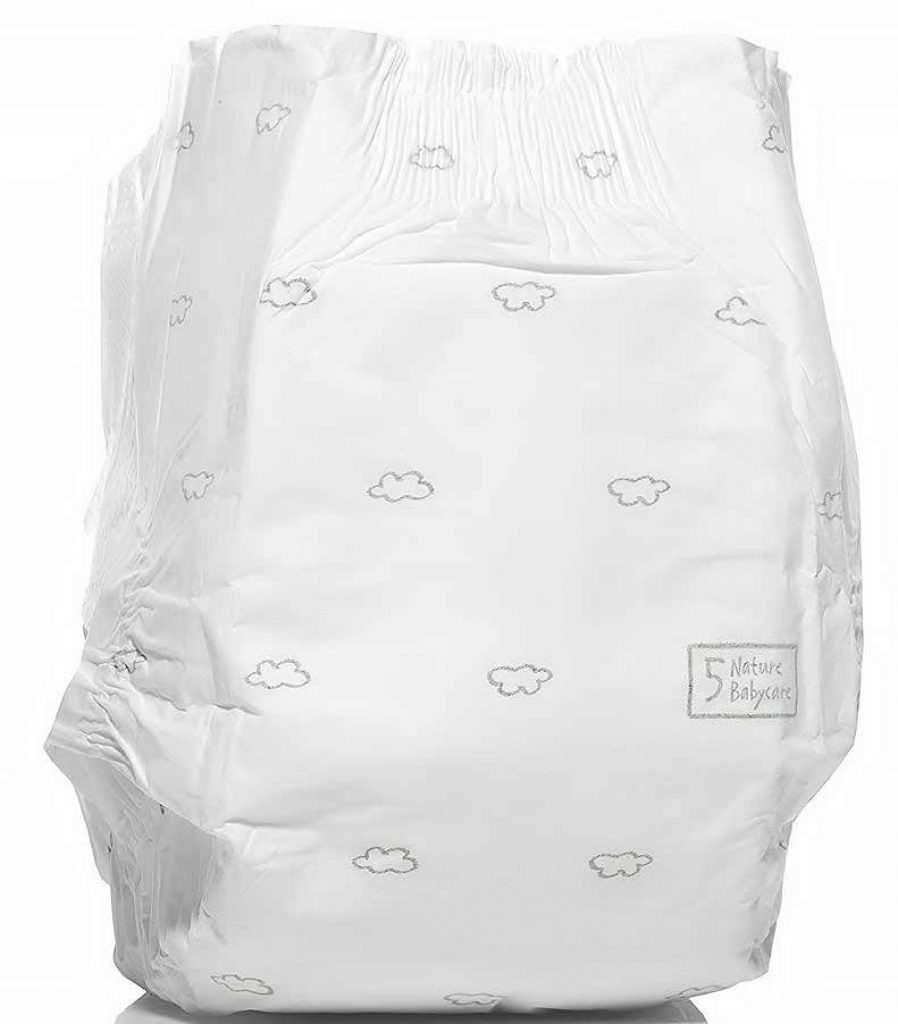 You won't find Nature Babycare at your local supermarket, but these diapers are perfect for families who focus on living an eco-friendly lifestyle. Naty, the name of the company, is known for being transparent about the ingredients in their products, particularly their disposable diapers, which isn't common in this industry.
Nature Babycare is one of the few disposable diapers that use a totally chlorine-free production process. The company claims to be free of all known allergens or substances classified as irritating, sensitizing, mutagenic, or carcinogenic. Multiple awards prove their claims are true.
Naty is certified by the Sweidhs Asthma and Allergy Association, a national association that wants to improve conditions for people living with allergies and asthma. These diapers are designed to minimize risks of allergies.
---
Some other reasons you will want to give this diaper a try include:
9% biodegradable.
Available in sizes Newborn to size 6
---
While their efforts to be eco-friendly are appreciated, Nature Babycare does have some lacking in the comfort area, as well as durability. If you have to reattach the tabs, you'll find that they don't tend to reattach well. You don't want to have to toss out a diaper because you put it on wrong!
Also, Nature Babycare doesn't have materials as soft as competitors, and you might have to worry about chaffing on your baby's skin. When you order the diapers, pay attention to sizing. These are European diapers, so they tend to run smaller and different than the diapers we use in the United States.
Check Pricing and Availability
PROS:
Absorbs Well
Protects against leaks
Chlorine and fragrance free
Hypoallergenic
Biodegradable materials
CONS:
Expensive
Rough material
Tabs won't reattach well.
Run small
11

Allnites Overnight Diapers – An Option for Frugal Families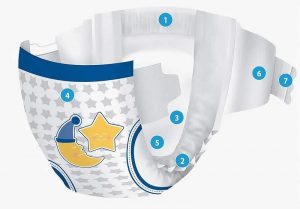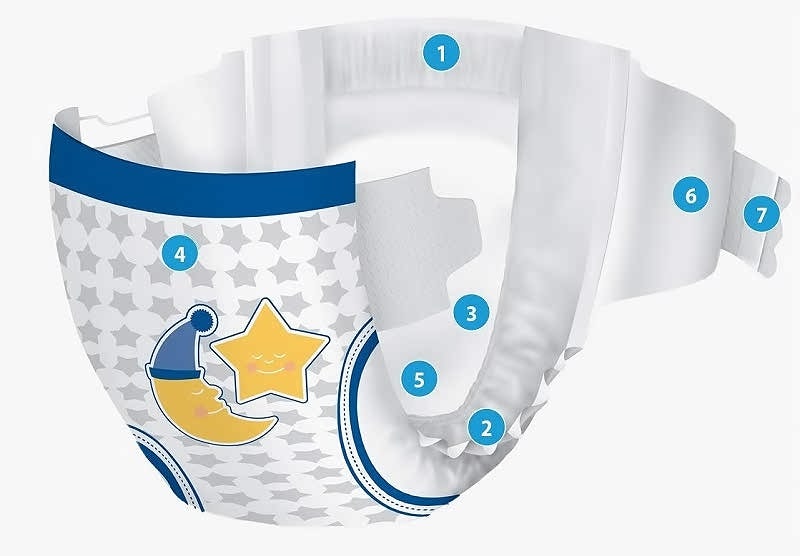 Allnites are a budget-friendly brand of diapers that you may love if you need to save money. Many people are pleased with them! The company claims that their diapers can provide leak protection for up to 12 hours!
There are many reasons to use these diaper! They are hypoallergenic and free from any chlorine, dyes, latex, or chemical fragrances. The inner sheet contains vitamin E, aloe, and botanicals that ensure your child's skin won't
---
Become irritated throughout the night. Some other nice features include:
Tabs are adjustable
Leg cuffs protect against leaks.
Soft, cloth-like feel
Elastic waistband with a comfortable fit
---
Allnite diapers are only available in sizes 3, 4, and 5, as well as pants for older kids. Also, you'll quickly realize that the prices vary depending on where you purchase the diapers.
These diapers are cheaper when compared to specific, name brand disposables. Your baby will stay dry and comfortable with these diapers, and the soft and stretchy waistband and side panels keep even active babies snug. Your baby can move freely without rubbing or chaffing.
Check Pricing and Availability
PROS:
Made in the United States
Soft, cloth-like materials
Snug fit
12 hours of protection
CONS:
Varying price
Limited sizes available – 3 to 5
Absorbency isn't as good as other brands.
12

Bambo Nature – Best European Overnight Diaper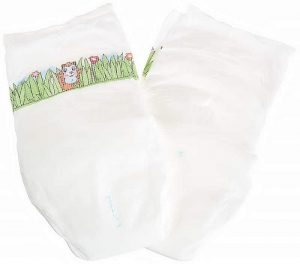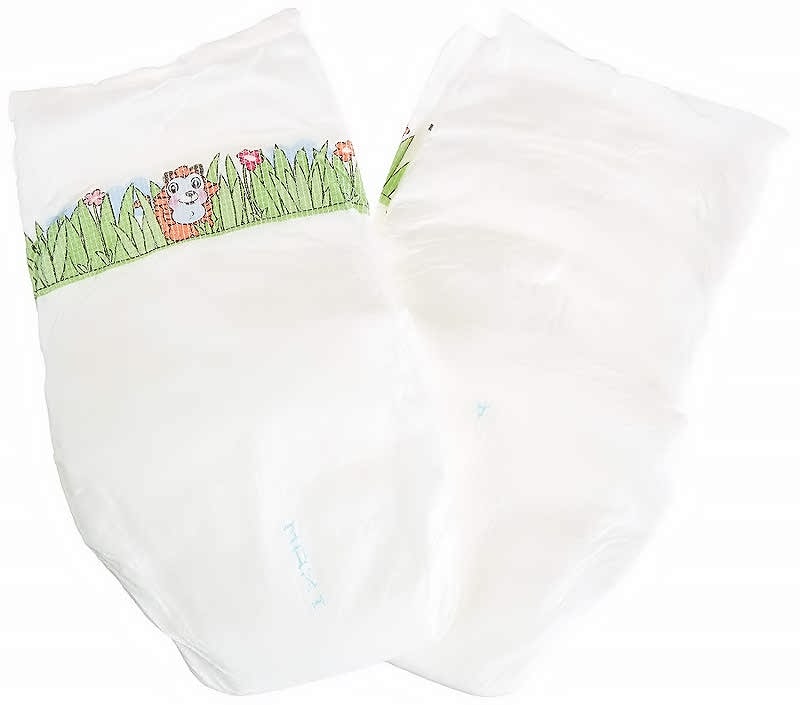 Created in Denmark, Bambo Nature creates products that are high-quality and safe for children and the earth. Bambo Nature contains several eco-friendly awards and approved labels for its products. The company also sells wipes and skin care products.
---
Bambo diapers hold many awards, such as:
Asthma-allergy Denmark Label
The Nordic Swan Eco-Label
Dermatological Label
Forest Stewardship Council Label
---
Their nature doesn't indicate the use of bamboo in their diaper. Instead, Bambo is short for bambolina, which is the Danish word for baby. The company uses wood fiber that comes from sustainable forests, but they don't use anything from bamboo forests!
Bambo Nature diapers are awesome for several reasons, such as:
Free of phthalates and chlorine
The ink used on the diaper is free of lead and heavy metals
Three-layer core adds extra absorbency without adding thickness.
Tabs can be repositioned
Stretchable panels
Wetness indicator
Despite being eco-friendly, Bambo Nature does contain polyethylene, polyurethane, and polypropylene, as well as SAP and wood fiber in the main absorbent layer. Also, Bambo Nature diapers are more expensive than other products, but you can sign up for their subscription service to reduce the costs.
It's important to note that these diapers aren't specifically made nighttime diapers. Instead, the company claims that these diapers work for daytime and nighttime usage. Because these diapers are unscented and made with certain materials, they are great for babies who have asthma or allergy problems. In fact, the diapers are hypoallergenic!
Check Pricing and Availability
PROS:
Available in sizes 1 to 6
Made without chlorine and bleach
Fragrance-free
Super soft materials
Dermatologically tested
CONS:
Expensive
Leaks are possible
No newborn size available
---
Understanding the Design of a Disposable Diaper
Understanding how a disposable diaper is made helps parents pick the right diaper for their child. No matter what brand you use, they all have the same basic design. It looks like this.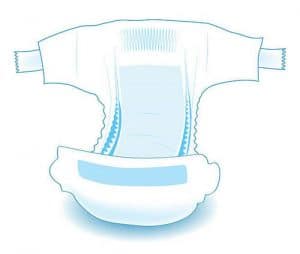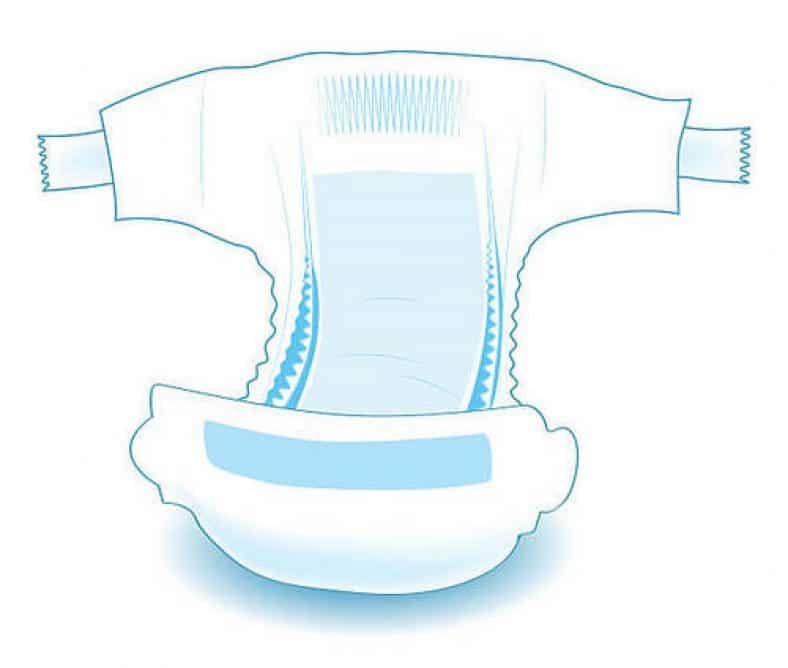 1. A waterproof outer piece – most companies use a chemical called polyethylene to make this part of the diaper, and it's a common plastic. Many high chairs or baby toys are made of polyethylene.
2. An absorbent material in the middle – it's in this area that overnight diapers differ from regular diapers. A nighttime diaper adds more material in the middle than other diapers. Above, we mentioned the inner layer containing SAP, which stands for superabsorbent polymer. If you break open a diaper, it looks like white sand before it comes in contact with moisture. Once exposed to moisture, SAP gels up like beads.
3. A permeable sheet next to your baby's skin that draws liquid into the absorbent middle. This layer is usually made of polypropylene, which can be found in food packaging, clothing, and medical sutures.
Diapers have other parts of the design as well. Diapers should have elastic around the legs which stop leaks from happening. This part of the diaper does differ from company to company because each brand has different strategies to prevent moisture from leaking out around your child's thighs.
You might notice that some diapers have two rows of elastic around your baby's legs, sometimes called gussets. The idea behind this design that, if the liquid escapes one row, it'll stop at the second row of elastic. Think of it like a dam system but for diapers instead.
The last part of the design ensures the diaper stays snug around your child's waist, which is why an elasticized waistband is very important. It shouldn't be tight enough to cause discomfort or redness.
---
Are Eco-Friendly Diapers Really Better?
Take a look at the list of top overnight diapers, and you will notice several diapers in the eco-friendly and green living category. Many companies make diapers that are free of chemicals to help worrisome families. Most of these companies still rely on SAP to absorb liquids.
Most companies focus FIRST on removing chlorine from the diaper making process, which makes disposable diapers whiter. Dioxins are released in trace amounts throughout the bleaching process, and dioxins are suspected carcinogens. Most experts believe the risk is very low, but some parents prefer to take no risk!
You might also wonder about the claims that a disposable diaper is biodegradable. Most companies stopped using this label and switched to other labels, such as eco-friendly or natural.
Why? Even if the diaper does contain biodegradable materials, they still have to sit in the landfill for decades. In a landfill, waste is buried under more waste, so it loses water and air circulation.
---
How to Stop Baby Leaking Through Overnight Diapers
Sometimes, a leaky diaper just happens, even with overnight diapers. Every parent has those nights, but it's unavoidable. There are a few things you can try to reduce the possibility. It's more possible that your toddler will leak through the overnight diaper because they have larger pees.
Make Sure Diaper is Snug: The diaper shouldn't cut off circulation, but it must be snug, especially around your child's thighs and hips. A loose diaper will leak faster. Test the snugness by seeing how easily you can put your finger between the diaper and your child's thigh. If it's too loose, adjust the tabs to make the diaper tighter.
Limit Water Consumption: You can't limit your baby's breastmilk or formula intake before bedtime, but you can reduce your toddler's water consumption. Try not to give your baby water after 7 pm. Doing so helps prevent leaks, and it's a good habit to start before potty training. For potty training purposes, your baby should limit water intake to make the process easier and prevent nighttime accidents.
Put on Diaper Right Before Bed: If you put the diaper on an hour before bedtime, it will already be wet by the time your child goes to bed, reducing the time it'll last overnight. Create a bedtime routine where you put the diaper on RIGHT before bedtime.
Size Up: Sizing up your child's disposable diapers is a simple trick that works almost every time, so long as you can get a snug fit. Sometimes, your child's diaper just can't hold all of the urine, so sizing up to a larger diaper means it can hold more liquid, reducing leaks.
Add a Booster: Parents who use cloth diapers overnight can add a booster to their overnight diaper to increase its absorbency. A booster pad or insert fits right into the diaper and will absorb more liquid, allowing your diaper to go longer without leaking.
---
What to Consider When Picking an Overnight Diaper
So, now you saw the options for the best overnight diaper, and it's time to make a decision. Here are some considerations to help make the pick!
Without a doubt, the most important consideration for a nighttime diaper is finding a diaper that can absorb a lot of liquids. A good diaper will absorb liquids and keep the liquids locked into the central core, keeping it away from your baby's skin. There isn't much research and data done on plant-based SAP to officially compare the differences.
SAP
Super Absorbent Polymer (SAP) is what makes these diapers able to absorb up to 300 times its own weight. SAP isn't biodegradable, but scientists do believe that SAP Is safe for your child.
Typically, more layers mean more absorption and you want the diaper to contain more than just the basic three layers. A regular diaper will contain three layers – the top sheet, absorbent core, and a waterproof shell. Soft layers prevent the diaper from feeling bulky and thick, while cushioned layers prevent rashes and keep your baby comfortable. So, you want to have more than three layers ideally but you don't want too many layers, creating an ultra-thick diaper.
Do you worry about the environment? Diapers take decades to decompose. Chances are your baby diapers are still decomposing in a landfill somewhere – isn't that crazy (and disgusting) to think about? If you find yourself worrying about the carbon footprint of your baby, look for an eco-friendly diaper.
It doesn't matter if the diaper has all the absorbency in the world if it doesn't fit your baby correctly. A good fit is key for daytime and nighttime diapering. Look at the brand's size range because that does differ with different brands. In one brand, your child might wear a size 4 but wear a size 5 in another brand!
Some brands won't fit your baby well at all, depending on your baby's build. Slender babies or those with chubby thighs may struggle to find the perfect diaper fit. Ideally, the diaper should have elasticized material around the thighs to ensure the diaper is snug without gaps, but you don't want the diaper to be super tight and cut off your baby's circulation!
Babies want to be comfortable as well, so the rough fabric is a no-go, and that is a common problem with many organic, "green" diaper brands. Rough edges or seams can lead to chaffing and irritated skin, especially if you fit the diaper on too tightly.
Remember a bad fit can cause problems with daytime diapers as well, especially if your child is a heavy wetter. You might have to size up or down!
Sensitive Skin: Babies with sensitive skin need diapers that are marked as hypoallergenic or at least diapers that are made with chlorine-free materials.
Artificial Fragrances: Urine and feces don't have a pleasant smell, so baby diaper companies place fragrances in the diapers to help mask the scents. Some people find these artificial fragrances too strong for their likening. If that's how you feel, look for diapers that are marked scent free because they have a minimum amount of perfume in the diapers.
Budget: Your budget has to be a consideration when picking the right diaper for your family. It would be nice to afford the fancy diapers, but not everyone can do that! It's okay if you can't! There are diaper choices in all budget ranges. You might not have a budget and can spend whatever is necessary to keep your baby dry, which opens up your options.
Overnight diapers do tend to be more expensive than daytime or 24/7 diapers because they contain more SAP and materials to ensure your child can last an entire night without leaking. Many parents find that this is money well spent. Make sure you don't purchase in bulk until you are sure that you like the diaper and that the size you picked works well with your baby.
Size Range: Some diapers don't come in the entire size range. Many brands don't make overnight diapers for babies under 16 pounds. Make sure the diaper you want to use comes in the size you need for your child.
Special Features: The last thing to consider is any special features the diaper may have. For example, many parents love a wetness indicator that changes color when the diaper becomes wet. It lets you know when its time to change the diaper. Pull away top sheets let you remove the disposable top sheet. Look at what chemicals are in or are not in the diaper to make a decision.
You may love to read more about Our Top Picks of Best Diaper Pails.
The Best Overnight Diaper is Worth It
More sleep when you are a parent is a treasure, and using the best overnight diaper for your baby will help you get more sleep. You'll also find that you have to do less laundry, less sanitizing, and less mattress scrubbing when you use a diaper meant to prevent nighttime leaking.
While these diapers might cost more, you'll be gaining sleep and saving time. That's worth spending a few extra dollars per month!