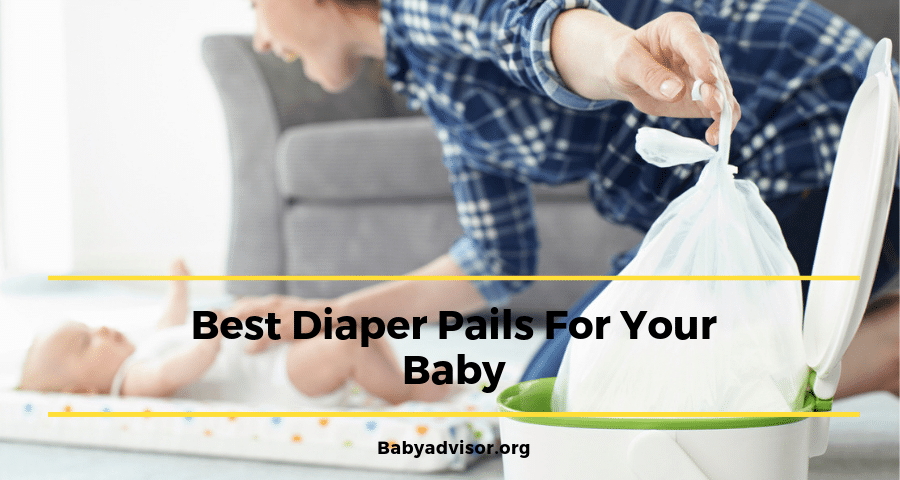 Are you worried about diaper disposal once your baby arrives? Are you already sick of the unpleasant odors pouring out of your trash can? If you have a baby in your life, diapers are a part of your life too… and if diapers are a part of your life, you're definitely going to want the best diaper pail to combat stink and make diaper disposal easier!
I started with a diaper pail from the very beginning with my first baby and I loved it! However, we sold it after we didn't need it anymore – which was shortly before I found out I was pregnant with my second! With our second baby, we didn't bother getting a diaper pail at first and we regretted it!
Throwing dirty diapers in the regular trash can just is not a viable option – especially once baby starts solid foods. Those smells can quickly fill the entire house if not properly contained.
---
What are diaper pails?
Diaper pails are specialized products that work a lot like a special trash can just for diapers. You don't want diapers in your normal trash can because of how quickly they can smell up your home. Diaper pails are designed specifically to hold just diapers and keep in those smells effectively.
---
Are diaper pails worth it?
Absolutely! Diaper pails are well-worth the purchase. You don't want to have to put your baby's used diapers directly into your regular trash cans because they will quickly smell up your house. Diaper pails are convenient and very beneficial. You will definitely want to get a good diaper pail.
---
Diaper Pail Buying Guide
When it comes to diaper pails, it is certainly not a one-size-fits-all type of scenario. The best diaper pail for one family is likely a completely different option than the best one for a different family. To help you understand exactly what you are looking for and want out of a diaper pail, try asking yourself these questions:
Disposable Diapers or Cloth Diapers?
The very first thing you need to think about when choosing a diaper pail is what type of diapers you will be using for your baby. Many diaper pails are specifically designed for disposable diapers and would not be a good choice if you are going the route of cloth diapers.
If you are choosing disposable diapers, your options remain pretty open. If you choose cloth diapers, you'll want to look for a diaper pail that has a wide opening, accepts reusable pail liners, and preferably allows some type of airflow for your cloth diapers. Choosing a diaper pail specifically designed for cloth diapers is often your best bet.
Want to learn more? Check this: Cloth Diapers vs. Disposable Diapers.
Is Hands-Free Operation Necessary?
One very important factor to consider when choosing a diaper pail is how it opens up. There are quite a few diaper pail options available that feature a convenient step pedal. A step pedal allows for hands-free operation. This can be more sanitary, but there are some benefits to other means of opening as well.
Sliding door options and even regular lift-top options often prevent a sudden whoosh of air that pulls odors out into the room. Thing about your pros and cons here to help you decide what is most important to you.
How Often Do You Want to Change the Bag?
Diaper pails come in a lot of different sizes. The smallest of diaper pails may have you changing the bag out at least once a day while larger options can easily hold several days' worth of diapers.
Smaller options are more compact and often more affordable. So, basically just decide if paying a little more and having your diaper pail take up a little extra space is worth the convenience of going days without changing your diaper pail bag.
What is Your Short-Term and Long-Term Budget?
When you are choosing your diaper pail, you will need to think about more than just what it costs you in the moment. Diaper pails require bags or liners of some sort and this can mean reoccurring costs for you overtime. Most diaper pails have specialized diaper pail refills that you buy from the specific brand of diaper pail you have.
Reusable pail liners are the most cost-effective choice and are perfect for cloth diapers but aren't very convenient when it comes to disposable diapers. If you choose a reusable pail liner to use with disposable diapers, you'll have to dump them from the bag into the trash and then wash the bag each time you change it. It's also important to keep in mind that many diaper pails won't work with reusable pail liners.
Finally, there are some diaper pails that accept just ordinary trash bags. If that's the case, you can save money over buying the specialized diaper pail refills. They are also more convenient than reusable pail liners if you're using disposable diapers. Just keep in mind that you'll have less options available if you are specifically looking for a diaper pail that doesn't require the specialized diaper pail refills.
---
Best Diaper Pails – Our Top 5 Picks
1

Munchkin Step Diaper Pail – Best Diaper Pail Overall
Features:
Arm and Hammer cartridge
Lavender scent
Dual-refill compatible
Built-in bag cutter
Child-proof
Self-sealing
Modern design
Step pedal
Check Pricing and Availability
The Munchkin Step Diaper Pail is incredible in pretty much every way. Munchkin has really stepped up and thought of everything you could ask for in a great diaper pail. That's exactly how they won our top pick for the best diaper pail overall!

Why We Love It:
There are lots of features to love on this Munchkin Diaper Pail! First off, it has an easy step pedal built right into it. This allows you to easily open the pail with your foot, so you can use just one hand to put the diaper into it. The best part of this is that you can easily hold onto your baby with your free hand while you finish up diaper duty.
The Munchkin Step Diaper Pail is also powered by Arm and Hammer! What this means is that the convenient odor-blocking puck that you can easily attach to the top of your diaper pail is filled with Arm and Hammer baking soda. This helps traps any odor to ensure a stink-free home. They even added lavender to the baking soda which is a nice bonus since lavender has so many benefits!
Self-Sealing System:
The Arm and Hammer cartridge isn't the only step that Munchkin has taken to prevent unpleasant smells from escaping the diaper pail. They've also created this convenient self-sealing system. So, every time the lid of the diaper pail closes, the pail automatically twists the bag tightly to keep all odors sealed tightly inside.
This diaper pail certainly has it all in terms of features and convenience, so as you might have already guessed, it is one of the most expensive options out there. The high price can definitely be worth it, though. This is a high-quality diaper pail with a sleek modern design that does its job very effectively.
PROS:
Step pedal allows you to easily throw out diapers with just one hand
Compatible with both types of available refills (rings and toss bags)
Securely seals the bag each time you close the lid after tossing a diaper in
Arm and Hammer lavender scented baking soda provides a second layer of protection against odors
Child-proof design ensures safety
All in all, this is definitely one of the best diaper pail options out there. Munchkin has done a truly incredible job at designing this diaper pail with every possible concern in mind. It's safe, effective, convenient, and even looks great with your home décor thanks to the modern design!
2

Playtex Diaper Genie Complete – Most Popular Diaper Pail
Features:
Carbon filter
Double air-tight odor clamps
Built-in bag cutter
Comes fully assembled
Foot pedal
Several color options
Check Pricing and Availability
Next up is the most popular diaper pail! This is the Playtex Diaper Genie Complete and it is definitely the most popular diaper pail option for good reason! We loved this option when we were using disposable diapers with our first baby and I'm certain that you will love it too!


Why We Love It:

This is another diaper pail that has a step pedal option. This is really important because it allows you to open the diaper pail hands-free and just toss the used diaper inside. You don't have touch the diaper pail with your hands at all when tossing out diapers, which is definitely more hygienic. It also features double air-tight clamps. When the diaper pail lid closes down, the clamps shut tight onto the top of the refill bag. This keeps odors sealed tightly away.

Something else that I really appreciated about the Diaper Genie Complete is that it comes completely assembled and ready to use! It even has a full refill already in place. All you have to do is pull it out of the box and its ready for your first diaper! Speaking of the refills, they are so easy to use. You just snap the refill ring into place, pull the bag down some and use it until it's full. Once full, use the built in bag cutter to cut the bag and tie the open end in the diaper pail shut before pulling down more to keep using.

Built-In Carbon Filter:

The Playtex Diaper Genie Complete uses an impressive built-in carbon filter to make sure no odor escapes the diaper pail. This is in place for any odor that tries to escape from the double air-tight clamps. The odor is sucked up and trapped by the naturally-activated carbon filter that sits at the top of the diaper pail, right underneath the lid.

The one complaint that I see other parents seem to have is the size of the bags. Technically, you control the size of the bag as you pull it down after you change the old bag out, but you can only make it so long within the diaper pail compartment. You may end up needing to change the bag out daily depending on the number of diapers your baby goes through.

PROS:
Multiple color options let you pick the best color to match your baby's nursery
Affordable price and tons of features give the Diaper Genie a great value
Air-tight clamps keep odors sealed in
Carbon filter adds an extra layer of odor protection
Step pedal allows for hygienic hand-free opening
CONS:
Bags need to be changed relatively often compared to other options
There are definitely some obvious reasons that the Playtex Diaper Genie Complete is the most popular diaper pail. The relatively low price matched with the many impressive features really help to give it an amazing worthwhile value.
3
Ubbi Steel Diaper Pail – Best Diaper Pail for Smell
Features:
No special refill bags
Lots of different color options
Powder-coated steel construction
Rubber seals
Sliding door
Modern design
Compact
Check Pricing and Availability

This cleverly innovative diaper pail is quite unique and our pick for the best diaper pail for smell! The Ubbi Steel Diaper Pail works quite a bit differently than the other diaper pails out there. We think you'll like their unique twist on diaper pails!


Why We Love It:

This is the only steel diaper pail! Other diaper pails are generally made of plastic. The thing about plastic is that overtime, smells can leak from it because of its porous nature. With Ubbi's powder-coated steel design, you never have to worry about the possibility of any odor leaks at all! The lid even seals shut with rubber seals that further protect from the possibility of leaking.

Another unique thing about the Ubbi Steel Diaper Pail is the way you open it. It does not have a foot pedal like many diaper pail options. This can be both a good thing and a bad thing. The benefit here is that the sliding door helps to keep air movement minimal during opening, which helps keep the smell in.

This is compared to step pedal options that cause the lid to suddenly pop open causing a rush of air upward that can pull odors up and around the room with each opening. The bad part is that it does require you to open it with your hand.

Instead of having to regularly purchase diaper pail refill bags for the Ubbi diaper pail, you can actually just use whatever trash bags or plastic bags that you prefer. This helps to really save money because trash bags tend to be a lot cheaper than diaper pail refills. Plus, they hold a large amount, so you don't have to change the bag as often!

Of course, the Ubbi diaper pail is the most expensive option of all of our recommendations. So, it costs more up front. However, since you will save money overtime, it can still be the most affordable choice in the long run.

Available in an Array of Colors:

The Diaper Genie we reviewed that was previously mentioned is available in a few basic colors. However, the Ubbi Steel Diaper Pail is available in a wide array of different colors! You can choose from more neutral options like white, grey, and black. You can also choose pale colors like soft pink, baby blue, or even pastel green.

What's really unique is in addition to all of those, there are lots of deep, vibrant colors to choose from! Things like royal blue, hot pink, bright orange, and deep red are all options too! With so many to choose from, it will be easy to find the best option to perfectly accent whatever décor you choose to place your diaper pail near!

PROS:
The powder-coated steel construction of the Ubbi diaper pail effectively holds in odors
Sliding door helps to prevent odors from rushing out when you put a new diaper in
Using regular plastic bags instead of specialized diaper pail refills is more convenient and saves money
Holds a lot more diapers at one time before needing to be changed
Modern design with tons of color options guarantees it will fit well into your home aesthetically
CONS:
Most expensive option on our list
You have to use your hand to open and shut the lid rather than your foot
If you're looking for something a little different that holds in smells in a unique and effective way, the Ubbi diaper pail is the perfect choice for you. It costs a little more up front, but you save money with it in the long run since it doesn't require special diaper pail refills. Plus, it looks way cooler than most diaper pails!
4
Busch Systems Odorless Cloth Diaper Pail – Best Diaper Pail for Cloth Diapers
Features:
7-gallon capacity
Works with different diaper pail liners
Strong clamps hold odors in
Carbon filter allows airflow
Made from recycled plastic
Recyclable
Specially designed for cloth diapers
Check Pricing and Availability

Many parents are choosing cloth diapers these days. They are very beneficial for the environment and help to save you a ton of money! If you do go with cloth diapers, though, you'll need a different type of diaper pail.

Most diaper pails are specifically geared to throwing diapers out, but you definitely don't want to do that with your cloth diapers! From Busch Systems comes the Odorless Cloth Diaper Pail – our choice for the best diaper pail for cloth diapers!


Why We Love It:

First off, if you're into saving the environment as most cloth diaper users are, you will love that this diaper pail is made of recycled plastic! There is a lot more to it than that, though! This diaper pail effectively holds in odors thanks to it's thick plastic walls and strong clamp closures. These clamps help ensure that no air can move in and out of the sides of the pail releasing odors.

If you know about cloth diapers, though, you'll know that you don't want to shut them off to air flow entirely. This actually worsens the smell overall and can complicate your normal wash routine. Instead of completely closing off air flow, this cloth diaper pail actually features an open carbon filter. This allows air easily into the diaper pail to prevent the diapers from worsening while also preventing the odors from getting out and infecting the room!

7-Gallon Capacity:

This cloth diaper pail has a 7-gallon capacity. That is the perfect size for a couple of days or so worth of cloth diapers. Since you'll want to wash your diapers frequently to get them effectively clean, this is the ideal amount for a cloth diaper pail to hold. You can use a variety of reusable diaper pail liners within the pail to keep the pail nice and clean.

The one thing that can get a little annoying about this diaper pail option is having to open and close it every time you toss in a diaper. You have to undo and redo the clamps on the sides of the diaper pail each time, so it does take up a little extra time because of this.

PROS:
Unique design makes this the ideal cloth diaper pail
Carbon filter allows airflow without letting odors escape
Strong clamping mechanisms prevent odors from leaking out of the sides of the lid
7-gallon capacity is the ideal size for a couple of days of cloth diapers
Recycled plastic makes this a better choice for the environment
CONS:
Opening and closing clamps each time is inconvenient
This can be slightly inconvenient due to having to open and close clamps each time you use it, but overall it really is a great choice. As far as cloth diapers go, there is no better diaper pail currently available. This is an effective and useful diaper pail perfect for cloth diapers!
5
Dekor Classic – Best Cheap Diaper Pail
Features:
Closed-cell ABS plastic
Step pedal
Child-proof
Built-in bag cutter
Odor-resistant
Converts to trash can
Check Pricing and Availability

If you are on a tighter budget, you might be looking at diaper pails and wondering if they are worth it. I can assure you that you definitely want the benefits of a good diaper pail. Fortunately, the Dekor Classic is extremely affordable without sacrificing good features and functionality. It is our pick for the best cheap diaper pail on the market!


Why We Love It:

Even though this diaper pail comes in at a fraction of the cost of the most expensive choices out there, it still is a very high-quality choice with great features! Like several of our other recommendations, this diaper pail does feature the convenient foot pedal. This allows you to open it in a very easy and hygienic way – completely hands-free!

Something really special is that it is actually made of a special closed-cell ABS plastic. Basically, what that means is that it is not porous like most plastics. In fact, it works a lot like metal in that since – except it's much easier to clean and you never have to worry about rusting. Also, like the Diaper Genie, this option comes completely ready to use with a full refill already installed!

Converts into a Trash Can:

Converts into a Trash Can:

Does life go on after diapers? It certainly may not feel like it if you are in the heat of your child's first 2-3 years of life, but believe it or not, you will eventually be free of diapers! Most diaper pails become basically useless once your little one is potty-trained.

To combat this issue and create a highly valuable product with longevity of use, Dekor made their diaper pail convertible. Once you are all finished with diapers, you can easily convert this diaper pail into an ordinary trash can for use in your child's room or wherever else you may want it.

Coming in at a relatively small size, this diaper pail might not hold as many diapers as some of the other choices available. This probably contributes to how affordable Dekor has been able to make it, but some parents don't appreciate having to change the bag more often.

PROS:
Closed-cell ABS plastic more effectively keeps odors in
Step pedal allows easy and hygienic hands-free opening
Child-proof design provides higher levels of safety
Converts into a trash can so you can use it even after potty-training
Affordable price works well for most budgets
CONS:
Small size means you have to change bags more often
This remarkably affordable diaper pail will really impress you. Even though it costs a good deal less than the most diaper pail options, it still has lots of helpful and convenient features that make it effective, safe, and easy to use!
You may interested: Best Overnight Diapers to Keep Your Sheets Dry.
Final Words on Diaper Pails
Some parents will claim that diaper pails are not a necessary baby product. I think those people must actually take each diaper outside to the garbage can outside… or maybe they just have bad allergies and their noses are always stuffed. I'm not sure how some people get by without them because I definitely consider diaper pails a necessity.

Diaper pails make diaper changes so much more convenient and more importantly – they contain those unpleasant odors, so that your whole house doesn't end up smelling like a dirty diaper. Hopefully with the help of our buying guide, recommendations, and diaper pail reviews, you have been able to choose the best diaper pail for your home!