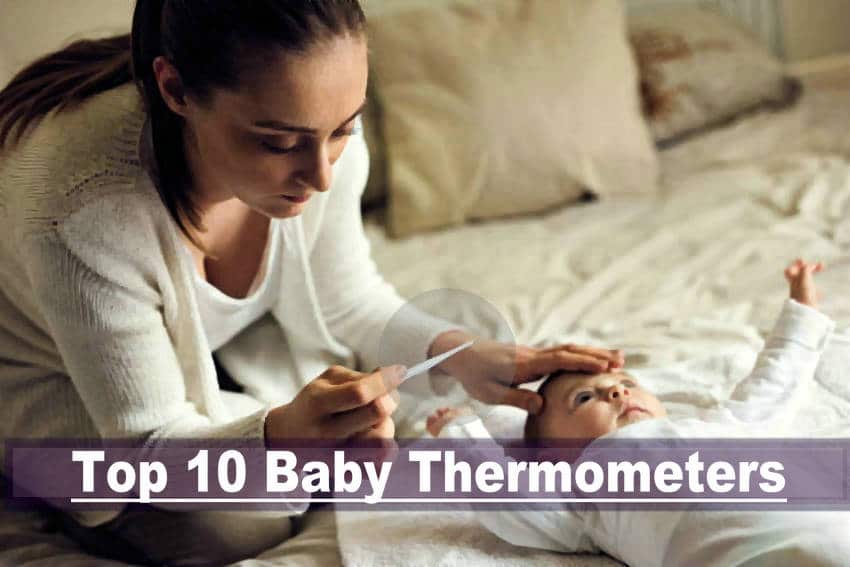 You probably didn't realize how many differences baby thermometers have.
Today's technology goes far beyond the old mercury in glass thermometers of the past. There are now tons of different types of thermometers designed for babies as well as adults. With all the different thermometer options out there, choosing the best one for you to use with your baby has become a daunting task.
We realized this and decided to create this comprehensive guide to baby thermometers. We did a ton of research into the baby thermometers on today's market to bring you this list of the top 10 best baby thermometers along with detailed reviews, a baby thermometer buying guide, and even a baby thermometer FAQ.
Best Baby Thermometer
There are now many different types of baby thermometers on the market that have different special features. There are multiple different detection methods that baby thermometers use as well as different amounts of time that they take to give a reading. Some baby thermometers are even smart thermometers and use Bluetooth among other technologies. By considering these different factors, it should be much easier to choose the best baby thermometer for you and your family.
1
Newkins Non-Contact Digital Infrared Forehead Baby Thermometer – Best Baby Thermometer
Features:
1 second readings
Infrared technology
Non-contact
Backlit LED display
Severity indicators
Memory storage for up to 9 readings
Check Pricing and Availability
Our top pick for the best baby thermometer is the Newkins Non-Contact Digital Infrared Forehead Baby Thermometer. This impressive thermometer has it all and definitely earned its spot on the baby thermometer guide.
This One of our favorite aspects of this cool thermometer is that it is non-contact. You literally don't even have to touch your baby in order to take their temperature. This non-contact baby thermometer uses infrared technology to quickly and accurately take your baby's temperature when you hold it 1 to 2 centimeters away from their forehead.
There are small bars that appear above the temperature after you take it. These are indicators as to how severe the fever is if there is a fever. There are three levels. One bar indicates a normal temperature, two bars indicate that you should pay attention and continue to monitor as the temperature, and three bars indicate that there is a fever present.
Check Surface Temperatures:
One of the really cool things that is unique about this particular baby thermometer is that it can be used to measure the temperature of different surfaces, not just of your baby's body. It can be used, for example, to check the temperature of your baby's bottle or baby's bath.
PROS:
Reads temperature almost instantly
Infrared technology is accurate
Non-contact reading is hygienic
Backlit LED display is easy to read, even in the dark
CONS:
Voice system of the thermometer may be inconvenient when checking a sleeping baby's temperature
Overall, the Newkins Baby Thermometer has tons of great features, is pretty affordable, and works accurately. There isn't much bad to say about it. Some users may find the way it reads the temperature aloud to be inconvenient, but at the same time, that can be seen as a pro to others. It is a hygienic, simple, easy-to-use thermometer that will do its job perfectly.
2
Burt's Kinsa Digital Smart Ear Thermometer for Baby – Best Ear Thermometer
Features:
No probe covers required
Digital screen
Bluetooth app connection
Large storage
Individual health profiles
1 second readings
Sesame street mode
Check Pricing and Availability
When it came to making choices for our baby thermometer guide, we chose the Kinsa Digital Smart Ear Thermometer as the best ear thermometer for your baby. This impressive ear thermometer is a smart ear thermometer and has lots of great features to love.
Since this ear thermometer is a smart thermometer, it has some really cool features. It connects to an app on your phone via Bluetooth. This impressive app can do several really cool things for you. First off, it can store up to 50 different temperature readings making it easy to go back and see how a fever progressed over time. It also allows you to keep individual profiles and track each reading as a different person's temperature. You can even keep track of other symptoms using the app.
One cool thing about being able to keep track of your baby's temperature and other symptoms using the thermometer's app is that you will have this information readily available for your pediatrician in case you need to take your little one to the doctor.
Sesame Street Mode:
Another great thing about the Kinsa Digital Smart Ear Thermometer is that it has something called Sesame Street mode on its app. This causes Elmo to chirp in and give soothing encouragement and tips on how to feel better for your child's benefit and comfort.
PROS:
Fast, accurate readings
Probe is easy to clean and doesn't require covers
Tracks individual health information for multiple family members
Sesame Street mode can add comfort to your children
Large storage keeps up to 50
CONS:
Probe should be cleaned after each reading
This is a very unique and highly functional ear thermometer. It's smart thermometer features are almost unbeatable. The only downside it has is also a plus side. That is that unlike other ear thermometers, it does not require probe covers. Instead, it is made to be very easy to clean. The downside being that you have to clean it after each use and the plus side being that you don't have to keep buying covers for it. It is definitely a great choice if you prefer an ear thermometer.
3
FaShaoLe Wearable Smart Thermometer – Best Wearable Thermometer
Features:
Continuous monitoring
Wearable design
Bluetooth connection to app
Temperature alarms
Dual display
Fahrenheit/Celsius switching
Easy to charge
Check Pricing and Availability
The FaShaoLe Wearable Smart Thermometer uses innovative technology and an amazing app making it a great  wearable thermometer choice. It is simple and easy to use and provides constant temperature monitoring, unlike most baby thermometers.
Obviously, one of the biggest benefits of this particular baby thermometer is that it is wearable. It sticks right onto your baby's forehead, armpit, or naval area. It remains here in order to monitor your baby's temperature constantly. This is perfect for when your baby is ill as you can easily track their temperature continuously without having to disturb them at all such as if they are sleeping.
Temperature Alerts:
One of the best features about this thermometer is that it gives you alerts to your phone in case your baby's temperature goes too high or too low. This can be very useful because you will know as soon as possible if your baby's fever is getting too high and needs attention or treatment.
PROS:
Wearable design allows for continuous temperature monitoring
Innovative app is easy to use and highly functional
Temperature alerts let you know immediately when your baby's temperature gets too high
You don't need to repeatedly disturb your baby to check their temperature when they are ill
CONS:
Requires you to buy new stickers as you use them to attach the thermometer to your baby
This wearable thermometer earned its place high on our list because of its innovative and useful design and smart thermometer technologies. It is so easy to use and so useful. It allows you to continuously monitor your little one's temperature and have peace of mind without disturbing your little one. The only con to this thermometer is that you will need to buy replacement stickers to adhere it to your little one, but that's nothing when you consider all the amazing benefits to it.
4
Nokia Thermo Smart Temporal Thermometer – Best Smart Thermometer
Features:
16 individual infrared sensors
Clinical accuracy
Modern design
Non-contact reading
Smart app
Individual health profiles
Temperature tracking
Symptom tracking
Medication tracking
Health advice
Automatic syncing to your phone
Check Pricing and Availability
This Nokia thermometer is a truly incredible choice in just about every way. The only flaw is going to be the price. This baby thermometer is very high in cost compared to the other options that we reviewed in our guide. So, while it isn't a good budget option, it does still have a good value if you can afford a higher price.
This smart thermometer uses incredible state-of-the-art infrared technology. It features 16 different infrared sensors that allow it to have clinical accuracy and give almost exact results every time. This thermometer should never be off by more than .2 degrees Celsius.
Personalized Health Advice:
Possibly one of the coolest things about this awesome smart thermometer is that it gives you personalized health advice. It tracks your temperature using the smart app and allows you to add any additional symptoms to track as well. You can even input when you give your baby medication. All of these things allow the app to give you personalized information and advice about when to medicate, when to seek professional medical advice, and more.
PROS:
No contact is necessary to check your baby's temperature
Smart app keeps track of temperature, symptoms, and medications
Offers health advice based on your personal situation and symptoms
Simple design is attractive and easy to use
16 individual infrared sensors offer extremely accurate results
CONS:
The cost is significantly higher than other thermometers options
The only reason that this isn't the number one baby thermometer on our  list is that it won't be considered affordable for many. However, it really is a great smart thermometer and its state-of-the-art technologies are well-worth the higher price tag if you are able to swing it.
5
Burt's Kinsa QuickCare Bluetooth Digital Thermometer – Best Affordable Smart Thermometer
Features:
Large digital display
Smart app
Temperature tracking
Personalized health tips
Oral, rectal, or axillary
Individual health profiles
8 second readings
Check Pricing and Availability
We are declaring this the best affordable smart thermometer because it has so much in common with the Nokia Therma Smart Temporal Thermometer. The biggest difference between the two is the price. The Kinsa QuickCare Smart Thermometer is about a quarter of the price of the Nokia. Other than that, the Kinsa has a few less conveniences than the Nokia, but many of the benefits are the same.
Like the Nokia Smart Thermometer, this one comes along with an incredible app that has tons of cool and innovative features. It tracks temperature readings in individual health profiles for the entire family. It also allows you to input other symptoms and medications as well as gives you personalized health tips.
Feel Better Tips:
The Kinsa app allows you to input details regarding your baby's health in addition to monitoring your baby's temperature. This allows it to provide you with tips about caring for your baby when they're sick. It will help you know when and how to ease your baby's symptoms as well as when to give medications, how much medication to give, and even when it is time to call your baby's doctor.
Like the other Kinsa thermometer on the list, this one also features Sesame Street Mode where Elmo's cheerful voice helps to comfort your little one.

PROS:
Sesame Street Mode offers your baby comfort
Digital display is easy to read even in the dark
Smart thermometer monitoring allows you to easily track health information
Health tracking allows the app to give personalized health tips
CONS:
Requires direct contact by either oral reading, rectal reading, or axillary reading
Requires cleaning after each use
If you are after a great smart thermometer but want to avoid the hefty price tag that they often come with, it can be a great idea to opt for this thermometer from Kinsa. They make incredible products and their smart thermometer app is second to none. It may not have some of the conveniences of expensive choices, but it is definitely an incredible thermometer thanks to the innovative app.
6
Purple Safety Baby Digital Thermometer – Best Budget Thermometer
Features:
Single-button operation
Waterproof
Digital display
Easy to clean
Flexible tip
Oral, rectal, or axillary
Check Pricing and Availability
Purple Safety's Baby Digital Thermometer is the best budget thermometer you can buy. It, no doubt, has an incredible overall value and is attainable for practically anyone, regardless of their budget.
This thermometer has an incredibly simple design. While it may not have the bells and whistles of the other thermometers in our guide, it is very easy to use and still quite effective.
FDA Tested and Approved:
This budget baby thermometer was tested and approved by the FDA. This means that you can rest assured that it is not only very safe to use for your baby, but that it is also accurate.
The Purple Safety thermometer even comes with an extra battery for added convenience. This is super helpful because the last thing you want is to realize that your thermometer's battery has died when your little one is sick and you need to see how high their temperature is.
PROS:
Single-button operation is simple and easy
Temperature readings are accurate
Extremely affordable price point
Extra battery adds convenience and value
CONS:
No smart app
Requires direct contact and cleaning after each reading
This isn't exactly the fanciest thermometer in the world, but it is definitely a great budget thermometer for your baby. It doesn't come with a cool app or Bluetooth or health monitoring, but it does a great job at exactly what a thermometer is designed to do, which is accurately read your baby's temperature.
7
Summer Infant Pacifier Thermometer – Best Pacifier Thermometer
Features:
Included cover
Orthodontic nipple
Backlit digital display
Fever alert glow feature
Memory recall of previous read
Fahrenheit and Celsius readings
Check Pricing and Availability
Pacifier thermometers are a very clever invention that is intended to make taking baby's temperature easy and avoid disturbing them or otherwise upsetting them when you do take their temperature. There is nothing worse than upsetting an already sick baby to find out their temperature over and over. We especially adore this option from Summer Infant.
This pacifier thermometer features an orthodontic nipple. This makes it very comfortable and more natural for your little one to latch onto. It also protects the very important development of their teeth and jaw.
Another cool thing about this thermometer is that it includes a cover with it. This is excellent because it will keep your pacifier thermometer nice and clean in the case of storage or travel. This way it will already be clean when you really need it.
Fever Alert Glow:
This Summer Infant pacifier thermometer has a nice feature called Fever Alert Glow. This feature causes the entire display of the thermometer to glow a different color according to whether or not your baby has a fever. If your baby does not have a fever, the display will glow green. If they do have a fever, it will glow red..
PROS:
Included cover helps keep the pacifier clean and ready for use
Fever alert glow feature alerts you to when your baby has a fever
Orthodontic nipple supports proper teeth and jaw development
Extremely affordable baby thermometer option
CONS:
Pacifier thermometer is the least accurate of all detection methods
Summer Infant has created a very impressive product as far as pacifier thermometers go. Unfortunately, even the best pacifier thermometer is not as accurate as baby thermometers that use other detection methods. Even so, it does have some accuracy to it and will let you know if your baby's temperature is high or not. It even helps to provide your baby some extra comfort as it checks their temperature. Even with its lower accuracy, it is definitely a worthwhile option to have around.
8
PREVE 3-in-1 Non-Contact Infrared Forehead Thermometer – Best No Touch Thermometer
Features:
Non-contact
Silent mode
3-in-1 temperature detection
Storage case
Batteries included
Color coded screen for fever detection
1 second readings
Clinical accuracy
Check Pricing and Availability
This PREVE 3-in-1 Non-Contact Infrared thermometer is a great no touch thermometer option. That is because its advanced technology, clever features, and included extras.
Possibly one of the most unique features of this particular thermometer is that it measures 3 different types of temperatures. It measures body temperature like all baby thermometers. It also measures surface temperatures like the Newkins non-contact thermometer, but it also measures room temperature. These things can be very helpful when ensuring your baby's comfort and safety.
Silent Mode:
Possibly the most special feature of this thermometer is that unlike any of the other options on that we came across, this thermometer has silent mode. That means that you can turn the sound off so that there are no worries about disturbing a sleeping baby when you need to check their temperature.
PROS:
Non-contact detection is sanitary and convenient
Included batteries and case are convenient and add value
Color coded fever detection tells you when your baby has a raised temperature or fever
Readings are fast and accurate
CONS:
One of the higher priced thermometers out there
This is one of the best thermometers out there for your baby. It has tons of great features like silent mode, an included case, no touch fever detection, color coded temperature indication, and so much more. It is an incredible thermometer that is well-worth the slightly elevated price.
9
Vicks Baby Rectal Thermometer – Best Rectal Thermometer
Features:
Short probe
Included case
Digital display
10 second readings
Accurate
Batteries included
Check Pricing and Availability
The best rectal thermometer is definitely Vicks Baby Rectal Thermometer. Rectal thermometers may not sound like the most fun option, but they are widely used for newborns and young babies due to their easy accuracy and this particular rectal thermometer is the best out there.
This Nourishing Mineral The Vicks Baby Rectal Thermometer comes with an included case. This case is convenient as it allows you to easily and safely store the thermometer. This helps to keep it clean so that it is always ready when you need to use it.
In addition to working very well to take a little one's temperature accurately, rectal thermometers are easier to use on a baby compared to an oral or axillary thermometer that requires your baby to stay still and cooperate. Unfortunately, this thermometer won't be a good option as your baby grows older or for the rest of your family. It is strictly designed for babies.
Short Probe:
The probe of this rectal thermometer is made much shorter than typical thermometers such as those designed for oral or axillary use. This is perfect for use on babies as a rectal thermometer because it prevents the dangers of inserting the probe too far.
PROS:
Short probe is perfect for rectal use
Included case protects the thermometer and keeps it ready when needed
Comes at a very affordable price
Digital display shows accurate temperature reading
CONS:
Can only be used for rectal temp
Not good for use in older children or adults
The Vicks Baby Rectal thermometer is a great first thermometer for your baby and we just had to include it in our guide because of how useful it can be in the beginning. It is made well with its short probe and even comes with a useful case. It won't last forever as your baby grows out of it fairly quickly, but its high level of usefulness for your baby and its affordable price give it a great value.
10
Fevermates Stick-On Fever Thermometer Cartoon Stickers – Best Stick-On Thermometers
Features:
8 pack
48 hours of continuous temperature monitoring
Cute designs
Disposable
Celsius readings
Latex-free
Hypoallergenic
Check Pricing and Availability
These adorable Fevermates Thermometer Stickers are by far the best stick-on thermometers and give our top ten baby thermometer guide a perfect finishing point.
These thermometer stickers are actually disposable. You use each sticker only once, but each one can be used for up to 48 hours of continuous fever monitoring.
Cute Designs:
Each one of these cute stickers comes in a different cute design. The designs are different cute animals like a frog and an elephant. There are 4 different designs and you get 2 sticker thermometers of each design in every pack for a total of 8.
Since these stickers are disposable, they may not have a fantastic value in the long run, but they are very affordable and have some great benefits that make them worthwhile.

PROS:
Disposable design is highly hygienic
Cute designs cheer kids up
Allows you to have continuous monitoring for 48 hours per sticker
Affordable in the short term
CONS:
You'll have to buy more as you use them in order to be able continuing to use them, unlike reusable thermometer options
Temperature readings are not precise like other options
Short-term, these are a very affordable option. However, since you need to keep buying them as you use them, they aren't a high-value purchase long-term. They are convenient and fun, but they also do not provide precise temperature measurements as they only have 4 different temperature readings besides the normal temperature range. They are really cool and definitely have some great benefits that make them worthwhile, but you will have to weigh those benefits against the drawbacks to decide if this baby thermometer option is a good choice for your family.
---
Baby Thermometer Buying Guide
New and exciting technologies have taken over the world of baby thermometers. It is no longer as simple as running to the store and just grabbing the first thermometer you find.
There are all different kinds of thermometers with different features, benefits, and prices. To choose the best thermometer for your family, read over our comprehensive baby thermometer buying guide.
---
Things to Consider Before Buying a Baby Thermometer
With so many different options, each having different pros and cons, it can be difficult to know which baby thermometer is the best choice for your family. There are several things in particular to consider before you purchase a baby thermometer.
Temperature Detection Method
Each thermometer uses a different detection method to check your baby's temperature. Some thermometers are for oral, rectal, or axillary use while some are strictly for rectal use. Some thermometers are for use in the ear and some are for use on the temporal artery at the forehead using infrared technology.
More often than not, an infrared thermometer does not even actually need to make contact with the baby's skin, but instead should just be held very close without actually touching. This can be considered much more hygienic than other baby thermometer types since contact doesn't need to be made. It is also convenient that it doesn't need to be cleaned after every use. Of course, the trade off is that these thermometers are almost always more expensive than other choices.
Sometimes a rectal thermometer may be the best option for the youngest of babies. Other detection methods may be too expensive for your budget or may require your baby to remain still and cooperate with you, which is not something easy to achieve – especially when your baby is not feeling well. Keep all of these things in mind when choosing the detection method you prefer in a baby thermometer.
Reading Time
Another relevant factor that needs to be considered when you are choosing a baby thermometer is the reading time. Since most thermometers take a reading in 30 seconds or less, this may not be quite as important as other factors. However, it should definitely play a role.
30 seconds may not be long, but if you are trying to keep your baby still and calm while you bother them with a thermometer, it can feel like an eternity. A thermometer that gives a reading instantly or within a second or two may be a better choice if this is a concern of yours. Again, the trade off here is that instant read thermometers are generally more expensive, although they are usually thought to be worth the slightly higher cost.
App and Bluetooth Availability
There seem to be "smart" versions of almost everything nowadays and baby thermometers are no exception. These thermometers typically have Bluetooth availability that allows them to connect to your phone and interact with a specific app created by the makers of the specific thermometer.
These apps that go along with the smart thermometers have many different features and benefits. Many of them allow you to create individual health profiles for your family members to track their temperatures, medications they take, and other symptoms that they present with. Additionally, some of these apps provide personalized health advice. Deciding if these special features are important to you and worth the cost of a smart thermometer will help you choose the perfect thermometer for your family.
Cost
Cost is always of the upmost importance when you are buying any product. You need something that fits in your budget. It can be tempting to buy the latest, coolest, most advance baby thermometer out there, but that may not always be practical. If you need to stick to a tight budget, just buying a simple, plain Jane thermometer will still get the job done just fine. However, if you do have the money to spend, a nicer thermometer with special features and benefits can definitely be worth the purchase.
---
Baby Thermometer FAQ
Are all baby thermometers equally accurate?
No, each baby thermometer uses a different detection method and is made differently than others. The most accurate of thermometers would be infrared thermometers and rectal thermometers. These do a great job at accurately measuring temperature when they are used properly.
However, most thermometers are fairly accurate even if they aren't the most accurate choice. The point is that most thermometers will give you a solid idea of your baby's temperature and certainly if they have a fever or not – even if they don't give an extremely precise measurement of temperature.
Do I need a baby thermometer?
If you have a little one, it really is a smart idea to keep some kind of thermometer around. Babies inevitably get sick from time to time and it can be important to check for the presence of a fever when your baby is sick. It is especially important to know how high their fever is if they do get one. Fevers can be very beneficial to your little one as they are the body's natural defense system. However, if a fever gets too high, it will need to be brought down to ensure your little one's safety and well-being. A thermometer allows you to monitor a fever to make sure it doesn't get too high.
Do I need a smart thermometer?
Smart thermometers can be nice – many of them have special features that provide wonderful benefits like tracking your little one's progress during an illness and keeping your health information handy. Some even give you important tips like how to soothe discomfort during a fever and when you need to call your little one's doctor. They are nice, but definitely not necessary. Almost any thermometer is a fine choice when you are simply trying to figure out what your baby's temperature is.
---
You may love to read more about The Best Baby Monitors to keep an eye on your baby without sneaking.
Final Words
Choosing a baby thermometer used to be much easier. That was before the days of infrared technology, Bluetooth capabilities, smart thermometers, wearable thermometers, and all of the other impressive options that are available today. Now, it can be a daunting and overwhelming task to choose a thermometer for your baby. This can be especially true for first time parents trying to do the best for their little ones. That is exactly why we have taken the time and energy to put together this buying guide and set of reviews.
We searched high and low and chose a great variety of thermometers to best suit anyone's needs and anyone's budget. We have some of the most state-of-the-art technology on our list as well as the most basic thermometers available today. We are confident that our guide can help you find the very best thermometer option for your baby!