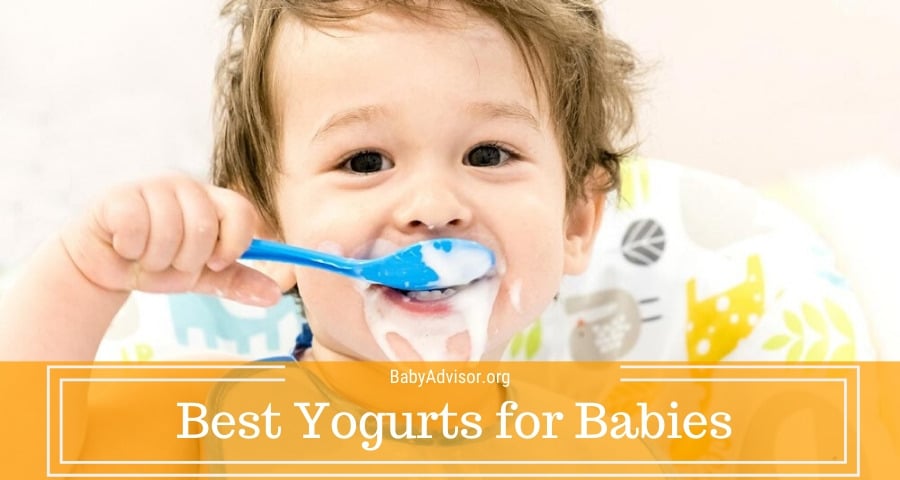 Giving your baby solid foods is fun, and at some point, you'll want to introduce dairy into their diet. You don't need to wait until your child is one year old to try other dairy products; you just have to wait to give glasses of whole milk. Many babies love yogurt, so you'll want to find the best baby yogurt for your baby.
My infants loved baby yogurt. Once they're out of first foods, the texture is perfect – creamy, smooth, and easy to swallow but contains plenty of flavors.
---
The Benefits of Giving Your Baby Yogurt
Chances are you know that yogurt is a healthy addition to your diet, but the same can be said for adding it to your baby's diet. Yogurt is a source of dairy for your baby, and that means she receives healthy fats and calcium that is needed for your baby's growth and development.
Another benefit of yogurt is the presence of live active cultures. Cultures are probiotics, so they improve the living conditions for good bacteria that are inside of your digestive tract. You have trillions of good bacteria in your gut called flora, which affects immunity, digestion, allergen response, and other vital areas of your health.
Adding baby yogurt to your child's diet can give him an extra belly boost and improve digestion. That means less gas and belly problems, and all parents can get down with that idea.
---
When Can I Give My Baby Yogurt?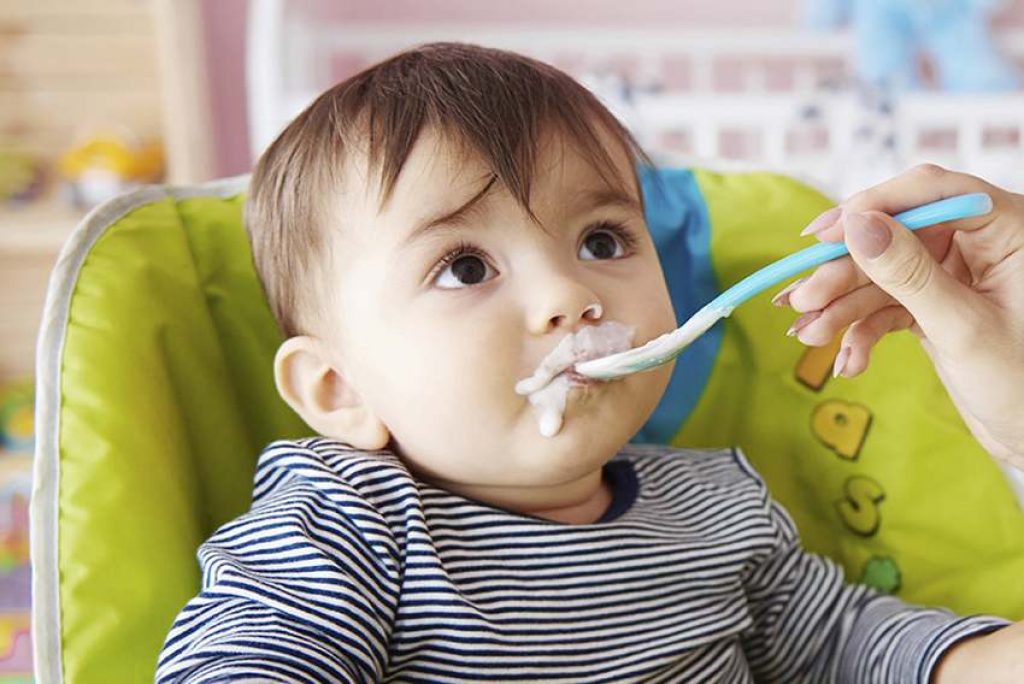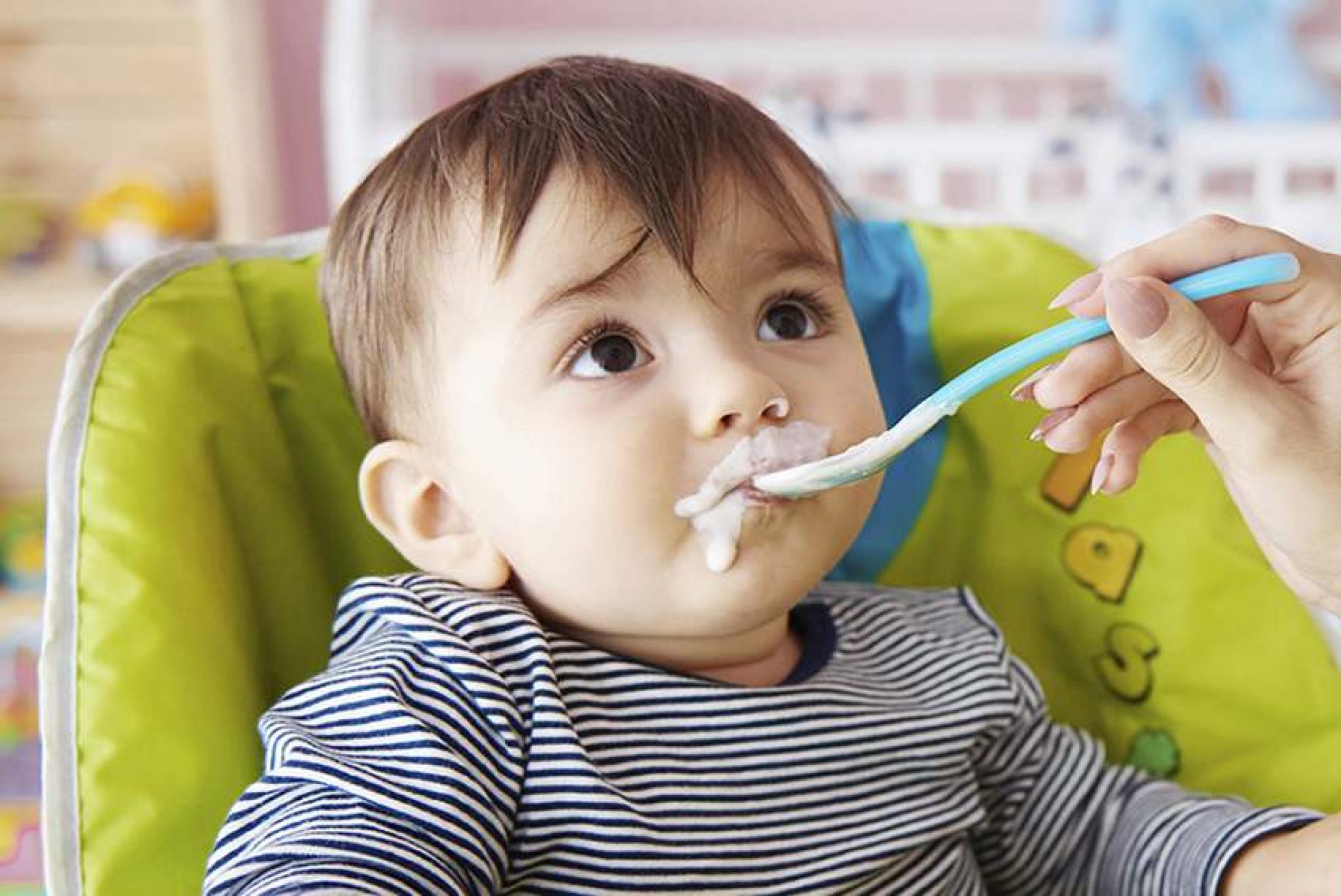 I always recommend that you speak to your pediatrician to determine the best age to introduce foods. The general recommendation is that you can give yogurt as early as six months old. Yogurt is cultured and contains probiotics, and it's considered safe for babies over six months of age.
---
What Kind of Yogurt Should I Give My Baby?
There are dozens of yogurt choices to give your baby. The best yogurt for your baby is:
Whole milk yogurt
Plain, rather than flavored
Free from added sugars
Mild flavor
Creamy texture
Organic, if possible, or made with milk that is free of added hormones.
Fat is necessary for proper brain development in babies and toddlers. That's why you need to pick yogurt that is made with whole milk. Whole milk yogurt is often called 4% or 5% yogurt, so be sure to take a close look.
It's best to start with plain whole milk yogurt, but they all have different flavor profiles. You might need to find one that your baby likes the most. You are free to introduce flavored yogurt as well, but be sure to pick a yogurt that contains food that you know your baby doesn't have an allergy.
---
Can I Feed My Baby Greek Yogurt?
You can serve your baby Greek yogurt if you prefer. However, Greek yogurt is harder to digest because it contains more protein than regular yogurt. So, it's best to start with a smaller serving to determine how your baby handles the yogurt.
Greek yogurt also has a thicker texture that your baby might not appreciate. Picky babies or those just adjusting to solid foods might need to wait to try this thicker texture.
---
Do I Have to Give Baby-Specific Yogurt?
No! You don't have to give your child baby-specific yogurt. While those yogurts are designed for babies and are the right portion size, it's not the only option for your baby. Baby-specific yogurts are full-fat blends without any artificial flavors or sugars, and many of them are organic.
---
How to Choose Yogurt for Your Baby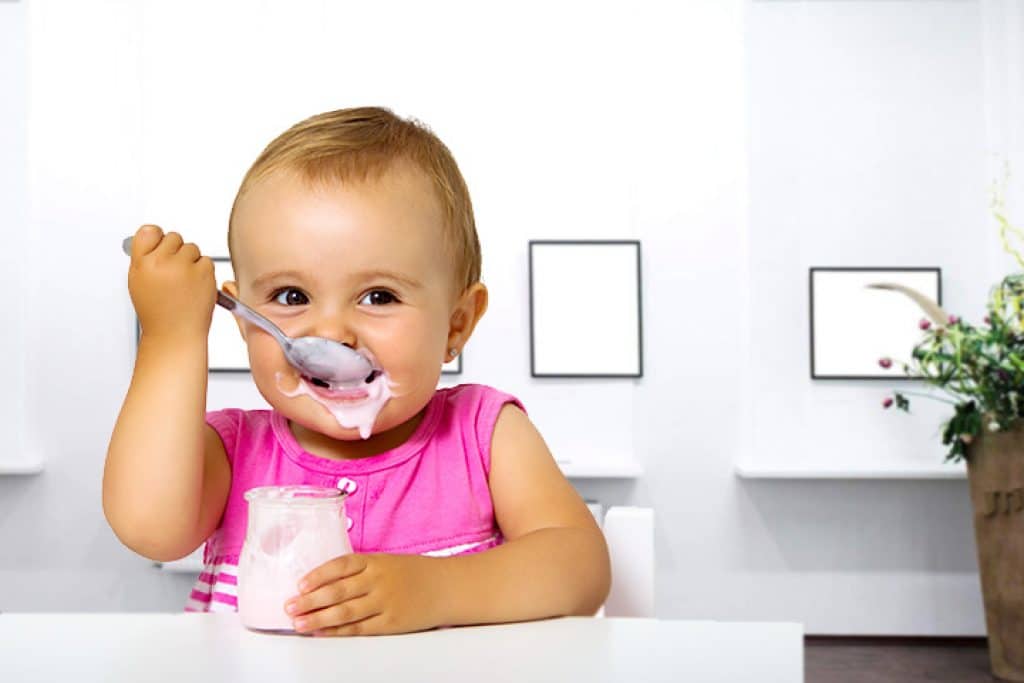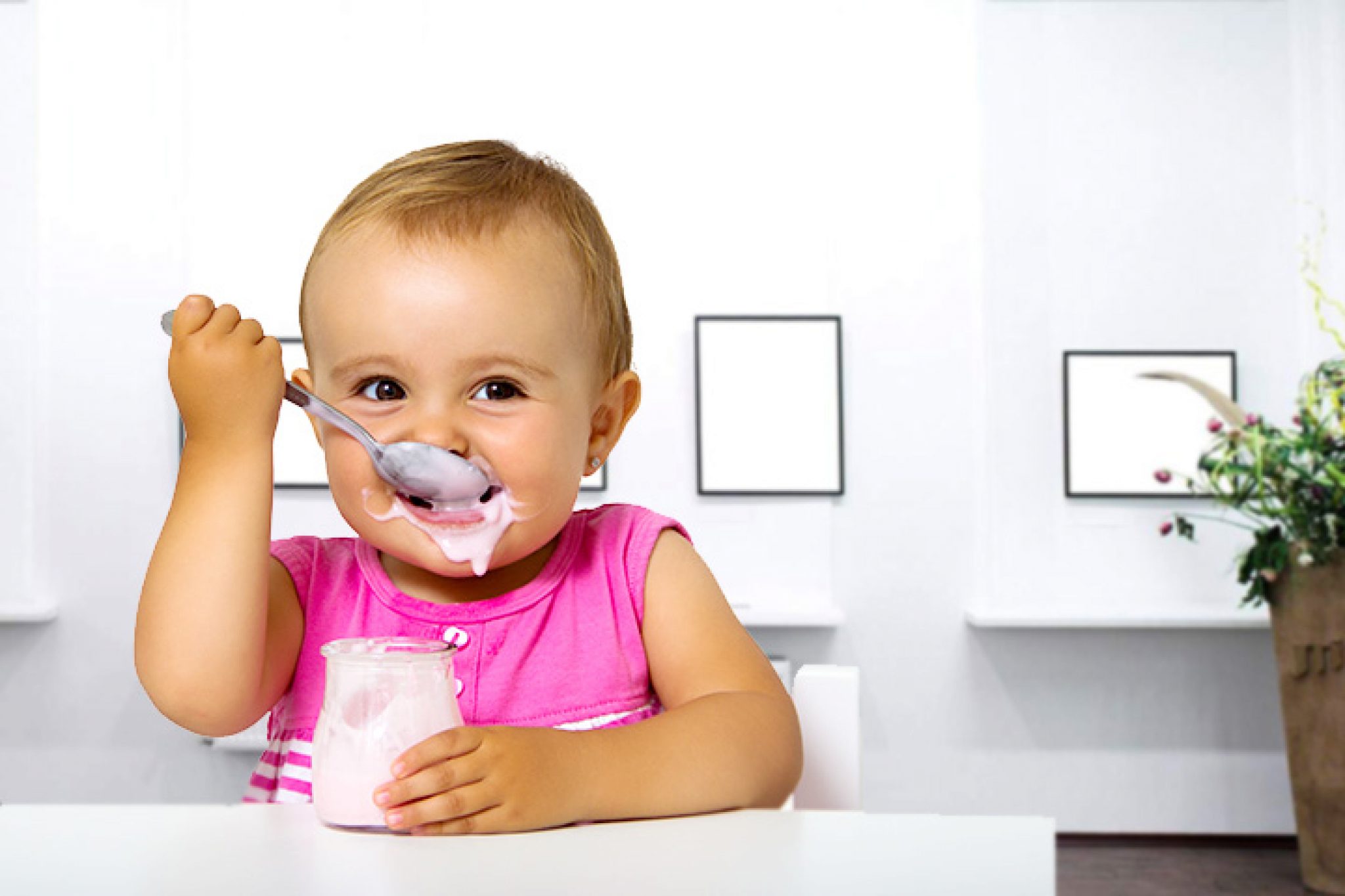 The best baby yogurt for your baby offers nutrition that your infant needs. Here are some things you should consider when picking yogurt for your baby.
As we discussed, you want to first look for whole-fat yogurt. Adults like to pick low-fat yogurt, but that's not what you should do for a baby. Kids under three-years-old need full-fat from their dairy products. Full-fat milk contains omega-3 fatty acids, which are necessary for healthy brain development.
You might be on the fence about buying organic foods, but there is a lower risk of pesticide exposure in organic foods. We know that much. Pesticides can cause health issues in children, especially when exposed repeatedly. So, opt for organic yogurt for your baby.
A majority of yogurt contains live active cultures that are used to break down the milk protein and produce lactic acid. That's why yogurt has a slightly sour taste. Some brands have two live active culture strains, and others have up to six strains.
Added fruit is a big yes for babies. They'll never complain about some apples or blueberries (or both) added into their yogurt. Never purchase baby yogurt that contains artificial sweeteners. You do need to watch your baby's sugar intake, so the only other ingredients should be the fruit, which adds plenty of sweetness on their own.
---
The 6 Best Baby Yogurt Review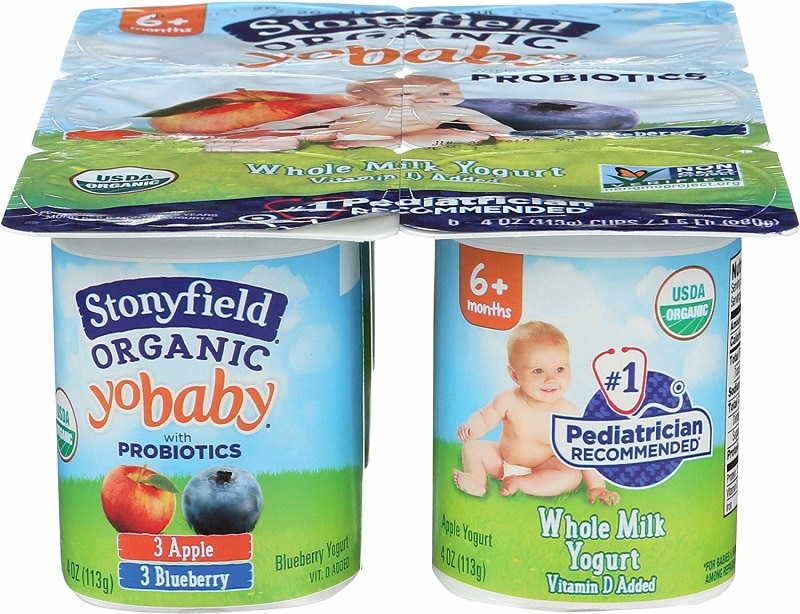 Stonyfield YoBaby organic yogurt is made for babies, and they're pediatrician recommended. This yogurt is made with only organic whole milk and the best ingredients possible. YoBaby is made without any use of artificial hormones, toxic pesticides, and GMOs.
Of all the baby yogurt available on the market, Stonyfield YoBaby is one of the most popular. It's non-GMO Project verified, kosher certified, and uses pasture-raised cows. You can find this yogurt in plain, but it also has several available flavors that might entice your baby's taste buds.
Their yogurt does contain probiotics to help support your baby's digestive system. They added probiotic BB-12 to help with a healthy lifestyle. This yogurt contains six live active cultures:
S. thermophilus
L. bulgaricus
Bifidobacterium animalis lactis BB-12
L. acidophilus
L. paracasei
L. rhamnosus
Check Pricing and Availability
---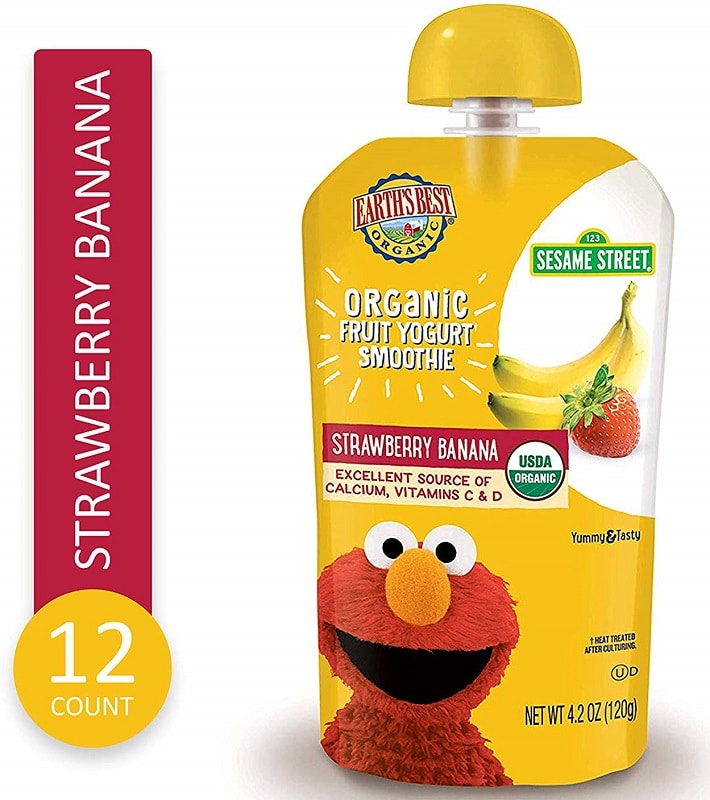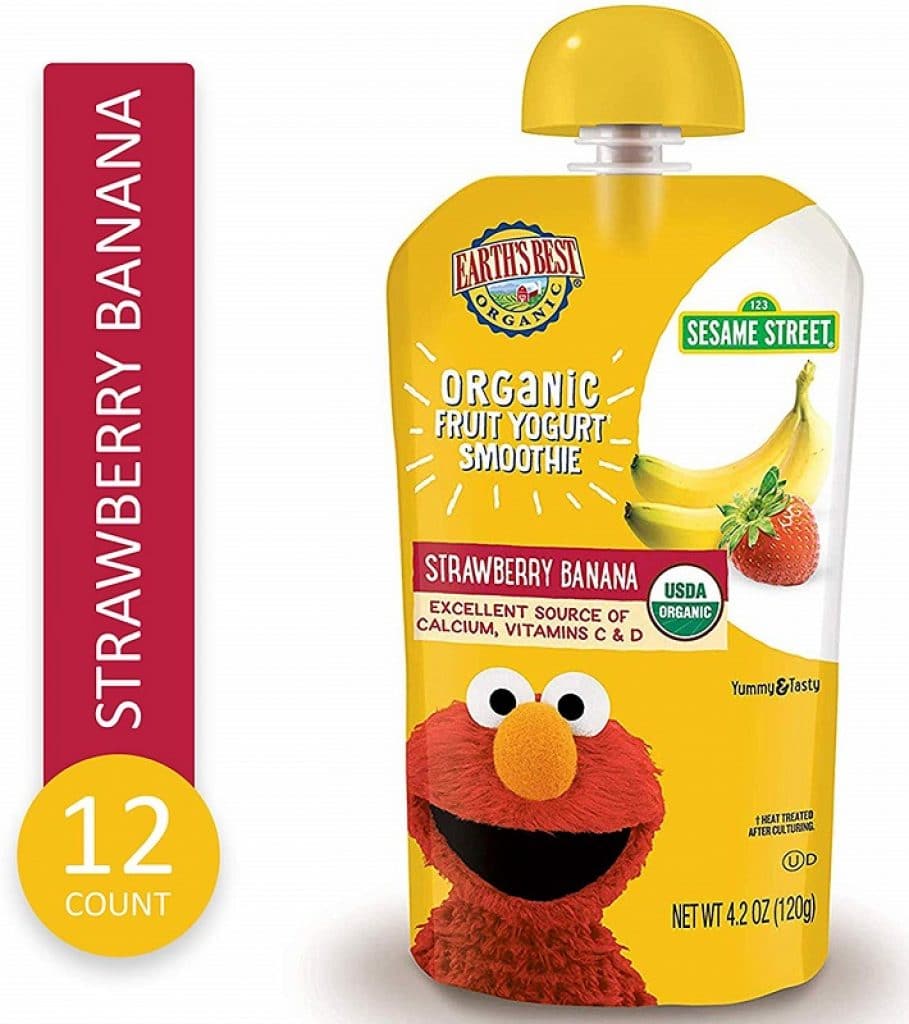 Most parents have heard of Earth's Best. They've been a trustworthy baby brand for over 30 years. Their organic fruit yogurt smoothie is full of delicious flavors while also being a source of calcium and vitamins C and D for our baby.
There is a lot to love about Earth's Best Yogurt Smoothies. No artificial flavors or colors are ever used in the making of the smoothies. All of the ingredients are USDA certified organic and made with non-GMO ingredients. The smoothies are made with real yogurt and fruit purees then packaged in resealable pouches, so they're the perfect on the go snack.
Check Pricing and Availability
---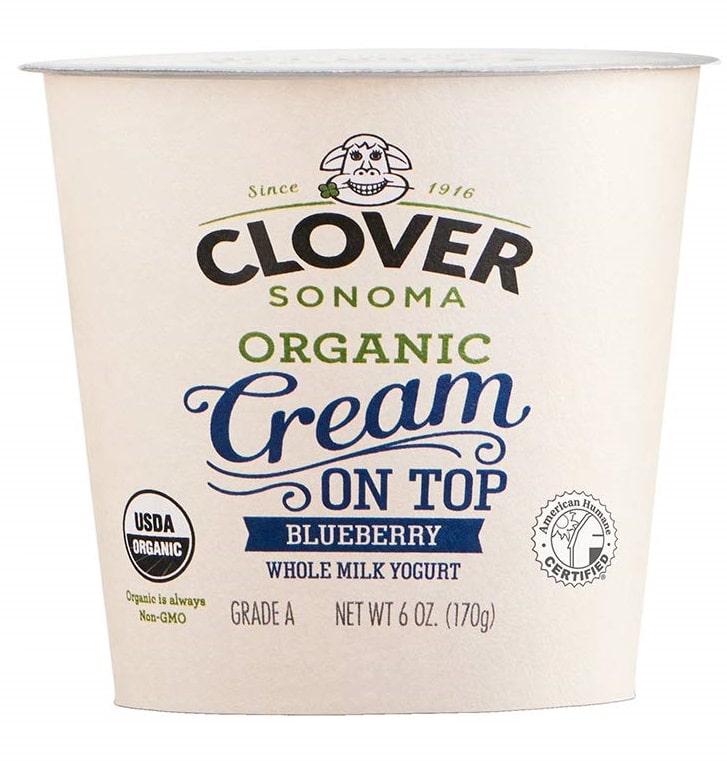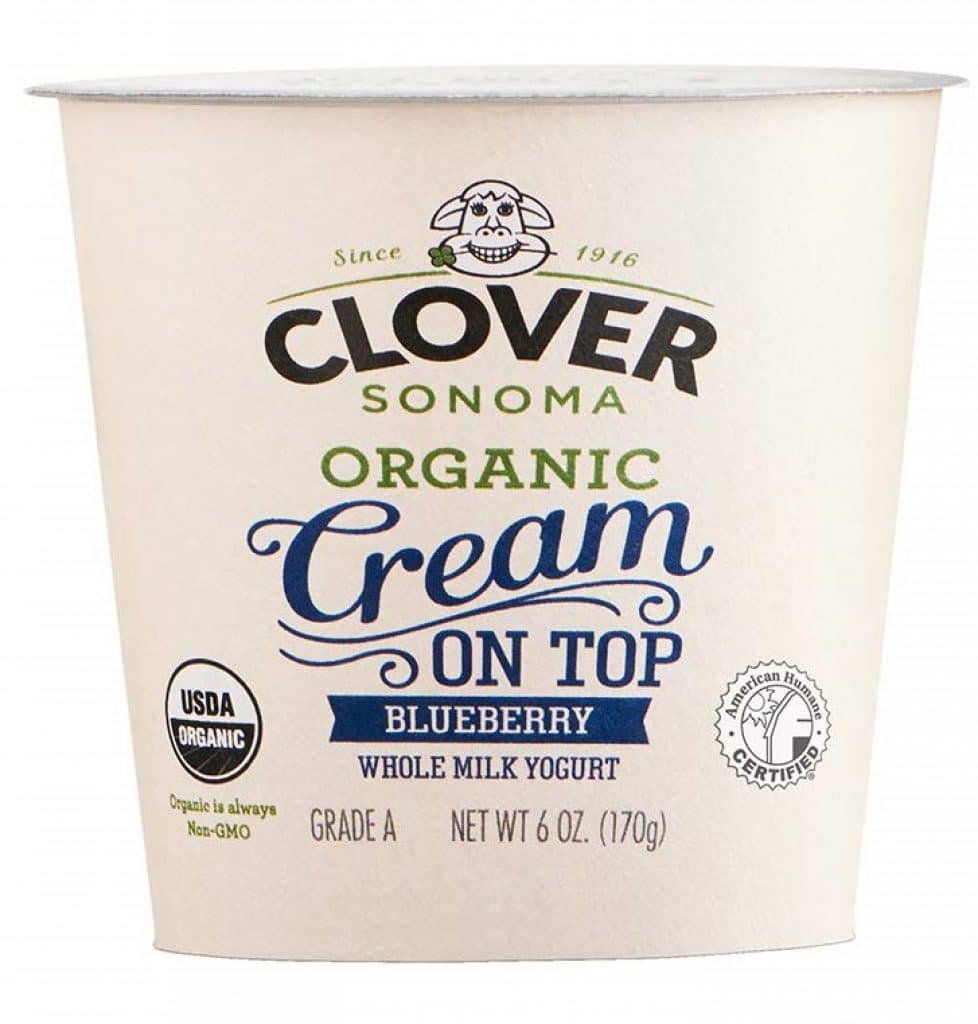 Clover Organic Farms Cream isn't made just for babies, so the entire family can enjoy their products. Nothing artificial is added to their yogurt, and all of their yogurts are made in small batches with high-quality organic milk from their family-owned dairy cows.
Clover Organic meets a set of standards that they developed to ensure they only produce the best products for their customers. The cows are never treated with the growth hormone rBST, and the farms adhere to the highest standards of USDA Organic and the non-GMO Project.
Clover cows meet the American Humane Certified animal welfare standards. Something else that you might love is that the Clover Organic performs daily and weekly testing of the milk to ensure low bacteria count. Their milk is 3-6x lower than state and federal standards – impressive!
So, if you are animal and environmental-conscious with your purchases, Clover Farms in Northern California produces only the best. They sell plain flavor yogurt, which is perfect for babies, but they also offer plenty of flavors for parents or older siblings.
Check Pricing and Availability
---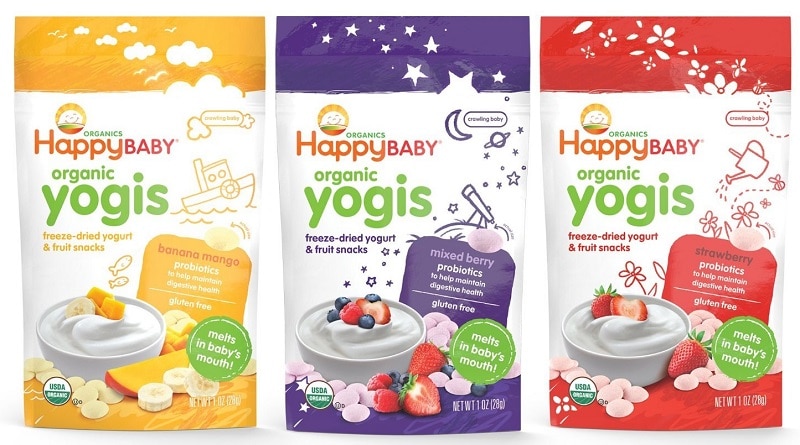 Are you looking for a healthy snack for your baby or toddler? Happy Baby Organic Yogis are made with whole milk yogurt and organic fruit puree. Then the mixture is freeze-dried, creating a melt in your mouth snack that you can feel good giving your baby or toddler.
Parents can feel good giving their children snacks by Happy Baby. Their foods are made without artificial hormones, toxic pesticides, or GMOs that are typically allowed in conventional farming. They use only the best ingredients.
These snacks melt in your baby's mouth and are the perfect size for little fingers. It's best to give these snacks to older babies and toddlers, at least eight months of age, or who can crawl without their belly touching the ground.
Check Pricing and Availability
---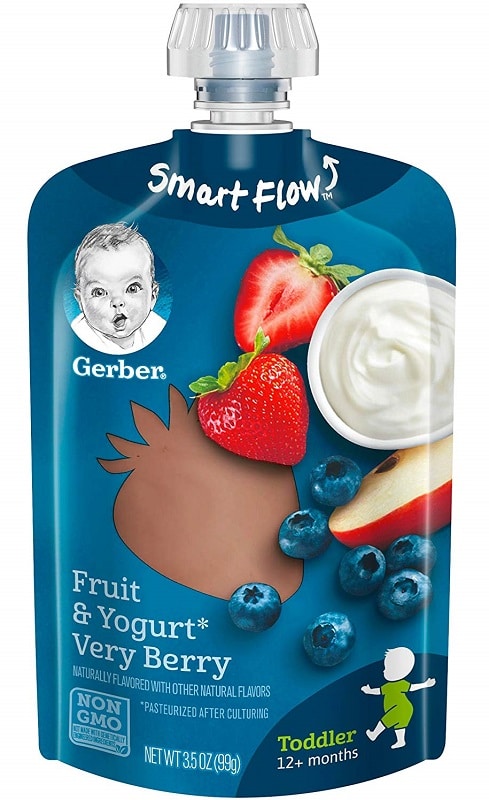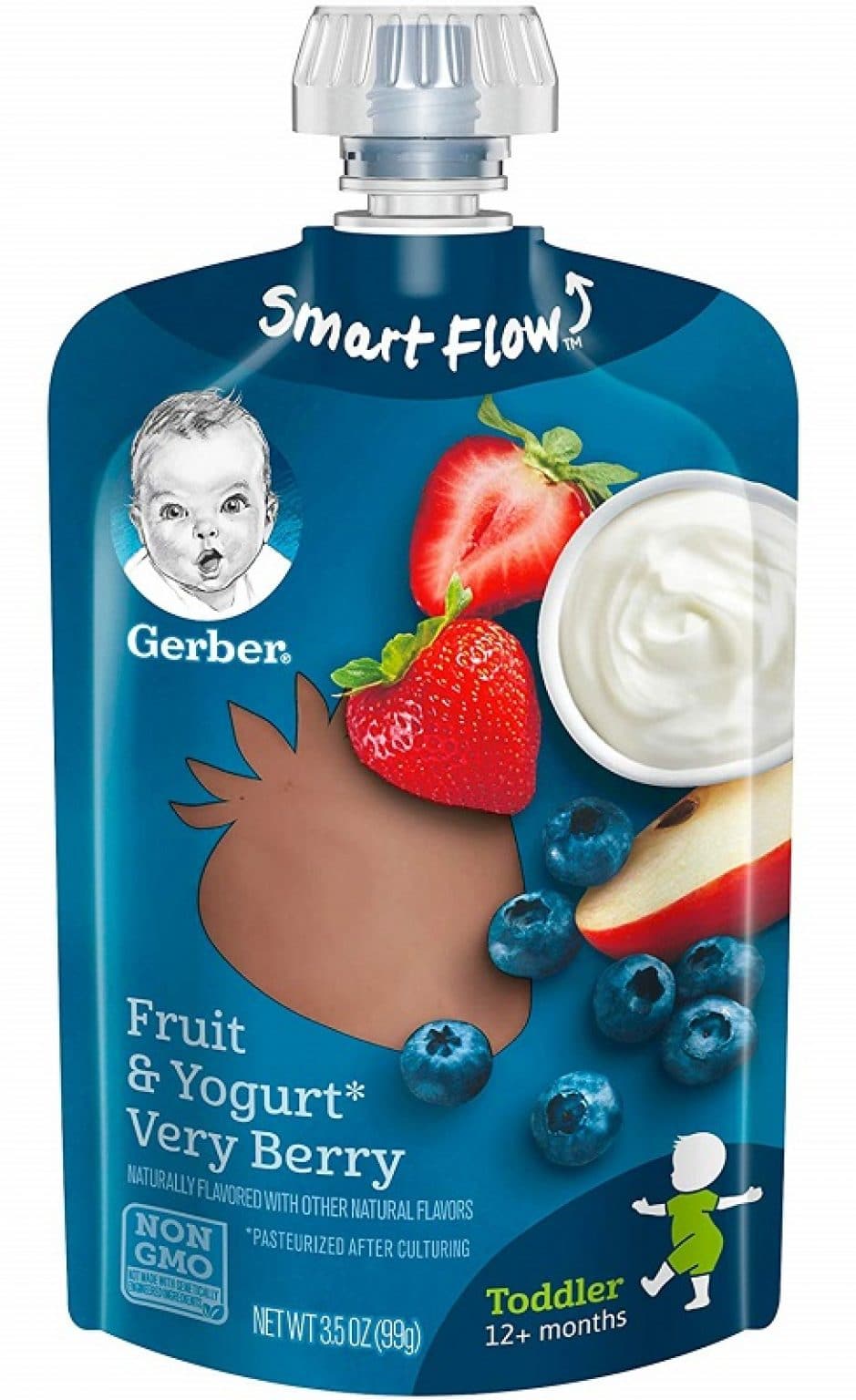 Everyone recognizes the brand name, Gerber. Their line is one of the biggest baby food companies in the world. So, it makes sense that they'd also make organic yogurt pouches.
Their yogurt pouches come in a dozen flavors for your child to eat, and Gerber uses real organic yogurt and fruit purees without any artificial ingredients. All of their purees are non-GMO.
A unique feature of the Gerber Yogurt Pouches is the smart flow spout. These pouches feature something called Smart Flow, which provides flow control to stop your baby from eating too fast and getting it everywhere but their mouth.
Check Pricing and Availability
---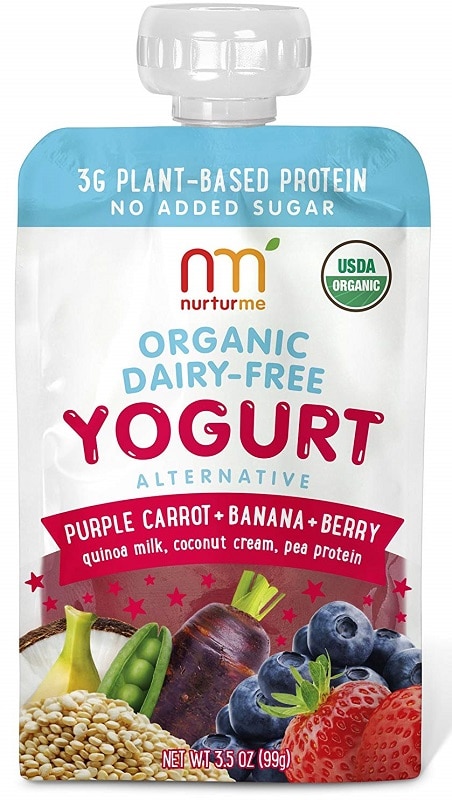 If you're looking for a non-dairy yogurt for a baby who doesn't tolerate milk protein, the NurturMe Organic Dair-Free Yogurt is a great choice. This yogurt is made from quinoa milk, pea protein, and coconut cream.
Parents who have children with food allergies love NurturMe Yogurt. It's non-GMO, certified organic, vegan, gluten-free, and kosher. It's free of any dairy, soy, or eggs. NrturMe broke down the plant proteins, making them easier for your baby to eat and digest.
Check Pricing and Availability
---
Giving Your Baby Yogurt
Yogurt is bound to be one of your baby's favorite parts of their diet. It adds protein, calcium, and probiotics to their digestive system, and introduces new flavors. Make sure to look for whole milk yogurt and start with plain yogurt before you move to flavored varieties. Any of these six choices for the best baby yogurt would be an excellent choice for your child.