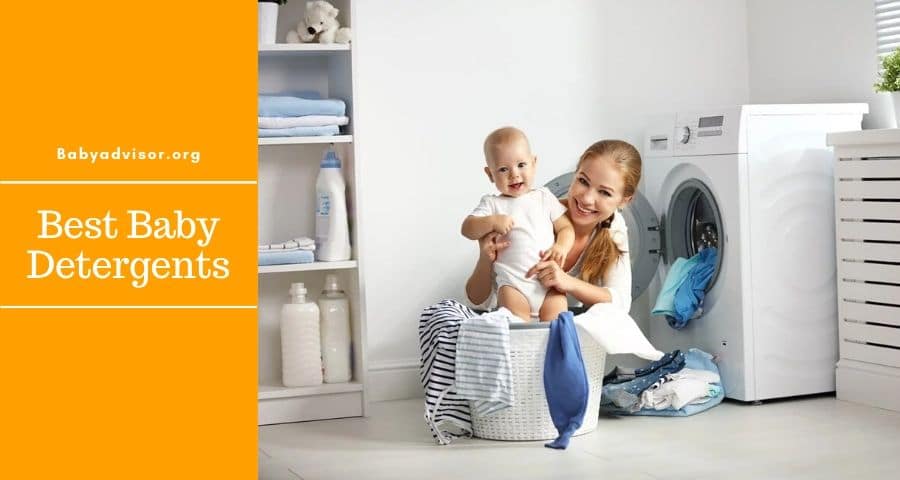 Using regular laundry detergent risks your child's sensitive skin reacting. Try one of these seven best baby detergents to clean your baby's clothes safely.
It's shocking how much laundry a single little eight-pound human adds to your human, but a few weeks after having a baby, and you'll feel like you're drowning in laundry. Three outfit changes, a blanket or two, and a burp cloth each day quickly adds up, and that's if your child doesn't have multiple diaper explosions per day.
When I had my first child, I never knew that there are laundry detergents meant for babies. My mom recommended that I find one of the best baby detergents to get clothes washed, so I searched the aisles to find a suitable choice.
You'll be washing clothes all the time, and that's not an exaggeration. If you decide to use cloth diapers, you'll be laundering even more. So, don't mess around trying different detergents. We have the best choices listed for you here.
---
Quick Recap of Best Baby Detergents
---
Do You Need Baby Laundry Detergent?
Many babies have sensitive skin because their skin and immune systems aren't fully mature just yet. Regular laundry detergents that you use on your clothes might contain harsh chemicals that could cause skin reactions.
Does that mean you should use a laundry detergent that is made specifically for baby clothes?
That's up to the parents. Detergents that are labeled as baby detergents might not always get your baby's clothes as clean as you want, but they contain fewer harsh chemicals that reduce skin irritations. You're free to use the same laundry detergent that you're using on your clothes right now with a few caveats.
Since your baby's skin is sensitive, using a baby detergent avoids leaving a residue behind after washing. While other soaps get your clothes clean, they leave a residue behind that can leave skin irritation behind or cause an allergic reaction.
Did you know that your skin is your body's largest organ? Coming in contact with chemical residues or irritants is dangerous, and they can become absorbed into your baby's skin. That's why you want a detergent with minimal harmful chemicals.
Possible Skin Reactions to Laundry Detergents
Babies can have two different types of skin reactions to the chemicals in regular detergents.
When your baby is exposed to a specific product or material, your skin can have an immediate reaction. It leads to a red, itchy rash that disappears shortly if the irritant is removed. For example, if you use a new soap, it might lead to skin irritation that disappears a few hours after.
Allergic Contact Dermatitis 
Another possible reaction is an allergic reaction, which is when your body has an immune response to an allergen. You might notice a red, itchy rash, but allergic contact dermatitis doesn't appear immediately. Sometimes, it can take up to a week for symptoms to develop as the irritants build up over time. That's why it can take time to decide what is the source of the irritant.
---
3 Types of Baby Laundry Detergents
When you go to the store, there are three different types of laundry detergents that you can buy in the stores. Each has benefits or drawbacks.
Most people purchase liquid laundry detergent; over 70% of sales are liquid detergent. Liquid detergent comes in a bottle with a pouring spout, and you pour the detergent into a plastic cup to measure out the soap.
One of the little tricks I learned as a homemaker is to put the plastic cup into the washing machine after you pour out your soap. The cup comes out clean, and you won't find any soap build-up on the cup.
PROS:
Convenient to Use
Works for Greasy Stains
Easiest to Measure
CONS:
Comes in a Heavy Bottle
Can Be Messy
---
The next choice is powder detergent, which comes in a cardboard box with a measuring scooper. Most detergent brands don't come in powder, but you might have more choices online. Powder was the original choice for laundry detergent.
PROS:
Cheap
Environmentally Friendly Packing
Works Good on Stuck-On Stains
Good for Hard Water
CONS:
Not Ideal for Pre-Treating
Packaging Isn't Durable
---
Many people are transitioning to packs or laundry pods because they're pre-measured portions of detergent. You take out the pods and toss them into the washing machine before adding the clothes.
However, these pods are a severe risk for kids under the age of six years old, so it's not recommended that you use this type of laundry detergent. There are dozen record incidents of children being poisoned after ingesting these pods. Laundry pods are colorful and small, so they look attractive to little kids. Kids think they're candy!
PROS:
Portable
Pre-Measured
Convenient
Effective Performance
CONS:
Expensive
Serious Poison Risk
---
How to Pick the Best Baby Detergents
Nowadays, you can find dozens of detergents advertised to be "baby-friendly," but that doesn't mean that they all work for your child. You can't use all of the soaps, so you have to pick the right one.
Here are a few things to keep an eye out for when picking a baby detergent.
It's best to pick a hypoallergenic detergent that is free of harsh chemicals that might lead to skin irritations. Now, it's important to remember that seeing this on the label means the manufacturer claims that the detergent causes fewer allergic reactions than other options. However, the FDA doesn't regulate this term, so any company can use it.
You should note that fragrance-free and unscented is NOT the same thing. Unscented means that the company masked the fragrance, but the chemicals are still present in the detergent.
Why do detergents need to have dyes? Dyes are potential irritants, so pick one without any. The only purpose is to create a pleasing color to the detergent itself while adding nothing to the power of the cleaning agent.
Regular or High-Efficiency  
Think about what type of washing machine you have. If you have a high-efficiency machine, make sure that your laundry detergent matches. The detergent designed for these machines is labeled "HE" on the front of the packaging.
"HE" detergents don't create as many suds, leading to a clean rinse. At the same time, using the right type of detergent reduces damage to your washing machine.
While this isn't necessary, it's nice to look for a plant-based detergent. This type of detergent has the lowest overall environmental impact. It doesn't guarantee your child won't have any skin irritations, but it does reduce the risk associated with synthetic detergents.
What to Avoid in a Baby Detergent
Now that you know what you look for, you need to know what to avoid. These are the things you want to discourage in detergents.
Brighteners
Bleach Solutions
Laundry Pods
Yes, laundry pods are convenient, but they aren't a safe choice for households with babies. It's quite easy to drop a pod or misplace them accidentally. If these pods end up in your baby's reach, they're a severe source of poison and toxicity. A single laundry pod is concentrated, so a small amount of these chemicals can be harmful.
---
The 7 Best Baby Detergents
Who doesn't love the smell of clean baby clothes? I remember doing laundry and sniffing my baby's clothes. That smell is intoxicating. Freshly laundered baby clothes feel and smell so good!
Here are our favorite detergents.


Babies are known for having sensitive skin, and if you want to avoid dangerous chemicals, Puracy Natural Detergent is one of the gentlest choices possible. This detergent gets your clothes clean without any harsh additives or harmful chemicals.
Puracy Natural Liquid Detergent was developed by doctors, so it's the perfect choice for those with sensitive skin or allergies. No sulfates, chlorine, animal by-products, allergens, or brighteners are in this detergent.
Something else to like about this detergent is that it's plant-based biodegradable, as well as being safe for sewer and septic systems. It's high-efficiency washing-machine compatible. You can use it with whatever type of washing machine you have.
Puracy is ultra-concentrated so that each bottle can be used for 96 loads of clothes. That's incredible for the small size of the container, and it makes it quite affordable when you look at the price per load.
Check Pricing and Availability
PROS:
Plant-Based Detergent
No Allergens
Affordable
Developed by Pediatricians
---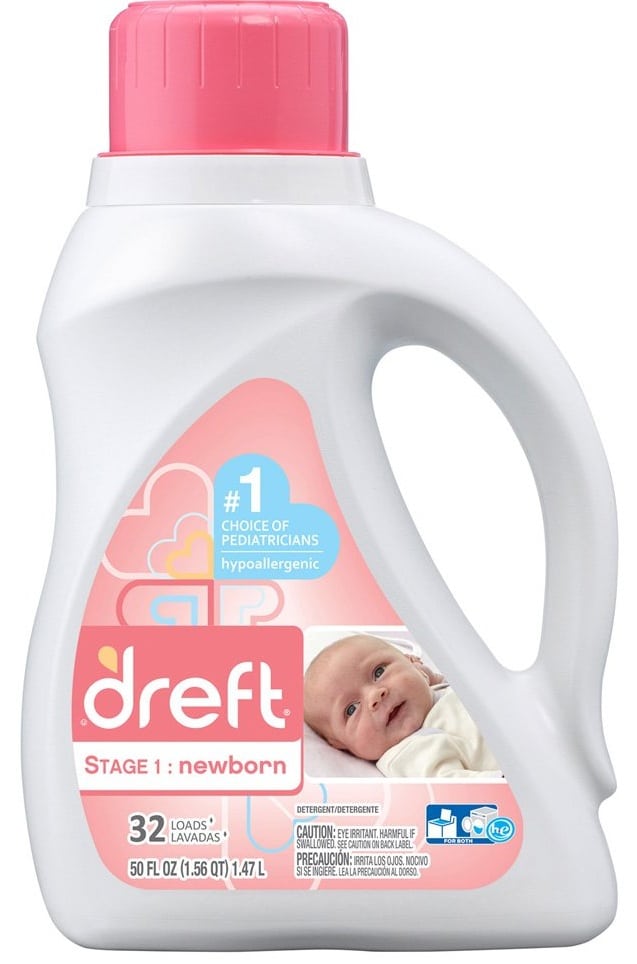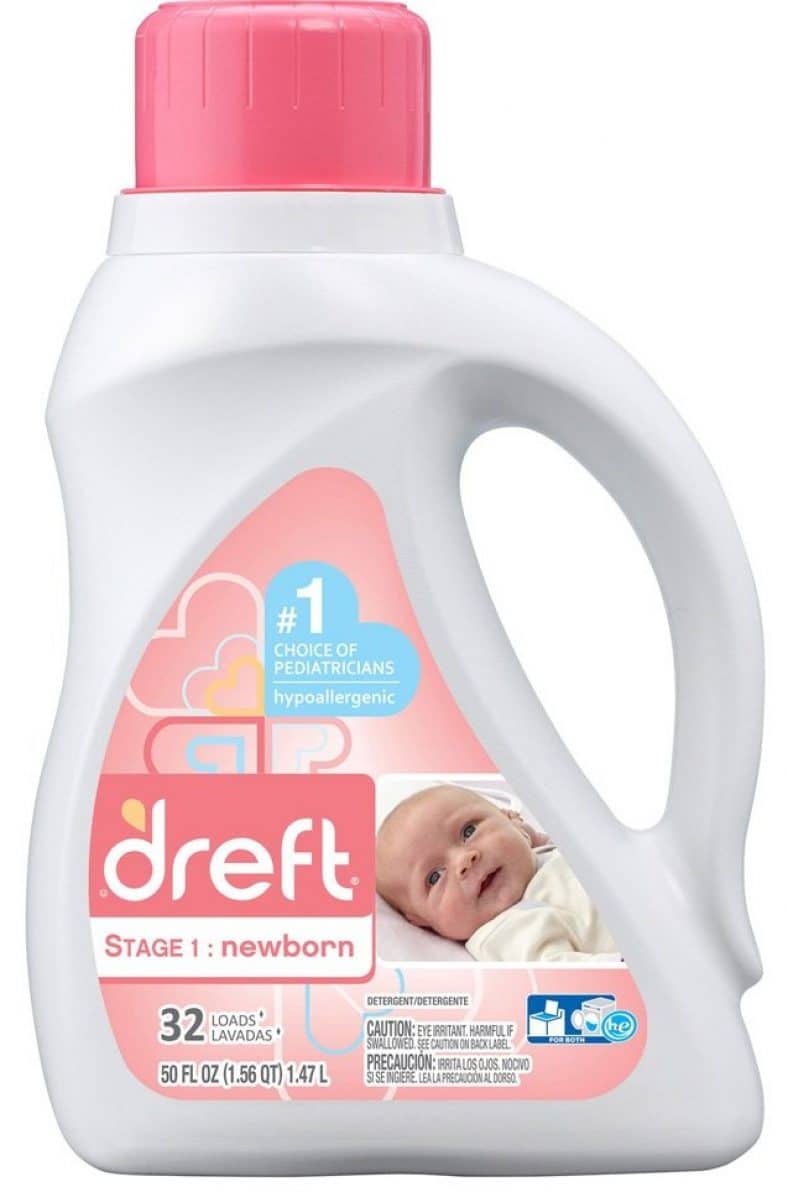 When you ask friends and family about baby detergents, most will recommend Dreft, which is made for newborn babies. If your baby has allergies or sensitives, Dreft is a solid choice that is known for minimal irritants. It's a hypoallergenic detergent that leads to minimal exposure to harmful chemicals.
Dreft began over 80 years ago, which is why thousands of pediatricians recommend this product. They created their detergent specifically with newborn babies in mind because they have more sensitive skin than adults.
This laundry detergent is free of dyes with a pleasant light scent that's clinically tested for effectiveness. Some people claim that you can use this detergent on cloth diapers if they're made of cotton of a polyester and cotton blend, but Dreft doesn't always make the top recommendation for cloth-diaper safe detergents.
Check Pricing and Availability
PROS:
Recommended by Pediatricians
Hypoallergenic
Dye-Free
Designed for Babies
CONS:
Not Fragrance-Free
High Cost of Price-Per-Load
Contains Irritating Surfactants
---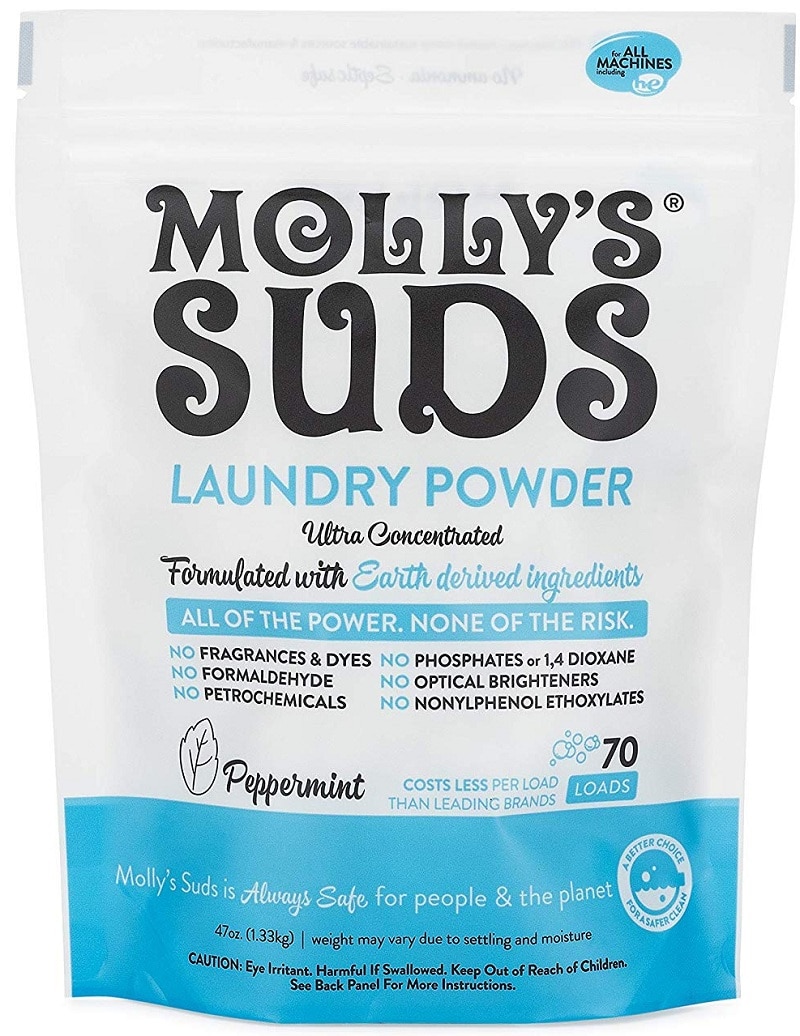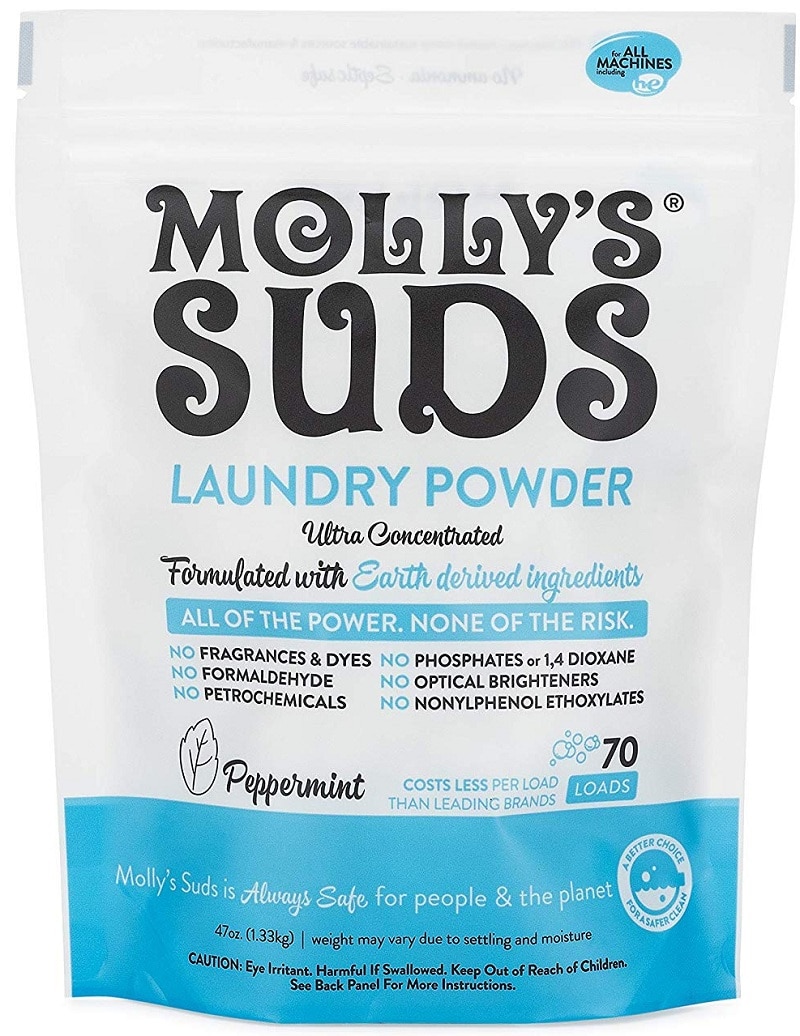 If you have hard water, you know that laundering can be a bit of a challenge. Hard water makes it hard for the detergent to create a lather, and it also makes it hard to rinse all of the soap out of the clothes. So, if you have hard water, powdered detergent is ideal, getting your clothes cleaner and rinsing better.
Molly's Suds is a powerful and gentle laundry detergent that contains only five ingredients – seriously. It's hard to believe that only five parts make up this soap, and it's free of harmful chemicals. It's certified vegan-friendly with a pleasant scent created by organic peppermint essential oil. However, the smell does rinse out thoroughly without leaving an overpowering scent afterward.
So, what's in Molly's Suds? The list of what isn't in this detergent is longer. It doesn't contain any toxic ingredients or by-products, such as synthetic fragrances, dyes, optical brighteners, petrochemicals, phosphate, fillers, bleach, sodium lauryl sulfate (SLS), formaldehyde, or Sodium Laureth Sulfate (SLES).
You can use this detergent in either high-efficiency or traditional washing machines in both hot or cold water. It gets your clothes clean, rinsing the soap out thoroughly, and you only need to use one tablespoon per load. It's safe for all fabric types except silk and leather without any risk of fading.
Check Pricing and Availability
PROS:
Great for Hard or Soft Water
No Harsh Chemicals
"A" Rating From EWG
CONS:
Peppermint Oil Might Be An Irritant
Packaging Spills Easily
---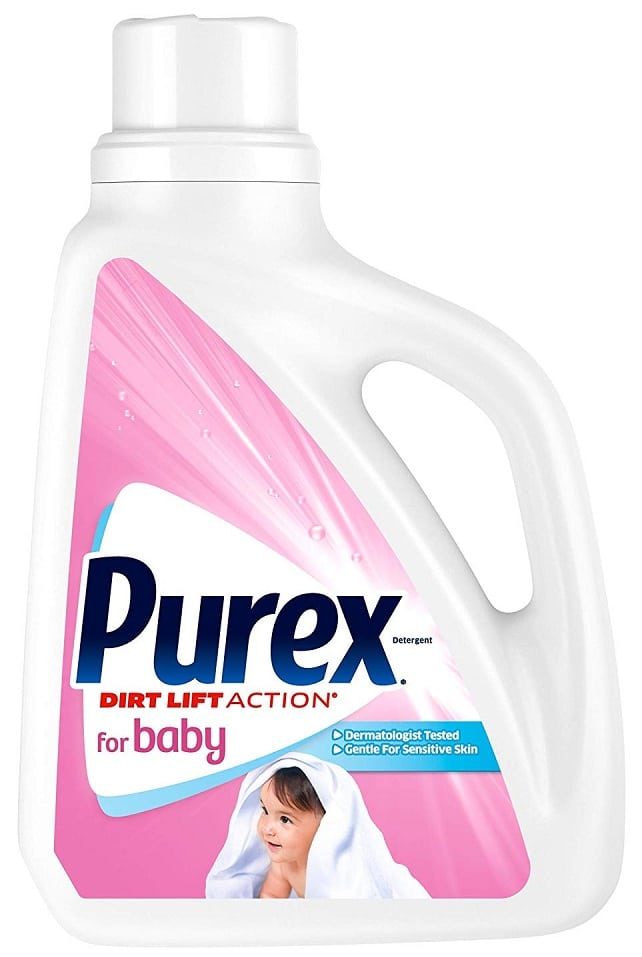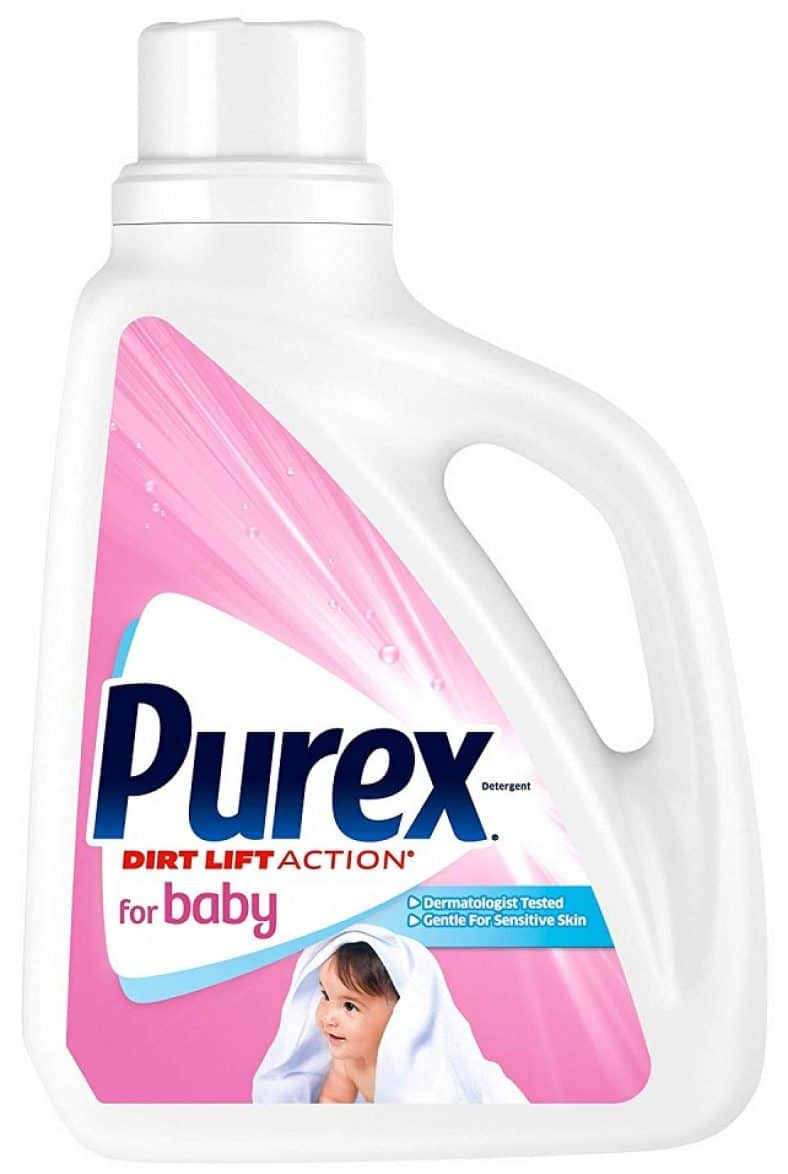 Who doesn't love the smell of laundry detergent? It can be intoxicating, smelling the scent of your baby's blankets and clothes. If you do want a scented soap, it's best to pick one that is hypoallergenic to help reduce the risk of irritating your baby's skin.
Dermatologists created the Purex Laundry Detergent to be sure that it's safe for a baby's sensitive skin. This detergent is hypoallergenic without any added dyes that might cause rashes. That's why it's dermatologist approved!
You can use this detergent in either a regular or high-efficiency washing machine. It does have an affordable price-per-load that makes it an ideal choice for families who watch their budget yet still want a detergent that is safe for their child.
Check Pricing and Availability
PROS:
Affordable
Pleasant Scent
Hypoallergenic
CONS:
Not a Natural Product
Contains Surfactants
---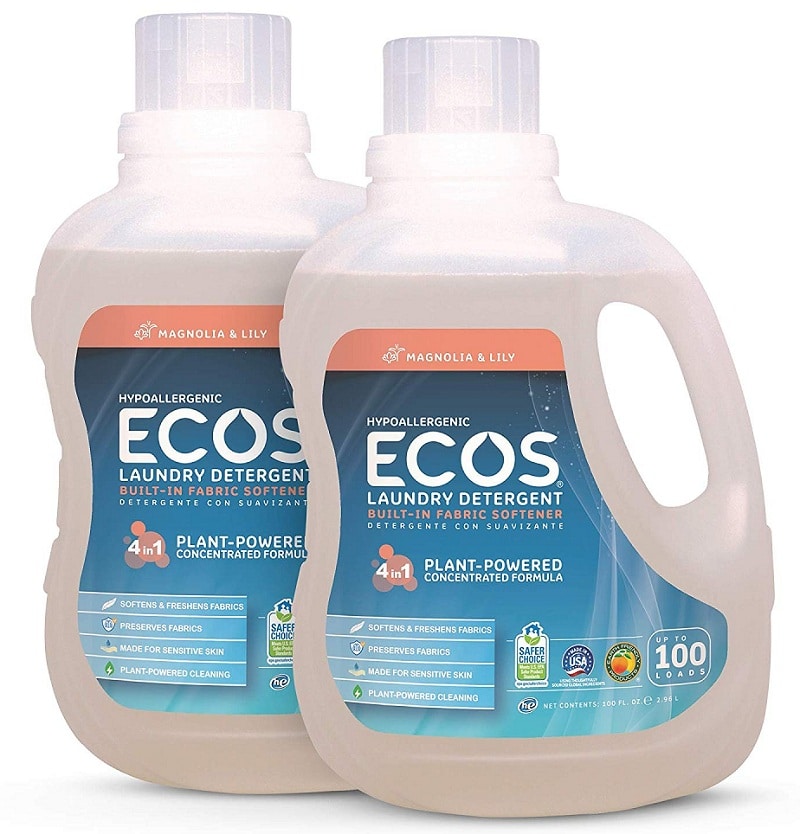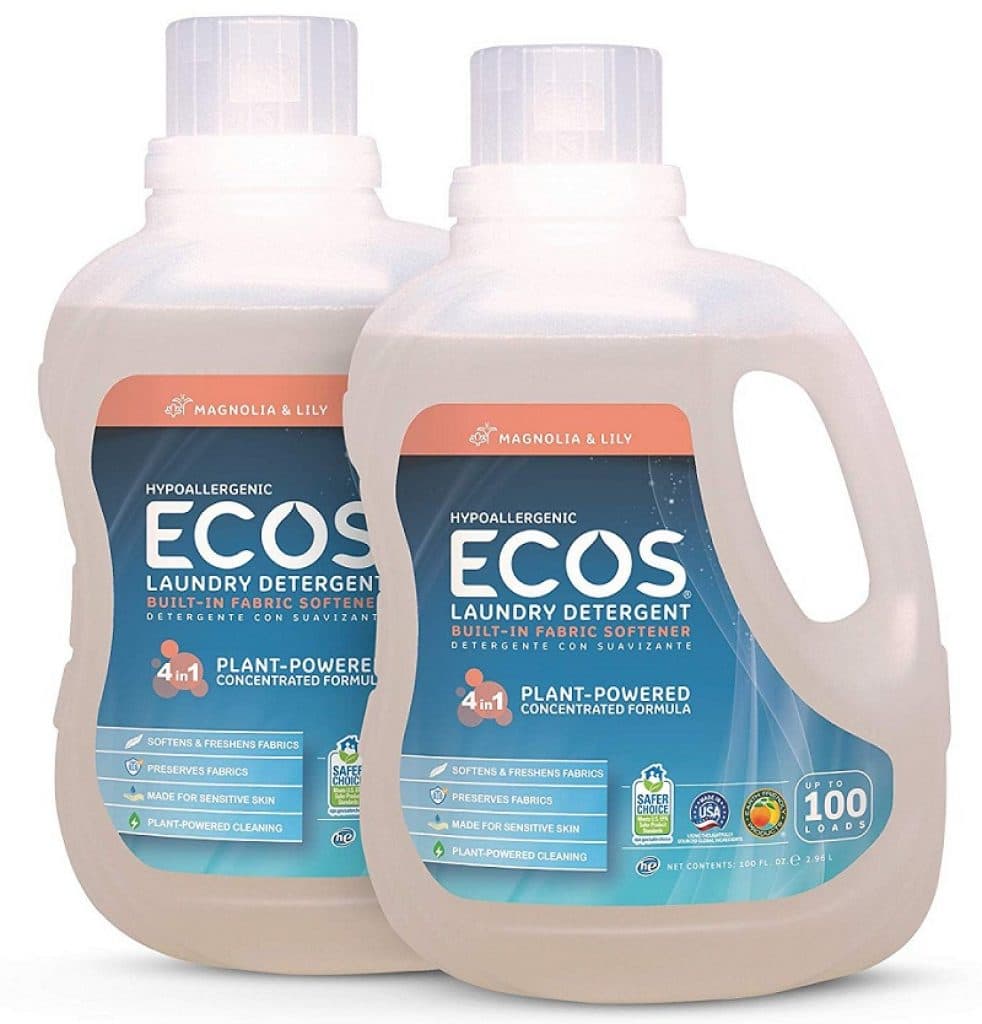 If you're looking for a natural baby detergent without any strange ingredients you can't pronounce, you need to find a plant-based product that's biodegradable. ECOS is an excellent choice if you want to reduce your child's exposure to toxic chemicals.
Using ECOS Laundry Detergent makes you feel good about washing your baby's clothes. The detergent comes in a recyclable bottle, and it's all made with 100% green energy.
It's a plant-based detergent that works in both high-efficiency and traditional washing machines. You can appreciate that ECOS is made with cruelty-free, sustainable ingredients that are biodegradable. So, you don't need to worry about what is rinsed down the drain. ECOS has built-in fabric softeners, so you don't need to add any more product to your washing routine.
Check Pricing and Availability
PROS:
Plant-Based
Biodegradable
Uses Green Energy
CONS:
Contains Softeners, So Not Ideal for Cloth Diapers
Contains Fragrance
---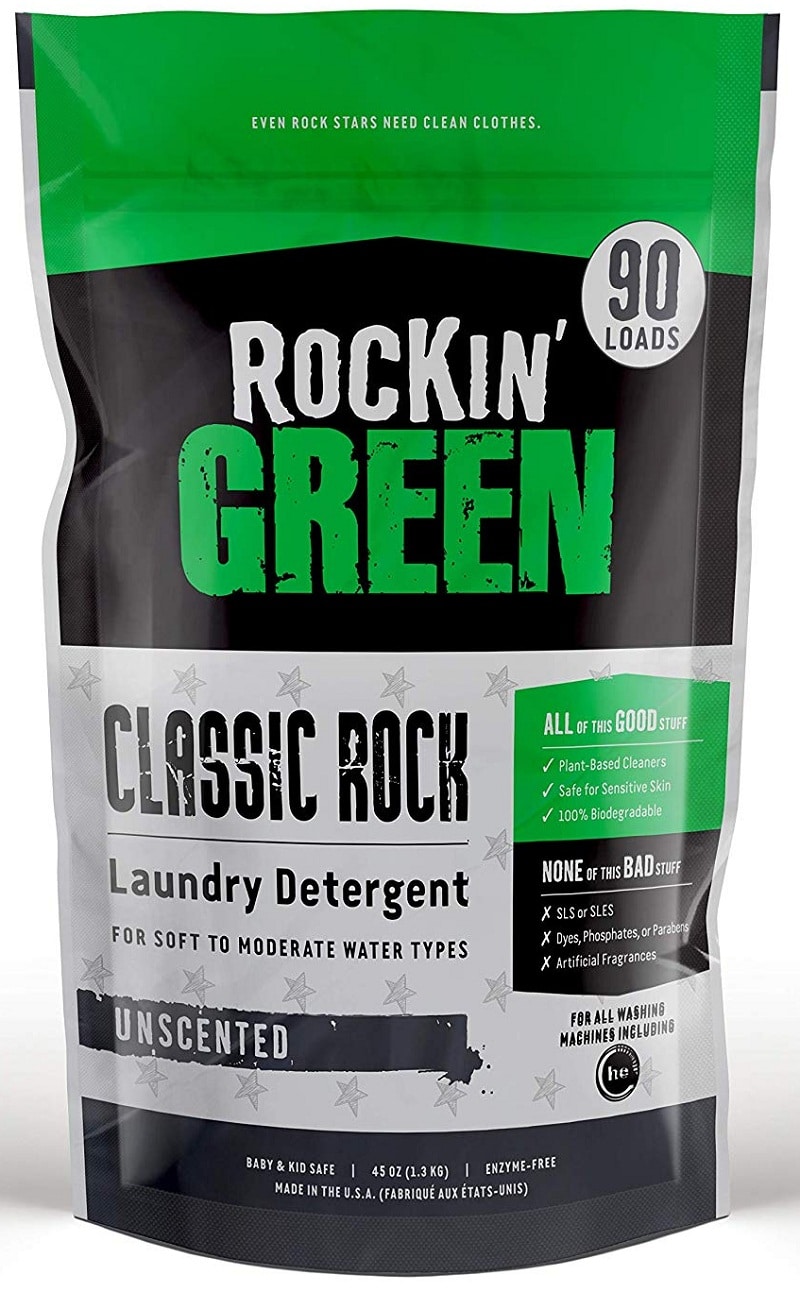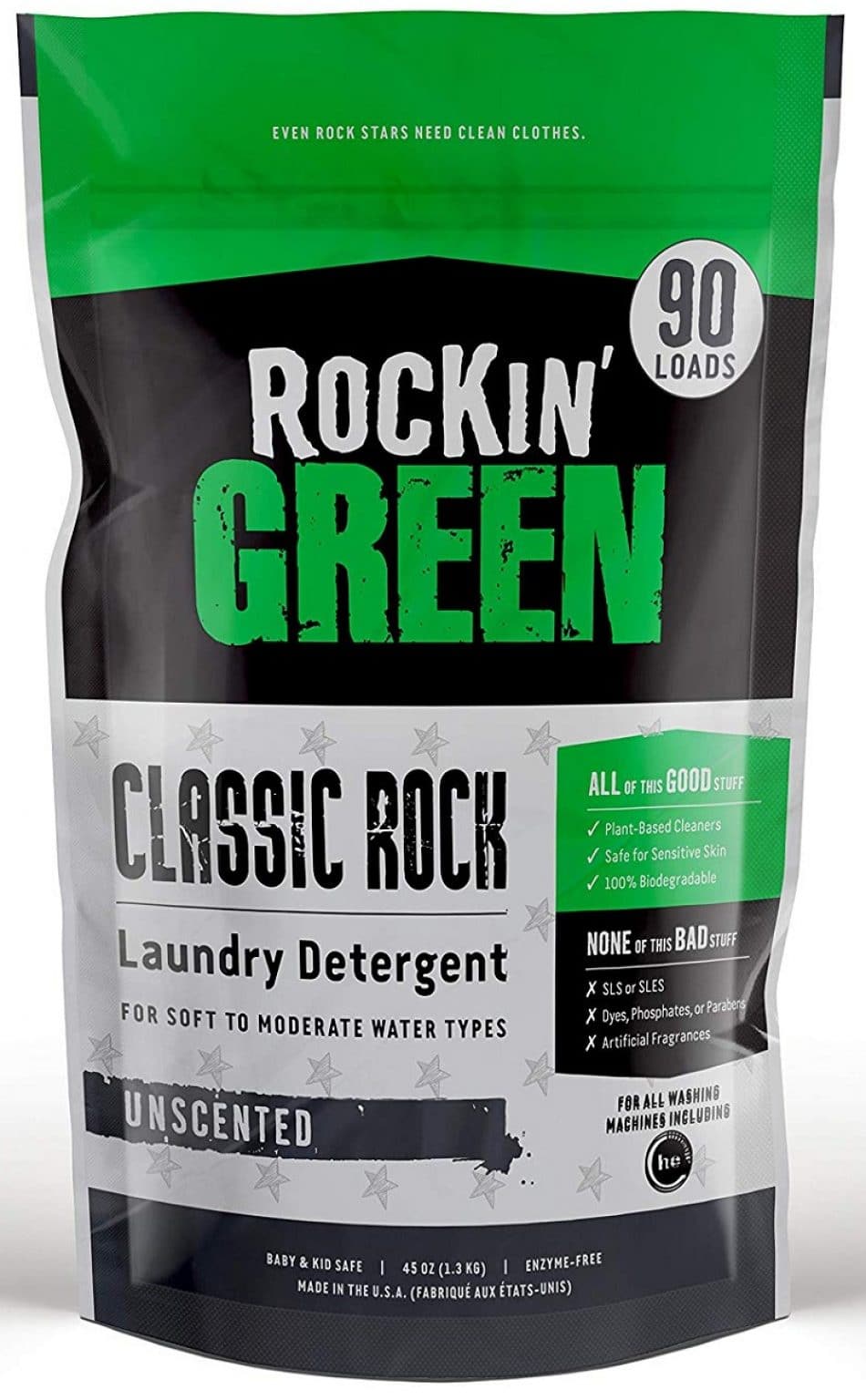 If you're a cloth diapering family, picking the right laundry detergent gets a bit harder. Unless you want to add another laundry detergent to purchase, you probably want a baby detergent that you can use on both your child's clothes and diapers. It's particularly important to buy the right soap for cloth diapers, or the diapers will start to repel liquid, leaving them useless.
Rockin' Green is designed to break down the natural enzymes in your baby's urine, rinsing it out of the diaper thoroughly. No softeners are used in the detergent either, which could clog fibers. If you let the diapers or clothes soak in Rockin' Green, you'll be amazed by what can be pulled out of the materials.
This detergent can be used with either hot or cold water, depending on what you plan to wash. Rockin' Green is biodegradable, and it doesn't contain any fillers, dyes, or brighteners. So, you don't need to worry about skin irritations by this plant-based detergent.
Check Pricing and Availability
PROS:
Biodegradable
Safe for Cloth Diapers
No Toxic Chemicals
Rinses Out Well
---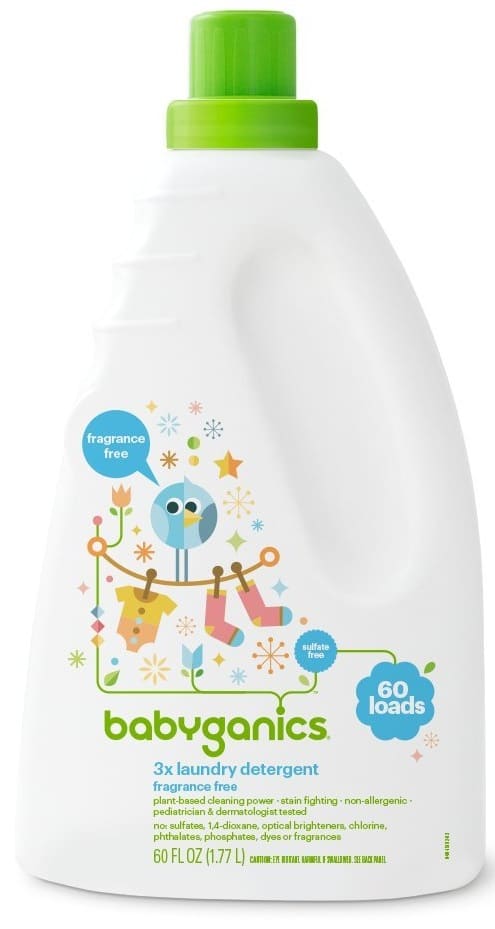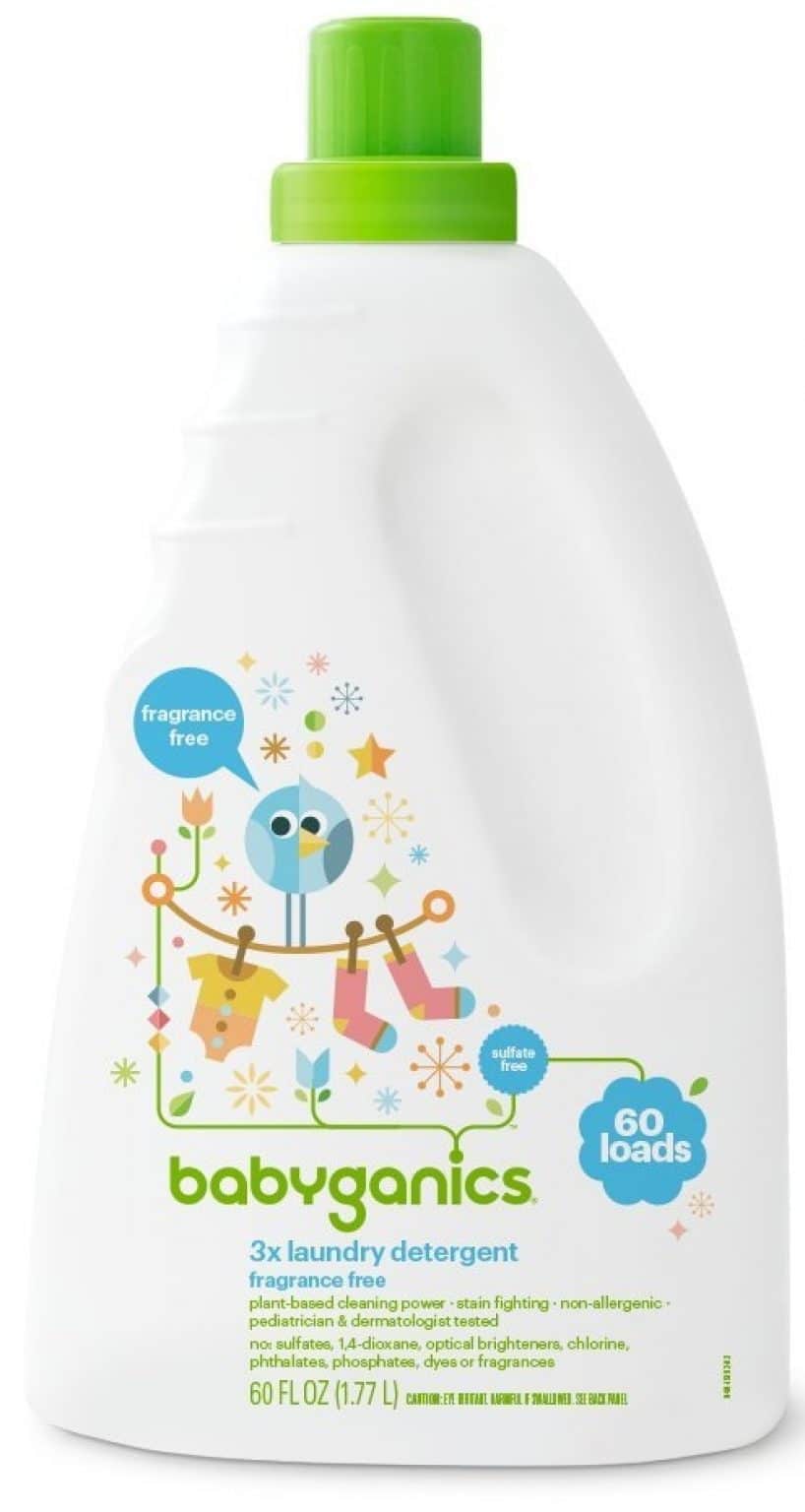 Have you heard of Babyganics? It's a well-known brand, and their Babyganics Detergent is ideal for babies with sensitive skin. Babyganics is a gentle, plant-based detergent without any chlorine, brighteners, phthalates, sulfates, phosphates, artificial fragrances, and dyes.
It gets your baby's clothes clean with its tough, stain-fighting formula. Babyganics uses enzyme-based cleaning power, and it's dermatologist-tested, which means you don't need to worry about this detergent, causing a reaction. Don't worry; Babyganics never test their products on animals!
This detergent is triple concentrated, so you don't have to use as much detergent with each load. One bottle gives you 60 loads of laundry. It's HE-compatible, and Babyganics contains to be safe for cloth diapers.
Check Pricing and Availability
PROS:
Plant-Based
Safe Ingredients
Dermatologist-Tested
Concentrated
---
Here are some best washcloths for your baby. Check it out!
Conclusion
Babies create a lot of laundry, even though their little bodies are small. Finding the best baby detergents helps to reduce the risk of having skin irritation or an allergic response. Take a look at these seven baby detergents to find the best one for your family and budget.