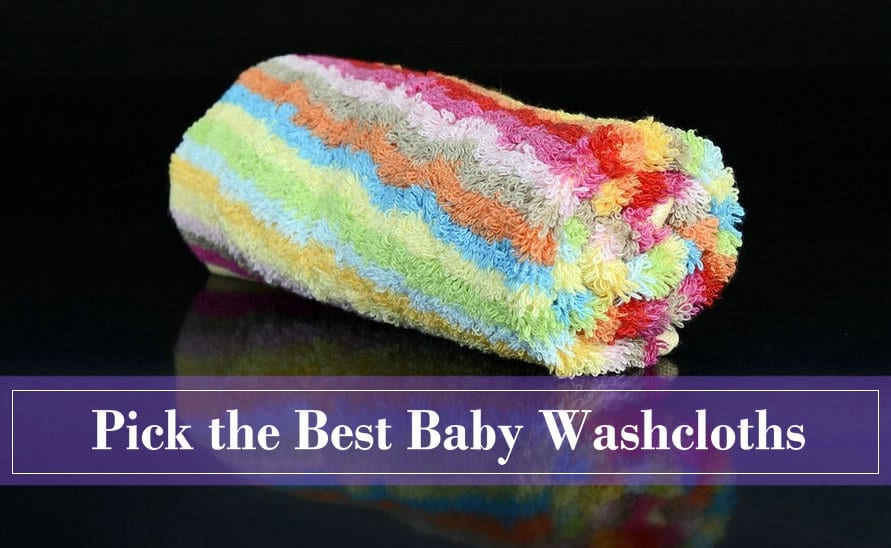 Have you recently noticed red skin or rashes on your baby's skin? Are you rubbing hard to dry him/her after the bath? Babies have soft and sensitive skin that just needs gentle stroking, not the hard scrub.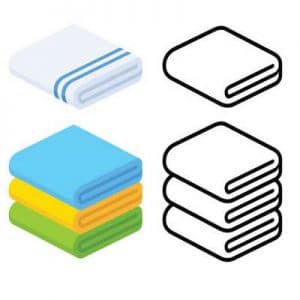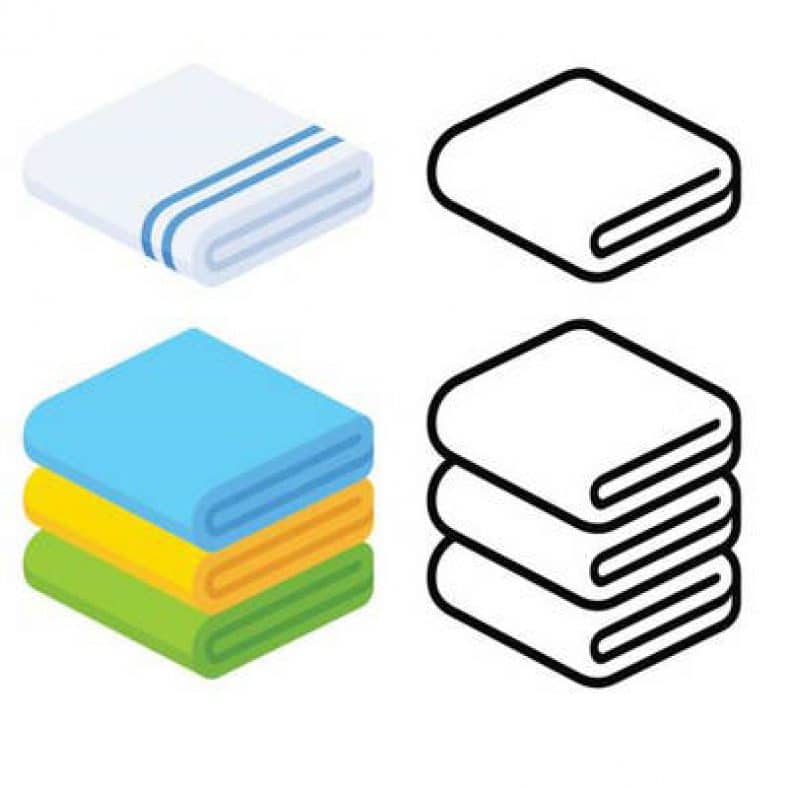 Every parent is cautious before bringing any product for their babies. It's a complete struggle to trust upon a suitable brand to take care of your baby's sensitive and delicate skin. You should look for sensitivity, hypoallergenic, affordability, softness, absorbent and convenience all in one product.
That is why selecting a washcloth brand is an even harder battle. We are reviewing the top 10 best baby washcloths available on the market to bring all the care and comfort your baby needs.
So let's have a look, shall we!
---
Buying Guide: Things to look for when purchasing baby wash clothes
According to Dr. Mehmet Oz, MD, the type of washcloth you use matters less as compared to how regularly you change your washcloth, especially if you're using it on the sensitive skin of your baby. There are some important features to consider when you look for a baby washcloth for your little one. These features will provide you with great value for your money.
For your assistance, we have developed this buying guide. You need to consider the points mentioned in the guide before purchasing baby washcloths.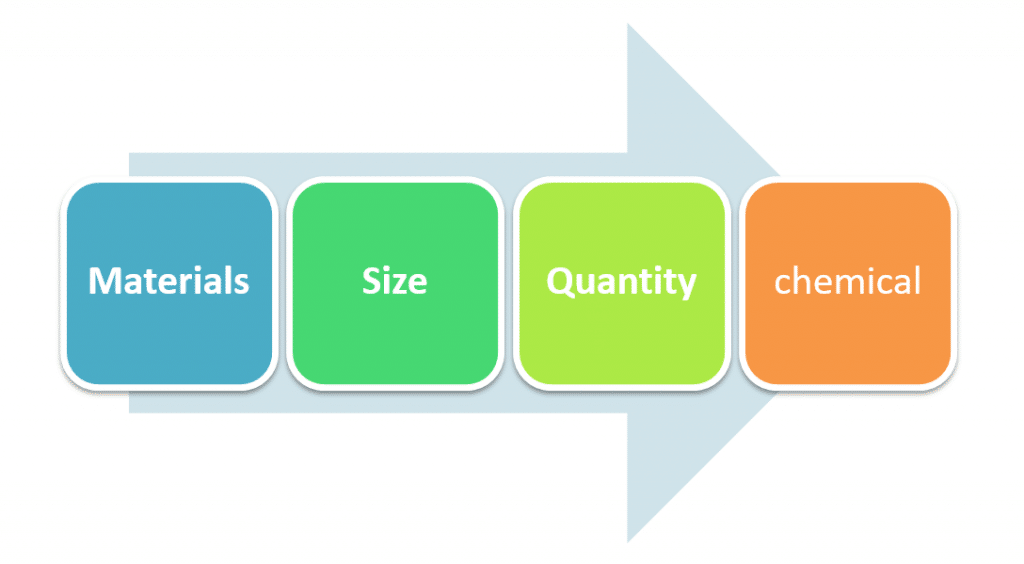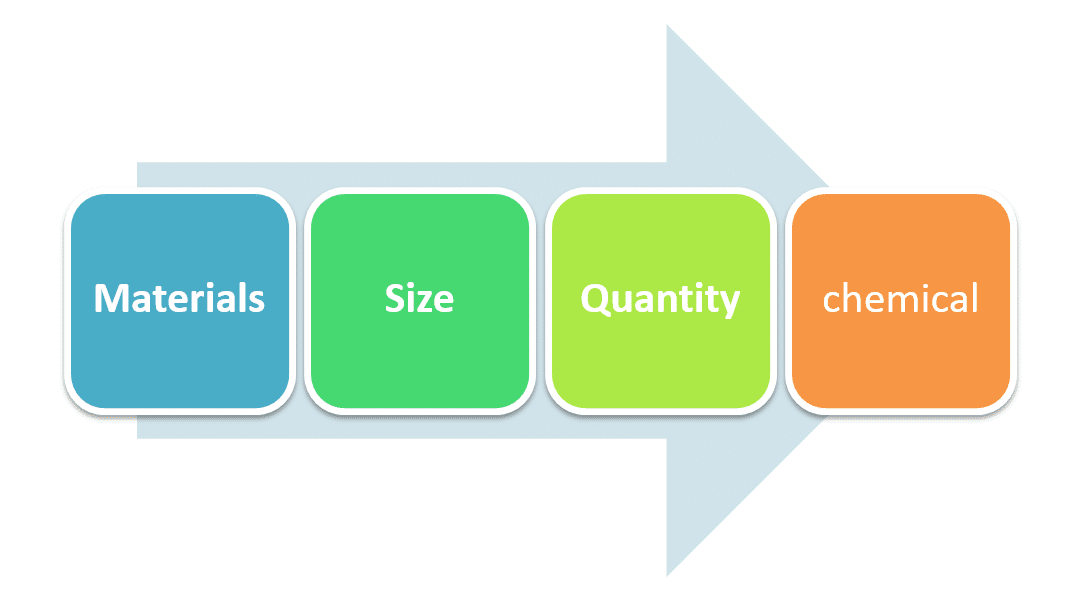 The fabric has a significant role to play when it comes to choosing the right washcloth. You don't need anything that will make your baby uncomfortable. Most of the pieces are made of cotton and organic bamboo. However, there are a few made of microfiber as well. The cotton cloths are either made of Turkish or Egyptian cotton.
Egyptian cotton is very popular and the washcloths made of it are very soft and long fibers. These clothes can withstand many washes due to these long fibers.
On the other hand, Turkish cotton clothes are also very soft and they have a slight sheen due to which they look very elegant. If your baby has a very sensitive skin then you might opt for organic bamboo cloths which are antimicrobial and tend to get soft with every wash.
There are different sizes of baby washcloths available on the market. Some of them are 10×10 inches while others are 12×12 inches. The 10×10 inches are most widely used by parents because they are easy to hold in hand. The cloth needs to be the right size because you don't want your fingers in the mess created by your little one.
In most cases, the little kids can be very messy. Sometimes you only have a few washcloths and you will have to clean them every now and then. Therefore, it is necessary that you must not run out of washcloths when your baby makes a mess frequently.
The baby washcloth should at least be double absorbent as compared to the adult washcloths. The high absorption rates needed because you have to quickly wipe out the mess and dry baby's skin to avoid developing skin rashes or allergenic microorganism.
Machine washable and detergent
You need to double check everything you buy for your baby that it is machine washable. All washcloths for babies available on the market are not machine washable. Make sure you only use baby detergent for cleaning. You never know what chemical your baby is allergic to that most detergents have.
---
Our Picks: 10 Best Soft Baby washcloth Reviews
1

Spasilk Washcloths – Best Soft Baby washcloth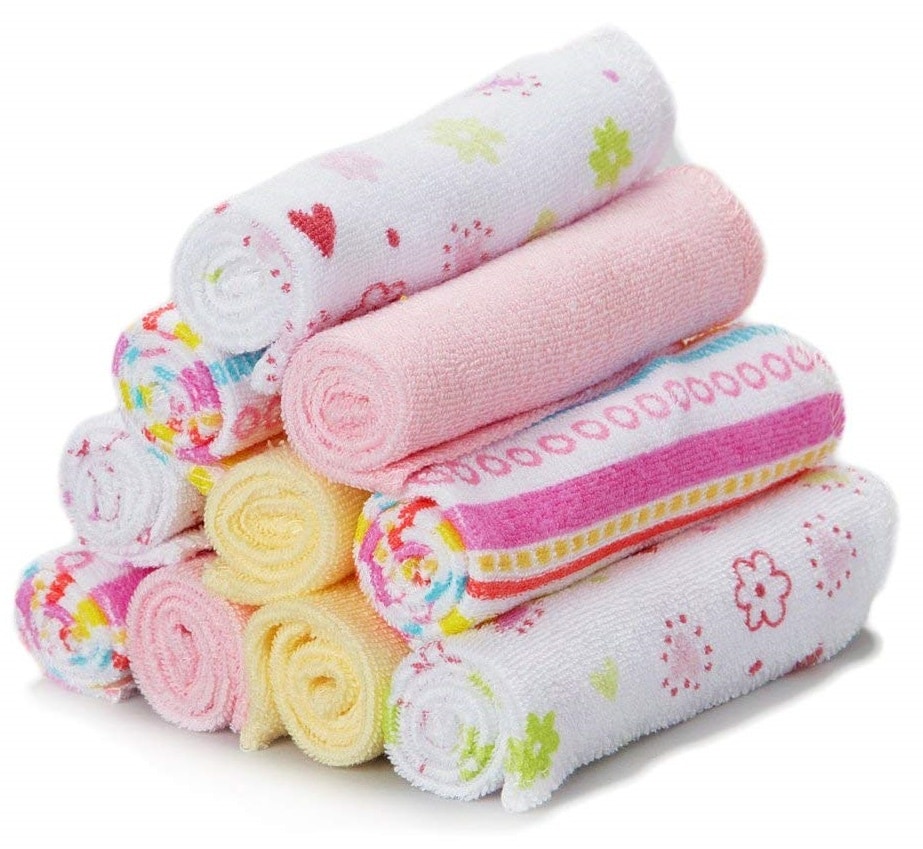 Spasilk's washcloths might not seem like what you're looking for. However, once you use them only when you realize how assessable and helpful they are in reaching curvy areas, such as baby's chin, etc. Due to their small and thin size, they prove to be more of a help then the washcloths that are thicker.
They can be washed in general laundry with cold water and still last very long. These washcloths come 10 in a pack, enough to be used in every bath time before the laundry day. They are very soft and delicate on the baby's skin and at the same time sturdy enough to clean the baby properly.
The material used is 80%cotton and 20% polyester that are perfect for the little baby shower gifts and inexpensive too. Their print and colors might fade over the years due to constant use but the quality would more or less remain intact.
These washcloths are tiny and would take up very less space, great for packing for longer trips or journeys. Aside for baby use, these washcloths are also perfect for facial cleansing, as they are softer and much handier compared to the other brands.
For better use the washcloth has two sides, one is the towel like side and the other one is smooth. Their size makes them quick and easy to dry and ready to be used again.
They are available in many different bright colors and patterns for a fun time. They are available in 10 soft 9 x 9 size in a pack. However, some people think that these are not durable and are very thin and small.
Check Pricing and Availability
PROS:
Very competitive pricing
More in quantity
Perfectly soft for baby's sensitive skin
Available in bright lovely colors and patterns
Easy to wash and quick to dry
CONS:
Very small in size
Not that long lasting
Relatively thin
2

Brooklyn Bamboo Washcloth – Best for Organic Bamboo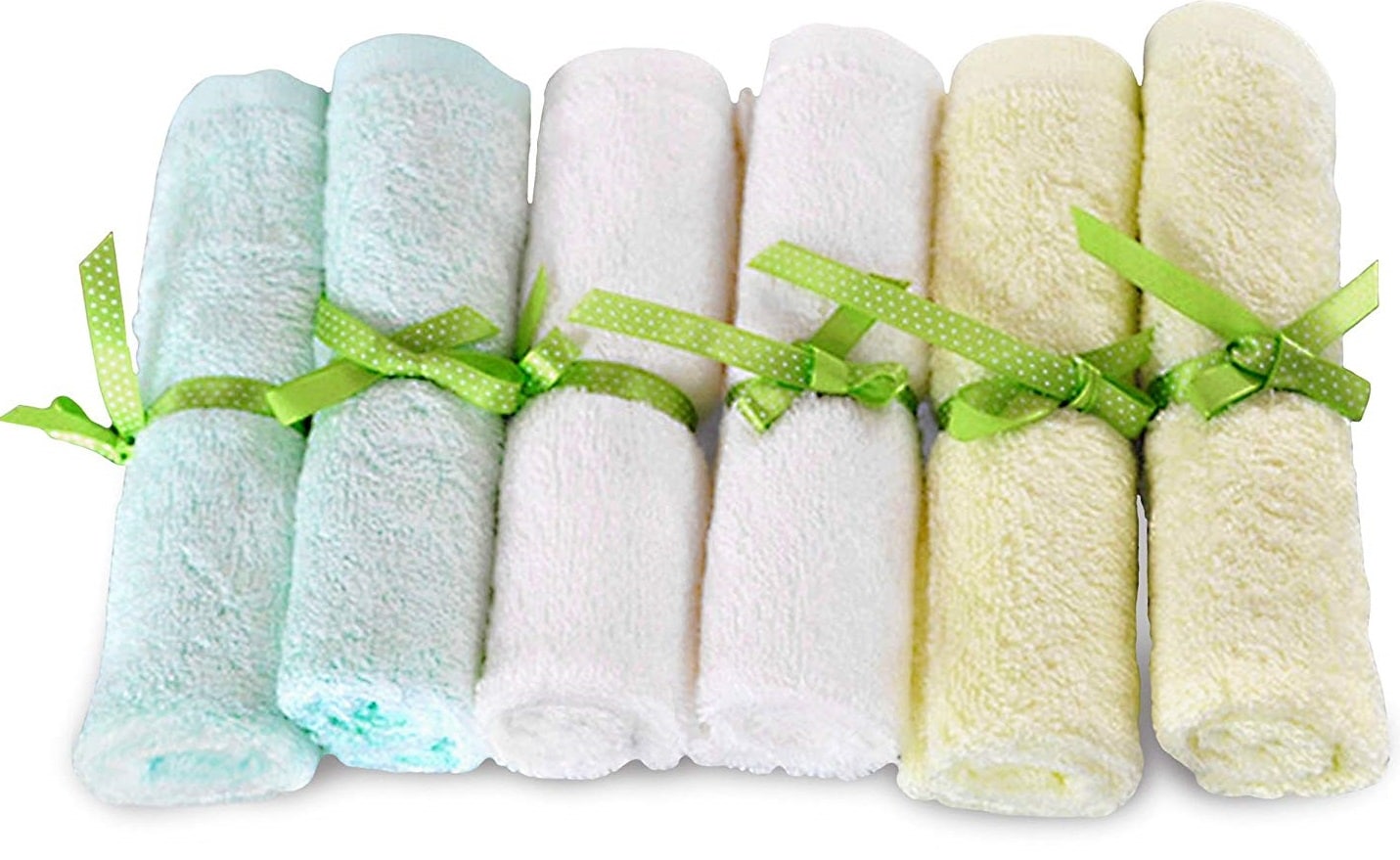 Brooklyn Bamboo washcloths are the best organic washcloths ever! Plus they are so pretty it's a challenge between deciding to use them or to just set them on display.
These extremely soft and absorbent washcloths are made with organic bamboo which is much more durable and smooth than cotton, silk or linen. These washcloth towels are anti-fungal, anti-allergenic and dry rather faster.
After every wash these towels tend to get softer and softer, increasing the level of comfort throughout. These washcloths are extra-large in size (10 x 10 inches) which allows more coverage in a much less time-consuming manner. They come in a set of three different color variations which are suitable for both boys and girls.
Although Brooklyn Bamboo washcloth wipes are relatively more expensive than the competing brands, they are still the most organic and soft washcloths in the market.
However, they are not very long-lasting and tend to fall apart after three or four washes.
Check Pricing and Availability
PROS:
Super soft
Perfect size
Easy to use
Very manageable
CONS:
Relatively more expensive
Rip easily after 3 to 4 uses.
Short term life
May shrink after wash
3

Washcloths by Bamboo Organics – Best Cleansing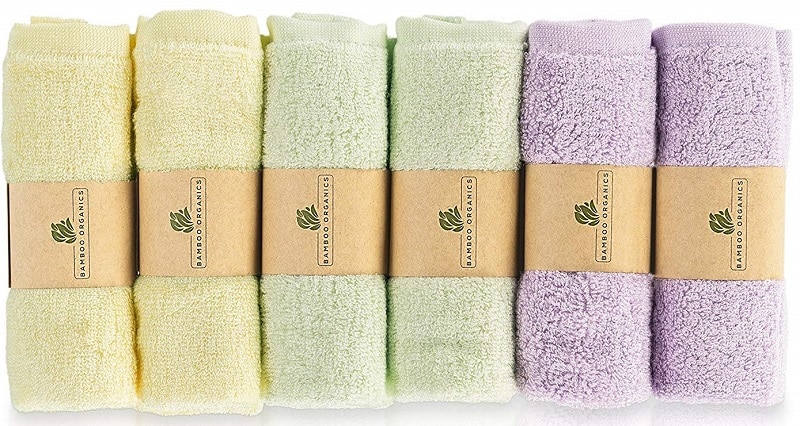 All natural bamboo washcloths made with softest bamboo fibers with no harmful dyes. The soft fibers are greatest for babies with extra sensitive dry skin. These qualities don't only make it the softest washcloth but the safest ones for the sensitive baby skin.
These washcloths are big enough as 10 x 10 inches which help to cover more area in a less time-consuming manner. These are 100% chemical free and biodegradable. They are exceptional for the baby shower gifts with their soft color schemes and their smooth texture and display.
This gentle cleansing solution is a perfect answer for not just baby sensitive skins but also for the vulnerable adult skin. These are available in beautiful three soft colors.
Check Pricing and Availability
PROS:
It is very soft and comfortable
Reasonable prices
Finished edges
Eco-friendly reusable wipes
CONS:
Starts to smell after a few weeks of use
Gets torn and ragged really quick
4

Washcloths by Luvable Friends – Best for Shower gifts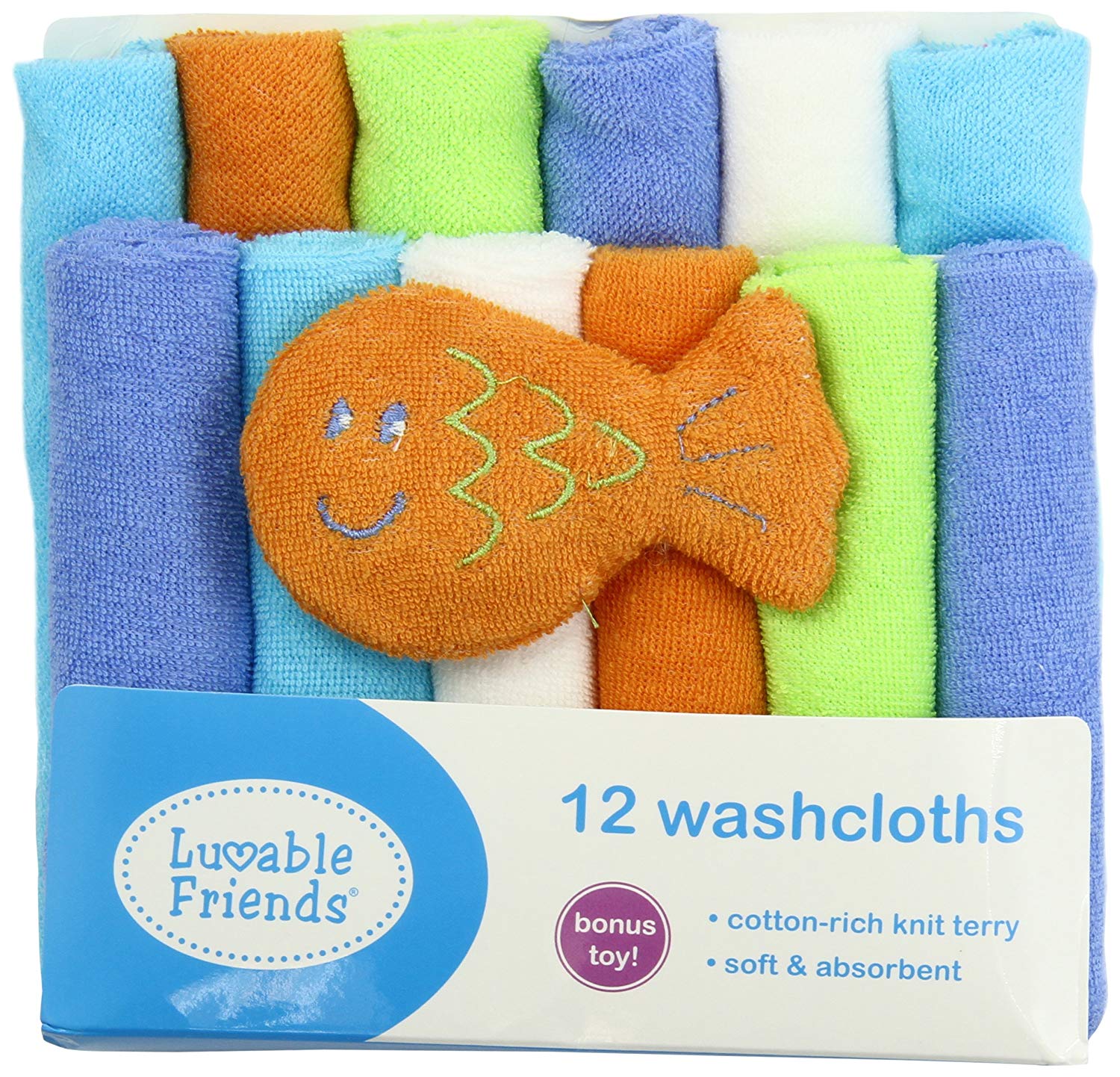 Luvable Friends includes a soft bath toy (fish) and 12 washcloths. The washcloths come in a pack of very bright and soft colors. These towels come in two wonderful blue and pink colors and are each 9 x 9 inches of size. Their sizes are very handy and easy to use and cover a lot of areas.
The towels are delicately knit with 75% cotton and 25% polyester, to be washed in the machine in warm water with non-chlorine bleach. These are a pack of 12 wash cloth towels for a very cheap price.
They are soft and absorbent and also pediatrician recommended. Although it requires an extra step of running it through the warm water to get it wet before use it works smoothly on the soft baby skin with no infections or irritation.
These washcloths are best for baby shower gifts and that bonus toy makes it a lot more special gift for the occasion. These are also a great size to carry around easily. Still, some of you might feel these are slightly rough for your baby's skin.
Check Pricing and Availability
PROS:
Very cheap in terms of price
One pack has 12 towel rolls
Nice decent colors
Bigger than most other washcloths
CONS:
Not so great quality
Very small and thin
A little rough for regular use
5

Muslin Washcloths by Mukin  – Best quality natural Muslin cotton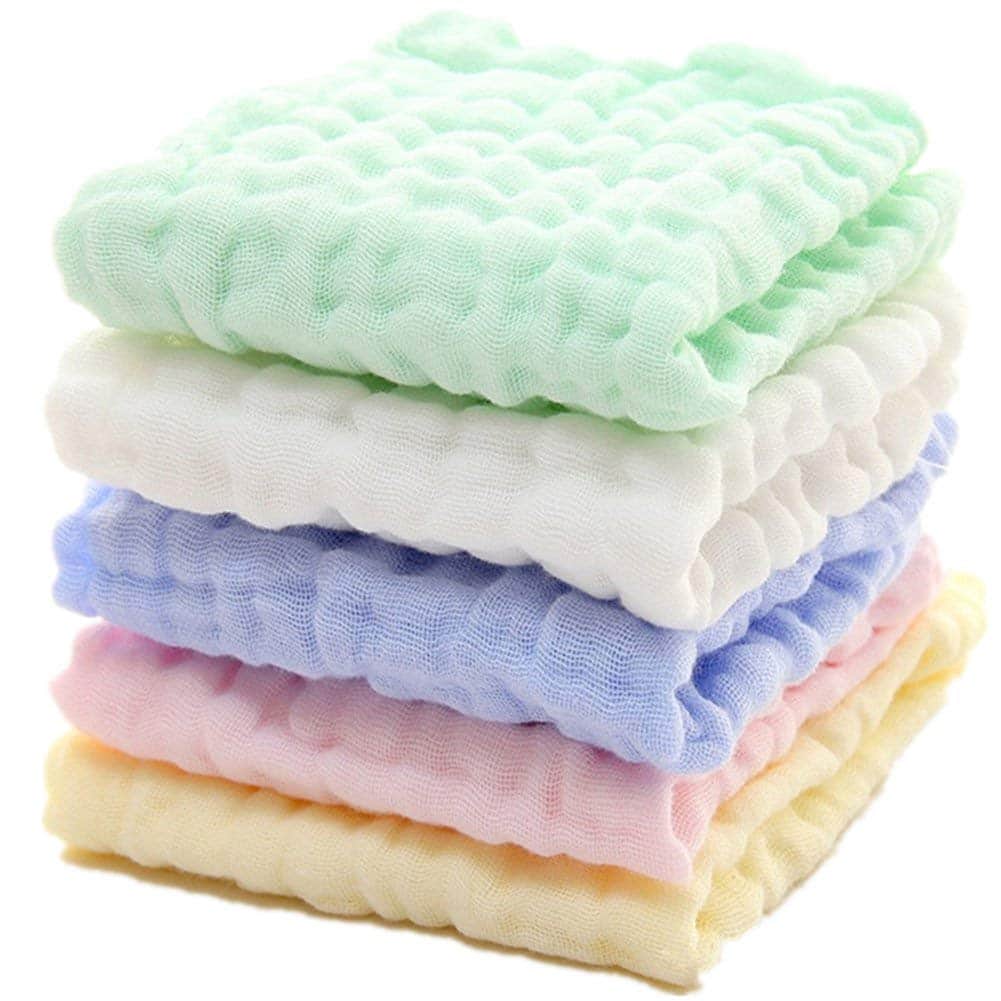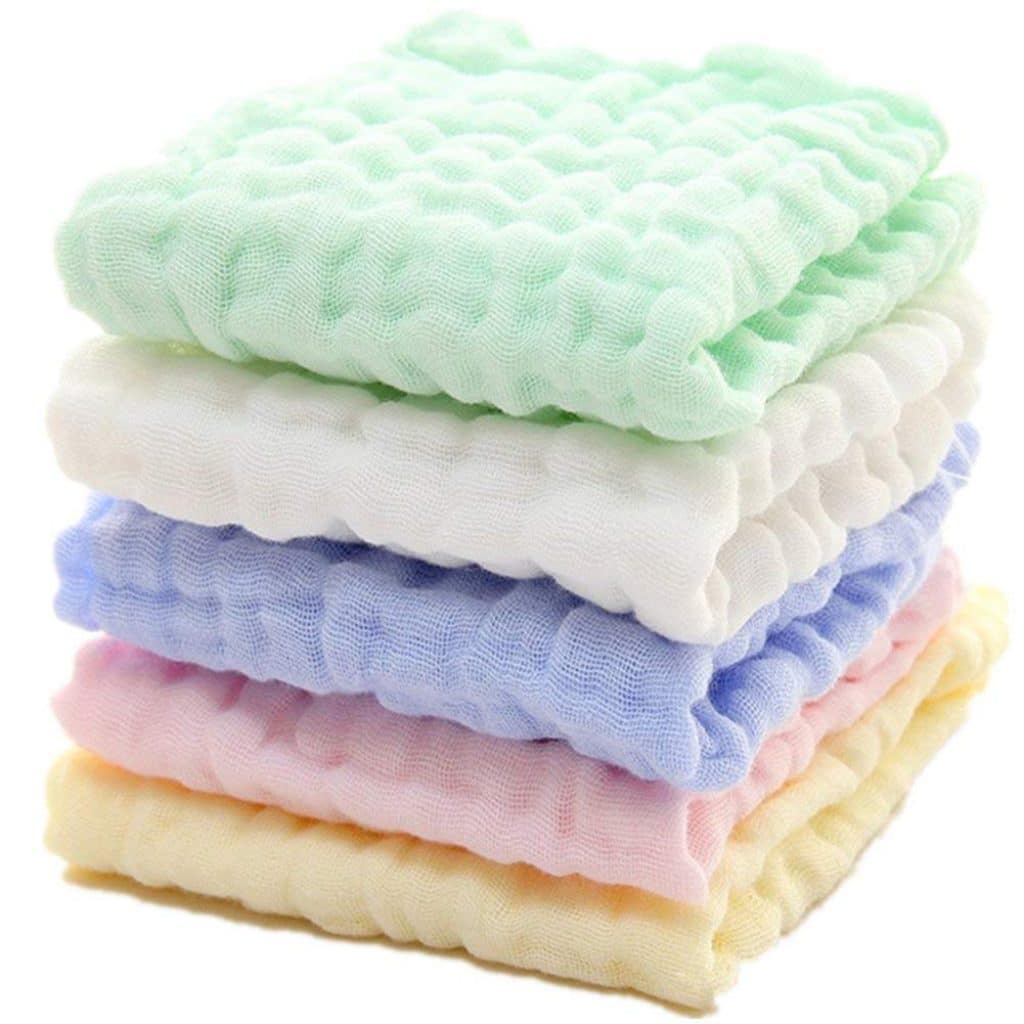 Baby Muslin Washcloths is a 5 pack 12 x 12 inches washcloth towel pack. These are organic and 100% natural muslin cotton baby towels. They are all safe and have no harmful or illegal residue left behind and are machine washable.
They are ultra soft and great for kids with eczema and baby with skin acne. These washcloths are ultra soft and amazing for not just kids but also for adults looking for something smooth for their sensitive skin.
These are the most luxurious and the best absorbent baby bath washcloths for any baby bath showers. The washcloths are packaged well and are great for present wrapping. It comes in perfect brightly colors such as yellow, pink, blue and green.
They become softer with every use. They are one of the safest products for using on newborns and infants. These are one of the biggest sized baby bath towels in the market which help cover more skin and clean up easy.
Apart from all great features, the color fades after a couple of washes and the cloth also gets rough.
Check Pricing and Availability
PROS:
100% Natural Muslin cotton
Bigger in size
Great for skin acne and eczema
Ultra soft and gentle
CONS:
Gets rough after wash
Not long lasting dye
6

Baby Washcloths by Utopia Towels  – Best for sensitive skins of all ages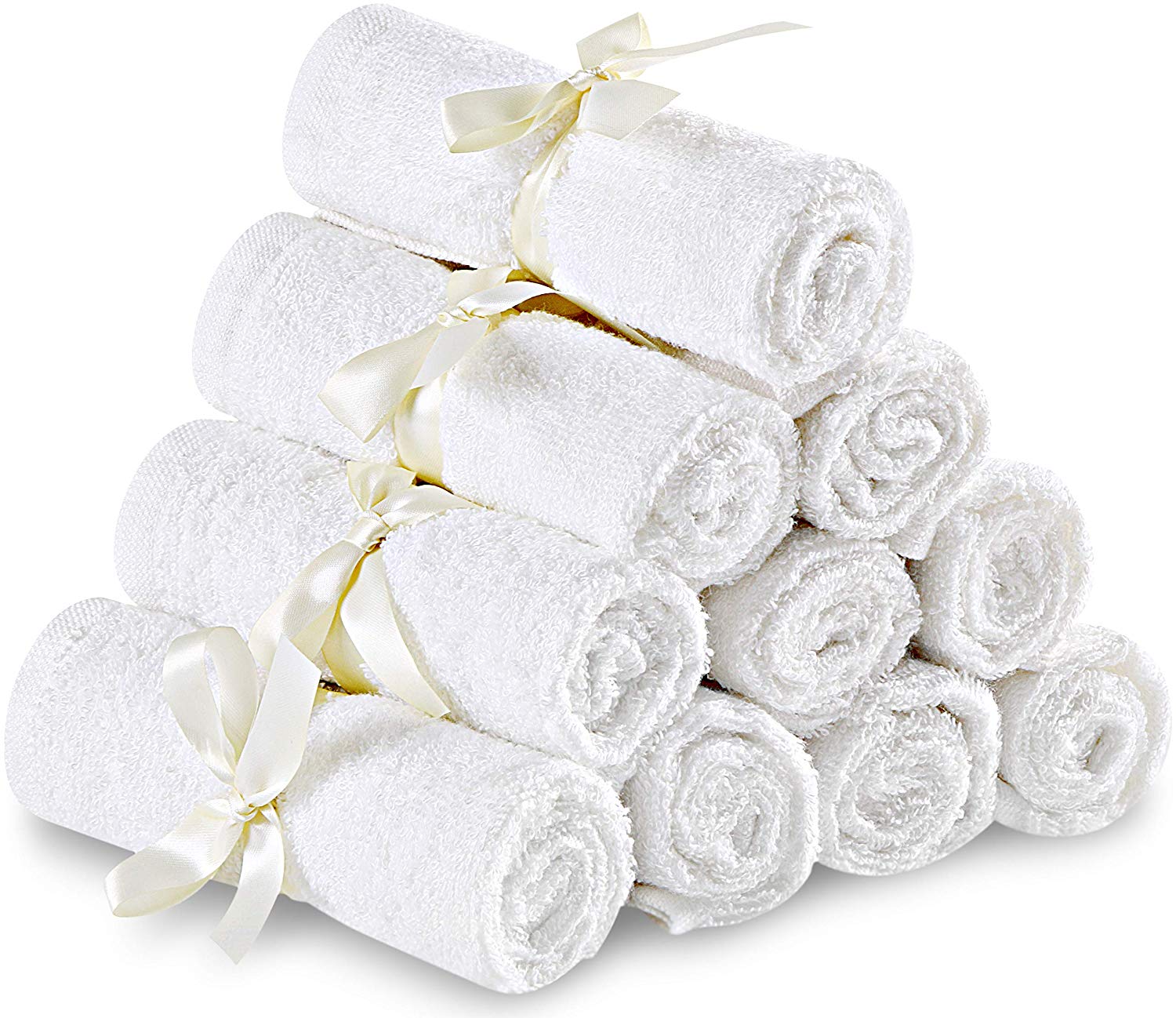 If you need a washcloth that is not only suitable for your little one but you can use it as well then go for the pack of 10 from Utopia Towels. The company has used organic bamboo in the construction of these washcloths.
Organic bamboo is very soft and it is free from allergens as well. It means that you and your baby can conveniently use it without worrying about developing any allergies. The size of each of these towels is 10-inch x 10-inch and you can easily wash and reuse them whenever you want.
Another excellent feature of these washcloths is that it is good for all sensitive skins. Anyone at your home with a sensitive skin can enjoy the softness of these wipes. The wipes come in a gift box and each of them is wrapped individually. The elegant packing makes it a good option as a gift too.
These wipes are highly durable, antibacterial and eco-friendly because they come from organic bamboo. The white color of these wipes makes them equally usable for girls and boys.
Over time, these clothes will not lose their strength and ability to absorb. It means that you can conveniently wipe your cutie pie's face and body after bath time.
You can machine wash these towels and tumble dry them. However, make sure not use a fabric softener or bleach.
Furthermore, don't iron these clothes or you will damage their durability and quality. Above all, make sure to wash these wipes separately for lowering lint. Another disadvantage of these towels is that they are not 100% organic bamboo because the company has also used some low-quality cotton in the construction.
Check Pricing and Availability
PROS:
These washcloths are very soft.
Best for the sensitive skins.
Hypoallergenic and free of allergens.
The neutral white color makes it a good option for both boys and girls.
Their 10-inch x 10-inch size makes them good both for the baby and the adults.
CONS:
Not 100% organic bamboo
They lose their softness with every wash.
7

Washcloth Flannels by Tutti Bimbi – Best hypoallergenic towels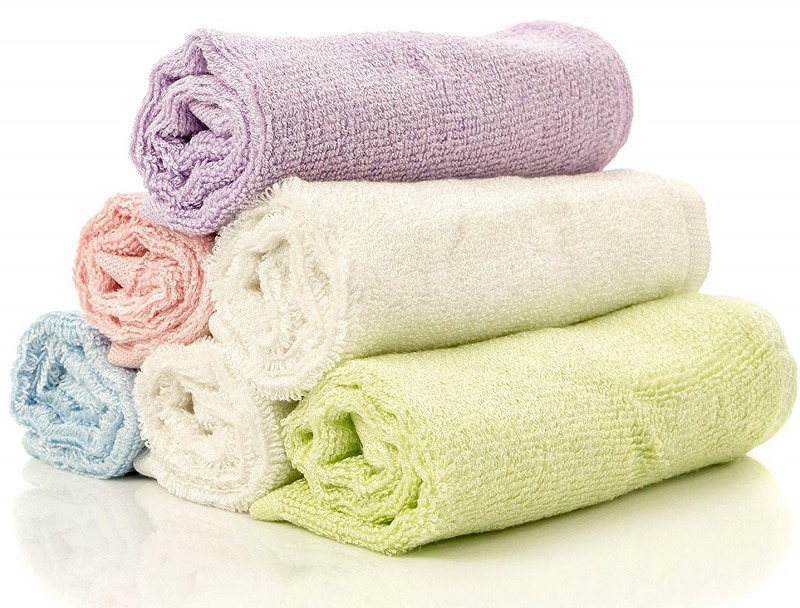 If you are looking for certified organic washcloth option then look no further because Tutti Bimbi flannels are here. The pack contains six pieces and the company has used organic bamboo for their construction. It means that these flannels are perfect for your baby as they won't irritate the delicate skin of your little sweetheart.
Oeko-Tex has certified these towels for being free for any chemical substances. Another advantage that these towels have to offer is that they are one of the thickest washcloths available on the market. Hence, these pieces offer good quality and durability.
These are one of the best options that you can buy when we talk about hypoallergenic choices. The towels have a good tendency to limit the growth of bacteria. It means that people with very sensitive skins or eczema can use these wipes without any issues.
The washcloths from Tutti Bimbi are not only soft but are very thick. They are 500 grams per square meter which makes them one of thickest available out there. The pastel colors of these pieces are also eco-friendly.
The packing of these washcloths is very sweet and you can give it away as a gift to your family or friends as well. These flannels are not only good for your baby but for you as well. They are highly durable and you don't have to be worried about how many of them your baby goes through in a day because you can easily clean them and tumble dry.
Make sure you don't use bleach or any fabric softener or it will damage the quality.
Check Pricing and Availability
PROS:
These flannels are extremely soft.
You can reuse them after machine washing.
They are available in different colors.
The packing in which these towels arrive makes them best for giveaways
Certified organic
They have an extra thickness of 512 grams per square meter.
CONS:
The flannels are not that durable.
Threads come out after a couple of washes.
8

Baby Washcloths by Royal – Best for high absorbability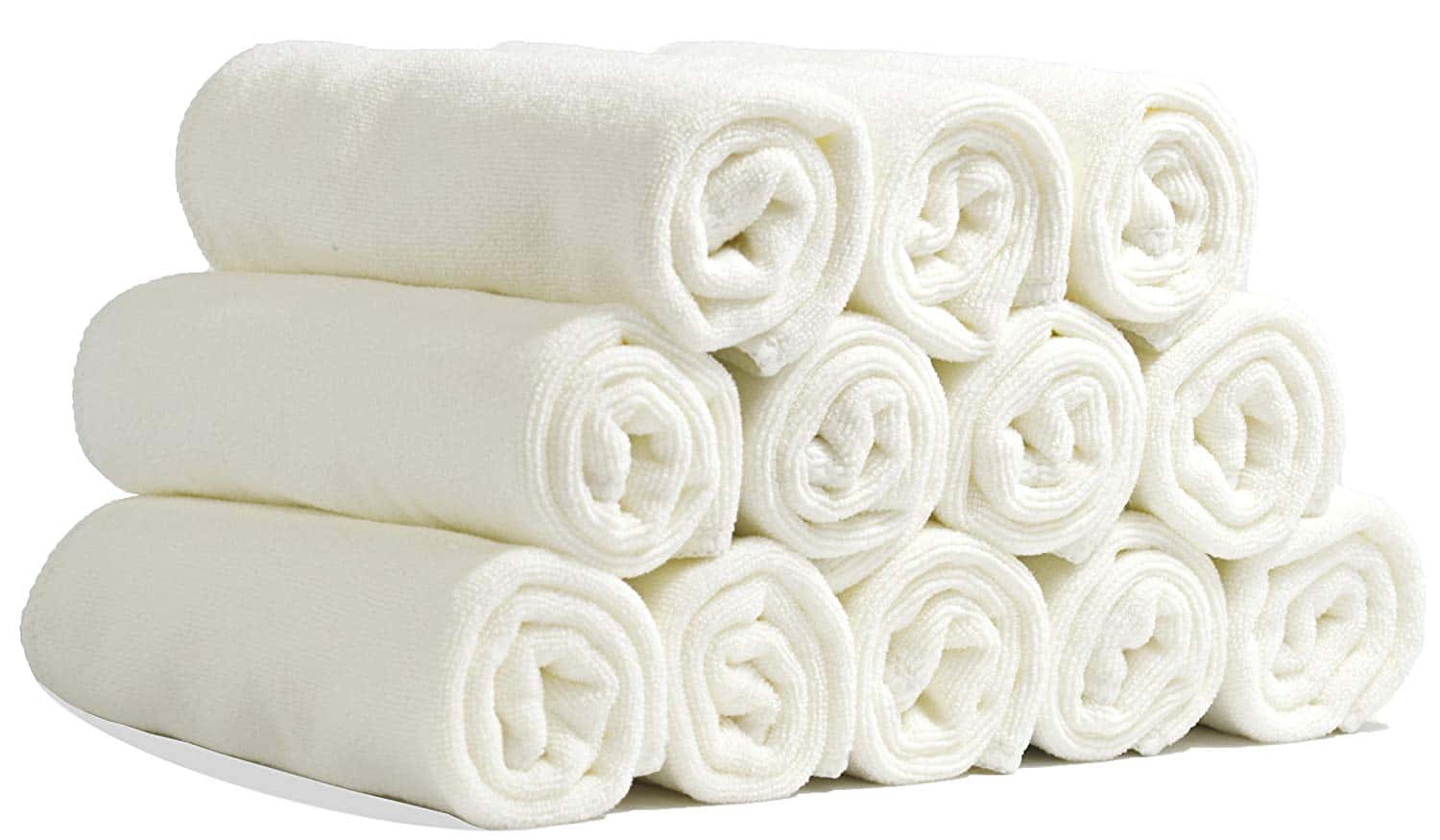 These baby washcloths are multipurpose and you can do whatever you want with them. Royal has used 100% microfiber in the manufacturing of these pieces which makes them very soft and non-irritant for the soft and delicate skin of your little baby.
Moreover, the large size of these clothes is an added benefit as you can use them to wipe the face and body by knowing that they won't hurt your little angel. You can use them during your baby's bath time or meal time. These towels will enable you to clean all the mess without any issue because they are highly absorbent and can easily last a number of washes.
Moreover, you will also get 12 pieces in the pack that doesn't charge you extra which is another plus point if you compare Royal with its competitors.
Your purchase is covered under 30-day money back guarantee no questions asked. Royal stands behind the quality of its products and for this reason, they go an extra step to provide 100% satisfaction to its customers. The wipes are available in different colors or you can buy the plain white pieces if you want.
These clothes may tend to get hard after a few washes.
Check Pricing and Availability
PROS:
Great for multipurpose cleaning
Highly soft and hypoallergenic
Come with a 30-day money back guarantee.
12-inch x 12-inch large size allows you to clean your baby's face and body.
Not very expensive
CONS:
The cloths lose their softness after a few washes
Fibers get damaged after a while.
9

Washcloths by Diggold – Best Value for Money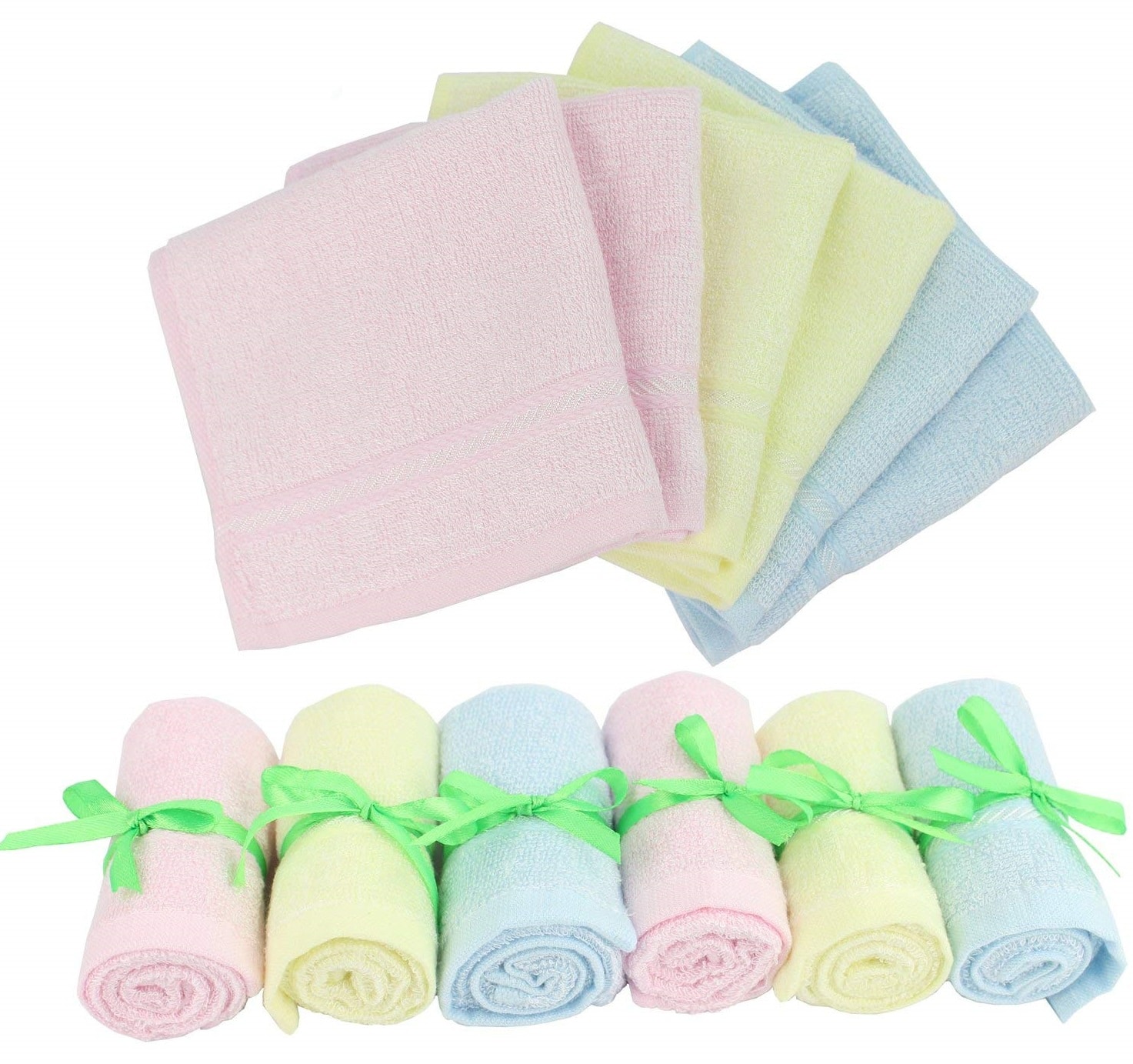 Diggold has been around for a few years and it has made a significant mark when it comes to baby washcloths. Diggold makes their baby wipes using 100% natural fiber. It means that these washcloths don't irritate any allergies and are not harmful to the delicate skin of your baby.
The antibacterial bamboo is highly durable and eco-friendly. Even the people with eczema can use these wipes without any issue. The size of these wipes is 10-inch x 10-inch. It means that you can conveniently use these washcloths during meal time, bat time or any other time for that matter.
The pack will include six pieces with a pair of three colors including blue, pink and yellow. You can use them for your boy or girl without any issue. The packing of these clothes is very elegant and you can it as a gift on baby shower or registry too. In addition to that, Diggold stands behind their products and offer their customers with a money back guarantee as well.
The washcloths are very easy to wash in your machine and you can tumble dry them in no time. Furthermore, these wipes are good for your baby if they have eczema or dry skin. One of the biggest advantages of these wipes is the fiber.
However, despite all the goodness, there are some flaws in these washcloths too. The fabric is thin, not good with fabric softener and tends to lose their threads after a while.
Check Pricing and Availability
PROS:
Available in three different color pairs
Packing is good and makes it an ideal giveaway
Use it for bath time, meal time or any other time
It comes with a money back guarantee if you are not pleased with the item that you have received.
CONS:
They are not made for harsh use and the use of fabric softeners can damage their threading.
These wipes are a little too thin for some of you.
10

Washcloths by KeaBabies – Best for everyday use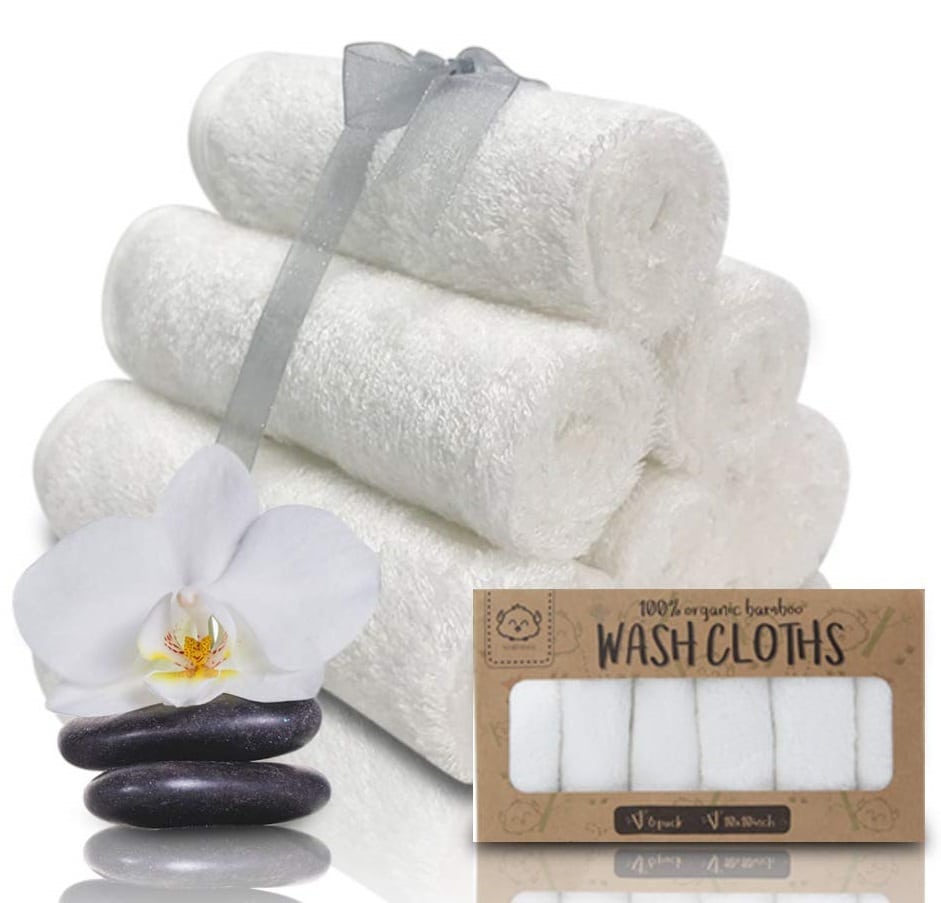 KeaBabies has used organic bamboo in the construction of these towels which means that these pieces are hypoallergenic and anti-bacterial.
The size of these wipes is 10-inch x 10-inch which means they are good for various purposes including meal time and bath time and you can use them on the face and the body of your little pumpkin head.
If your baby has dry skin or eczema then using these wipes won't cause any irritation or discomfort. It means that your baby will love having these wipes around.
Moreover, these wipes are covered under lifetime guarantee from the manufacturer. The guarantee enables you to return the cloths if you are not satisfied by their performance and receive a full refund without any issue. The thickness of these cloths makes them a good absorbent.
Furthermore, you can also work plenty of lather during the bath time and you can use these washcloths even to clean up the messes such as spills or vomits. You can also use these cloths as burp cloths and diaper changing.
The wipes are good for you too during makeup removal, facial cleansing, and similar other purposes. The multiple uses of these cloths make them a must-have in your travel bag too.
However, there is a disadvantage of these wipes as well. As the washcloths are good at absorbing fluids, they tend to become heavy which might not make them an ideal option for a baby shower. Furthermore, these wipes are not good for hand washing either.
Check Pricing and Availability
PROS:
Highly absorbent
Good thickness at 500 grams per square meter
Excellent for multipurpose usage.
Offers good value for money.
Hypoallergenic and anti-bacterial.
CONS:
Tends to be heavy after absorbing a lot of fluid.
Not good with hand washing
Read our guide to buying fragrance-free Best Baby Wipes for Newborn.
Conclusion
The winner of the best baby washcloths roundup turns out to be Spasilk washcloth. These are readily available in-store and online and each pack contains 10 pieces. The size of these washcloths is 9×9 inches which you might think is not big enough but these pieces do come with a good quality and absorbing ability.
Hope you have found this post informative and entertaining. For any suggestions or queries, you can reach out to us by posting your comment in the space provided below.
Happy Mothering!