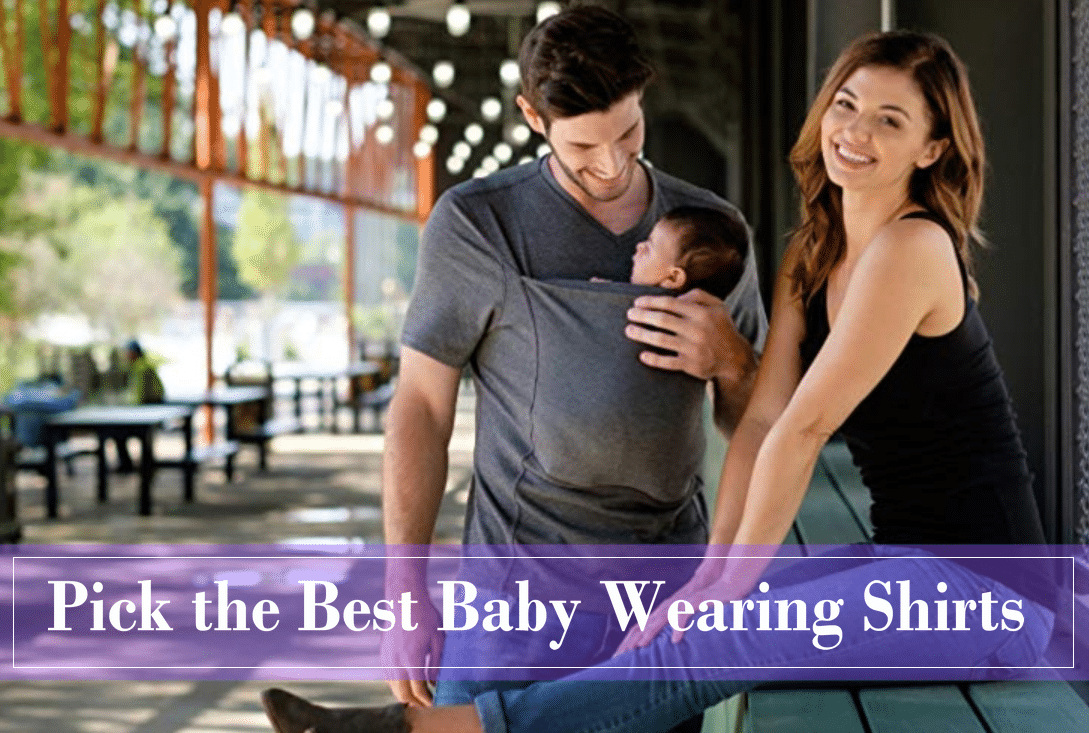 Are you looking for a solution to make daily parenting challenges easy? Do you want your baby to stay up close to your but your hands are too busy doing other things? Do you want to breastfeed your baby but have a busy schedule?
Don't worry, buying the best babywearing shirt is an ideal solution to your problems. We have developed this post for your assistance so that you can find the best options for yourself and your little pumpkin.
In this post, we will review the top 10 best babywearing shirts and then will also provide you with a buying guide and some important tips that will help you in finding a good quality babywearing a shirt.
But let's start with a brief comparison table first!
---
Things You Need to Look for Before Buying the Best Babywearing Shirts
Babywearing shirts come in different shapes and sizes and choosing the best designs becomes very irksome. Different brands have different models available and choosing one that meets your needs can become eschewing.
This buying guide will help you in finding the best product that will cater all your requirements. To find the best babywearing shirt you must identify what you want from it to achieve. If you know what your needs are, you will be able to gauge down a huge range of available option and finding the right product will become easier.
Front and back babywearing
During the infancy stage, you should wear your baby close to your chest because your young one cannot support his/her own head. Make sure to keep it tight and close. After about six months your baby will achieve neck support and you can start wearing him/her on your back. Your little curious one will be able to explore the surroundings as you are going by your day.
One of the integral features of babywearing shirts is its adjustability. This feature enables you to make adjustments to different positions for your baby according to the comfort level. For instance, you can go for skin-to-skin with your baby or can also opt for kangaroo care. Kangaroo care gives you a better option for easy mobility, however; skin-to-skin is excellent for close and comfortable feel.
The weight capacity of a baby wearing shirt also depends upon various aspects. These aspects include the fabric of the shirt, the stitch style and machine wash-ability of the shirt. Most of the baby wearing shirts has a capacity that ranges from 6 lbs to 25 lbs.
These shirts have slightly less weight capacity as compared to other baby wearing carriers such as wraps because these shirts have a small room within the apparel and you can only fit in a small baby or a newborn that wants to stay up close to you. One thing that you need to keep in mind is that there is no a room available in these shirts and you will only be able to keep your baby in for a couple of months or up to three months at the most.
The quality of the fabric has a crucial role to play when it comes to determining the durability and longevity of a baby wearing shirt. The first few months of a baby are a lot messier because your baby is going through a steep learning curve. You must make sure that you are able to wash your shirt on regular basis. A good quality fabric can withstand machine washing and it will not falter even if you put it through numerous wash cycles.
It is important that you keep your shirt clean so that your baby might not develop any skin allergies and feel comfortable with you. Some shirts are made of organic cotton and offer high breathability while others might have a blend of spandex or polyester for extra durability. Please bear in mind that you must keep the shorts highly breathable especially if you live in a hot climate region or you are going through summers.
Different shirts fulfill different requirements. Some of them are best for newborns while other can also work with infants. However, in most cases, these shirts are not designed to take a toddler in. other baby carriers such as wraps can work well with toddlers too if you have enough piece of cloth or proper strapping but you don't have any such option with these shirts.
One huge advantage of babywearing shirts is that it is available in different styles, designs, and colors. You can choose any one of them according to your preferences and liking. This advantage is not available in most other baby wearing carriers because you are only able to choose from a limit of designs and colors but not in the case of babywearing shirts.
This is one of the reasons why these shirts are very common among new mothers who don't want to give away their style and also want to cuddle with their young ones.
---
When Should I Start Wearing My Little One?
You can begin wearing your baby from birth and you can continue to do so up until four years. You can also go as long as you and your baby feel comfortable about it. Most people think that babywearing is for infants, which is not true. Another misconception is that parents can only learn baby wearing when their babies are young and it is more difficult to learn when they grow up.
---
How Long Should I Use Babywearing?
You can use babywearing shirts as long as you and your baby are comfortable with it. Most people stop baby wearing when the child becomes too heavy while others stop doing it when they think their child is not comfortable with it. You can find a good variety of these babywearing shirts designed for use from birth to toddlerhood.
You may also interested: Looking for best pajamas for your baby? Here's our top picks of best baby pajamas.
---
Editor's Picks: Top 10 Baby Wearing Shirt Reviews
1

Soothe Shirt by Lalabu – Best baby holding shirt for nursing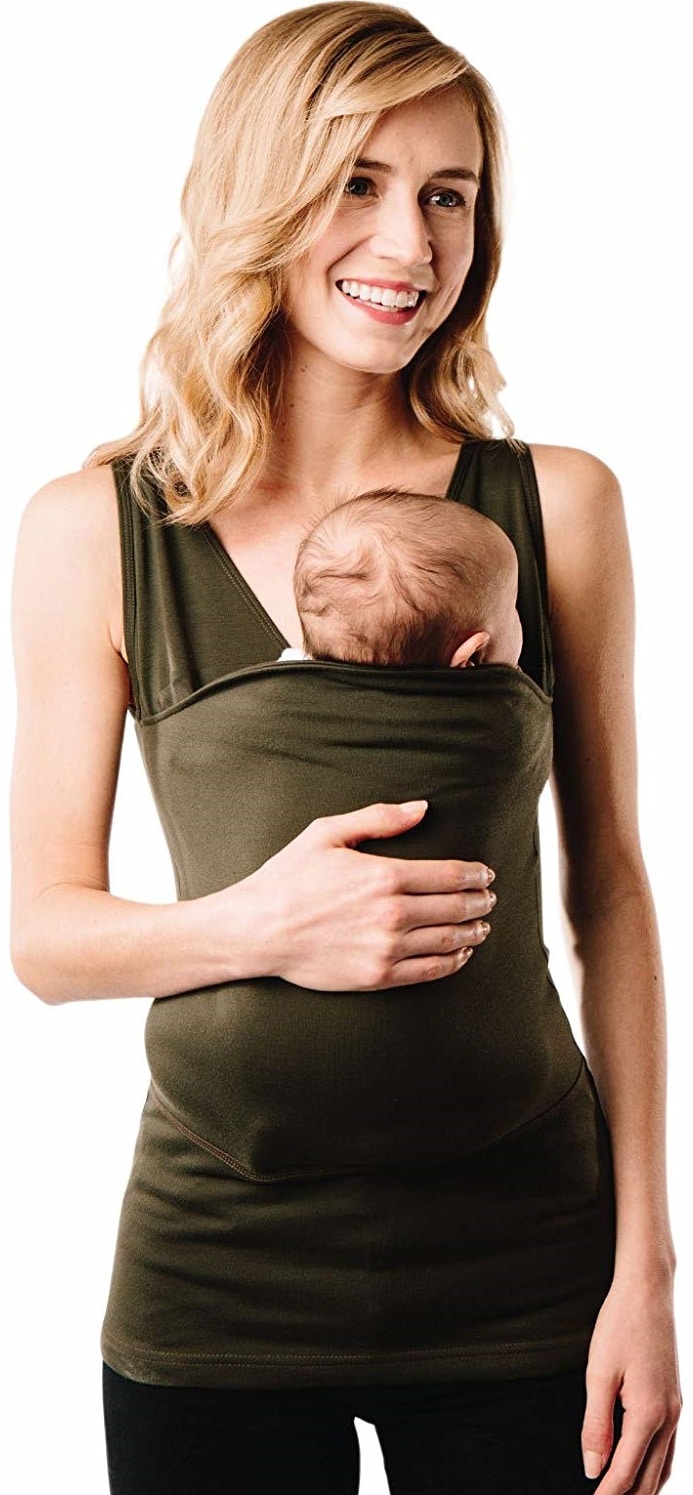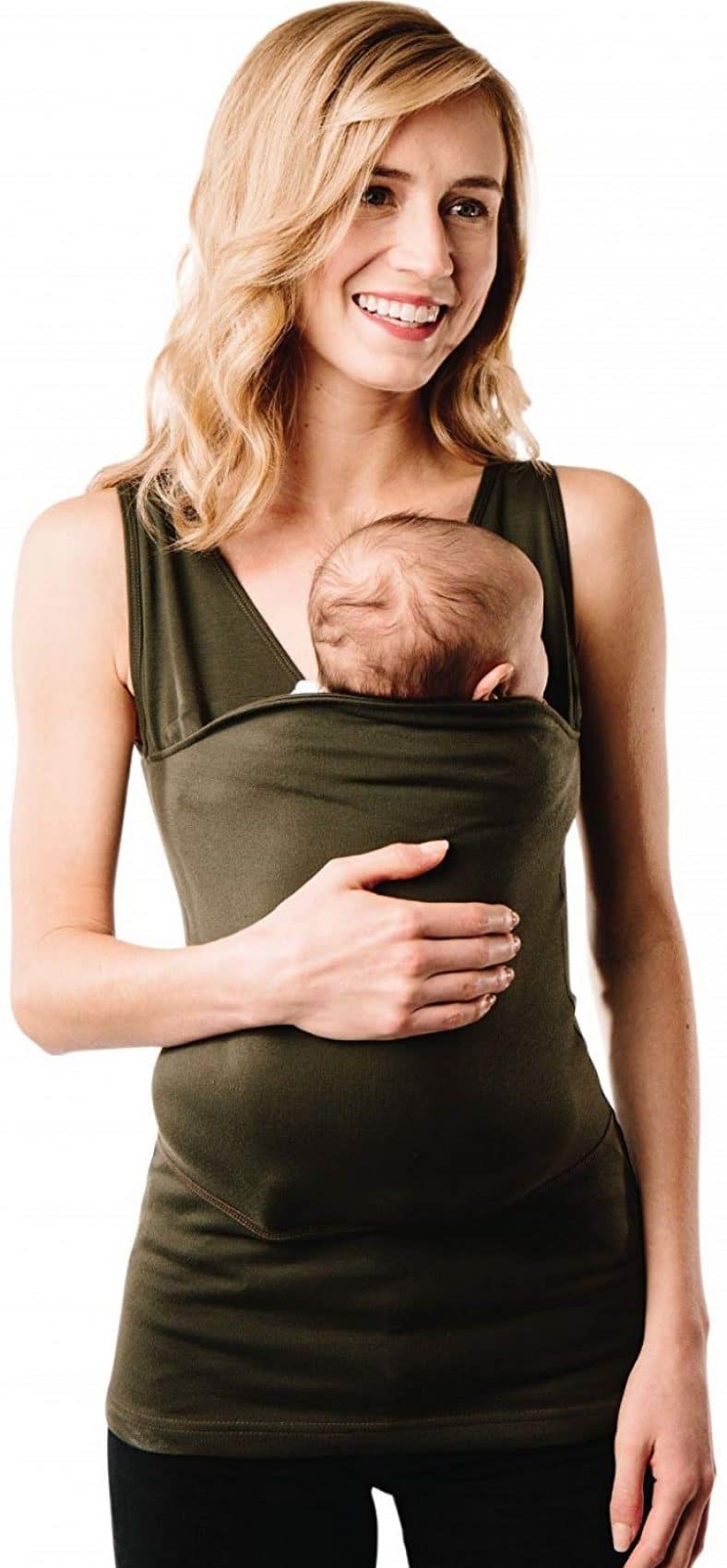 The Lalabu prepared the sooth shirt in the USA to carry the baby and used a fabric that is comprised of 55% Polyester, 42% Rayon, and 3% Spandex. It comes with a cozy pouch that gives the baby and the mother a secure and comfortable feeling. While the baby is sleeping, the head support flips up that hold the baby's head and put them back into the cozy pouch.
Moreover, these sooth shirts are the most stylish top for the mothers. You can wear it in any season without a sweat. The fabric of this shirt is trendy and having the breathable property that is easy to wear. You can easily do your task with this all layering shirt in spring, fall or in winters also. It also works as a nursing bra.
However, if you are looking for a shirt that will be comfortable for the nursing then these Lalabu shirts are a good option but you cannot perform any other task while wearing it with the baby because it is not the hand-free baby shirt. In the shirt, baby needs a support from downside otherwise baby will slip down so, there a hand required to Support the baby.
Check Pricing and Availability
PROS:
It has a cozy pouch that gives your baby cuddle feeling
The shirt fabric is too comfy to wear it in all season
It comes with two layers of fabric that are used as a nursing bra for mothers
The fabric of this shirt act as an adjustable head support
CONS:
This is not a hand-free choice because you have to support the baby from one hand
It didn't give the skin to skin interaction between mother and baby
2

Basic Black Baby Carrier by Nesting Days – Best for C-sections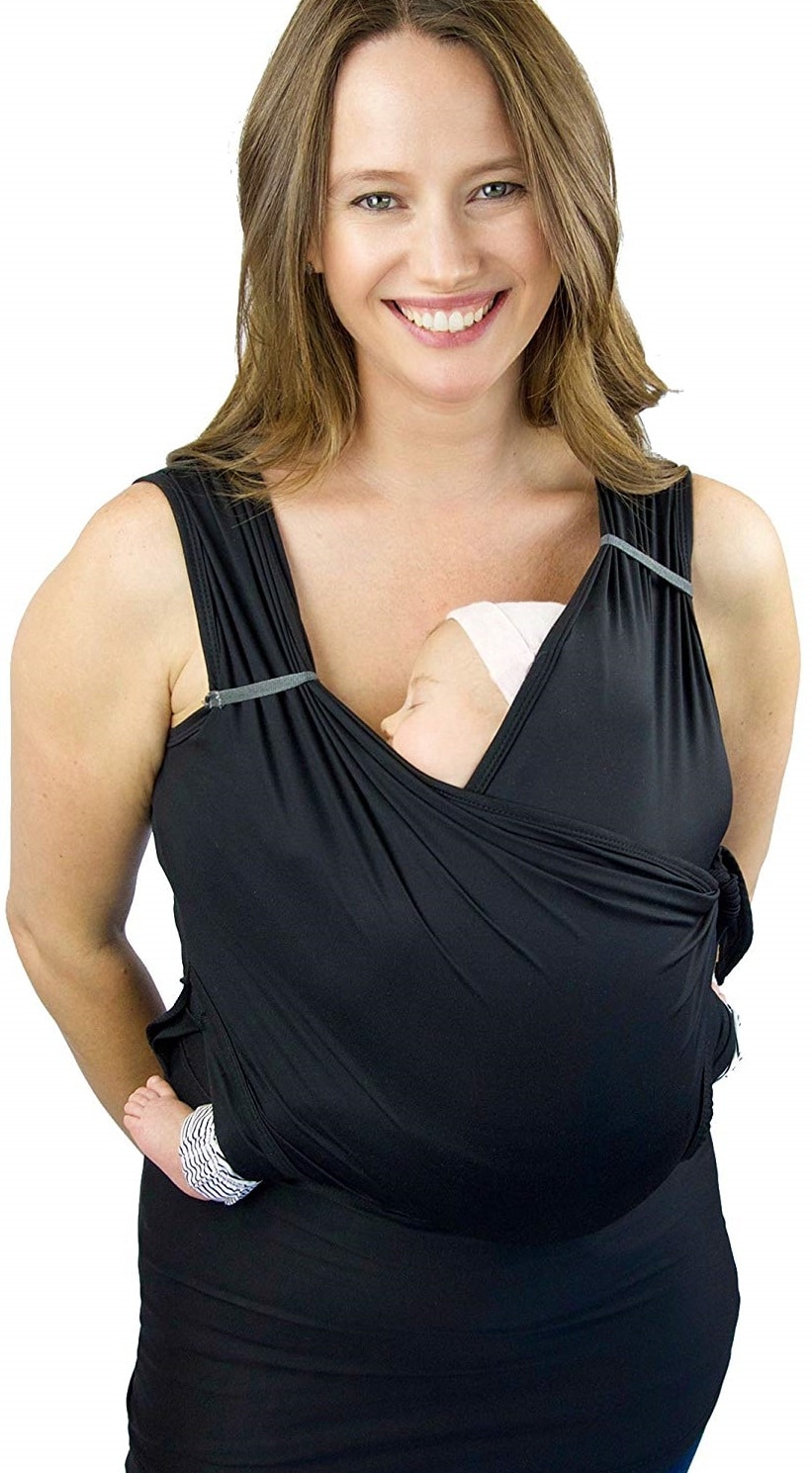 The Nesting Days made a basic black baby carrier that is essential to make the love connection strong between mother and baby. The best thing about this baby carrier that it is available in basic black color and this color is most trendy along with suits with everything. Those mothers who have c-section can also easily wear it with because it provides more support to you and your baby. You can wear it with the jeans, lagging, and any dress for enjoying your shopping along with your baby safely.
In addition, the company uses a piece of SENSIL fabric that is the type of nylon fabric. Because of its company's first preference that baby carrier shirt should be comfortable or love to touch the skin for the mom and baby both. It has characteristics that are 4-way stretchy compression and available in different sizes such as XSmall, Small, Medium, Large, and XLarge.
With all the advantages, there is one big drawback; a mom needs to cover with another piece of fabric especially in the winters. It is most stylish and available in trendy basic black make it more attractive but covering yourself with an extra layer of fabric is sometimes irritates.
Check Pricing and Availability
PROS:
The stretchy fabric is best for c-section mothers
The tubular design made it totally hands-free shirt
There is not any hassle to wrap a fabric around you because it is worn as a shirt.
It is available in different sizes
Skin sensitive mothers can also use it easily
CONS:
There is need a layer of other cloth in winters
It is great stylish but the cost of this shirt is high
3

Pocket skin-to-skin by NuRoo – Highly supportive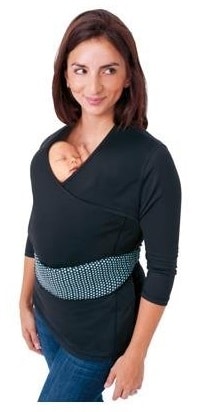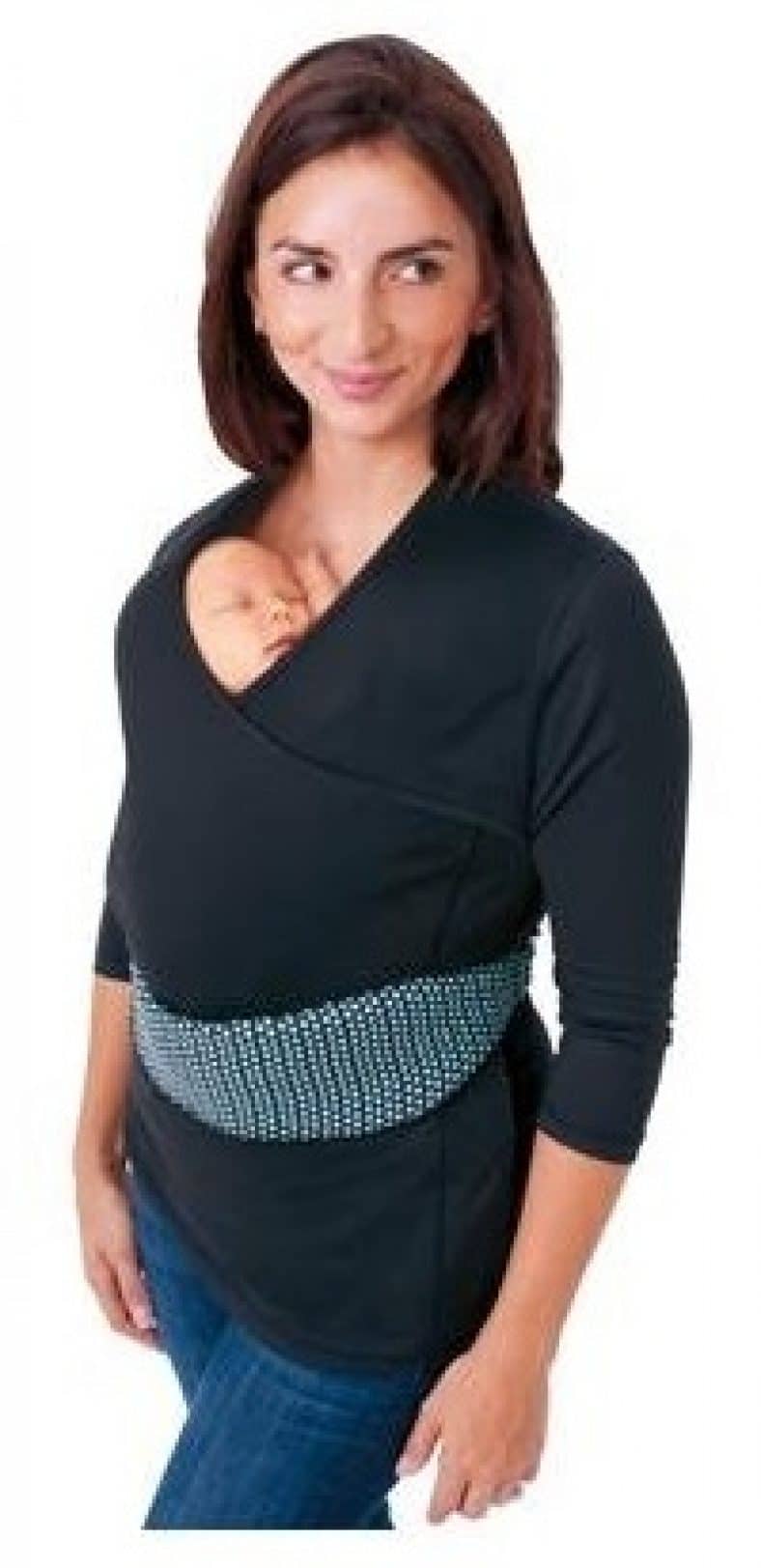 The NuRoo shirts come with crossover-style in short and having 3-quarter sleeves. Nevertheless, it has adequate space, structure, and density to keep the baby firmly seated next to your skin. As names imply, it contains a pocket, therefore, firstly you have to put the baby's legs in the interior pocket on the shirt panel from inside and wraps both sides around you and baby.
A padded belt with multi-layered wrapper provides the best support to the baby. You can easily go for doing grocery and shopping with your baby by wearing pocket skin-to-skin shirts. The NuRoo uses 90% Polyester and 10% Spandex for manufactured these shirts. This fabric is greatly soft, fully breathable, and moisture-wicking fabric.
However, some of you may find difficult to select the size for holding your baby with you. If you did not select the perfect size, then you feel that baby slip downs and that is not secure for both mom and baby. The babies who have 25lbs weight can feel comfortable but other babies did not feel cuddle.
Check Pricing and Availability
PROS:
The fabric of this shirt is extremely soft, highly breathable, and moisture wicking.
It comes with a supportive belt
This shirt is available in different sizes
It is an adjustable shirt, you can fit it according to your preferences
NuRoo shirts give mom and baby a heart-to-heart feeling
CONS:
Selecting the size of the shirt is a big problem
The weight limit of the baby is up to 25 lbs
4

Kangaroo Care by Vija Design – Most stylish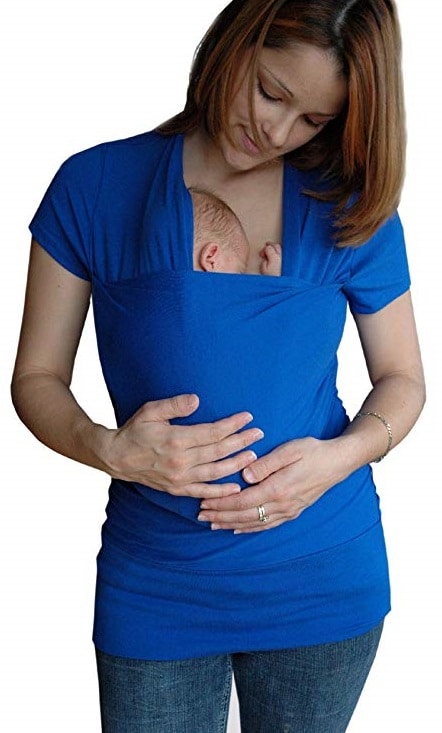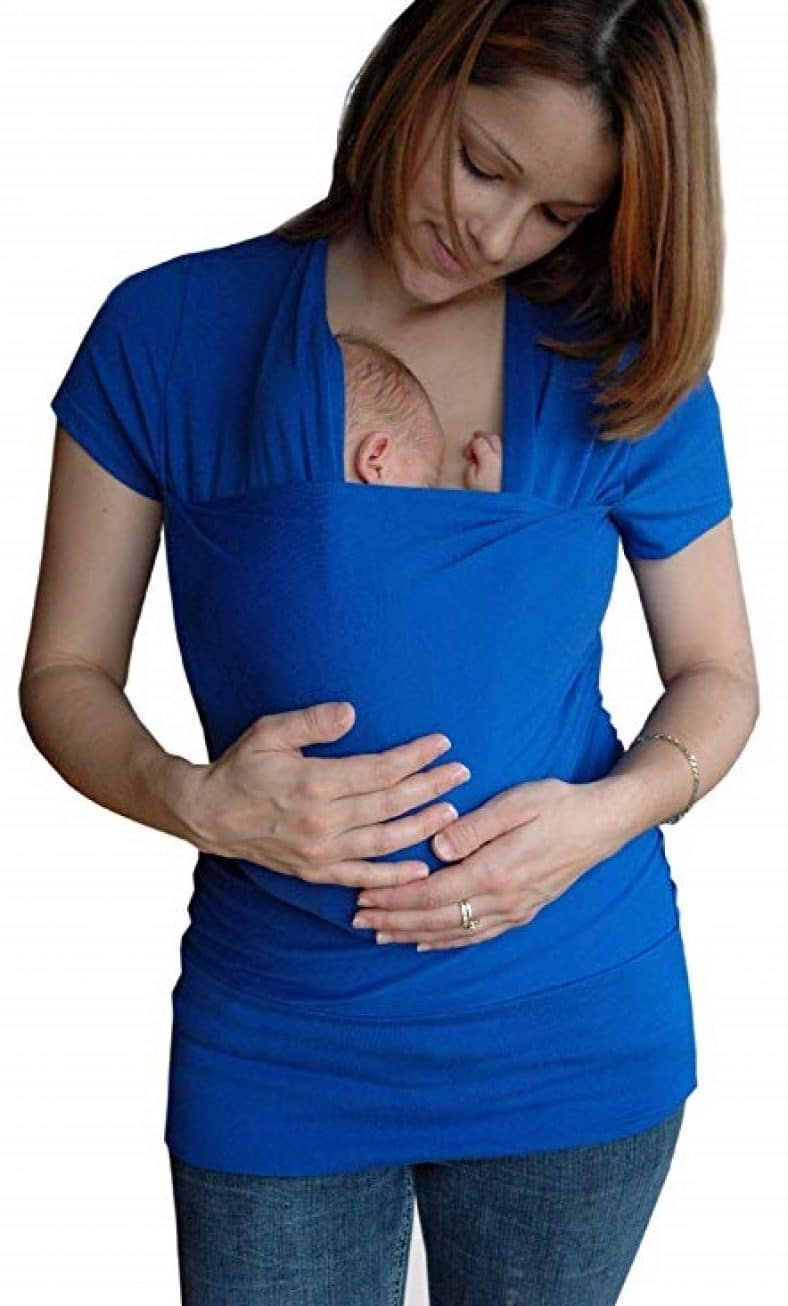 The most stylish Kangaroo care shirts by Vija is always looking trendy with and without a baby inside you. However, most other baby carrier top did not look great without the baby. These Kangaroo care shirts are available in short and long sleeves. You can choose according to your needs and preferences.
Inside the shirt, your baby will always feel the love and care towards him/her by skin-to-skin contact. You can also use this shirt later as a nursing top and comfortable to use in hot summers night. There are also plenty of attractive bridle tank/tops available by Vija.
To provide you your baby with a cozy and comfortable feeling, there is a need to opt a right-sized Kangaroo care shirt. This most stylish and trendy shirt should be comfortable because your hands will be free while keeping your baby inside your shirt so, you are able to prepare a meal, typing, and everything else you want.
Check Pricing and Availability
PROS:
Kangaroo care shirts offer long or short both sleeves
You hands will free while carrying a baby inside your shirt
You can easy nursing your baby under the shirt by lightly slipping your baby
It is available in different sizes, choose the right one
The more crying baby always feel cozy
CONS:
It is much difficult to select the perfect size that gives a cozy feeling to baby
5

The Bondaroo Kangaroo Care Shirt – Best kangaroo care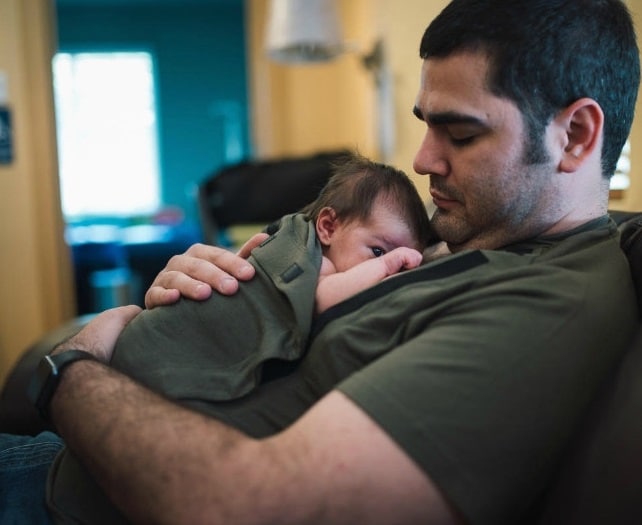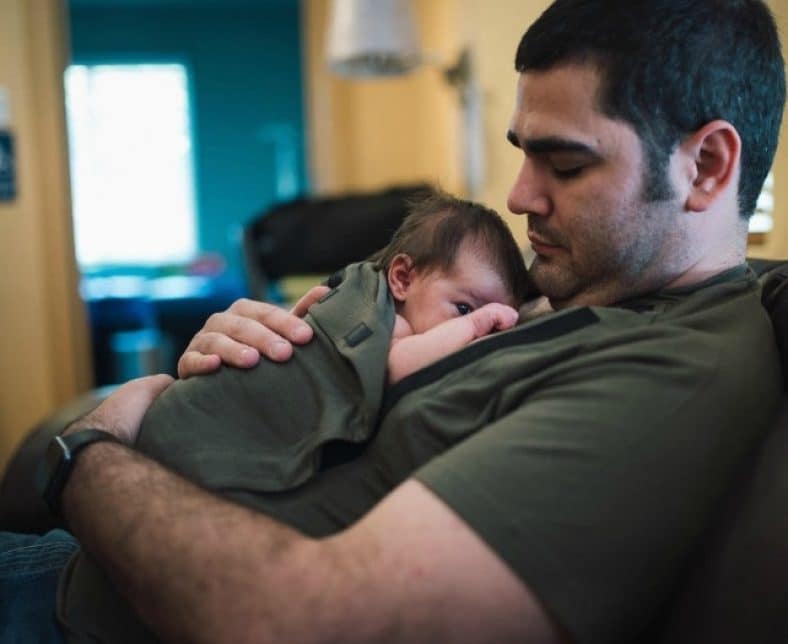 The Kangaroo care shirt by Bamboo Bondaroo is manufactured by using the 66% Bamboo, 5% Spandex, and blended jersey with 29% cotton. It provides skin-to-skin interaction between dad and baby. This shirt is an easy way to engage with their newborn baby.
Dads can enjoy plenty of benefits while wearing this shirt such as caring your baby, the bonding process starts, heart-to-heart interaction gives the calmer feeling, excellent support of emotion, and provide a comfortable sleep to your baby.
Additionally, these shirts are presented in different sizes such as Small, Medium, Large, XL, and XXL. Dad's can also access these in midnight blue and charcoal colors. It is easy to wear and carry your baby with you.
With all the benefits, there is a negative aspect that the fabric of this product is not much stretchy. The baby feels more pressure while he cannot move easily. Due to this reason, the reliability of the product also decreases. A fabric should be more calm and little stretchy so that baby feels cuddle and comfortable with their dad.
Check Pricing and Availability
PROS:
Shirts are comprised of cotton, Bamboo and Spandex
Kangaroo care shirts give cuddle feeling to baby
It is accessible in navy blue and charcoal colors
It keeps the strong relation between baby and dad
These shirts are available in multiple sizes
CONS:
The durability of these shirts are less
The baby didn't feel comfier as it is not much stretchy
6

Skin-To-Skin Shirt by Mommy Paradise – Highly breathable Top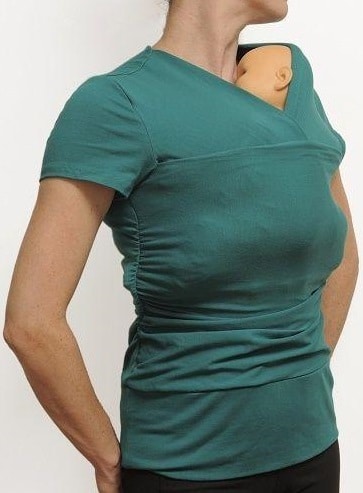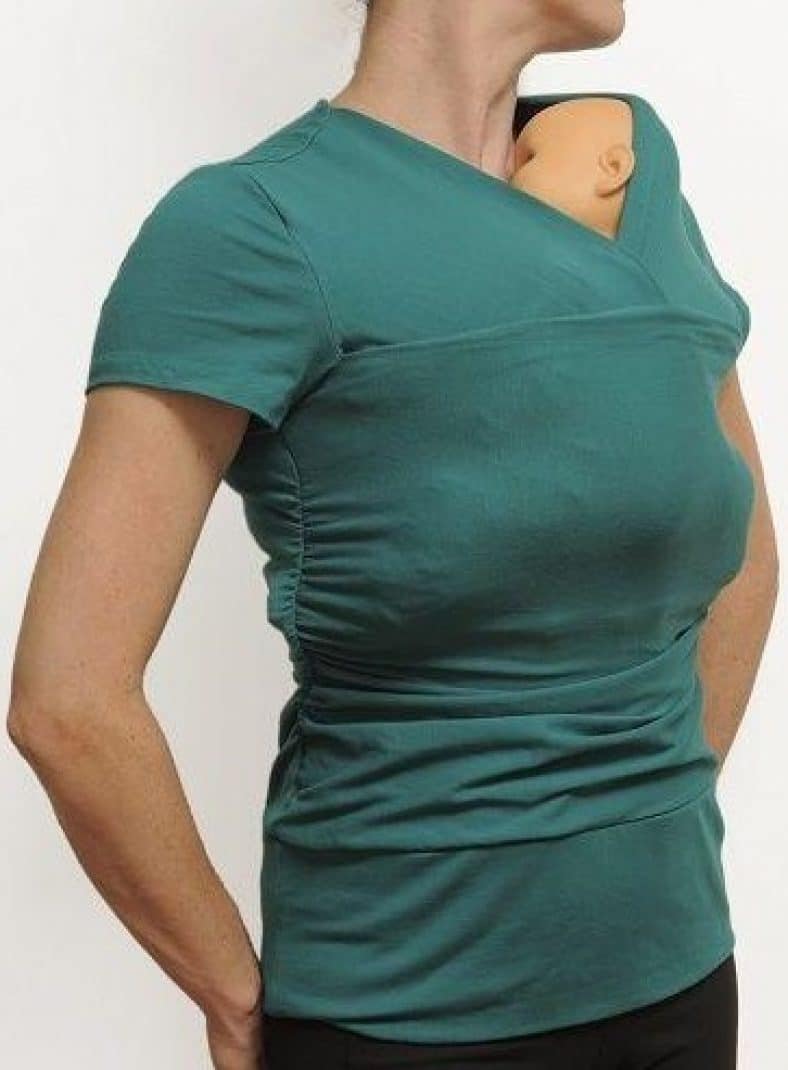 The Mommy Paradise made the skin-to-skin shirts that are comprised of the combination stretch cotton and spandex jersey to carry your baby. There is no need to wrap any fabric around you and your baby to give them cuddle feel, simple just wear this shirt and provide your baby skin-to-skin feeling.
This stretchy fabric increases its durability and reliability where your baby also feels safe and secure. The skin-to-skin shirts are supportive because it is equipped with 3-strips of fabric that helps to support baby's back and bum.
Moreover, easy breastfeeding is also a big aspect to take benefit. The shirt allows the mothers to easy, discrete, and quick breastfeeding. Therefore, mothers can use it during their nursing period with no trouble. However, it is slightly expensive and not a long lasting shirt either.
Check Pricing and Availability
PROS:
The high-quality fabric increases the breathability
It is ideally is used as a nursing top
This shirt is easy to wear without a tie up any knot
The stretchy fabric helps to slip you a baby little bit
Mom can easily feed their baby while wearing a shirt
CONS:
It is not usable for a longer time due to boost the baby weight fast
7

Men's Skin-to-Skin Bonding Shirt by DadWare – Best baby carrier for dads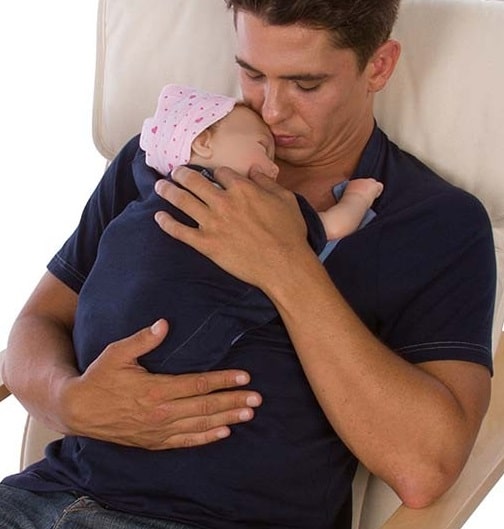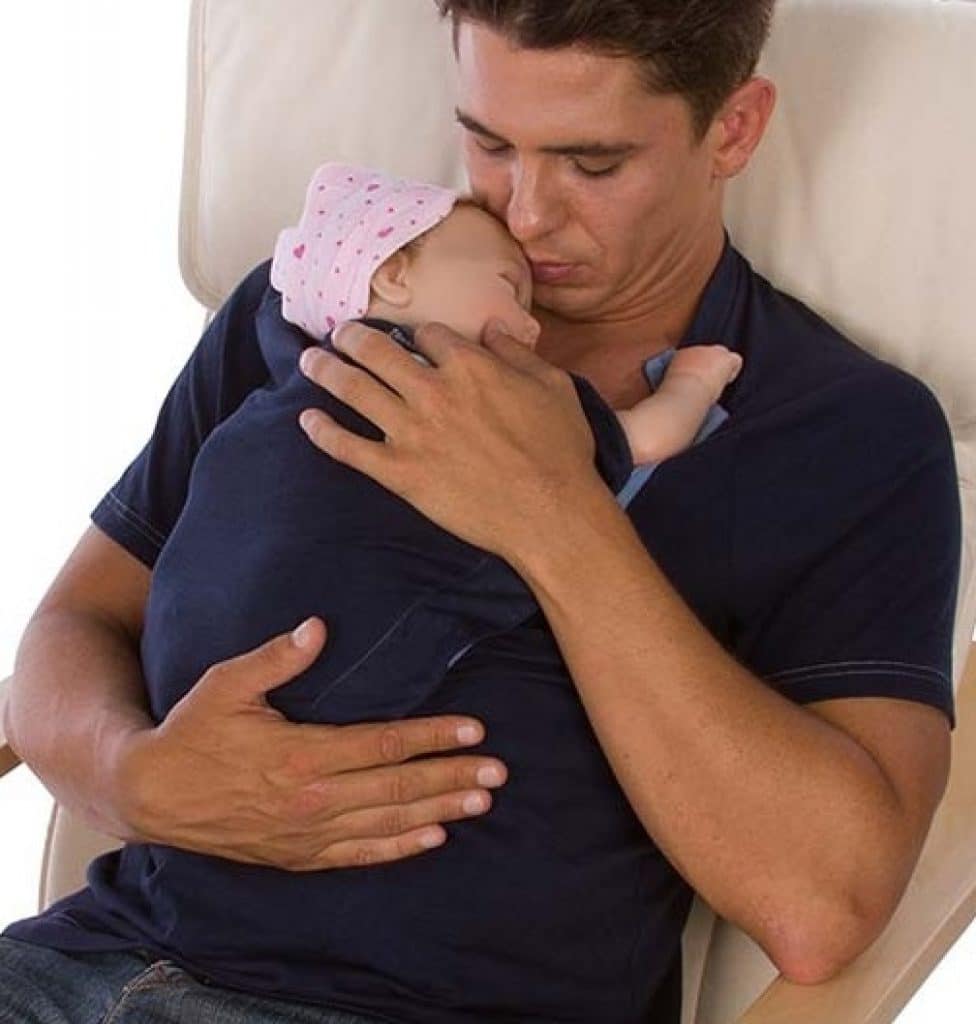 These shirts are manufactured by using the fabric blend of cotton and spandex. It boosts active bonding between the dad and the baby. It is a high-quality shirt that is built to last and won't lose shape over time. The best part of this shirt is that it doesn't look different than a regular shirt and you can comfortably wear it all day long because it is extremely light. This shirt can easily carry those babies who weigh from 7 to 18 pounds lbs.
You can opt from four different sizes including small, medium, large, and X-large. This skin-to-skin shirt steadies the heart rate. Moreover, it also stabilizes crying and breathing patterns of your cutie pie. These shirts are high quality and highly reliable. The Babywearing shirt with the innovative design from the DadWare increases affection of dads with their newborn babies.
However, the Velcro of this shirt can be a bit rash for the baby. Furthermore, you have to hold your little one with both hands. This is not the best option for new dads. Another disadvantage of this shirt is that it is not very breathable.
Check Pricing and Availability
PROS:
It is available in multiple sizes like small, medium, large and X-large
There is no harmful chemical is used in the construction of these shirts
The babies those have 7 to 18 pounds are easily carried
The fabric is soft and has compression traits
It provides dads a trendy way to bond with their baby, that's why it's the best babywearing shirt for dad
CONS:
The fabric of these shirts are not very breathable
You still have to hold your baby with both hands.
The Velcro on the front of the shirt might be a bit rash for the baby.
8

Babywearing T-shirt For Dad by Vija – Best hypoallergenic option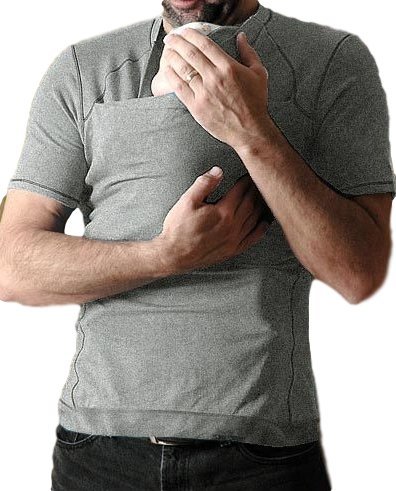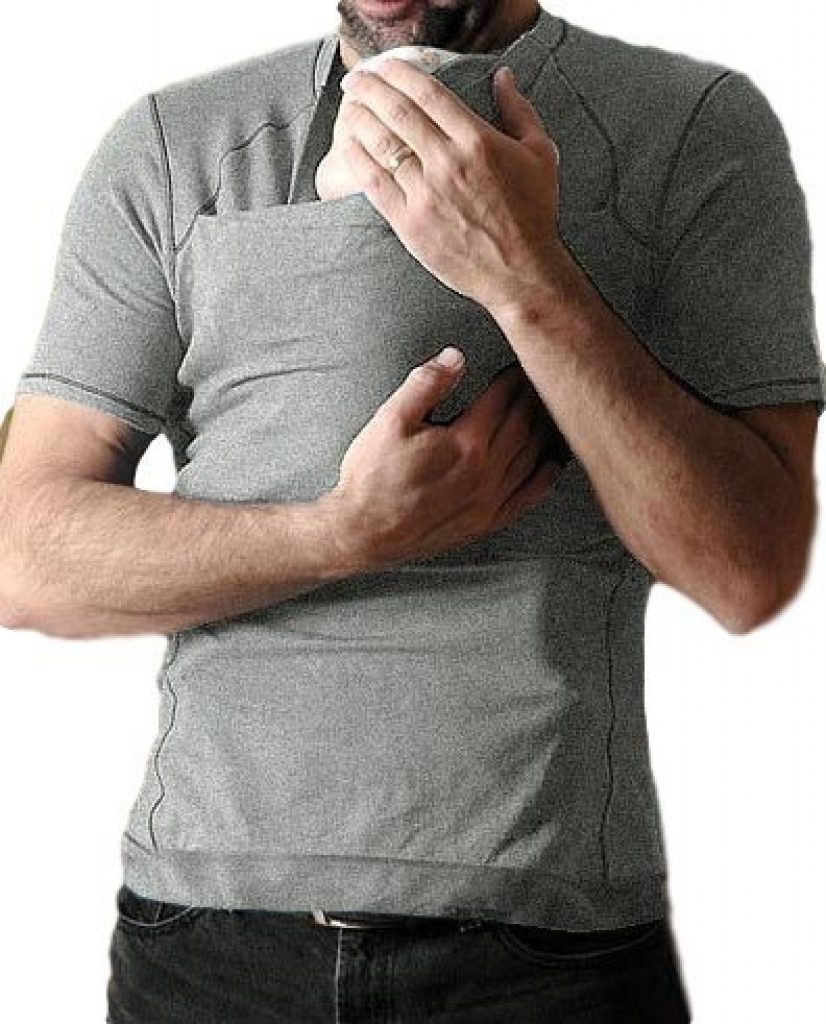 The Vija designed baby wearing T-shirt especially for dad is the best option available on the market if you are looking for hypoallergenic properties. It is manufactured by using the 94% cotton and 6% jersey fabric that gives more cuddle feeling to the baby.
This baby-wearing shirt is easy to use that warm you baby as well as it allows the dad to do their work because it is designed as a hands-free carrying shirt. The babies whose have 15 lbs weight are easily fitted in this shirt that creates a strong connection between baby and dad.
One of the biggest issues with this product is that you might think that it is slightly expensive especially if you compare it with its competitors. The fabric is also not used in all seasons, in the winters you need to cover yourself by another piece of fabric.
Check Pricing and Availability
PROS:
Dads can create a skin to skin contact with a baby who has up to 15 pounds
It is easy to wear to create more mobility that gives more benefits
There is a supportive band that avoid the baby to slip down
It is specially designed to support the head of the baby
It is available in different sizes and in two colors
CONS:
The fabric of this shirt is not highly breathable
9

Dad Shirt by Lalabu – Best ergonomic design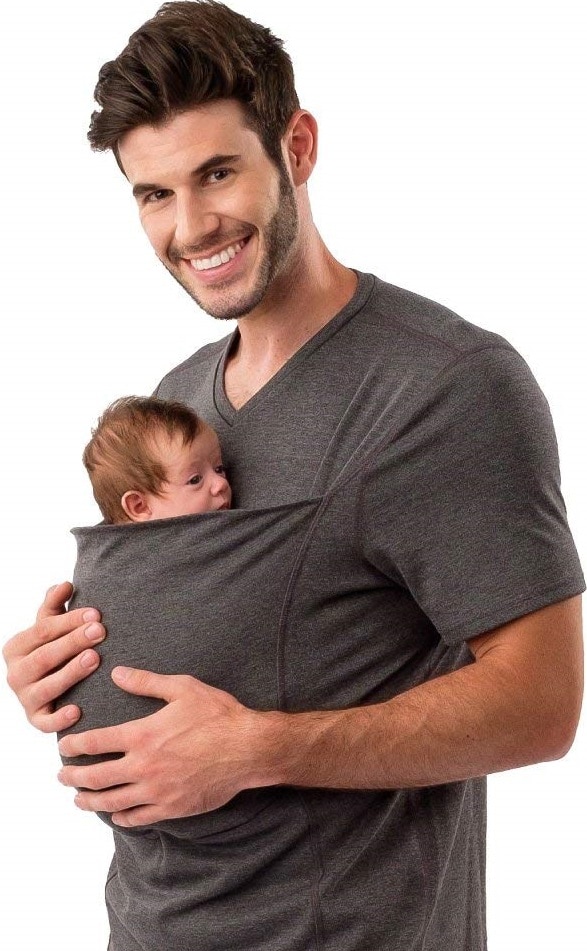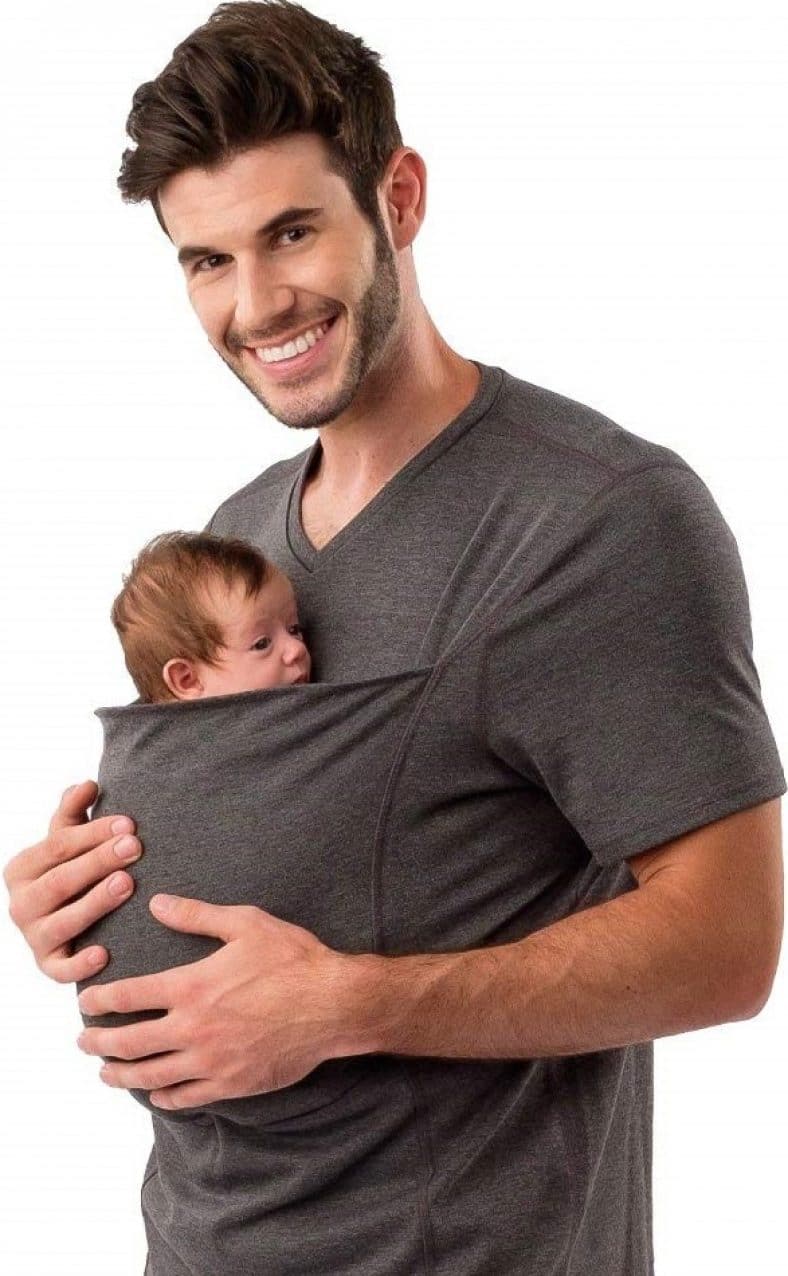 The Lalabu also designed a dad shirt where the dad wears his baby to give him a comfortable and secure feeling. It is comprised of the combination of multiple fabrics such as Polyester, Rayon, and blended Spandex. It can be easily accessible in multiple colors and sizes including small, medium, large, X-Large, and 2X-Large, as well as the shirt, comes with the v-neck sporty shirt.
This is the best ergonomically designed option for the dads and it is easy to wear because there is no need to wrap any fabric around you and your baby. The shirt's pouch gives the best support to the babies who are having between 7 and 15 lbs. the upright facing towards the dad gives more secure and hug like feeling to both baby and dad.
With all these positives such as ergonomic design and highly breathable fabric, there is a negative aspect of this product as well. The length of v-neck shirts is short as well as the elastic strap back inside the shirt didn't give a dad and a baby comfortable feeling.
Check Pricing and Availability
PROS:
The pouch for carrying baby easy to use that gives soothe and calm your baby
The shirts are accessible in V-Neck design that is more comfortable
It provides extremely good support to your baby due to the high-quality fabric
The fabric of the shirt is highly breathable that prevent you and your baby from overheating
It is available in multiple sizes such as small, medium, large, X-Large, and 2X-Large
CONS:
There is not enough length for dad's
The elastic strap inside the shirt is not comfortable
10

Short Sleeve Pocket – Best for moisture wicking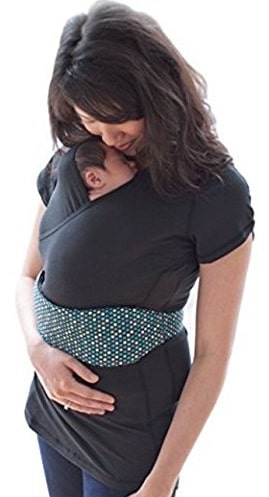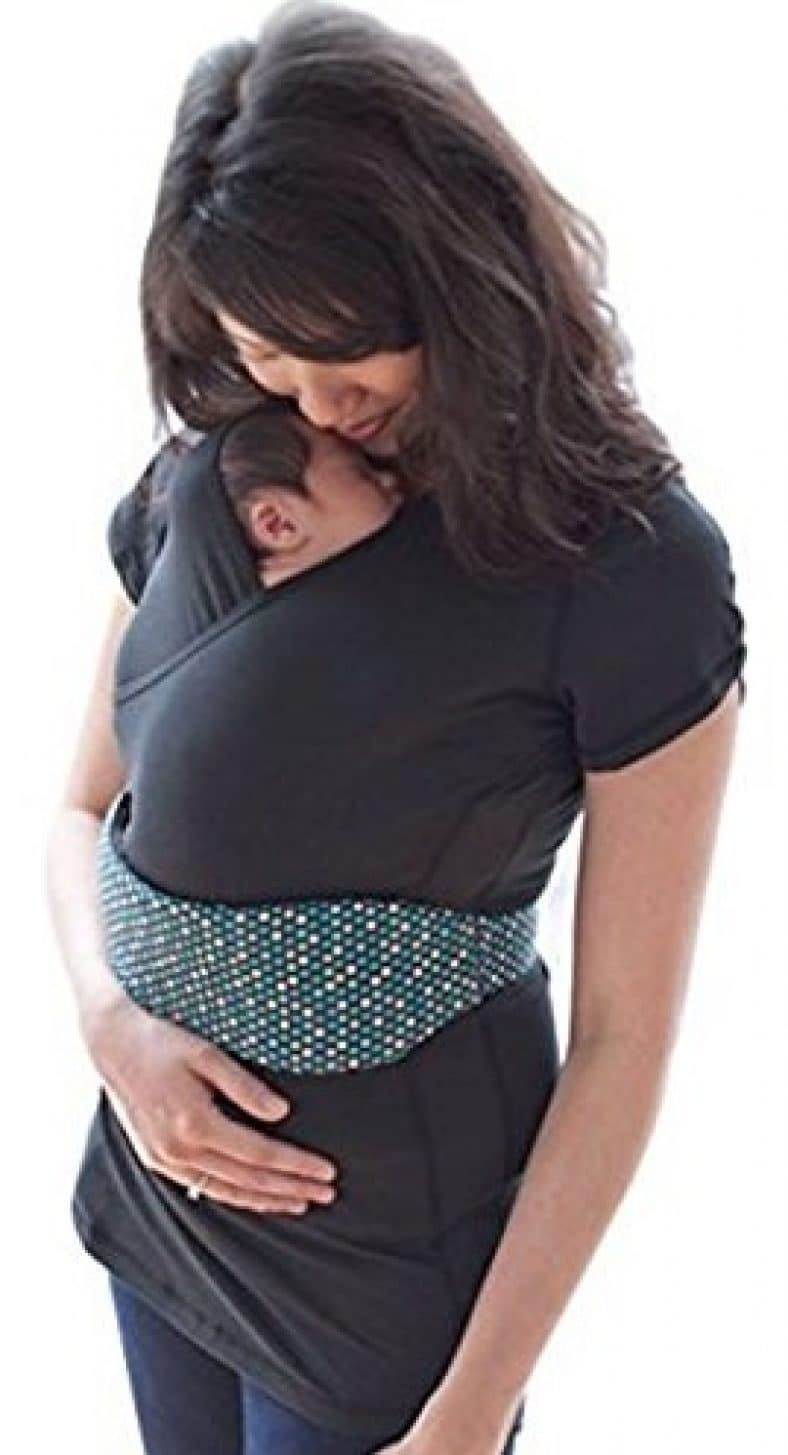 The NuRoo Company designed a short sleeve pocket shirt that is more close to mom and bests for the newborn babies. This is prepared by using soft, premium, and high-quality fabric that gives you and your baby calm feeling because the baby's skin is very sensitive and delicate.
The signature fabric is designed to make a compression fit that gives your baby a womb-like feeling that supports your baby. By this compression-fit baby always feels safe and secure. This stretchy fabric is highly breathable that can be worn in any season spring, summer, and even winters. The moisture-wicking traits give both of you a cool and dry feeling while wearing a shirt.
With all the advantages, the supported belt is a big disadvantage of this short sleeve pocket shirt. This belt is not a comfortable fitting. Sometimes the sizes of the shirt will also disturb your comfort because if the size is not perfect for your baby will not feel more comfortable.
Check Pricing and Availability
PROS:
This shirt has compliment short sleeve that gives a stylish look
It comes with a supportive belt that helps to support you and your baby
The premium fabric increase the ventilation
These shirts are presented in different sizes and their measurements
This is designed to totally free your both hands that allows you to work while carrying your baby
CONS:
The belt of this shirt does not feel comfortable as our preferences
The sizes of the shirt are not perfectly described
Conclusion
The winner of this roundup of best babywearing shirts turns out to be the Soothe Shirt from Lalabu. The fabric of this shirt involves a blend of rayon, spandex, and polyester. The shirt features a very cozy pouch and adequate head support along with a nursing bra and the shirt won't let you down when it comes to style as well. The machine washable shirt is very comfortable to wear and is highly breathable.
We hope that you have found this post interesting and informative in case of any suggestions or questions you can leave a comment below in the given sections and we will get back to you.
Happy Mothering!