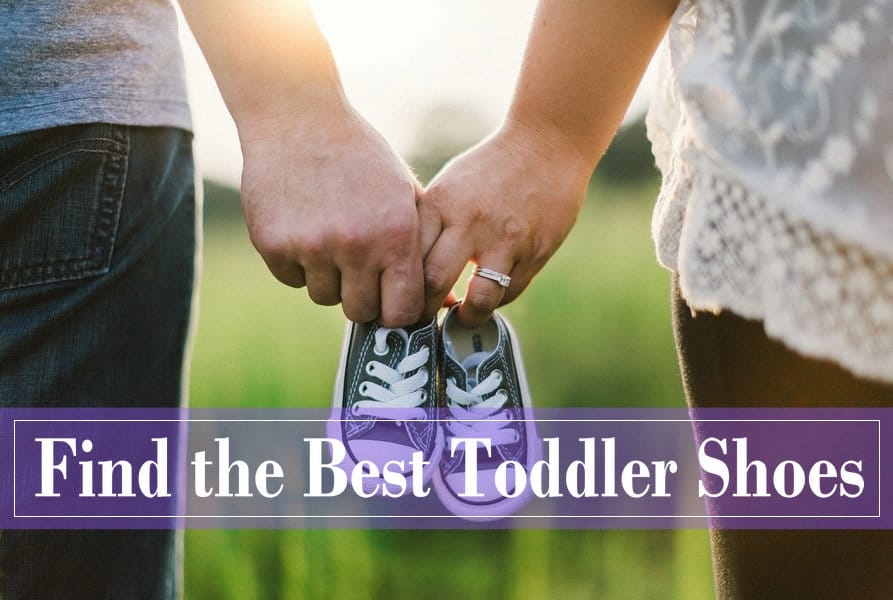 Is your baby starting to toddle? Or is your toddler already all over the place? If so, you definitely need to find the best toddler shoes for your little one!
Once they can walk, there is no stopping them! This is when shoes become important and you don't want just any shoes for your toddler.
I've been through a lot of shoes with my now 3-year-old and even my 17-month-old. I can tell you for sure that just like with adult shoes, not all toddler shoes are the same.
---
There is a huge difference in quality, durability, comfort, and even safety with different toddler shoes. To help you know exactly what to consider and how to choose the right toddler shoes for your little one, check out our quick toddler shoes buying guide below!

Like I already mentioned, there are a lot of different things you want to look for when you are choosing shoes for your toddler. It can be tempting to just buy the first cheap or cute pair of toddler shoes you find, but you'll be kicking yourself for it later when they don't even last your toddler until they're in the next size – or worse hurt your toddler's feet. To help you avoid this, we have put together some great things to consider before choosing shoes for your toddler below!
---
Factors to Consider when Choosing the Best Toddler Shoes
Check out some of the considerations below to help you make the best decision – don't worry, there are plenty of GOOD toddler shoe options that are both affordable and adorable!
One of the most important things that you need to consider when choosing the best shoes for your toddler is durability. This is especially important when it comes to toddler shoes because they are so rough on their things and constantly on-the-go. Look at the materials that the shoes are made of to start with. Choosing a popular brand is a great way to help ensure you get good quality shoes that are more likely to be durable. There is a reason that other parents are consistently buying from some of the more popular toddler shoe brands.
The best way to know the truth about the durability of toddler shoes is to ask other parents about their experience. This can also mean reading reviews of the toddler shoes, which is one of the biggest things we focus on when choosing shoes for our kiddos as well as our recommendations for others.
You certainly want your little one to be comfortable in their shoes! Comfort is right up there with durability in importance. You don't want your little one to be too focused on their uncomfortable shoes to affectively play or focus on whatever they are doing. You especially don't want their shoes to actual hurt their feet.
Look for the comfort features in each pair of shoes you consider. Flexibility plays a huge role in comfort as well as proper development – so look for shoes with thinner, flexible soles in most cases. Things like breathability, adjustability, and padding all also help a ton with your toddler's comfort!
Practicality is also very important when it comes to toddler shoes. Choosing the best toddler shoes means choosing an option that is easy to use and does its job of protecting your little one's feet well. Practical features include things like being easy to clean and easy to put on. Hook and loop or slip-on shoes are preferable for ease of use and to save time.
Finally, style is obviously important too! Other factors like comfort and practicality tend to take precedence over style, but there is no reason you can't have it all! Choosing a versatile style that goes with many looks and all different outfits is going to be your best bet to get the best use out of your toddler shoes without sacrificing style.
Think about how often your child will be using a particular pair of toddler shoes to help you decide how important style might be compared to other options. For example, it can be okay for dress shoes to be more stylish and less durable since they will be getting less use anyways.
---
Top 8 Toddler Shoes for boys and girls
To help save you time – because trust me, we all know how hard it is to find free time with a toddler running around – we have created this helpful list of the best eight toddler shoes options of 2018! We were careful to include a variety of different toddler shoes, so I believe you can find exactly what you need right here on our guide of the top toddler shoes! The best part is that we carefully considered all of the factors we went over above to make sure these are all high-quality toddler shoes options with great overall value!
1

Saucony Jazz Sneakers – Best Overall Toddler Shoes
Features:
Classic style
Hook and loop closure
Rubber outsole
Triangle-shaped tread
Toddler sizes 4-10
Available in half sizes
Available in wide sizes
Available in a variety of color combinations
Saucony is a popular brand of high-quality shoes for all genders and ages. They make amazingly stylish shoes that are strong and durable! Every pair of shoes that Saucony makes is carefully and cleverly designed with durability, performance, and style in mind. So, it's no wonder that these super cute Saucony Jazz Sneakers are the best overall toddler shoes!
There is a lot to love about the function of these toddler shoes, but what I really can't get over is this amazing classic style on such tiny little feet! It's hard to find anything cuter than this. Something cool that I really love about the Saucony Jazz Sneakers is that you can actually purchase some awesome Saucony Jazz Sneakers for yourself because they make them in adult sizes too! So, you can match your little one with style and comfort all your own!
The hook and loop closure is an extremely important feature that really increases the value of these great toddler shoes. This simple feature allows the shoes to retain some adjustability while still being incredibly simple to put on.
The best part is that your toddler can even learn to put these on all by themselves because of how easy they are. Good luck with them getting them on the right feet, though. My 3-year-old has been putting his own shoes on for about a year now and still gets them mixed up more often than not!
Rubber Outsole:
A favorite feature of the best overall toddler shoes is the impressively well-designed rubber outsole. The outsoles of these are nice and strong without becoming too rigid. In other words, they do a fantastic job at protecting your toddler's feet and staying durable while also retaining some flexibility for comfort and good foot health for your toddler.
This is especially important considering how fast they are developing at their age! Another nice feature of the rubber outsole is the triangle-shaped tread. This makes a huge difference in the grip. Increased grip means better performance and less frequent falls!
While the best overall toddler shoes aren't quite the most expensive toddler shoes on our best toddler shoe 2018 list, they are definitely up there. While they are incredibly high-quality and very durable, they are fairly pricey and might not work well for everyone.
PROS:
Super stylish and classic look is adorable on little feet and goes with everything
Available in toddler sizes 4-10 including half sizes and wide sizes for a customized fit perfect for any toddler
Tons of different color combinations make these great toddler shoes for boys or girls
Rubber outsole with triangular tread increases safety, performance, and durability
Hook and loop closure makes these easy to use and adjust for you and your toddler
CONS:
One of the more expensive toddler shoes options
Overall, there is no doubt that these Saucony toddler shoes are well-worth your consideration. They come in a wonderful variety of sizes and colors. Plus, they are super easy to use and adjust. They are high-quality, durable, well-designed toddler shoes that you and your toddler are almost guaranteed to love!
2

Converse All Star Sneakers – Best Toddler Sneakers
Features:
Lightweight canvas material
Rubber soles
Lace-up
Low-top
Multiple color options
Toddler sizes 4-10
Check Pricing and Availability

Another amazingly classic shoe design that is guaranteed to be recognized and loved by almost everyone your toddler comes across is that of the best toddler sneakers! These are none other than the famous Converse All Star Sneakers.

These Converse All Star Sneakers in particular are the low-top Converse for toddlers. This helped them earn the title of best toddler sneakers since the high-top Converse can be much more difficult and time-consuming to get onto little feet. The classic style is still unbeatable, though! You can choose these in the classic black and white or choose from multiple other colors like pink, navy, red, all black, and more!

Something a little more unique about these toddler Converse among the other choices is the fact that these are genuine lace-up toddler shoes. Most of our choices are either slip-on or hook and loop closure. This is about the convenience factor because most toddlers aren't able to tie their own shoes.

This is really both a pro and a con. They definitely take up more time and can be less convenient in many cases. However, they are also a great teaching tool. As your toddler watches you tie their shoes each time, they will start to learn how it's done. Then when you are ready to teach them, they are much more likely to catch on faster than if they had just the slip-on or hook and loop closure shoes before. Plus, they add to that adorable classic Converse look.

Canvas Toddler Shoes:

One really incredibly beneficial feature of these is the canvas material! These toddler sneakers are made with a lightweight canvas that doesn't just add to the style of these awesome toddler shoes, but also really helps to increase your toddler's comfort.

The canvas is lightweight, so it won't weigh your toddler's feet down as much. Plus, it is super breathable! So, your toddler's feet won't get as hot in the best toddler sneakers as they would in many other toddler sneaker options. This can be an especially great choice when you want a more protective shoe but live in a hot climate.

PROS:
The best toddler sneakers have the classic Converse design that everyone knows and loves
The real laces on the best toddler sneakers can be a great educational tool for your toddler
Lightweight canvas material provides increased comfort and breathability for your toddler's feet
Multiple color options make it much easier to find the perfect pair of the best toddler sneakers for your child
CONS:
Lace-up toddler shoes can be inconvenient and time-consuming
The best toddler sneakers are, honestly, my personal favorite toddler shoes. I have always loved Converse brand everything. These are SO cute on my son's little feet and I love being able to match him! The fact that they are so popular, very high-quality, and extremely comfortable made them a very easy pick for our toddler shoes guide!
3

Nike Sandals – Best Toddler Sandals
Features:
Hook and loop closures
Highly adjustable
Fast-drying synthetic material
Flexible soles
Toddler sizes 4-10
Multiple color options
Here is another example of toddler shoes that we own personally and I can honestly say that I strongly recommend these to any parent that wants a super convenient and comfortable toddler shoe option for their child! These are Nike Sandals for toddlers and are absolutely the best toddler sandals out there! In fact, we own quite a few pairs of toddler sandals from all different brands and these are seriously the only ones that get used.
The best toddler sandals are extremely durable, comfortable, and practical. They also happen to be super cute. The super strong, yet highly flexible soles are one of the coolest things about these incredible toddler shoes.
They are specially designed to allow your toddler the sensory experience of the outdoors beneath their feet while also keeping them safe, protected, and supported. The fast-drying synthetic material also increases comfort for your toddler, especially in very hot weather or moist environments. The durability and practicality of the best toddler sandals is unbeatable!
Highly Adjustable:
What I really adore about the best toddler sandals is how adjustable they are. The best toddler sandals have hook and loop closures in two places – on the back behind the foot and the front above the foot.
The hook and loop closures allow you to get the absolute perfect, customized fit for your toddler every time they wear them. This really increases comfort and safety for your toddler. Plus, it allows you to maximize use since these will definitely fit your toddler longer than most toddler shoes.
Unfortunately, the best toddler sandals do happen to be the most expensive option that we reviewed. While it is a good bit of money to drop on some toddler shoes, I can honestly say that I really believe these are completely worth the purchase and we will continue to buy them as my son outgrows his. They really are just that high-quality and well-designed.
My son's first pair of the best toddler sandals were worn daily for many months and now my daughter is actually wearing them. I think they are going to make it to our 3rd baby no problem considering that they still have almost no signs of wear and tear. Seriously, these are probably the most durable toddler shoes I've ever actually used. Even the hook and loop closures still work like they're brand-new.
Extremely high-quality, durable toddler shoes that will easily last through multiple children
PROS:
Super comfortable design moulds to the shape of your child's foot
Multiple hook and loop adjustments allow your child to get a highly customized and superiorly comfortable fit every time they wear the best toddler sandals
Flexible sole encourages healthy foot development and allows better sensory experiences for your toddler
CONS:
Most expensive toddler shoe option on the best toddler shoe 2018 list
The Nike Sandals for toddlers are hands-down the best toddler sandals out there. They are extremely well-designed with high-quality, durable materials. They are certainly pricier than most options on our list, but are absolutely worth the cost if you can work them into your budget.
4

Stride Rite Made 2 Play Sneakers – Best Toddler Boy Shoes
Features:
Hook and loop closure
Anti-microbial mesh lining
Washable materials
EVA outsole
Rubber tread
Multiple color options
Toddler sizes 4-10
Available in half sizes
Available in wide sizes
Since most parents out there are specifically looking for the best shoes for either a boy or for a girl, we decided to put the research in and find some amazing toddler shoes to perfectly match those descriptions. Here we have the best toddler boy shoes! These are the Made 2 Play Sneakers from the marvelous brand Stride Rite!
Little boys are known for being rambunctiously playful and energetic. They are rough on their things and that especially includes their shoes. That is exactly why these Made 2 Play Sneakers are the perfect option for the best toddler boy shoes! They are super durable and made with safety and comfort in mind. That way your wild little boy can focus on play and not what's on his feet!
The highly flexible, but very strong EVA outsole makes a huge difference in the flexibility of these shoes. It also, of course, does a wonderful job at protecting his busy little feet. Plus, the outsoles also feature rubber traction for increased performance and safety, which you can never get enough of with little boys!
The only thing that you probably won't love about these is that they are a little more difficult to actually get on your toddler's feet. They have a hook and loop closure, but they also feature elastic on the front of the shoe in replacement of shoe laces.
This helps you get a good fit and the shoes to stay on well, but it also makes it a little harder to affectively open up the shoes to easily slide feet in. It will take your toddler longer to be able to put these on himself compared some other shoes.
Easy-to-Clean:
Little boys are also known for being very dirty creatures and I think we moms of boys can all attest to that! Stride Rite thought ahead and made the best toddler boy shoes out of washable materials. That way they are super easy to clean up – which is great because they will definitely need it!
An even cooler bonus about these shoes is that they have super comfortable and very breathable mesh linings. This really increases the comfort of the shoes for your toddler boy. That's not all though! The mesh linings are actually made to be anti-microbial, which means a whole lot less worry about bacteria and odor! That's great because smelly shoes are definitely a big concern with little boys.
One quick thing that I wanted to point out was that while we love these awesome shoes for little boys and chose them as the best toddler boy shoes, they are not strictly made for little boys. There are definitely lots of great boyish color choices, but they do have some color combos available that you'll love for your daughter too if you prefer these over our pick for the best girl toddler shoes.
PROS:
Available in a wide range of toddler sizes including wide sizes and half sizes for a superior customized fit
Hook and loop closure paired with elastic on the front of the shoes help them to retain a secure and comfortable fit once on
Washable materials and anti-microbial mesh linings are perfect for little boys that like to get sweaty and dirty
EVA outsole with rubber tread is very durable, yet retains flexibility for comfort and healthy development
CONS:
Elastic on the front of the shoe can make it a little more difficult to actually put the best toddler boy shoes on
If you have an energetic toddler boy on your hands that loves to run and play in the dirt, the best toddler boy shoes are definitely a great option for you. Of course, they can work for girls too if you prefer! Either way, these are some wonderful high-quality toddler shoes that aren't too bad on your wallet either.
5

PUMA ST Runner Sneakers – Best Toddler Girl Shoes
Features:
Padded tongue
Padded collar
Hook and loop closure
Lots of color options
Thick rubber outsole
Fabric lining
Toddler sizes 4-10
We didn't want to just include our favorite for the best toddler boy shoes because girls definitely need great shoes too! These adorably sleek ST Runner Sneakers from PUMA are our pick for the best toddler girl shoes!
PUMA makes some really great, high-quality products and the best toddler girl shoes are no exception! These runner sneakers are designed with attention to detail and durability in mind which is definitely super important for toddler girls just as it is with toddler boys because honestly little girls can be just as wild and rough! Sometimes my daughter really surprises me because I think she gets into way more than my son ever did!
What is really nice about these that actually made these ones stand out as the best toddler girl shoes specifically is that they have a great variety of different traditionally girly colors! You can get them in several options including pinks and purples! There are also quite a few gender-neutral options as well if you prefer a more neutral look. Also, just like with the best toddler boy shoes, these are not strictly for girls. They are a wonderful toddler girl shoes option but they can certainly be worn by little boys too if you want!
Comfort Padding:
Something about the best toddler girl shoes that is really great for delicate little toddler feet is the comfort padding. The collar of the shoe (the part right around your child's ankle) and the tongue of the shoe are both specially padded to really increase your toddler's comfort.
The best toddler girl shoes have a really nice, thick padding on the bottom. It is a thick, rubber outsole. This can have benefits and drawbacks. It really helps to create a cushiony-feel that increases comfort and superiorly protects your child's foot. It also gives them a little rebound when running and jumping for better performance and comfort.
The problem is that it also reduces flexibility, which when worn consistently for long periods of time can eventually lead to some slight issues with foot development. It shouldn't be a huge problem as long as your child has plenty of time outside of the shoes and especially won't be an issue if these aren't the only shoes your child wears.
Really, you can run into this issue with most toddler shoes, these ones just happen to lack a little more flexibility than the shoes we chose for the best toddler shoe guide. It's always a good idea to give your child a lot of barefoot time whenever safe and appropriate.
PROS:
High-quality design is built to last through even the roughest of toddlers
Hook and loop closure allows easy adjustability
Lots of different traditionally girly color options make these the perfect best toddler girl shoes
Padding around the collar and tongue increase comfort for your child
CONS:
Thick rubber outsoles reduce flexibility for your child's feet
If you want some cute girly shoes that are also extremely durable and high-quality, these are perfect! There are some options that are great for boys too, but we just especially love them for little girls. The best toddler girl shoes have a sleek, classic style, and tons of great comfort features!
6

Crocs Kids' Handle It Rain Boot – Best Toddler Boots
Features:
Waterproof
Strong and flexible
Large handles
Multiple color options
Toddler sizes 6-10
Reflective heel logo
Deep tread on the outsole
Check Pricing and Availability
Crocs is yet another amazing brand that makes super high-quality toddler shoes and much more! I love Crocs brand shoes and was super excited when my research landed a great pair of Crocs toddler shoes on our toddler shoe guide! These adorable rain boots are the best toddler boots!
The best toddler boots from Crocs feature a sturdy design that is both strong and durable as well as flexible and comfortable. They have a wide opening at the top to make it easier to get your toddlers feet down into the boots and then form nicely around their feet once inside. This increases ease of use and comfort for your toddler!
These boots are also, of course, waterproof! So, your little explorer can have a blast splashing from puddle to puddle without soaking their feet in their shoes which could lead to discomfort and irritation. The reflective logo on the heel is an added bonus as it helps to increase visibility of your child!
Large Handles:
Your toddler will love the large handles that each one of the best toddler boots features! On the top of each boot, there are two large handles – one on each side. This provides the perfect gripping point for your toddler to more easily and affectively pull the boots on all by themselves. Even if your toddler isn't quite ready to put their own shoes on yet, these handles will definitely still be of help to you to get your toddlers feet down into the best toddler boots!
Sadly, there is one really not-so-great thing about the best toddler boots. These are only available in toddler sizes 6-10. So, you won't be able to get these for the littlest of splashers.
PROS:
Waterproof toddler boots protect your child's feet while allowing them to walk and play freely even in rain and/or puddles
Deep tread on outsole helps provide stability and traction to reduce likelihood of slips or falls
Available in lots of fun color options like navy, yellow, pink, blue, and green
Large handles make it much easier for you or your toddler to put the best toddler boots on their feet
Reflective heel logo helps to increase
CONS:
The best toddler boots are only available in toddler sizes 6-10
It is always a great idea to have a great pair of toddler boots! They will definitely come in handy and your toddler will almost certainly love and appreciate them. The best toddler boots are comfortable, practical, and cute! They feature a simple, yet high-quality design that you will love!
7

LONSOEN Loafers – Best Toddler Dress Shoes for Boys
Features:
Highly flexible sole
No-slip rubber tread
Synthetic leather
12 different color options
Toddler sizes 5-10
Loafer design
Stylish stitching
Check Pricing and Availability
One more type of toddler shoes that you will certainly want in your arsenal is great toddler dress shoes! Since dress shoes tend to be very gendered in style, this is another toddler shoe option that we have included a best dress shoe option for girls and boys! We are going to start with the best toddler dress shoes for boys, which are these charming LONSOEN Loafers!
I want to start off by saying that I love the versatility of these dress shoes for boys! These stylish shoes are nice enough that they can make appropriate and adorable dress shoes for your toddler boy, but not so fancy that they can't be comfortably and appropriately worn in more causal settings as well.
The thing about so many toddler dress shoes is that they just aren't comfortable. It makes sense considering adult dress shoes tend to be the same way, but toddlers just shouldn't have to deal with the whole "beauty is pain" thing. These aren't just super sharp and nice, but they are also incredibly comfortable with soft interiors and highly flexible soles. In fact, the soles on these shoes are so flexible that you can actually fold the shoes in half easily without causing any damage!
Synthetic Leather:
These dress shoes are made of synthetic leather. This is actually a super cool feature for toddler dress shoes. That's because they have that super classy leather look without the high cost of leather! In fact, these are actually – by far – the most affordable toddler shoes on the entire best quality toddler shoes. Sure, they aren't as durable as real leather shoes, but being that they are dress shoes for a toddler that has feet growing at super-speed, you probably don't need to waste your money on other toddler dress shoe options that you just won't get enough use out of to justify the price.
These are definitely the best toddler dress shoes for boys, but they actually also make a surprisingly cute casual shoe option for girls. They don't really make good dress shoes for girls just because they tend to have a more causal appearance with girl's clothing but are still cute for everyday use. They come in a great variety of colors including black, navy, pink, red, and more!
PROS:
Highly flexible rubber sole is super comfortable for your child while also encouraging healthy foot development
Extremely affordable price makes these accessible to almost anyone regardless of budget
Rubber tread provides a no-slip grip to increase safety
Stylish loafer style makes a fantastic toddler boys dress shoe or casual shoe option
CONS:
Not as durable as other options on the toddler shoe guide
Toddler dress shoes are definitely something you want to have around for special occasions. This awesome option for toddler boys is super stylish and classy, but also extremely affordable – which I find especially important for toddler dress shoes since you might not get as much use out of them as you will with many other toddler shoes options.
8

DREAM PAIRS Ballerina Flats – Best Dress Shoes for Girls
Features:
Satin upper
Satin bow
Multiple color options
Toddler sizes 4-10
0.2-inch heel
Padding for comfort
These stunningly adorable little ballerina flats round off our best toddler shoes guide as the best dress shoes for girls! These have a lovely classic style that makes the perfect best dress shoes for girls!
The best toddler dress shoes for girls are available in multiple colors to best match any dress, outfit, or occasion. Red, white, navy, silver, and ivory are just a few of the options you have to choose from with the best toddler dress shoes for girls!
These shoes feature a teeny-tiny little heel on the back to add to the adorableness! The heel is only 0.2 inches thick, so it won't hurt your toddler or throw off her balance. However, it definitely will help her to feel sophisticated and special!
Soft Feminine Style:
Of course, the best dress shoes for girls had to have a lovely feminine touch to them. These precious ballerina flats are elegantly designed with a soft satin material on the top that provides a soft shine.
In addition to the satin material, there is a small elastic band that goes across your toddler's foot. On the middle of this elastic band, a delicate bow is attached that matches the shoe. This is a really nice touch that really improves the look and style of the best toddler dress shoes for girls.
Unfortunately, these delicate touches, while beautiful, definitely do decrease the durability. Of course, this doesn't matter quite as much with dress shoes, it is still something to consider. They aren't super pricey, but they are more than twice the price as the lowest price toddler shoes on our list of the best toddler shoes.
The best toddler dress shoes for girls do feature some padding for increased comfort. However, overall, they just aren't going to stand up to many of our other toddler shoe options on the best toddler shoes list as far as comfort goes. These shoes are pretty stiff overall, so wearing for long periods of time can cause some discomfort.
PROS:
Satin upper and satin bow add an adorable feminine touch
Tiny heel helps to add a sophisticated touch that your toddler will love without throwing off her balance
Available in many different colors to best match any outfit or occasion
Comes in a wide variety of sizes to best fit your toddler at each stage
CONS:
Somewhat stiff design can become uncomfortable after wearing for longer periods
Satin material is more delicate and less durable than the other toddler shoe options on our guide
The best toddler dress shoes for girls are just so adorable! These precious shoes will help your little princess feel super special. They are elegant and feminine without being too over-the-top. They have the perfect subtle touches that really make them the best toddler dress shoes for girls!
---
FAQs about best toddler shoes for walking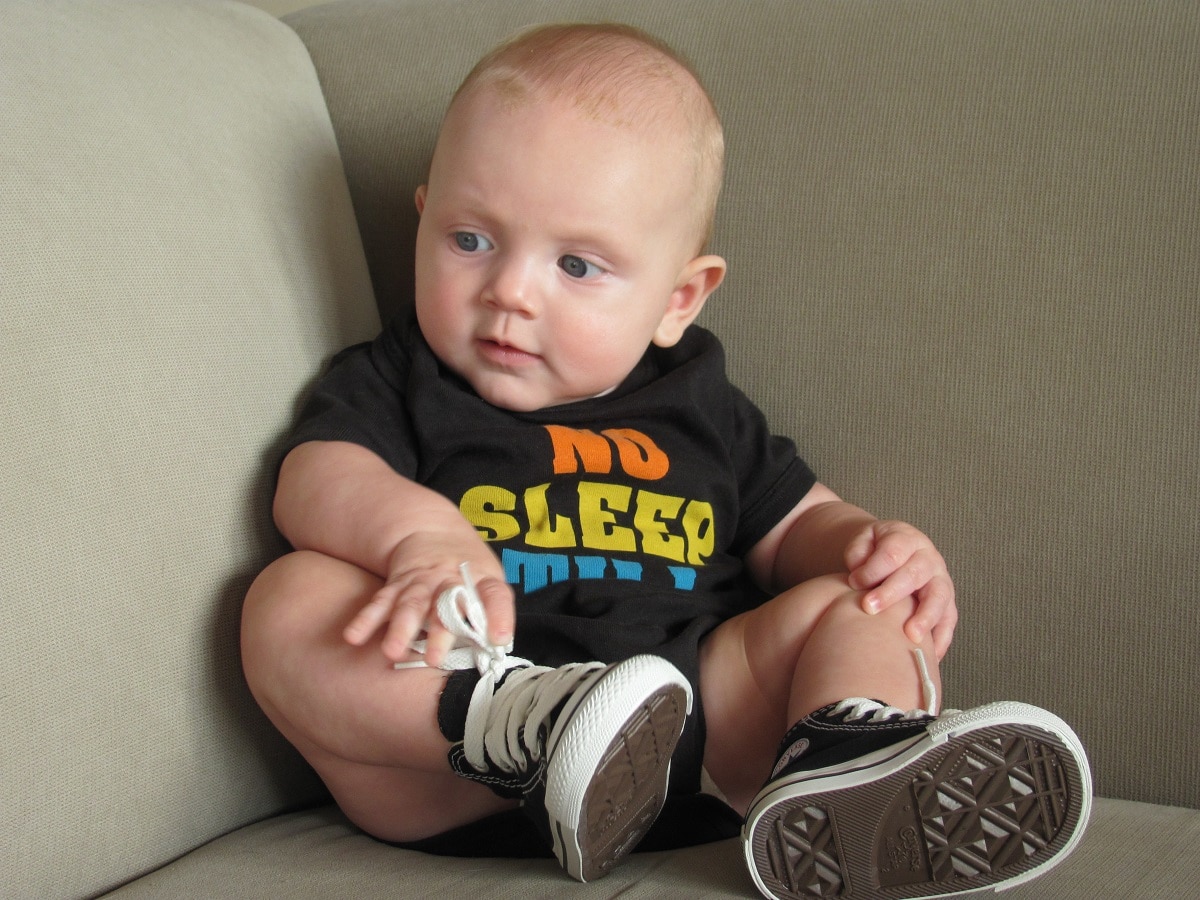 Do toddler shoes come in half sizes?
Yes! Many toddler shoes do come in half sizes. However, this is definitely not always the case. If you need a half size for your toddler, make sure you check out the sizes available for each pair of toddler shoes before spending too much time looking into it otherwise.
---
Are toddler shoes necessary?
Yes, you definitely want to have some toddler shoes for your toddler to wear. When your child is a baby, it's better to stay away from actual shoes as socks or booties will do a fine job at keeping little toes warm when needed. However, children start walking during toddlerhood. Once your child is walking, you definitely want some good toddler shoes to help protect their feet when they are outside or in public.
---
Does my toddler need more than one pair of toddler shoes?
It can definitely be a good idea to consider having more than one pair of toddler shoes for your toddler. As you'll notice, different toddler shoes can have different special purposes. You definitely want to have at least one good pair of toddler sneakers to use on a regular basis.
It is also a great idea to get some great toddler sandals for convenience and hot weather. A pair of toddler boots is helpful when it's rainy or wet and toddler dress shoes may be needed for those occasions when nicer clothing is more appropriate.
---
How to wash toddler shoes?
Every pair of toddler shoes is different. Most toddler shoes can be washed directly in the washer. Although, some are better spot-cleaned. You can also just spray down certain types of toddler shoes depending on the material like the best toddler boots on our best toddler shoes list for example. Some toddler shoes can be dried using your dryer, but many will need to simply air-dry. Check the recommendations of your toddler shoes manufacturer for specified advice on how to wash toddler shoes.
---
Toddler can't walk in shoes?
Many parents worry when their already-walking toddler suddenly struggles to walk when they first start wearing shoes after walking. This can be concerning at first, but there is actually nothing to worry about at all. They have just learned to walk, so when you add something completely new to the equation, it will take some time to get used to. Don't worry because they will be walking great in their very own best toddler shoes in no time!
You may love to read our guide for choosing the best first utensils for your baby.
Final Words
Choosing toddler shoes for your little one is an important decision that will affect your toddler's and your day-to-day life. You want to choose something with the right level of comfort, durability, and style for the occasions you need it for. Since it can be difficult and time-consuming to effectively research these details, I hope that our toddler shoe buying guide and our toddler shoes list help you make the best decision for your child!