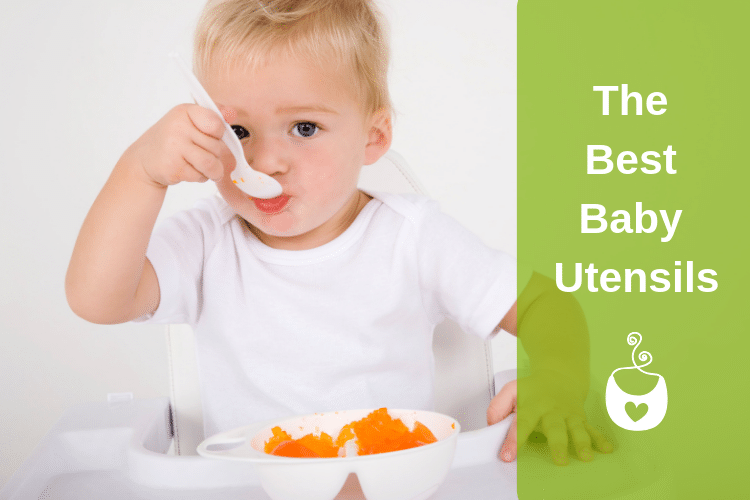 Is your baby about to start eating solids? Do you need some new baby flatware to keep at grandma's house? Are you on the search for new toddler utensils? Whatever you need them for, you've definitely come to the right place for the best baby utensils on the market today!
We have searched high and low for the best baby feeding supplies. We have learned the ins and outs of baby forks and baby spoons and know all you need to know to pick the best baby feeding essentials! Not only do I have plenty of baby feeding experience thanks to my own little ones, but I spent countless hours putting in research on baby flatware to ensure the best quality recommendations for baby spoons and forks!
Do I need baby spoons and forks?
Yes, you do need baby spoons and forks. Some parents wonder if baby silverware is actually necessary since they have plenty of regular, adult silverware. The problem is that adult utensils are much larger than baby utensils and generally much less safe.
It isn't just that adult spoons and forks are too large for your baby's tiny hands and mouth. They are also not made with baby's safety in mind. It is much more likely your baby could injure themselves with anything other than baby silverware.
When should I start solids for my baby?
You should definitely wait until at least 6 months to start solids for your baby. The recommendation to wait until 6 months to start baby on solids is agreed upon by both the American Academy of Pediatrics and the World Health Organization.
Keep in mind that you will want your baby to meet other milestones before starting solids. The signs of readiness to start solids for your baby include the ability to sit up unassisted, development of the pincer grasp, and an actual interest in solid foods.
When can Baby use utensils?
Your baby can use utensils as soon as they start solid foods around 6 months of age. If you choose to feed your baby traditional pureed baby food, you will need baby utensils, especially baby spoons, to feed your baby. If you choose to do baby led weaning with your baby, you will need a variety of baby utensils like baby spoons and baby forks to allow your baby to start self-feeding.
Remember that it will take your baby practice to feed themselves – especially with spoons and forks. They may start by using just their fingers, which is totally fine! Keep offering utensils for your baby, though. You can even pre-load utensils and hand them to your baby during baby led weaning.
Best Baby Spoons and Forks Buying Guide
One of our biggest goals is to always help you know exactly what you are shopping for. We want to give you all the information that you need to make the most informed decisions when it comes to buying things for your baby and your family.
In addition to our personal recommendations and reviews for the best baby spoons and forks, we also wanted to create this easy buying guide for baby utensils. That way, it is a little easier for you to make the best decision for your child! Below, we will go over the major differences you will find when shopping for baby utensils as well as the benefits and drawbacks of each!
Learn more about Preparing The Baby Organic Food.
Types of Utensils
The first thing that you'll want to think about is definitely what types of baby utensils that you are after. Almost all baby utensils are sold in sets. So, you'll need to consider what comes in a set compared to what actually matters to you.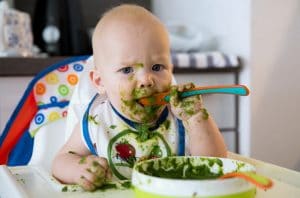 The most universal of all baby utensils would be spoons. Spoons are, more often than not, the first utensil a baby uses for self-feeding. Even if baby starts out being fed purees, you're obviously going to need baby feeding spoons to spoon-feed your baby with. In other words, spoons are pretty much a must-have baby utensil.
If you choose to feed your baby purees, you probably won't need baby forks until you are ready to let baby self-feed. It may take baby a little longer to get the hang of forks than spoons, but practice makes perfect! If your baby will be self-feeding, you will almost definitely want to get a set that also includes great baby forks.
You may not even realize it, but they do make baby knives as well! Of course, knives made for babies are not sharp in the slightest. Instead, they are generally just flat, but shaped like a knife. The purpose of these would be to practice cutting soft foods to get them better prepared for using a real knife in the future. This one is more of a preference, so it's up to you if you want your baby to have a knife for practicing. Just keep in mind that your options will be much more limited if you're looking for a baby utensil set with a knife.
Another type of utensil that isn't often thought of is a baby food feeder. These are utensils that you actually enclose food inside of. They feature small holes that allow your baby to chew on the food through the feeder. This gives them the taste, juice, and even some nutrients from the food. All the while, it protects your baby from any type of choking risk.
Materials Used in Baby Utensils
One very important consideration when choosing flatware for your baby is the materials used. You'll find that baby utensils are generally made of one of the following:
Stainless steel
Plastic
Silicone
Of course, silicone is a type of plastic. The special thing about silicone is that it is highly durable and well-known to be completely safe. The benefit of plastic over silicone is that it is almost always cheaper, and you have a lot more options available. Stainless steel can be an excellent choice when it comes to durability and how easy it is to clean. However, it is often less comfortable and sometimes poses a slightly higher risk of injury when it comes to little babies.
Baby Utensil Safety Features
Safety is always a top priority for baby products, so you'll definitely want to consider what safety features each set of baby utensils has. There are common features important for safety that you'll find almost universally like BPA-free material and smooth edges. Then, there are more unique safety features that should be considered as well.
Baby food feeders effectively prevent choking on new foods, for example. Although, they take away some of the experience of texture as well as reduce the benefits babies get from the food. Some utensils may have a special choking barrier, like grabease utensils. This prevents baby from pushing the utensils too far into his or her mouth. You can also look for things like rounded fork ends and easy-grip handles.
---
You may want to read more about Making Your Own Baby Food.
1

grabease Baby Utensil Set – Best First Utensils for Baby
Features:
BPA-free
Choke protection barrier
One baby spoon and one baby fork
Phthalate-free
FDA tested and approved
Non-toxic plastic
Multiple color options
Ergonomic design
Included to-go pouch
This incredible baby utensil set is very unique option that is cleverly designed with baby's safety, comfort, and development in mind. These are our choice for the best first utensils for baby – the grabese Baby Utensil Set!
There are plenty of reasons that these are the best first utensils for baby! The grabese Baby Utensil Set comes with a matching baby spoon and baby fork. They are specially designed for efficient and easy self-feeding for your baby. They definitely make a great option of baby utensils for baby led weaning! Even if you do wait a little longer to let baby self-feed, though, these can still be a good option.
These are BPA-free baby spoons and forks. They are made of non-toxic, phthalate-free plastic are perfectly safe for your baby. Something really special about these is that they are ergonomically designed for little hands. They feature a short handle, which gives your baby an easier grip and better control of them.
They also have a thicker, rounded handle to make it easier for your baby to grasp while also promoting healthy development. That's because they allow your baby to use their hands in a more natural way to self-feed.
Choke Protection Barrier:

One of the biggest draws for many parents to these baby utensils is the choke protection barrier. The point of the choke protection barrier is just to prevent choking and gagging as your baby learns to self-feed. The barrier is placed right where the handle meets the utensil top.

This puts it between your baby's hand and mouth. The placement of the choke protection barrier allows your baby to put the end of their fork and spoon into their mouth as needed. It prevents them from shoving it too far into their mouths, though!

While these are without a doubt the best first utensils for baby, they tend to not last as long as other options may. Many options out there for baby silverware are designed in such a way that should actually allow you to get at least several good years of use out of them with proper care.

Unfortunately, since these are designed so specifically for babies and young toddlers, they won't be as comfortable for older toddlers and preschoolers to use just because the thick, short handles. This also happens to be a more expensive option.

PROS:
BPA-free, phthalate-free, non-toxic plastic is completely safe for your baby to eat from
Ergonomically-designed handles make self-feeding and baby led weaning super easy for baby
Choke protection barrier increases baby's safety by preventing choking/gagging incidents
Bright color options add an element of fun and help stimulate baby visually
Included to-go pouch increases overall value and makes it easy to bring these along wherever you may be feeding your baby
CONS:
Short, thick handles won't be as comfortable when your baby grows into a larger toddler or preschooler
One of the most expensive options of baby flatware
Overall, this is an incredible set of baby utensils that are great to get your baby started on their self-feeding journey! They make an excellent choice for baby's first utensils whether you are doing baby led weaning or traditional weaning with baby food purees.
2
Gerber Graduates Kiddy Cutlery Set – Best Baby Utensils Overall
Features:
BPA-free
Stainless steel ends
Soft grip handles
Rest easy supports
Dishwasher safe
Assorted colors
Set includes fork, spoon, and knife
Check Pricing and Availability
Here we have our pick for the best baby utensils overall. This is the Gerber Graduates Kiddy Cutlery Set! It is definitely a wonderful choice for many reasons. The best part is that it is completely affordable while remaining very high-quality.
This baby cutlery set is great because while it does feature soft grip handles made from safe, BPA-free plastic, it also has stainless steel ends. This lets you get the best of both worlds! It gives your little one a safe and comfortable place to grip. It also lets you have the benefit of stainless steel ends. This is important because they are more durable, easier to efficiently clean, and more effective for self-feeding!
Something that is particularly unique for this set of baby cutlery is that it includes not just a baby fork and baby spoon, but also a baby knife! Now, it's important to note that this knife is not by any means sharp. Really, it is just a flat piece of stainless steel with a knife shape to it. It won't do a good job cutting most meats or other firmer foods. However, it is a great practice tool that will let your child practice cutting softer foods!
Rest Easy Support:

As an added bonus, Gerber has revently added another perk to their Kiddy Cutlery Set! This is just one more reason that we chose these as the best baby utensils overall! Each piece of the baby silverware actually features a Rest Easy Support. The Rest Easy Support is a small nub that actually holds the metal part of the utensil up off of the table any time the spoon, fork, or knife is set down. This keeps the germs off of your baby's utensils and keeps the mess off of your table!

The real downfall with these baby utensils is that they are designed for slightly older children. They aren't a great option for the littlest of eaters. However, once your baby or toddler is self-feeding with any level of efficiency, these make a great set of utensils that will last the long haul!

PROS:
BPA-free plastic provides a great, soft grip for your child's hands
Stainless steel ends are highly sanitary, durable, and effective
Knife included in set helps your child practice cutting with softer foods
Rest Easy Supports keep your baby's utensils safe from germs as well as keep food mess off your table
CONS:
Not good as baby's first utensils
Overall, this baby cutlery set was a must-have for our baby utensils buying guide. It is an amazing set of high-quality utensils perfect for little hands! The fact that it actually includes a practice knife for your child is unique and highly beneficial!
3
TeamFar Stainless Steel Toddler Silverware – Best Stainless Steel Toddler Utensils
Features:
2 forks and 2 spoons
Solid stainless steel
Included carrying case
Laser etched animals
Rounded fork tines
Rust-resistant
Check Pricing and Availability
One of my personal favorite baby utensils set is this great option from TeamFar! These are the best stainless steel toddler utensils on our guide and we are sure that you and your little ones will love them just as much as we do!
These are a really wonderful option when it comes to utensils for toddlers. They might not be ideal for the youngest of babies simply because they are solid stainless steel baby spoons. So, they're just a little less comfortable and easy for the youngest of babies to grip and use. Toddlers won't have a problem at all, though! In fact, they'll probably feel all grown up getting to use silverware much more like the utensils that you use!
The solid stainless steel design is great because it means that they are super durable and will easily last for a very long time. They are dishwasher safe, and you can rest assured they will always be super sanitary with their solid, one-piece designs.
Laser Etched Animals:

Since plain stainless steel toddler utensils may not be quite as fun as some of the options with bright colors, these feature fun, laser etched animals! At the end of each utensil, there is a small animal that has been laser etched into the stainless steel. It even features the name of the animal. This can not only provide some extra interest and fun but can even be educational for your child!

To add even more value to this toddler utensils set, TeamFar has included a small carrying case! The case slides open to give you an easy spot to place the 2 forks and 2 spoons included in this set. This allows you to easily store it away and even take it on-the-go anytime you need!

PROS:
Stainless steel is extremely durable and completely safe for your child.
Laser etched animals add a bit of fun and education to these utensils for toddlers.
Include carrying case provides an easy way to store and even transport your toddler utensils set.
Rounded fork tines keep your child safe while still effectively stabbing and holding food.
CONS:
Not a good choice for baby's first utensils
Having silverware that actually looks like yours will be super fun for your toddler and help them feel big and capable! The solid stainless steel design makes these the best stainless steel toddler utensils hands-down. They are durable, safe, and easy to care for!
4
Munchkin Fork and Spoon Set – Best Baby Feeding Set
Features:
BPA-free
3 forks and 3 spoons
Bright assorted colors
Polka-dot design
Rounded forks
Deep spoons
Dishwasher-safe
You shouldn't be surprised to see Munchkin make it onto our best baby utensils list multiple times. They are an amazing company that makes a great variety of products for babies and toddlers. They have quite a few excellent choices when it comes to baby cutlery. That includes this fork and spoon set that we have dubbed the best baby feeding set!
We love this Munchkin Fork and Spoon Set for babies for multiple reasons. First of all, this set is super affordable. Not only is it inexpensive, but it actually comes with 3 sets of baby utensils – 3 forks and 3 spoons for 6 pieces total. So, it really has almost unbeatable value. The bright colors and polka-dot designs will bring a lot of fun and interest into mealtime for your baby. The fact that they are BPA-free and dishwasher-safe can have you feeling really good about them, too!
Genuinely Effective Baby Utensils:

One of the best things about these Munchkin baby spoons and forks is how effective they are. As in, the forks really stab, and the spoons really scoop. One of the problems with a lot of baby forks and spoons is that they just don't work as well as you'd like them to.

The forks in this set are all made with tines that have just the right balance of sharp and safe. They are definitely good at stabbing and holding onto food, but the rounded edges make them totally safe for your child! Likewise, many baby spoons don't work as well as they should because they are nearly flat. These baby spoons are made deep to efficiently scoop up whatever baby is chowing down on!

Now, these are well-made baby spoons and forks, but they just aren't going to be as durable as some of the other options on the list. They will probably need to be replaced eventually. Considering the low cost and high value, that probably won't be a huge issue for most, though.

PROS:
BPA-free plastic is safe for your baby and gives you peace of mind
Bright colors and pretty polka-dots keep your child's interest and add fun to meals
Super affordable set with high value includes 3 forks and 3 spoons
Deep spoons allow your child to more effectively scoop their food
Rounded fork ends keep your child safe without sacrificing efficiency
CONS:
Not as durable as other choices
We chose this as the best baby feeding set because of its high-value and effective design. You get an impressive 6 individual pieces of baby cutlery all at one very low price. Plus, they work super well – better than many other baby utensils options actually!
5
Comcl Soft-Tip Training Spoons – Best Baby Training Spoons
Features:
100% food-grade silicone
Toxin-free
BPA-free
Soft, flexible tips
2-pack spoons
Flat bases for upright storage
Ergonomic handles
Check Pricing and Availability
Here we have the best baby training spoons! These Soft-Tip Training Spoons from Comcl are very unique and cleverly designed to allow even the newest of eaters to effectively use a spoon!
I really can't get over how cool these baby training spoons are! I've read an insane amount of AMAZING reviews on these baby spoons! I can't wait to try them out for myself once baby #3 is ready to start solids! The coolest thing about these spoons is hands-down the soft, flexible tip.
It's firm enough to hold foods well, but soft enough to move into different positions. This allows your baby to scoop up food regardless of the container or amount. As in, it works on flat surfaces, rounded bowls, and even when scooping out of containers with odd shapes or corners.
The best baby training spoons can actually also work really great as teethers for your baby! So, anytime your baby is teething, you can actually get double-duty out of your baby spoons. Plus, since teething often happens well-before baby is ready for solids, you can actually let your baby get acquainted with their spoons before they even begin eating. They provide teething relief in a fun and unique way.
100% Food-Grade Silicone:

Another really nice thing about these baby training spoons is the material they are made from. These are made out of 100% food-grade silicone. That means that they are completely toxin-free and entirely safe for your child to eat from and even chew on. They are also very hygienic since they have a one-piece design that is super easily to effectively clean. They are even dishwasher-safe!

Of course, innovative and unique products often tend to be the most expensive options out there. You'll definitely find that with these baby training spoons. You get a 2-pack of the spoons for one of the highest prices you'll see here on our baby utensils guide.

PROS:
Flat base lets you stand spoon straight up on any surface for improved hygiene
Soft, flexible tip allows your baby to scoop from any angle on any surface and keeps them comfy even from a very young age
100% food-grade silicone is durable and safe
Ergonomic handles make it easy for even the tiniest hands to hold onto these baby training spoons
Can be used as teethers to help reduce teething pain as well as normal spoons
CONS:
Expensive compared to most choices
These are definitely some very innovative baby training spoons. We think of them as the best baby training spoons because of how easy it is for tiny hands to hold and use them. It can be hard for little babies to aim and efficiently scoop, but these make it much easier and doable for your little eater!
6
Munchkin Fresh Food Feeder – Best Baby Food Feeder
Features:
BPA-free
2-pack baby food feeders
Small mesh pouch
Easy-grip handle
Bright assorted colors
Secure snap closures
Check Pricing and Availability
Here is another awesome Munchkin choice that is actually a good bit different than our other baby utensil picks. This isn't a typical fork or spoon set but is actually Munchkin's Fresh Food Feeder. It is our pick for the best baby food feeder as it offers an innovative take on baby utensils and allows your baby to self-feed even if you have chosen the route of purees over baby led weaning.
You can put practically anything into this awesome mesh baby feeder! So, if you are uncomfortable with the idea of baby led weaning, this can really be an excellent choice that allows your little one to try all sorts of yummy foods without risk of choking. You can put fruits, veggies, and even meats in the little mesh pouch. Your baby can happily chew and suck the bag getting lots of flavor, juice, and even nutrients through it.
Something really nice about these baby food feeders is actually that they are amazing for teething relief! So, even if you are doing baby led weaning, these could be useful for you. Just try putting something like frozen breastmilk or yogurt into the pouch and your baby will experience delicious teething relief as they chow down.
Easy-Grip Handle:

To help make it easier for your baby to use the best baby food feeder, Munchkin included a special easy-grip handle. The handle is round, with a soft plastic gripper on it. This helps give your baby an easy way to hold on without it easily slipping out of their grasp. Plus it comes in fun, bright colors that help hold your baby's interest while stimulating them visually!

The big issue with these baby food feeders would be cleaning them. They are a good bit of work to clean, especially when compared to other baby utensils options. You'll always want to immediately rinse and soak them after use. You'll need to scrub with a brush to get completely clean. Even with cleaning them well after each use, they certainly won't last as long as most utensils options for babies.

PROS:
Mesh pouch allows your baby to enjoy many benefits of eating solids without risk of choking
Great for teething relief in a teething baby
Easy-grip handles let baby easily feed themselves
Bright colors are stimulating and interesting for baby
CONS:
Very difficult to clean, especially over time
This choice may be considerably different than the other baby utensils out there but is definitely a worthwhile consideration. It can be a great teething relief option for babies doing baby led weaning or a great way for puree-fed babies to explore new tastes and get some of the benefits of eating different types of foods.
7
Munchkin White Hot Safety Spoons – Best Baby Feeding Spoons
Features:
Thinner metal handles
Soft spoon tips
Set of 4 spoons
Fun variety of colors
White Hot safety feature
BPA-free
Dishwasher-safe
Check Pricing and Availability
We have focused a lot on baby utensils for self-feeding or even baby led weaning specifically. Well, now we are going to talk about the best baby feeding spoons. These are our favorite spoons for parents that have chosen to feed their babies using traditional baby food! They are the White Hot Safety Spoons from Munchkin!
These baby feeding spoons have been well-loved for generations! In fact, my mother-in-law actually used an older version of these same baby feeding spoons to feed my husband when he was just starting solids! The fact that they are still around, and quite popular today, is an obvious indication of their value.
These are great as baby feeding spoons because they feature slightly longer, thin metal handles. That makes it very easy for you to grip the spoon effectively compared to thicker spoon handles designed for babies to self-feed. Then, the tips are actually a soft, safe plastic material. This protects your baby's little mouth and soft gums.  
White Hot Safety Spoon Tips:

Of course, these are called White Hot Safety Spoons for a reason! Many parents (and babies) prefer baby food to be warmed before serving. It can be difficult, though, and sometimes risky to try to get the temperature just right. You want it warm enough for your baby to enjoy, but definitely want to avoid it being hot enough to burn baby! These baby feeding spoons combat that problem perfectly.

After you've warmed baby's food and you think it's ready for them, dip the spoon in and you'll quickly find out if it's actually too hot. The tip of the spoon will turn from colored to white if it touches anything above a safe temperature for your baby.

While these are amazing baby feeding spoons that will be perfect for the period of time that you will be spoon-feeding your baby, they won't get much use beyond that. By the time you are letting your little one self-feed, these won't be very efficient. The handles are not good for baby's little hands and the small tips would be difficult for baby to use efficiently.

PROS:
White Hot safety feature automatically warns you if food is too hot for baby
Thinner handles are perfect for adults to easily grasp and maneuverer when feeding baby
Small, soft spoon ends fit comfortably and safely into tiny baby mouths
Dishwasher-safe for super easy clean-up
CONS:
Not good for babies that are self-feeding
If you have chosen to go the route of traditional weaning and will be spoon-feeding your baby, you should definitely get your set of the best baby feeding spoons from Munchkin! They are incredibly easy to use and super safe!
8
Nuby Spoons and Forks Set – Best Utensils for Toddlers
Features:
2 forks and 2 spoons
Bright colors
Polka-dot design
Rounded fork ends
Easy-grip handles
BPA-free
Dishwasher-safe
Check Pricing and Availability
We are going to polish off our baby utensils recommendations with the best utensils for toddlers! Most of the choices in our guide are great for toddlers, but we feel these ones from Nuby are extra special!
These utensils for toddlers are a little more advanced than options made specifically for younger babies. They don't have super thick, short handles, for example. The handles are definitely shorter and thicker than the average adult utensil, but still more appropriate for toddlers and even preschoolers than other baby spoon and fork options.
This set comes with 2 forks and 2 spoons, like many of the other baby utensil set options we have reviewed. They are super affordable and actually come in as one of the least expensive options on our whole list of recommendations.
One of the major reasons that these are such good toddler utensils is actually just their appearance, though. They are super bright and fun colors! Each utensil features 2 main colors and is covered in polka-dots of varying sizes! It really helps to increase the fun, which can be especially helpful since toddlers are often too picky or busy to be good mealtime participants!
Easy-Grip Handles:

These toddler utensils also feature Easy-Grip Handles! Basically, the handles of these forks and spoons are soft and curvy. They are designed to be super easy to hold onto without worries about them slipping. The curvy design also happens to give them an even more whimsical look to add an extra bit of fun for your toddler!

Of course, like the other options that are specially designed for older babies/toddlers, these utensils are not a good choice for baby's first utensils. Little babies would definitely have a harder time with these forks and spoons.

PROS:
Bright colors and fun designs help make mealtime fun even for picky toddlers
Rounded forks help protect little mouths
Easy-grip handles make it easy to hold onto the utensils without any slips
Dishwasher-safe for super easy cleaning
CONS:
Not good for younger babies
If you are specifically looking for a fun set of utensils for toddlers, this is it! These are perfect for eaters that are still little but more advanced than babies. The fun colors, shapes, and patterns will have your toddler really enjoying meals!
You may be interested in The Best Baby Dishes.
Final Words on Baby Utensils
You might not have realized that there is so much to think about when it comes to utensils for babies and toddlers. It turns out that the type of spoons and forks that you choose for your child can actually have a lot of benefits or drawbacks. We hope that our guide on the best baby utensils and our baby utensils reviews and recommendations have been of some help!