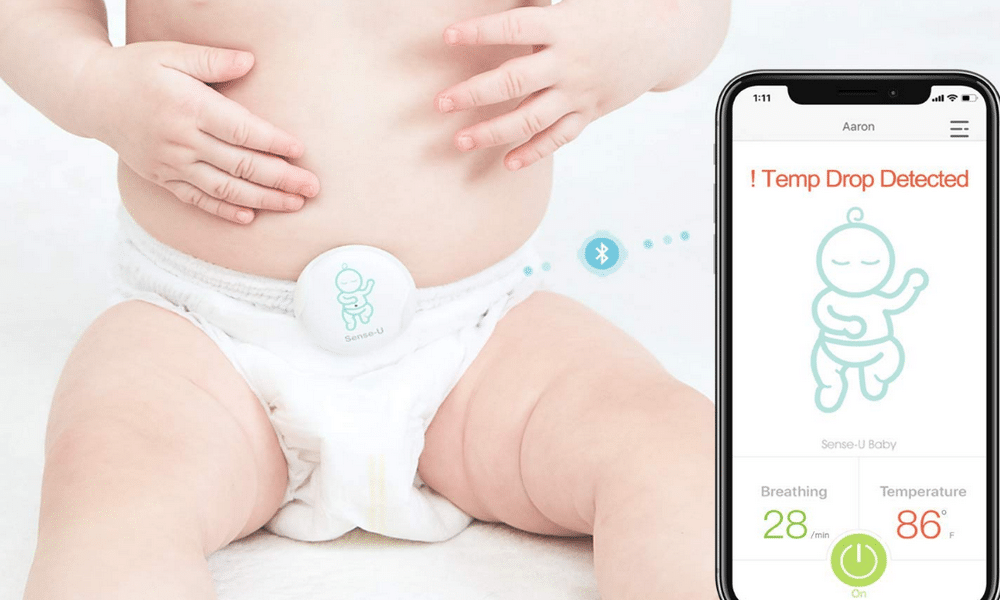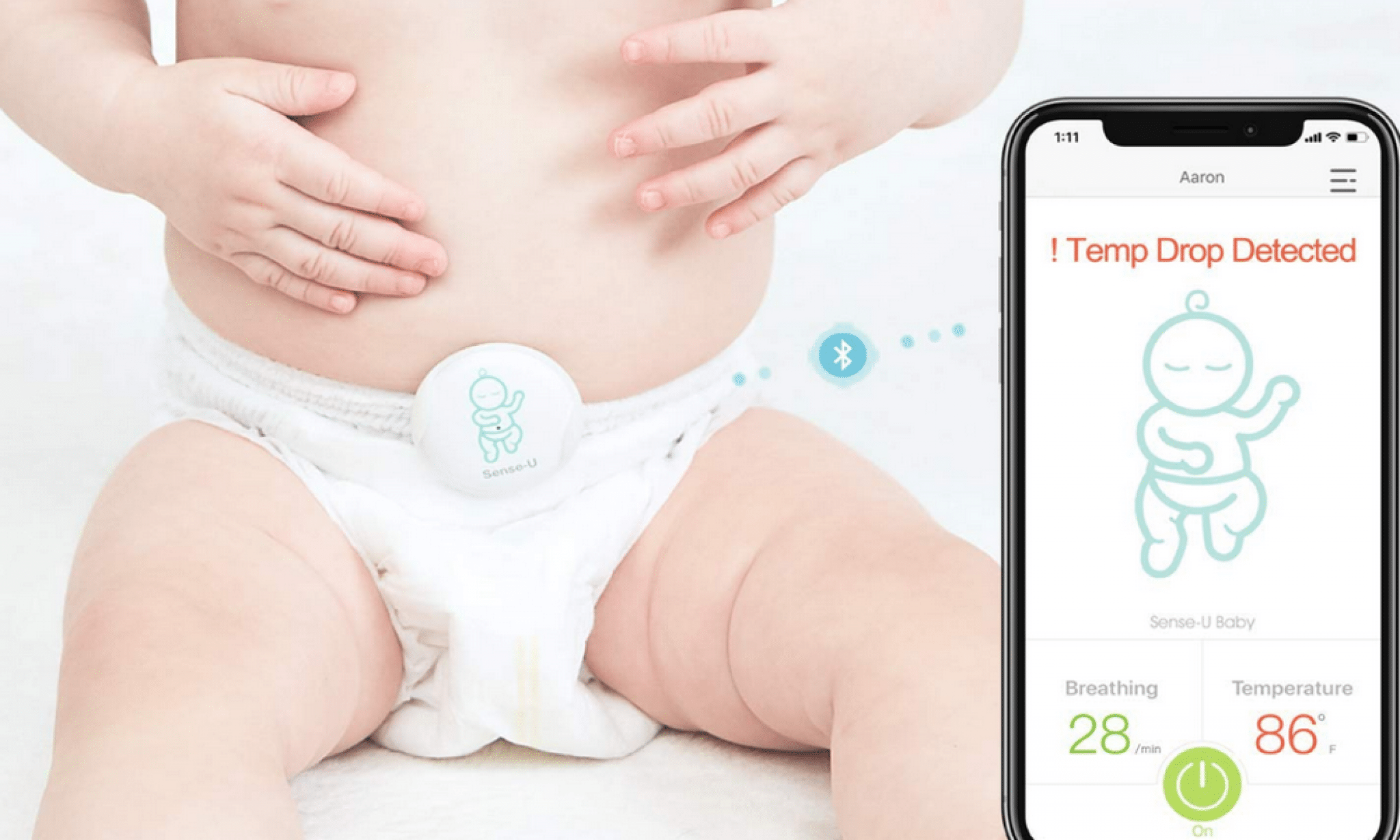 SIDS is a scary reality that all parents have to face upon the birth of their child. When you come home, you might find yourself checking on your baby constantly as he sleeps. Instead of tiptoeing into your baby's nursery or reaching over into the cosleeper frequently, try one of the best baby breathing monitors to keep your mind at ease.
Baby breathing sparks anxieties for new parents, especially if your baby has respiratory or cardiac problems or was premature. That's why you need a monitor. These monitors keep track of whether your baby is safe and breathing at an appropriate rate.
That means you can rest more comfortable, and you need all of the rest that you can get.
---
Quick Recap of the Best Baby Breathing Monitors
---
What's the Purpose of a Baby Breathing Monitor?
Adults breathe at a steady rate, even while sleeping, but newborns may not do so. Sometimes, babies experience periodic breathing, which is when young babies have pauses in their breathing patterns. Periodic breathing can be normal, especially for preterm babies or during deep sleep, but it can be distressing for you.
If you pay close attention to your baby's breathing, you will notice that newborns take a few shallow breaths from time to time. Then, there is a pause before they start to breathe again. Using a breathing monitor quickly determines the difference between normal sleep breathing and dangerous breathing patterns.
These monitors watch your baby and let you know any irregularities. It can notice when there are pauses in breathing or a lack of motions that lasts longer than 15 to 20 seconds.
---
Should Parents Use a Baby Breathing Monitor?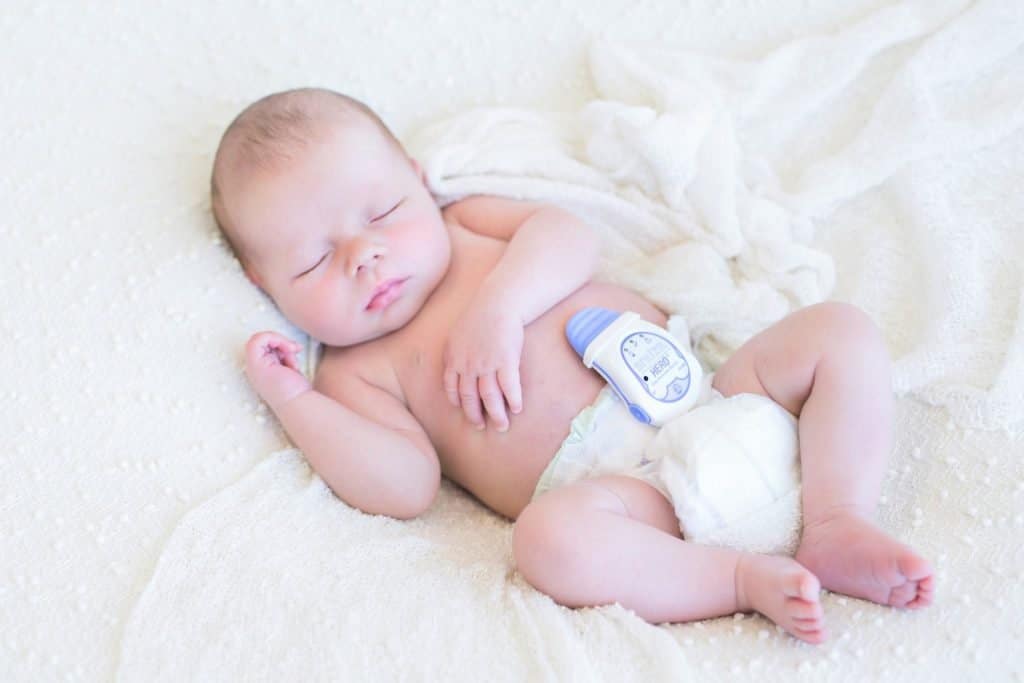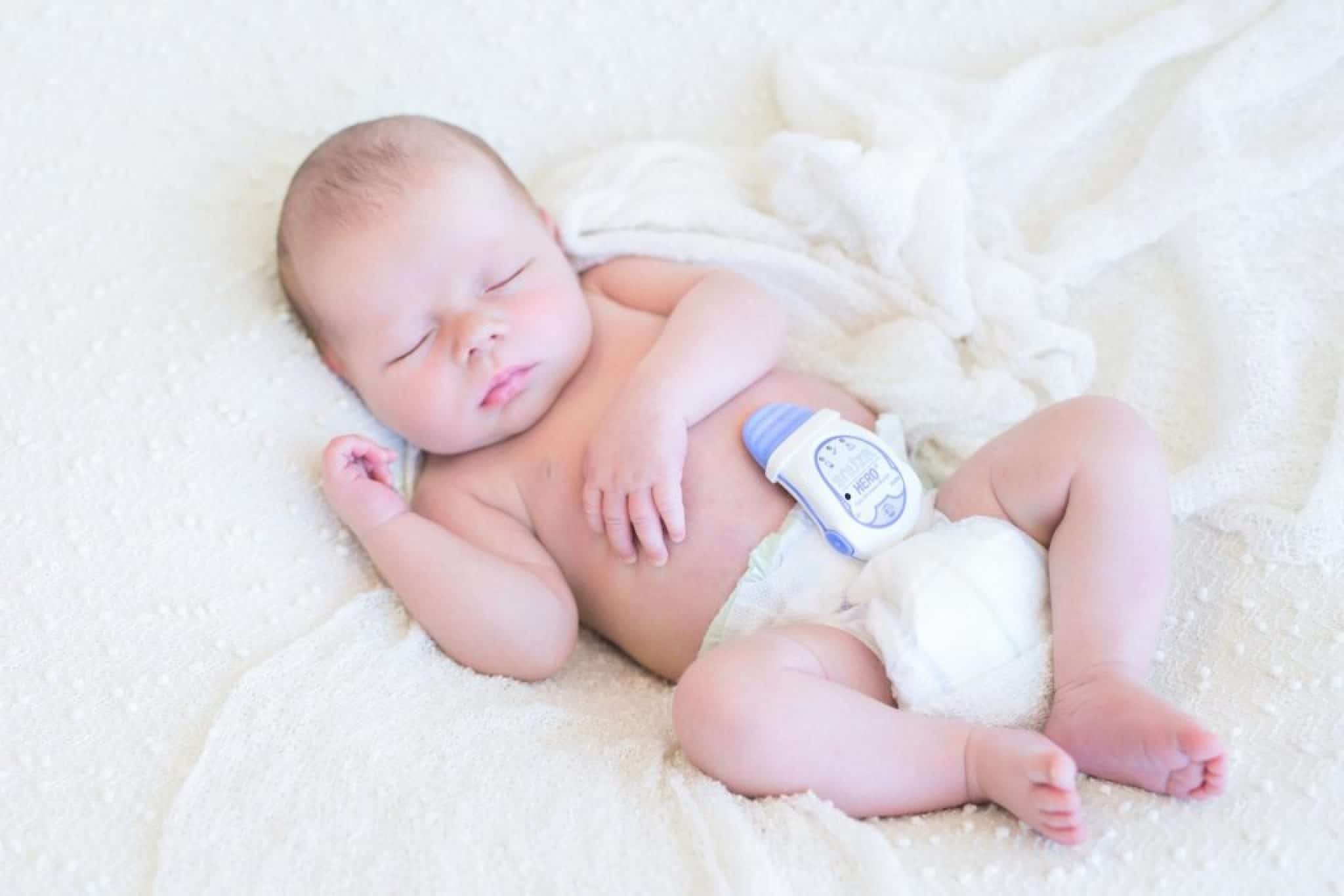 Whether or not you should use a baby breathing monitor is a bit of a debate.
Currently, the American Academy of Pediatrics does not recommend that parents purchase breathing monitors. Research does not support the idea that these monitors protect your child against SIDS, and some episodes of apnea can be entirely reasonable for a healthy, full-term baby. There isn't a scientific link between sleep apnea and SIDS.
Also, these monitors might lead to unnecessary worry. They can have false alarms, causing you to worry and lose even more sleep. Some parents report that they feel more fear and anxiety with the monitors than without them.
For full-term babies at a normal, healthy weight, most doctors won't recommend a breathing monitor. If your baby experiences any "apparent life-threatening event" or (ALTE) or a "bright, resolved, unexplained event" (BRUE), it might be grounds to use a monitor to keep a better watch on your baby's breathing.
Premature babies might benefit from a monitor as well, especially if your baby has a history of breathing troubles or a slow heart rate. Babies with sleep apnea or chronic lung disease would require one as well.
Speak to your doctor about whether or not he believes that a breathing monitor is worth it. Some other rare medical conditions may prompt your doctor to advise using one. Examples of these conditions include transient tachypnea, respiratory distress syndrome, and persistent pulmonary hypertension.
---
How to Pick the Best Baby Breathing Monitor
Breathing monitors can be complicated to select; they are a medical device and might not be as easy to pick as a swing or crib. Here are some of the most important considerations when making this purchase.
The primary job of this monitor is to check your baby's vitals throughout the night. It needs to do an excellent job at this job.
Not only should it monitor breathing, but you want it to watch other vital signs as well, such as their heart rate or their movements. Some monitor related activities or they'll let you know the temperature in the nursery or your baby's sleep data.
Breathing monitors vary in the way that they work. For example, some clip-on your baby's clothing, while others are sensory pads that go under your mattress. Some are also video or audio monitors as well, similar to baby monitors.
There are three styles of breathing monitors.
This version is the most popular style of monitors because it's portable, but they're known to have frequent false alarms. However, they're easy to use, and many prefer this style.
These might be considered a bit more high-tech, and they're often recommended for premature babies who have a higher risk of SIDS. These pads track each movement that your baby makes at night.
The last style of monitors is similar to baby monitors, but they also include breathing detection. This lets you keep an eye and ear on the sounds and movement of your baby, and it's a familiar interface.
Think about the portability of the monitor. Some of the monitors clip right onto your baby, so they're hands-free and hard to lose. Think about what you want to do while your baby is sleeping to narrow down your selections.
---
Top 6 Best Baby Breathing Monitors Review
1

Owlet Smart Sock Baby Monitor – Most Well-Known Breathing Monitor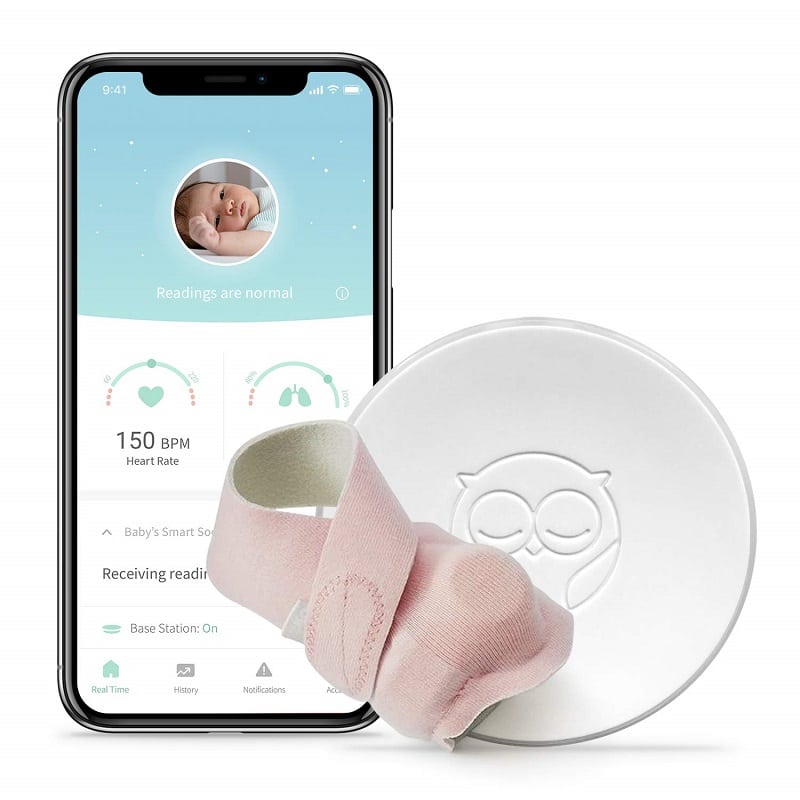 Perhaps the most popular and well-known breathing monitor is the Owlet, which has taken the parenting world by storm. Each unit comes with three washable socks that comfortably wrap around your baby's foot and connects to a base that is 100 feet away without any wires. These socks fit infants from 0-18 months old or 6-25 pounds.
The Owlet lets you keep an eye on your baby without being with them. This unit tracks your baby's heart rate and oxygen levels while they sleep using clinically-proven pulse oximetry. Parents are notified if something appears wrong.
The Smart Sock connects to a base station that glows green, so you know that everything is okay. It uses lights, sounds, and app notifications if your baby's heart rate or oxygen levels are too high or too low. That helps you sleep better.
Speaking of apps, the Owlet also has a smartphone app that lets you check your baby's real-time heart rate and oxygen levels. You can download this app on multiple phones, and it's available on iOS and Android phones. They also added a history tab that lets you see historical trends for heart rate and oxygen levels, as well as sleep tracking. You can see how long and how well your baby sleeps each night.
The Nuby Garden is a comprehensive blender that includes everything you could need to make different recipes for your baby. Nuby included accessories to steam your baby's food, letting you make small and large batches. It also includes accessories for you to store your baby food.
Parents can't steam the fruits and veggies in the Nuby Garden, but the kit includes a steamer basket to put into your microwave. Then, you transfer the steamed fruits or vegetable (or both) to the blender. The kit includes two sized bowls, so you can make larger or smaller batches. It's perfect for either making a bunch of bananas or pureeing what you have for dinner that evening.
Check Pricing and Availability
PROS:
30 Day Full Refund Available
Tracks Heart Rate & Oxygen Levels
Easy App to Use
Tracks Baby's Sleep
Lets You See Real-Time Vitals
CONS:
Sock Placement Alarm Might Go Off Often
Disconnects Easily From The Base
---
2

Snuza Hero SE – Only Monitor with Vibration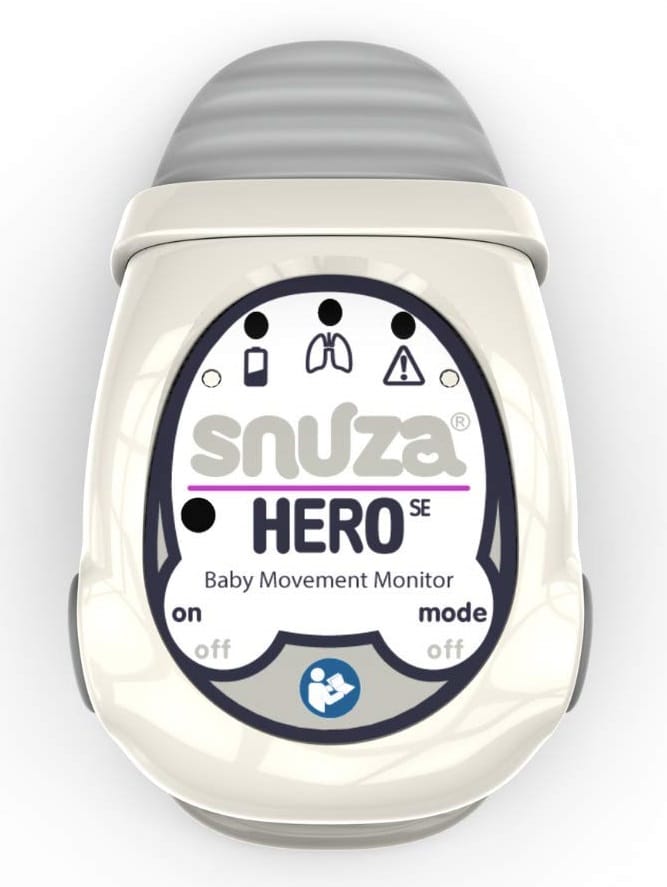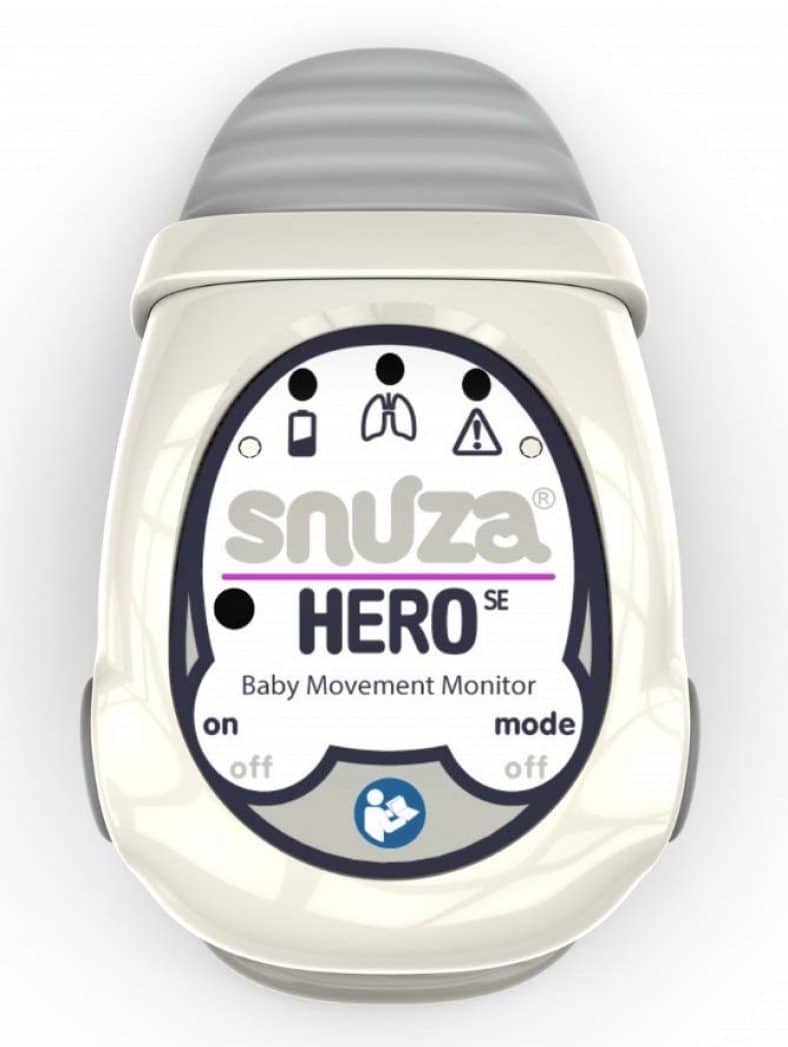 The Snuza Hero is a wearable, clip-on device that attaches to your baby's diaper, monitoring his abdominal movement. Because it is sensitive and placed on his abdomen, the Snuza detects the slightest of movements and sends alerts if the abdominal movements are weak or less than eight movements per minute.
What makes the Snuza Hero unique is that it vibrates if no abdominal movements are detected for 15 seconds. Vibration is typically enough to rouse your infant, and then it reverts to monitoring mode. Snuza will perform three rousing vibrations, but if it happens a fourth time, a Rouse Warning will alert you that it has taken place three times.
This monitor is quite sensitive and picks up external movements as well, so it's not suitable for co-sleeping. It's also not advisable to use in a car seat or stroller as the motion can alter the results.
Check Pricing and Availability
PROS:
Alarms After 20 Seconds of No Movement
No Wires, Pads, Cords, or External Power
Clips on the Diaper
Vibration Stimulus
CONS:
Might Hae False Alarms
Batteries Die Fast
---
3

Sense-U Breathing & Rollover Monitor – Best Clip-On Monitor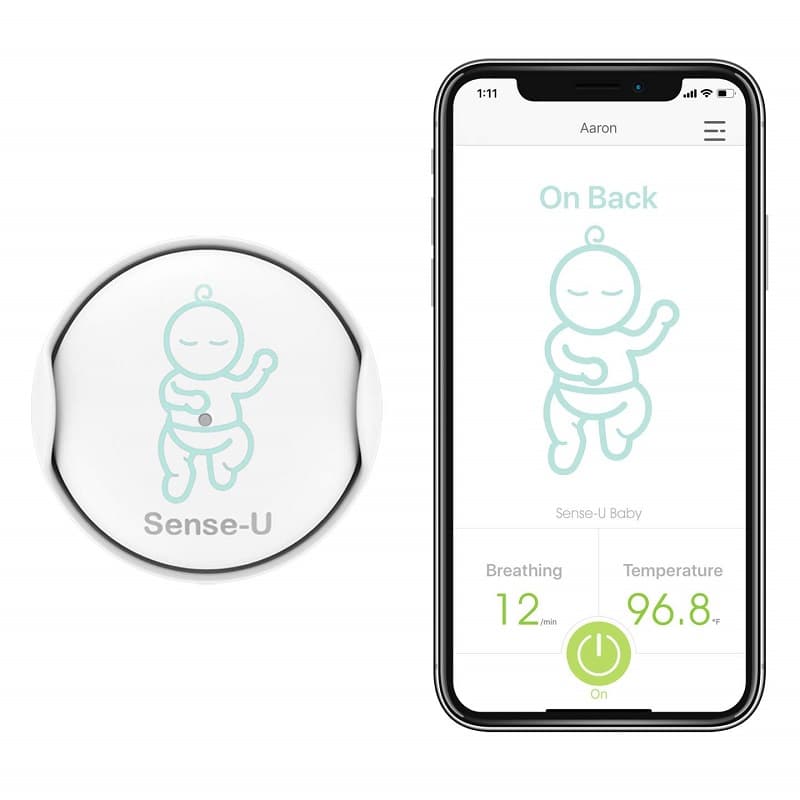 Sense-U works together with your smartphone to monitor your baby's breathing while sleeping. It uses Bluetooth Low Energy that has zero radiation level and a communication distance of up to 50 feet to keep you updated.
This monitor uses an upgraded, integrated, high-performance sensor chipset that accurately monitors your baby's breathing and lets you know with an audible alarm if changes are detected. It rarely sends false alarms, and it also monitors your baby's sleeping position. If your baby rolls over on his stomach, this monitor will send you an alert.
Sense-U also protects your baby from overheating, which is a SIDS risk, and from getting too cold.  You can monitor your baby's ambient temperature around their body with a built-in thermometer. If the temperature goes outside of preset zones, you will receive an alert.
All of the vitals can be checked in real-time using the Sense-U app. Parents can check real-time respiratory rates, sleeping position, and temperature. You can find the free app on iOS and Android.
Check Pricing and Availability
PROS:
Easy to Clip-On and Use
Free Tracking App
Easy to Connect on Bluetooth
Monitors Baby Breathing, Rolling, and Room Temperature
Can Check Real-Time Vitals
CONS:
Must Be Close to Baby – Not Suitable for Large Living Spaces
Can Disconnect at Times
Some Parents Report False Alarms
---
4

Babysense 7 – Under the Mattress Baby Movement Monitor – Best for Premature Babies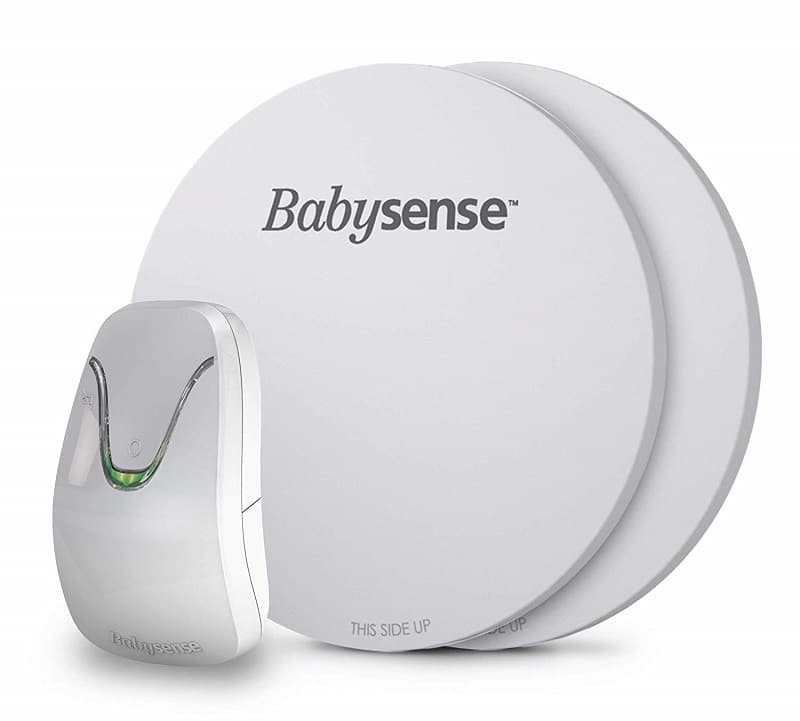 If you want an HSA/FSA approved monitor, the Babysense 7 is a sensitive device that monitors and detects even the slightest movements through the mattress. Babysense is the original under-the-mattress monitor created in 1991 by Hisense LTD. This was the very first non-touch motion sensor technology.
This is a non-contact monitor that comes with enhanced sensitivity and a lower risk of false alarms. Babysense sends a signal if no movement is detected within 20 seconds or if the movement rate slows to less than ten micro-movements per minute. It uses a passive sensor system that is safe and comes with two sensitive pad that provides coverage for your entire crib or bed area.
Babysense sends auditory and a red light visual alarm, and it has an easy one-button activation. The sensors are safe and emit no radiation without any harm to your baby. This monitor operates on 4 AA batteries that are not included.
Even though the AAP doesn't recommend breathing monitors, the Babysense is listed as a medical device in Europe, Israel, Japan, Korea, Australia, and several other countries. Since this is such a trusted device, it's an excellent choice for premature babies.
Check Pricing and Availability
PROS:
No Wires in the Crib
Highly Sensitive
Two, Full-Coverage Sensor Pads
Sends Alerts Fast
No False Alarms
CONS:
Doesn't Have Special Functions
Works Better With a Thin Mattress
---
5

Cocoon Cam Plus – Best Baby Cam and Breathing Monitor Combo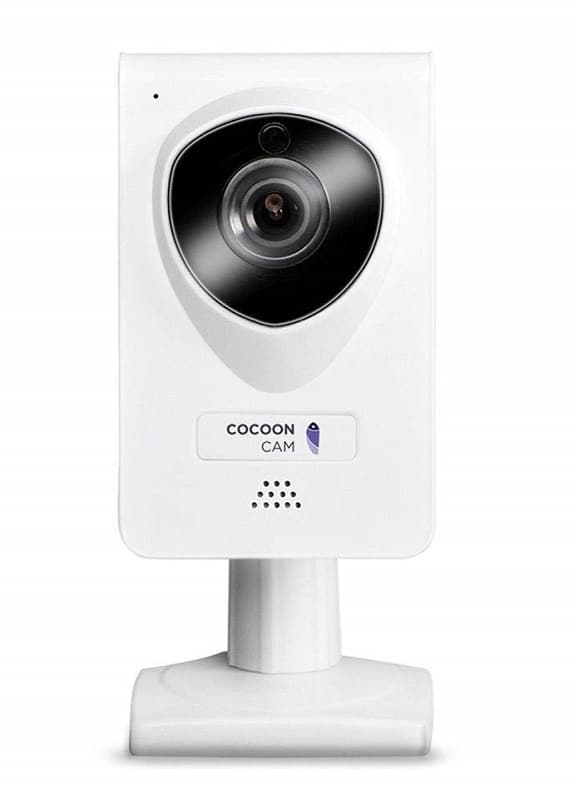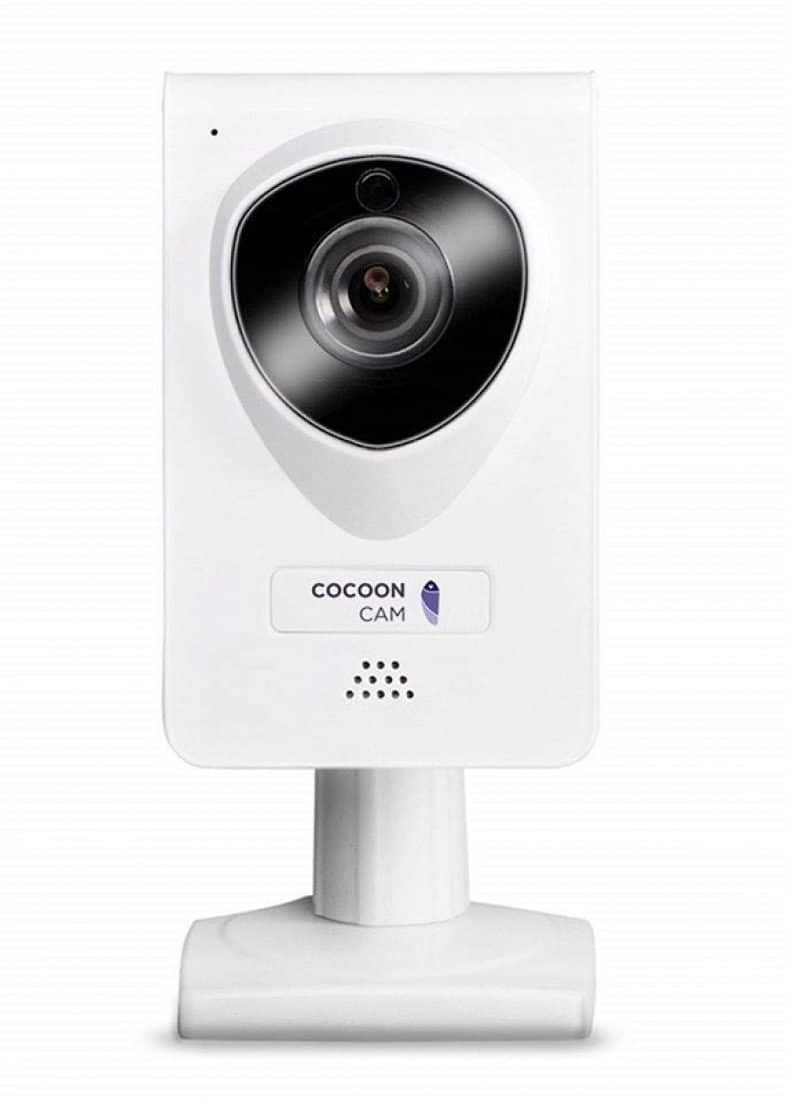 Do you want a baby monitor and breathing monitor that works together? The Cocoon Cam lets you know that your baby is breathing with real-time breathing rates and BPM displayed on your night-vision, HD video.
The camera has a night vision mode so that you can watch your baby's movements whenever you want. It has a heatmap that shows where your Cocoon Cam detects movement. Best of all, you receive instant alerts if your baby's breathing changes, he starts to cry or starts to wake up. That gives parents the ultimate peace of mind.
Cocoon Cam is an all-in-one monitor without any wearable items needed. So, you don't need to rely on a sock that might fall off, wires, mats, or anything. The company updated the cam in 2019 by added enhanced security with HTTPS-encrypted video, audio, and vitals. No one else can see your baby aside from you.
You do need to mount this cam correctly to get the best results. This cam needs to be centered on the long side of the crib about 3 feet above the mattress. You can secure the camera to the drywall with anchors and screws.
Check Pricing and Availability
PROS:
FSA/HSA Approved
HD Video & Night Vision
Displays BPM
Parents Receive Instant Alerts to Any Changes
Easy to Install
CONS:
Must Be Mounted to the Wall
Users Report Lag Time Between What You See and What Is Happening
---
6

Nanny Baby Monitor – Newest on the Market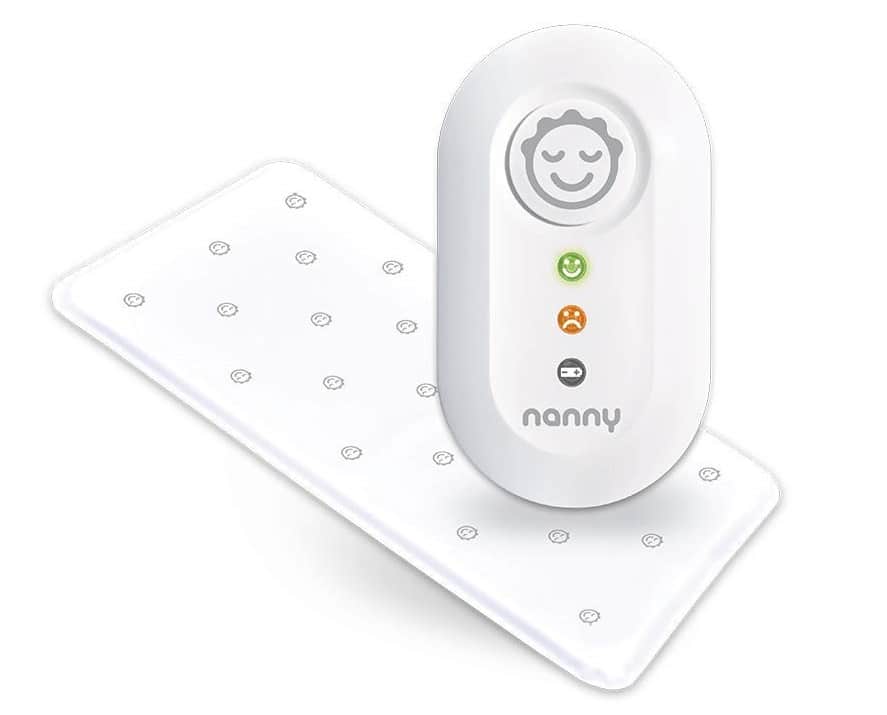 Nanny was originally only available in Europe, but now those living in the United States can purchase it! It is a baby breathing monitor that keeps an eye on your baby while you sleep. This monitor continuously checks your baby's breathing and movement, triggering an alarm if there are any possible dangers. If a problem is detected, Nanny sends a loud, acoustic, and visual alert.
Nanny is a certified medical device by the European Union and complies with part 15 of the FCC rules and CPSIA. Something that we like about the Nanny is that it is battery operated. Just slip the pads under the mattress in the crib. You never have to worry about electrical hazards or radiation near your baby.
We might have listed this monitor higher, but since it is new in the United States, we needed to wait for more reviews and experiences to come out.
Check Pricing and Availability
PROS:
Loud Alarm
Runs on Rechargeable Batteries
Highly Sensitive Mat
Certified Medical Device in the EU
CONS:
Only Monitors Breathing
Does Have False Alarms
Only Covers Part of the Crib
---
When to Seek Help for Irregular Breathing
You should always talk to your pediatrician when you have any questions or concerns about your child's health. Any health problems in a newborn can progress rapidly, so err on the side of caution and seek help sooner rather than later.
At the same time, you're probably wondering what the signs of breathing problems in a newborn are. Babies do weird things sometimes. They make strange, yet adorable, sounds, and you might have no clue what might cause a concern.
Here are some problematic signs.
Frequent breathing pauses
Your baby has a blue tinge around his lips and mouth.
His skin has a blue tint, even with an average breathing rate.
You notice your baby is lethargic or not responding as usual.
Rapid breathing is a common occurrence.
These symptoms can be scary if you notice your baby experiencing them. They can be a sign of a severe issue, such as sleep apnea. Take your baby to the doctor or call 911 quickly.
Find the best natural Mosquito Repellent for babies from our top picks!
---
Sleep Easy for Parents
SIDS is the biggest concern for any parent, and we know that it's a real risk even if SIDS is rare. Using one of the best baby breathing monitors gives you the peace of mind to be able to sleep well.
Always talk to your doctor if you feel as if this is the right decision for you. He might be able to let you know if it's appropriate for your baby or not. Most importantly, remember that these monitors just ring the alarm. They won't do anything to save your baby in the event of an emergency. So, always have a plan, including babysitters.