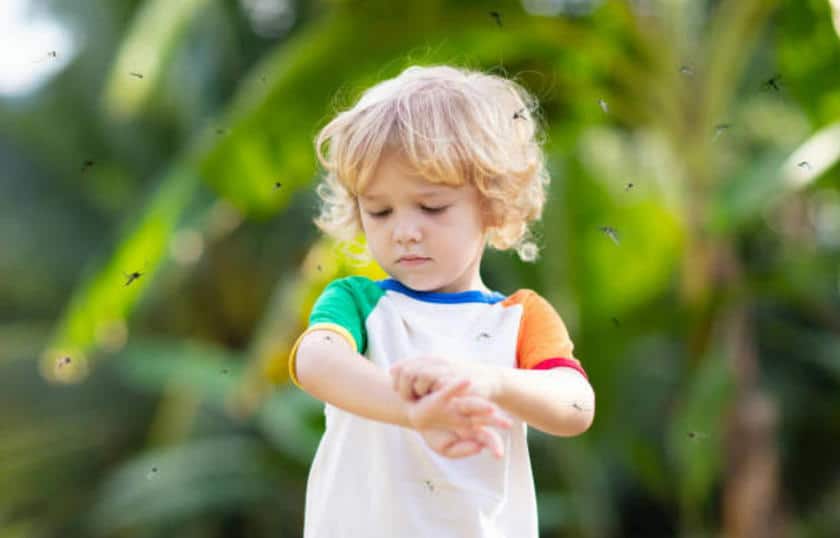 You don't want mosquitoes biting and bothering your baby when you go outside, yet many mosquito repellents aren't safe for kids or babies. Applying bug spray to your baby's delicate skin can be scary, but it's necessary to prevent dozens of bites. That's why you have to find the best mosquito repellent for babies.
Not all mosquito repellents are created equal. Some have different ingredients that make them unsafe for children. You have to worry about side effects and possible allergic reactions if you use the wrong repellent.
No pressure or anything, right?
Don't worry; I have your back. As a mother of four kids myself, I understand that sometimes you need mosquito repellent. My second child plays soccer, and the field is infested with mosquitoes. I have to spray all of my kids and myself, or we end up with bites all over our bodies.
I researched the best mosquito repellents for babies and compiled a list. Any of these products are safe for your child, so you can feel good applying them to your baby's skin.
---
Quick Recap of the Mosquito Repellent for Babies
What is the best mosquito repellent for babies?
---
Why You Need Mosquito Repellent for Your Baby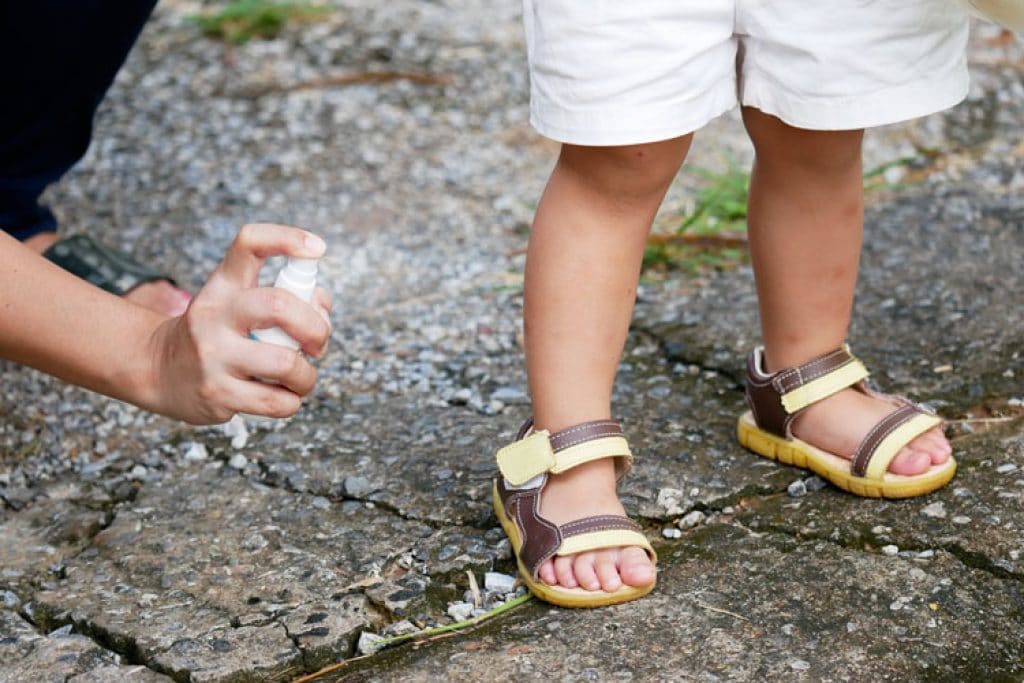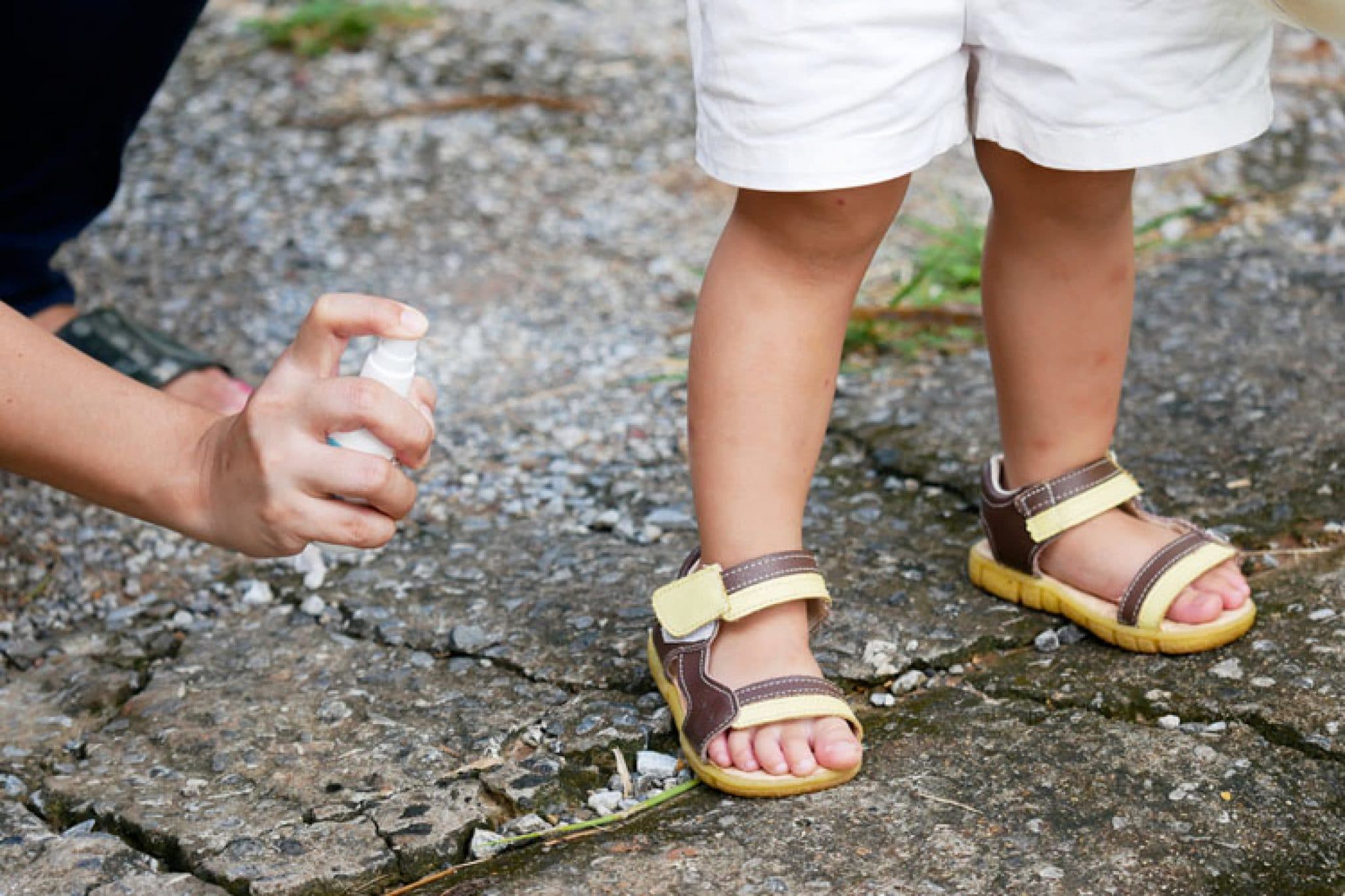 If you don't spend any time outside, you probably won't have much of a use for mosquito repellent. Humans lived for thousands of years without repellent to spray on their bodies, so we know it's not necessarily a must-have item.
However, with the invention of mosquito repellent, why would you want to suffer?
We spend a lot of time outside; we homestead, camp, bike, hike, and love the outdoors, in general. So, we need something to protect our babies and kids.
Not to mention, mosquito bites HURT, especially for babies. The bites swell up more on babies than adults, and babies might even have bruising on the bitten area. Local reactions happen for babies frequently.
Examples of larger reactions to mosquito bites on babies include:
Large swollen area
 Bruising
Low fever
Hives
Enlargement of lymph nodes
Also, don't forget that mosquito bites can carry diseases with them, and those could be severe or even fatal for babies. Mosquito-borne diseases in the United States include the West Nile virus and encephalitis virus.
---
At What Age Can I Use Mosquito Repellent on My Baby?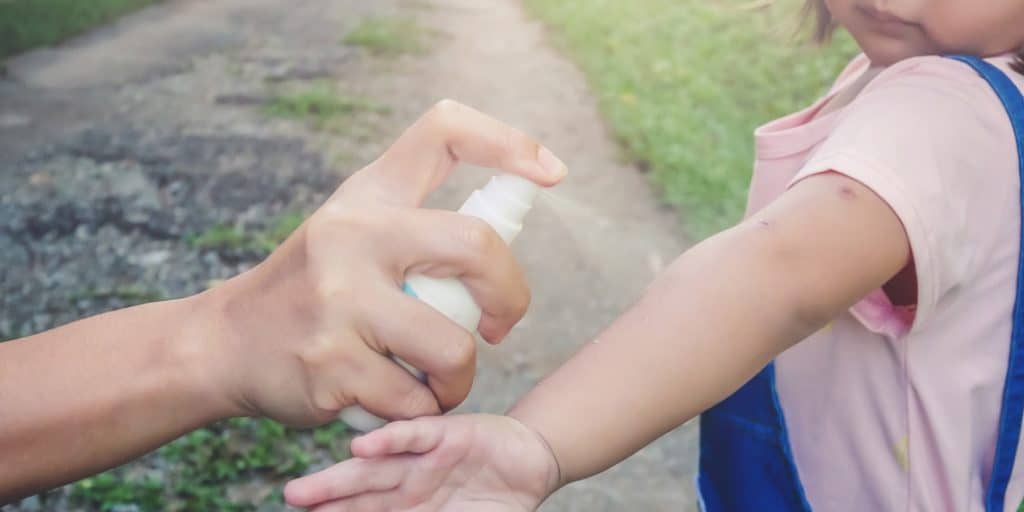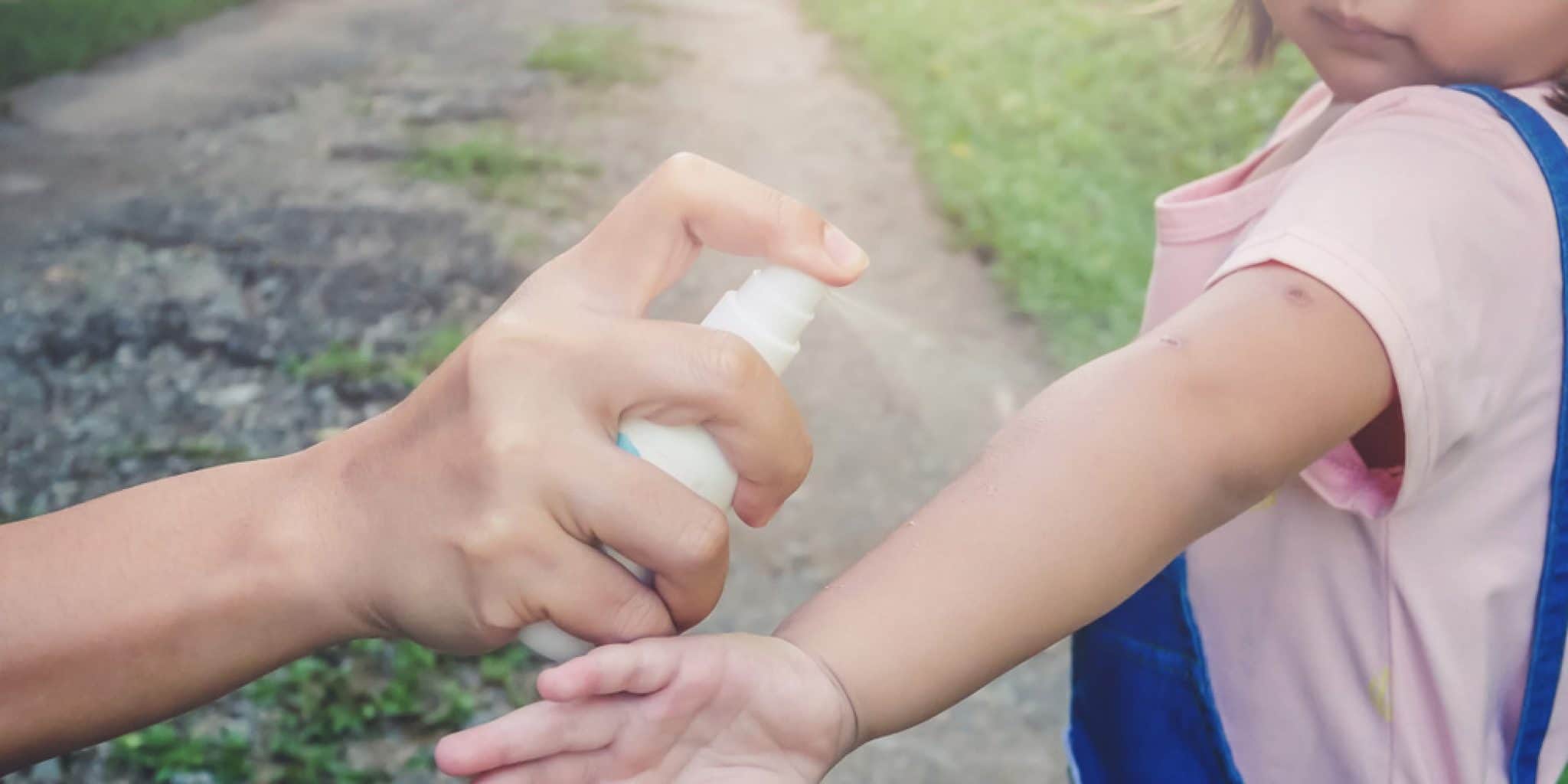 When you can use the repellent depends on the variety that you selected and ingredients used. Some components do work better than others. You can find mosquito repellents that contain different active ingredients that can be used once your child turns two months old.
Those ingredients include:
If you want to use a repellent that contains oil of lemon eucalyptus, only do so if your child is at least three years old.
---
What to Know about DEET Spray
DEET is the name for N, N-Diethyl-m-toluamide. The United States Army developed DEET in 1946, and it's the most common ingredient found in US-based insect repellents. It's used because it's highly effective.
DEET spray is applied directly to your skin, repelling the insects without killing them. It works by confusing the neurons in their antennae and mouths, so it forces flies, gnats, chiggers, and mosquitoes to back up and stay away.
The biggest question is – Is DEET safe?
You should do your research to discover what makes you most comfortable. While the rumors do state that DEET has potential dangers, studies concluded that DEET is safe for babies two months and older, as long as it's used as directed.
You can purchase DEET bug spray in different concentrations from 4 to 100 percent. Currently, the AAP and CDC recommend that kids (aged two months and older) use repellents with up to 30% DEET. That offers protection for about five hours.
Other recommendations state that babies should be six months old before using DEET. Also, some doctors recommend that parents only use concentrations of more than 10% DEET for kids two years old and under. They also recommend limiting usage to once per day.
Alternatives to DEET in Bug Spray
If you don't feel comfortable using DEET on your child, there are some other options. You should remember that these other ingredients might not be as effective at blocking mosquitoes, but they should work well enough.
Here are some other alternatives to DEET.
Bayer developed picaridin in the 1980s, and it's a synthetic version of a repellent found in pepper plants. Some research indicates that picaridin is just as effective s DEET, and it's safe for babies two months and older.
The EPA lists that picaridin at a 20% concentration repels ticks and mosquitoes for up to 14 hours. A 10% concentration lasts for 5-12 hours.
Picaridin comes with the bonus of not having the same neurotoxicity as DEET, and it's not known to irritate the skin. It's non-toxic if inhaled and only slightly toxic if swallow. In Europe and Australia, picaridin-based bug repellents are the most popular choice.
When people look for natural bug sprays, they often discover repellents that contain oil of lemon eucalyptus. This ingredient is listed as safe and effective, but it can only be used on children three years old and up.
Oil of lemon eucalyptus is an extract made from the leaves of the tree and processed to up the concentration. It's not the same thing as lemon eucalyptus oil. That's pure and not listed as an insect repellent, but some do use it in homemade versions.
You can find natural bug sprays that contain essential oils, such as clove, cedar, citronella, lemongrass, peppermint, and soybean. These essential oils seem safer than DEET since the EPA lists them as a minimum risk, they aren't as effective at repelling other insects and only slightly effective at repelling mosquitoes
---
Top 7 Best Mosquito Repellents for Babies Review
1

SallyeAnder No Bite Me Cream – Best Cream Based Repellent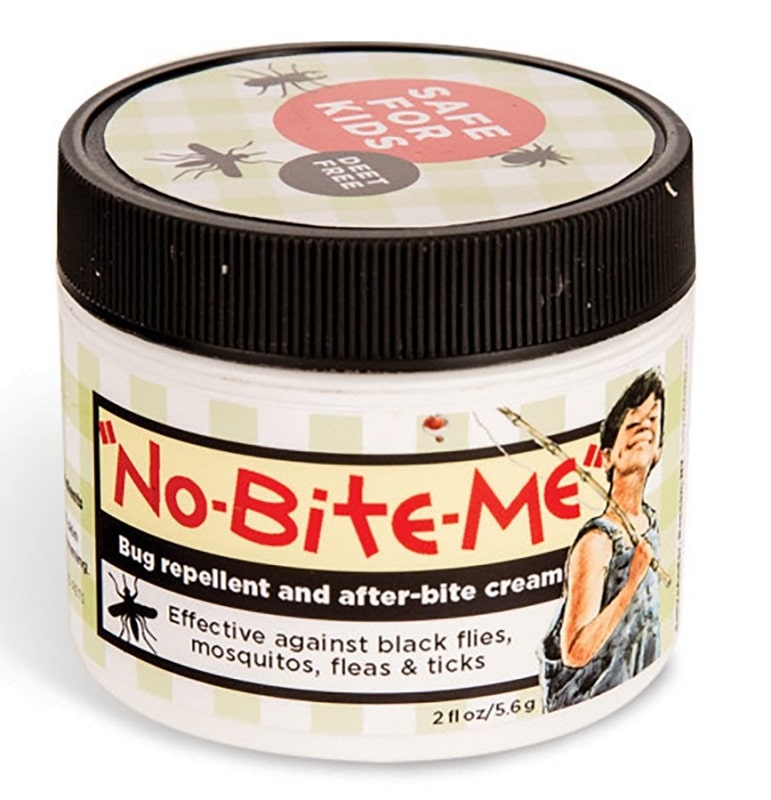 Are you trying to avoid using sprays around your baby? A lot of parents worry about possible inhalation, so they don't want to use sprays on their children. If that sounds like you, then you might do best with a cream-based repellent. With the SallyeAnder, all you have to do is rub some between your hands to warm it up and then spread it over your child's skin.
Their No Bite Me Cream is an all-natural, DEET-free, handmade product from a USA-based company. It's safe to use on infants and everyone, no matter their age. It's effective against black flies, fleas, ticks, and mosquitoes.
Not only is it an effective repellent, but it's also an after bug bite treatment. You can apply every four hours as an after bite treatment to reduce swelling, redness, and itchiness.
SallyeAnder is a strong-smelling mixture that uses several essential oils, such as cedar, mint, lemongrass, geranium, clove, thyme, rosemary, and eugenol. Aside from the effective ingredients, the cream doesn't sweat off, nor does it leave any greasy residue behind on your hands.
Check Pricing and Availability
PROS:
All Natural
No DEET
No Greasy Residue
Lasts for 4 Hours
Made in the USA
CONS:
Strong Herbal Scent
Pricey for Size of Container
---
2

Sawyer Products Premium Insect Repellent – Best Picaridin Based Spray


One look at the other 5,000 high ratings for Sawyer Premium Insect Repellent, and you will know we are onto something good here. This is a fragrance-free topical insect repellent that contains 20% picaridin. It's listed as safe for children six months old and up.
This insect repellent is effective against the Yellow Fever mosquito, which transmits the Zika virus. Its effectiveness lasts up to 14 hours against mosquitoes and ticks and up to 8 eight hours against biting flies, chiggers, gnats, and sand flies.
We love that the Sawyer Picaridin Insect Repellent is safe to use on the whole family, deterring an array of insects. It's a non-greasy formula that offers all-day protection with a low, pleasant citrus odor. This spray doesn't damage plastics or synthetic coatings. Sawyer sells both a spray and lotion form of this insect repellent.
Check Pricing and Availability
PROS:
Safe for 6 Months and Older
20% picaridin
Fragrance-Free
Non-Greasy
CONS:
Need to Use Plenty for Coverage
Can be Hard to Spread
---
3

Kinven Mosquito Repellent Spray – Best DEET-Free Spray


Kinven offers mosquito protection, indoor and outdoor, for the entire family. This formula keeps mosquitoes and other bugs away from your children. Kinven uses a combination of different essential oils to keep your baby safe, so it's natural. You can even use it on your pets!
The active ingredients in Kinven are essential oils from multiple plants. A few of those essential oils include peppermint, citronella, geranium, clove, and rosemary. Then, they added isopropyl alcohol, water, and glycerin for effectiveness. All of these ingredients create an enjoyable fresh scent, but it's not scent-free.
This spray repels insects for up to four hours. It's concentrated, so it provides plenty of protection without being too strong. You can use it on your skin, clothing, and other personal belongings without worrying that it will do any damage.
Check Pricing and Availability
PROS:
DEET-Free
Natural Ingredients
TSA-Compliant Size
Safe for All Ages
CONS:
Must Apply Every 4 Hours
Not Scent-Free
---
4

Babyganics Bug Spray – Best Spray Mosquito Repellent


Most parents have heard of Babyganics, and their bug spray draws impressive reviews from customers. This bug spray is DEET-free and free of dangerous chemicals such as sulfates, phthalates, parabens, artificial fragrances, and synthetic dyes.
Babyganics created their bug spray with natural essential oils, including citronella, peppermint, rosemary, lemongrass, and geranium. This combination of scents keeps mosquitoes, flies, and gnats away.
It's hard not to love Babyganics. This spray is a non-greasy formula, and they never test their products on animals. Parents should spray this onto their hands and apply it to your baby's skin. The formula dries quickly without any stickiness. You can use this spray for babies six months of age and over.
Check Pricing and Availability
PROS:
DEET-Free
Natural Essential Oils
Non-Greasy Formula
For Babies 6 Months of Age and Older
CONS:
Strong Scent
Not as Effective as Other Sprays
---
5

Avon Skin So Soft Bug Guard Plus – Best Sunscreen & Mosquito Repellent Combo

If you're going to be outside a lot, you need to keep your baby protected on all fronts. Avon Skin So Soft combines two products that you need – sunscreen and a bug repellent. That means you have one less step when you go outside with your baby.
This combination has an SPF 30, which is enough to keep your child's skin protected. It moisturizes dry skin with vitamin E and aloe, and the lotion is a non-greasy formula. Avon keeps DEET and parabens out of their formula.
Avon Skin So Soft protects your child against black flies, deer ticks, and mosquitoes. You can use this lotion on children six months and older, and you need to reapply it every two hours for insect control. However, make sure that you don't use it more than nine times per day and fewer than that if you have a baby.
Check Pricing and Availability
PROS:
DEET-free
6 Months and Older
Contains Sunscreen as Well
Affordable
CONS:
Not Odorless
Need to Reapply Frequently
---
6

Mosquito Guard Natural Repellent Spray – Best Natural Mosquito Spray


Are you looking for a natural, DEET-free bug spray? Mosquito Guard contains natural plant-based ingredients that make going to the park, camping, or hiking enjoyable. This spray includes geraniol, peppermint oil, lemongrass oil, and citronella oil.
Mosquito Guard worked hard to select natural, non-toxic ingredients that have scientific evidence supporting their effectiveness. All of the ingredients used are known to repel insects, including but not limited to mosquitoes.
This spray is alcohol-free, non-toxic, and provides you several hours of mosquito-free fun outside. It's effective indoors and outdoors, and it comes in a 4oz bottle, which is the perfect size to take Mosquito Guard with you everywhere. You can use this for children one-year-old and up.
Check Pricing and Availability
PROS:
DEET-Free
Natural Ingredients
Alcohol-Free
Won't Stain Clothes
CONS:
Scented
Doesn't Work for Everyone
---
7

California Baby Plant-Based Natural Bug Repellent Spray – Best for All Ages


California Baby is committed to creating natural and safe products for our children. Their Natural Bug Repellent is a baby-safe, natural spray without DEET. That's right; it's DEET-free. This formula uses citronella, lemongrass, and cedar pure essential oils to kick the mosquitoes away for good.
It deters more than just mosquitoes. This plant-based natural bug repellent spray repels fleas, ticks, and biting flies as well without having an obnoxious scent. You can even use it to soothe existing bites because these herbs care and heal damaged skin.
California Baby added a pump-action sprayer that you can lock by twisting to the side. That's perfect for traveling. In 2013, this product won an award for the "Best Skin Care for Baby." We love that this spray is allergy tested, gluten-free, soy-free, oat-free, dairy-free, and nut-free except for coconut. All of their products are packaged in their FDA-registered, certified organic facility.
You can use this product for babies six months old and older, but many parents note that their pediatrician told them that it is safer for kids younger than that. If you want to use it before that age, speak to your pediatrician.
Check Pricing and Availability
PROS:
6 Months Old and Up
Natural Ingredients
DEET-Free
Travel-Friendly Bottle
CONS:
Must Apply Frequently
Not The Best Against Ticks
---
The Do's and Don'ts of Mosquito Repellents
Once you pick the right one to use for your babies, you have to determine how to use it properly and safely. It won't work right unless you use them correctly. Here are some simple tips.
The Do's
Keep your infant's skin covered in lightweight clothing and try to cover exposed skin.
Consider using a bug net over your stroller or infant car seat.
Be sure to pick insect repellents that are approved for use on children and always follow the directions.
Spray the repellent on your hands first before rubbing it on your child. Doing so stops it from going into the air that your baby will breathe.
Wash off the repellent with soap and water when you return inside.
The Don'ts 
Don't use fragranced products, such as laundry detergent or lotions because they attract biting insects.
Never use insect repellent on babies under two months old.
Avoid applying near their eyes and mouth. For small infants, don't use on their hands as they might put their hands into their mouths.
---
Potential Side Effects of Mosquito Repellents
Nothing is without risk, and that includes mosquito repellents. They do carry some risks, so you have to decide for yourself if you're comfortable using these products on your child.
Most of these possible reactions aren't typical, and they're considered rare, considering how many people use these products each year. However, it's always best to be informed and understand the possible side effects. Here are some to note:
Insomnia
Irritability
Seizures
Coma
Encephalopathy
Behavioral Changes
It's important to remember that if your child contracts one of the mosquito-borne viruses, their symptoms will be far worse than any side effects from using a bug spray. For example, West Nile virus produces fatigue, aches, and fever. The symptoms can be even worse if your child has a weakened immune system.
---
The Bottom Line
Not all mosquito repellents are safe for babies or even kids. While some evidence suggests that DEET is safe for kids, we only included DEET-free choices on our list to help eliminate any worries.
As parents, we worry enough, right? The last thing we need to worry about is the toxicity of our bug spray. Any of these seven mosquito repellents for babies will keep your infant bug bite free and happy while outside.