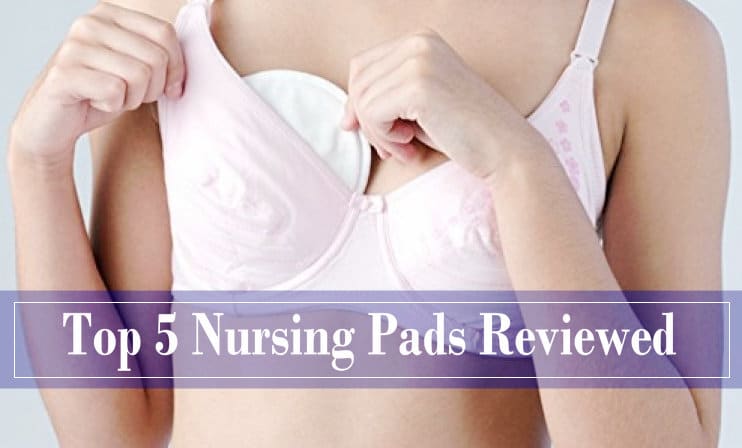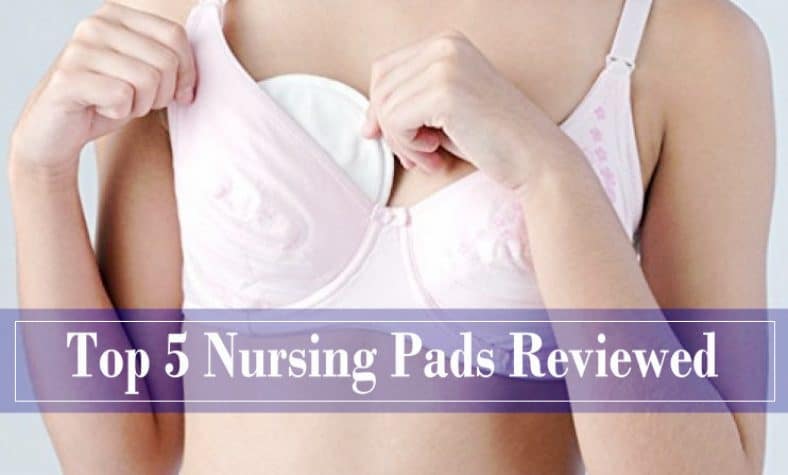 Leaking breastmilk is a normal and natural occurrence, but the best nursing pads can really help.
Most women experience some leaking of breastmilk at some point during their breastfeeding journey. So, finding the best nursing pads for you can be a very important and helpful part of preparing for breastfeeding your baby!
---
5 Best Nursing Pads - Compare & Reviewed
Nursing pads are an extremely helpful product to have when you are breastfeeding. Almost all women experience leaking breastmilk during breastfeeding. Many women have heavier leaking in the beginning stages of breastfeeding as their milk supply is established.
After that point, a lot of women will experience less leaking, but some women do have leaking throughout their entire breastfeeding journey. Nursing pads are the perfect way to easily combat this issue. They allow you to stay comfortable and avoid potentially embarrassing leaks through your clothing.
---
1

Bamboobies Washable Reusable Nursing Pads – Best Washable Nursing Pads
Features:
12 nursing pads (6 pairs)
3 overnight pairs
3 ultra-thin pairs
Cute heart shapes
Super soft lining
Washable/reusable
Bamboo velour
TPU waterproofing
Check Pricing and Availability
The best washable nursing pads are hands down Bamboobies Washable Reusable Nursing Pads. These amazing washable nursing pads are just about unbeatable in every way. They come highly recommended from thousands of women and are a super high-quality nursing pads option that work amazingly well!
The way that Bamboobies nursing pads work so well is thanks to their cleverly thought-out
three-layer system.
The first layer – which is what lays against your skin – is an incredibly
soft bamboo rayon velour.
This is the perfect layer to be against your skin because it really is just so super soft and therefore
very comfortable and soothing.
The middle layer is made of a ramie/cotton blend. This layer does a perfect job at dispersing and absorbing leaking breastmilk. Finally, the third layer of Bamboobies nursing pads is mad of 100% polyester with TPU waterproofing. This layer locks everything in to make sure that there are no uncomfortable or embarrassing leaks!
Comes with Two Different Absorbencies:
One thing that we really love about Bamboobies is that they come in packs of
12 nursing pads
– that's
6 full pairs!
The coolest part is that you get 3 pairs of one absorbency level and 3 pairs of another absorbency level.
These reusable nursing pads come with both ultra-thin options that are still very absorbent and perfect for the daytime. They are nice and thin, so they won't show through your bra and are super comfy. Plus, the ultra-thin nursing pads are heart-shaped, which is fun and adorable.
Bamboobies also come with overnight nursing pads. These are round instead of heart-shaped and are a good bit thicker. This is great because it will hold a good amount of milk without any leaks. They are perfect for overnight or even just for very heavy leakers.
The downfall of Bamboobies is that they are pretty pricey. Compared to other reusable nursing pad options, these are definitely more expensive in most cases. This is understandable since they are made of very high-quality materials and are so effective.
While they are the most expensive option that we reviewed, it should be taken into consideration that disposable nursing pads options will be something that you have to continually purchase. So, these are still definitely a more cost-effective option compared to disposable options.
PROS:
Comes with 6 full pairs for less frequent washing
2 different absorbencies give you options to best fit your needs at any given time
Super soft bamboo velour lays against your skin and is comfortable and soothing
Absorbent middle layer absorbs and dispense milk well to help prevent leaking
Outer waterproof layer provides a final layer of protection to ensure no embarrassing or uncomfortable leaks
CONS:
Price is a good bit higher than other options
Bamboobies are a truly incredible brand of amazing nursing pads and other great breastfeeding products. If you are specifically after some great reusable nursing pads, this is definitely the choice for you. They are a little expensive, but since you will be able to get so much use out of a single purchase, they are absolutely worth the cost!
2

Lansinoh Disposable Nursing Pads – Best Overall Nursing Pads
Features:
Quilted, honeycomb lining
Adhesive strips
Contoured shape
Stay-dry technology
Breathable, waterproof backing
Disposable nursing pads
Individually wrapped
Check Pricing and Availability
Lansinoh is one of the biggest names out there when it comes to breastfeeding products and even more specifically – nursing pads. They are a very popular choice for very good reason. These amazing disposable nursing pads are super convenient, affective, and comfortable!
The best overall nursing pads have wonderful stay-dry technologies built into them. They are able to hold a lot of leaking breastmilk with no problems at all. They are super thin, so that they can remain invisible underneath your clothing, but still are able to hold a ton. They have a special contoured shape to them as well. This helps them to fit more neatly over your breasts and further adds to how discreet they are underneath your clothing.
The inner-most layer of these Lansinoh Nursing Pads  is super soft for optimal comfort. To further add to the comfort of them, they have a special quilted, honeycomb lining. This does a wonderful job at helping you to stay feeling dry even as they absorb leaking milk.
Adhesive Strips:
One of the coolest things about disposable nursing pads compared to washable nursing pads is that they usually have these super helpful adhesive strips on the back of them. These are great because they allow you to stick them right where you need them. You won't have to worry about them slipping out of place and causing leaks! They will stay right where you need them to stay!
The major downfall with these, of course, is that each nursing pad is only good for one use. You will have to dispose of each one after you have used it. So, you will have to continually buy these. This can certainly be less cost affective over time. However, not having to wash them is a huge plus and some people will find the convenience to be well-worth the extra cost over time.
PROS:
Disposable, so you don't have to worry about ever washing them
Soft, quilted honeycomb lining keeps you feeling dry and comfortable
Adhesive strips allow you to place them right where you need them and gives you peace of mind that they will stay in place
Stay-dry technology absorbs a large amount of milk and keeps you and your clothes feeling nice and dry
CONS:
Since they are not washable, you will have to keep purchasing them, which can cost a lot more in the long run
There really is a lot to love about these Lansinoh Nursing Pads! They are super convenient and very comfortable. They are able to hold a large amount of leaked milk, while keeping both you and your clothing feeling nice and dry. The only downfall here is that you will have to continue to purchase them as you use them – but that's true for all disposable nursing pads.
3

Baby Bliss Organic Bamboo Nursing Pads – Best Organic Breast Pads
Features:
Organic bamboo breast pads
7 pairs of breast pads
Washing bag included
Organza storage bag included
Breastfeeding E-books included
Contoured shape
Check Pricing and Availability
Organic products have been becoming much more popular and therefore much more widely available. There are now more organic options than ever! This is wonderful news for those out there that are more health-conscious. Choosing organic products can give you peace of mind that your products are truly safe and high-quality without any potentially harmful residual pesticides. Plus, you know that the farming practices used to produce organic products is ethical and safe for the environment!
We chose Baby Bliss Organic Bamboo Nursing Pads as our pick for the best organic breast pads out there! They are of incredible quality and made out of organic materials – specifically the part of the breast pads that touch your skin, which is of course the most important part.
As a bonus, the best organic breast pads also come with lots of great bonuses! It comes with 2 different bags. The organza bag is decorative and makes the perfect place to adorably store your breast pads. It also increases their value as a gift tremendously. The second bag is a small zippered washing bag.
You can put your set of breast pads into the washing bag before tossing it into the washer to make sure none of your organic breast pads happen to go missing while you are washing them! In addition to these 2 bags, the best organic breast pads also come with multiple E-books to help you along on your breastfeeding journey!
7 Pairs of Organic Breast Pads:
One of our favorite things about these organic breast pads is the fact that they come with an impressive 14 individual breast pads. That is 7 full pairs. The cool thing about having 7 pairs is that you have one pair for each day of the week! So, you only have to throw these breast pads in the washer once each week. None of the other options on our list have this many pairs of washable breast pads.
The one problem that some women tend to have with these is that they don't seem to hold quite as much as some of the other options. So, they probably won't be the best option for heavy leakers. Some women may go through more than one pair of these a day. Although, since they are quite affordable, it might be worth it for many to simply buy 2 or 3 packs of them.
PROS:
Comes with an impressive 7 pairs of nursing pads
Organic bamboo material gives you peace of mind regarding safety as well as ethical farming practices
Super soft material is incredibly comfortable and soothing on your skin
Bonus gifts that are included really increase the overall value of your purchase
Super affordable price makes these easily attainable for anyone of any budget
CONS:
Don't hold quite as much as many other options
If you are one of the many people that are trying to live a healthier and more ethical lifestyle, these can be the perfect option for you. These are the best organic breast pads out there! We love almost everything about these great nursing pads. Unless you happen to be a very heavy leaker, these are a great option for nearly everyone! They are even surprisingly very affordable. So, even if you are a heavy leaker, you always have the option of just buying extras!
4

Medela Disposable Nursing Pads – Best Disposable Nursing Pads
Features:
Contoured shape
Adhesive tape backing
Super soft
Super absorbent
Discreet
Physician recommended
Individually wrapped
Check Pricing and Availability
Madela is a super popular brand of amazing breastfeeding products! They are best known for their breast pumps but have all sorts of other wonderful products as well. We have chosen these Madela Disposable Nursing Pads as the best disposable nursing pads!
The reason that these particular nursing pads are our favoirte disposable choice is easy! They are incredibly absorbent! There is a lot more to love about them, but their absorbency is second to none. They will hold a huge amount of leaking milk without leaking onto your clothing. They are great for heavy leakers and light leakers alike. They can be used during the day or overnight! They are made of cotton, nylon, and an absorbent polymer material. Together, these things come together perfectly to create truly impressive nursing pads!
Just like the Lansinoh nursing pads that are previously mentioned, these nursing pads have adhesive strips on the back. They have two different spots of this adhesive tape. This allows you to easily and effectively place the nursing pads exactly where you need them. You can rest assured that they will stay perfectly in place!
Physician Recommended:
Madela proudly displays the fact that their disposable nursing pads are the number one recommended brand of nursing pads that are recommended by physicians! This is fantastic because it allows you to really rest assured that this is a safe and high-quality product to use!
Just like the Lansinoh nursing pads, the downfall of the best disposable nursing pads is that they will be a reoccurring cost. They aren't terribly expensive but continuing to buy them over time is a lot less cost effective than some other choices. Of course, there are lots of benefits to them being disposable, too. You may find that the convenience factor is well-worth the reoccurring cost for you and that's great!
PROS:
Super absorbent materials keep you leak free all day or all night
Contoured shape fits well over any size of breast
Adhesive backing helps to guarantee your nursing pads stay securely in place
Disposable design means you never have to worry about washing your nursing pads
Individually wrapped nursing pads ensure each nursing pad is sterile before use
CONS:
Each disposable nursing pad is only good for one use, so you will have a reoccurring cost with these nursing pads
Washable nursing pads aren't for everyone. Some women are just more comfortable using disposable ones for a variety of reasons and that's just fine. There are a lot of benefits to disposable nursing pads. If you are after the best disposable option, Madela can be a fantastic option for you!
5

Kindred Bravely Washable Organic Bamboo Nursing Pads – Best Bamboo Nursing Pads
Features:
8 nursing pads (4 pairs of nursing pads)
Included waterproof bag
Organic bamboo layer
Microfiber absorbent layer
Waterproof backing
Contoured design
Super soft
4.5-inch diameter
Check Pricing and Availability
The best bamboo nursing pads from Kindred Bravely are an incredible choice of nursing pads. They are a very high-quality choice that is highly effective and super comfortable!
These bamboo nursing pads a very
well-constructed and made of the highest quality materials
attainable. They consist of three different layers. The outside layer is PUL, which is a
special waterproof layer
that protects your clothing from leaks.
The middle layer is microfiber. This is the layer that does the majority of the absorbing because microfiber is highly absorbent! The final layer is the bamboo layer. This is the layer that sits next to your skin. It is silky soft and as a bonus, it's even organic!
Just like a couple of other options that we reviewed, the Kindred Bravely nursing pads are made with a contoured design! This makes them fit exceptionally well over breasts of any size. It adds to the comfort of them and also helps them stay safely in place over your nipples where they can prevent leaking!
Stylish Waterproof Storage Bag:
One of the coolest things about these is the awesome bag that they come with! This bag is super chic and absolutely adorable! Plus, it is waterproof! That is a huge bonus because it makes it perfect to carry either dry or wet nursing pads. It is compact for convenience, but still fits the whole set of nursing pads when needed. Our favorite thing is that the bag has a very stylish and cute print on the outside that you are sure to love! It also has a small carrying handle with a snap on it, so you can easily hook it to your purse or diaper bag or whatever else you may want to hook it to!
Our only problem with these Kindred Bravely nursing pads is the thickness of them. They are slightly thicker than the other reusable nursing pad options that we reviewed. This is nice since it means they are more absorbent and better prevent leaks for longer, but it can also cause some issues.
Mainly, some women have a problem with these showing a little through thin clothing. If you were a bra that has even the slightest bit of padding it, you shouldn't have a problem. However, if you like to wear thinner sports bras or tank tops with he built-in nursing bra, you may want to choose another option if you'd like to remain discreet with your nursing pads.
PROS:
Contoured design fits well over breasts of different sizes without slipping
Microfiber layer is extremely absorbent and keeps you leak free all day or all night
PUL backing is waterproof and further helps to prevent leaks
Included storage bag is super chic and waterproof
CONS:
Thicker design may be seen through thinner bras and clothing
There really are a lot of wonderful benefits to these bamboo nursing pads. They are very absorbent, waterproof, come with an adorable storage bag, and even have an organic bamboo layer that sits against your skin for added comfort and peace of mind!
---
Best Nursing Pads Buying Guide
Above, we listed our top 5 nursing pads picks with detailed nursing pads reviews on each one that we chose. We do this to make it super easy for you to quickly choose a great nursing pads option for you! However, we don't just want to leave you with our own choices. We want to help you make your own informed decisions on the products that you purchase. So, below, we have compiled a nursing pads buying guide to help you make your own choice when it comes to the perfect nursing pads for you!
---
How to Choose the Best Nursing Pads to match for your Needs
When it comes to nursing pads, you don't just want to jump in and buy the first nursing pads that you find. There are some things that you will want to consider in order to help you find the best options for you!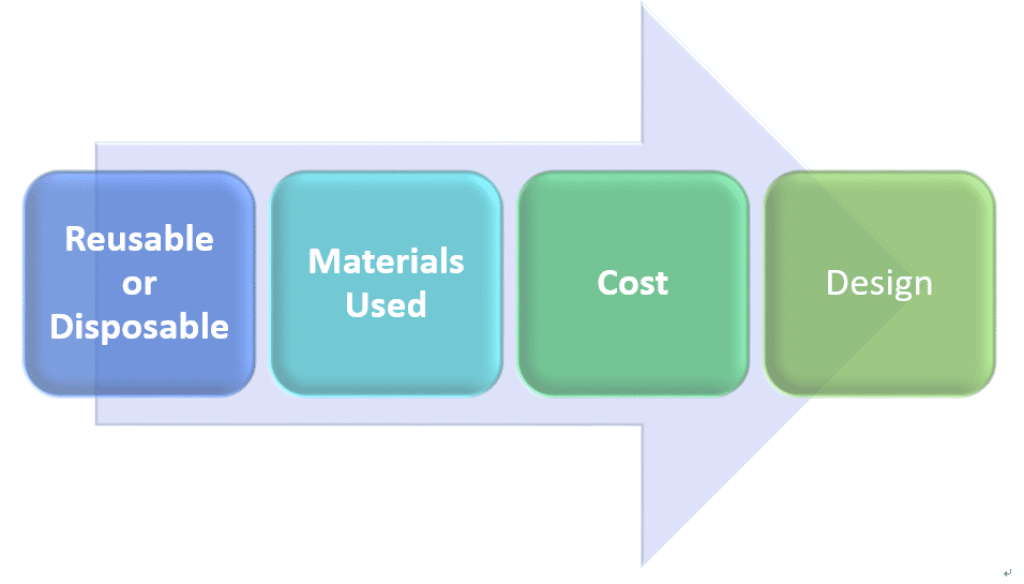 The first thing that you will want to think about when choosing nursing pads is if you want reusable nursing pads or disposable nursing pads. There are benefits to both! For example, disposable nursing pads are great because they are so easy! You just use each pair once and then toss it without having to worry about anything else.
Of course, washable nursing pads are wonderful, too! In the long run, reusable nursing pads save money. That is because you don't have to keep buying them over and over like with disposable options. Many women also find them more comfortable. Additionally, they produce much less waste and are therefore better for the environment!
---
You will want to check to see what materials are used in the nursing pads that you are considering for yourself. With disposable choices, the materials are generally the same. However, it is always worth looking into. Where materials are really going to differ is in reusable options. They all have different materials.
For example, some have waterproof layers, and some don't. Most of the time, you will want the waterproof layer to help best avoid leaks. Different washable nursing pads also use different materials for absorbency, so it is important to consider that as well. Finally, some reusable choices use organic materials, and some don't. So, think about if organic is important to you or not as well.
---
An important consideration with any purchasing decision is the cost of it. With nursing pads, the cost can vary a lot for several reasons. Frist of all, if you are choosing disposable pads, you will have the reoccurring cost compared to a one-time cost.
So, even though washable nursing pads are considerably more expensive per pair, they tend to save you money in the long run. Different materials and even different brands can also make a big difference in cost. So, just think about what your budget is as you choose the best breast pads for you!
---
Finally, think about the design of the nursing pads. Most nursing pads are simply circles but some also have fun shapes. This isn't necessarily important but is worth mentioning. What you really want to consider with design is the number of layers in the nursing pads as well as weather or not the nursing pads are contoured.
Some nursing pads are designed as contoured nursing pads. This helps them to fit better and stay in place better. However, there are some women that do prefer nursing pads that aren't contoured. This is a personal decision you will have to make on your own since everyone will have a different opinion on which is best.
---
Nursing Pads FAQ
What are the nursing pads?
Nursing pads are simply small pieces of absorbent materials that are placed over a breastfeeding woman's nipples to prevent leaking breastmilk from leaking into the woman's clothing. They can be reusable or disposable.

---
Are nursing pads necessary?
Nursing pads won't be necessary for all breastfeeding women. Although, most women should expect leaking to be a normal part of breastfeeding – especially during the time in which breastfeeding is first established. So, for most women, they will want to have nursing pads on hand. Many women will slow down leaking the longer that they breastfeed. So, you are likely to go through less nursing pads as time goes on even if you need to change your nursing pads quite frequently in the beginning.
---
Absolutely! Nursing pads are designed to be safe for both you and your baby. Just make sure that you are cleaning them properly according to the instructions provided by the manufacturer (for reusable nursing pads) and changing them regularly.
---
Are disposable nursing pads safe?
There seems to be more cause for concern when it comes to disposable nursing pads, but there isn't actually much to worry about. First of all, the nursing pads never actually come in direct contact with your baby. Plus, they are designed with babies in mind and are actually very similar to disposable diapers.
---
Can nursing pads cause thrush?
Nursing pads will not directly cause thrush. However, if you leave wet nursing pads on too long, you can increase your risk of thrush. As long as you make sure to change your nursing pads as needed, you shouldn't have anything to worry about. If you do experience symptoms of thrush, make sure you seek medical attention for proper treatment of thrush.
---
Can nursing pads cause mastitis?
Nursing pads will not cause mastitis. Mastitis is an infection inside the breast that occurs due to clogged ducts. Clogged ducts can occur when you suddenly start nursing less often or get engorged for any other reason, such as just going longer than normal before nursing on one or both sides. Of course, sometimes mastitis may occur with no obvious causes. Always seek medical attention in order to get proper treatment for mastitis if you have signs and symptoms of mastitis as it can become very serious very quickly.
You may love to read more about Best Nursing Bras You'll Love to Wear.
Final Words
As it turns out, finding the best nursing pads might not be as simple as you might have thought. There is a lot that goes into choosing the right nursing pads for you. We truly hope that with our nursing pads buying guide, nursing pads FAQ, and detailed nursing pads reviews that you will have an easier time finding the best nursing pads for you.