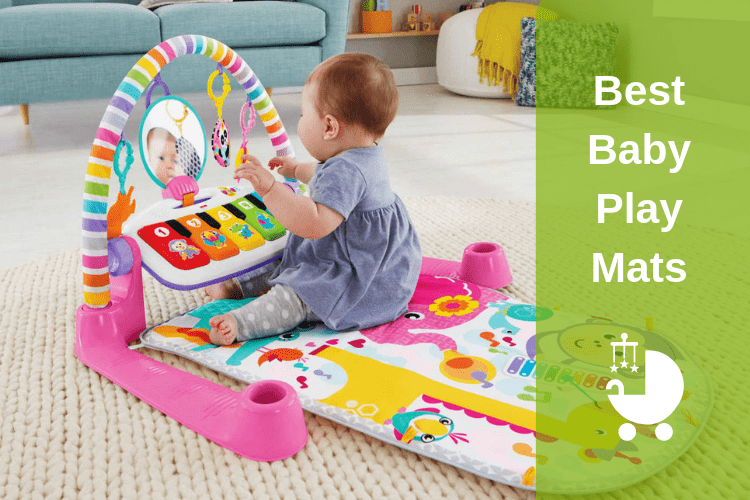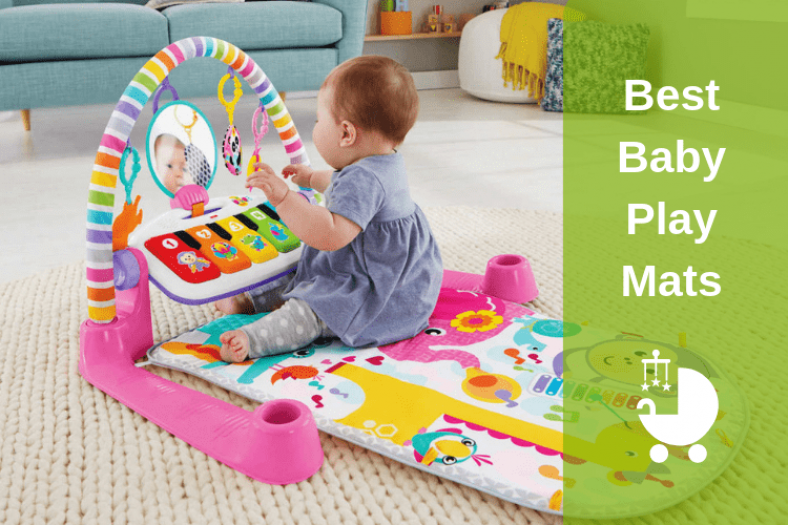 Has your baby grown enough to sit and play? Do you want your baby to grow and learn new skills at a dizzying pace? Are you looking for best baby play mats to boost sensory play?
Of course, your baby needs toys that enable him/her to acquire more at this time and one of these toys during the initial twelve months is a play mat. According to experts on child development, a play mat is an all-in-one option for you your baby's playtime. It provides your little angel with different sensory experiences including sounds, textures, and sights while they are playing.
Let's begin with a short comparison table and delve into the best activity mat reviews.
| Play Mats | Type | Safety Fences | Cleaning Methods | Age Suitability | Price |
| --- | --- | --- | --- | --- | --- |
| Baby Care | Latex foam, foldable, tummy time | No | Machine wash | Infants, toddlers, and kids | $$$$ |
| Infantino | Foam, foldable, gym, tummy time | No | Machine wash | Newborn and infants | $$ |
| Tiny Love | Foam, foldable, gym, tummy time | No | Machine wash | Newborn and infants | $$$ |
| Skip Hop | Foam, foldable, gym, tummy time | No | Machine wash | Newborn and infants | $$$ |
| Wonder Mat | Foam, tummy time | No | Machine wash | Newborn, infants, toddlers and kids | $$ |
| Hape | Foam, activity blanket, foldable, tummy time | No | Machine wash | Infants, toddlers, and kids | $$$ |
| SuperJare | Foam, activity blanket, foldable, tummy time | Yes | Machine wash | Infants, toddlers, and kids | $$$ |
| Childlike Behavior | Organic foam, activity blanket, foldable, tummy time | No | Machine wash | Newborn and infants | $$$ |
| Yay! Mats | Foam, activity blanket, foldable, tummy time | No | Machine wash | Newborn, infants and toddlers | $$$ |
| Wee Giggles | Foam, foldable, tummy time | Yes | Hand wash | Infants, toddlers, and kids | $$$$ |
---
Top 10 Baby Play Mat Reviews
1

Baby Care Play Mat – Best play mats for tummy time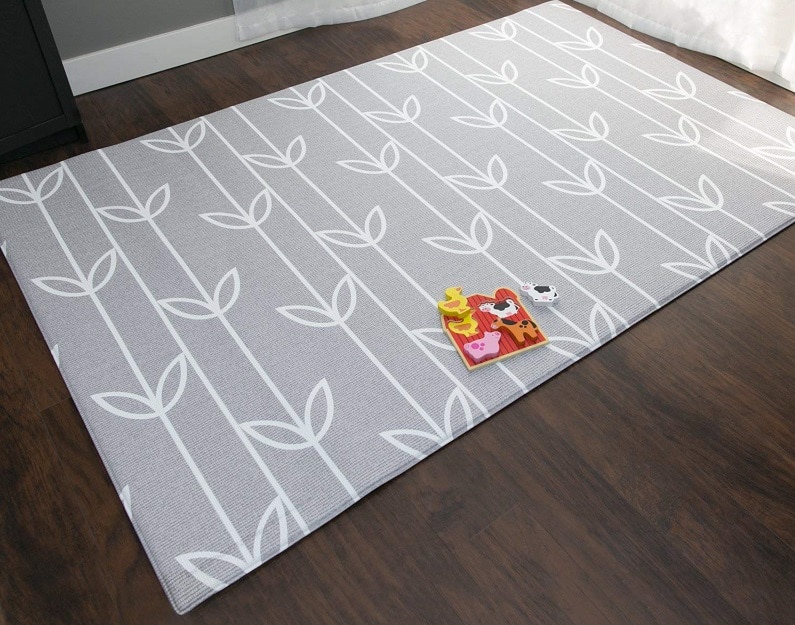 The baby care mat presents a secure and hygienic area to play for babies and children. At this cushioned mat, kids can do all activities in the best way such as tumble, when learning to sit or stand to topple over, crawl etc. These mats are portable so easy to move from one room to another and well-suited on carpets or hard floors. The mats are available two different sizes as well as in different elegant colors like grey, pink, teal, or yellow in the market.
The biggest advantage of this baby play mat is that it comes with the creative back. The creative back means there is some pretty and simple design at the back of the mat such as some object for identifying shapes like triangle, circle, and find letters from A to Z.
The play mat has plenty of features that make it popular but there are few disadvantages as well such as the waterproof surface of the matt become sticky after some use, which is not good for the babies. Sometimes you feel some odor from it due to absorbing the liquid.
Check Pricing and Availability
PROS:
The durability and versatility of this matt is higher
The quality of the material is super awesome that makes the mat anti-slippery
It is very easy to clean due to the waterproof surface
The baby care mat can use reversible mean both sides are usable
The cushioned mat is the safe and hygienic place to play
CONS:
It becomes sticky after some time absorbing liquid
This mat is not tested for use of toxic chemical material
---
2

Play Mat by Infantino – Best foldable playmat
The Infantino manufactured the ponds pals play mat, which is easy to twist and fold. This colorful mat is so attractive for the children to play and helps to boost up for tummy time. It takes little space on the floor or carpet for big fun. It is available three different styles such as Pond Pal, Sweet Safari, and Vintage Boy. The Twist & Fold technology fold down the play mat easily by twisting its arm.
Your little angles can use this playful and attractive mat in three ways such as babies can lay down by overhead to discover the toys that hang above with mat, provide a comfortable environment for tummy time, and sit or play at ease.
With all the advantages, the ring design of the mat makes it hard to disassemble. It takes extra time to hang the toys and sometimes there is a need to change the position of the toys as well.
Check Pricing and Availability
PROS:
This matt is more compact for storage that can easily be fold
There are four different playful toys for entertaining the babies
It is easy to use in 03 steps like push & click, Twist, and fold
The bright color of the mat attracts the babies more
CONS:
It is hard to disassemble due to its ring design
This matt and its toy don't have any musical element
---
3

Play Mat by Tiny Love- Best activity mat to stimulate child senses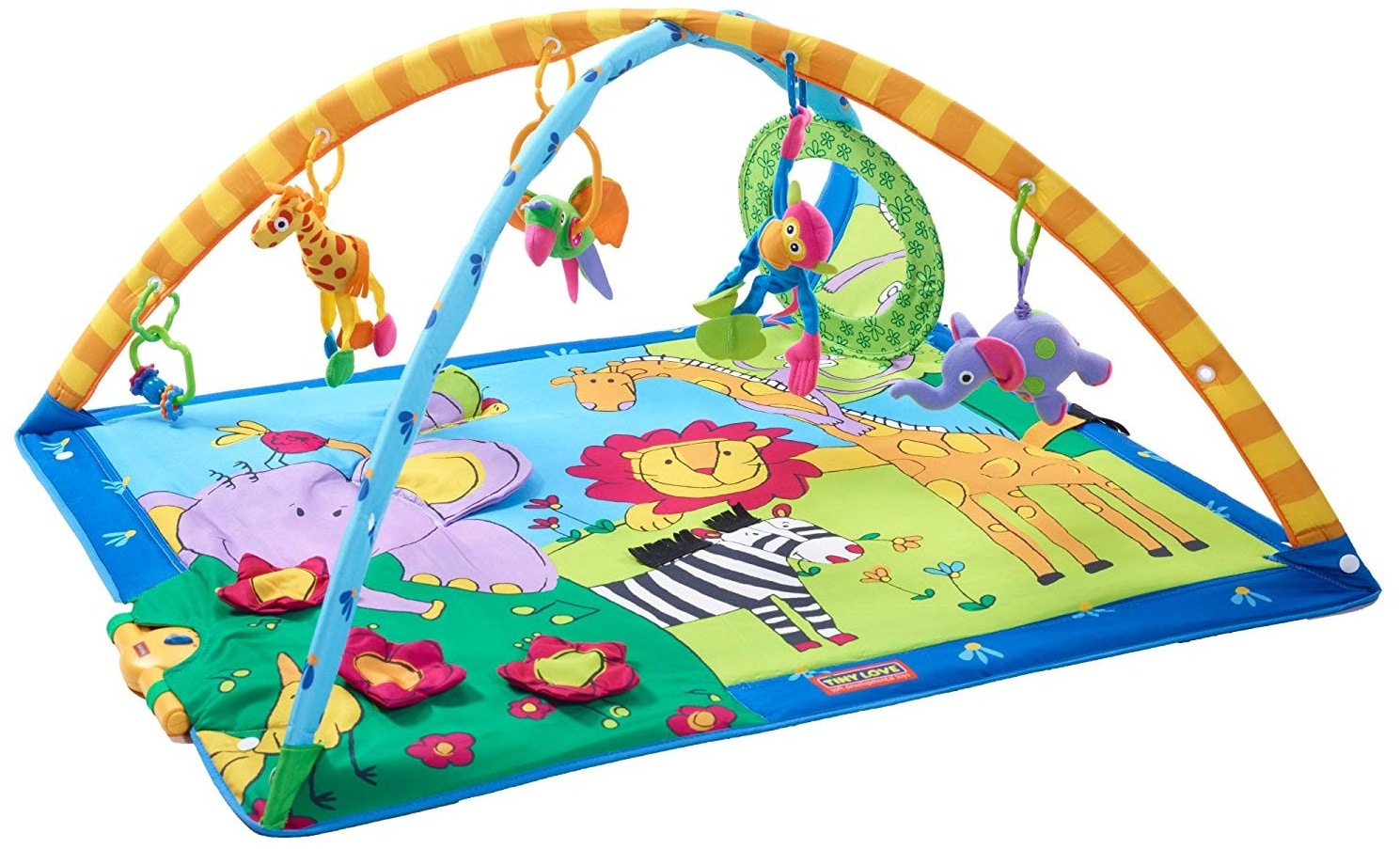 The Tiny Love manufactured deluxe play mat that is more appealing to the children field of vision by settles down the number of toys. You can place your baby on the mat for sit and play. They can also enjoy overhead discovery and lays down on their tummy.
At the 02 to 04 months, this mat provides multi-sensory stimulation that means whenever your child lying on their back, also viewing the hanging toys, try to touch them out, and control their arms perfectly as well. At the 04 to 06 months kids lying on their tummies and enjoy the reflection by seeing himself in the mirror that helps to develop the communication and language skill.
Furthermore, if you are looking for the musical and lighting elements play mat for your little angles then this mat is a good option, but there is a big disadvantage that the quality of the toys is very cheap. The fabric that is used to stitch the toys is not high-quality fabric.
Check Pricing and Availability
PROS:
The mat is equipped with a mirror that increases the tummy time for the cutie babies
It is more adorable and attractive for the little angles because it comes with lights and music elements
The hanging toys develop the vision of the baby
The compact and portable design makes it popular
This padded mat is machine washable
CONS:
The fabric quality of hanging toys are cheap
---
4

Baby Treetop Mat by Skip Hop – Best Camping cubs activity gym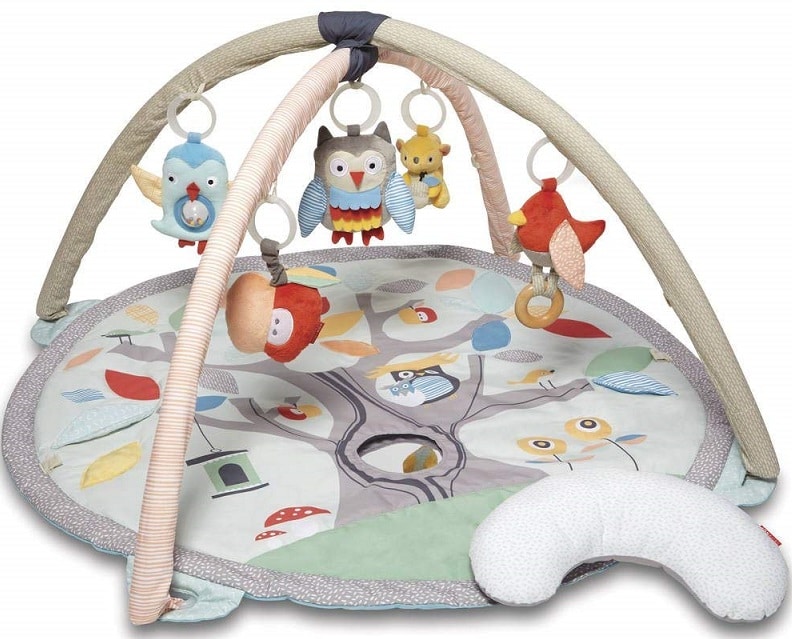 The texture and graphics of baby Treetop mat are naturally inspired to the infants. The baby can enjoy plenty of development activities such as crawl etc. this mat is equipped with hanging toys, squeaker flowers, and mirror for the baby safe that is removable due to matt is machine washable.
Skip Hop manufactured a pillow by using linen fabric that provides the best support to the little one at the tummy time. There are 13 loops for hanging different toys where you can adjust the height in low or high level for baby calming.
With all the advantages, there is a disadvantage that the price of this product is high as compared to other product and not manufactured with high-quality materials. After the first wash, the attractive and bright color mat converts into dull colors that are not more attractive for the infants anymore.
Check Pricing and Availability
PROS:
Your baby can do 17 different development activities
There are 13 loops for hanging the toys at low or high on the mat
This is machine washable and also equipped with a removable mirror
It requires two minutes to assemble this innovative mat
The texture and musical element add to the enjoyable
CONS:
The quality of this product is not good
The mat is much expensive as it is not giving enhanced features
You may want to read more about The Best Play Kitchens for Your Child.
---
5

Rainbow Play Mat by Wonder Mat – Best nontoxic play mat for baby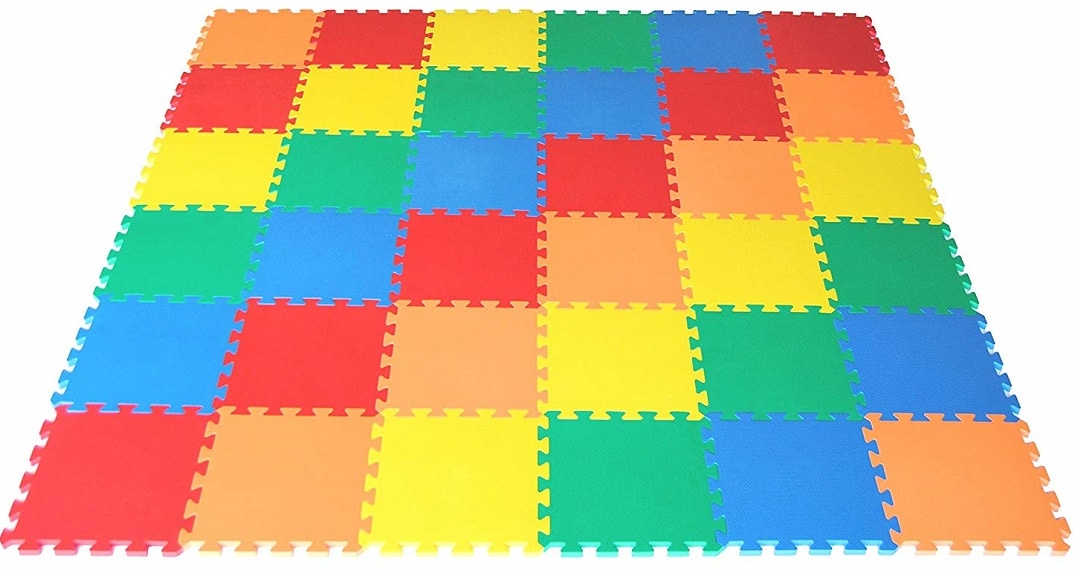 The foam of this mat is thick and soft that increases the durability of the mat. It provides a secure and soft environment for the development of the child. The company vision is to provide a health safety environment to the cute babies that help to develop the child stronger.
The material of this mat is comprised of non-recycled and non-toxic that provides bold, lively, and consistent colors. This material helps to give your kid a comfort to walk, play, or run. The mat comes with high-density that increases the reliability of the mat.
The rainbow play mat is highly durable but it produces some sort of chemical smell that may irritate the babies and mom too. Some children's get rashes after playing on this matt that means it is not suitable for those infants who have sensitive skin.
Check Pricing and Availability
PROS:
The thick and soft material makes it highly durable
The mat is easy to clean due to waterproof trait
It is available in red, green, yellow and blue colors in the market
The foam is this matt is non-recycled and free from toxic materials
By using this the little angle feels comfortable while playing
CONS:
After some use, the mat produces some chemical odor
It is not suitable for all type of skins
---
6

Foldable Play Mat by Hape – Best play mat for toddler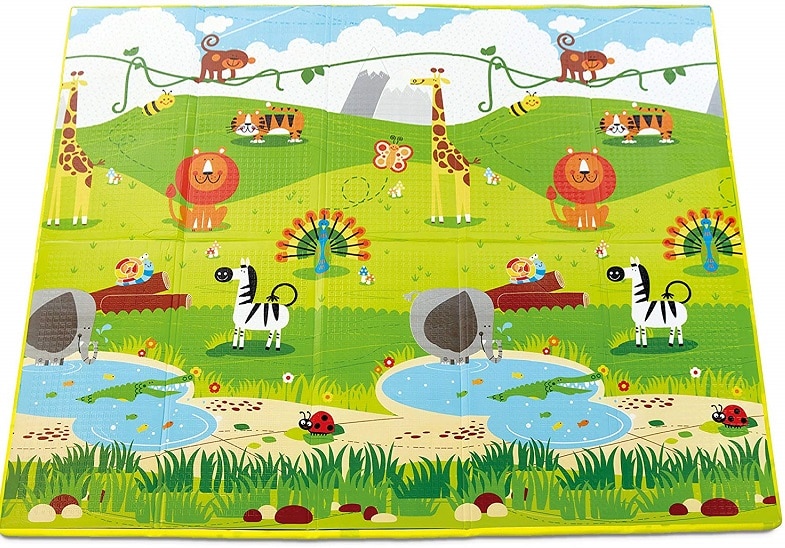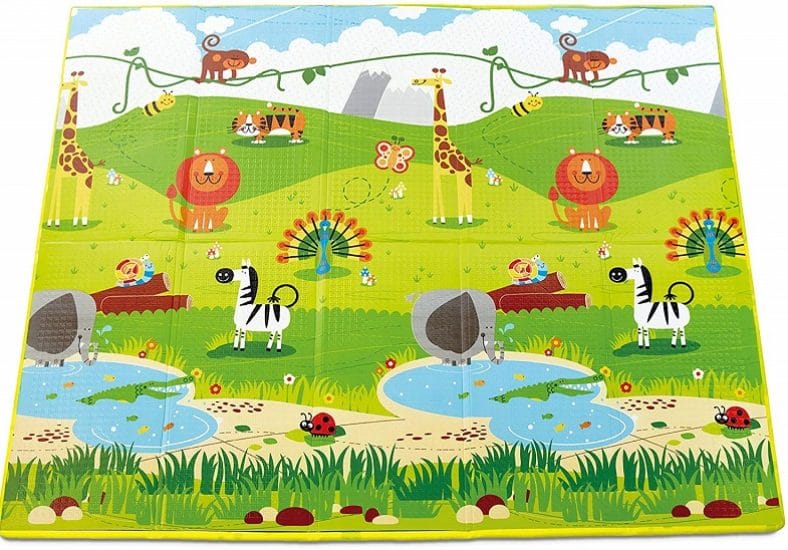 The Hape designed a foldable play mat by using the non-toxic material for providing a safe and secure place to play for kids. This adorable mat presents in dual sides usage.
The one side of this mat helps to develop the communication and learning skill by identifying the shapes. The other side can be used for sitting & playing tummy time and crawl as well. Now, if you are looking for a waterproof and soft play mat for your little cute ones then this is a great option for you.
However, it is not much long lasting due to the use of low-quality materials.
Check Pricing and Availability
PROS:
It is constructed by non-toxic materials
Waterproof feature make it more popular
There are 2-sided play mat that is good for baby tummy time
This may develop the skills in little angles by identifying shapes
CONS:
The quality of this play mat is poor
---
7

Play Mat with Fence by SUPERJARE – Best baby floor mat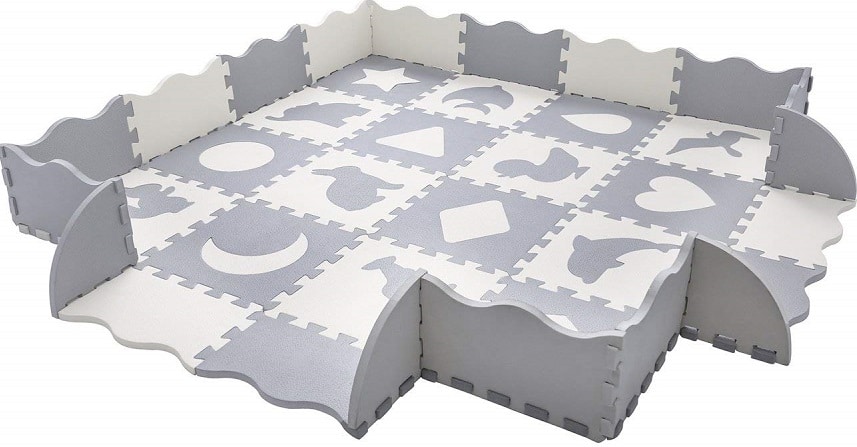 This play mat is equipped with fences that increase the safety of the infants and comes with different shapes and animal patterns. The simple and decent design helps to develop imagination, hand-eye coordination, and visual.
The play mat is easy to carry n bag and greatest gift as well. This foam mat can be easily used on a hard floor and carpets. The baby toys did not roll out to the floor or carpet through the fences.
Those kids who are newly learning crawling will enjoy 0.56 inches thick crawling mat. This thickness also prevents injuries if your baby tries to stand up and fall on the mat.
Check Pricing and Availability
PROS:
It can be accessed in three different colors such as beige, gray, and white
This mat has fences that increase its popularity
Zero choking hazards
It is a secured mat because it is manufactured by non-toxic material
This mat provides a well-cushioned mat for crawling
CONS:
The material is not anti-slippery
---
8

Play Mat by Childlike Behavior – Best organic play mat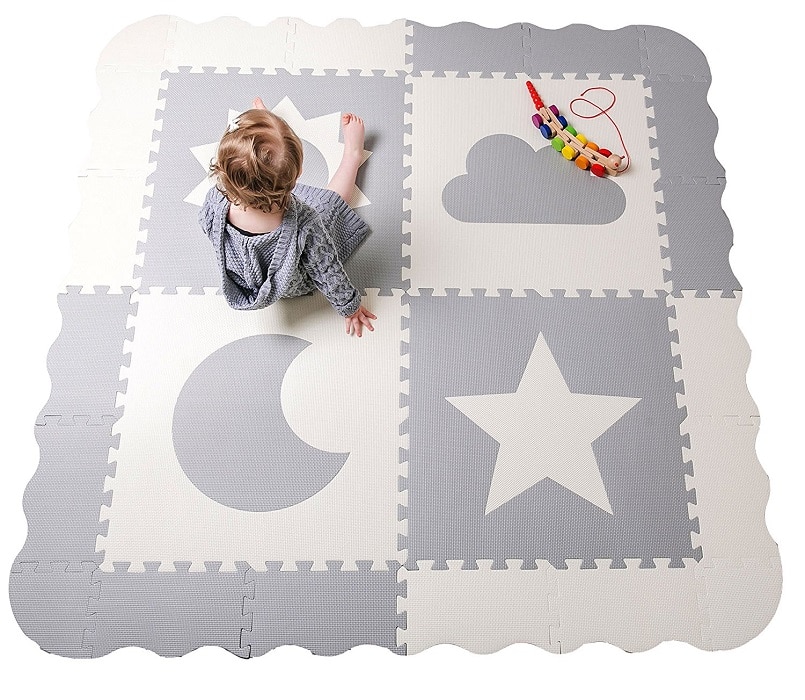 The non-toxic thick foam mat is great for your baby's skin especially for those who have sensitive skin. This eco-friendly floor mat is comprised with 100 percent hypoallergenic foam that is more comfortable for tummy time.
The play mat is accessible with more stylish puzzles design that helps to develop the multiple skills by identifying different objects, identifying numbers as well. The waterproof surface let your baby enjoy its playtime on the odorless surface. Furthermore, the 0.5-inch thick foam surface provides safe space to have fun.
After some time, it may start producing some odor that becomes irritating for the baby.
Check Pricing and Availability
PROS:
This mat is thick and machine washable
The mat is popular due to its waterproof trait
Suitable for sensitive skin kinds of all ages
The mat comes with stylish puzzles
This mat is an ideal gift for new parents
CONS:
After some use, it produces some odor
---
9

Soft Play Mat by Yay! Mats – Best baby foam play mat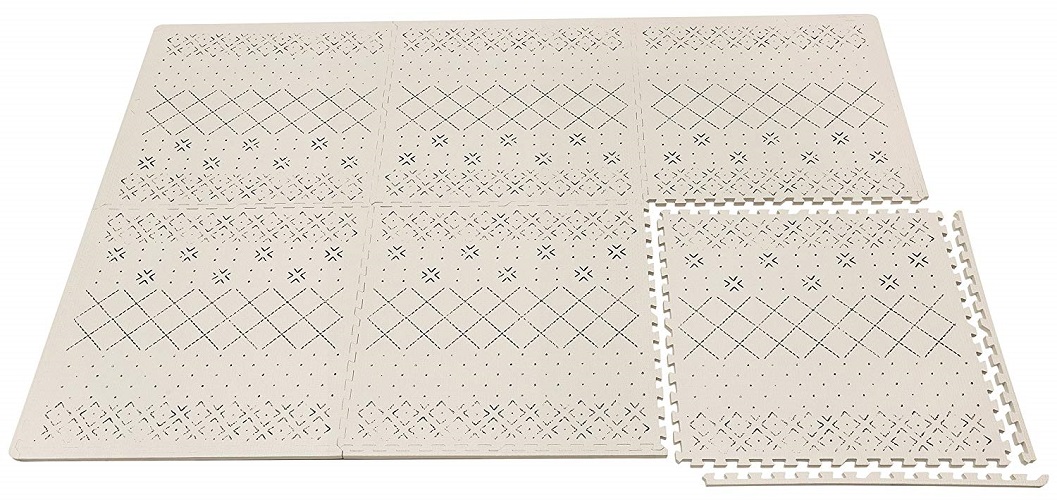 The play mat from Yay! Mats have thick layers of soft and comfortable foam and it is very easy to assemble. There are six different 24" x 24" tiles and work as puzzle pieces. The edges of these tiles are safely designed for babies.
Another huge advantage of this mat is that its construction doesn't involve any toxic or hazardous materials. Your little baby won't experience any odors either. The mat is resistant to spills and is highly durable. This mat is the best options that you will find on the market for tummy time too.
The color scheme goes well with any interiors or décor too. With such looks, the mat doesn't seem like a play mat for babies and you can leave it lying around in your room too. Your babies and toddlers will spend time on this mat as they continue to crawl, tumble and play. In addition to that, you can also use it in your office or anywhere else you like.
However, on the downside, the mat does start to peel off from the edges after a short while. It means that the mat is not durable enough. Furthermore, it is not entirely anti-slip for your baby too.
Check Pricing and Availability
PROS:
The play mat has large size tiles that combine to provide a large play area for your little one.
It is very easy to wash and clean.
It blends in with the décor and you can use it in your office as well.
The construction of this mat doesn't involve any toxic materials.
CONS:
It is not very durable and the top layers begin to peel off after a few months.
It is not entirely non-slip either.
You may want to find out more about How to Convert Pack n Play to a Toddler Bed
---
10

Baby Play Mat by Wee Giggles – Best baby play mats with a fence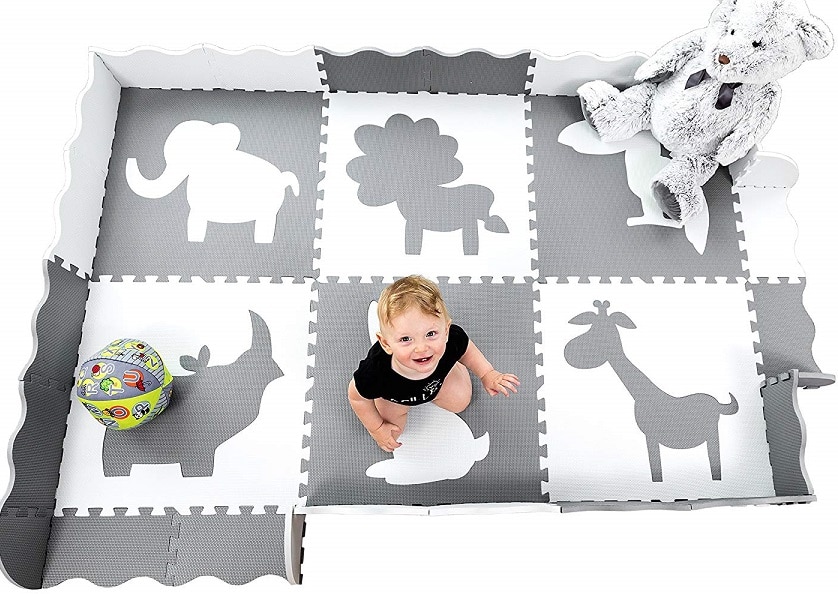 This play mat for babies from Wee Giggles comes with fence protection and has a size of 5-foot by 7-foot. It features a floor with thick tiled layers of interlocking foam. Each of these tiles features different safari animals.
The construction of this mat does not include any harmful or hazardous substances. It means that it is perfectly safe for your young one. Furthermore, an advantage of this mat is that you can use it for kids and toddlers as well.
Thus, it is a play mat that will grow and meet the requirements of your young one. The grey and white colors are very soothing to the eye and your baby will feel very comfortable on it. It comes at a very good price and delivers plenty of value.
Each tile on this mat is 2 square feet large and each of them has a smooth, non-slip texture. Your baby will safely learn to crawl and walk on it with ease. Above all, the EVA foam used in the construction of this play mat is BPA free and doesn't contain any lead, phthalates or formamide.
The gray and white color of this mat goes well with various room decors as well. Another huge benefit of this play mat is that you can conveniently fold and store it whenever your baby doesn't need it.
One of the biggest issues with this play mat from Wee Giggles is off-gassing. The strong smell of the materials that the company has used in the construction of this mat doesn't easily go away. In some cases, it may last for more than a few weeks.
Check Pricing and Availability
PROS:
The play mat comes with a protective
It has puzzle piece construction which is very easy to use and allows you to change the pieces too.
The gray and white color of this mat goes well with the interiors and décor.
It provides your baby with a play area of 35 square feet.
CONS:
The play mat from Wee Giggles comes with an issue of off-gassing and the smells don't fade away even after a few weeks.
Assembling and disassembling will take some time.
---
Baby Play Mats Buying Guide
In this buying guide, we will discuss some important attributes of good quality play mats. You need to consider some important things when buying a mat for your little cutie pie. This mat will enable him/her to learn and grow quickly. For this reason, you cannot compromise on any low-quality product. On the other hand, you must also not overspend because your kid is only going to need it for about a couple of years.
First of all, you need to know about the different types of play mats available on the market. These include:
Types of Baby Play Mats
These mats are made of foam that is very safe and soft. It creates a large play area for your little angel. This is the basic level of a play mat but you can supplement it with different kinds of toys. This is an excellent area where your newborn can practice lifting the head for the first time. Additionally, it is also an excellent option for rolling and crawling as well.
In his versions, there is a mat at the base and a gym overhead. In this gym, there is a huge combination of various toys which are essential for your baby's sensory stimulation. These toys are a present overhead because your baby will be able to practice mobility to reach them.
The twist & fold mats are same as the gym mats but you will also be able to use them for storage. Normally, a gym is made of plastic while you can twist-and-role this one for effective portability. Gym mats are not convenient when it comes to storage. You can solve this problem with a twist & fold version.
These blankets are very similar to play mats that have different types of textures. Most of these blankets are quilts that come with different textures. These might also have various other points of interest for your little one such as pictures or pockets.
These mats are very similar to activity blankets but you might not find any additional sensory accessories or applications here. These mats are stuffed or quilted and you can use them on any surface.
These play mats are made of different non-toxic materials because they are hypoallergenic and organic in nature. Most of these include different types of cotton covers and foam interiors based on plants extracts.
These mats are also similar to the activity blankets. The tummy time mats come with different interesting points for your baby right on the mat to ease up your sweetheart if s/he doesn't like tummy time.
---
Things to Consider Before Buying
There are different points that you need to consider before buying the best baby play mat for your little munchkin. These are listed as follows:
Free from toxins or chemicals
Almost all of the manufacturers are aware of the fact that parents are very careful about the physical hygiene and health of their babies. Therefore, they only use the materials that are good for the delicate skins of the babies and you should also keep this point in mind while purchasing.
Safety and security of the parts
One of the biggest issues with these mats and gyms is the safety and security of the parts and components. In the old days, these gyms and mats were very heavy and most of the toys used in them also caught the little baby fingers. Therefore, you need to closely look at such small traps that might hurt your cutie pie.
There should be no small items
Make sure that there are no small items or pieces in these toys. Manufacturers also abide by the rule that they should not produce such toys that a baby can put in his/her mouth and swallow.
One of the most important aspects of a play mat or gym is that it should be convenient for cleaning. Your baby is not going to stop at any cost therefore, you need to make sure that the mat can stand the test of time. You should be easily able to wash or clean it without any issue.
---
Baby Play Mats FAQ
Are foam play mats safe for my baby?
Manufacturers use EVA foam to develop these play-mats. It is a safe option for this purpose. This type of foam is free from BPA and doesn't come with any hazardous substances. Most of these models come with a non-toxic label on them but most of them do off-gas up to some extent.
---
How should I clean the baby play mat?
It is better to wash these play mats by hand. You should only use a gentle detergent formula to clean it. If your baby has very sensitive skin then make sure that you use adequate soap to wash the play mat.
---
Should my newborn baby use these play mats?
Yes, your newborn can use a play mat as well. However, make sure that the mat is rated for the use of a baby of such age. Your newborn is not going to have fun in mats that are ideal for older babies. However, you can use this mat for tummy time or introduce him/her with some new toys. Make sure to closely supervise your little pumpkin head.
Also, you can learn more about The Best Sensory Toys in our full review.
Conclusion
The winner of this roundup of best baby play mat turns out to be Play Mat by Baby Care. It comes with a very soothing design that is perfect for your little one. It is a single large piece and is equal to a queen mattress in size. This mat will provide your baby with plenty of areas to have fun and learn new things. Its cushioning is so effective that you can drop an egg on it from the height of 10 feet and it won't break. Moreover, the mat is safe from any toxins and or hazardous substances.
We hope you have found our post useful and informative. In case of any suggestions or queries, you can get in touch with us by dropping a comment in the section given below.
Have fun with your little one!