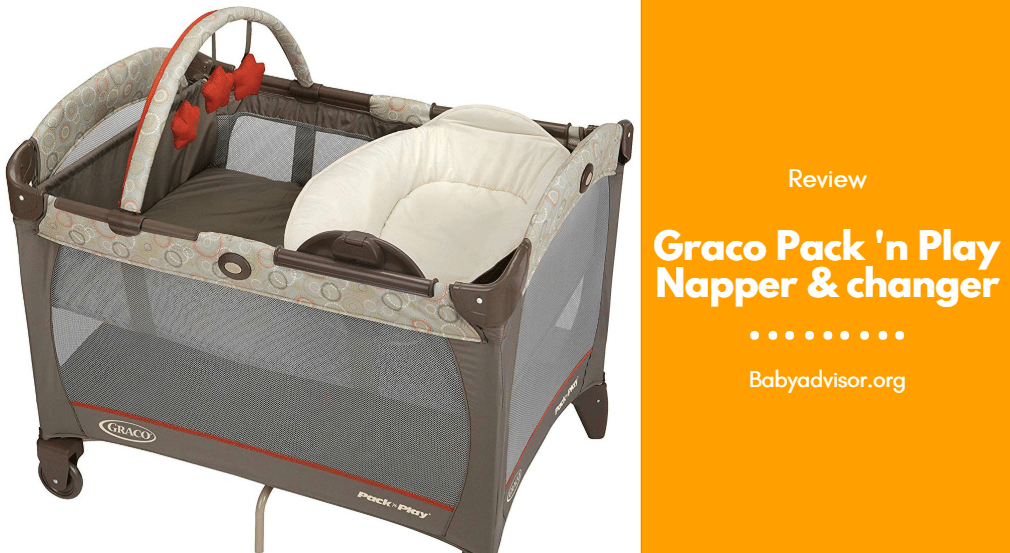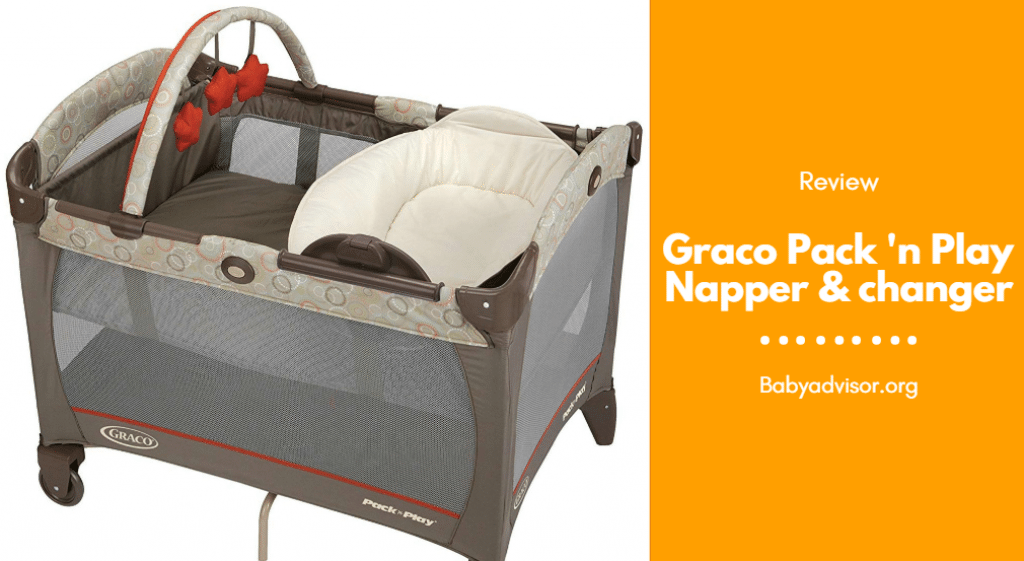 The pack and play is an essential and useful tool for today's busy family. They make it easy to maintain a busy on the go lifestyle while providing babies with the safety and comfort they need. There are a variety of playards on the market and each one has its own specific uses and features that parents have come to expect and enjoy.
The Graco Pack and Play Playard which comes with a reversible Napper and Changer Forecaster is fast becoming a favorite because of its versatility and usefulness. It serves all the purposes of a playard offering a baby or toddler a safe and comfortable place to play or nap; but it also has some specific features that make it stand out from other similar products available to parents today.
This model from Graco also comes with a reversible napper which is an added convenience. It can be used as a bassinet when baby is sleeping and then reversed to be used as a changing table.
Our in-depth analysis of Graco's another two Pack n Play Play model:
Features of Graco Pack and Play Playard with a Napper and Changer
Playards from Graco come with the reputation of being high-quality products. There are a few standard features for most of them, but for this Graco Pack 'n Play Playard you'll find all these important features:
Napper and changer all-in-one
Reversible napper/changer
Easy attachment to switch between napper and changer
Transitions easily from newborn, to the infant stage, to the toddler stage
Napper station for newborns made with stylish fabrics
Easy to clean changer fabrics
Toy bar to entertain baby
Carry bag for packing and storing
Napper is removable as baby matures
Push button folding action for easy break down
---
The most distinctive feature of this playard is the napper and changer. It can be used both for naps for the newborn infant and as a convenient changing table. It is reversible so that it allows for a surface to change the baby when it needs it and can easily be transformed into a comfortable place for them to take a nap when they are ready to sleep.
It is designed to change easily between a napper and a changer using a very simple push-and-lift movement. It changes quickly and easily between the two so that parents are able to use it for numerous purposes. To ensure it is visually appealing, the napper station is covered with fabric that is stylish as well as soft to provide a cuddly, soft surface for the napping baby.
The fabric is also easily wiped clean with a warm, soapy cloth or a disinfectant wipe. These are designed to be cleaned easily since parents are concerned about keeping the place where their child rests and plays clean and neat.
Our Review to Graco Pack 'n Play with Napper and Changer
One of the great benefits of this Graco Pack 'n Play is its versatility and ability to grow with the baby. The snap-on napper and changer is very easy to attach as well as remove. It's literally as simple as pushing a button and then the playard is converted into a full size playard which is moveable to use wherever it is needed.
For the first few weeks of baby's life, the changer and napper attachment is perfect and provides parents with what they need to care for a newborn child. But once that infant starts moving around the napper snaps off and the playard becomes a place for a baby that is mobile and full of energy to play in and learn things like rolling around and how to sit up. This ensures the baby can safely nap and play from the time they are newborn until they are well into the toddler stage.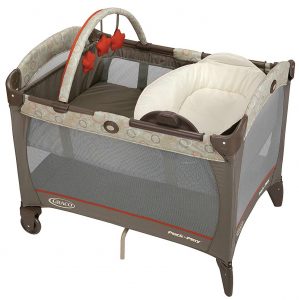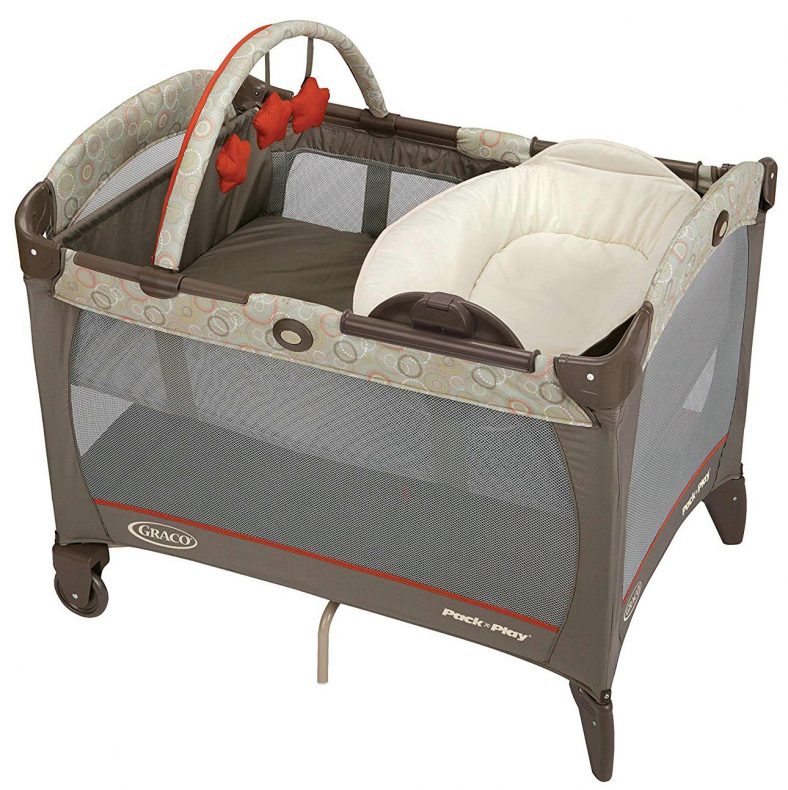 The napper is designed to accommodate newborn babies from birth to 3 months of age; or until they weigh a maximum of 15 pounds. The playard can be used for children who are under 35 inches in height or are able to climb out of it. Once the child has outgrown the reversible napper and changer, the unit can be removed and placed in a safe place so that the toddler has the entire playard to enjoy.
One of the reasons many purchase a playard is that they are portable. This model is one of the easiest to set up and then when you are ready to take it down, just use the unique push-button fold. Folding the unit up is as easy as pushing the release button.
The unit then folds up easily into a compact unit which can be placed into the carrying bag which comes with the purchase. Once in the bag, it's easy to take along to another location or store for later use
The playard is easy to keep clean and tidy as it is all easily cleaned with a wet, soapy cloth. Once it has all been wiped down, allow it to air dry. The carrying bag can be machine washed in warm water. It is important to keep the playard free from sand as it can damage the rail locks. Be sure to remove any sand after using the playard outside.
Check Pricing and Availability
---
Pros & Cons for Graco Pack 'n Play with Napper and Changer
All products have things consumers like, and a few things they don't. Here is a list of pros and cons for the Graco Pack 'n Play Playard that comes with a reversible napper and changer:
What we like:
 Easy to set up
Easy to move from one location to another
Fashionable colors and designs
Versatile – can be used for napping and changing newborns
Can be used from baby to toddler
Changes between napper (bassinet) and diaper changer
Easy to clean
Toy bar included for baby's entertainment
Mesh sides for free air flow and easy visibility of baby
BPA free, Latex free, Phthalate free, Lead free construction
Sturdy
What we not like:
 Lacks good mattress support
Fabric on napper is spot-clean only (not machine washable)
Mattress is not quilted
Final Words
There are plenty of playards for parents and grandparents to choose from but this is one of the most versatile of all of them. It grows with your baby providing a comfortable place for baby to sleep and play from birth to the toddler months.