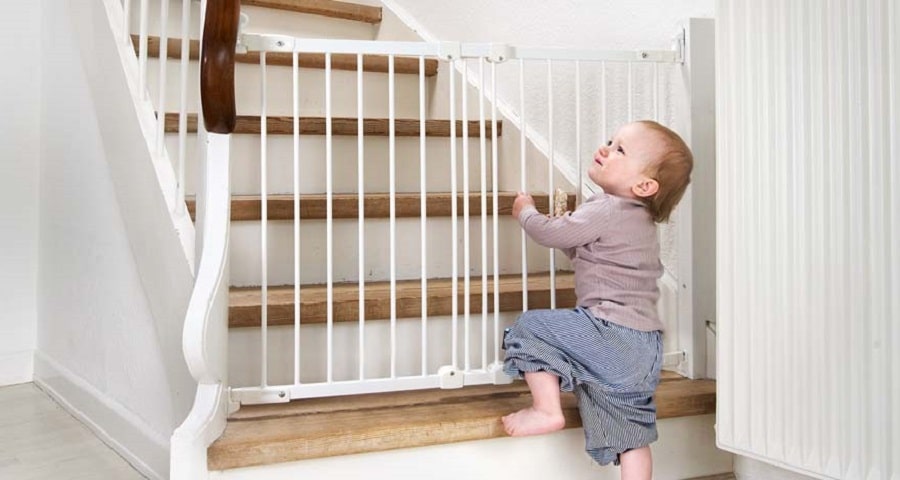 Are you in search of top-notch baby gates for stairs? Hardware-mounted gates are always the best as they provide maximum security. Our selected list will help safeguard your stairs and protect your little one.
Do you have an active toddler? Baby proofing your home should be among your highest priorities, and installing a baby safety gate is the way to go. However, it all depends on your home's design, which might require you to purchase more than one gate. For instance, if your house has stairs, you'll need a baby gate at the bottom and top.
While there are pressure-mounted gates, baby gates for stairs are hardware-mounted to ensure maximum safety. In this article, we've carefully chosen the top 10 baby gates for stairs because they are more hazardous than other openings. It is always essential to be extra cautious when it comes to babies, and we had that in mind during the search.  See our utmost selection below!
---
Best Baby Gates for Stairs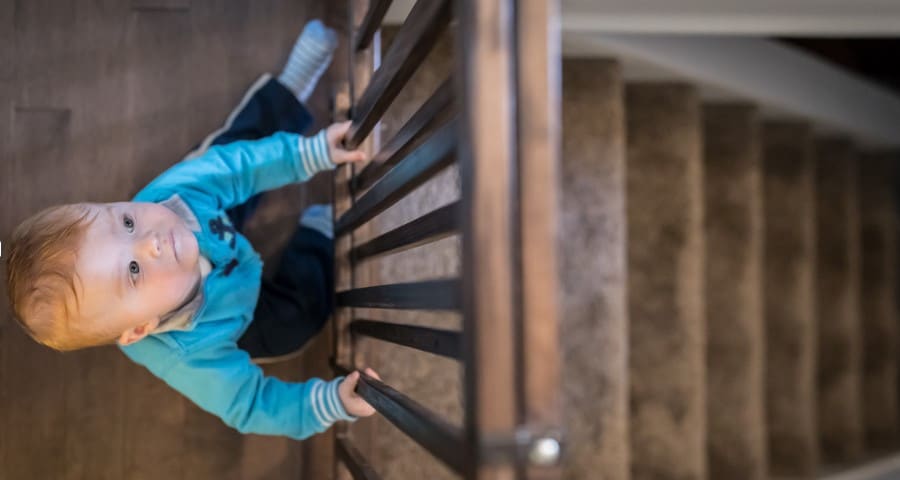 ---
Why we picked it: This gate is stylish yet safe and secure enough to give parents peace of mind whenever their kids are exploring around. Plus, it does not swing over stairs.
You'll not worry about your curious little guy tumbling down the stairs with this Summer Deluxe Stairway Simple to Secure Wood Gate. It childproofs your home in style through its decorative antique oak wood. The gate is hardware-mounted and does accommodate not only stairways but also other openings like doorways and hallways. It opens entirely, and you don't have to worry about tripping over a bar at the top of stairs, which is a notable feature. This baby gate has an excellent door stopper to prevent it from moving in the opposite direction, especially over the stairs.
Check Pricing and Availability
PROS:
Easy to install
It is decorative, making the house attractive
Safe and secure
Has a comfortable grip handle to close and open
CONS:
The grip handles are plastic and not metal
Mounting instructions are not clear enough
---
Why we picked it: An ultimate baby gate to prevent your toddler baby from tumbling down the stairs through its tightly locked hardware.
It doesn't matter who is fixing this excellent gate because even moms can easily install in minutes. Heele 29.5″-40.5″ Auto Close Safety Baby Gate is sturdy and robust enough to keep babies and pets safe. It has a wide opening and can defend a maximum of 200 pounds by Alaska, husky, etc. so you don't have to worry about your little angel pushing it down or hurting herself. This high metal mesh closes automatically, making it super easy to walk through.
It also swings both ways and is a quick release to make your life easier.It includes reinforcing slots to prevent wobbling or falling apart to increase stability between the gate and extension. And the gap between the frame and door latch shouldn't be a concern because it will disappear.
Check Pricing and Availability
PROS:
It is sturdy and strong
The gate can open and auto-close either way
Both hardware and pressure mounting installation can apply
It has an easy walk-through door
Has excellent security features
CONS:
It has a gap between the frame and door latch, but it's not a defect
---
Why we picked it: Engineered specifically for the top of stairs, making it an excellent selection. It is also stable and sturdy enough to hold your toddler back.
Evenflo Secure Step Gate is perfect, ultra-sturdy, and swings wide open to prevent tripping over stairs. The gate can expand from 29 to 42 inches wide and a height of 30 inches to fit several openings while providing maximum protection. It is approved for top stairs use but requires tools like a pencil, screwdriver, drill bit, and an electric drill to install.
You can easily walk through this child safety gate because it swings in both directions. On top of that, the one-handed operation makes it ergonomic for daily use.
Check Pricing and Availability
PROS:
Easy walk-through
Has a one-hand comfortable glide handle
Safe and convenient
Doesn't have a floor-bar, which eliminates tripping
CONS:
Requires tools for installation
---
Why we picked it: A Unique one-hand latch gate that was built specifically to provide security at the top of stairs and for keeping little ones safe.
You'll undoubtedly love this gate because it is simple, nice-looking, very functional, and of good quality. Evenflo extra tall gate is a one-handed operation, which is super easy for parents yet too difficult for children to unlock. This hardware-mounted gate installs in minutes, and it is easy to use at all times.
Don't worry about tripping since it's an easy walk-through gate.Unlike other gates, this one comes with an instructional video that will help the installation process.
Check Pricing and Availability
PROS:
Easily installs in minutes
Comes with an instructional video
It is sturdy
Opens in both directions
The gate does not swing over stairs
CONS:
The lock handle is a bit rigid, making it hard to open and close
---
Why we picked it: A great baby gate for top and bottom stairways that has a reliable double-locking system on handle difficult for kids to use but easy for adults.
Munchkin Loft Hardware Mounted Baby Gate is ideal for stairs and other openings in your home. It offers both intelligence function and modern style while keeping your baby safe. The gate is hardware-mounted and made from strong aluminum with a nice sleek silver finish for longevity. It can easily slide in and out without using any tools for entertainment or areas with high traffic.
So, it is the perfect gate for your active, busy lifestyle. If your walls aren't level, don't worry because it will fit perfectly just like any other regular wall.
Check Pricing and Availability
PROS:
Installs easily even on irregular walls
Convenient fit for all areas
Built from strong aluminum to last long
The double-lock hand can latch with a simple push
Door swings in both directions
CONS:
Has a limited warranty of one year
It is narrow compared to other gates
---
Why we picked it: Has a safety-lock feature that is perfect for older toddlers and extra tall for maximum protection. Also, it is an excellent option for both the top and bottom stairs.
Protect your mobile child from the dangers of stairs with this Regalo 2-in-1 Extra Tall Easy Swing Stairway gate. It was built with strength and durability in mind due to its steel construction. The gate is hardware-mounted to ensure more excellent protection, and setting up is pretty fast.
It comes with two panels, screws, and a hardware mounting kit to ensure you have everything needed for installation. This gate also has a rotating latch and a hinge system to swing swiftly while passing through.
Check Pricing and Availability
PROS:
It is extra wide and tall
The gate is adjustable and easy to store
Easy to use and set up
The steel design is durable
CONS:
Measuring openings is a requirement before purchasing the gate
---
Why we picked it: A proven baby proofer gate esteemed by many parents. It is also explicitly built for the top of stairs use, making it a great choice.
KidCo Safeway Hardware Mounted Baby Gate will keep your toddler out of trouble by all means. It is easy to install as it includes wood screws. We assure you that this gate will meet and exceed your expectations of safety standards. It is a reliable product that will serve you for years due to its tubular steel and heavy-duty construction.
The hardware-mount feature allows for quick release when you want to remove the gate. You'll love its functionality, safety design, and ease of use.
Check Pricing and Availability
PROS:
Constructed of heavy-duty steel, making it durable
Operates with one hand
Has an adjustable width
No tripping hazard
It is hardware-mounted for added security
CONS:
The locking mechanism is made from thin plastic
---
Why we picked it: The gate is customizable for almost any situation, so it is highly dependable, convenient, and adaptable. It also provides great security at the top of the stairs.
Do you sometimes get busy doing laundry, making dinner, or entertaining guests? The smart stay open and auto-close feature of this gate will excite you! Dreambaby Newport Adapta Baby Gate can stay open whenever you want it to and can close automatically, conveniently, and ensure reliable and constant safety. It is hardware-mounted for stability, and arranging and installing is a breeze.
The placement is flexible as the panels can fit in odd angles, openings, landings, and many more. Durability is also less of a concern with this gate because it is made of strong and robust materials, so it's worth your money.
Check Pricing and Availability
PROS:
Quick and easy to operate
It is convenient and adaptable
It has an extra-wide barrier
Designed with auto-close feature
It is available in different colors
CONS:
It has a narrow opening for walk-through
It has little plastic pieces that could break easily
---
Why we picked it: This gate is standard approved and a perfect solution for stairs to lock kids away from danger while providing safety in the house.
You can install this Easy Baby Indoor Outdoor Retractable Baby Gate at the bottom and top of stairways. Installation is a breeze as it comes with components to make the process effortless. It includes wall spacers, catch mounts, stainless steel screws, and an instructional guide. It is space-efficient as it can quickly retract out of the way when not in use.
The gate operates with one hand when opening and closing. With a simple push, you can unlock the gate clockwise and lock by pushing to turn counter-clockwise. We believe this is the ideal gate to fit your purpose.
Check Pricing and Availability
PROS:
Can be installed at the top and bottom of stairs
It is space-efficient when not in use
Operates easily
It is hardware-mounted
CONS:
Can be a bit tricky to close
Locks are not tight enough
---
Why we picked it: The gate is stair approved, so it is suitable for the bottom of the stairs and top of stairs. It is also perfect when your hands are full due to its smart stay-open feature.
This excellent baby gate is top quality, durable, and cost-effective for your young family to stay safe, healthy, and comfortable. The piece is not only constructed to baby proof your home but also to simplify your life. You'll love the way it looks, particularly its perfect height, because of no concerns about your little one getting out to unsafe areas around the house.
The features are also good! It has a double-locking mechanism, auto-close, and smart stay-open features, which you might not find in other gates.
Check Pricing and Availability
PROS:
Made from high-quality and robust materials
Has a double-locking mechanism
The gate can close and lock automatically
It's a one-handed operation
Installation does not require drilling and screws
CONS:
You might need to purchase an extension if your opening exceeds size 33
---
Read more,