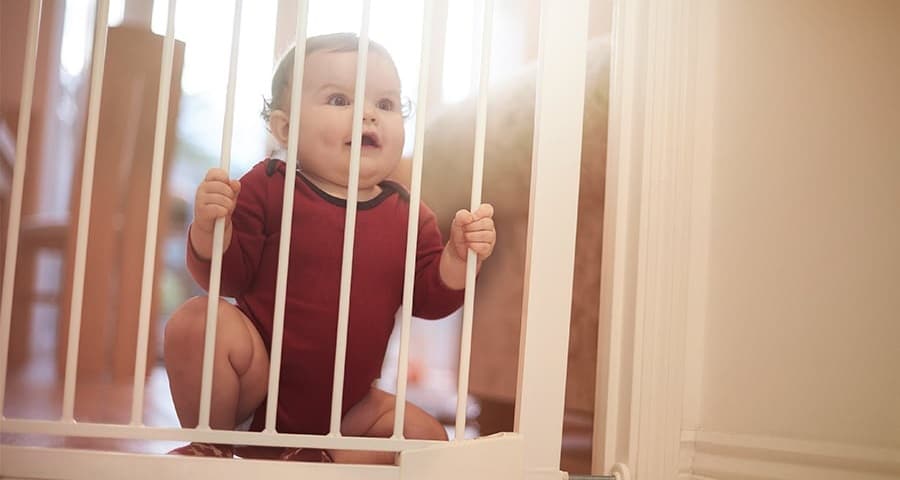 Is your home not baby proof yet and looking for the best baby gate? We've picked up the ideal baby gates for different situations to ensure that your baby is safe.
As babies grow older, they tend to become explorers. You'll find them trying to go everywhere around the house, including areas that are not safe, and we don't want that to happen. We love seeing our little ones crawl, scoot, and walk, but we wouldn't want to compromise their safety. Before these incredible milestones unfold, every parent wants to get prepared. And that's why we've suggested a couple of baby gates ensure that your living space is babyproofed.
Choosing a baby gate can be surprisingly tricky because there are factors to consider, including the size of your house. However, we have made your selection easier by going through the best baby gates in 2023.
---
Here are the Best Baby Gates for Doorways not Stairs
---
Why we picked it: Dependable and classy yet sturdy enough to keep your baby safe and secure. Its length options also make this gate perfect for wide openings.
Just like the name suggests, "Deluxe Décor Gate," Toddleroo by North States is decorative and stylish, leaving your home stunning. The materials used to construct this baby gate is superior, meaning higher safety. It is built with only raw materials, and you'll not find cutting corners. So, the quality is uncompromised. The gate can open easily with one hand and uses a dual-locking system to ensure added security. Also, it has a hold-open feature in case you're making several passes.
Check Pricing and Availability
PROS:
Filled with convenient features
Can be adjusted for various spaces
Made from heavy-duty metal to last long
Hard to climb
Operates with one hand
CONS:
Not recommended for plaster walls
---
Why we picked it: Classic and can be used for various openings but perfect for doorways. Also, it does not damage the interior of your home.
Evenflo Position & Lock Baby Gate is a great product to keep your little one safe from common household dangers. It is not only pressure-mounted but also prevents any damages to your house since no tools are required. This baby gate has an easy to use locking bar that is marked for you to have a smooth installation and re-installation. Not to mention, its sturdy plastic mesh and wood frame ensure that your child is safe from any harm.
Check Pricing and Availability
PROS:
No tools required as it comes fully assembled
The installation is simple
Constructed with a durable and secure plastic mesh
It is available in different colors
CONS:
Cannot be used at the top of stairs
---
Why we picked it: Made of high-quality and robust materials that are perfect for the most eager kids as well as pets, it is also top of stairs approved.
Is your doorway smaller? You'll definitely love this baby gate because it is available for all normal sizes including28-32 wide doorways. Its double-locking feature ensures that children cannot pass through the gate unless you open it. The smart-open feature is ultimate for those who want the gate to remain completely open, especially if your hands are full, probably entertaining guests or clearing the table. Dreambaby Chelsea Auto-Close Security Gate also has a flexible placement that fits most stairways, doorways, and hallways. This gate does ensure not only safety but also health, durability, and comfort for every home.
Check Pricing and Availability
PROS:
Quick and easy operation
Has a convenient auto-close door
It is versatile and dependable
The joints are sturdy
CONS:
It doesn't have a hold-open feature if you want to keep it open
---
Why we picked it: A great option for doorways, and one of the popular baby gates in the market. It is also great for indoor and outdoor use.
If brilliance is what you are looking for, you might want to purchase this easy to install baby gate as it will meet your ideal purpose. It will keep your young one trapped perfectly and out of the areas he is not supposed to be in. Using this gate is super simple and flexible enough to account for vertical openings that are not exactly parallel. The gate does not also damage the walls because it is made from soft rubber. Not forgetting, no need for tools/hardware since it is a pressure mount.
Check Pricing and Availability
PROS:
Easy on walls due to its soft rubber
Adjustable
Durable and convenient
Fits easily
Super sturdy
CONS:
You need to twist the locking mechanism many times to secure
---
Why we picked it: The ideal gate for keeping babies safe all over the house. It is not only approved for doorways but also other areas.
Keep your curious crawler safe with this great baby gate. Munchkin Easy Close Pressure Mounted Baby Gate for Stairs, Hallways, and Doors can open and shut effortlessly. All you need to do is push the gate firmly and securely lock using its dual-locking mechanism that the only adult can open. Installation can be done with either wall-cup or pressure mounts, where both are pretty simple. If you want to install the gate on top of the stairs, wall-cups and drilling will be required. In other areas, you can use munchkin pressure gates, which do not need drilling.
Check Pricing and Availability
PROS:
Swings in both directions due to its dual-locking mechanism
Easy to use
Installs easily
Only adults can open with ease
---
Why we picked it: The gate can fit different doorways with its adjustable knob, allowing it to fit angled or odd-shaped openings.
Tokkidas Baby Gate is extra wide to provide more coverage. The steel frame material is super strong and very foldable for easy storage. You can mount this baby gate on the wall before your front door to prevent your toddler child from going outside. Don't worry about the installation tools because it comes with hardware accessories like screws, expansion pipes, and fixed heads. The gate is a three-sided and one-handed operation with a double locking mechanism that makes it difficult for toddlers to open. It is also super wide to fit openings between 33 and 80 inches wide.
Check Pricing and Availability
PROS:
Foldable for easy storage when not in use
It comes with hardware accessories
Has a convenient walk through the door
Made from durable steel
CONS:
One must measure the openings before purchasing this gate
---
Why we picked it: The ideal gate for multiple uses and for keeping babies safe. It is also sturdy and cannot become loose even when your child pulls up or stands at it.
Now that your baby is on the move, Safety 1st Easy Install Metal Baby Gate with Pressure Mount Fastening is what you need. It is easy to install and ensures that your little one is at friendly places within the house. So how do you know that the gate is installed securely? This gate has a visual green/red indicator to show you that. If the Indicator turns red, it's time for you to re-adjust the pressure. Its pressure-mount design also protects your walls. No damages with this gate!
Check Pricing and Availability
PROS:
The width is customizable
Has an automatic closing door
Installation is a breeze
The gate swings in both directions (180°)
CONS:
A bit challenging to open and close on a daily basis
---
Why we picked it: suitable for both indoor and outdoor use. Its design is also foldable, scalable, and portable, and does not restrict you by size or area of use.
Do you want to prevent your little explorer from sneaking into the kitchen? This magic baby gate is ideal for all doorways. It is made from a rigid glass fiber material that is durable for both indoor and outdoor. You can use this mesh baby gate even in tight spaces, and that's what we adore the most about it. The operation is super comfortable while providing safe and effective protection for your baby at all times. It can be installed in the kitchen, courtyard, and living room within minutes. So don't wait for tomorrow; create a safe space today!
Check Pricing and Availability
PROS:
Easy to install and adjust
The design is foldable and portable
Has a longer service life
Protects babies and infants safely
CONS:
Requires one to measure openings before purchasing
---
---
Here are the Best Baby Gates for Stairs
---
Why we picked it: Stylish and convenient. Its decorative nature with honey oak wood finish childproofs your home in style. Its quick-release mechanism also simplifies installation and re-installation.
Toddleroo by North States 72″ wide Deluxe Décor Baby Gate comes with a dual installation kit. This gate will undoubtedly meet your requirements. It can work with round banisters that needs drilling and square banisters that do not require drilling, so you will get precisely what you are looking for. You'll have no issues with the installation and re-installation. You can operate the gate with just one hand while holding your little one with the other hand. Childproof your house in style with this excellent baby gate.
Check Pricing and Availability
PROS:
Easy to install and re-install
Safe and secure
It is decorative, making your home more beautiful
Accommodates most openings
CONS:
You need to squeeze the lock to open
---
Why we picked it: An excellent baby protector that is pretty stable and long-lasting. Also, it's hard for toddlers to figure out how to open it.
With no time, your baby will want to go beyond the playmat or bouncer, but as a caring parent, you might want to set boundaries where there are doorways and stairs.  This baby gate will do the trick and is worth your money. It is made of thicker steel, which firmer, safer, and more durable. Some of the features that will excite you include a dual locking system and auto close gate that swings in both ways. Only grown-ups can figure out how to open the gate with a simple press on the button, and a single-handed opening, which is quite a breeze even when your little one is in your arms. You'll also be delighted by its beautiful design that will turn your home into artwork.
Check Pricing and Availability
PROS:
It is strong and durable because it is constructed from steel
Easy to install
Protects the wall
The width is customizable
CONS:
Not big enough for more sweeping stairways
A bit loud when closed
---
Why we picked it: Perfect for wide stairs. Also, it can be used in many places, including indoor and outdoor, to ensure that your baby is in a safe place.
Momcozy Retractable Baby Gate is what you need to keep your little one safe when crawling around. It has excellent features that you might want to take a look at. Some of these features include a double locking mechanism for increased safety, one-handed operation, and the ability to be used in more than one area. It will also take you minutes to install this gate with the following simple steps. You need to mark holes where you wish to position the gate, drill holes, install, attach the gate, lock it, and enjoy your gate! Don't worry about the steps because it comes with a guide.
Check Pricing and Availability
PROS:
Operates with just one hand
It is moveable
Provides quality assurance
Locking and unlocking is pretty easy
CONS:
Cannot be installed on the upper side of the stairs
---
Why we picked it: Uses a very unique locking mechanism that is hard for kids to figure out. Additionally, it can be fitted in all kinds of awkward angles and situations.
Cardinal Gates Stairway Angle Baby Gate is an exceptional gate developed for maximum safety. Its features and accessories are beyond compare. The gate has a latch system that puzzles babies and toddlers yet allows adults to operate with one hand. Aside from that, this unique latch system will allow you to mount the gate at angles up to 30 degrees. If you want to install your gate without causing damage to the walls and railings, clamps are available but sold separately. Also, extensions are available for those who want to expand the gate's width. This is an ideal gate that makes the impractical possible!
Check Pricing and Availability
PROS:
It is a unique childproof latch
Opens in both directions
Made from durable aluminum
The width of this gate is adjustable
CONS:
For those who prefer not to drill holes on their walls and railings will need to buy clamps separately
---
Why we picked it: The ideal baby gate for home and travel due to its portable design. It is also safe and tested as an excellent staircase barrier.
You might want to take a look at this attractive stair safety solution. Unlike other traditional baby gates, it is hard for toddlers to climb this retractable fabric gate. The barrier features are designed to ensure that your baby is secure and off the staircase. It is portable and easy to use due to its banister to banister features that are quick to attach and remove. Installation takes few minutes without tools by simply clipping it in place and pulling the straps tight. This easy and fast fixing makes it ideal for everyone, including playdates, grandparents, and travel.
Check Pricing and Availability
PROS:
It is portable
It's easy and quick to install
Does not require drilling
It can fit wide spaces
You can tighten it to handle force and heavy load
CONS:
It is relatively expensive
Requires spindles or banisters of a specific size
---
Why we picked it: A wide baby gate that is perfect for the bottom of stairways. It also makes your life easier and safer for the baby.
As a parent, all you think of is to keep your little one safe. Now that he is crawling and walking around, Babepai Retractable Baby Gate will keep him away from hazardous stairs and other unwanted areas. The gate is versatile, and your little one's fingers cannot be pinched or jammed. It has a maximum adjustable length to fit your stairs as needed.  This hardware-mounted gate does not also have a bottom bar or threshold, which eliminated the risk of tripping. Another adorable thing about the gate is that it gives your home a lovely welcome.
Check Pricing and Availability
PROS:
Parts of the gate are non-toxic and recyclable
Great for indoor and outdoor use
Its metal fabric is sustainable
It is lightweight and portable
Installation is a breeze
CONS:
Requires heavy duty zip ties but are not included in the package
---
Related post,