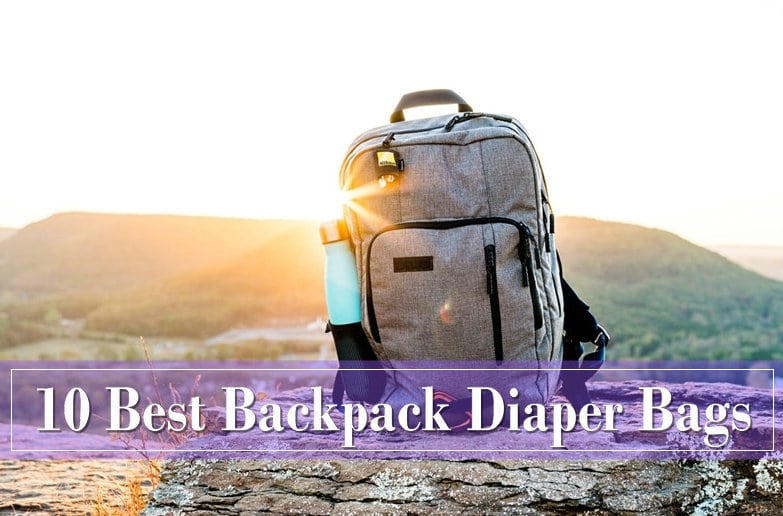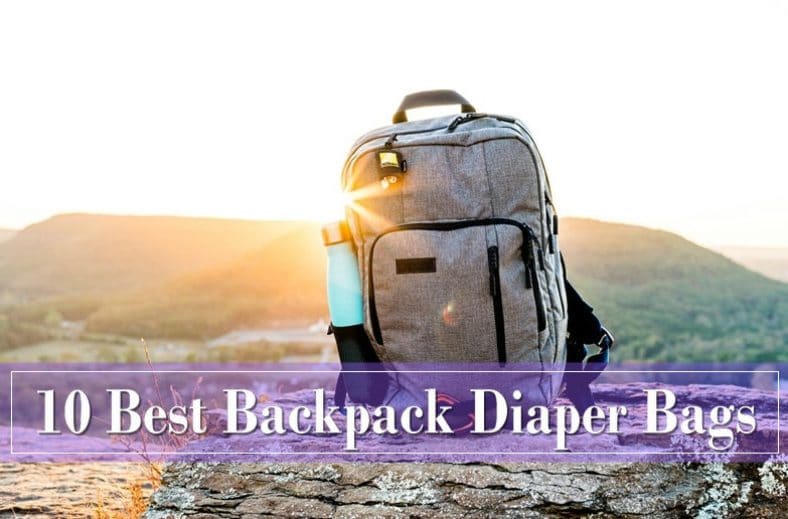 If you're a parent, you know that a diaper bag needs to fit more than just diapers.
Somewhere between breast or bottle-feed? Cut the cord or delay it? The diaper bag may have fallen off your list of important decisions to make. That's why we're here to help. Heaven forbid you spend money on the wrong diaper bag, only to have to buy a second one. Maybe the stroller needs to have dual-shocks and 3-way sleeping positions, but when you're fumbling around for a spare pacifier, you'll want your diaper bag to be the cream of the crop.
Not only is a useful diaper bag helpful on your mental health, but physically too. If you've ever carried a traditional diaper bag, you know that after a few hours, your back and shoulders are completely bent out of shape. That's why the diaper bag backpack is the stylish, spine-saving way to go.
Let this guide show you the top 10 choices of parents like you, and you're bound to find your diaper bag dream come true.
10 Best backpack Diaper Bags 2023
Up until this very moment in time you may have thought that the common messenger bag style diaper bag is the way to go, but I am here to assure you, it is not. The problem with the messenger bag is that it loses shape, so you end up carrying this oblong pack on your hip. Not to mention it forces all the weight on one shoulder- ouch!
The backpack diaper bag is the ideal shape for maintaining shape and saving your shoulders. It is gender neutral (unless you buy pink), it is (mostly) compact, it can be stylish, and it keeps all those baby supplies organized, organized, organized! Whoever told you a diaper bag is only meant for diapers, was playing a cruel, sick joke on you. Most prepared parents carry in their diaper bag at least:
Did we mention the kitchen sink? If you're a new parent, you'll find ways to bring enough stuff for you and your baby to survive on a deserted island for at least a week. Trust me, by the time we're finished, I'll have you drooling over the number of pockets in our backpack diaper bag top picks.
1

Halova Diaper Bag Multi-Fuction Waterproof Travel Backpack
Although this bag may have the standard capacities of most diaper bags, it is anything but standard. At 10″ x 8″ x 16.5″ it is the size of a typical backpack. Which may contribute to the fact that you're constantly trying to hide the fact that you're carrying around a poop-wiper bag.
It's hard to find anything wrong with our favorite diaper bag backpack. But if we have to find something; even for a backpack, if you stuff the bag too full or too heavy, it will get uncomfortable around the shoulder straps. When purchasing, beware of similar knock-offs. If you want the true value, make sure you're getting the Halova Diaper Bag Multi-Fuction Waterproof Travel Backpack.
This diaper bag has all the storage, all the chic, and all the durability. Between the leaky breasts and the spilly bottles, you'd think all diaper bags would be waterproof, but rest assured the Halova is! It is made of high-quality, durable, water resistant, oxford material, making it ultra easy to wipe off and clean. Trust me, my old diaper bag has definitely seen a thing or two in its lifetime, and you can tell! Not only are the stains unattractive, but no new parent wants more dirt and germs around their baby.
General info: The Bag Nation Backpack is like the Mother of all hiding spots for all your baby gear. With 14 pockets, plus a detachable changing mat and sundry bag, the only thing it won't hold is the baby.
Best for lifetime warranty:

The best feature of the Bag Nation Backpack is it's lifetime warranty. Yes, you read that right. Lifetime. Warranty. You and baby can mangle that thing and they'll replace it if it has any rips, tears, or manufacturing defects. Not only are you getting an already durable diaper bag, but one that will continue to be durable with its lifetime warranty. Purchasing a Bag Nation Backpack means you are buying from a company that supports its product and its customers.

Seriously, somehow not all diaper bags are waterproof and while we're not sure how those exist, you don't need to worry with the Bag Nation Backpack. It is made of high-quality, water-resistant twill polyester, has non-fraying stitching, and strong zippers. You can trust in the durability of this diaper bag, which means you can use it for years to come, and babies to come! As if that isn't enough, check this out:Although this diaper bag hides all of your baby supplies, it does not hide the fact that it is a diaper bag, a very MOM diaper bag. This is our least favorite thing about the Bag Nation, it has zero style points. So, if you're looking to be discrete about the 50 lb. survival kit you're carrying around for such a small human, this is not the diaper bag for you. It's bulky making it obvious and too big for a quick trip to the store.

PROS:
It's like the bag that keeps on giving, can you say lifetime warranty
It's dad approved so he'll easily take turns carrying it
You'll love the 14+ perfect pockets
CONS:
This bag has ZERO style points, it's too large and too bulky
3
Ju-Ju-Bee BFF Convertible Diaper Bag
As a mom, your child chooses basically everything. So you should be the one to decide for a change with the Ju-Ju-Bee BFF Convertible Diaper Bag.  This diaper bag can be worn as a backpack, shoulder bag, or handbag; which is perfect for when you're rocking the "But I'm a cool mom" look.
The Ju-Ju-Bee is as durable as it is stylish. Made of 100% polyester and finished with metal hardware, it is machine washable and coated with Teflon so stains won't stick! Plus Ju-Ju-Bee offers a lifetime limited warranty for manufacturer's defects, so you know you're getting a designer bag that you can use over and over again.
Best for customization:
In this day and age, life is about what you can customize and the Ju-Ju-Bee is perfect for the parent that wants options! Not only do you have the everyday choice of what style you want to carry this bag in; shoulder, messenger, or backpack, but it also comes in fifty colors. You can view 12 on Amazon, but all 50 through the actual retailer. We love all these color options because you deserve to be just as cute as your little babe!
With style like this however, the Ju-Ju-Bee comes at a cost, and this is not our fave. At right around $150.00 you will have to spend a pretty penny to get a diaper bag this pretty. But you are paying for quality that will last.
PROS:
This bag is just beautiful, with 50 colors available, what more could you ask for
A clean bag is a more sanitary one, thank you crumb drains
It's durability will last as long as it's beauty does
CONS:
Your wallet will not be happy, $150 ain't cheap
This diaper bag is smart! I mean, it has crumb drains!? Which are basically secret passageways for all those crumbs to disappear, and you will have A LOT of crumbs, and sand, and miscellaneous dirt. Whoever designed crumb drains is brilliant and we thank you for it. Of course the Ju-Ju-Bee also features the classic insulated bottle pockets, smart. And a cell phone pocket for mom, smart. We know you were sold on crumb drains, but it gets even better.
4
Sleeping Lamb Waterproof Travel Backpack
This gender-neutral, sporty diaper bag says, were diaper bag experts. It can easily be worn by mom or dad because it looks like a typical backpack, not a diaper bag. Chances are you might even want to carry it thanks to its 2 thick, mesh paneled, breathable, comfy straps.
The Sleeping Lamb Backpack is 100% polyester making it easy to wipe clean. It is also water resistant and machine washable, so keeping your diaper bag looking brand new is as easy as throwing it in the washing machine.
Best for travel:
The endless storage in the Sleeping Lamb Backpack make it our favorite pick for travel. But more importantly, it has smart storage. This diaper bag backpack features a laptop compartment for dad, a special pocket for a pacifier, an accessible wipes pocket, insulated bottle pocket, and 2 PEVA super waterproof pockets for wet items and/or soiled diapers. This is the kind of diaper bag we want to travel with because there's a place for everything, which keeps us from fumbling around for our baby items when were shoulder to shoulder on a 3-hour flight.
Style may not matter in airport security, but for everyday use, this diaper bag lacks style points. Plus, there aren't many color options. This diaper bag is ideal for a mom on a mission, but it might clash with your Sunday best.
PROS:
You won't believe how much storage there is, even a laptop pocket
A detachable changing mat is every moms dream
2 super waterproof pockets for when you can't ditch the dirty diapers
CONS:
Plain, 0 style points
Some find it smaller. Great for travel, but if you plan on packing the kitchen sink, or you have multiples, may be a bit small
The storage is endless with the Sleeping Lamb and features one detachable changing mat and stroller straps. Customers rave about how the zippers unzip all the way down the backpack for easy access to all your baby's items. We're sure you'll be happy to tote around this diaper bag backpack, which leads us to its best feature.
5
ECOSUSI Backpack
General Info: Many diaper bags try to fit the one-size-fits-all mold, but the ECOSUSI breaks that mold. The first thing you'll notice are it's unique patterns/ designs, plus an equally unique diagonal pocket in the front. Most diaper bags only offer solid colors and keep its zippers rigid and straight, but the ECOSUSI keeps it interesting.
You won't even miss carrying an extra purse or accessory since this backpack is so trendy. And the ECOSUSI keeps mom and dad in mind by adding an extra compartment in the back for your phone and wallet. With its full-zip pockets, you can also completely open the compartments for easy access.
Best backpack diaper bag for twins:
The ECOSUSI will keep you organized, even with twins! We know that this diaper bag keeps all the mommas in mind because it features tandem insulated bottle storage pockets. This never happens! Most diaper bags offer one pocket at most, replaced by a wipes pocket on the opposite side. But these tandem bottle pockets are perfect for twins. Plus the already mentioned phone storage, will leave your hands free to take care of and feed your two perfect littles!
Although the ECOSUSI puts the new idea in ideal, it's unique storage compartments don't hide the fact that there aren't many pockets. It will hold all your baby gear, but one large pocket doesn't scream organization and you may end up feeling like a hot mess instead. If you're like most new moms and want a place for everything, including that spare nail clipper, the ECOSUSI is not the best choice.
PROS:
Hello secret phone storage, goodbye extra purse
Tandem bottle storage so you can tandem feed your twins
You'll love these unique designs
CONS:
There just aren't enough pockets
With limited color options, this. Age loses style points
We love that the ECOSUSI thinks of everything, including using stroller hooks not straps!? Speaking from experience, stroller straps can be less durable (ours broke within the first three months). But stroller hooks are universal and just as convenient, with more durability.
6

Ferlin Multi-Function Baby Diaper Bag
We know dad bods at a thing, but are dad bags? If so, the Ferlin Multi-Function Baby Diaper Bag is definitely it! This bag is super trendy; not too sporty, not too frumpy, the perfect amount of style for the 21st century dad (and mom). Just look at it, it's gorgeous!
If you're an under-whelmer, all the pockets featured in the Ferlin may be too much of a good thing. Sometimes all those inner pockets actually make it harder, and make you slower and getting your baby's items. I know I don't want to unzip 3 pockets just to reach my baby's pacifier. Sometimes it really is better to just throw it all in one place, reach in, and grab!
We love that the Ferlin comes with a satisfaction guarantee. They offer a free 30-day returns and exchanges policy, and a 90 day warranty. Do you really need any more reasons to love it?
This is the Superman of all diaper bags. We promise you've never seen a diaper bag backpack like the Obersee Bern. In fact, it is so functional we wouldn't be surprised if you use it as your regular bag once your baby is in kindergarten, high school, even college; but we won't tell.
Unfortunately, the awesome detachable cooler is not enough to cover the fact that there are stroller loops, but stroller straps are sold separately. In addition, the Obersee Bern can be a bit heavy and bulky. And to top it all off, it only comes in black.
Surely you never imagined a diaper bag could have all those things, but there's even more.
8

Ju-Ju-Bee Legacy Collection Be Right Back Backpack Diaper Bag
There's a reason the Ju-Ju-Bee name is on here twice, you just don't get style plus quality like this anywhere else. Known as the "queen" of all diaper bags, the Ju-Ju-Bee Be Right Back Backpack is royalty and rightfully so.
If we've said it once, we'll say it again, style isn't cheap. The biggest downside of the Ju-Ju-Bee Be Right Back is the cost. At $125 there's some things you'll want to sacrifice on price for baby, and others you want. If you want that super safe car seat, an expensive diaper bag might be last on your list.
You'll love how the Ju-Ju-Bee fully unzips like a suitcase for easy access. It has 2 exterior 3M Thinsulate bottle pockets, keeping your baby's bottles fresh and safe. There is a Mommy pocket (we'll let you be creative here), quick reach cell phone pocket, and quick grab handle. You won't get pocket overload, but you'll also get two large compartments for ample storage space.
General Info: When you're balancing your purse, your baby, and your sanity in your arms, the last thing you need is a heavy diaper bag. The Evecase Backpack is lightweight without sacrificing functionality. It is sporty and gender-neutral, which means dad will easily volunteer to carry it (and baby too if you're lucky).
Lightweight ay be great, but did we have to ditch the insulated bottle pockets? This is one thing we truly miss with the Evecase Backpack compared to others. It offers lined pockets for bottles, but nothing insulated. Insulated bottle pockets are a selling point for most parents because baby's bottles need to be kept at a specific temperature in order for them to be good enough for baby.
The two large compartments are ideal for hauling EVERYTHING. Especially if you're an over-packer like me. The Evecase gives you a detachable changing mat, plastic pouch for soiled items, and bottle pockets. With its ergonomic shoulder straps you won't even feel like you're carrying around enough supplies to last your baby a week. Or if your lucky, the convenient stroller straps will save you from carrying it.
Maybe you're on your third kid and a mom expert. Maybe you're past the bottle stage and onto sippy cups. Whatever the reason, if you don't need a lot of space or stuff to tow around, the Hotstyle Cute is just for you. Now your diaper bag can be as cute as your baby.
Simply adding a changing mat alone would make a huge difference. Mini may be great for some instances, but the bottom line is; we need more for baby. A changing pad is compact and stores easily, even in a bag this small. It would increase its overall value and surely get a lot mor customers.
Surprisingly, there are 10 pockets total, so while your storage may be small, it's still organized. There are two side bottle pockets, a laptop compartment (up to 10″) and various interior and exterior storage spaces. 
Diaper Bag Buying Guide
At this point if you're still thinking, anti-diaper bag, let me break it down for you. Do you really want to turn your $300 designer purse into a catch-all, carry-all? You'll end up with dirty diapers, spilled milk, crumbs, miscellaneous toys and some other mysterious sticky items strewn about your beautiful bag. Not to mention leaving pacifiers out is unsanitary, bottles at the wrong temperature are unhealthy, and for everyone's sake, you really don't want soiled diapers coming into contact with everything else.Diaper bags keep you organized, which decreases your stress levels, which makes you happier, which makes baby happier. Now isn't that the ultimate goal? Continue reading to figure out how to shop around. Don't worry, you can than, us later.
Things to consider before purchase
We recommend the backpack style diaper bag so highly because it is going to be the most functional no matter where you're going or what lifestyle you live. A backpack keeps it shape no matter how much you cram in there, but other style bags end up taking the shape of a giant ball, which isn't convenient for anyone to carry.
The backpack also functions the best because it helps you function your best. With the backpack behind you, your arms and whole front of your body is available to carry and tend to your baby. Messenger and side style bags constantly fall off your shoulder which means you're constantly having to adjust.
Finally the backpack will keep you functioning like a well-oiled machine because they are so comfortable you'll forget you're even carrying one. Unlike messenger bags, backpacks are better for your posture. Don't believe me? Read more about shoulder bags versus backpacks. The shoulder straps create even weight distribution, making it easier on your back and shoulders. And if you're comfortable, you're happy, and you can keep going no matter how fast your little crawler can go.
Yes, we've established that all babies have a lot of stuff, but that doesn't mean you have to go for the XXXL size backpack. Most diaper bag backpacks that are slightly smaller than a normal backpack will do the job. Just make sure it has the right number of pockets for your organization needs and you'll be able to store those 15 spare diapers without anyone even noticing.
In case you didn't notice, style was practically our number one factor when it comes to buying a diaper bag backpack. If you weren't a backpack person before, we're sure you will be after some of those stylish options listed above.
As a mom, when I purchased my first diaper bag backpack, I thought, "If this is going to be my new accessory, it's definitely going to be a good one".
Choose your color (and maybe keep your husband in mind). Choose a pattern. Make it convertible even, but when it comes to style, you don't have to sacrifice. The diaper bag may be for baby's needs, but you're the one who has to carry it around, so heck yes, make it cute!
Don't make the same mistake I did as a first time momma, durability matters. Otherwise you'll end up with a one-month new diaper bag, that is neither waterproof, nor easily wiped clean, drenched in baby butt cream. Keep durability in mind when buying a diaper bag because you don't want to end up buying a new one every year.
The right diaper bag should last you an incredible number of trips to the grocery store, quite a few trips to Disneyland, and maybe even a couple kiddos. Notice the type of material, if it's waterproof, staking resistant, and if you can just throw it in the washing machine, it's heaven-sent.
We get it. Between the Lamborghini of strollers and the 5-star rated car seat, not to mention the 100% pure oak wood crib, you've just about exhausted all your resources when it comes to money. So it's simple: don't overpay for a diaper bag.
Truly, all of the bags listed above are performing the same purpose. We compared prices and value for you so you know how to get the most for your money. And yes, the diaper bag is one of the baby essentials that you don't have to spend an arm and a leg on, in order for it to be good quality.
FAQ about Diaper Bag
Let's say it again, yes. Yes you do. Put one of these listed above on your baby registry and it will be the best gift you ever receive.
---
Odds are 1.2 lbs. and 2.3 lbs. won't really feel that different. They're going to hold the same items, so you don't have to pay close attention to the actual weight and dimensions in inches of each bag. The big difference on your back will be how many spare bottles, water bottles, and larger items like those you carry with you. But we all like to think we're purchasing a 'lightweight' backpack, just don't stress over it.
---
We definitely wanted to stress the importance of insulated bottle pockets. If you don't know this already, there are very specific instructions for preparing baby formula. You can store it cold but for no more than a couple hours, it's no good after sitting at room temperature for an hour, and so many instructions! So yes, as a new parent insulated bottle pockets give you piece of mind that you're feeding your baby good milk. Plus, if you live in an extreme climate, such as extreme heat or cold, the insulated pockets will save your life because baby definitely can't drink frozen milk.
Read More: What's the Best Cloth Diaper for My Baby?
Final Words
Take it from a mom, diaper bags are just plain brilliant. You'll need it, you'll want it, you'll love it! Basically the only con is that you're now attached to this bag that you're helpless without. But the benefits far outweigh the cons. With so many options available, we promise you'll find the perfect one for you and your baby.
Hopefully this buying guide was informative and useful. You'd be surprised at how much happiness a diaper bag can bring to your little family, one pocket at a time.