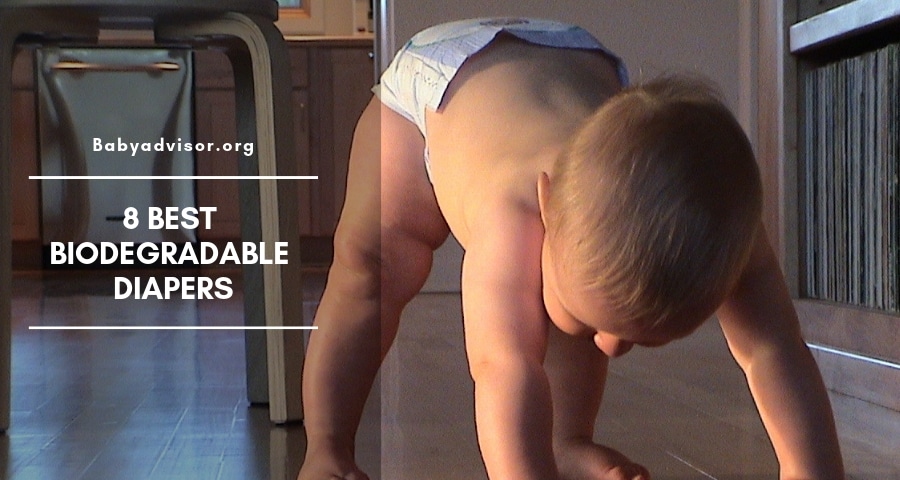 Most diapers in use today are NOT biodegradable or Eco-friendly.
The average baby uses roughly 7,000 before potty training. That's a lot of diapers! Disposable diapers are the 3rd largest source of household waste. If you're determined to make a difference and help improve the environment, here is what you need to know!
Why Should You Use Biodegradable Diapers?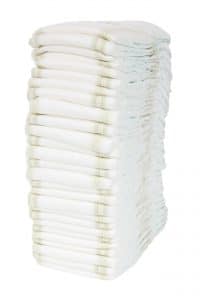 Disposable diapers account for a large portion of the trash collected each year in the United States, as well as other nations. They pose serious risks to people and the environment. It's estimated that 20 billion – yes BILLION – disposable diapers are put into the landfills each year. That's more than 3.5 million tons of waste each year.
If that's not bad enough, disposable diapers don't degrade well, even if they're exposed to sunlight and oxygen. Most of the time, the diapers aren't as they sit in bags and piles of trash. It's believed that disposable diapers take around 500 years to decompose. That means all of your disposable diapers are sitting in a landfill still slowly degrading, and they'll be there still decomposing after you die.
Gross, right?
While parents are supposed to dump solid waste into the trash before putting their disposable diapers into the trash, most don't do so. So, that's millions of tons of waste that can contaminate groundwater. Viruses in baby's feces can end up leaking into local water supplies. That's incredibly disgusting and unsafe.
Let's not forget that chemicals are heavily used in conventional diapers. These toxic chemicals can have adverse effects on humans if used long-term. We truly have no idea of the effects that these chemicals can cause in our children.
We do know that the inner layer of disposable diapers has chemicals that can trigger allergic reactions! Also, these diapers typically have dyes and dioxins, which is a carcinogen, which means it can cause cancer.
We're putting these on our brand new baby! That doesn't sound safe at all, right?
What to Look for in Biodegradable Diapers
The "green" and "eco-friendly" world is rapidly expanding, which is a great thing for parents. It means you have more choices than ever! That also means it can be a bit overwhelming to pick the right diaper for you. Here are the features that matter the most!
You may be interested in finding out The Difference between Cloth vs. Disposable Diapers.
The whole reason that you are using these biodegradable diapers is so that you can avoid toxic chemicals and do less damage to the environment. Picking a diaper that's still full of dangerous chemicals goes against the whole purpose!
Green diapers use healthier materials, so look for these details:
Chlorine-free
Perfume-free
Dye-free
Latex-Free
Let's be honest; price matters and eco-friendly diapers DO cost more than chemical-filled ones. It's unfortunate but reality. You have to decide how much more you're willing to spend. There are some eco-friendly diapers that don't require a donation of a kidney to purchase for your child. Decide your budget and see what fits into it, not the other way around!
What's the function of a disposable diaper? To hold in urine and feces, duh!
You have to consider how well each diaper performs this specific function. Always look at the reviews left by other parents and speak to your friends and family who might have tried these diapers. Do these diapers leak? Do you have to worry about overnight leakage or poop explosions?
Take a look at the design of the diaper. Look for leg gussets, stretchy tabs or side panels, and an inner wicking layer to keep your baby feeling dry all day and night.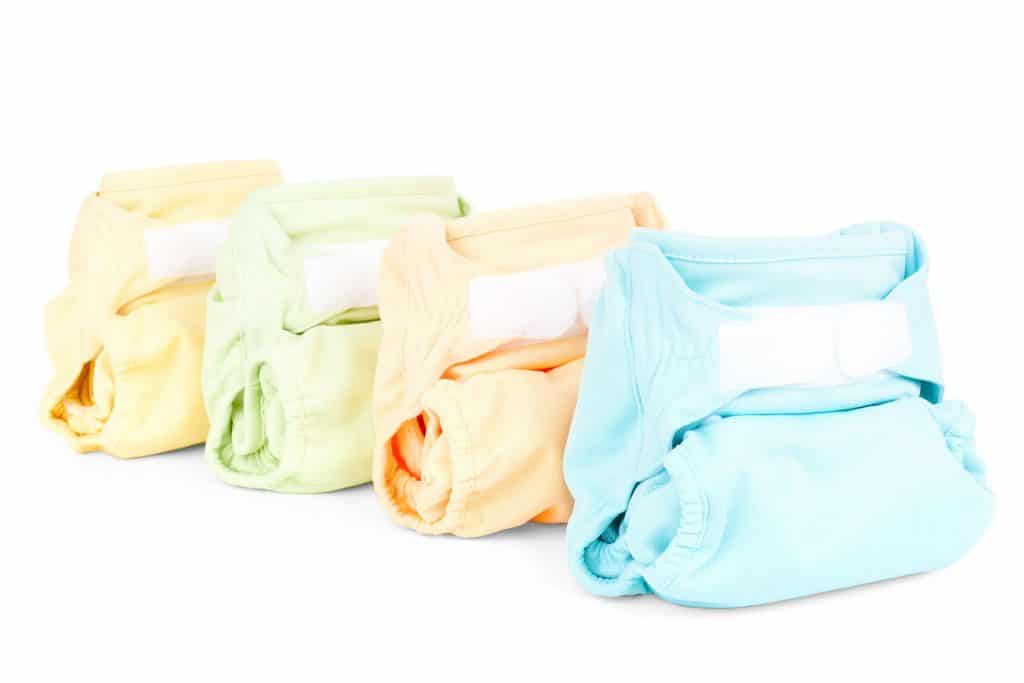 The entire purpose of this guide is to show you the best biodegradable diapers on the market right now. However, not all diapers are 100% biodegradable. Some are rated to 75% biodegradable. An average, conventional disposable diaper is only around 25 to 30% biodegradable, so we have to pick diapers that do better than that. 100% is ideal, but some diapers on the list aren't fully degradable.
The Anatomy of a Disposable Diaper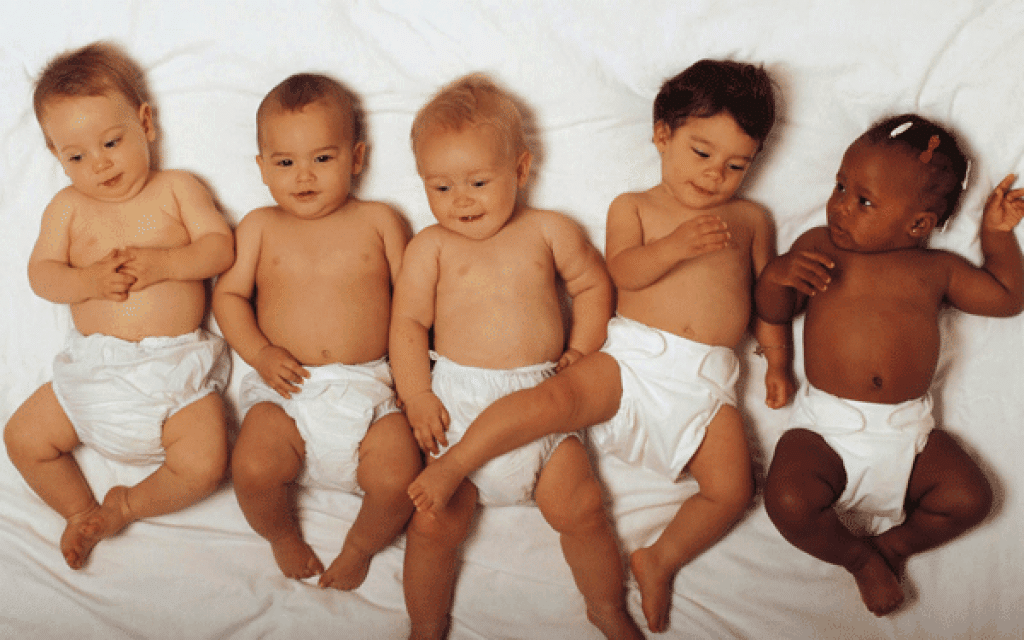 Before we can go much further, you have to consider the materials used in each part of the diaper. It's important that the diaper brand you pick is very transparent about the components of their diapers. You have the right to know what touches your child. If the company isn't open the ingredients, don't consider them!
Here is the basic anatomy of a disposable diaper.
First, this layer sits against your child's skin. It is typically where the most risks and issues stem from, especially if the company uses lotions or other types of fragrances. The material here is important. Many of the companies fail to tell parents what they use for the first layer, but this layer is what's most likely to give your baby a rash because it's what is touching their delicate skin!
No one likes diaper leaks, and the absorbent core is what absorbs all of the urine and liquids. What you don't want is a core that will let the liquids be squeezed back out, onto your child's skin. That can be uncomfortable for your baby.
Most companies use a material called SAP – Super Absorbent Polymer – that soaks up and traps the fluid. That is the beads and fluffy material you feel inside of a diaper. The fluffy material is typically made from wood pulp, but some companies use wheat or corn-based materials that help to distribute the fluid across the diaper.
Without the waterproof outer shell, the fluid would get all over your child's clothes. No one wants that! This layer typically contains the most petroleum-based plastic or plastic-treated materials. Eco-friendly diaper companies often use a plant-based plastic to create the waterproof coating. Sometimes, it's listed as PLA or polylactic acid on their ingredients.
SAP may be the secret to disposable diapers successes, but there are controversial issues with it. If you grab a disposable diaper, you can feel the crystals inside of it. These help to absorb urine and wet poop. These crystals are often called hydrogel, sodium polyacrylate, or as AGM – absorbent gel material.
So, what's the problem? A few things!
SAP is a new material that has only been used since the mid-1980s.
There hasn't been enough testing done to ensure SAP is non-toxic and safe.
SAP is derived from petroleum and might contain chemical components that aren't safe for children.
At one time, SAP was linked to toxic shock syndrome (TSS).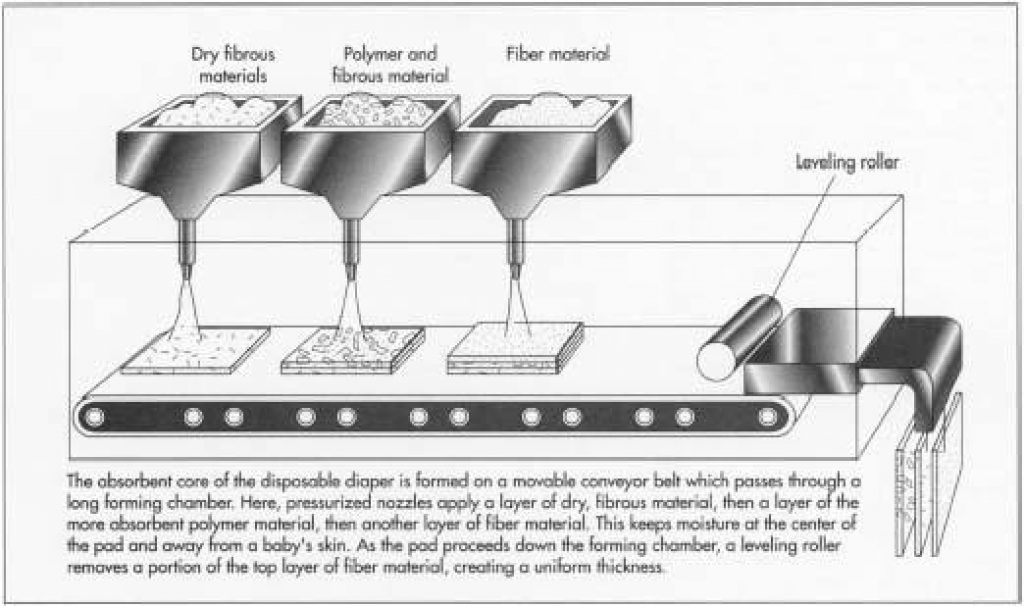 What about Dyes?
Another culprit for problems in diapers in dyes. Dyes can cause allergic reactions and contain toxic chemicals and heavy metals. Luckily, many companies are using pigments and safe inks rather than dyes. Make sure that you pay attention to ensure the diaper you pick uses pigments!
Avoid Fragrances
You might think that perfume fragrances are needed to mask the scent of urine and feces. These fragrances are created with synthetic chemicals and are a top allergen for babies. Children with allergies or asthma can react to these artificial fragrances.
It's safest and best to avoid any and all fragrances. Let's be honest; diapers aren't going to smell good either way. You either smell the urine and feces, or perfumed urine and poop. Either way, it's not the scent you will enjoy.
Also, you can see our review of all types of Cloth Diapers.
Should You Avoid Lotion as Well?
It's lotion, so it can't be too bad, right?
Wrong! The issue is that diaper companies don't have to tell you what lotions they used, nor do they have to tell you the formula they used.
Disposable diapers work perfectly fine without adding lotion. For some babies, lotions can lead to sensitivities and allergic reactions. The lotion is most often added to that top layer that touches your baby's skin, and most of these lotions will be made with petroleum-based products that don't use sustainable practices.
So, to avoid possible rashes or reactions, it's best to always pick disposable diapers that don't rely on lotions. Your baby will have less exposure to these chemicals!
In most circumstances, SAP is made of plastic and derived from petroleum. Some companies are starting to offer plant-based biodegradable SAP. To make this type of SAP, the company uses cellulose from wood or wheat and starch, from food like corn, potato, or yams.
These SAP materials are very similar to the petroleum-based ones, but they're biodegradable.
What Else Should We Avoid?
A few other things you should avoid in diapers include:
Phthalates: You should try to avoid phthalates, which is a group of chemicals that make plastic softer and more durable. Phthalates also can be found in dyes, glues, and synthetic fragrances.
Dioxins: These are possible carcinogens that can be found in the presence of chlorine or peroxide! Unless the diaper is unbleached, 100% chlorine-free, or bleached with peroxide, it may contain dioxins.
The 10 Best Biodegradable Diapers Reviews
1

Nature Babycare Diapers – Our Top Pick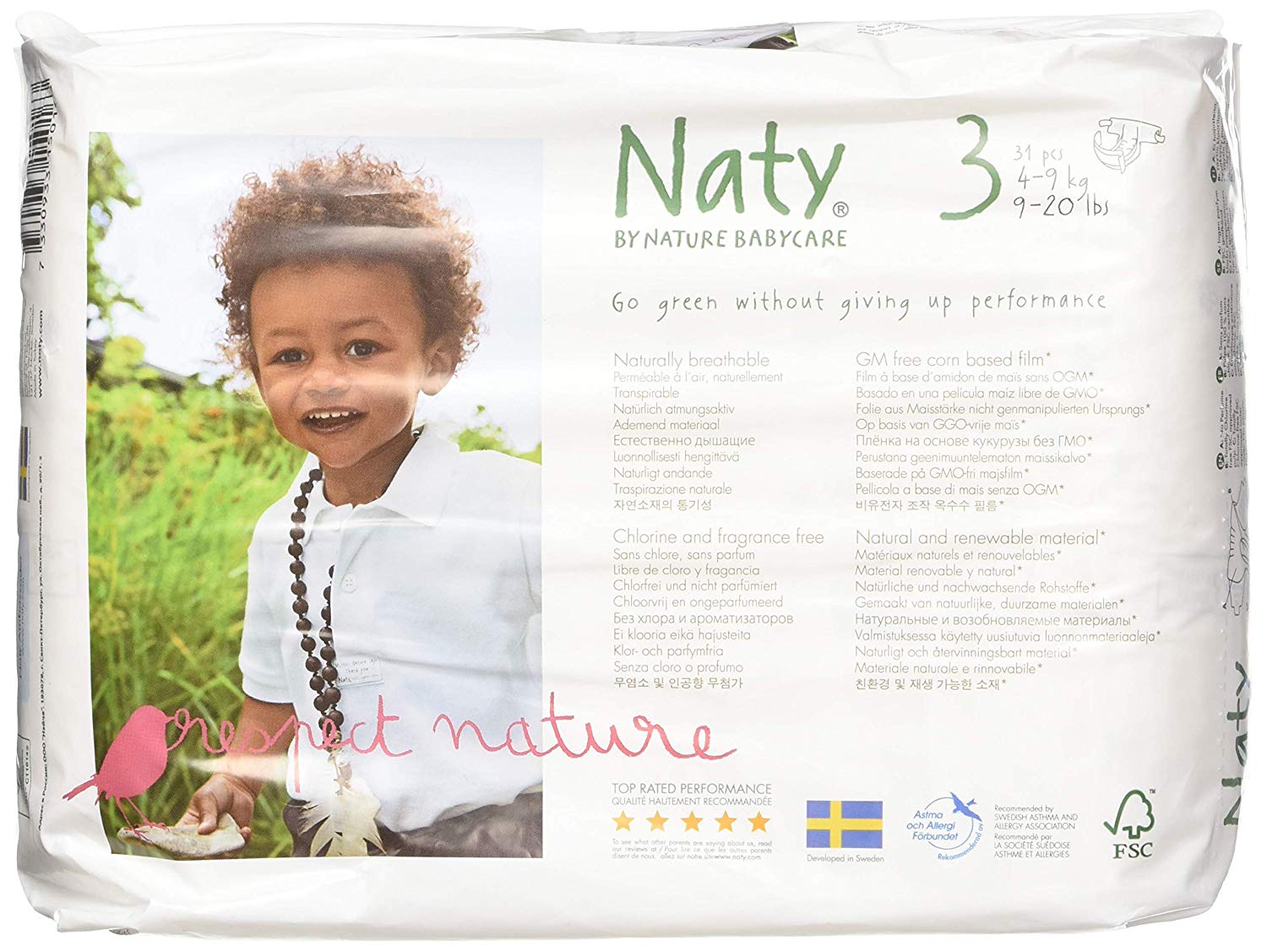 Nature Babycare, often just called Naty, are eco-friendly diapers that are free of perfumes, chlorine, plastic, and any genetically modified organisms. Naty began in Sweden with the purpose of creating natural diapers made of renewable materials. The increased breathability helps to prevent diaper rashes.
Naty diapers use a film out of corn, rather than plastic, to prevent rashes. You can purchase Naty diapers in five sizes from 4 to 60 pounds! These diapers do offer a great combination of fit and absorbency.
Nature Babycare Diapers are great for babies with sensitive skin. They even used GMO-free corn! These diapers have a chlorine-free pulp that is sustainably harvested from Scandinavian forests. You should know that Nature Babycare diapers are certified by AB Vincotte, the Swedish Society for Nature Conservation, and the Swedish Asthma and Allergy Association. That means these diapers are very safe for your child!
Of course, these diapers do feel a little stiff, but that's common for natural diapers. While they're great for daytime use, we don't recommend these diapers for heavy wetters or overnight use. We found that these diapers aren't as bulky when compared to other disposable diapers.
Check Pricing and Availability
PROS:
FSC certified wood pulp
No fragrances, chlorine, or dyes
Uses a corn film for waterproofing
Not bulky
CONS:
Not great for heavy-wetters
Stiff
2

Bambo Nature – Best Hypoallergenic Diaper
Parents rave about Bambo Nature diapers! Bambo Nature diapers carry the Nordic Swan Eco-Label that guarantees these diapers are free of harmful chemicals, such as chlorine, organotins, PVC, phthalates, latex, heavy metals, and formaldehyde.
These diapers are 75 percent biodegradable rather than the 35 percent that standard disposable diapers! We love that Bambo Nature diapers are hypoallergenic because they don't contain any optical brighteners, perfumes, essential oils, lotions, or odor eliminators. Any chemicals that could irritate your child are eliminated from these diapers.
Bambo Nature uses wheat starch in the absorbent core rather than SAP that is typically in traditional disposable diapers. We also love that these diapers are made with an eco-friendly manufacturing process. No chemicals are used in the production!
Can you believe that the company collects, filters, and sells the powder and dust created in the plant ensuring no waste is created? We love their dedication to the environment! Plus, the wood in the pulp comes from forests that are sustainably managed.
Check Pricing and Availability
PROS:
Comes in 7 sizes from 2 to 55 pounds
Certified by the Danish Asthma and Allergy Association
Soft
Great fit
CONS:
Not as affordable
Prone to leaks
Not great for overnight or heavy-wetters
3

Seventh Generation – Top Pick You Can Find in Stores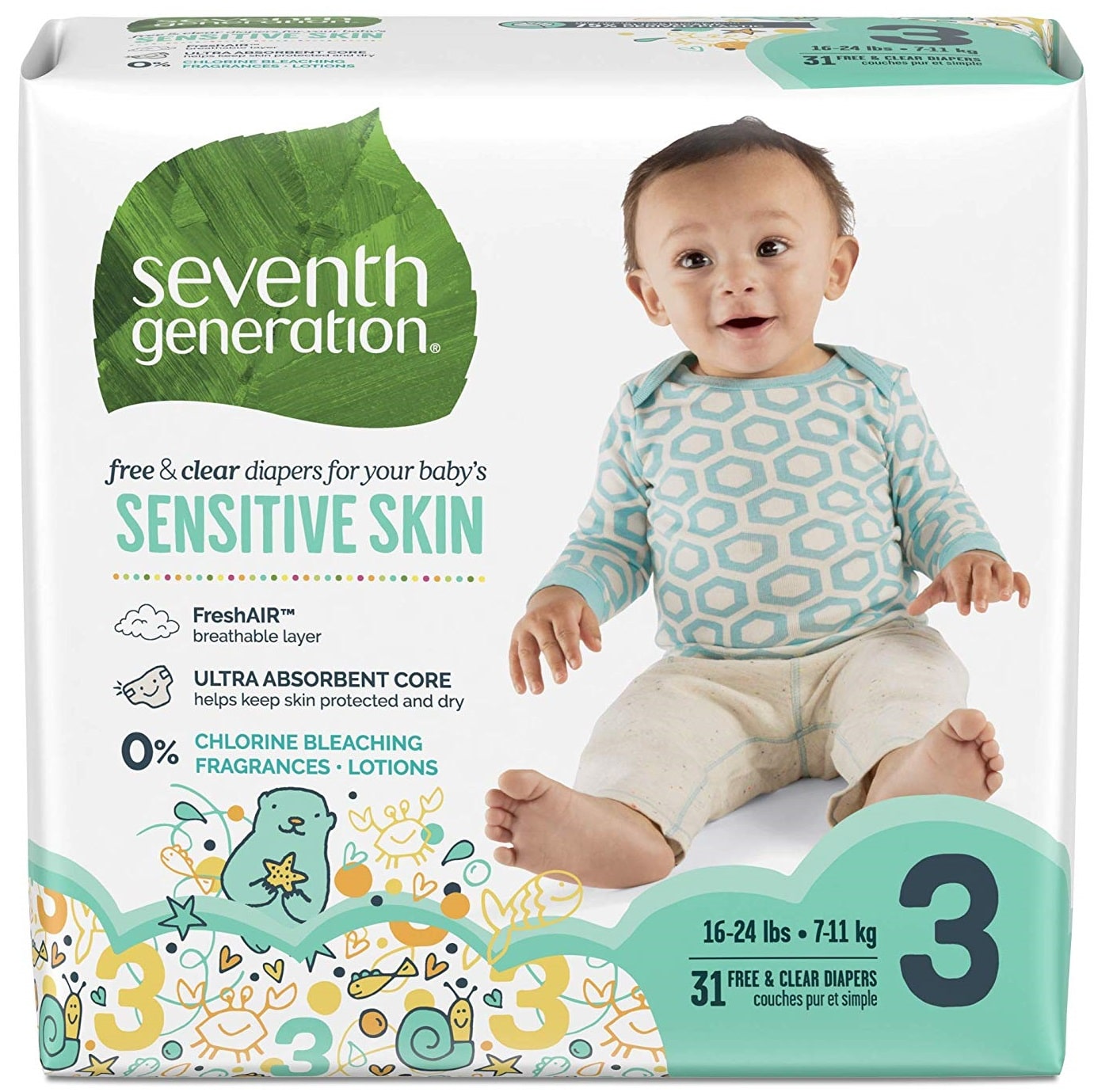 Everyone has heard of Seventh Generation! When you start to purchase eco-friendly materials, you realize that Seventh Generation sells everything from dish soap to disposable diapers, and everything in between! We love that Seventh Generation diapers are free of latex, fragrances, and petroleum-based lotions.
The company states that no chlorine is used in their processing, and none of the diapers are whitened. Instead, these diapers feature a natural brown core fiber for absorption.
These diapers contain unbleached wood pulp, SAP, polypropylene, adhesives, polyurethane, and pigments. So, as you can see, these diapers still contain chemicals that you may want to avoid. In fact, many parents report that these diapers shed gel beads on their baby's butt. These aren't ideal if you want to avoid all petrochemicals!
Seventh Generation sells their diapers in seven sizes to last from birth to potty training.
Check Pricing and Availability
PROS:
Affordable
Chlorine and fragrance-free
Made with sustainably sourced wood pulp
CONS:
Contains several petrochemical ingredients
Prone to leaks
Rough and stiff material
Not ideal for heavy wetters or overnight use
4

Earth's Best -Trustworthy Brand Worth Trying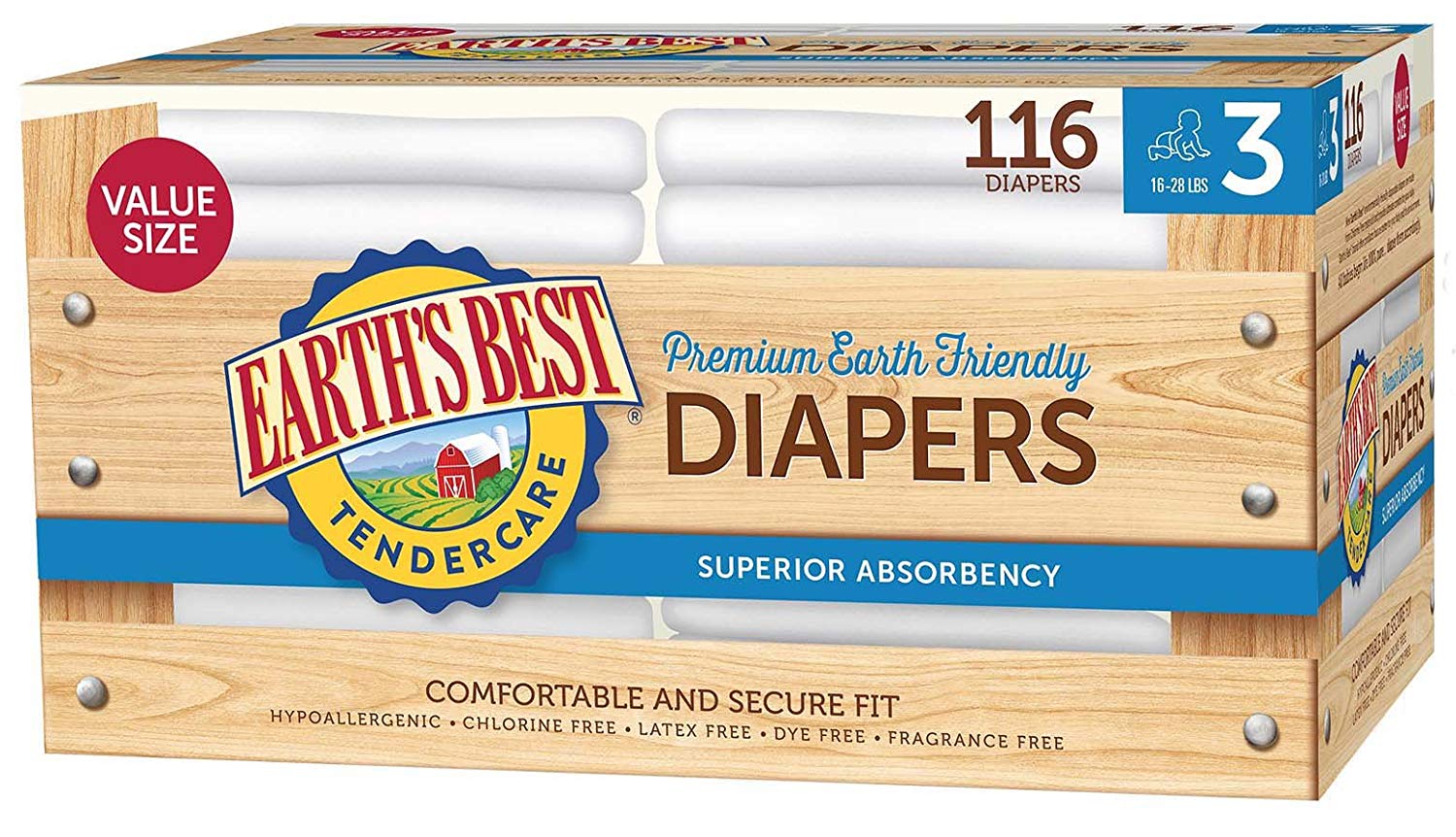 Earth's Best is a leader in the eco-friendly and organic baby world. They did create one of the first organic formulas and baby food lines! Their diapers are chlorine-free and made with renewable resources. Earth's Best uses wheat and corn for a natural absorbing inner layer. We also love that these diapers are free of latex, dyes, and perfumes.
These diapers come in seven sizes from birth to potty training. All of their diapers have breathable sides, cuffs to prevent leaks, and refastenable tabs. The newborn diapers come with stretchy tabs to get the right fit, and the breathable sides help to protect against leaks while keeping your baby dry and comfortable.
Check Pricing and Availability
PROS:
Affordable
Latex, chlorine, fragrance, and dye free
Good choice for overnight and heavy-wetters
CONS:
Runs small
Still uses some petrochemicals
Stiff
5

The Honest Company – Best Subscription Diaper
Parents love the Honest Company and the adorable prints that the company comes out with each season. These diapers are non-toxic and hypoallergenic. They're made with sustainable harvested chlorine-free pump and a bio-based absorbent core that relies on wheat and corn rather than SAP.
Honest Company diapers are free of fragrances, lotions, harmful chemical additives, whiteners, chlorine processing, latex, phthalates, brighteners, PVC, and heavy metals.
We love that the wood pulp used in these diapers come from certified sustainable managed forests! You can purchase these diapers in seven sizes, from birth to potty training. The designs do rely on dye to get the vivid prints, but you can also opt for plain white diapers if you prefer. All of their diapers have stretchy side panels, refastenable tabs, and cuffs to prevent leaks.
You should know that these diapers aren't 100% biodegradable. They do contain spandex and petrochemicals, and some parents prefer to avoid those altogether.
Check Pricing and Availability
PROS:
Reasonable price
Adorable prints
Chlorine, fragrance, and lotion free
Great fit
CONS:
Not ideal for runny poops
Stiff materials
Contains petrochemicals
6

Babyganics Ultra Absorbent Diapers – Softest on Baby's Bum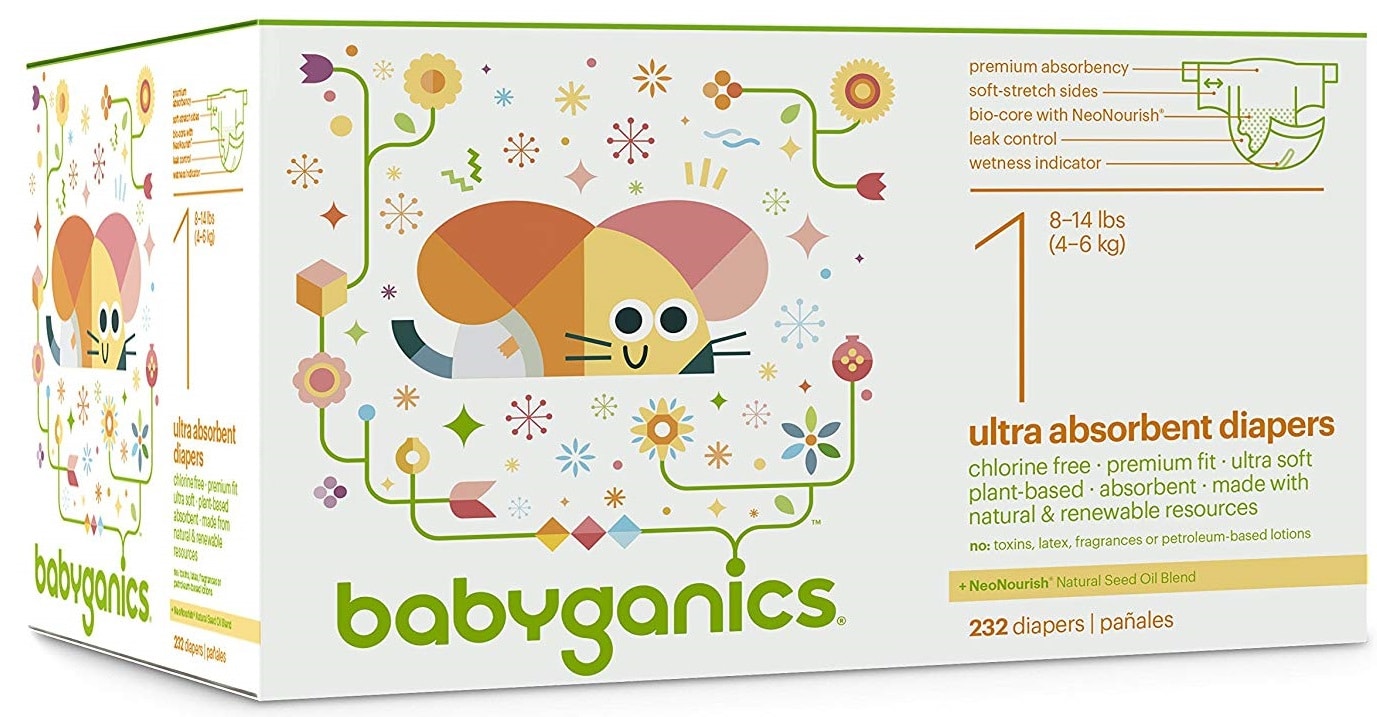 Babyganics are one of the most affordable biodegradable diapers on the market, with an average cost of $0.25 per diaper. They are one of the softer choices and have a great fit.
Unfortunately, some parents have reported that they get leaks and blowouts. These diapers are free of latex, chlorine, fragrances, and petroleum-based lotions. Babyganics doesn't whiten their diapers, and they use a core that's made with plant-based ingredients.
We do love that the Babyganics has baby's comfort in mind with their design. These diapers are super comfortable and have extra absorbency. The side panels are soft, stretchy, and breathable. According to Babyganics, their diapers provide up to 12 hours of leakage protection, but many parents find that not to be true.
Check Pricing and Availability
PROS:
Super affordable!
Soft
Chlorine, latex, and artificial fragrance-free
Fits well around legs
CONS:
Not as absorbent as other choices
Poop blowouts happen
The company doesn't give too much info on ingredients
7

Broody Chick Eco-Natural Diapers – Best Compostable Diaper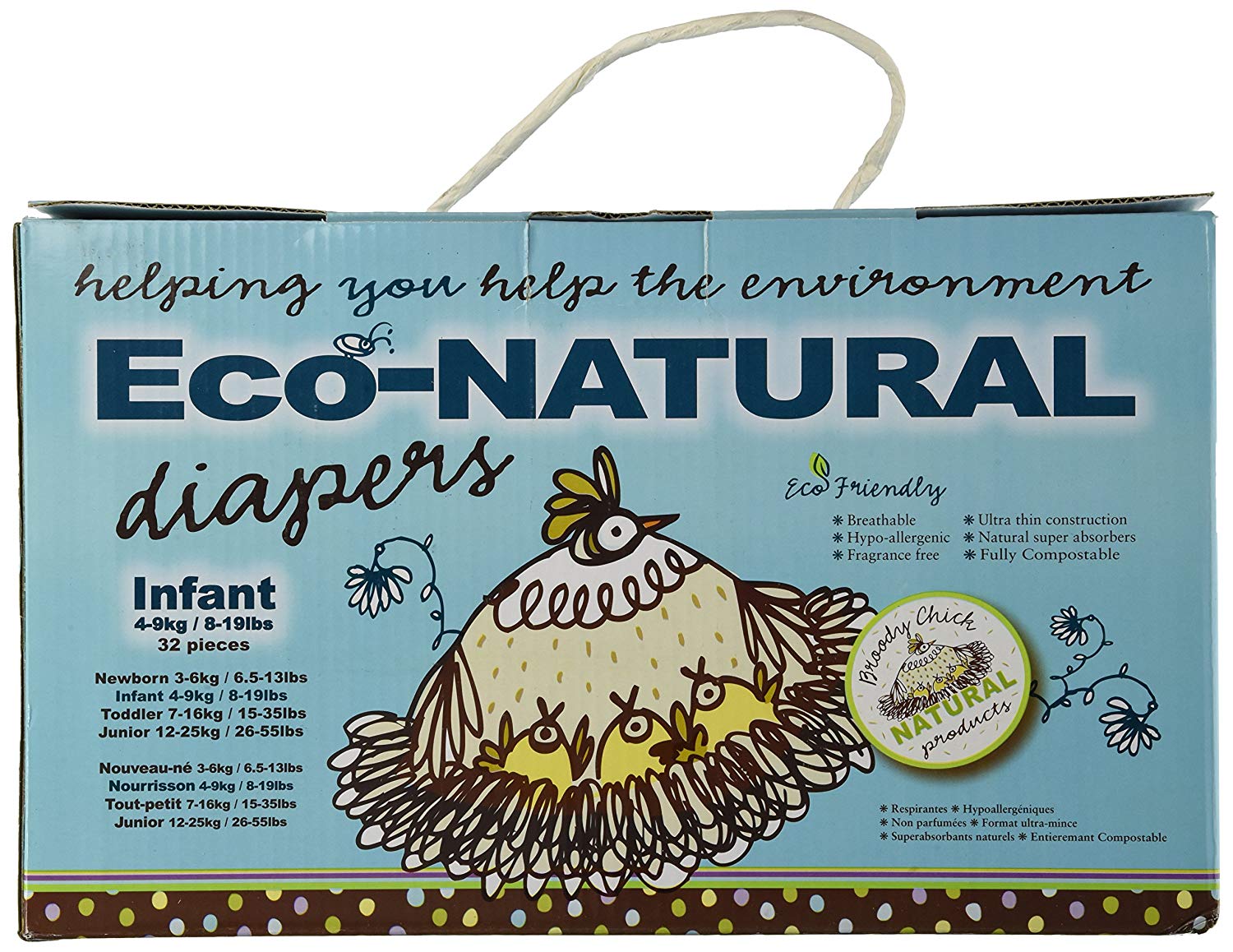 These diapers are more expensive than the average diapers you would grab at the store. In fact, they typically cost around $0.56 per diaper which is a lot of money, but there are reasons why we included these on the list.
Broody Chick Diapers are 100% biodegradable and they use absolutely NO petroleum-based chemicals. They are hypoallergenic, eco-friendly, and still catch pee and poop as they should. These diapers are compostable, which only works if you have a compost pile to do so.
These diapers use wood pulp and a "plant-based gel" as the absorbent center. That basically means that they still use SAP, just a whole lot less SAP than average diapers.
Check Pricing and Availability
PROS:
100% biodegradable
Hypoallergenic
Chlorine and fragrance free
Absorbent
CONS:
Not great for newborns
Stiff
Expensive
8

Andy Pandy – Only Diaper That Uses Bamboo
Andy Pandy is a newer option on the market, and parents are really loving them! They might not be the cutest choice, but they are extremely soft and super-absorbent. There are so many great features, like the indicator line for wetness.
These diapers are naturally hypoallergenic and antibacterial, perfect for babies who have sensitive skin. Andy Pandy uses biodegradable bamboo, which is super soft and silky to the touch. However, bamboo is also strong and absorbent, so you get the best of both worlds.
We love how well these diapers wick moisture away and their thermal regulating capabilities that help to keep your baby cool and dry, no matter the temperatures.
Best of all, Andy Pandy diapers are chlorine, alcohol, preservative, latex, PVC, TBT, phthalates, and antioxidant free! You can purchase these diapers in size newborn up to size 6!
Check Pricing and Availability
PROS:
Super Absorbent
Soft and silky against baby's skin
Moisture wicking
Uses bamboo which is naturally antibacterial
Here is our Ultimate Guide to Best Overnight Diapers you may interested to read in.
Picking the Best Biodegradable Diaper
While there are several options for biodegradable diapers, it can be hard to pick a good choice. Companies are working towards creating better options for parents. Many of these brands lack the absorbency of conventional diapers, but frequent changing can help prevent leaks.
If your goal is to reduce your carbon footprint and reduce your trash output, any of these options will be great! You might have to try a few brands to see which brand fits your baby best. Each baby has a different body build, so certain diapers do fit better than others. Give them a try and see what works for your baby the best!