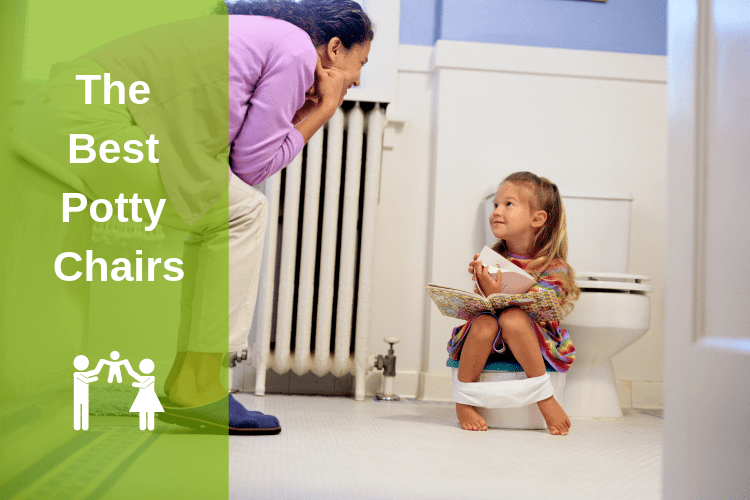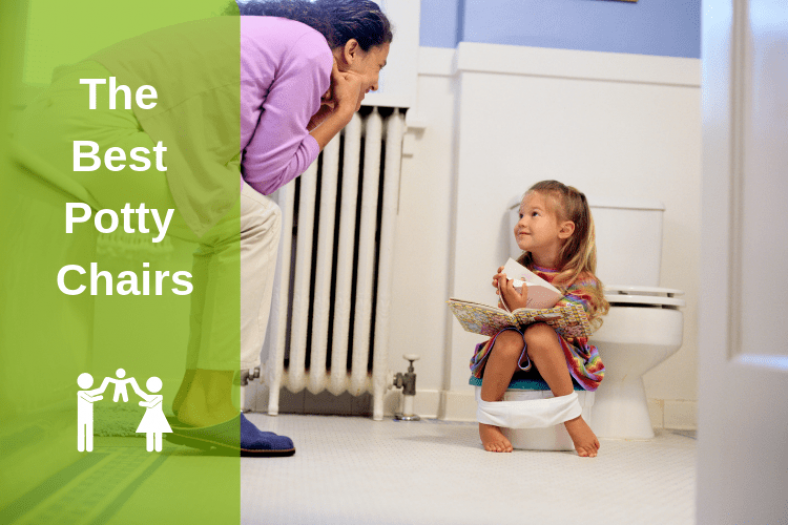 Are you ready for your child to be out of diapers? Are you worried about how to start potty training? Do you want your child to be able to go potty with minimal help? The best potty chair can make all the difference in helping potty train your child!
There are a million tips and tricks out there when it comes to how to potty-train your toddler. Your timing has a lot to do with your success, so it's important to look for signs of readiness. Some kids are just ready sooner than others while some need a little more time.
Beyond figuring out when the best time is for your child, though, I've found that the potty chair or potty seat you choose can greatly affect your success. You want something that is comfortable, convenient, and gets your child excited about potty-training! We are certain the perfect option for you is in our list of the top ten best potty chairs below!
---
What is a potty chair exactly?
A potty chair is simply a product that is used to make it easier for a toddler or small child to use the bathroom. Actual potty chairs are free-standing potties that your child sits on and uses as a toilet. There are also potty seat options that go over your existing toilet to make it easier for your child to use.
---
What makes a potty chair necessary?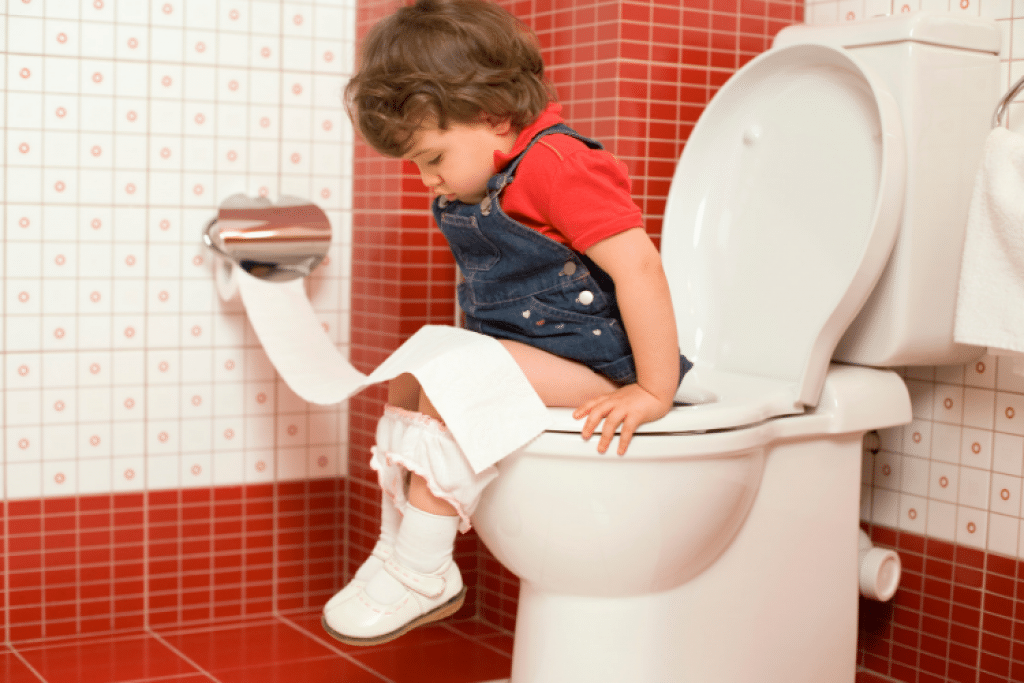 It's important to get either a potty chair or potty seat for your child because the full-size toilet just isn't a viable option for a potty-training child. Toddlers are much to small to comfortably and efficiently used full-sized toilets. Comfort and safety is very important, so a good potty chair or potty seat option is vital to efficient and effective potty-training.
---
At what age should I buy a potty chair for my child?
There is no specific age at which you should start potty-training. So, when you should buy a potty chair can vary. Most parents wouldn't start potty-training earlier than 18 months and most wait no longer than 3 years. Anytime during or before that period is a great time to go ahead and purchase your potty chair. Having the potty around for a while before attempting to potty-train can actually help your child get used to their potty and find it less intimidating.
---
How to Choose from Different Types of Potty Chairs
When picking a potty chair for your child, the main consideration you will have is simply the type of chair. However, there is actually a lot that goes into choosing a type. There are two main categories of potty chairs, but there are many considerations within the two main categories. First off, you'll need to choose between a freestanding potty chair and a toilet seat attachment, commonly called a potty seat.
Freestanding Potty Chairs
A freestanding potty is exactly what it sounds like. It is a small potty that sits on the floor completely independent of the actual toilet. These have the benefit of keeping the regular toilet free for adults like yourself as well as making it super easy for your child to use the potty with minimal help.
Potty chairs also tend to take up more space, though and also mean you will have an additional transition from the potty chair to the actual toilet once your child is ready to move on from the potty chair. If you choose a freestanding potty chair, you will also want to consider the following:
Height – Shorter potty chairs are easier for young potty trainers, while taller ones last longer for bigger/older kids. Some potty chairs may even be height adjustable.
Footprint – How much space the potty takes up determines whether it will work well for your home. Wider potty chairs may also work better for larger toddlers.
Special features – Some potty chairs have special features like realistic flushing sounds, arm rests, and splashguards to improve functionality and value.
Cleaning – Potty chairs require very regular cleaning to stay safe and sanitary. So, looking for options that are easy to clean with minimal cracks and crevices is definitely ideal.
See our complete review of The Best Gliders for Your Nursery.
Toilet Seat Attachments (Potty Seats)
The other type of potty option for potty-training is toilet seat attachments. These are commonly referred to simply as potty seats as you will see throughout our guide and reviews. Potty seats are not freestanding, but instead, they fit over top of your existing toilet. They allow your child to use the actual toilet safely and comfortably.
This can be a helpful option because it means your child is going directly in the toilet instead of in a separate bowl like with freestanding potties. This does make clean-up simpler, of course. It also means that your child won't have to transition to the regular toilet after the initial potty-training phase. You can simply stop using the potty seat once your child is big enough. Consider the following when shopping for a potty seat for your child:
Handles – Many potty seats feature handles to help your child gain and retain stability while using the potty and while getting up and down from the toilet.
Ladder – Some potty seat options come along with a built-in step ladder attachment. This allows greater independence as your child can easily get up and down from the toilet on their own.
Stability – Stability is a very important safety feature for potty seats. Look for options that provide this in the way that they fit onto your toilet.
Size – Potty seats are often more compact options, but their size still varies greatly. Some options can fold up almost completely flat and fit into your purse or diaper bag, while others fold up to be leaned against a wall between uses.
1

BABYBJORN Potty Chair – Best Compact Potty Chair
Features:
Rubber bottom edging
Ergonomic design
Multiple color options
Splashguard
BPA-free
Safety tested
Easy to clean
Check Pricing and Availability
BABYBJORN is a really fantastic brand of cleverly designed baby items that bring minimalistic designs to highly functional products. This amazing potty chair from BABYBJORN is a very popular choice and is our pick for the best compact potty chair!

Freestanding potty chairs generally take up more space than potty seat attachments, but this is one option that takes up a relatively minor amount of space while maintaining comfort and functionality. The BABYBJORN potty chair features a rubber lining underneath the bottom edge of the potty chair. This keeps it firmly planted in place to increase safety and stability for your child. The smooth grey color is perfect for a variety of color schemes and décor styles, but you can also choose it in multiple other colors to best suit your preferences.
Ergonomic Design:

To further add to functionality, this BABYBJORN potty chair has an ergonomic design. This means it contours and curves in all the right places to fit your child perfectly and comfortably. The high back rest provides optimal support even for longer sittings. The arm rests add an extra touch of clever comfort that your child will appreciate. It is sized and shaped perfectly to allow your child to easily sit down and stand up without any struggle.

As can be expected, this is one of the more expensive potty chair options on our list. It isn't the most expensive choice of those that we reviewed here, but it is pricier than most. Even so, it is still a valuable choice that is well-worth considering.

PROS:
Ergonomic design increases comfort for your child
Simple design in multiple colors works great with any décor
Splashguard helps prevent spills and messes
Rubber lining on the bottom prevents the potty from sliding around on the floor
BPA-free and tested for safety to give you peace of mind
CONS:
Cost is higher than most options
There is so much to love about this potty chair from its smooth contouring lines and multitude of color choices to the splashguard and rubber lining. It also happens to be nice and compact to save space while still providing your child with their own separate potty chair to easily use.
2
Fisher-Price Potty Training Seat – Best Potty Chair Overall
Features:
2 height adjustments
One-piece bowl
Arm rests
High seat back
Splashguard option
Check Pricing and Availability
Here is our pick for the best potty chair overall! This wonderful option comes from the very well-loved and well-known brand Fisher-Price! We are sure you will love this convenient and well-designed potty chair choice!

This comfy potty chair has a high chair back as well as comfy arm rests. This really helps to provide your child with comfort and stability to help them relax and easily use their potty. You can choose between a boy's version with an integrated splashguard or a girl's version that leaves the splashguard off and out of the way.
The easy-to-remove, one-piece bowl is the perfect addition to make the upkeep on this potty incredibly easy. After your little one uses the potty, you simply lift the bowl out of the potty with the convenient handle. You can then easily empty the bowl and clean it by wiping it out or rinsing it with water. 
Adjustable Height:

Something that is super unique about this Fisher-Price potty chair is that it has 2 different height settings. You can easily adjust the height of the potty chair between the 2 different settings. This is a wonderful feature because it makes this a perfect potty chair to use as your child grows to keep them as comfortable as possible!

There is one problem with the design of this potty. It has more of an armchair-style design with the way the armrests are attached. This means that for slightly larger kiddos, it can be hard to comfortably spread their legs on the potty.

PROS:
High seat back and arm rests provide stability and comfort
One-piece bowl with handle makes clean-up super easy
Height adjustability provides custom comfort for children of different heights
Options with and without splashguards allow you to choose the perfect choice whether you have a boy or girl
CONS:
Only little children can comfortably spread their legs
This is our personal favorite for the best overall potty chair because of its more affordable price and unique design. The adjustable height is definitely a favorite while the easy-to-clean one-piece bowl and secure high back are awesome bonus features!
3
Alayna Potty Seat – Best Potty Seat with Handles
Features:
Adjustable step
2 different feet heights
Floor grip
Textured step
Splashguard
Handles
Foldable
Check Pricing and Availability
Now here is a great potty seat option! This potty seat is a lot different than the actual potty chairs that we have discussed so far. Instead of being an independent structure that sits on the floor, this is a seat that goes over top of your existing toilet. This option comes from Alayna and is our pick for the best potty seat with handles!

This potty seat fits easily over top of your toilet and features both handles as well as a step ladder. This allows your child to use the normal toilet with a much greater level of independence. Not only does this mean less clean-up for you, but it helps your child to transition to the actual toilet rather than learning to use a smaller potty chair.
The handles give your child a place to hold onto as they climb the step up onto the toilet. They can continue to hold them while on the toilet for further added stability. The step itself is specially textured to provide a good grip and help prevent slipping. The seat is even super easy to lift off of the toilet and fold up in-between uses. 
Easily Adjustable:

To make this potty seat work great for all toilets and kids, Alayna made multiple features adjustable. First off, it comes with 2 different sets of feet – both with sturdy grip. One of the sets is simply taller than the other. You can easily change which set you have on the potty seat to best fit the height of your specific toilet. The step is also easily adjustable, so that you can place it in the best possible location for your child and even change its location as your child grows!

Most potty options for your child come either completely assembled or with very little assembly required. This potty seat comes with quite a few different pieces. The assembly is not difficult, but it does take a lot more time than most of your options.

PROS:
Fits tall or short toilets thanks to interchangeable feet
Step is adjustable to best suit your child even as they grow
Non-slip floor grip keeps the potty seat safely and securely in place
Folds up for easy storage between uses
CONS:
More complex assembly with many different pieces
If you are looking for a great option that fits over your existing toilet, this could definitely be it! It is easy to use, has lots of great features, and gives your child independence and confidence that they might not have as much of with other potty options.
4
Summer Infant My Size Potty – Best Potty Training Seat
Features:
Realistic toilet design
Contoured seat
One-piece bowl
Wipes compartment
Flushing handle
Flushing sounds
Check Pricing and Availability
Of all the potties we've tried with our kids, this is undoubtedly our all-time favorite! My toddlers, my husband, and I all adore this cute little potty. We even get compliments from guests that see it in our bathroom. It's the My Size Potty from Summer Infant, and it's our pick for the best potty training seat!
One of the biggest reasons that this is the best potty training seat is the super cute realistic design. The Summer Infant My Size Potty looks just like a real toilet. This is especially helpful when potty training, because it helps your child make the connection between their potty and the regular toilet. As a bonus, this miniature toilet looks super adorable next to your regular sized one.
This is also a highly functional and very well-designed option. The seat features a contoured design that increases comfort while further adding to the realistic look and feel. The seat lifts to allow you to remove the one-piece bowl for easy clean-up. It also has a flushing handle on the back that triggers realistic flushing sounds! This not only helps teach your child to flush when they are done, but also provides them with an exciting reward when they use their potty.
Wipes Compartment:

As if this potty chair didn't already have an amazing value, Summer Infant has also included a built-in wipes compartment. The compartment opens and closes with a soft hinge, so there's no worry about pinching little fingers. My son loves refilling the wipes compartment and having the opportunity to practice wiping himself!

This potty chair also has a removable splashguard. It's nice that you can choose to use the splashguard as needed or take it off to keep it out of the way. However, it can be difficult to keep the splashguard attached when you want to keep it on. It falls off very easily – sometimes even during use.

PROS:
Realistic design makes it easy for your child to make the connection between their potty and the real toilet
Flushing handle and flushing sounds add reward to the experience while also teaching good habits
Wipes compartment provides an easy storage solution to keep wipes handy for quick clean-ups
One-piece bowl is super easy to clean after each use
CONS:
Splashguard doesn't stay in place well
This is easily the cutest potty out there. Miniature versions of adult things are always adorable! The fact that it also works well, has a sturdy design, and multiple special features gives it a hard-to-beat value and makes it a great potty-training option!
5
Mayfair NextStep Toilet Seat – Best Potty Chair for Big Toddlers
Features:
Elongated or round
3 color options
2-in-1 toilet seat
Easy installation
Ultra-compact
Durable
Check Pricing and Availability
Here is the best potty chair for big toddlers. Sometimes with larger toddlers, the typical potty chair or seat can be too small, short, or uncomfortable. This NextStep Toilet Seat from Mayfair is the perfect potty option for those bigger toddlers.

The way that this potty seat works is quite simple. It's actually a full-size toilet seat with a special child's potty seat built right into it. So, for this potty seat, you'll replace your entire toilet seat. It comes with three layers – the lid, the child's seat, and the adult's seat. Simply lift the lid to reveal the perfect, child-sized potty seat. Then when it's your turn to go, you simply lift the child's seat up into the lid and just the adult's seat remains. It's super convenient and takes up zero extra space in your bathroom!
Elongated or Round:

To make sure that your toilet seat with the built-in potty seat fits your toilet perfectly, Mayfair offers it in either elongated or round designs. This makes sure that it matches up comfortably while also looking great. You can also choose between three different common toilet colors to best match your existing toilet. It comes in white, bone, and biscuit.

Unfortunately, this is by far the most expensive option we've reviewed. You'll also need to consider that even big toddlers may struggle to get onto the toilet without any extra help.

PROS:
Durable materials can easily last through multiple children without wear
Takes up zero extra space in your bathroom
Made to install quickly and easily
Allows bigger children to use the potty comfortably without risk of falling into the toilet
Multiple shape and color options allow you to match your toilet perfectly
CONS:
Highest price option of those we reviewed
Doesn't provide a way for the child to easily get onto the toilet
This won't be a good option for early potty trainers, but it is perfect for older kiddos. It is a great space-saver, super easy to use, and it means you never have to empty or clean the bowl of a potty chair!
6
Foryee Frog Potty – Best Potty Training Urinal
Features:
Cute frog design
Spinning target
Large suction cups
Hook hole
Removable bowl
Multiple colors available
Check Pricing and Availability
Next up is the Foryee Frog Potty Urinal! This is an option that has taken the potty-training market by storm by providing a super affordable and unique way to help potty train little boys!
This is the only potty-training option that we've found that is actually designed specifically for use as a urinal. In other words, it allows your little boy to easily stand up to pee. This can make it more fun and easier for your son as well as teach them to stand up from the very start since many men choose to pee that way later on anyways. It features strong suction cups on the back of it as well as a hole for a hook. This gives you a couple of options on how to secure it to your wall for easy use. 
Spinning Target:

To really help your child get engaged and focused on potty-training, this potty urinal features a fun, spinning target! That's right – as your son pees, his stream can make the target spin. It sounds silly, but it really does help little boys to focus and aim to prevent messes and help avoid distraction! It's a fun reward for them when they use the potty!

There are a couple of downsides to the Foryee Frog Urinal, though. First of all, it obviously won't work for little girls at all. Secondly, it won't work for even little boys when they need to do more than just pee in the potty. So, essentially, when they need to go #2, they will need an additional potty option. The extremely affordable price of this option helps make it worthwhile anyways, though!

PROS:
Cute frog design is perfect for toddlers
Spinning target rewards little boys for going potty and helps keep them focused
Removable bowl makes cleaning super easy
Large suction cups and hole for a hook makes it easy to secure the urinal onto your wall
Extremely affordable price fits great for all budgets
CONS:
Not a viable option for girls
Won't work for bowel movements
If you are looking for something more unique for your little boy, this fun urinal can be a great choice. It won't work for anything other than little boys peeing, but it's also extremely affordable. It can really help to speed up the potty-training process for little boys!
You may be interested in The Best Baby Walker.
7
Munchkin 3-In-1 Potty – Best Portable Potty
Features:
Potty chair
Removable potty seat for toilet
Step stool functionality
Arm and Hammer deodorizing disc
Closing lid
Compact design
Check Pricing and Availability
Here is our favorite for the best portable potty! This option comes from Munchkin and is very well-designed and innovative! It's the best portable potty thanks to it's clever and compact design and its closing lid that most of our potty picks do not have.
This isn't just a potty chair but actually has a cool, 3-in-1 functionality. Your child can start out using it specifically as a freestanding potty. Then, as they become ready to move up to the regular toilet, the seat actually comes free and works on top of the actual toilet. The potty also closes up and functions as a sturdy step stool to help your child get up on the toilet and/or wash their hands!
Arm and Hammer Odor Fighter:

This Munchkin potty chair is also powered by Arm and Hammer! At the top of the potty's lid, you'll find an Arm and Hammer deodorizing disc. This helps prevent stink from building up to keep your bathroom smelling nice and fresh. The potty comes with the one disc, but you can easily buy replacements as needed if you would like to.

While the 3-in-1 functionality is great and adds serious value, you do need to be a little careful with it. When using the potty seat on top of the regular toilet, you should be aware that it might not be quite as sturdy as similar options.

PROS:
Arm and Hammer deodorizing disc helps prevent stink from building up
Closing lid and compact design make this a great, more portable potty option
3-in-1 functionality allows your child to use this for a longer period of time than other potty chair options
Step stool functionality works for the toilet or the sink
CONS:
Potty seat is not as sturdy when used on top of the toilet
If you are worried about stink or just want a great portable potty option, this choice from Munchkin is perfect! It is well-designed, has multiple functions, and is super compact with a closing lid!
8
Grimars Travel Potty Seat – Best Travel Potty Seat
Features:
Foldable
Compact
Cute owl design
Water-proof storage bag
Fits most standard toilets
Check Pricing and Availability
From Grimars comes the best travel potty seat! Rather than being a free-standing potty, this is a potty seat similar to the one we reviewed from Alayna. The big difference is that this potty seat is extremely compact, making it great for travel!

This simple potty seat is designed especially for on-the-go use. It is ideal for bigger kiddos, but with a little help can work well for little ones as well. It simply sits right over top of the existing toilet seat on almost any standard toilet. It creates a smaller opening and more comfortable seat to help your child relax and go with confidence. You don't have to worry about your child slipping or falling into the toilet with this potty seat!
Water-Proof Storage Bag:

This travel potty seat also comes with a water-proof storage bag. This makes it even easier to fold up the seat down to the compact size of less than 7 inches by 6 inches and slip it in the storage bag where it can easily and safely fit into your purse or diaper bag. The water-proof material will protect your other belongings from any small mess that was made and it can all be easily washed later when its more convenient.

Smaller children can use this potty seat, but they will need help to get onto and stay on the toilet. It is still worthwhile as a great travel option, though!

PROS:
Fits most toilets for use almost anywhere you go while out and about or traveling
Owl design is cute and fun for toddlers
Foldability makes it extremely compact and easy to carry with you everywhere you might need it
Reduces fear and discomfort of using the potty outside of the home
Included storage bag is water-proof and washable
CONS:
Little ones will need extra help with this seat
This option can be used at home, but it isn't the best option for constant use. It does, however, have an amazing value when using it for on-the-go use and traveling. It provides an easy potty solution wherever your child needs to go potty outside of the home!
9
Mommy's Helper Contoured Cushie Step Up – Best Potty Seat with Ladder
Features:
Step ladder
No-slip texture
Cushioned seat
Foldable
Easy assembly
Check Pricing and Availability
Here is another great potty seat option that is great for use inside the home. This is Mommy's Helper Contoured Cushie Step Up. It's our pick for the best potty seat with ladder!

By including a ladder on this potty seat, it provides your child with a greater since of independence and confidence as they get onto the potty all by themselves. It also means things are easier for you since you don't have to help them up and down each time they need to go. The step on the ladder features special texture that makes it non-slip. This helps add stability as your toddler climbs up and turns around to sit down. It also features convenient handles to further add stability and balance for your child.
Cushioned Seat:

The actual seat on this potty seat is cushioned! This makes it incredibly comfortable for little bottoms. The soft seat makes it much easier for children to relax and more easily go to the potty. Even with the soft seat, though, it is still designed to be easy to wipe down and won't harbor bacteria.

This potty seat is very nice, sturdy, and well-designed. It also happens to be more expensive than most of the options on the list with only one other potty choice being pricier than this one.

PROS:
Foldable for easy storage between uses
Cushioned seat is incredibly comfortable for your child to encourage relaxation
Ladder and handles add stability and safety
Designed to let your child go potty with very little to no help from you for higher confidence and increased independence
CONS:
One of the most expensive options
This option is pretty similar in design to the Alayna potty seat. However, this one features a cushioned seat and easier assembly. On the other hand, the Alayna is more affordable and has more adjustability. Both are excellent potty seat options!
10
Fisher-Price Perfect Fit Potty Ring – Best Potty Seat for Toilet
Features:
Contoured seat
Fits most toilet seats
Included storage hook
Integrated splashguard
Compact design
Built-in handles
Check Pricing and Availability
Finally, rounding off our top ten potty recommendations is the best potty seat for toilet! This is an excellent option from Fisher-Price called their Perfect Fit Potty Ring!

Here is a nice and compact potty seat option that works perfect on almost any toilet. The way it works is that you simply place it over top of the existing toilet seat and press down on the back rest to automatically adjust it to your toilet seat. It provides a nice and sturdy grip on your toilet seat without worry of falling or slipping. The contoured shape is great for comfort and the integrated splashguard prevents unwanted messes. 
Included Storage Hook:

The Perfect Fit Potty Ring also comes with an easy-to-use storage hook on the back. This lets you easily hang it up on the back of your toilet in-between uses. It helps it to save space and makes it easily accessible when needed.

While this option does save space compared to potty seats with ladders, it doesn't provide a good way for toddlers to easily climb up onto the toilet. For most toddlers, you'll either need to help them up and down from the toilet or at least provide an additional step stool.

PROS:
Contoured seat helps to increase your child's comfort
Storage hook lets you easily hang the potty seat up between uses
Built-in handles provide added stability
Splashguard protects from unwanted messes – especially with little boys
CONS:
Doesn't provide an easy way for toddlers to get on and off the toilet
For a compact potty seat solution with some really nice features, look no further than the Perfect Fit Potty Ring. It fits great on almost any toilet, is easy to store and clean, and has extra features for comfort and stability.
Are you searching for Best Toddler Shoes? Read our Mom's Guide and Reviews.
---
Final Words on Potty Chairs
There is no doubt that you definitely want to invest in a good potty chair option for your child. It really does make a huge difference in potty-training success. Your child's comfort and safety as well as your convenience will be greatly affected by your choice. Most people should have no problem finding an excellent option for their child right here in our guide!