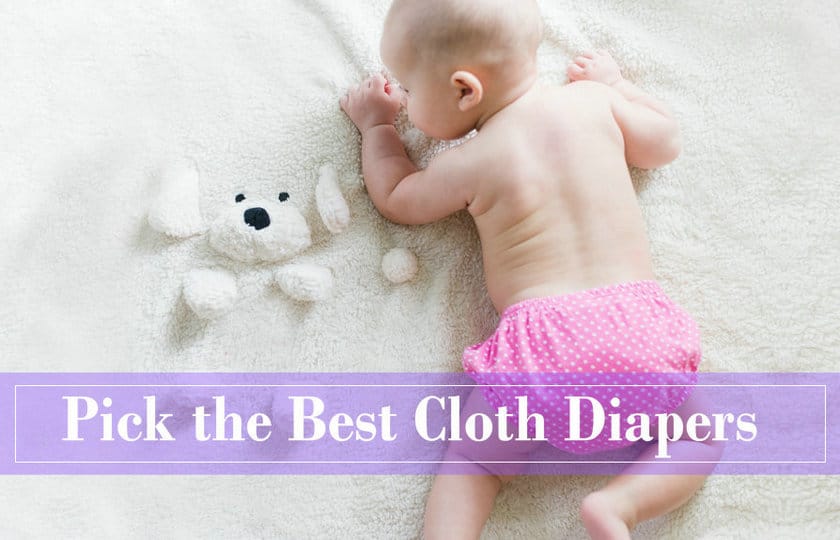 Cloth diapering is a growing, popular choice for modern parents. Long gone are the days of our grandparents cloth diapers that required folding and safety pins. Modern cloth diapers come in unique and colorful prints and feature easy-to-use closures. Parents and babies love cloth diapers.
If you are new to the cloth diapering world, trying to figure out the best cloth diapers for your baby can be complicated. There are dozens of choices, from the large company made diapers to small store brands. Each brand has unique reasons why they may, or may not, work for your child.
I know how complicated using cloth diapers can be! I started using cloth diapers in 2010 when my daughter was three months old, and I spent hours trying to figure out what to use. The options eight years were still limited compared to the options today. I heard to learn the different styles of cloth diapers and how to use them.
One of the biggest learning curves is all the new lingo that comes with cloth diapers. What is a pocket diaper or an all-in-one diaper? What is a wet bag, and are prefolds necessary? It's easy to get overwhelmed, but I'm here to walk you through the world of cloth diapers to find you the best pick.
---
---
A Few Reasons to Use Cloth Diapers
Cloth diapers aren't a thing of the past, and they've evolved over the past few years. More families than before are picking cloth diapers instead of disposables. Chances are you know a few families who use them! Here are some reasons why you might want to consider using cloth diapers as well!
You Save Money: Babies aren't the cheapest things in the world, and diapers can cost as much as $3,000 for two years per child. You are tossing money in the trash – literally. The cost of cloth diapers range from as little as $300 to as much as $1,000. Either way, you are saving money because you can save them for later for children or sell them to recoup your costs.
Fewer Chemicals Contact Baby: Many parents prefer to reduce their infant's exposure to chemicals. Disposable diapers are full of chemicals that many parents feel could be harmful to their child's health. Certain chemicals could lead to health problems like endocrine disruption or diaper rashes.
Speaking of diaper rashes, cloth diapering families tend to have fewer problems with rashes, my family included. None of my four kids have had frequent rashes.
Cloth Diapers are Better for the Environment: Over 27 billion disposable diapers go into landfills throughout the United States each year. It can take some diapers over 500 years to degrade entirely, which means the very first disposable diaper produced is still degrading in a landfill somewhere.
Need better Eco-friendly diapers? Biodegradable Diaper is one of the best options, Read our complete research here.
Using cloth diapers helps to reduce landfill waste and save resources. Opponents of cloth diapers claim that the resources used to wash the diapers make their environmental footprint as bad as disposable diapers. However, there is no way to measure that correctly because everyone uses different diapers and different soaps. Plus, the environmental footprint must be divided amongst several children.
They Look Adorable: Cloth diaper makers use hundreds of different colors and prints. You can find prints in every theme imaginable, and companies constantly make more! Diapers become part of your child's outfit!
Baby Might Potty Train Earlier: So, there is no scientific evidence to this idea, but many parents believe that cloth diapers encourage their child to potty train sooner. These parents believe that, because their toddler feels the wetness, it encourages them to potty train quicker. Who wants to feel wet?
---
7 Types of Cloth Diapers
Before you start making purchases, you have to decipher all of the cloth diaper lingoes and figure out the different types of cloth diapers. There are seven types of cloth diapers, and each comes with pros and cons. Remember that you don't have to use just one style of diapers. Don't feel boxed in or limited. I've used all of these styles and still have two or three types in my diaper box.
When you image a cloth diaper, a prefold is what you might picture. A prefold is a rectangular piece of cotton divided into three sections. The middle section is the most absorbent with more layers of fabric. You can either fold them into thirds, like a piece of paper and lay them inside of a diaper cover. You can learn different folds and secure them around your baby a Snappi or safety pins. After your child potty trains, prefolds make fantastic cleaning rags, and many parents (myself included) prefer prefolds as burp cloths!
There are a few negatives to prefolds. First, they require more than one step to put them on your baby, and if you want to fold them around your baby, it requires a learning curve. However, prefolds are one of the cheapest and longest cloth diaper choices for your baby!
PROS:
Budget Friendly
Easy to Care for
Versatile
CONS:
Requires Safety Pins or a Snappi
A Cover is a Requirement
Folding Can Be Frustrating
Flats are what your grandma probably used for cloth diapers. Flats are a large square or rectangular layer of cotton. You learn to fold flats in many different ways around your baby, or you can fold into layers and lay in a cover just like a prefold.
Flats are very cost-effective, costing only a few dollars each. They last for years, and, when properly folded, they contain messes well. Flats can be hand-washed in times of emergencies and dry quickly. Yes, there may be times you need to handwash, like during a blizzard or a zombie apocalypse!
However, this style of cloth diapers have a learning curve, and they aren't as babysitter friendly.
PROS:
Cost Effective
Trim
Contains Messes Well
Dry Quickly
Can Be Hand-washed
Lasts for Years
CONS:
Needs Safety Pins or a Snappi
Requires a Diaper Cover
Harder for Others to Change Baby
If you decide you want to use a prefold, flat, or fitted diaper, a diaper cover is going to be necessary. Diaper covers are the outside, waterproof diaper that covers an inner absorbent diaper. Sometimes, if your baby is leaking out of their nighttime diaper (disposable or cloth), you can place a diaper cover over it.
Diaper covers come in a variety of styles and fabrics. You can find them in wool, fleece, or PUL (polyester urethane laminate). PUL diaper covers come in hundreds of prints and colors! Some covers are in a pull-up style, but most close with either snaps or Velcro.
PROS:
Can Be Reused Multiple Times Before Washing
Only Need a Few in A Diaper Stash
Easy to Use
Snap or Velcro Closures
Leak Protection
Adorable Prints
CONS:
Requires an Inner Absorbent Diaper
Could Be Bulky
Pocket diapers are another convenient choice for parents who want a simple diaper that babysitters can use with ease. Pocket diapers are a two-part diapering system that has an outer waterproof shell with a pocket along the back of the diaper near the waist elastic. You stuff absorbent layers inside of the pocket. Most brands include the absorbent layer with them, but you can purchase other choices or even use flats or prefolds!
Pockets aren't as expensive as AIOs. Once stuffed, they are snap (or Velcro) on and go, so they're easy to use. The only pet peeve some people have with them is the actual stuffing of the pocket. You have to take the time to stuff the diapers ahead of time. If the insert bunches up, the diaper could leak, but otherwise, pockets are great for babies. Most are stay dry, so your baby just feels super-soft fabric, and it wicks away moisture.
PROS:
Adjustable Absorbency
Velcro and Snap Closures
Stay Dry Layer
Pre-stuffed Diapers are Easy for Caregivers
CONS:
None of the Diaper is Reusable
Stuffing Pockets is Time Consuming
So, you are looking for convenience as the number one important factor? All-in-ones are your go-to choice. They go on the baby in one simple step and function closet to a disposable diaper in form and function.
All-in-Ones referred to as AIOs, are a one-piece diaper system that includes a few components of a diaper. It has a waterproof exterior, an absorbent inner (typically several layers of organic cotton), elastic around the waist and legs to prevent leaks, and a closure mechanism. Most AIOs close with either snaps or Velcro.
AIOs have two downsides. First, they are typically the most expensive choice; you pay for the convenience factor. If your baby goes to daycare or you often have a babysitter, you may want several AIOs in your stash. The second downside is that they typically take longer to dry in the machine. Some brands have created attached, but separate, inner absorbent pieces to decrease the drying time.
PROS:
No Stuffing or Folding Required
No Separate Cover Needed
Daycare and Babysitter Friendly
Snap or Velcro Closures
Adorable Prints and Colors
CONS:
Expensive
Damage to One Part Renders the Entire Diaper
Takes a Long Time to Dry
All-in-twos involve an outer, waterproof shell and a removable inner absorbent layer. These layers might be snapped in and sits against your baby's skin. The cool thing about AI2s is that they typically come with several options for inner layers. You can find layers that are meant for just nighttime, organic layers, stay-dry layers, and even disposable layers!
Just like a diaper cover with prefolds, the outer shell can be wiped down and reused a few times before it needs to be washed. If you want to use AI2s for babysitters or daycare, you would want to "load" the diapers ahead of time and then wipe down when you arrive home.
The downside to AI2s is that they are pricier than a normal diaper cover and prefolds. Many people don't see the point of using these, but they have a solid following of families who love them. The disposable option is pretty cool as well, especially for trips out and vacations!
PROS:
Simple to Use
Dries Quickly
Shell Can Be Used Multiple Times
Other Inserts Can Be Used
Snap or Velcro Closures
CONS:
Snapping in Inserts Takes Time
Pricier Than Covers and Prefolds
The last type of cloth diapers are called fitteds, and they are made with absorbent fabric that has elastic around the waist and legs. They come with closures, typically, but some do require pins or a Snappi to stay shut. Fitteds can be as simple as a prefold sewed into the shape of a diaper or more fancy with different fabrics.
Imagine an AIO without the built-in, outside waterproof cover. That is what a fitted diaper is. So, that means you still need to use a diaper cover with this style. It can lead to a really bulky fit, which some parents dislike. However, if you like to use wool covers or pants, fitteds are often the way to go. Also, they are super-absorbent, especially if you purchase fitteds made with really nice materials.
PROS:
Snap or Velcro Closures
No Folding REquire
Contains Leaks and Blowouts
Super-Absorbent
CONS:
Requires a Cover
Doesn't Pull Moisture Away From Skin
---
What is the Best Fabric for Cloth Diapers?
Is your head spinning with options? Don't get too overwhelmed just yet! You will find that cloth diapers are made with a variety of fabrics from synthetic to natural options. Each has their own unique features, advantages, and disadvantages.
Synethics – Microfiber, Microfleece, Suedecloth
A synthetic material is anything that is human-made, polyester-type that wicks away moisture. If your diapers aren't 100% cotton, hemp, or wool, you have a synthetic fabric. Microfiber is typically used to make inserts for pocket diapers. Microfleece and suedecloth are used for inner layers of pockets, fitteds, and all-in-ones.
PROS:
Durable
Less Expensive
Stay-Dry
CONS:
Might Be Irritating
Harder to Get Clean
Petroleum-Based
If you want a natural fiber for your diapers, cotton is the most commonly used choice. Cotton, especially organic cotton, is extra-absorbent, easy to care for, and super-soft. Most companies offer non-organic and organic cotton. If you want GMO and pesticide-free cotton, opt for the organic!
PROS:
Ideal for Sensitive Skin
Easy to Clean
Can Promote Early Potty Training
CONS:
Must Be Prepared Beforehand
Less Absorbent Than Hemp or Bamboo
Not Stay Dry
Parents love bamboo! It's a popular natural fabric for cloth diapers right now. Bamboo is super-absorbent, so it's great for heavy wetters. Organic bamboo is so soft; it's like a dream fabric!
Bamboo plants are sustainably grown typically without pesticides and fertilizers, but chemicals are required to turn the plant into a diaper.
PROS:
Super-Soft
Antibacterial
Super-Absorbent
CONS:
Takes a Long Time to Dry
Requires Chemicals to Process
Hemp is a wonderful natural fiber that is grown without any use of pesticides or chemicals. Many cloth diaper users opt for hemp inserts to add absorbency to their nighttime diapers.  Hemp absorbs slowly, so most companies pair it with another porous fiber to make an insert. Cotton and hemp are two common blends you will see.
PROS:
Super-Absorbent
Durable
Antibacterial
CONS:
Takes Time to Dry
Expensive
Wool is a good choice if you want an all-natural cover because it is naturally absorbent and antimicrobial. However, you do want to make sure you source from sustainable, humane company. Unfortunately, the wool industry includes some unethical choices, like castration, tail-docking, and ear-punching. If you want to use wool, it's best to do your research!
PROS:
Breathable
Naturally Antibacterial and Odor Resistant
Only Needs Washed When Smelly or Soiled
CONS:
Uses a Special Wash Routine
Expensive
Some Sources Aren't Environmentally Sustainable
---
Our Picks: The Top 10 Cloth Diaper Reviews
1

OsoCozy Unbleached Prefolds – The Best Prefold Cloth Diapers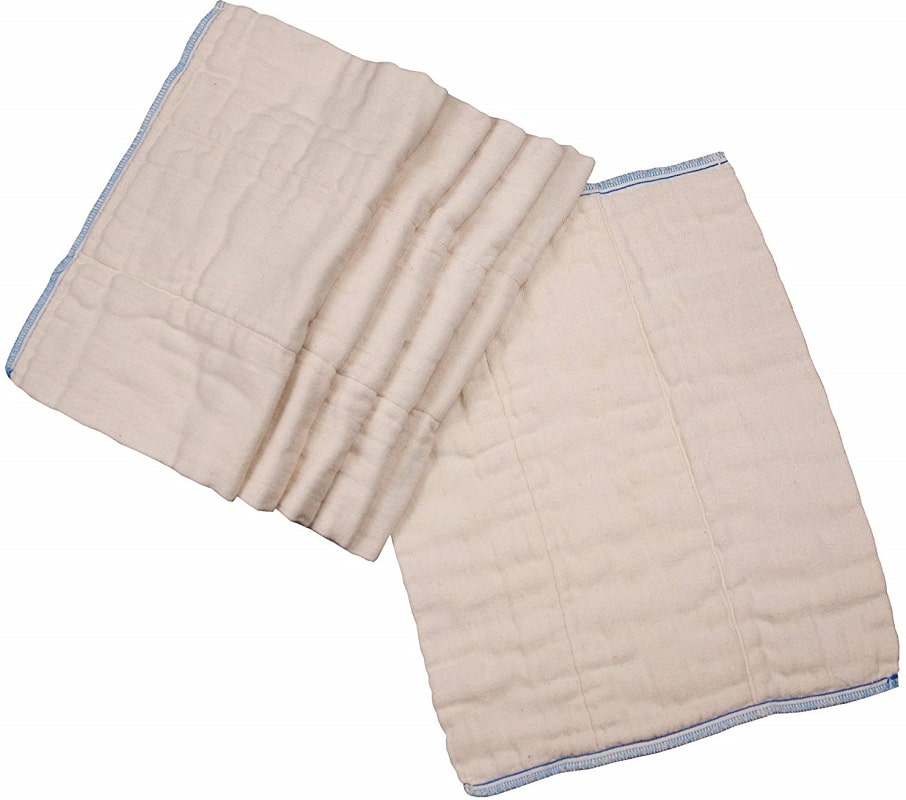 So, you decided that you wanted to save money and opted to use prefolds with covers. That's a great decision! You want prefolds that offer different sizes so that you can get the best fit for your baby. OsoCozy prefolds come in two sizes – size 1 (7 to 15 lbs) and size 2 (15 to 30lbs).
You can stuff them into a baby's pocket diaper or trifold them to lay in a diaper cover. With a Snappi, you can fold them around your baby as well.
OsoCozy sells their prefolds in a 6-pack, and they are made with 100% pure Indian cotton. Parents love this because it means that the diapers are super-soft, especially after you've washed them several times, and they are perfect for babies who have sensitive skin. You do need to wash them two to three times before use because of the natural fibers.
Check Pricing and Availability
PROS:
Super-Soft
Durable
Budget-Friendly
Very Absorbent, Fewer Leaks
CONS:
Shrinks After Washing
Takes Awhile to Dry
2

Thirsties Newborn All in One – Great for Newborn Babies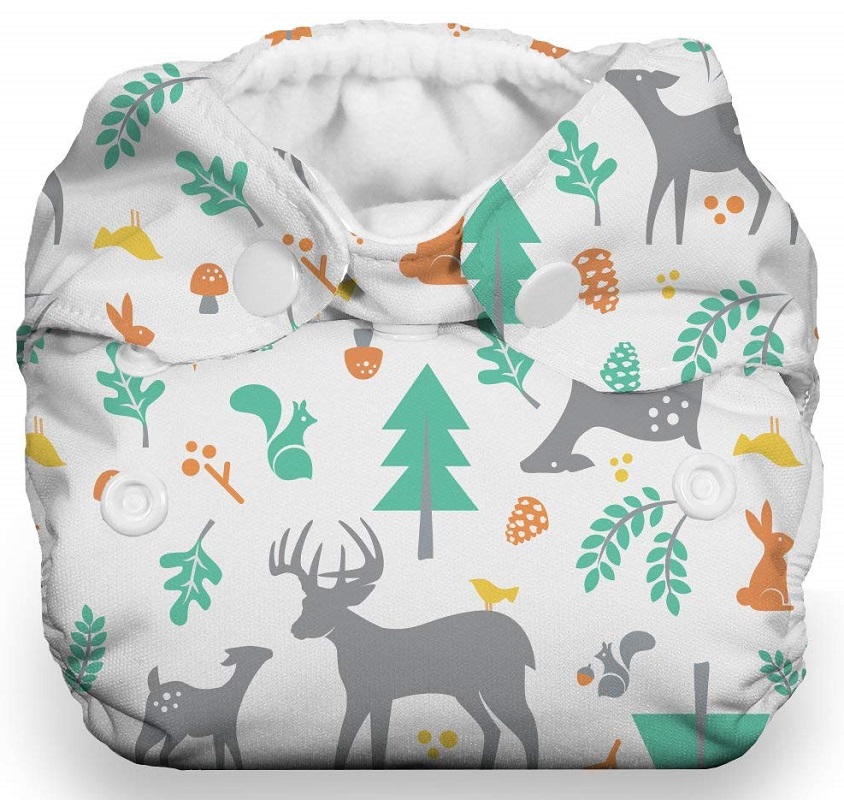 Picking an AIO system for your newborn baby is a great idea if you've never used cloth diapers before. It can feel intimidating to try prefolds and covers at first (but they are easy!). Thirsties are great for newborn babies, fitting babies who weigh between 5 and 14 lbs. They are trim-fitting and feature an umbilical cord snap down. They also have an adjustable rise, so you can find the perfect fit for your baby.
Thirsties offers two different type of newborn diapers, but their new Natural All-in-ones are fantastic. I used them with my most recent baby, who is now seven months old, and I could rave about them all day!
Their Natural diapers use eight layers of natural fibers – 2 layers of organic cotton and six layers of hemp/organic cotton in the soaker pads. The elastic around the legs and waist is gentle, and it does a great job protecting against leaks. If you love these diapers, they also come in OS for older babies!
Check Pricing and Availability
PROS:
Adjustable Rise
Cord Snap Down
Eight Layers of Natural Fibers
Elastic Around Legs and Waist
3

Lil Joey All-in-One – Best Cloth Diapers for Preemies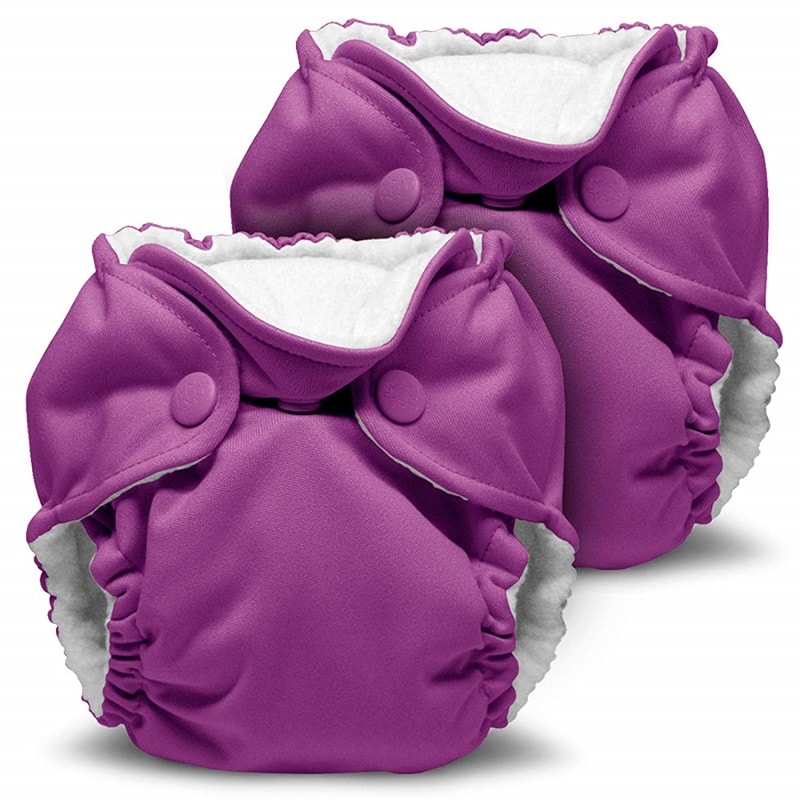 Finding a cloth diaper to fit a preemie can be difficult. It has to be small, fit well around tiny legs, and have an umbilical cord cutout. So, that eliminates almost everything. Lil Joey is one of the few diapers that will fit preemies and smaller newborns. It fits from approximately 4 to 12 pounds, and it's designed to fit around tiny baby legs. Lil Joey also has a snap-down feature that stops the diaper from rubbing against the umbilical cord.
One reason parents love Lil Joey diapers is the double inner gusset which adds extra protection against leaks and blowouts. Newborn babies have massive diaper explosions, so those gussets are crucial! Some parents note that it's hard to get poop and stains out of those inner gussets, so you might have to sun your diapers.
Check Pricing and Availability
PROS:
Fits Preemie and Small Babies
Easy to Use
Trim Fitting
Double Gussets Stop Leaks
CONS:
Take Time to Dry
Babies Grow Out of Fast
4

Smart Bottoms 3.1 Organic AIO – Perfect for Sensitive Skin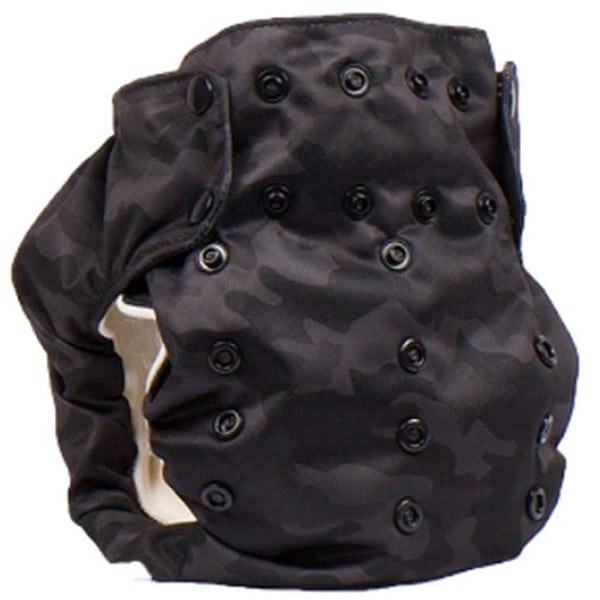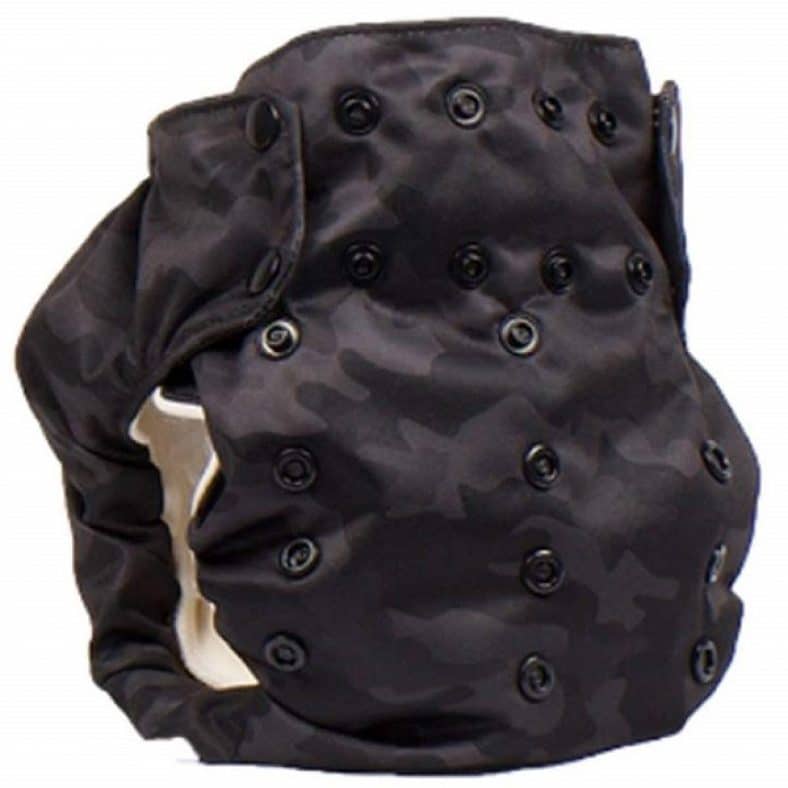 Babies with sensitive skin do better with all natural fibers, and Smart Bottoms Organic AIO uses organic cotton. The inside of the diaper is made with 100% certified organic cotton, so no harsh chemicals will come in contact with your baby's skin. The organic cotton is so soft, lessening the chance that the fabric will irritate your baby's skin.
Smart Bottoms fit babies between 8 and 35lbs. There are four rows of rise snaps, so you can find the perfect fit for your baby. Smart Bottoms has a unique design that many parents love. It has an extra-long insert sewn into the diaper itself, so you don't have to stuff. This long insert makes drying easier than other AIOs, but you are able to fold it to provide extra protection for your baby, depending on where it's needed. Boys need more folding in the front and girls need more padding in the middle!
Check Pricing and Availability
PROS:
Very Trim
Made with 100% Organic Cotton
Quick Drying
Insert Can Be Folded for Extra Absorbency
CONS:
Long Insert Makes Removing Poop Harder
Requires 5 to 6 Washing Before Use
5

Blueberry One Size Coveralls – Great Covers for Chunky Babies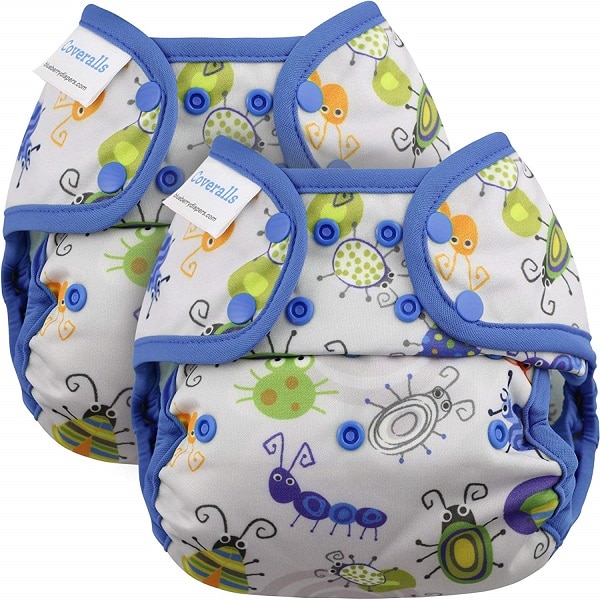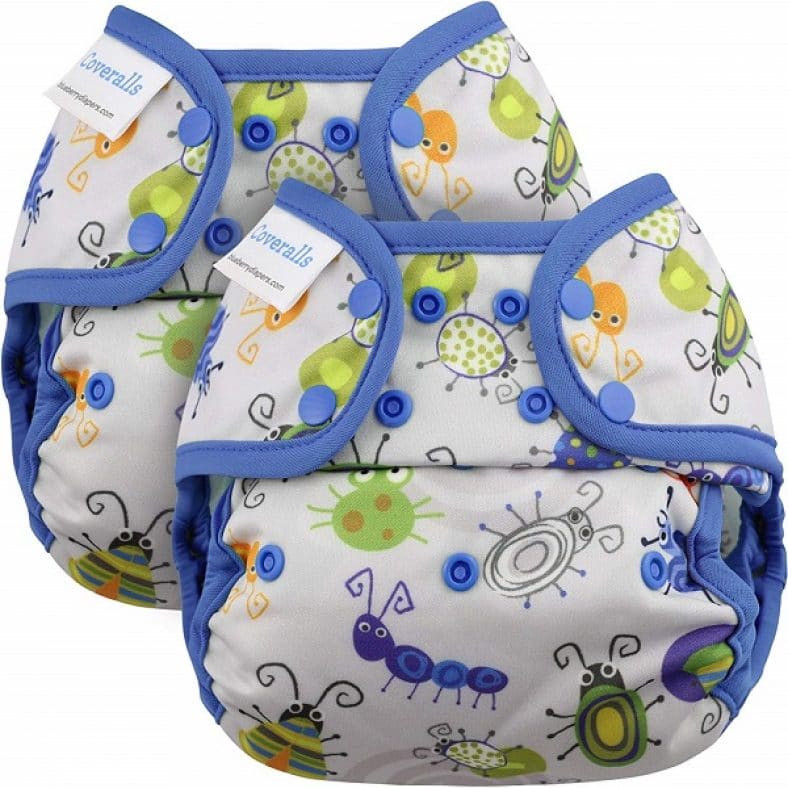 Cloth diapering a chunky baby poses other problems. Many diaper covers will leave red marks on your baby's waist or thighs. We may appreciate those yummy thigh rolls, but you have to find the right cover. It can't be too tight, and you want it to work with prefolds, flats, or fitteds. That's where Blueberry Coveralls come into play!
Blueberry Coveralls fit a wide range of babies from 10 to 40lbs. That's one of the highest weight ranges you will find. Coveralls work great for prefolds, flats, and fitteds because they are generously sized. They come with either snap or Velcro closures and several rows of rise snaps to create the perfect fit for your baby.
Coveralls are made from 100 percent polyester, so it's totally waterproof. Blueberry added double leg gussets to prevent leaks, and they work great!
Check Pricing and Availability
PROS:
Durable
Large Weight Range
Gussets to Prevent Blowouts
Rise Snaps for Adjustable Fit
CONS:
Not Good for Skinny Legs
Doesn't Come With Absorbent Inserts
6

Best Bottom All-in-Two System – The Best All-in-Two Cloth Diapers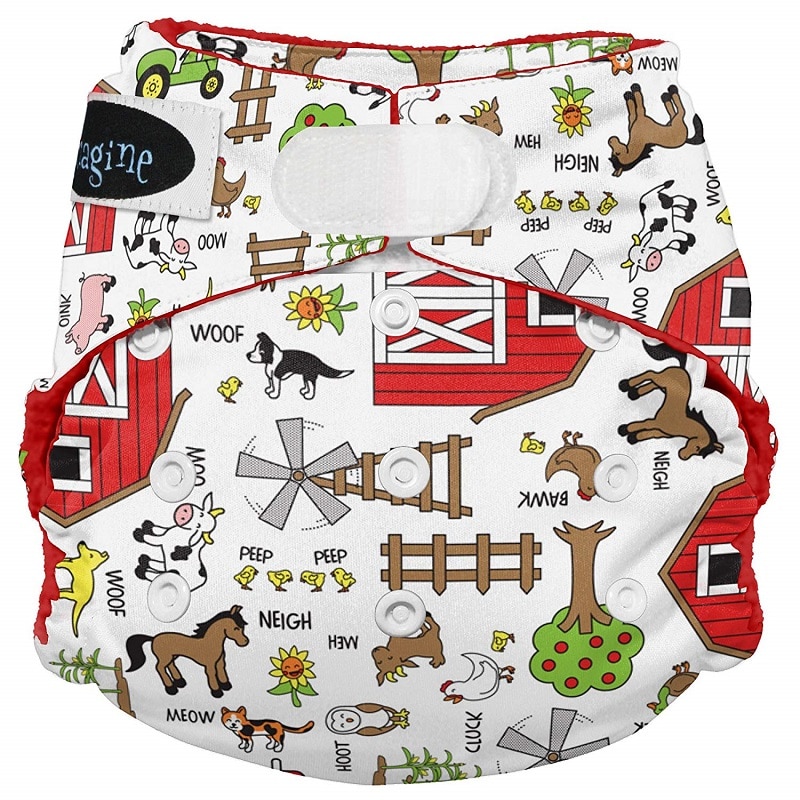 Best Bottom diapers are an all-in-two system that uses a waterproof cover and different snap-in inserts. Their OS cover fits babies from 8 to 35lbs. You will have to purchase different sized inserts – small, medium, and large. Different inserts allow you to pick the right fit and absorbency for your growing baby. Here are some insert options:
Using Best Bottoms is easy! All you have to do is adjust the rise setting, snap the insert into place in the diaper, and snap it on your baby. The outer shell can be reused multiple times. Just wipe it clean in between uses.
Best Bottoms come with either snaps or hook and loop, so you can get both if you use caregivers. You'll love the gender neutral prints, which makes it easy to build a stash to last through multiple kids. They always come out with new prints!
PROS:
Made in the USA
Multiple Insert Options
Double Leg Gussets Prevent Leaks
Economical
CONS:
Covers and Inserts Sold Separately
Inserts Shrink
7

BumGenius 5.0 Pocket Diaper – The Best Pocket Diaper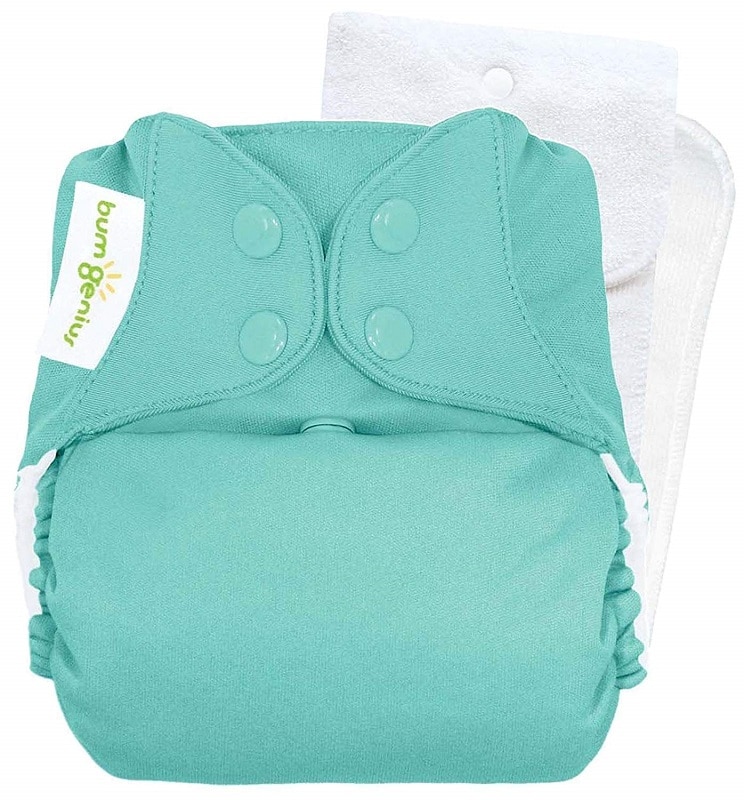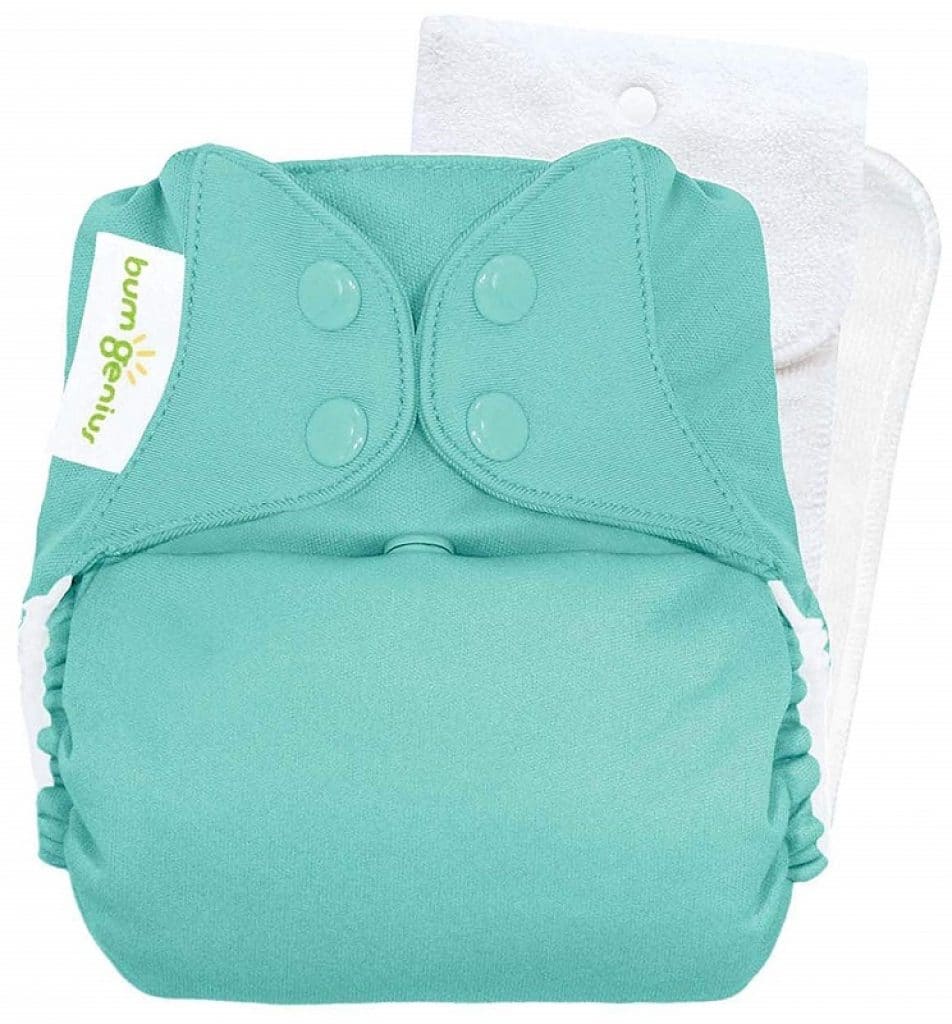 Pocket diapers are a great choice because you can customize the absorbency of the diaper by changing the type or number of inserts used. BumGenius is, without a doubt, one of the best choices for pocket cloth diapers. They've been around for more than a decade, and they are constantly working to improve the design of their diapers.
BumGenius 5.0 fits babies from 7 to 35 lbs, and it comes with two microfiber insert – a newborn insert and a one-size insert. You can later use the newborn insert as a way to double up, creating a great nighttime diaper solution. Adding a hemp insert to the 5.0 makes a really good, absorbent nighttime diaper for heavy wetters.
Inside of the BumGenius 5.0, you'll find a soft lining that wicks away moisture. Your baby will feel dry and comfortable, even if the inserts are soaked. The exterior of the diaper has snap closures and three rows of rise snaps, so you can adjust the diaper to fit your baby's height and leg thickness.
Check Pricing and Availability
PROS:
Comes with Two Inserts
Adjustable Rise
Inner Lining Wicks Away Moisture
Gentle Elastic
Cute Colors and Prints
CONS:
Uses All Synthetic Fabrics
Some Parents Hate Stuffing
May Not Be Ideal for Thick Thighed Babies
8

Cloth-Eez Workhorse Fitted Diapers – Best Fitteds for Newborns

Fitted diapers can be expensive, but the Cloth-Eez are some of the most budget-friendly choices, and they are low maintenance and contain blowouts well. Workhorses fit newborns from 5 to 12lbs
Workhorses diapers come in a six-pack, so they are economical as well. Parents like them because they are easy for husband or babysitters. They are basically prefolds, but fitted and shaped to look like a diaper with added snaps. Workhorses are made of 100% pure cotton, so they are perfect against your newborn's sensitive skin. Cotton won't irritate or lead to diaper rashes.
These diapers are fitteds, so they don't have an outer waterproof cover. You will need to use a separate diaper cover that works with these newborn fitteds. Make sure that you pick a diaper cover that also has an umbilical cord snap-down.
Check Pricing and Availability
PROS:
Super Absorbent
Budget-Friendly
100% Cotton
Contains Leaks and Blowouts
CONS:
Takes Time to Dry
Bleached
No Hip Snaps
9

BumGenius Freetime AIO – Best All-in-One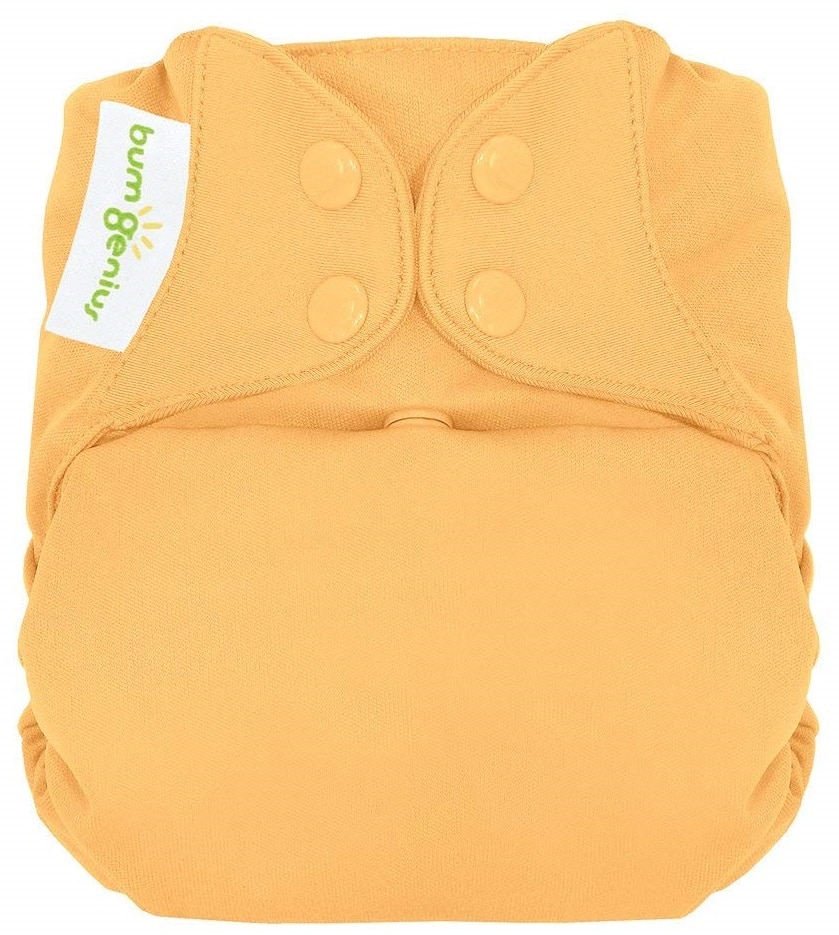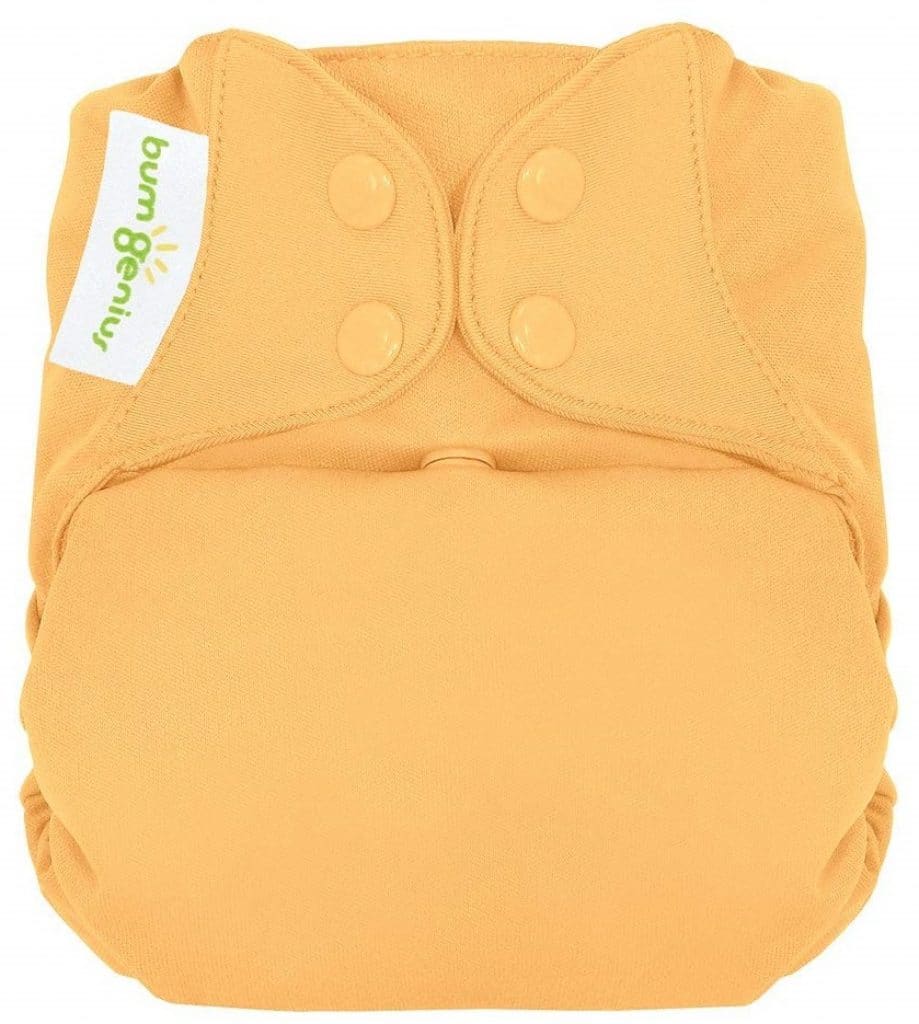 BumGenius brings us another cloth diaper option, and their AIO is the closest thing you'll get to disposables. Freetimes fit babies from 8 to 35 lbs, and they come in a variety of colors and prints. You will love the butterfly closure system, which is a unique feature by BumGenius. Their closure system allows parents to get a great fit around their baby's waist and legs.
Freetimes have a great design because the inserts are sewn into the diaper but only on one side. They are loose, so it quickens the drying time. The flaps fold the way you want them so that you can adjust the absorbency however your baby needs it. The inserts feature stay-dry materials that are super soft and wicks away moisture. BumGenius added an extra layer of microfiber into the shell to prevent leaks along with the gentle elastic around the legs and waist.
Check Pricing and Availability
PROS:
Leg Gussets
Quick Drying
Sewn In Inserts
Hook and Loops and Snap Closures Available
CONS:
Bulky
Rinsing Off Poop is Hard
Synthetic Fabrics
10

Disana Wool Overpants – Best Overnight Diaper Covers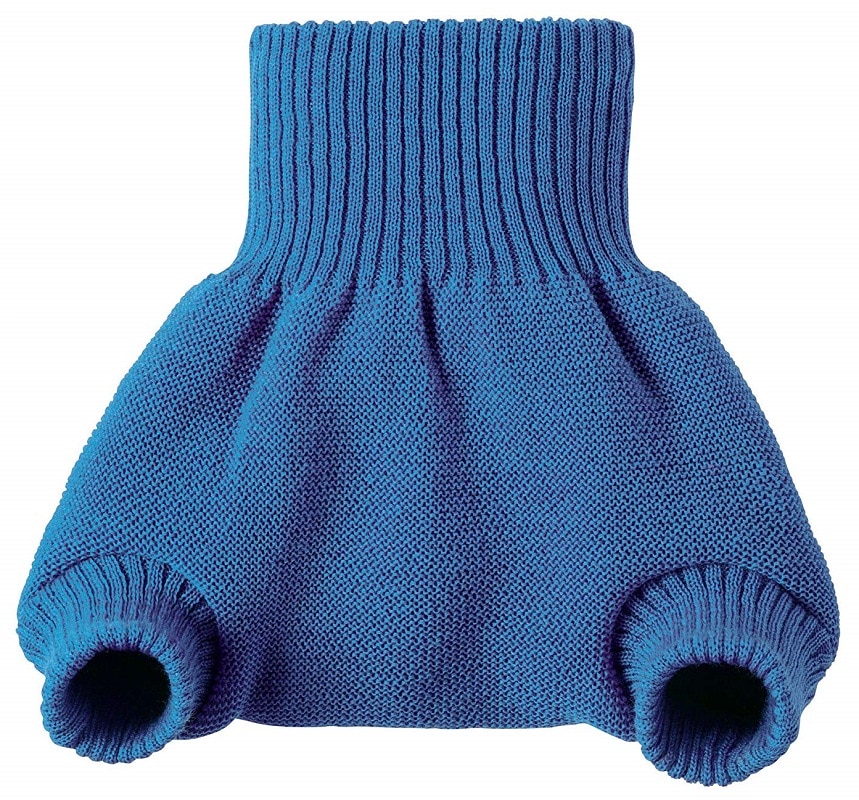 Are you looking for wool diaper covers? Wool covers are great for nighttime diapering because wool can absorb up to 30 % its weight while still encouraging air circulation. If you have a heavy wetter, the Disana Wool Overpants will be your solution.
Disana Overpants are made of 100% organic soft merino wool and have a high knitted waistband. This waistband is your key to stopping nighttime leaking if your baby is a tummy sleeper. Wool is great for babies with sensitive skin as well.
These overpants come in 11 colors and four sizes – 3 months to 3T. You will love the wide size range; it's stretchy and saves you money in the long run. These wool overpants are perfect for a stubborn toddler who doesn't want to potty train just yet.
Just like any wool cover, you do have to learn proper care so that its quality is maintained. You must lanolize the covers first and once a month to prevent absorbency issues. Don't fret; it's easy!
Check Pricing and Availability
PROS:
All Natural
Breathable
Leak Protection – High Waistband
Great for Overnight
CONS:
Bulky
Requires Lanolization
Takes Time to Dry
Interested in Overnight Diapers brands? See our picks here.
---
How Should I Pick the Right Cloth Diapers?
The cloth diaper market is full of great choices for babies, but you can't try them all. Well, you could, but it will break your bank! The first thing you want to do is pick the type or types of diapers that you want and you preferred materials. Then, it's a bit easier to figure out the right cloth diapers for your baby.
Price: The price of cloth diapers can range from $3 to $35 a piece. That's a huge range! So, you want to establish your budget first. If you have a super tight budget, you will want to stick to an inexpensive diaper system. Diaper covers and prefolds or flats will be your best choice. If you have money to spare, you can invest in AIOs or high-quality diapers.
Snaps or Velcro: If you've never tried cloth diapers, you might want to try a few snaps and Velcro (hook and loop) to decide which you prefer. Snaps are more durable and prevent your baby from taking the diaper off as they get older. On the other hand, snaps are harder for people with arthritis and caregivers. It's easier for a caregiver to put on the diaper improperly, which might lead to leaks.
Hook and loop is a great choice for caregivers. It's less likely that it will be put on wrong or too loose, leading to leaks. The downside of Velcro is that it might not last through multiple kids. Fabric gets caught in and fuzzies pile up inside of the Velcro. Be prepared to replace diapers if you want to use through multiple kids!

Sizing: The sizing of cloth diapers isn't like disposable diaper sizing. You have to decide if you want to invest in a newborn diaper stash or not. Some people just use disposable diapers until their baby can fit into one-size (OS) diapers. A majority of newborn cloth diapers fit from 6 to 14 lbs, but that will depend on the brand you pick. Remember you can save these diapers or sell to make money for your larger size stash! That's what I do for all of my kids.
OS diapers go from 8 to 35 lbs, but they will be bulky on your smaller babies. Some brands also sell sized diapers – small (newborn), medium, and large. Investing in sized diapers will cost you more money, but they are trimmer, like a disposable diaper.
---
How Many Cloth Diapers Will I Need?
Deciding how many diapers you will need depends on your budget, what type of diapers you will use, and how often you want to do laundry. You might not mind doing extra laundry every day or every other day, or you might want to go four or five days without washing. Waiting that long isn't the best idea to prevent smell build-up, but some parents prefer it.
A newborn will need 12 to 18 diapers per day. So, if you want to wash every two days, you should want to have around 40 diapers. If you prefer to stretch that to every three days, 48 diapers should be enough.
An infant uses 8 to 10 diapers per day, and a toddler only needs 6 to 8 diapers. So, on average, the recommendation is to invest in 24 to 36 diapers. Don't be surprised if you find yourself investing in more because the prints are too hard to resist!
---
Picking The Best Cloth Diaper
Don't stress; you will find the best cloth diaper for your baby. Your stash might be all one kind, or you might find that you prefer different styles for different times.
That's OK too! There is no right or wrong choice. You just have to find the diaper that fits your baby the best and stops leaks. These ten choices for the best cloth diaper will give you a starting point to creating the best stash for your baby.