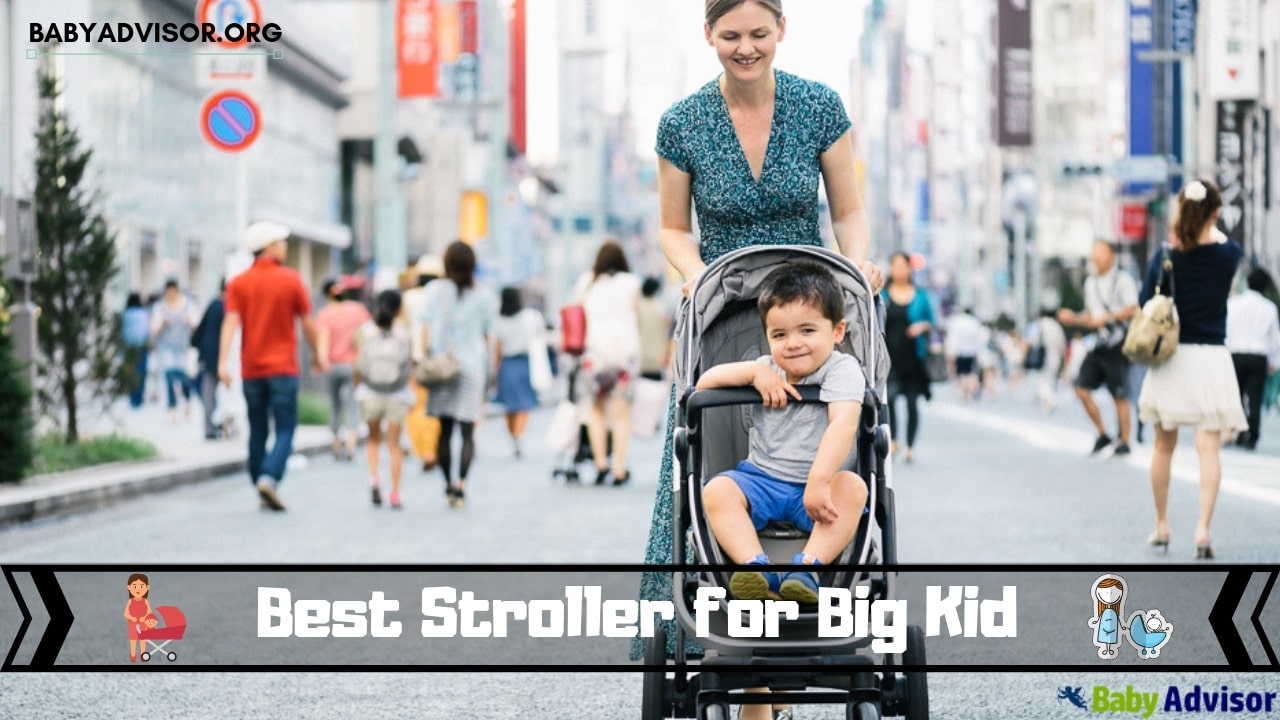 Just because your child is older doesn't mean that your child can't benefit from a stroller. Does your 3 or 4 years old want to ride in the stroller after a long day at a festival? Perhaps the park is just a bit further than your child can comfortably walk without being too tired. Have you considered buying the best stroller for big kid?
Many kids are outside of what people consider a "normal" percentile. All of my kids were over 9 lbs at birth; I've even had a 10lb baby, and that made for rather large toddlers! It makes it a bit more challenging to pick a stroller that doesn't have larger children in mind. Not to mention, many strollers don't keep special needs children in mind either.
No matter why you want to have a stroller that can handle a big kid, this guide is here to help you pick the right one for your child. Many modern strollers have a higher weight limit and a bigger seat, capable of accommodating bigger and taller kids. Some strollers have a weight limit up to 90lbs!
Large toddler or jogging strollers are often the best options. Are you ready to check out the best strollers for big kids? Let's take a look!
---
What is the best big kid stroller for 3 Yr+ Olds?
A Quick Overview of our top picks
---
Why Do You Want a Stroller for a Big Kid?
Why would you want to purchase a stroller for a big kid? Most strollers aren't designed with bigger children in mind, so having a stroller meant for larger kids.
A few advantages of a larger stroller include:
---
Detailed Best Big Kid Stroller Reviews
1

Best Umbrella Stroller for Big Kid
The first up on our list is the UPPABaby G-Luxe Stroller. It's an umbrella stroller that is perfect for a big kid that features an adjustable height canopy, perfect for a taller kid. G-Luxe has one of the larger canopies on the list, extending as a sunshade that offers a UPF 50+ rating.
UPPABaby added tall handlebars, which are great for taller and short parents. We also like the single foot pedal brake, and the seat is quite comfortable with generous padding and reclines easily. You can remove the fabric to wash it when your child makes a mess. The seat is 13 inches wide and deep, and the backrest is 20 inches long, which is impressive.
We like the single front wheel design on the G-Luxe. It makes it easier to push on uneven terrain, like gravel, but remember that the G-Luxe isn't suitable for unbeaten roads or off-roading. UPPABaby did add an all-wheel suspension to make bumps better.
---
2

Double Stroller for Large toddlers & Kids
If you have twins or two kids of a similar age range, you might need a larger double jogging stroller. Together, the BOB Revolution Flex Dual has a weight capacity of 100lbs. Two kids should fit in that weight limit easily. Each seat has a 50lb capacity.
You can use this stroller starting at eight weeks old, so new babies can sit comfortably. BOB offers a car seat attachment so that you can use it with infants.
We love that the seats are nicely padded and recline independently. So, you can recline for your infant and leave your toddler sitting comfortably upright.
Due to the fantastic suspension system, you can take the BOB Revolution Flex for long jogs. It's capable of handling different terrain. No matter where you take the stroller, you'll have a smooth ride for your child.
Need the Double Stroller for twin? Read this guide!
---
3

Lightweight Stroller for 3- to 4-Year-Old
Maclaren is known for creating high-quality strollers with higher weight limits. The Quest comes with hundreds of fantastic ratings from happy parents, and happy parents don't lie. This stroller only weighs 12lbs, and it holds children up to 55lbs.
Like a few of the other Maclaren strollers, the Quest has a newborn safety system that lets you recline fully and extend the leg rest. It keeps your newborn baby safe and comfortable. We love the large, extending canopy with a UPF 50+ rating.
The seat offers four different reclining positions, and you can extend the leg rest for growing children. Reclining the seat is easy; it just takes one hand, so you don't have to struggle or remove your child from the stroller. The fabric on the seat can be removed and tossed in the washing machine when your child gets it messy.
---
4

Big kid stroller for Traveling
The GB Pockit Plus is a lightweight stroller that is perfect for big kids because it offers a wider seat when compared to older models. That means your taller and older children will be more comfortable to ride in the stroller for extended times.
If you liked the GB Pockit, the Plus would win your heart. GB included many upgrades that parents have wanted to see, but it's still one of the smallest and best portable strollers on the market. It's 3.5lbs heavier than their original model, but it's super lightweight, weighing only 13lbs!
Compared to the original model, the Plus has a one-inch larger fold size, but what is an inch? It still doesn't take up much space in your trunk. It's small enough that it fits under a table at a restaurant or behind the seat in your car – seriously!
---
5

Best All-Terrain Stroller for Big Kid
Are you an active family? If so, the Thule Urban Glide is a perfect, all-terrain stroller that can handle a variety of terrain. The excellent suspension system makes it easy to maneuver, whether you head to the grocery store or go for a hike in the woods. The front wheel swivels or locks into place for jogging.
One of the most helpful features is the handlebar. It's ergonomically designed for comfort, and it's adjustable with different heights. The pads on the handle are water repellant and removable for washing.
The Thule Glide is great for big kids because it has a 75lb weight capacity! It has a nicely padded seat with a vented top to encourage air flow around your child. If your child is tired, it offers a near flat reclining position. Don't forget the adjustable, extendable sunshade with a peek-a-boo window!
Read more: Top Pick for the Best All-Terrain Stroller.
---
6

Best Everyday Stroller Choice
If you're looking for a great everyday stroller, the Zoe XL1 is a lightweight stroller that is ultra-light, weighing only 11lbs. We love that it folds up and opens seamlessly, so you can take it with you when you go to a restaurant or a museum. Thanks to the small fold, it doesn't take up a lot of space in your trunk.
Zoe added a nicely padded seat with a deep recline, up to 165 degrees. We love the huge canopy! It will cover your child to his knees – seriously. Also, the seat is quite roomy plus a lot of headroom for taller kids. Some reviewers state that they use this stroller with their 4-year-old.
Even though Zoe added front-wheel suspension, it doesn't mean that this stroller is for uneven terrain. It will bounce, but it handles sidewalks and pavement fine.
---
7

Best Choice for Ultralight Jogger
The Joovy Zoom is one of the best strollers for big kids; Joovy makes fantastic products. Not only does it have a modern look with an affordable price, but it also has a 75lb weight capacity – seriously!
Joovy features an extra-wide seat that makes it perfect for larger kids. With the raised seat, your big kid can see everything that's going on, but it also reclines quite easily, perfect for that quick nap. Plus, Joovy added an extended canopy that goes out further than most strollers. It offers coverage for even big kids!
That's not the only thing that we love about the Joovy Zoom. It has a three-wheel design and did we mention that it's lightweight? It's one of the only strollers that is made for heavier children. You can push it easily because of the design even with older kids.
---
8

Best Strollers for Special Needs Kids
Our last pick for the best stroller for big kid is the Special Tomato EIO, which is perfect for special needs. The weight capacity is 90lbs so that you can use this for years and years with your child. Due to the size, it does weight 22lbs, but that's still lighter than regular jogging stroller.
The makers of Special Tomato understand that raising a special needs child comes with different challenges, and their goal with creating their stroller was to make parents have a bit of an easier life. Their stroller can become a welcome asset in your life and make your role easier.
Special Tomato included all of the features that a special needs parent would want, such as adjustable back and foot panels. The positions aren't fixed so that you can find the right angle for your child. We also like that the entire stroller is hypoallergenic and latex-free, so you shouldn't have to worry about any reaction.
Special Tomato used large, airless tires, so they're flat rubber wheels. You don't have to worry about a flat tire leaving you and your child stranded. They added a padded and robust body harness that will keep all kids strapped in tightly.
---
How to Pick the Best Stroller for Big Kid
Now, you have to narrow down our top eight picks to the one stroller that works for your child. That's not an easy feat! Everyone is unique and has different needs and desires.
So, let's take a look at the features that matter when it comes to picking the right stroller for your big kid.
First, and most importantly, look at the weight capacity of the stroller. It should be designed to fit larger sized kids, and the weight capacity is an essential factor. It should be able to hold the child of your child and any items that you bring along for the ride.
Consider the weight of your child currently. If he is 40lbs, picking a stroller with a 50lb weight limit might not be the wisest choice. You want some leeway between your child's weight and the weight cap. Will you have to purchase another stroller in a short period?
How You'll Use the Stroller
You also want to consider how you plan to use the stroller. Do you spend most of your time in the city, going to the store and museums? Are you a fan of taking walks with your child at parks and around local lakes? Maybe you jog and prefer to live an active lifestyle with your kids.
If you're a jogger, then you need to purchase a jogging stroller. If you like to hit the town, you need a stroller that maneuvers around turn easily.
Kids go through phases every day, and your stroller's seat positions should do the same. The recline should meet the current age of your child and offer several positions to work with your child's age. An older child will need an upright position, but a younger child needs a lower recline.
No matter the age of your child, it's nice to have a reclining feature. Even toddlers and preschoolers need naps sometimes! Ideally, the stroller recline can be adjusted with one hand, so you can move it when your child starts to doze on and off.
Weight and Size of the Stroller
You have a big kid, do you want a stroller that weighs as much as your child? Probably not!
Lightweight design is favorable because you'll deal with the stroller every day. You have to lift it out of your vehicle, unfold it, push your child around, fold it, and store it in the car – on repeat! Compare the weights of the strollers that you are debating between.
You also want to consider the size of the stroller once folded. Can it fit into your vehicle?
Some strollers have a bulkier design that doesn't fit into all trunks easily. Check out the dimensions to determine if it works for your current vehicle.
When you have a larger child in a stroller, it can become harder to push. You want a stroller that is easy to push and maneuver, wherever you intend to go. Features such as ergonomic handlebars and adjustable handlebar height make pushing your stroller even easier.
---
Final Thoughts
Purchasing the best stroller for big kid is hard; it has to fit the needs of your older child.
You have to find a stroller that meets the right weight capacity, reclining positions, and comfort for your child. One of these eight strollers will meet your needs.