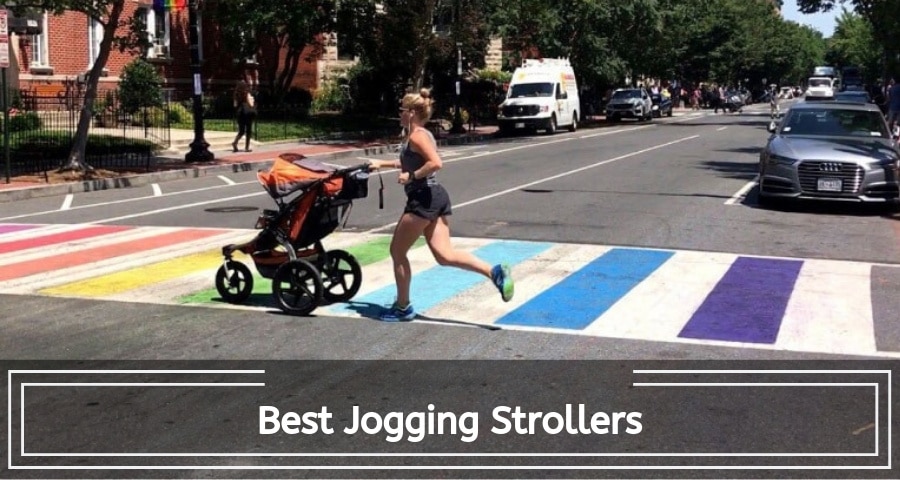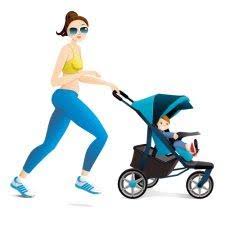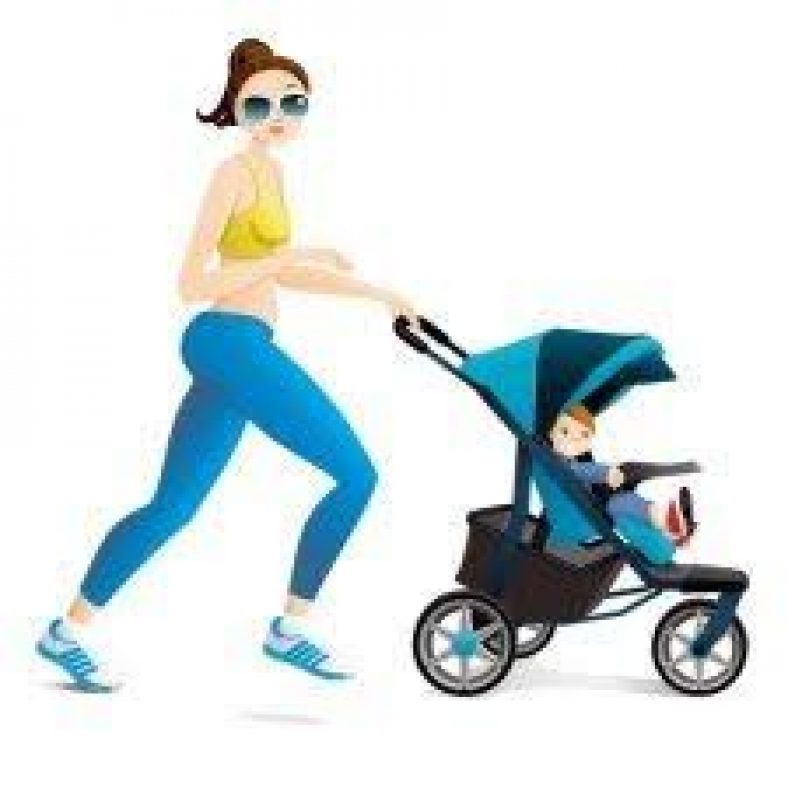 Do you like to hit the trail with your baby? A jogging stroller makes the ride smoother and more relaxing, for you and your baby. Unlike a traditional stroller, jogging strollers have features that make it easier for you to go over trails, such as larger wheels and wheel suspension. It's no wonder that the best jogging strollers often make it onto baby registries for new parents.
Having a baby doesn't mean that you have to give up your healthy, active lifestyle. You can run with your babies to help lose weight after pregnancy. Many couples enjoy an active lifestyle, which including running and jogging. Moms run marathons and half-marathons all the time, and that's why having a good jogging stroller is vital. 
---
Do You Need a Jogging Stroller?
Do you primarily use your jogging stroller for walking around the mall or the pavement at the park? If so, a traditional stroller will be an excellent choice. Parents who like to run, jog, or hit bumpy trails need a jogging stroller. These strollers are designed to work on dirt roads and uneven, rugged surfaces. 
Take a look at a jogging stroller; you can immediately see the differences in the design. Jogging strollers have three, larger-than-average strollers with a triangle configuration that help the tires glide over uneven surfaces. They also have better suspension systems that decrease how much your baby moves around as you go over bumps and rocks. 
Traditional strollers cannot be used for running, jogging, or on uneven terrain. It's unsafe for you to use those types of strollers in those situations. 
---
The 6 Best Jogging Strollers
1

BOB Revolution Flex 3.0 Jogging Stroller – Top Rated Jogging Stroller
No review of jogging strollers is complete without adding the BOB RevolutionFlex. It's one of the top-rated choices that has all of the features parents need and want. Yes, the price is a bit higher, but it's worth it. 
When we say that the BOB Revolution has it all, we meant it. A few of those features include:
Features
9-Level adjustable handlebars

Adjustable suspension 

Large storage bin

Comfortable seat for your baby 

Inflatable rubber tires

A large sun canopy 
Check Pricing and Availability
Why does BOB call their jogging stroller "Flex"? That name comes from the fact that many of the elements of this stroller are adjustable to suit the parent. Everyone is different, and the Flex lets you adjust the stroller to work for you. For example, taller parents love the adjustable handlebar. 
Any parent who has used a jogging stroller before can tell you that the tires matter a lot. The BOB Revolution is large in diameter and real, inflatable rubber tires. Some models give cheap tires but not the BOB. 
BOB didn't forget about the comfort of your baby. The sun canopy is large enough to block out the sun rays and rain if you happen to run into a drizzle while on the trail. You can recline the seat back when your baby is tired and needs to take a snooze.
There are some negatives to think about before purchasing. We don't understand why BOB doesn't include any cup holders, especially considering the price tag on this stroller. You can buy accessories if you want which you will. That also means you need to buy a snack tray for your child.
The BOB Revolution is for babies who are eight weeks old and up to 75 pounds. Despite having reclining options, the recline isn't flat, so it's not a jogging stroller suitable for newborn babies. 
PROS:
Compatible with Britax infant seats
Adjustable handlebars
Large sun canopy
Reclining seat
Large, inflatable tires
CONS:
Pricey
No cup holders included
Heavy – 28 pounds
---
2

Baby Trend Expedition Jogger Stroller – Best Affordable Jogger Stroller
Jogging strollers can be insanely expensive, but Baby Trend makes having one much more affordable. Just because it's cheaper than other strollers doesn't mean that Baby Trend skimped on the features for your child. 
Here are a few features that parents love about the Baby Trend Expedition.
Features
Large tires, including a swiveling front wheel 

Spacious under-seat storage basket
Check Pricing and Availability
Unlike many other jogging strollers, Baby Trend added a child tray with a cup holder, perfect for snacks while you're taking a walk. They also added a cup holder for parents, so you don't have to spend extra money on those accessories, which really should be requirements on strollers. 
Something to keep in mind is that the Expedition isn't meant for a serious runner or off-roading. It's better for festivals or some gravel roads. It doesn't have the shocks and suspension system that other strollers have to give your baby the smooth ride you might want. 
The Baby Trend Expedition weighs 26lbs, which is a bit more than we would like. It's meant for babies six months old and up to 50lbs or 42″ tall. 
PROS:
Affordable
Padded Seat
5-Point Harness
Fully Adjustable Canopy
Trigger Release for Folding
Center Console for Parents' Items
CONS:
Heavy
Meant for babies 6+ months old.
Handlebars Aren't Adjustable.
---
3

Joovy Zoom 360 Ultralight Jogging Stroller – Best Lightweight Jogging Stroller
It's hard to find a product by Joovy that isn't amazing. Joovy is known to create innovative, modern, convenient products. The Joovy Zoom 360 Ultralight is a new choice on the market, and some say that it's just as good as the BOB Revolution without the very high price tag. 
Features
For the price, Joovy added many fantastic features, such as:
A large storage bin

Independent rear suspension

A large sun canopy

Cup holders

A center console for parents' items. 

Pockets in the seating area for the child. 
Check Pricing and Availability
Like other jogging strollers, Joovy uses a three-wheel design that features 16" rear wheels and 12" front wheels that can swivel for easy maneuvering. Then, the wheels can be locked for stability on uneven terrain. Remember that Joovy uses pneumatic tires, so you might have to inflate them from time to time. 
The element of the Joovy that stands out is there is no rear axle, which means you can take longer running strides. If you have long legs, no rear axle means you won't kick the back of the stroller, which is something taller parents appreciate. 
No one will believe that this stroller is budget-friendly when they use it for a while. It's so easy to maneuver, and its stability is in line with more expensive jogging strollers. 
Joovy created their stroller with a lightweight, aluminum frame, which makes the stroller around 25 pounds. Yes, that's more than most traditional strollers, but jogging strollers do tend to weigh more.
What are the drawbacks? Aside from the exclusion of the rear axle, it doesn't have an adjustable handlebar, so taller parents might find that they need to hunch over to have a good grip on the handle. The handles aren't ergonomically angled, which can cause wrist strain. 
PROS:
Affordable
Easy to Recline
Easy to Maneuver
Compact Fold
Large Canopy
CONS:
No Handbrakes
Handlebar Doesn't Adjust
Material Isn't Soft.
---
4

Thule Urban Glide 2 Jogging Stroller – Best Jogging Stroller for Runners
If budget isn't a concern for you, then the Thule Urban Glide 2 is an excellent, high-quality jogging stroller for parents who like to run seriously. The Thule Urban isn't meant for parents who take the occasional stroll in the woods or run now and then. It's intended for parents who are serious runners every day; it can be used for marathons as well! 
Features
Thule added plenty of excellent features, which we would hope to see considering the price point.
A 75-pound weight limit

Large sun canopy

Mesh pockets to hold bottles or sippy cups 

Large wheels

An adjustable and ergonomic handlebar

A large storage bin with a zip-top cover 
Check Pricing and Availability
Let's talk about the tires because they matter so much when it comes to jogging strollers. Thule added large diameter rear wheels that measure 16" and 12" front wheels. Combined with the impressive suspension system, this stroller can absorb most impacts from large bumps. The front wheel swivels for strolls and locks for running. 
Something else we noticed was that the rear wheels are set considerably apart. That doesn't seem like a big deal unless you're tall and kick the back of the wheels as you jog. 
It's possibly one of the most comfortable jogging strollers on the market. It has an adjustable handlebar with 9" of possible adjustments. Those handlebars are ergonomically designed to make it comfortable to push when you're on the trail.
We have to mention the brake system. Thule added a twist hand brake that works on both rear wheels at the same time. That's a nice feature to help slow you down when you're hitting the trail hard. 
So, what are the drawbacks? We already mentioned the price, but the other issue is that Thule didn't include accessories. So, you'll need to purchase cup holders, a parent tray, a child tray, and a car seat adapter. That can be frustrating when you're already paying a considerable amount for a jogging stroller.
However, if you're a serious runner, then the Thule Urban Glide 2 is meant for you.
PROS:
Easy to Maneuver
Ideal for Serious Runners
Solid and Sturdy
Large Storage Bin
CONS:
Expensive
Doesn't Include Accessories
---
5

Schwinn Arrow Jogging Stroller – Best Cheap, Lightweight and Durable Jogging Stroller
Don't have hundreds of dollars to spend on a jogging stroller but really enjoy running? A Schwinn Arrow might be your best choice. It's a fantastic jogging stroller that is stable and capable of making long, fast runs. With 16" pneumatic tires, the wheels resemble the tires on a bicycle, which keep them lightweight and durable. 
Features
What else did Schwinn add to this stroller? 
A rubber grip on the handlebar to make it easier to hold

The center hand brake slows the front wheel. 

Rear shocks absorb surface bumps and rocks. 

A decent sized canopy
Check Pricing and Availability
A unique feature that parents love is in the speakers that can be attached to any MP3 player or smartphone. The speakers are integrated into the sun canopy, so you can play some music that both you and your baby enjoy together. Many babies love music; it lulls them to sleep. 
Schwinn added several features that benefit parents, such as a large storage basket underneath the seat and adjustable handlebars. They even included two cup holders for the parents to use. 
One downside to the Schwinn Arrow is that the front wheel is fixed, so it doesn't swivel, which isn't ideal. Also, it's pretty large, even once you fold it up. You can take the front wheels off to put the stroller into the trunk, but that's an annoying process to have to do all the time. 
If you have a van or an SUV, this stroller should be fine, but it won't work for those who have small vehicles. Also, it only has a 50-pound weight limit. 
PROS:
Large, Pneumatic Tires
Large Storage Basket
Handbrakes
Suspension System
Speakers Inside of the Canopy
CONS:
The Canopy Isn't Huge.
Front Wheel Doesn't Swivel
Only 50-Pound Weight Limit
---
6

Chicco TRE Jogging Stroller – Best Equipped Jogging Stroller
You might be familiar with Chicco; they're a well-known European baby brand that is gaining popularity in the United States. Their TRE Jogging Stroller offers features that parents want in a medium price range. Many parents say that the TRE is better equipped than more expensive strollers. 
Features
We are huge fans of the TRE, and here are some features we enjoy. 
Three spoked wheels with pneumatic trees. 

An adjustable suspension that is foot-activated. 

A handbrake that acts as a deceleration brake, helping you slow down and control the speed.

Parking brake locks the rear wheels in place. 

Adjustable handlebar with four height settings. 

An included safety tether for jogging. 
Check Pricing and Availability
The most notable feature of the TRE is that it has a removable seat. You can remove it from the frame and switch it out for a KeyFit or a KeyFit 30 infant car seat. Another choice is to install the car seat on the regular seat and use the two canopies to block the sun from disturbing your baby. 
We love this unique feature that lets you use this jogging stroller as soon as your doctor clears you to start exercising after birth! 
Remember that you can't use the stroller until your child is six months old. At that point, you can remove the infant car seat and use the regular seat for walks and runs. 
Don't forget the impressive wheels. The front wheel is 12," and the rear ones are 16″. You can switch between locking and swiveling the front wheel by using the hand activation on the parent console. That means you don't have to bend over and touch dirty wheels to lock or unlock the wheels. We love this feature! 
So what are the downsides of this stroller? First, it's around 29lbs, which is heavy but close to average when it comes to jogging strollers. It is quite bulky, so you might find it hard to fit this stroller into your trunk if you have a small vehicle. Also, even though it does include a storage basket, it's not as roomy as other ones. 
PROS:
Multi-Position Recline
Extendable 3-Panel Canopy
Peek-a-Boo Windows
Includes a Parent Console with 2 Cup Holders
Adjustable Suspension System
CONS:
Heavy – 29lbs
Bulky
Storage Basket Isn't Spacious
---
The Important Features of a Jogging Stroller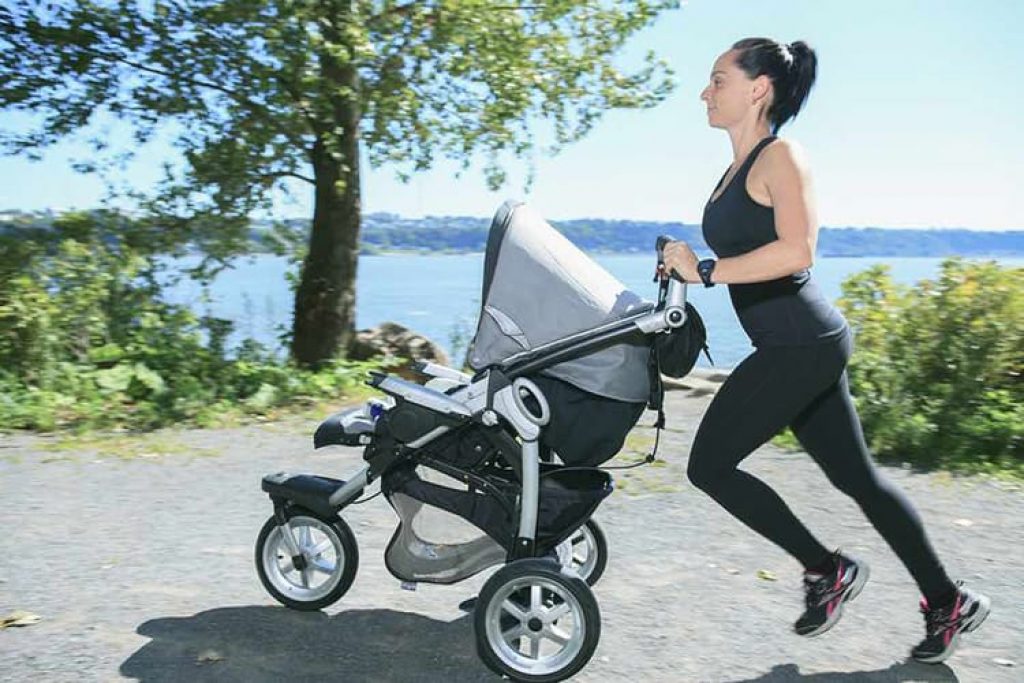 We know that jogging strollers are meant to give you better stability than a traditional stroller, a way to take your baby with you as you jog or walk over trails. Just because they all have the same goal doesn't mean that they all have the same elements to achieve that goal. 
Some strollers are meant for those who take a short jog here or there, and others are meant for those who are serious runners. Other designs are ideal for those who walk on very uneven trails. You have to figure out how you intend to use your stroller to figure out the right features. 
First, there are a few minimum requirements any jogging stroller you pick should have. 
Unlike traditional strollers, jogging strollers let you lock just the front wheel. You want a front wheel that can be locked in place to help your stroller stay on the path and add stability. When not locked, the wheel should swivel, letting you maneuver around twists and turns. Locking is meant for running, but rotating is better for heading to the mall. 
The wheels of a jogging stroller should be large, measuring around 12" in diameter. Some are upwards of 18". 
Have you ever seen the scenes in a movie when a parent lets go of a runaway stroller? A safety tether is a leash that goes around your wrist and attaches to the stroller. It's a safety feature; if you lose your grip on the handle while jogging, the stroller won't keep moving without you. 
Your baby should be comfortable while you're on the go with your baby. Often, the movement of the stroller puts babies to sleep, so a reclining seat lets your baby lay back comfortably for naptime. 
Safety Five-Point Harness
The seat of a jogging stroller should have a harness that looks similar to the harness in your baby's car seat.
All strollers have a parking brake that you engage when you come to a stop. Some jogging strollers have a hand brake that you can use to help the stroller down to a stop. 
---
Now, what about desired features that aren't necessary but nice to have? Here are a few.
If you're jogging, you'll probably want to have a water bottle with you, and having cup holders should be standard. It seems as if the more expensive jogging strollers don't tend to include features such as cup holders and snack trays. See if they sell them as accessories. 
Most jogging strollers have a suspension system, but some, such as the Baby Trend Expedition, don't have one. A wheel suspension system absorbs the bumps and causes less movement of the frame when you hit rugged terrain. That means your baby isn't jostled around as much. 
Adjustable handlebars aren't a must-have, but they're a nice feature. They help to accommodate different heights, so if you or your partner is time, it's a great feature. Also, most handles with adjustable heights have ergonomic positions that reduce discomfort or injury. It's a nice feature for longer runs. 
Searching for the best lightweight strollers? Here are top picks of lightweight strollers for you.
Final Words
A jogging stroller is a fantastic investment for those who like having an active lifestyle. Traditional strollers won't do the job; you can't safely talk your child on uneven terrain or jog when using those styles of strollers. Maintaining a healthy lifestyle is much easier when you have the right gear.