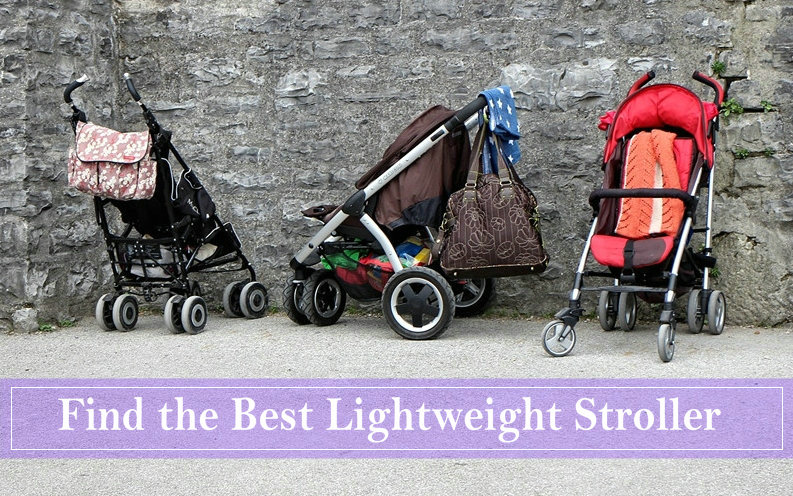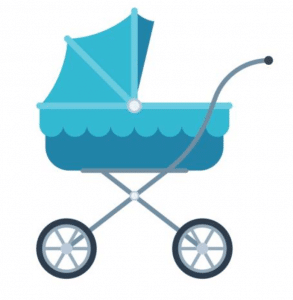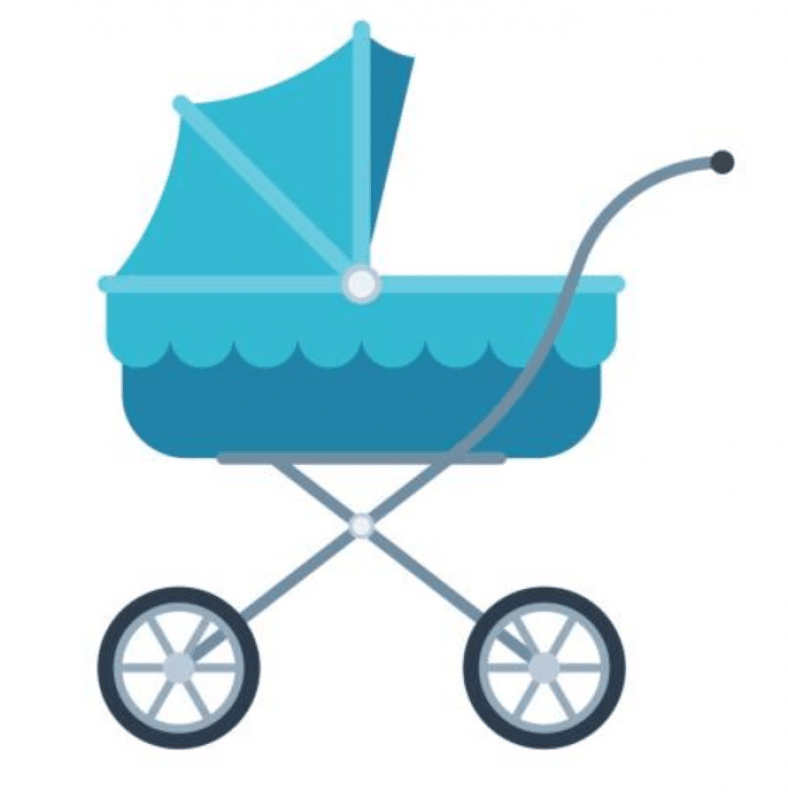 We've all been there. And if you haven't then you probably soon will be. You are trying to navigate a store or a crowded street and your stroller will not fit through the aisle.
Or you are at the airport trying to get through security and you can't fold your stroller while holding your baby and once you do, it does not fit through the x-ray machine. With this complete guide you can find the perfect lightweight stroller that will fit all of your needs.
---
Why Buy a Lightweight Stroller?
Most people think that registering for two strollers is ridiculous. I, myself, was one of those people. Who needs two strollers?
But trust me, you will. There will come a day when you are trying to navigate a busy sidewalk and you will be cursing your heavy, bulky stroller.
A lightweight stroller is also a good option for grandparents or for when traveling. While you may not want to use it everyday, an affordable lightweight option is good for quick trips when you do not want to haul a larger stroller with you.
---
Types of Strollers
This is what many people think of when they think of a baby stroller. A full-sized baby stroller is known for having most, if not all, of the extra frills a family may need.
More often than not, if the stroller itself does not come with the things you may need, you can buy them separately to add to your stroller. Full-sized strollers usually have large, comfortable seats, an expandable canopy, adjustable handlebars to accommodate people of all heights, and roomy undercarriages to store everything you may need.
So if full-sized stroller have everything you may need why would you get another option? It's simple. Full-sized strollers tend to be heavy and hard to maneuver if you have to go up stairs, are in a crowded place, or travel. It also can be a rather large option if you live in a smaller place like a condo or an apartment.
PROS:
Comes with everything you may neede
CONS:
Bulky, heavy, and hard to navigate in crowded areas
Jogging Strollers are marked by their amazing suspension and good quality frame that allows you to navigate any terrain you need to with your little one. These types of stroller generally have everything full-sized stroller have except that they usually have three wheels rather than four. The wheel in front usually is able to swivel 360 degrees in order to maximize maneuverability, but it is important that you make sure it also has a wheel lock that way you can ensure stability if you are running fast or downhill. With the extra build quality usually comes a bigger price tag as well as a larger stroller, many times even larger than a full-sized stroller. One key safety feature to make sure any jogging stroller has is a hand brake, not much unlike that on a bike, and a wrist strap.
PROS:
Can handle any terrain
Great build quality
All of the extras of a full-sized stroller plus more
CONS:
Expensive
Large and heavy
Not practical for crowded areas or travelling
This is the stroller to get if you have two young children. While most people think of double strollers as two regular strollers put together side by side, they actually come in a number of configurations. There are double strollers that have seats in a row as well as this one by Joovy that allows toddlers to stand right behind the other seat where your other child can sit or an infant car seat can be attached.
While they are definitely more convenient if you have two little ones, they can be unbalanced and hard to turn so make sure you try them out in store to make sure the once you choose is practical for your family.
Want to learn more about the Double Strollers for Twins? Read our complete review here.
CONS:
Bulky and heavy
Can be harder to maneuver
Infant Travel System Strollers
An infant travel system is an infant car seat that can easily connect, usually with one click, into a stroller.
While it is cheaper to buy a travel system if you are wanting this functionality, it is not your only option. There are many full-sized strollers on the market, like the City Select Mini GT, that offers an adaptor that will allow most big name brand infant carriers to be clicked into their stroller.
While Infant Travel System strollers are a little bit more like full-sized strollers in their size, they are usually only a little bit heavier than lightweight strollers and generally come with more extra frills included.
PROS:
Easy to click in your car seat
Can be used starting as an infant
Usually comes with more "extras" included
CONS:
Bulkier and heavier than umbrella strollers
Need an adaptor if you don't have a matching car seat
Umbrella strollers are known for being lightweight and have U-shaped handles that usually are not adjustable. These strollers are a great second option to have if you are travelling, live in a small house or apartment, or just want something a little less bulky but still fits your needs.
Umbrella strollers vary widely in terms of the extra bells and whistles you can get for your money, but they are definitely less bulky and heavy than all of the strollers listed above. Read on to find out what things you need to consider when buying a lightweight baby stroller.
PROS:
Lightweight
Easy to maneuver
Can be affordable
Takes up smaller space
CONS:
Vary widely from model to model
Usually are only for babies 6 months or older
Sometimes do not have any extra bells and whistles
---
What to Think About When Buying a Stroller?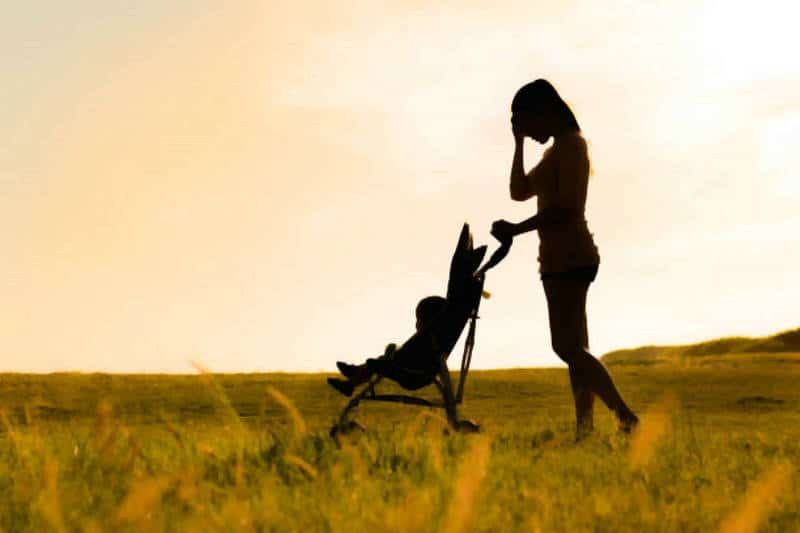 The most important thing to consider when buying a stroller for your infant is its safety features. There are many safety considerations to take into account when choosing a lightweight stroller. Make sure that any stroller that you are buying has a proper five point harness and that you use it at all times. Also, always be sure to check to see that there are several brake checks on any stroller you consider buying. Any stroller you buy should have wheel locks on any wheels that swivel as well as a hand brake that makes sure the stroller doesn't move by accident.
There are several things you should never do when using a baby stroller.
First, never hang anything from the handle. You should always use the proper storage area, usually located underneath the stroller. This is especially important with lightweight strollers as they can easily tip.
Second, never leave your baby unattended in a stroller and always use the proper brakes when it is not in use.
Third, always strap your baby in properly using either the three or five point harness. When buying a stroller, it is best to choose one in which the straps can be adjusted by height so they are always in the best position for the size of your infant.
Lastly, while it may seem trivial, make sure you mail in the product registration card that comes with your stroller so you can be notified of any recalls promptly.
Safety Recap!
Safety Guidelines
Never leave you baby unattended in a stroller
Always strap your baby in properly as stated by the manufacturer
Use proper brake locks when the stroller is not in motion
Mail in your product registration
Do not hang anything from the stroller's handles
After safety, how easy it is to use your stroller is one of the most important considerations to take into account when choosing a stroller. You don't want to be fumbling to open and close your stroller while holding your baby and trying to get everything into your car so make sure that whatever stroller you use can be easily opened and folded.
The wheels of a stroller are extremely important not just for maneuverability, but also for safety. The easiest strollers to operate are ones that have four wheels that swivel 360 degrees because it will allow you to move the stroller in any direction with one hand and very little force. If you have a stroller with swivelling wheels check to see if there is an option to "lock" the wheels into place making them stationary because this will give the stroller more stability on uneven ground, such as gravel. No matter what, make sure that any stroller you buy has wheel brakes for safety purposes.
The canopy of a stroller is a crucial component to a stroller, unless you are not planning on using it very frequently or only inside. In that case, skip the rest of our guide and go straight to buying the Cosco Umbrella Stroller. The purpose of a canopy is to protect your baby from the sun. That being said, the best option would be a canopy that extends and retracts and has UPF.
Most parents also say that even though a peekaboo window may seem like a silly addition, it ends up coming in very useful while walking to see what your baby is up to or be able to recline the seat farther if they end up falling asleep on your stroll.
Always make sure when choosing a baby stroller that you consider how large your diaper bag is and how many things you plan on storing because storage capacity can vary greatly from stroller to stroller.
Lightweight strollers vary greatly by extra bells and whistles.
Extra Frills
Cup Holder
Parent Tray
Child Tray
Carrying strap/case
Adjustable handles
---
Our Picks: Top 10 Lightweight Strollers
1

Kolcraft Cloud Plus: Best for Grandparents – $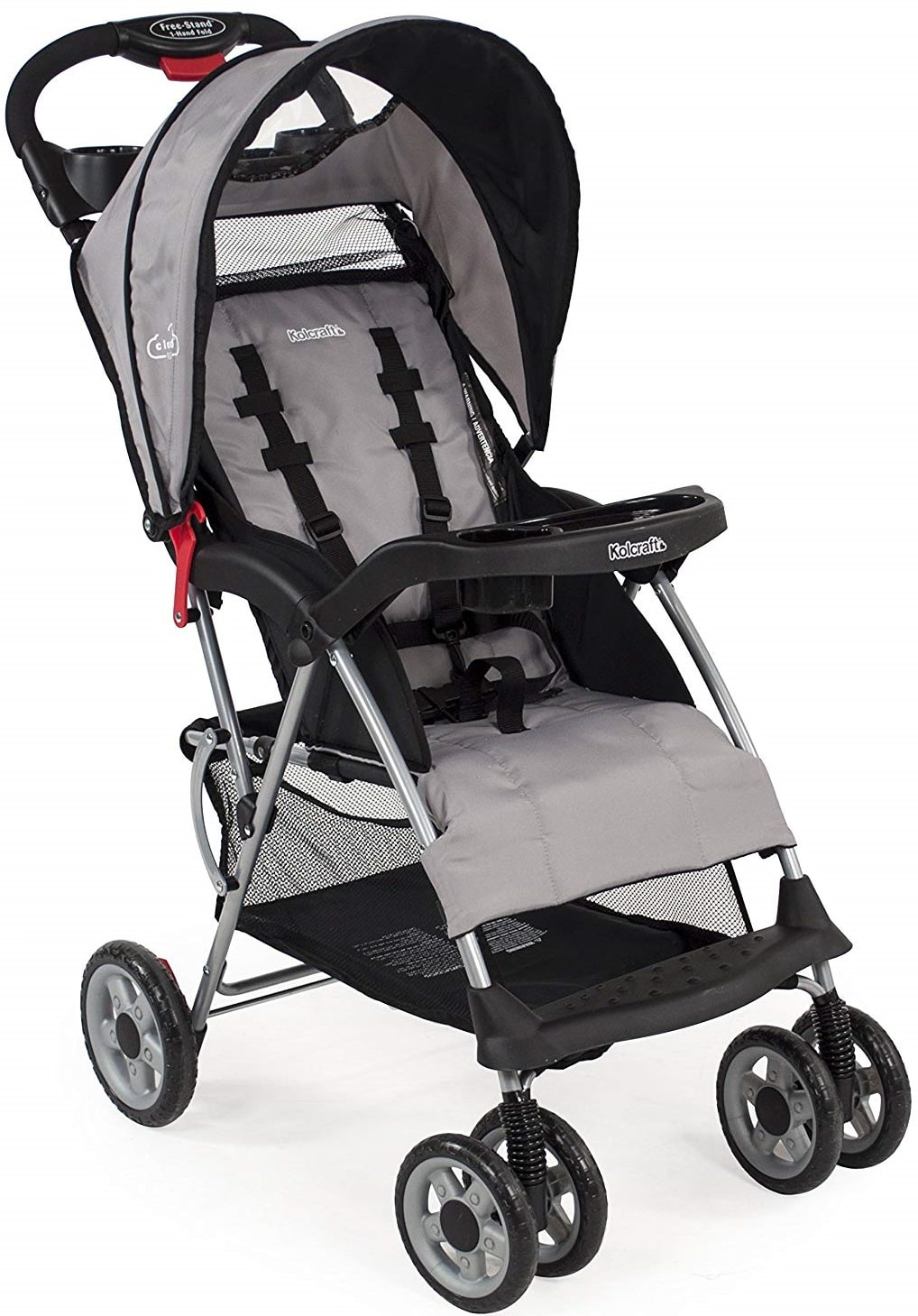 Do you have a limited budget, but still want all of the best extras?
The Kolcraft Cloud Plus is a great middle-of-the-road umbrella stroller with many of the nifty bells and If you are looking for a lightweight stroller that can be used for a younger baby, this stroller is not the one for you.
While the seat does recline, it does not fully recline nor does it sit up 90 degrees. It also does not offer good head support so this umbrella stroller really should only be used for babies over 6 months old. Some reviews also say that the seat depth is small and uncomfortable for larger children.
The Kolcraft Cloud Plus is also extremely safe as it has a locking latch for when the stroller is stowed, brake locks, and a five point harness. It is also able to be used until your child is 50 pounds so it is safe to say that this stroller will be able to be used through your child's toddler years.
Check Pricing and Availability
PROS:
Large storage area
Comes with a parent and child tray
One hand fold
Inexpensive
Large canopy with a peekaboo window
CONS:
Cup holder is too small for most cups
Small seat depth
Seat does not fully recline for when child is sleeping
Seat does not sit up 90 degrees
2

Summer Infant 3D Lite: Best Value for Infants – $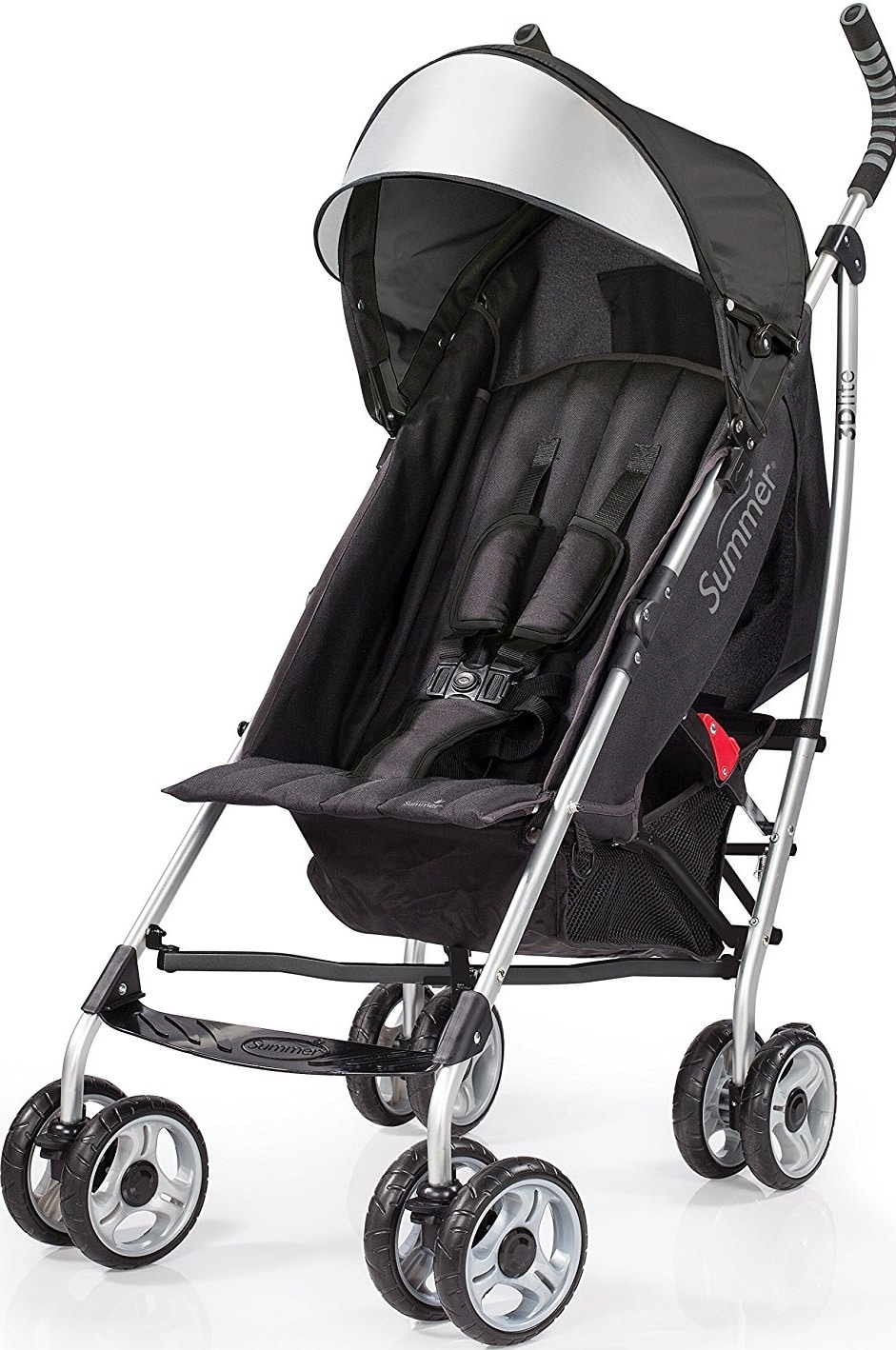 Do you want the most bang for your buck and want to start using a lightweight stroller as soon as your baby comes home from the hospital?
Then this is the stroller for you. The Summer Infant 3D Lite is very similar to the Kolcraft in price and function, but with one main difference. This stroller can be used from birth to 50 pounds as it has a four position recline, one being that it can fully recline for newborns or when your infant is sleeping. It is also known for having a larger seat that will fit a child of any age. It is still technically considered lightweight, although it is a little heavier than others on this list at 15 pounds.
This stroller has all that you need in terms of safety. It has both front and rear brake locks, a five point harness, and straps that are adjustable to three different heights in order to best fit your child at all ages.
While the manufacturer says that the storage area underneath can hold up to 10 pounds, it is considerably smaller than other lightweight strollers so if you have a lot you need to hold you may need to consider another stroller on this list. The canopy is also much smaller as well, providing your baby with less sun protection.
Check Pricing and Availability
PROS:
Inexpensive
Comes in many colors
10 lb storage area underneath
4 position recline–one fully reclining for when you baby is sleeping
Large Seat
CONS:
Small canopy
Some reviews say the fabric covering the seat is flimsy
3

Cosco Umbrella Stroller: Best Value – $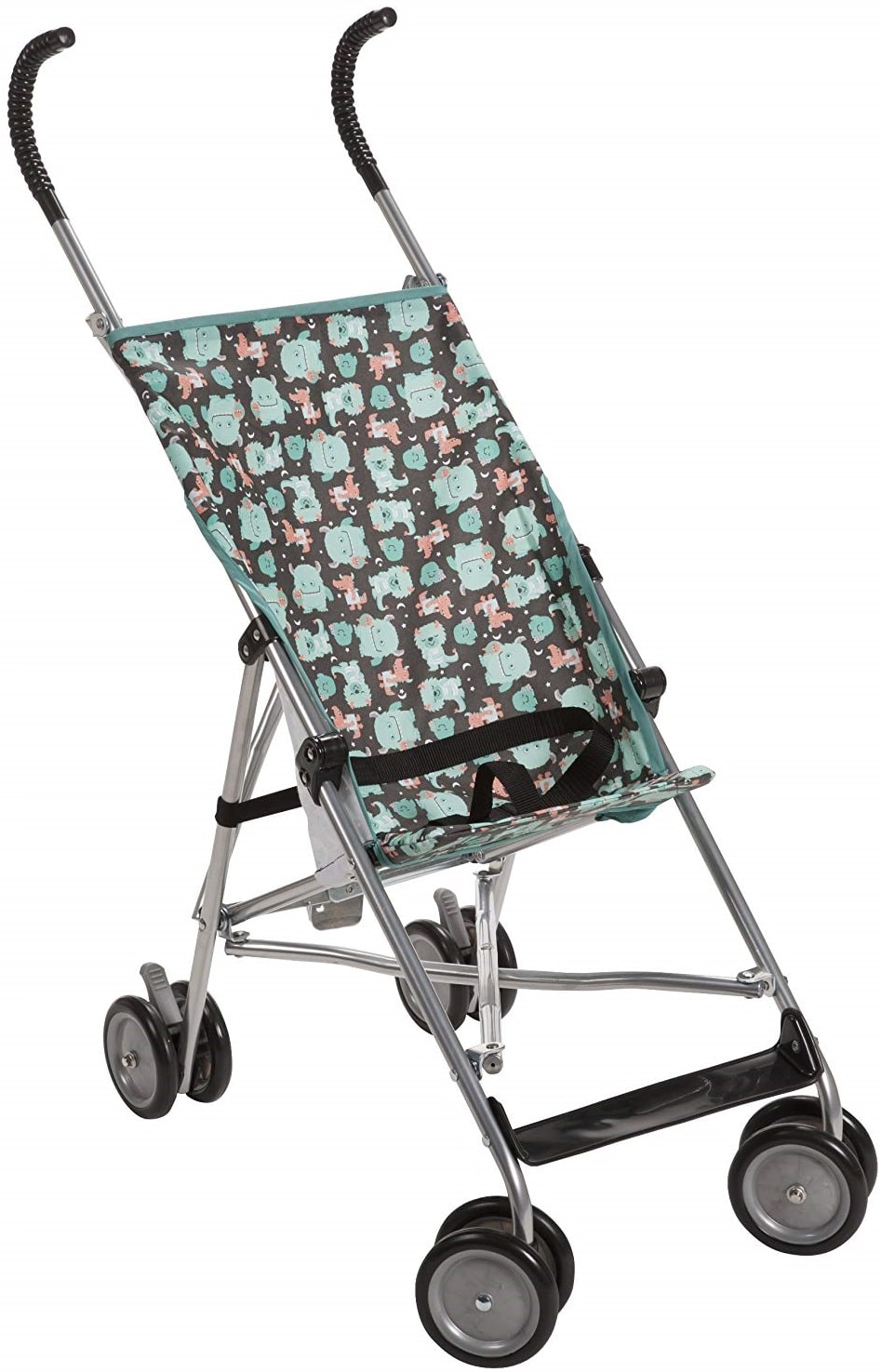 If you have a very limited budget and don't care if you can't use your umbrella stroller for multiple kids, look no further.
Don't let the price tag fool you, this is one of the best umbrella strollers if all you want is the bare minimum. The Cosco Umbrella Stroller is one of the lightest on the market at just under 7 pounds and it is known for being very easy to open and close.
I would not buy this umbrella stroller if you are looking for more functionality than just transporting your child though because it has non of the nifty bells and whistles that other strollers have. There is no storage area underneath, no canopy, and nothing on the stroller is adjustable. For the last reason alone, if you are tall this is not the stroller for you because you will end up finding yourself hunched over trying to push your little one from place to place.
You get what you pay for with the Cosco Umbrella Stroller. It is perfect for a short trip or a quick errand, but if you want a stroller that will last you a long time and that can handle different kinds of terrain (i.e. gravel, grass, etc) this stroller is not the one for you. It also only has a 3 point harness and for this reason it should not be used for babies under the age of 1 as it offers no head or back support.
Check Pricing and Availability
PROS:
Easy to open and close
Comes in cute patterns
Very lightweight
Inexpensive
CONS:
Uncomfortable for tall people
No extra frills
Not practical for babies under 1 years old
Not practical for anything other than sidewalks
4

Baby Jogger City Tour: Best Overall – $$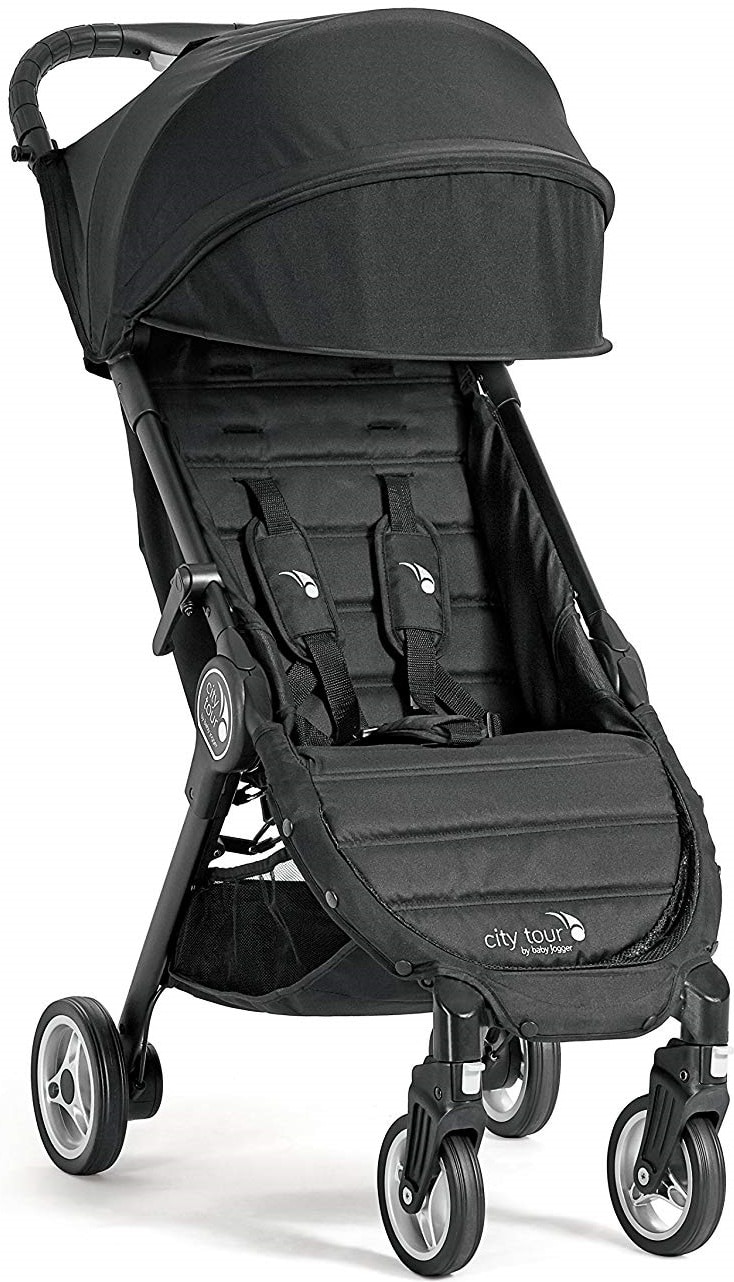 Are you trying to avoid dealing with the hassle and cost of buying multiple strollers?
If so, the Baby Jogger City Tour is hands-down the best option for you. City Select arguably makes one of the best, if not the best, full-sized jogging stroller and they also hit it out of the park with their City Tour lightweight stroller.
Not only does it collapse small enough to fit into overhead bins when traveling, it also comes with a storage bag as well. The only thing that would make it better was if there was a carrying strap, but it has so many advantages that we are able to overlook that minor detail. It is lightweight at only 14 pounds so it is still easy to carry when travelling and it can be used up until your child is 45 pounds.
The City Tour stroller, as any stroller made by City Select, is known for being easy to fold with one hand. There is a strap on the seat of the stroller that you can simply pull up on and the stroller folds instantly. This feature alone is what sold me on this stroller when I was purchasing one for our daughter.
It also comes in many colors and reclines, although it does not fully recline which can be a pain whenever your child is sleeping. Rather than being able to lay flat to sleep comfortably, sometimes your child can slump to the side a little although my daughter has never complained.
The only real downside to this stroller is that it can be difficult to unfold with one hand as the locking mechanism on the side has to be unlatched first before you fully open the stroller.
Check Pricing and Availability
PROS:
Collapses to be very small
Folds very easily with one hand
Fits in overhead compartments
Comes in many colors
Reclines
Comes with a storage bag
CONS:
Needs two hands to unfold
Doesn't recline fully
5

Pockit Lightweight Stroller: Light as a Feather – $$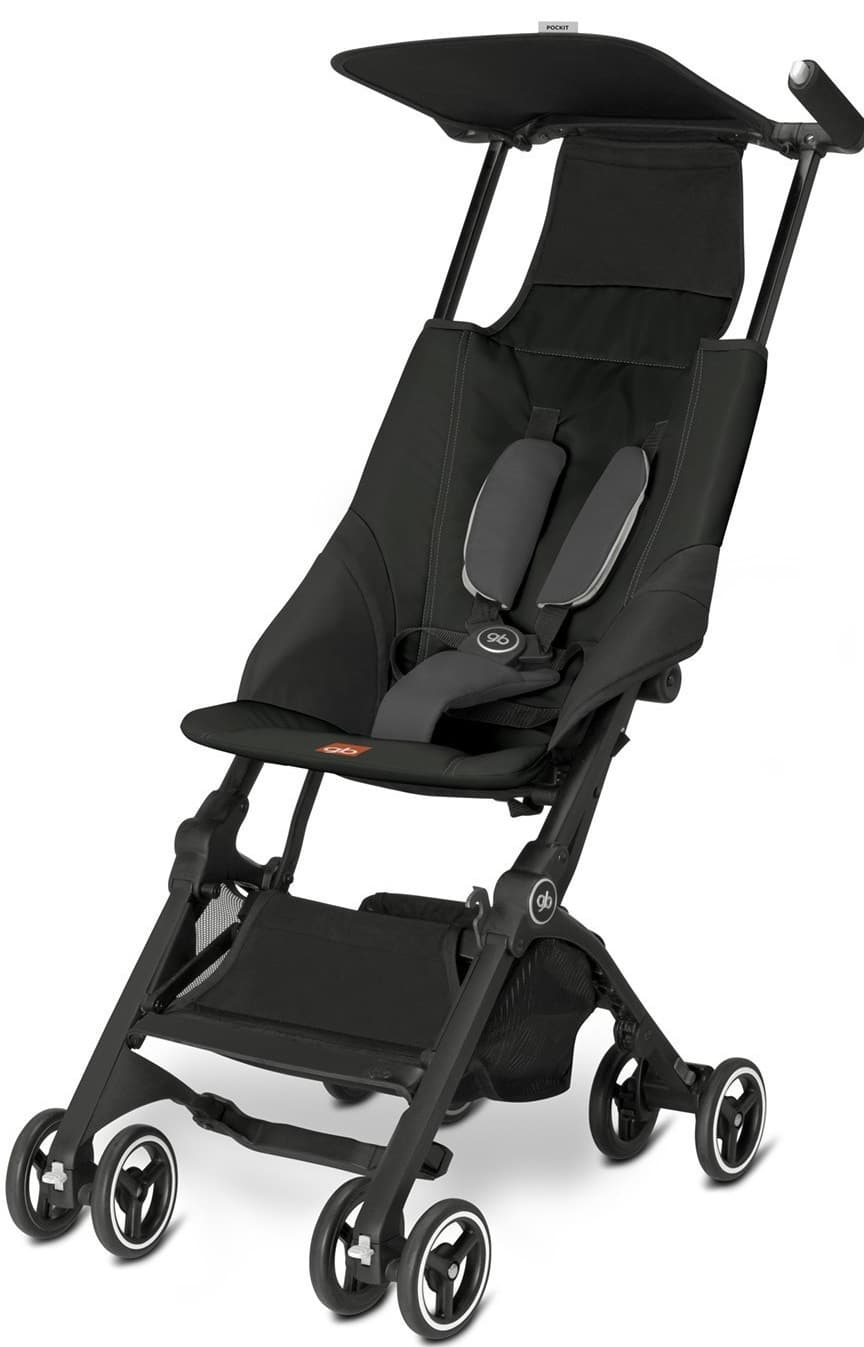 Do you need a stroller that will take up as least space as possible and weigh less than your newborn?
Here you go. The Pockit Lightweight Stroller's claim to fame is that it is the World's Smallest Folding Stroller and it is extremely lightweight at only 9.5 pounds, but do not let that fool you!
It is extremely durable with a maximum weight of 55 pounds. It is also known for being extremely easy to maneuver due to the swivel wheels. The storage area also is able to hold up to 11 pounds, but it is rather small.
Despite being extremely small and great for travel, the sunshade is almost completely ineffective. The seat also does not recline so this stroller is really only safe for children ages 6 months and older.
Check Pricing and Availability
PROS:
World's smallest folding stroller
Very lightweight (9.5 lbs)
Swivel wheels for easy maneuverability
CONS:
Sunshade ineffective
Doesn't recline
Small storage
Narrow seat
6

Joovy Caboose Stand on Tandem StrollercBest for Toddler and Infant – $$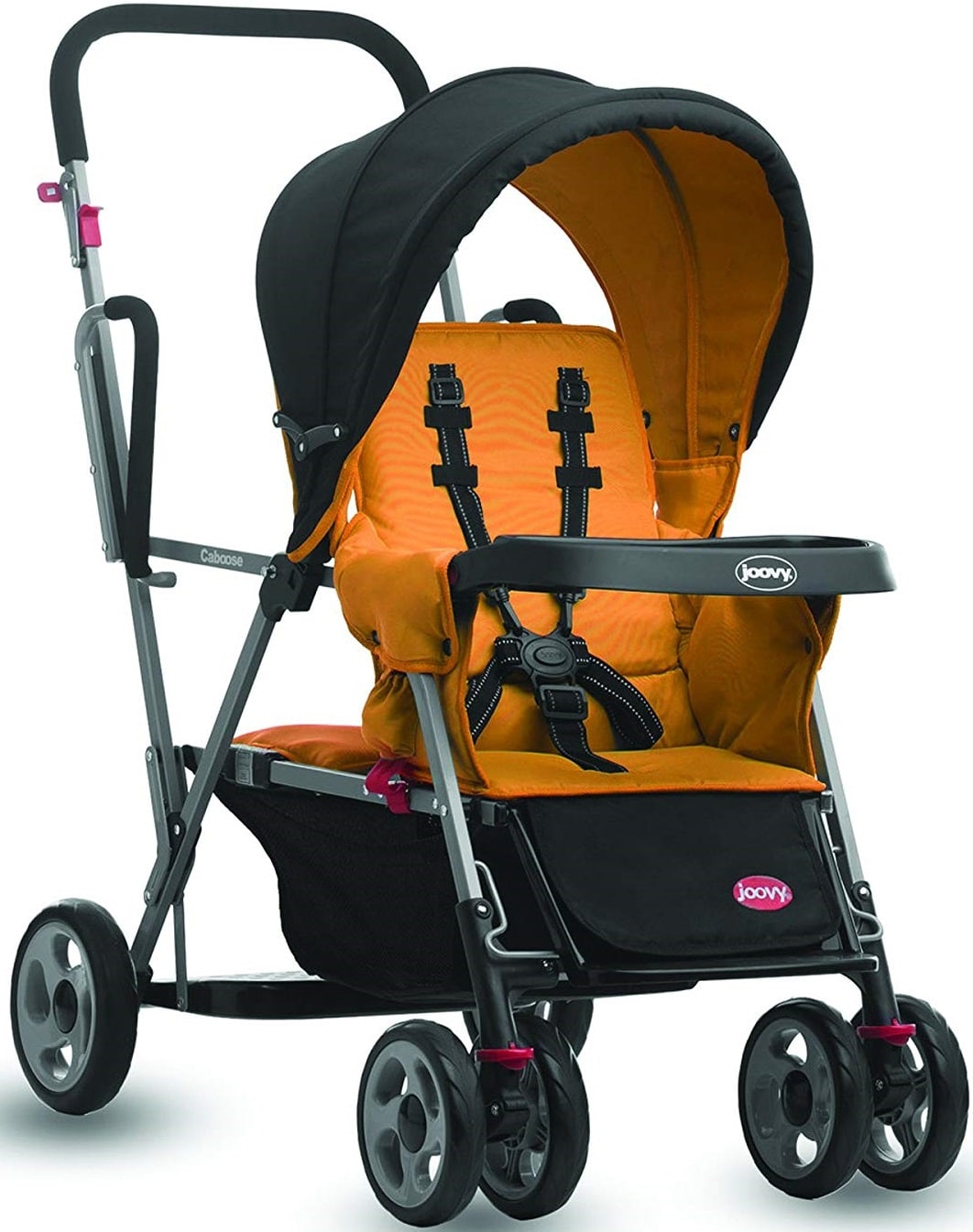 Do you have a two under two and need a stroller that will do it all?
Your little ones will love the Joovy Caboose Stand on Tandem Stroller and will not cost you an arm and a leg. The reason why this stroller is on our list and not the Joovy Ultralight is because this stroller is quite a bit less and weighs only 2 pounds more.
The Joovy Caboose is perfect for a family with a toddler who does not want to be contained and a new baby. The best part? You can begin using this stroller right away because it includes a universal car seat adapter that fits 28 different car seat brands! Your older child also has the option of sitting in the second seat strapped in with a three point harness or standing if they want to see all that there is to explore.
Even though this stroller is on the heavier side at around 28 pounds, it folds like a breeze with an easy trigger fold that only takes one hand. It also comes with a child tray for when your infant is older.
The downside? The seat material is not very cushioned so you may not want to use this stroller for hours on end. It is a bit cumbersome needing two hands to both maneuver and fold which could be difficult when you have two children and you are on an errand by yourself.
The undercarriage is also quite small and only will hold up to 5 pounds so I would not buy this stroller if I was unable to also carry my own purse or diaper bag. Lastly, some reviews state that the canopy gets in the way more than it helps so I would test this stroller out before purchasing it if that is a component that is important to you.
Check Pricing and Availability
PROS:
Comes with a universal car seat adapter
Easy trigger fold
Compact and lighter than full-sized strollers
Comes with a child tray
CONS:
Doesn't stand up when collapsed
Seat material is not very cushioned
Undercarriage storage is very small and only holds 5 pounds
Need two hands to maneuver and to fold
Some reviews state that the canopy is useless and gets in the way when folding the stroller
7

Babyzen YoYo+: Best Splurge – $$$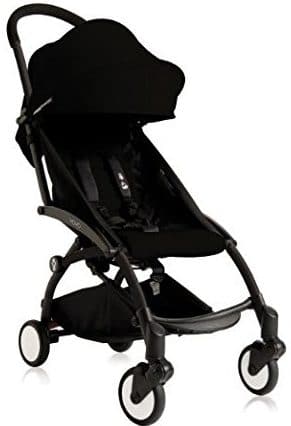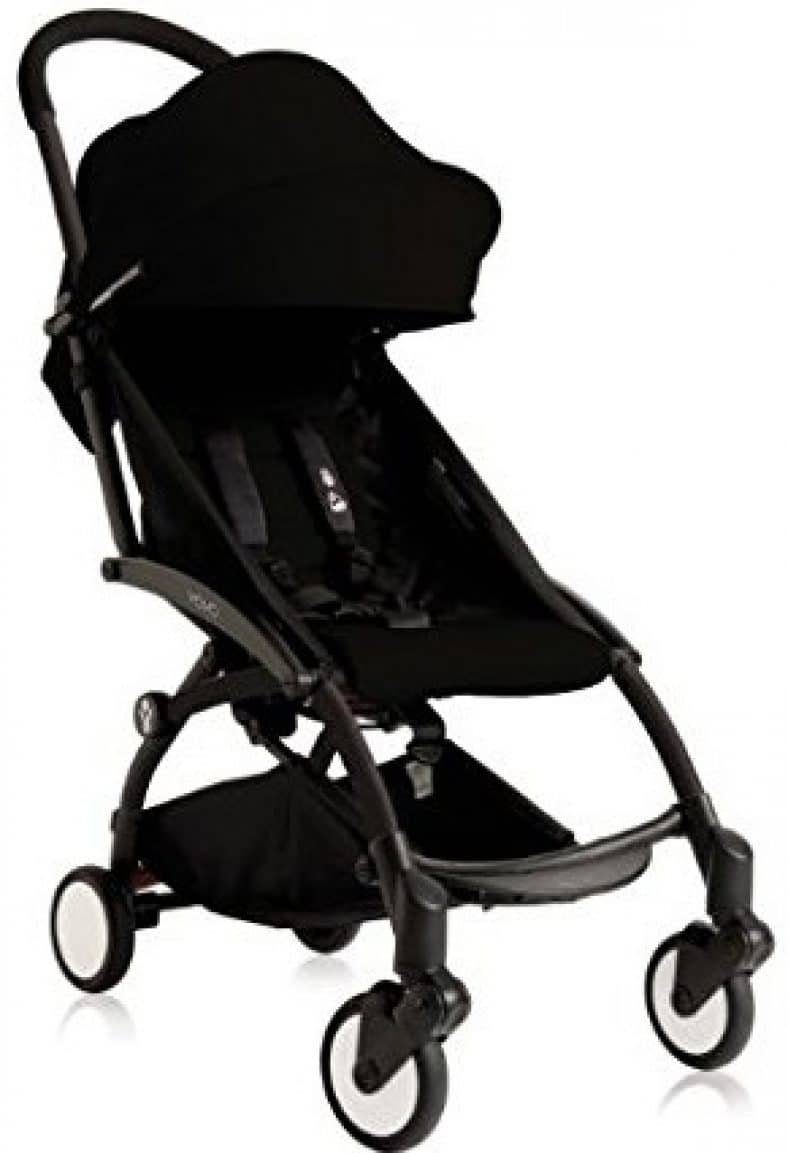 Do you want a stroller that is stylish, durable, and don't care how much it costs?
For the people that don't mind the high price tag, the Babyzen YoYo+ baby stroller has both style and functionality. It is extremely compact and will easily fit any overhead bin and we promise you will have more than enough room in your trunk for both this and your groceries. It is extremely stylish with a streamlined design and new suspension making the ride more comfortable and stable for your little one.
It has an extendable canopy, padded seating, and a carry strap to make traveling with your stroller much easier. But at 13 pounds you won't find it to be a heavy load.
The most important advantage that this lightweight stroller has is that the build quality is excellent and it will definitely last you through multiple kids. Not only that, but many car seats are able to fit this stroller with the purchase of an adapter, turning this stroller into an infant traveling system. So even though the maximum weight for the Babyzen is 40 pounds, you could begin using it the moment you bring your baby home from the hospital.
Some reviews do state that the stroller can be difficult to use with one hand and that the storage bin is a little small, but it also includes a small storage pouch at the back of the extendable canopy.
Check Pricing and Availability
PROS:
Chic
Very durable–can use with multiple kids
Folds to be very compact–can fit in overhead bins
CONS:
Expensive
Hard to use with one hand
Small storage bin
8

Maclaren Twin Triumph: Best for Toddlers – $$$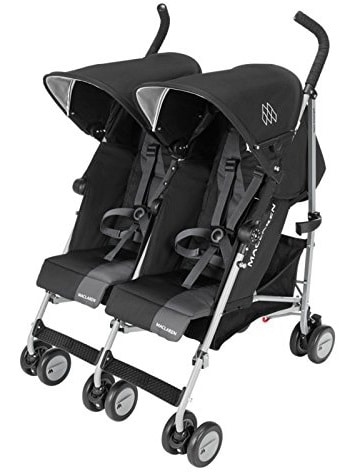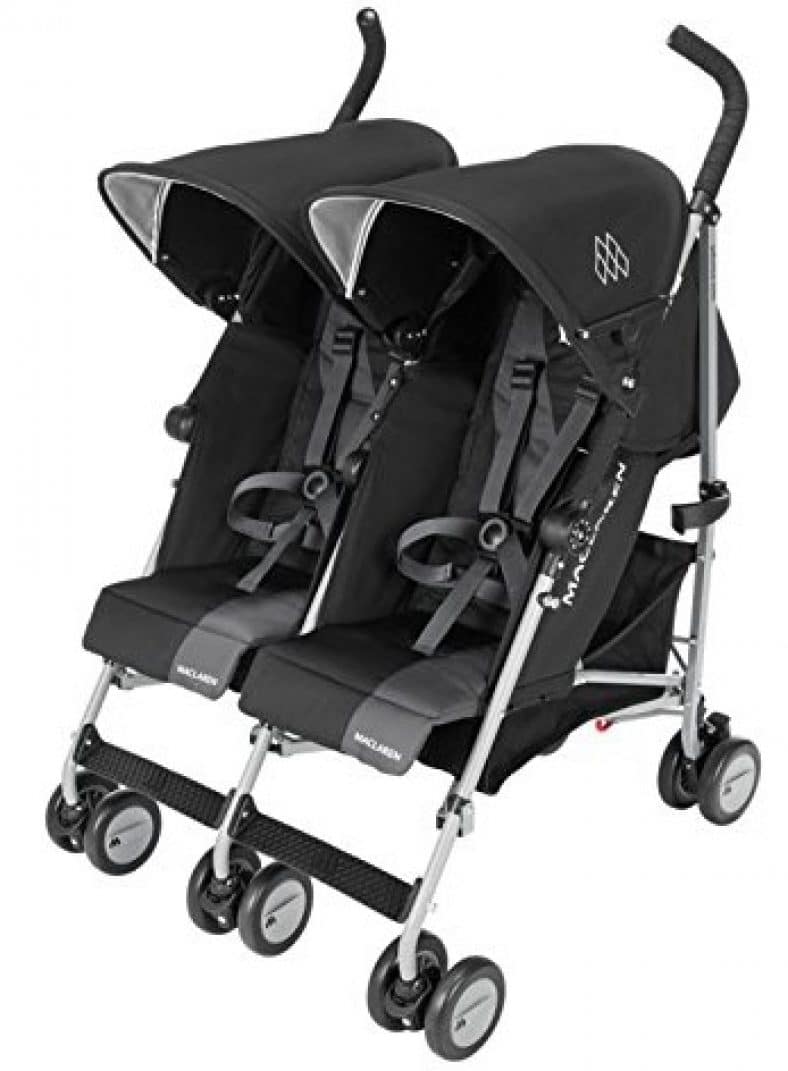 Are you looking for the best double stroller on the market?
The Maclaren Twin Triumph comes with a hefty price tag, but nearly every single review we read said that it was more than worth the price. If you had two toddlers, this is the stroller for you. The best thing this baby stroller provides is convenience and safety. With an extendable canopy that has a UPF of 50+, you will never have to worry about protecting your children from the sun. They also work independently from one another as well, so if one of your children wants a little sun they can have it!
The Maclaren comes with a rain cover as well even though the canopies are already both waterproof and windproof.
Although some reviews state that the seats can be a little narrow, they provide cushion for both the back and legs of your children. There are also two large storage areas behind each seat that will fit your diaper bag and more.
One big downside to the Maclaren is that due to the folding mechanism being at the bottom of the stroller, you have to have close-toed shoes on in order to get it to fold. That may not be a problem for some, but if you love your sandals or hate having to bend over to activate the folding part with your hand, then this stroller may not be the best choice for you.
Check Pricing and Availability
PROS:
Extendable canopy has a UPF of 50+ and is water and windproof
Leg support cushion for older children
Includes a raincover
Independent canopies
Storage bins are very large
CONS:
Expensive purchase if you do not like it
Narrow seats
Have to have on close-toed shoes to fold the stroller
Some reviews state that buckling system can be cumbersome
9

Mountain Buggy Nano: Best for Travel – $$$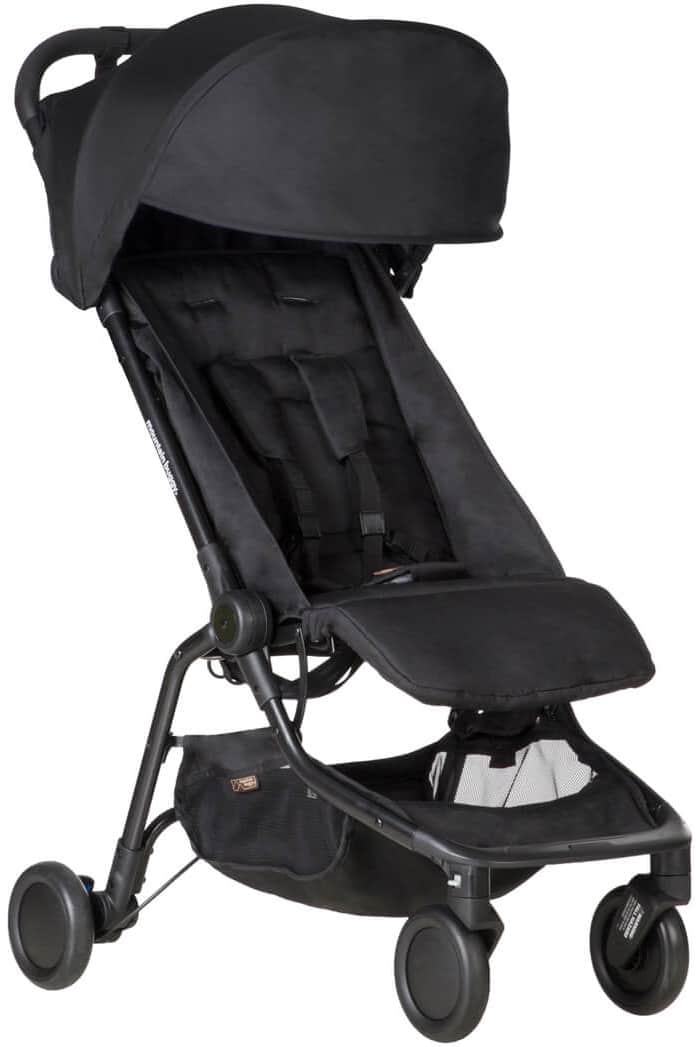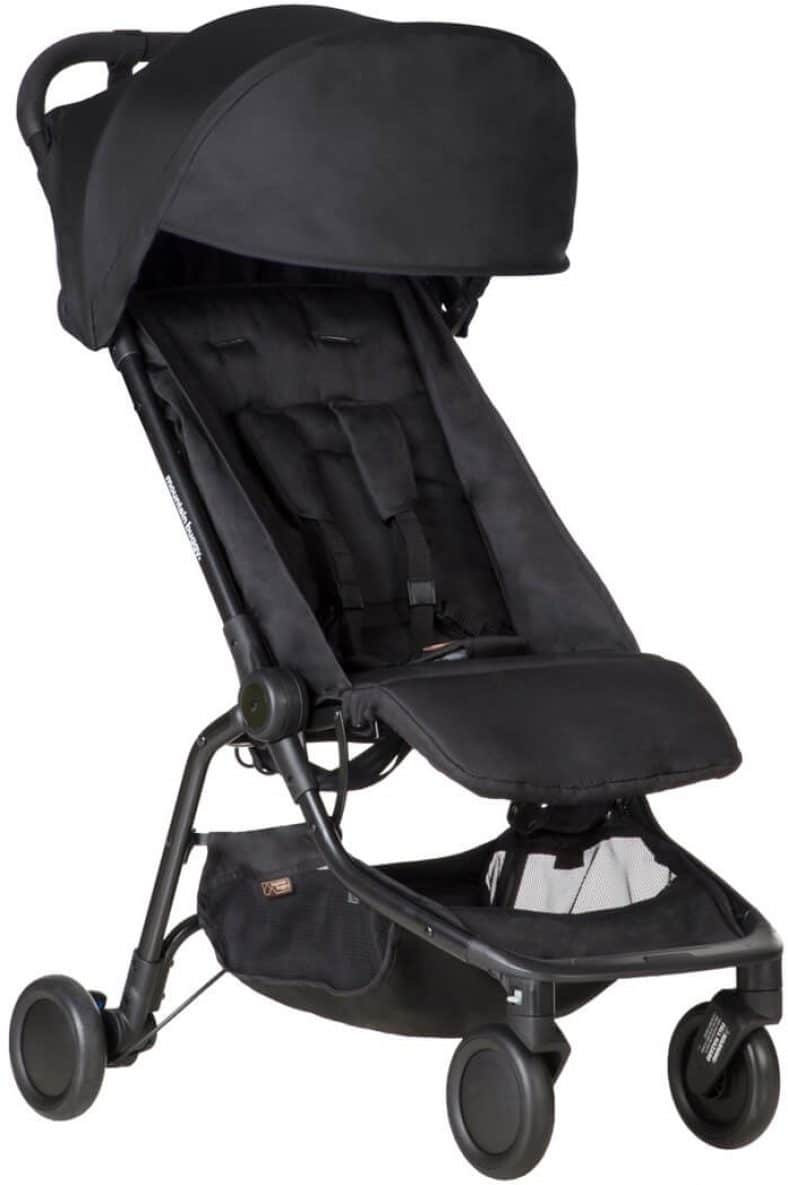 Are you tired of dealing with the hassle of a full-sized stroller each and every time you go on a trip?
The Mountain Buggy Nano may be costly, but it is hands down the best for those who travel frequently. Even though it isn't as light as the Pockit Lightweight Stroller at 13 pounds, it does fold up just as small and comes with a travel satchel making it easy to transport.
Despite the cost being high, you will get the most bang for your buck because most car seat brands are able to fit this stroller which lets you start using the stroller right when you get home from the hospital!
The only two downsides we see about this stroller is that for the price we think that the canopy should have a peekaboo window to be able to check on your baby while you are walking. Also, some reviews state that the canopy can rub your hands when it isn't being used and there is no cup holder.
Check Pricing and Availability
PROS:
Comes with a travel satchel
Universal car seat capability for most car seat brands
Folds extremely small
Can fit in all overhead bins
Chic
CONS:
Expensive
No peekaboo window in canopy
Canopy can rub your hands when retracted
No cup holder
10

Graco LiteRider Click Connect: Best for Infants -$$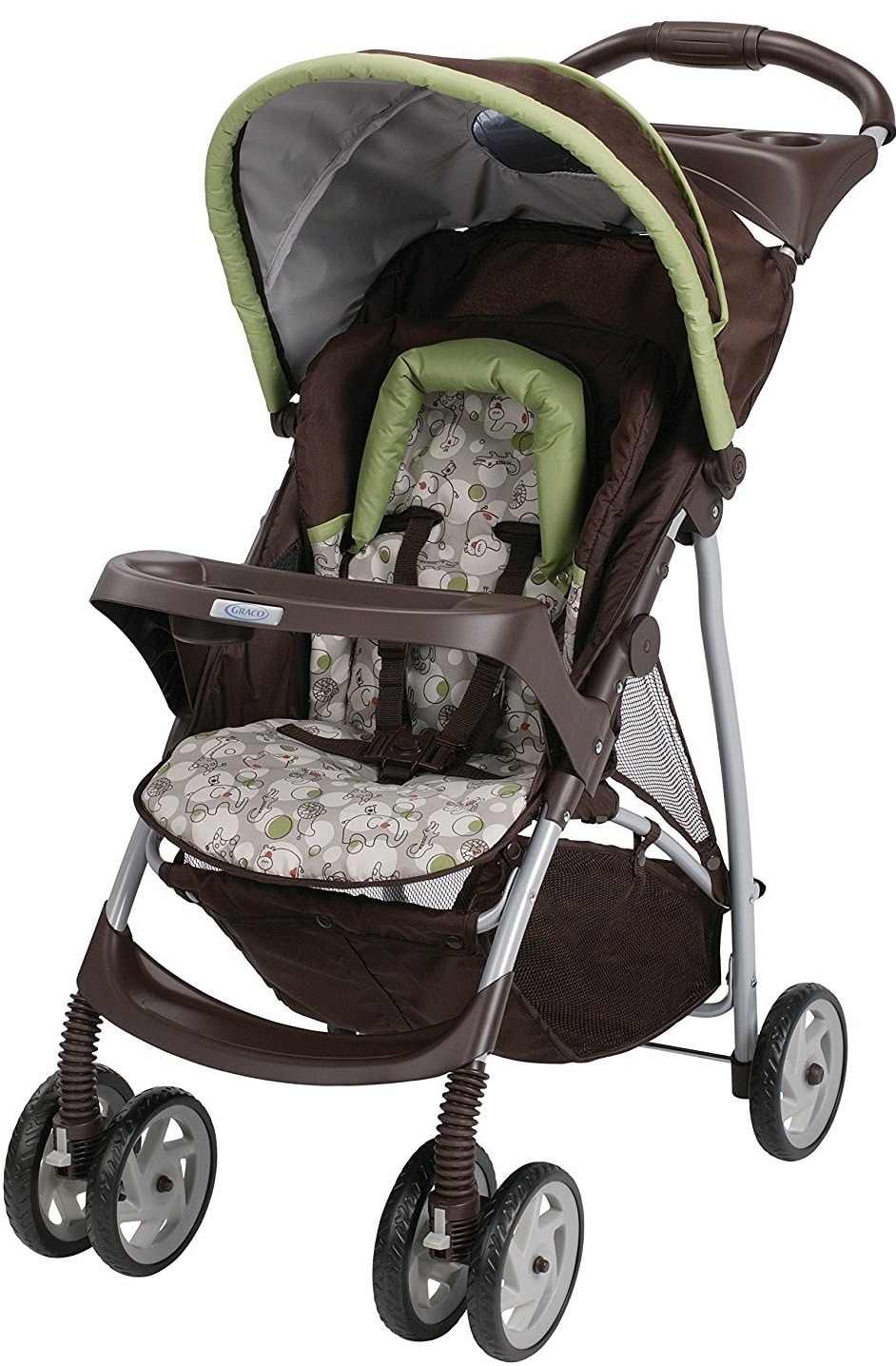 Do you want the ease of being able to click your car seat directly into your stroller and be ready to go?
If you are looking for an affordable stroller that will also fit your Graco car seat, look no further. The Graco LiteRider Click Connect baby stroller is more like a full-sized stroller without the extra weight. At just under 17 pounds, this stroller is still very mobile and has a lot of the extra frills without the extra cost. While you won't be able to use this stroller quite as long as the rest of those on the list maxing out at 40 pounds, you will be able to start using it much sooner.
Not only are you able to use this stroller while your baby is still an infant by clicking in your Graco car seat, but if you did not have the Graco car seat you could still use this stroller for your younger baby due to the way the seat reclines and extra padding designed for a baby's head and back.
There is more than enough storage to fit your diaper bag and anything else you need underneath. The Graco Literider also has a peekaboo window as well as parent and child trays. Although some reviews state that they wish the trays locked into place instead of just sliding into place.
Check Pricing and Availability
PROS:
Works with all Graco Click Connect Car Seats
Easy to fold and open with one hand
Padded multi-position reclining seat that can be used for younger infants
Comes with a parent and child tray
Large storage area underneath
CONS:
Heavier than other lightweight strollers
Both the parent and child trays do not lock into place
Som reviews say it is difficult to click the car seat into place
You may love to read more: Best All-Terrain Strollers for Adventurous Parents!
Final Words
Choosing a stroller can be overwhelming, but it doesn't have to be. Start by thinking of where you are going to use your stroller, how, and at what age. If you begin by narrowing down those three options, choosing the right stroller for you should be a breeze!