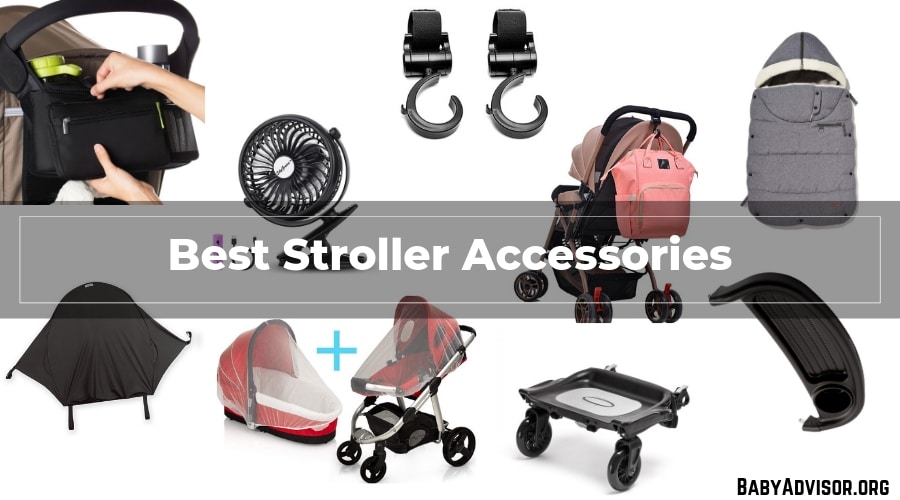 Do you feel like your stroller is missing something? It might be, but if you grab some of the best stroller accessories, you can make your stroller the perfect one for you.
Are you getting ready to take your baby out for a stroll today? Stroller accessories do more than just make your stroller look great. The add-ons can make your little one more comfortable and more organized for you.
Now, stroller accessories aren't a necessity, but chances are, you use your stroller a lot. If your budget doesn't allow for some accessories, it's not worth stressing over, but a few essential accessories can change a lot for a parent. Accessories help to eliminate hassles and make the adventures that you take your baby on a lot more exciting.
---
The 9 Best Stroller Accessories
1

J is for Jeep Deluxe Stroller Weather Shield
No one likes being out in the rain, especially your baby. Jeep created this weather shield that offers full child protection. Your baby has protection from unfavorable weather conditions like rain, snow, wind, and cold weather. It's a universal size that fits most strollers.
Best of all, this weather shield is very easy to use. It installs in seconds. All you have to do is unfold the cover, place it over the stroller, and that's it. Done!
For ventilation, Jeep adds netting to this rain cover with air holes on both sides to make sure your baby has air flow. You'll also find storage pockets. Compared to other weather shields for the stroller, the J is for Jeep Weather Shield is affordable, universal, and a great size.
Check Pricing and Availability
---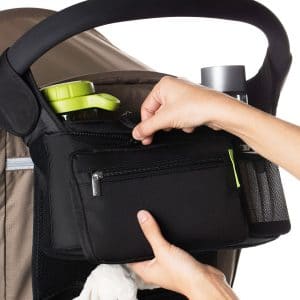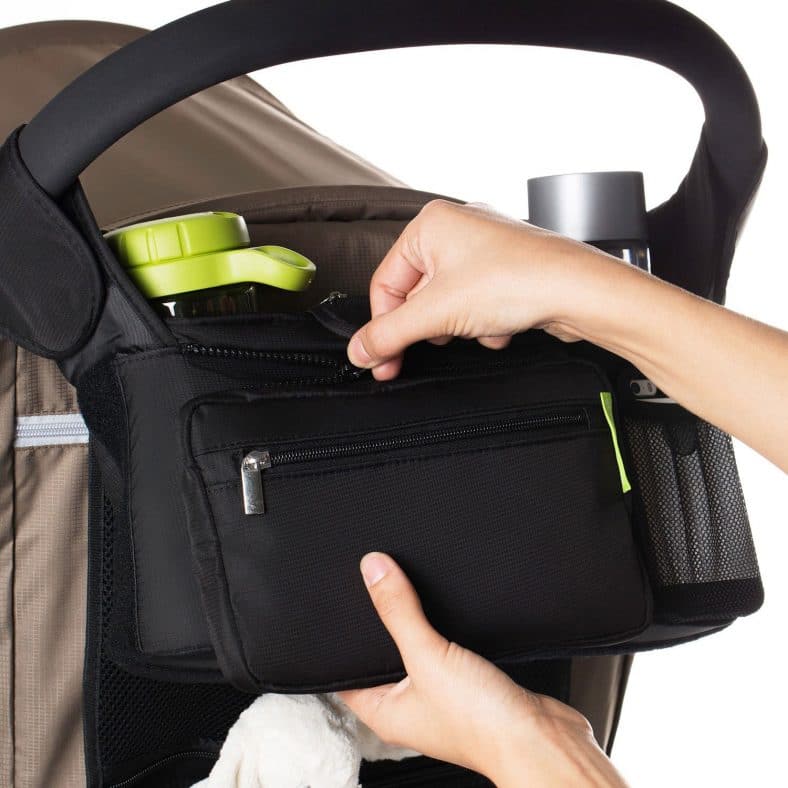 I'll never understand why some strollers come without a place for parents to put their items, but it happens too often. Unlike other stroller organizers, this one is universal so that you can use with multiple brands of strollers. I've noticed that brand-specific stroller organizers are often lacking or less-quality than the generic, universal organizers despite the higher price. We know that this organizer works well with Britax, Baby Jogger, Uppababy, Graco, and BOB.
This Stroller Organizer does it all. It gives you easy access for the items you need quickly like your car keys or cell phone. It has deep cup holders and extra-large storage space for your wallet or even a tablet for your older child. The organizer can fit a few diapers, wipes, or your baby's favorite toy.
To be honest, this stroller organizer by Ethan & Emma impressed me. I didn't expect it to be SO large, but it is. It can't replace a diaper bag, especially for those early months when you have to take the entire nursery with you. Instead, it lets you reach into the diaper bag less often.
Check Pricing and Availability
---
3

BabyBubz Stroller Hook – 2 Pack
Shopping is a hobby at times, and those stroller baskets can only fit so much in them. Having a pack of stroller hooks lets you hang more bags from your stroller. Each of these hooks can carry around six pounds each. You do have to be careful that you don't tip over the stroller by placing something TOO heavy on the handles.
A sturdy stroller can carry at least a few grocery bags on the handles. So, the next time you go grocery shopping or clothes shopping put these hooks on the handles, and you don't have to worry or carry bags on your arms!
Check Pricing and Availability
---
Are you headed out on a hot summer day? Strollers provide shade and some air circulation, but your baby will still end up sweaty and uncomfortable. The SkyGenius Fan gives your baby a dose of fresh air when it's needed most.
Using the SkyGenius Fan keeps your child calm and comfortable while you're outside. It runs on replaceable and rechargeable batteries. You can also connect this fan to a USB charger.
Overall, we love the SkyGenius Fan. Clip it to your stroller, and your baby will be relaxed and fresh. It's not loud when running, and despite the size, it produces a lot of wind!
Check Pricing and Availability
---
5

Summer Infant Rayshade Stroller Cover
Some might consider this a rain cover, but I don't. It would protect your child from the rain, but it doesn't cover the front of their body. Instead, the Summer Infant Rayshade Stroller Cover can be used as a stroller canopy extender. Some stroller canopies are ridiculously small.
I rank the size of the canopy as an essential feature for a stroller, but not the end all be all one. So, if you find a stroller that you love but the canopy is just a bit too small for your liking, you can add this stroller cover, and your baby will be protected.
Check Pricing and Availability
---
If you live in an area that has a lot of insects, taking your baby out can be frustrating. Most bug sprays aren't infant safe, and you wouldn't want to spray all of those chemicals on your baby anyway. Natural bug sprays usually aren't infant safe, so the other option is to put a mosquito net over your stroller.
The Tohar Baby is compatible with carriers, strollers, cradles, cribs, car seats, and strollers. The netting is stretchy, durable, washable, and just what you need to keep your baby safe from insects. Because of the design, this mosquito netting is very breathable, allowing for maximum airflow and a bit of shade. It measures 11″ x 6″ x 1″.
Check Pricing and Availability
---
7

Baby Jogger Glider Board
You might have to look to see if your stroller brand sells a glider board. This one is compatible with the Baby Jogger City SEries and the single and double models of Summit. However, many brands sell glider boards!
A glider board is a sturdy board that you attach to the back of a stroller to get a place for an older child to catch a ride. It's a great stroller accessory for tired toddler legs after a long time. The surface should have a non-slip surface for safety purposes. Ideally, the glider board should fold together with the stroller to make sure it stows well in the trunk of your car.
Check Pricing and Availability
---
8

Baby Jogger Single Child Tray
This is another stroller accessory that you might need to look for another brand to fit your stroller better. Baby Jogger offers a child tray that is compatible with their City Mini, City Mini GT, and Summer X3 single strollers.
I never understand why some strollers don't include child trays – it seems like a no-brainer to me that they should be included. If not, most brands sell optional child trays that mount onto the stroller.
Baby Jogger offers a single child tray that gives your child easy access to snacks and drinks. It's easy to clean and install. You can remove the tray with a push of the button.
Check Pricing and Availability
---
9

Skip Hop Stroll & Go Three-Season Baby Stroller Footmuff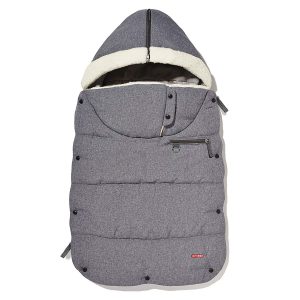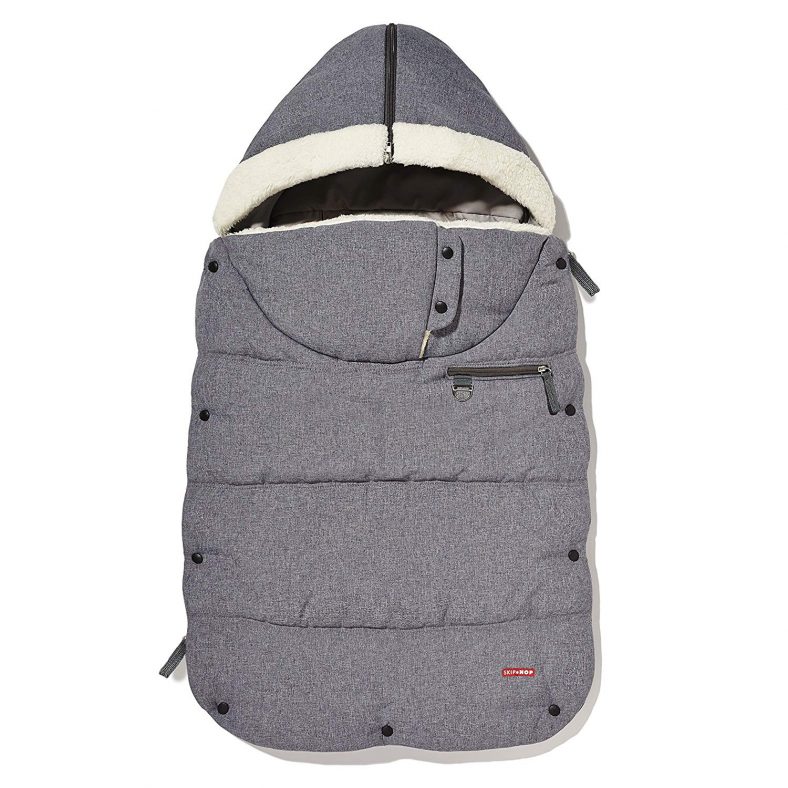 Do you live somewhere that the winter is intense and bitter cold? If so, you might want to consider getting a stroller bunting. Bunting is a cold-weather solution that is sort of like a sleeping bag for babies that keep them warm from head-to-toe, even when it's snowing and cold outside.
Babies love to kick off blankets, even when they're tucked in around them. If you want to get outside, even when it is cold, stroller bunting is the perfect solution. Skip Hop made this ideal for three seasons. It has a snap-on extra winter layer for more warmth. It's windproof and has a water-resistant outer shell. The inside features a fleece-lined adjustable collar and a zip-open hood plus a zippered pocket with a toy ring.
Skip Hop thought of everything! The bottom unzips for dirty shoes. It stays put with a non-slip backing, and you can use it for most strollers. The entire bunting is machine washable.
Check Pricing and Availability
---
You may also interested:
---
Find What Works for You
Not everyone will need bunting; you might live in a warm climate. Some won't need a mosquito net if they live someplace that doesn't have too many insects – let me know where you live so that I can move there!
Buying stroller accessories is a fun way to make your stroller perfect for you and your baby. You can fix most issues with the right accessories, so using the stroller is enjoyable for everyone.