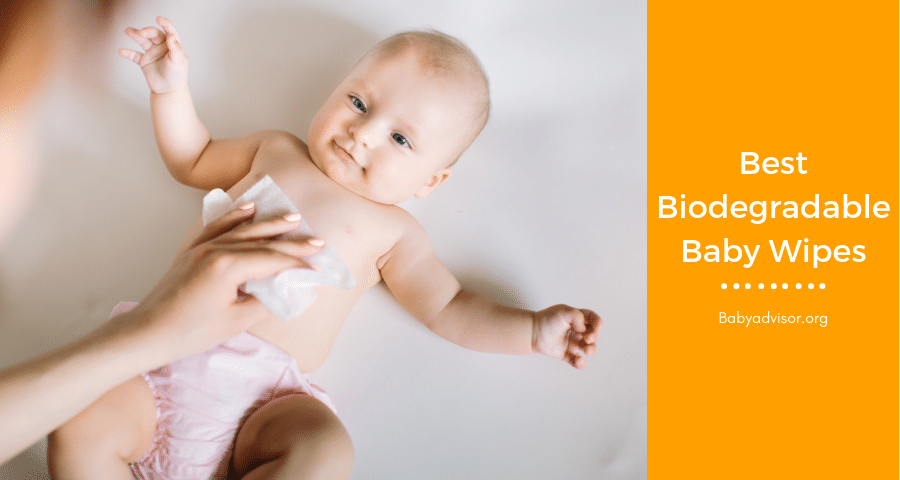 Baby wipes are an actual necessity for any parent. Whether you're cleaning your child's bottom or a kid-related mess, you need them. However, baby wipes aren't very environmentally friendly because they're made of plastic, taking hundreds of years to decompose. Instead, eco-friendly parents want to look for the best biodegradable baby wipes.
Biodegradable baby wipes break down in just a few weeks because they're made of cotton, bamboo, or wood pulp. Wood pulp and bamboo tend to break down a bit faster, and cotton wipes have a cloth-like softness for your baby.  As a bonus, most biodegradable wipes use natural ingredients that are great for sensitive skin.
---
Our Picks for the Best Biodegradable Baby Wipes
---
Biodegradable Baby Wipes vs. Traditional Baby Wipes
Are you wondering about the differences between traditional and biodegradable baby wipes? You might not notice the differences, but the environment does.
If you're using cloth diapers or biodegradable disposable diapers, the planet appreciates you also using biodegradable baby wipes. Traditional baby wipes are mostly made of polyester or polypropylene fibers, so that means the wipes are made of wipes. Plus, just like any other plastic, synthetic wipes take a long time to break down.
Just like disposable diapers, conventional baby wipes take hundreds of years to break down.
Sewers clog up from baby wipes being flushed down the toilet. Marine life eats the wipes, and wipes fill up landfills over the years.
Biodegradable wipes, unlike traditional baby wipes, are made of natural materials, such as wood pulp, bamboo, or cotton, and they break down in weeks. So, you still have the convenience of baby wipes in an eco-friendly package.
---
Materials for Biodegradable Baby Wipes
When it comes to the biodegradability of baby wipes, it will depend on the materials used to create the baby wipes. If the wipes are made from synthetic materials, such as plastic, they won't biodegrade, but if they're made from natural, organic materials, they'll biodegrade.
Of course, even biodegradable materials vary on how long it takes to decompose in the compost bin or landfill. Modern landfills are sealed to keep oxygen out, which can make an impact on the speed of the decomposition.
Some of the most common baby wipe cloth materials are:
Cotton is an excellent choice for baby wipes because cotton is a plant, so it's going to break down completely over time. Cotton decomposes faster in an oxygen-rich environment.
Baby wipes made from bamboo biodegrade the fastest out of all of the materials, which is why so many brands use bamboo. Some bamboo baby wipes can break down in as little as three weeks.
Wipes made with wood pulp break down quickly, taking as little as 12 weeks. It's a great choice!
Rayon comes from trees, and it's considered a semi-synthetic cellulosic fabric. In the right conditions, rayon can decompose faster than cotton, in about six weeks, but it can take decades to biodegrade in a landfill. So, it might not be an ideal choice.
Almost everyone knows that polyester is a plastic material, so it won't biodegrade over time. It's a common material used in clothing.
Polypropylene is another plastic material, so it won't biodegrade either. Skip this material if you want biodegradable baby wipes.
---
What are the Standards of Biodegradability?
When you're looking at the labels on the baby wipes or other products, you might see a "*" next to the biodegradability feature. Turn it over, and you'll find that the baby wipes meet the requirements for two different industry standards for biodegradability – OECD 311 and ASTM D5338.
What do these standards of biodegradability?
This standard is used to see how organic materials will biodegrade in anaerobic conditions, which means without oxygen. It's important because most water treatment facilities will use anaerobic to digest the sludge that comes through the sewer lines. It's a test that runs for 60 days to see how the material breaks down.
This standard is another test that looks at the aerobic biodegradation, which means with oxygen, of materials when they're mixed with the common bacteria and fungus found in those environments. In easy terms, it's a composting test, and it runs for 90 days to see how well the tested materials will break down.
---
How to Pick the Best Biodegradable Baby Wipes
Not all wipes are created the same, so it's essential to consider how to pick the best biodegradable baby wipes.
Make sure the baby wipes are constructed from sustainable natural resources so that they break down quickly. Look at what the wipes are made from, such as bamboo, and how the materials are sourced.
Forget about flushing down wipes, even if they are labeled flushable. No matter how flushable a wipe claims to be, they plug up the plumbing, or they manage to make it to the ocean.
A thin wipe isn't going to do you any good. Do you want poop smeared on your hands? Probably not. Environmentally friendly wipes need to be just as effective as traditional wipes.
Consider the ingredients; are they clean and safe for your baby's delicate skin? You don't want any ingredients that might cause your skin to be irritated. Gentle ingredients are just as crucial as tough construction.
A rough texture can irritate your child's delicate bottom. Try to find a wipe that's soft and comfortable, so you don't bother your baby while wiping up his bottom.
Biodegradable baby wipes are going to cost more than regular wipes, but you shouldn't have to pay more than you do. Make sure you compare products and the prices.
---
How Many Baby Wipes Will I Need?
In the first year of your baby's life, your baby will go through 2,500 to 3,000 diapers, so you can assume that you might use up to as many as 15,000 baby wipes in a year. Many of those diapers need several wipes to clean up those messes your baby will create.
It might seem like a lot, but it's not excessive. For most wet diapers, you only need one wet wipe per diaper to clean your baby's bottom. That's an easy, straightforward job. When facing poopy diapers, things can be a bit crazy, especially if you have an explosive diaper.
Any parent can tell you horror stories about diaper changes that need ten wipes to change. Some of those poopy diapers make your eyes water. When your baby has watery diarrhea or teething diapers, it can be back to back poopy diapers.
One time, I used an entire package of wipes in one day – seriously.
That's not accounting for the massive poop blowouts that go up to your baby's back and lower legs. These things happen in the world of baby diapers.
So, expect to use thousands and thousands of baby wipes.
---
The Best Biodegradable Baby Wipes
There aren't too many biodegradable baby wipes on the market. The wipes should have easy to understand ingredients and information about their level of biodegradability.
1

Overall Best Biodegradable Baby Wipes
Jackson Reece All-Natural Wipes are award-winning, biodegradable baby wipes that have a soft, luxurious texture. The wipes only made with natural, non-irritating ingredients that are perfect for the most sensitive skin.
These wipes are thick, soft, and moist, made of organic wood pulp, so they're compostable. The construction is free of plastic and fully biodegradable. Parents love that these wipes are hypoallergenic and dermatologist tested, so they're approved for sensitive skin. Jackson Reece added organic aloe vera to hydrate and soothe skin.
Jackson Reece is transparent about ingredients, so you don't have to worry that they'll sneak in chemicals without you knowing it. It contains 99% natural ingredients, and none of the ingredients have been tested on animals. All of the formulas use ingredients that are derived from renewable vegetable or plant extracts.
Jackson Reece offers natural and herbal varieties. The natural wipes are 100% unscented, and the herbal ones use natural, herbal-derived scents. Both are 100% paraben-free and alcohol-free.
Check Pricing and Availability
PROS:
Made of organic wood pulp
Free of harmful chemicals
Dermatologist approved
Thick and sturdy wipes
CONS:
Hard to pull out single wipes
Expensive
---
2

Best Organic Biodegradable Baby Wipes
If you want organic cotton, biodegradable baby wipes, Natracare is a excellent choice. They're fragranced with organic essential oils, so they have a light, refreshing scent. Parents love how thick and soft they are so that they won't irritate your baby but tough enough to get everything off your baby's bottom.
The construction of the Natracare Baby Wipes means that they're 100% biodegradable, thick, and plush, but also free of any nasty chemicals. The formula also contains chamomile, linden, and apricot essential oils.
Natracare received the Soil Association's seal of approval because they're made with 100% certified organic cotton that is infused with natural essential oils and plant extracts. If you're worried about keeping your wipes organic, Natracare is the way to go.
Check Pricing and Availability
PROS:
100% cotton construction
Super soft, cloth-like texture
Enriching and moisturizing
Free of chemicals
Certified organic
CONS:
Expensive
Uses essential oils
---
3

Best for Quick Composting
It's hard not to love the Aleva Naturals Baby Wipes. They're bamboo wipes that break down faster than most of the competitor brands, degrading in as little as 21 days. The solutionis full of nourishing, natural ingredients to help your baby's skin. The bamboo construction is luxuriously soft while also sturdy enough for scrubbing if needed.
Not only will the Aleva Naturals clean your baby's bottom, but they'll also help moisturize the skin. The ingredients include organic aloe vera, chamomile, tea tree oil, and lavender oil. Aleva Naturals never uses any harsh chemicals, such as parabens, chlorine, dyes, or phenoxyethanol. These wipes are certified vegan and cruelty-free; that matters!
That's not all. These wipes have a no-questions-asked customer satisfaction guarantee, so you don't have anything to lose if you give them a try.
Check Pricing and Availability
PROS:
Pleasant natural scent
Bamboo rayon decomposes quickly.
Thick and sturdy
Enriched with organic ingredients
CONS:
A bit thin
The wipes stick together.
Not as moist as could be.
---
Here is a newcomer in the market of biodegradable baby wipes. Joonya Baby is an Australian brand that was created in 2013 by parents who wanted to stop their son's diaper rash with a natural alternative to baby wipes. The ingredient list is impressive, avoiding some of the milder chemicals that other brands like to hold onto, such as sodium benzoate and potassium sorbate.
Joonya Baby plants a tree for each purchase made. They offer great packaging with a reliable, one wipe at a time stack that's virtually fragrance-free. Joonya used a unique silver dihydrogen citrate preservative and antimicrobial that replaces the chemical alternatives.
Parents love the ingredient list for these wipes, including things such as jojoba oil, aloe vera, and chamomile. What you won't find is nasty ingredients, such as chlorine, alcohol, petrochemicals, parabens, or phenols.
Check Pricing and Availability
PROS:
Safe ingredient list
Large wipe size
Plant-based cloth material
Moisturizing
---
5

Best Mostly-Water Baby Wipe
Eco-friendly parents rave about Eco by Naty, which is a Swedish baby brand created in 1994. The founder of Eco by Naty started as a corporate entrepreneur after learning about the environmental impact of disposable diapers. Eco by Naty also creates a biodegradable disposable diaper for parents who focus on living a green lifestyle.
Something we love about Eco by Naty is that they don't shortcut creating a better diaper. They use high-quality, bio-based materials that cost about five times more than their competitors, and they pass the most stringent certification.
Eco by Naty creates durable, fragrance-free wipes that smell fresh. The wipe solution is 98% water with all-natural ingredients, such as chamomile and aloe extracts. The cloth itself is made from 100% renewable plant-based materials. You won't find any chlorine, alcohol, parabens, perfumes, or other nasty chemicals.
Check Pricing and Availability
PROS:
Hypoallergenic
Compostable and biodegradable
Free of nasty chemicals
---
6

Best Flushable Biodegradable Baby Wipe
Happy Little Camper Wipes are gentle, eco-friendly baby wipes, and they're flushable and septic-safe as well. The wipes comply with INDA and EDANA guidelines for flushability and septic safe. Parents love that these are hypoallergenic and dermatologist tested to be safe for all skin types.
Happy Little Camper uses organic aloe vera to soothe and hydrate your baby's skin while the cotton construction creates a soft, cloth-like wipe without any chemicals, perfumes, or irritants. The wipes don't contain silicones, parabens, or ethyl alcohol.
While the Happy Little Camper wipes are listed as flushable, we don't recommend that anyone does that. It can mess up your plumbing, local sewer systems, or local marine life. Just forget that part about these wipes.
Check Pricing and Availability
PROS:
Packaging made from recycled materials
Hypoallergenic
Dermatologist tested
Cotton construction is fully biodegradable
CONS:
Removing just one wipe is hard
Could clog pipes
Dry out a little too fast
---
7

A Popular Pick by Parents
Chances are, by now, you've heard of The Honest Company and the products that they sell. Their wipes are a popular pick for eco-friendly parents. They rave about the silky, soft texture and extra thickness that makes going green feel even better.
The Honest Company wipes are biodegradable, plant-based, and plastic-free. Medical-grade materials keep the wipes great for sensitive skin with clean ingredients, while also being thick for those extra-tough jobs. The wipes are a large-size with sturdy construction, and the wipes come out one at a time as they should!
Something to note is that, while the Honest Company wipes are labeled biodegradable, the disclaimer on the package says that they "biodegrade in municipal or industrial facilities." So, that means you won't be able to compost these wipes, and some question the actual biodegradability of these wipes.
Check Pricing and Availability
PROS:
Super soft and thick
Gentle on skin
Free of harsh chemicals
Don't use synthetic fragrances
CONS:
Expensive
Might take longer to break down than others.
Company is vague about the level of biodegradability.
---
8

Best 100% Bamboo Baby Wipes
If you're concerned about saving the planet, so are the makers of the Bum Boosa Bamboo Wipes. The company is proactive about saving the earth, and they plant a tree for every package of baby wipes sold.
These wipes are made of 100% bamboo fiber, so they're fully biodegradable and eeasy on the planet. Parents love how soft and stretchy these wipes are, and they smell great because Bum Boosa added lavender and sweet orange essential oils. They also use clean and natural ingredients such as soothing calendula, chamomile, and aloe vera.
Bum Boosa wipes are free of alcohol, chlorine, parabens, phthalates, phenols, SLS, lanolin, and SLES. They're incredibly safe and gentle for your baby.
Check Pricing and Availability
PROS:
Biodegradable bamboo
Soft and absorbent
Hypoallergenic
Great for sensitive skin.
CONS:
Smaller than regular wipes
Uses essential oils
Hard to get a single wipe removed from the package.
---
9

Best Sustainably Sourced Baby Wipe
Caboo Bamboo Wipes are another popular pick for the best biodegradable baby wipes. These wipes are made of 100% organic bamboo and 99.7% natural ingredients, so they're great for the environment and sensitive skin. Something we love about Caboo is that they don't use just any bamboo, but rather Caboo is panda-friendly, so they didn't steal away food from wildlife. It's sustainably sourced bamboo.
Caboo enriched the wipes with vitamin E, aloe vera, and chamomile. Not only do they clean your baby, but they also help to moisturize and soothe skin. These earth-friendly wipes are plant-based alternatives to traditional tree-based wipes, and the wipes are free of alcohol, chlorine, BPA, and parabens.
Check Pricing and Availability
PROS:
Made from sustainably sourced bamboo
Hypoallergenic
No harmful chemicals or fragrances
Thick
CONS:
Strong scent
Wipes clump together
Small wipes
---
10

Most Affordable Biodegradable Baby Wipe
Babygaics are an, overall, great baby wipes. They're plant-based, hypoallergenic, dermatologically tested, and fully biodegradable. Babyganics baby wipes are perfect for babies with sensitive skin, and they're a well-known brand that parents trust.
These wipes are free of synthetic fragrances and any harsh chemicals that might irritate your child's skin. Babyganics contain aloe vera, which is excellent for hydrating your baby's skin.
One thing to note is that Babyganics market their wipes as flushable, and they meet all of the flushability guidelines. At the same time, we know that it's not smart to flush wipes in general.
Check Pricing and Availability
PROS:
Biodegradable
Great for sensitive skin
Reasonably priced
CONS:
Flushable and septic safe
Thinner than competitors
---
Can Baby Wipes Expire?
If your baby wipes brand uses added lotions or oils, they'll last around three months opened or two years unopened. If you use pain water wipes or those with few ingredients might last longer, if you're careful not to let them dry out.
Store upside down if they're in a soft package, and make sure the lid is closed if they come in a separate container.
Read More: Our buying guide of fragrance-free best quality baby wipes for newborn.
---
Finding the Best Biodegradable Baby Wipes
When compared to the dozens of brands of baby wipes on the market, there aren't too many picks for the best biodegradable baby wipes. Most baby wipes aren't biodegradable, but it's better for the environment if you select ones that are. Otherwise, the wipes you use for your baby will stay in landfills for hundreds of years.
While biodegradable baby wipes are more expensive, they're better for the environment and babies who have sensitive skin. Most of these wipes avoid any harsh chemicals that might cause a reaction. They're worth the extra money.
Do you have a favorite brand of biodegradable baby wipes? If so, let us know in the comments!