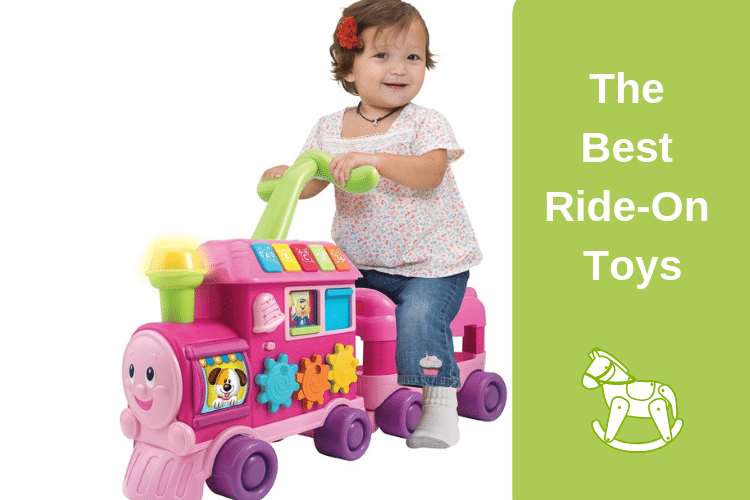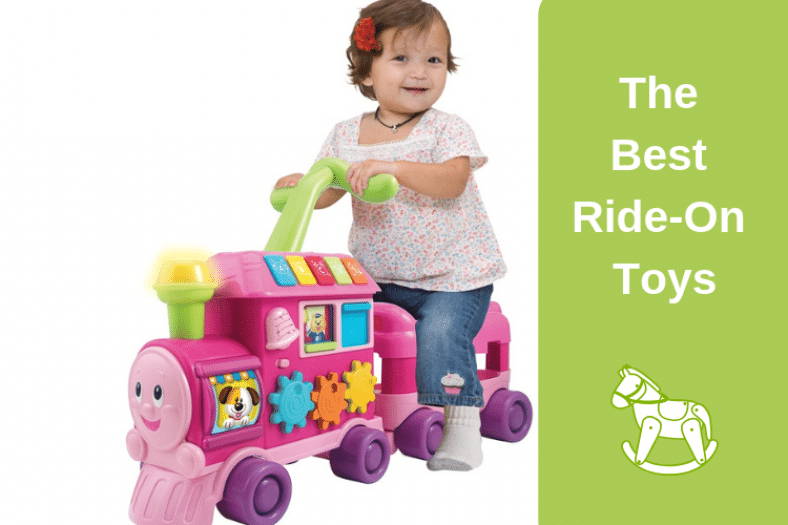 Are you wondering if your child is ready for a ride-on toy? Or maybe you know they are and you're looking to find the best ride-on toys to choose from? Keep reading to have all your ride-on toy questions answered and get a list of the best ride-on toys to choose from for your little one!
Ride-on toys just weren't really something that I had thought of with my first child. I'm so glad that my husband's aunt thought to get him something! He was so excited when he got a ride-on toy for his first birthday from her! He is 3 now but he and my 18-month old daughter both still play with it daily.
Good ride-on toys can make amazing special occasion gifts for little ones as they are a really special toy that will stand out and not be easily forgotten. Of course, you don't need a special occasion to get your baby or toddler a ride-on toy! They have great benefits like those to your child's coordination and gross motor skills. They're also incredibly fun and will keep your child busy and happy for long periods of time!
What are ride-on toys?
Ride-on toys are exactly what they sound like. They are toys designed for children to ride on. Common examples are trains, cars, scooters, and tricycles. Ride-on toys are made for a wide range of ages starting at about 9 months going up indefinitely.
---
Are ride-on toys safe?
Absolutely! Ride-on toys are entirely safe when used as they are intended. That means that they should be used with children that are at an age, size, and maturity appropriate for the toy. They also require close supervision at all times.
---
When can baby use a ride-on toy?
Some ride-on toys are designed for babies as young as 9 months old. All babies are different, and some may be ready later than others and vice versa. In general, any time after 9 months is a great time to get your child a ride-on toy and reap the all the fun and developmental benefits that come along with ride-on toys!
---
How to Choose Ride-On Toys
Ride-on toys come in many shapes, sizes, and types. When you are trying to find the best ride-on toys for your little one, it can be hard to choose. Try taking some of the following things into consideration to help you choose the best ride-on toy option for your child!
The age recommendation for ride-on toys is super important. Some ride-on toys are just not appropriate for a baby, while others wouldn't work well for older toddlers or preschoolers. Consider the age of the child that you are shopping for and only look at ride-on toy options that include their age in the recommended age range.
Battery-Operated or Manual
Some ride-on toys are powered purely by baby power, i.e. your little one propels themselves forward with their feet or even uses pedals to move the ride-on toy around. However, some options are actually battery-powered. This is an important consideration when choosing what you want for your child in a ride-on toy.
Battery-powered options are very exciting and fun, but they do require you to replace the batteries, or in some cases charge them, on a regular basis. They also require even more careful supervision and caution. We now have several battery-powered options and several manual options around. I can't say that I prefer one of over the other because they both have unique benefits. My kids love playing with both types of ride-on toys!
Something else you will want to think about when choosing a ride-on toy for your child is if you want a push handle or not. Most ride-on toys don't include this feature, but there is a decent amount of options that do.
A push handle is just a handle attached to the back of the toy that extends up to where parents can actually push the child around in the toy. We have one ride-on toy with a push handle and I do find it really beneficial. There are also some ride-on toys that have child-height push handles that allow the child to push the toy when they aren't riding it.
Your budget will always be an important deciding factor anytime you are making a purchase. Due to the fact that ride-on toys have a huge range of different prices, you will want to decide on budget ahead of time. Many ride-on toys are super affordable and will be options for most people. However, some are rather expensive and need to be more carefully considered.
Finally, almost every ride-on toy has different extra features that should help you make your decision. Many of them have educational aspects like teaching numbers, letters, colors, and more. Some teach stop and go. Some have special themes or accessories like tracks for a train.
Do you want something nice and simple or do you prefer a ride-on toy that pulls out all the stops? Do you prefer electronic extra features that actually talk to your child or just basic toys that your child uses their senses to explore? There are lots of options that you will want to consider here!
See our interesting review of The Best Baby Blocks.
---
8 Best Ride-On Toys Reviews
With so many options, it can be hard to figure out which ride-on toy is the best pick for your child. Deciding on things like budget, how it moves, and what extra features it has is a great start on choosing a ride-on toy! You'll still want to look at the specifics of each option before making a final decision. Below, we have narrowed down the choices with our picks for the best ride-on toys on the market today! We believe our detailed ride-on toys reviews will help make your decision easier!
1

Power Wheels Thomas Train with Tracks – Best Ride-On Train Toy
Features:
6V battery
Charger included
18 feet of train tracks
Thomas the Train styling
Thomas sounds and phrases
Push button stop and go
12 months to 3 years
Up to 1mph on track
Up to 2mph off track
Most of you have certainly heard of the popular ride-on toy brand, Power Wheels! They bring us our first pick on the guide – the Thomas Train with Tracks with a great Thomas and Friends theme! It is our pick for the best ride-on train toy!

Thomas the train has been a famous cartoon character for generations now. Children everywhere love this popular little train. Creating this incredible ride-on train toy was a smart move on Power Wheels part. Not only is it an awesomely fun train toy, but it also features a recognizable character that children adore!
This is one of the battery-powered ride-on toy options out there. It features a 6V battery perfect for young riders. The Thomas remake is perfectly designed to look just like the real Thomas character, but features a perfectly sized comfy seta for your little one.
There are also has large areas on each side for your child to safely rest their feet in. There is an easy-to-use button that your child can press to make the train stop and go. It also makes fun sounds and recites Thomas phrases that your child will love!
Included Tracks:
One of the super cool and unique features of the best ride-on train toy is that it comes with a set of train tracks! There are 18 feet of train tracks that go together to form a circle. The Thomas train fits perfectly on the tracks and allows your little one to easily circle the tracks again and again.
This is something that all kiddos will have fun with but can be an especially great choice for babies that aren't quite ready to steer themselves. Once your child is ready to go off-track, they have the option to ride all over the place or back on the tracks as they choose. The train will go up to 1mph on the tracks and up to 2mph off the tracks.
Unfortunately, while there are tons of things to love about this train ride-on toy, there is one thing that we don't love. That would be how loud it is. It is a very loud toy, so it can easily become distracted or annoying for those around while your child is playing with it – including you. The only other downfall is the that this is by far the most expensive option of all the ride-on toys that we reviewed.
PROS:
Familiar Thomas character is cute and fun for your child
6V battery is the perfect level of power for young riders
Included train tracks make it easier for little ones to enjoy the train
Train works great on or off tracks for more versatility
Fun sounds and phrases make it even more interesting and entertaining for your little one
CONS:
Loud sound can become annoying or distracting
Most expensive option on the ride-on toy guide
This is an extremely high-quality, well-built ride-on toy. The fact that it is the best ride-on train toy makes it super popular with children. The included tracks add amazing value. Of course, it is considerably more expensive than the other options we reviewed, so that will need to be an additional consideration if you are thinking of getting the best ride-on train toy for your child.
---
2

VTech Sit-to-Stand Ultimate Alphabet Train – Best Overall Ride-On Toy
Features:
12 months to 3 years
Storage section
Baby push walker mode
13 alphabet blocks
Multiple interactive features
Multiple educational features
Lights and sounds
Our pick for the best overall ride-on toy is this super fun choice from VTech! VTech make all sorts of awesome educational toys for babies and kids. Their Sit-to-Stand Ultimate Alphabet Train is a perfect example of that and definitely one of the best options on the market!

There are so many amazing features to talk about with our pick for the best overall ride-on toy! It has 2 main sections – the engine section and the seat section. The seat connects to the engine to create the train. The engine section features tons of different cool electronic toys that are both fun and educational. It has things like a phone dial-pad, clock, built-in plastic book, turning gears, and so much more!
The seat can also be removed from the train engine section altogether. This actually turns the engine into a baby push walker that your little one can push around. The many lights, sounds, and activities on the train engine help to hold your little one's interest and provide varied stimulation!
Alphabet Blocks:
This alphabet train also comes with 13 alphabet blocks! This really increases the overall value of this train. That's especially true considering that this train from VTech is exponentially more affordable than the previously mentioned Thomas train from Power Wheels. Each one of the blocks features two sides – each one with a different letter from the alphabet. They also feature a picture and word that starts with the letter on the block. To really top it all off, they connect together to make building easy! They can be safely stored away underneath the seat of the ride-on toy as well.
Something that some parents do complain about with this ride-on toy is that it can be more difficult for smaller children to ride. The seat is fairly narrow, and the child has to push the engine forward to move the seat. For very little ones, this can be more difficult to do in the seated position.
PROS:
Lots of educational aspects to help enrich your child's play
Seat comes off to let the train engine work as a baby push walker as well
Lots of lights, sounds, and activities to keep your baby's interest and keep them happy for longer
Alphabet blocks help benefit fine motor skills and can help your child learn their alphabet
CONS:
More challenging for smaller children to ride
This is a super fun and highly educational ride-on toy option. It has a very high value and relatively affordable price. That's exactly why we chose it as the best overall ride-on toy!
---
3

Little Tikes Go and Grow Lil' Rollin' Giraffe – Top-Rated Ride-On Toy
Features:
2 large front wheels
Extra-large back wheel
Wheel guard
Wide handlebars
Adjustable seat
Cute giraffe design
Extra giraffe spot decals
Check Pricing and Availability
Up next is Little Tikes Go and Grow Lil' Rollin' Giraffe! This cute ride-on toy is an extremely popular choice on the market. In fact, it's actually the top-rated ride-on toy!

We can clearly see why this is such a popular and well-loved ride-on toy! The adorable giraffe design is super attractive to children. It is a nice, well-built, but refreshingly simply toy that your child is sure to love and enjoy! It has large wheels that provide excellent stability to avoid any accidental knock-overs.
It's also easy to steer with wide handlebars. The extra-large back wheel features a wheel guard for added safety. This is an excellent way for your child to build their balance, coordination, and gross motor skills! For a little added fun, it even comes with additional giraffe's spot decals, so your child can customize their ride-on!
Adjustable Seat:
Another favorite feature of the top-rated ride-on toy is the adjustable seat! This clever addition makes a huge difference for your child's comfort. Adjusting the seat is easy and keeps your child as comfortable as possible even as they grow!
This is a very affordable option when it comes to ride-on toys, which just adds to how popular it is! Of course, keep in mind that the top-rated toy does have almost no special features – especially compared to many of the options on our guide that are packed with extra features.
PROS:
Giraffe design is fun and attractive to children
Wide handlebars make it easy for your child to grip and steer
Large wheels provide excellent stability making it very difficult to knock the ride-on toy over
Adjustable seat keeps your child comfortable even as they grow
Extra giraffe's spot decals add an extra element of fun for your child
CONS:
Lacking special features compared to other options
This simple ride-on toy is tons of fun and incredibly beneficial for coordination, balance, and gross motor skills! The adjustable seat makes it extra comfy, even as your little on grows and the large wheels keep it nice and stable! It doesn't have all the bells and whistles of some other choices, but it is high-quality and affordable!
Want to read more before purchasing? Check out our review of The Best Building Toys for Kids and find out more.
---
4

Power Wheels Batman Lil' Quad – Best Battery-Operated Ride-On Toy
Features:
Secret storage compartment
Batman theme
6V battery
Charger included
Up to 2mph
Indoor or outdoor use
12 months to 3 years
Check Pricing and Availability
Another amazing option from Power Wheels is the Batman Lil' Quad! This is our pick for the best battery-operated ride-on toy and we are confident that you and your kids will love it just as much as we do!

Just like the other battery-powered toddler ride-on toy we mentioned, this one features a 6V battery. This is a great level of power for little riders. It allows the toddler quad to go up to 2mph – fast enough for fun, but not too fast to be safe. Steering is easily controlled with the easy-to-grip handlebars! This is a great option that will help build your child's self-confidence and gross motor skills!
The batman theme is also tons of fun! The entire ride-on is covered with different batman features and decals. The familiar crime-fighting hero will make this ride-on toy that much cooler to the little batman-lover in your life! Of course, keep in mind that even if your child isn't into batman, you can choose this as a Paw Patrol ride-on, Barbie ride-on, or even a more generic Kawasaki ride-on!
Secret Storage Compartment:
I know toddlers pretty well and I can almost guarantee that the secret storage compartment on this ride-on toy is going to be a huge hit with your child! Kids love being able to store their stuff inside toys like this one. They will really appreciate that they can store a few toys right inside the front compartment of this quad ride-on for toddlers!
Since this is a battery-powered ride-on toy, you should keep in consideration that it will require regular charging. Some parents find this to be inconvenient.
PROS:
Batman theme is exciting and familiar
Also available in Paw Patrol, Barbie, and Kawasaki themes if your child doesn't like Batman
Secret storage compartment is fun and exciting for your little one
Battery-powered operation helps teach cause and effect as well as increases self-confidence
CONS:
Requires regular charging for regular use
This is a super fun and exciting option from Power Wheels. Your child is almost guaranteed to be super excited about such a fun ride-on toy! The best battery-powered ride-on is great as a Batman ride-on, but you can choose it as a Paw Patrol ride-on, a Barbie ride-on, or even just a Kawasaki ride-on!
---
5

Little Tikes Push and Ride Racer – Best Ride-On Push Toy
Features:
Bright primary colors
Sturdy handlebars
Child-height push bar
Push walker feature
Low seat
High seat back
Indoor or outdoor use
Check Pricing and Availability
Another cool kind of ride-on toy is a ride-on push toy. This isn't the first on our list, but we especially like this one for being a push toy as well as a ride-on. That's why we are naming Little Tikes Push and Ride Racer, the best ride-on push toy!

The best ride-on push toy is another option that is super simple, like with the previously mentioned
giraffe ride-on! Sometimes, simple toys can be better because they focus on a more specific skill or set of skills rather than many different things. This toy is just excellent for developing gross motor skills. It's also an added bonus that it is so affordable!
This Little Tikes ride-on toy is one of our favorite baby ride-on toys. It's actually rated for babies as young as 9 months old! Younger babies are more likely to mostly use the pushing aspect of the toy, but it is specially designed with little toddlers and babies in mind! The seat is nice and low, which makes it super easy to get on and off – even for those with tiny little legs. It's also got really easy-to-grip, sturdy handlebars to help little riders stay steady!
Child-Height Push Bar:
This is one of our picks for the guide that includes a push bar, but keep in mind that it is child-height. It's still very useful, but just know that it isn't a push bar that you will be able to easily use to push your child around on their toy. Instead, it is designed for them to be able to use the ride-on toy as a baby push walker as well. This is especially helpful since it is a good option for little ones that may be learning to stand and walk! It also creates a high back that increases stability and safety when your child rides the toy!
The smaller, shorter size of this ride-on toy is great for babies and younger toddlers. However, even though it is rated up to 3 years, it won't be an easy option for older toddlers to comfortably ride just because it is smaller and shorter than most of the choices on our list.
PROS:
Excellent choice for babies thanks to the low seat and smaller overall size
Bright, bold primary colors are cute and good for sensory development
Child-height push bar makes this double as a great baby push walker
Affordable price makes this an accessible option for almost all budgets
CONS:
Small size makes this a less comfortable choice for larger toddlers
If you are looking for a ride-on toy specifically for a baby or a younger/smaller toddler, this can be a really wonderful simple option! It helps keep them steady and build gross motor skills both as a ride-on toy and a baby push walker. It's also really affordable!
---
6

Radio Flyer Busy Buggy – Best Baby Ride-On Car
Features:
Child-height push bar
17 different interactive activities
Educational aspects like alphabet
Tons of sensory stimulation
Horn and other sounds
12 months to 3 years
Cute car design
Secret storage compartment
Check Pricing and Availability
The best baby ride-on car is definitely this adorable Radio Flyer option! This is called the Radio Flyer Busy Buggy and is an excellent choice that may very well be one of the best ride-on toys for your little one!

Here is another great ride-on toy with a child-height push bar. This allows it to double as a baby push walker! This is a really great feature for little ones that are just learning to walk or stand. It adds to the gross motor development that your child will get out of this toy!
This toy also has a special secret compartment built-in just like the Batman Lil' Quad from Power Wheels! Your child can simply lift the seat up and store their favorite toys right inside to take along with them on a ride! The steering wheel gives it that cute car look that your child is sure to love! It also provides a good place for them to hold onto to increase stability.
17 Interactive Features:

Possibly the most fun thing about the best baby ride-on car is that it has 17 different interactive features built right into it! This is actually even more different interactive options than the Ultimate Alphabet Train previously listed. There are lots of little places all over this toy that provide amazing sensory development making this a great sensory toy as well as ride-on toy and baby push walker!

Many of the interactive options on the best baby ride-on car provide good sensory stimulation for multiple senses. Lots of them make cool sounds while also providing good touch and sight stimulation! There are turning gears, spinning wheels, sliding beads, and so much more for your child to play with!

One tiny flaw of the best baby ride-on car is that although it features a steering wheel, the wheels don't actually turn. This can be just slightly confusing for a child that understands the purpose of a steering wheel and does increase difficulty when turning.

PROS:
Car design is fun for little drivers
Secret compartment gives your child a place to store toys on-the-go
Tons of interactive features keep things interesting and provide sensory stimulation
Child-height push bar allows this to double as a baby push walker
Provides some educational aspects such as the alphabet printed on toys on the push bar
CONS:
Steering wheel isn't actually functional
This is a great, relatively affordable, little push car option. It works great for pushing, riding, and playing! The many different interactive features provide amazing sensory development making this great for fine motor skills and gross motor skills alike!
---
7
Fisher-Price Harley-Davidson Tough Trike – Best Tricycle Ride-On
Features:
Harley-Davidson design
Clicking key
Large pedals
Wide wheels
Contoured seat
Secret storage compartment
2 to 5 years
Check Pricing and Availability
Our ride-on toys guide just would not be complete without the best tricycle ride-on! Tricycles tend to be an integral part of childhood as your child gets ready for their first real bike! This one in particular caught our eye and is just too cute and fun to pass up! This is the Harley-Davidson Tough Trike from Fisher Price.

This is such a fun way to help your little one feel super cool! The famous Harley-Davidson theme really adds to how adorable and exciting this little tricycle is. It is the famous Harley-Davidson orange and black with the Harley-Davidson logo and flame decals for an added special touch. It even has handlebars and wheels that make it look more similar to the super popular motorcycles!
It's also yet another option with the super fun secret compartment. The tricycle seat lifts up to reveal a secret storage compartment. Being able to hide away and bring along toys just adds to the fun and excitement for kids! They're also sure to enjoy the realistic clicking key that makes this feel even more like a motorcycle!
Comfort and Safety Features:

The best tricycle ride-on comes with plenty of special features to increase both comfort and safety. First of all, it has nice, wide wheels. These keep the tricycle steady and help prevent tip-overs or other accidents. It also has easy-to-grip handlebars that turn the front wheel smoothly to guide your child's path. The large foot pedals make it easy for your child to keep their feet in place and the contoured seat with raised back helps keep your little one safely in place.

The pedals are super beneficial for increasing your child's dexterity and gross motor skills while also preparing them for a real bicycle. However, because of the design and pedals, this is only rated for children as young as 2 years old. So, it isn't a viable option for a baby ride-on toy.

PROS:
Secret storage compartment gives your child a fun place to hide away toys
Pedals further increase the ways that this ride-on toy helps your child develop good gross motor skills
Clicking key adds a fun extra detail to make this more realistic
Wide wheels keep the tricycle steady and make sure your child doesn't fall over
CONS:
Not an appropriate option for babies or very young toddlers
This is a super cute and fun option that will be super exciting for your child. It may be an especially cool option if you or a family member loves Harley-Davidson! Just keep in mind that this is great for 2-5 year olds but will not work for younger children.
---
8
Step2 Whisper Ride II – Best Toddler Push Car
Features:
Seatbelt
Adult-height push handle
2 child cup holders
1 adult cup holder
Large storage compartment
Pink or blue color options
Adorable car theme
18 months to 4 years
Check Pricing and Availability
Finally, we are rounding off the ride-on toys buying guide with the best toddler push car! This is the Step2 Whisper Ride II and is a very popular option on the market!

This is a really fun option for toddlers when it comes to ride-on toys. It is rated for 18 months up to 4 years. So, you can get a decent amount of use out of it. It has an adorable car theme and is available in pink or blue! It also has a cool storage compartment on the front. This compartment is a decent size and allows your child to put quite a bit in it, which they will love! My son has loved this option for a while and my daughter is really enjoying it now that she is finally big enough!
Adult-Height Push Handle:

This is actually the only option of those we reviewed that features the adult-height push handle. The handle allows you to easily push your child around in the car. It actually works a lot like a super fun stroller! The push handle is adjustable, so it works great for different adults of different heights.

The handle can also can be folded all the way underneath the car. This makes storage and transportation much easier and more convenient! To top it all off, the push handle has a special cup holder for the adult pushing it to use.

The downfall to this particular ride-on is that it isn't designed for your child to use on their own. They can certainly have fun playing around in it without being pushed, but for the car to be movable with your child in it, an adult has to push it.

PROS:
You can choose it in pink or blue according to your preference
Adult-height push handle is adjustable and folds away for storage and transportation
Large storage compartment can hold more than the other options with storage on the list
Multiple cup holders give you a place for your own drink as well as a drink and snack or toy for your child
Seatbelt increases safety and security while your child rides the best toddler push car
CONS:
Must be pushed by an adult to move
This adorable ride-on toy is a good bit different than the other options on the list. It doesn't allow your child to propel themselves forward like most of the choices, but instead allows you to push them around. This has both drawbacks and benefits to consider when choosing which option is best for your child. Overall, it is definitely a great ride-on toy that your child will definitely really enjoy. It is safe, fun, cute, and well-built!
You may love to know more about Top Toy Tool Sets for Toddlers & Kids.
---
Final Words
The many benefits of ride-on toys are definitely something you want to take advantage of. They are great toys that bring lots of joy to kiddos. They've always been favorites of all the kids that I've known with them, including my own! I also happen to love that they are so easy to put away when compared to other little toys. There are a lot of ride-on toy options out there, so I hope that our list of the best ride-on toys has been helpful to you in your search for the best ride-on toys for your child!