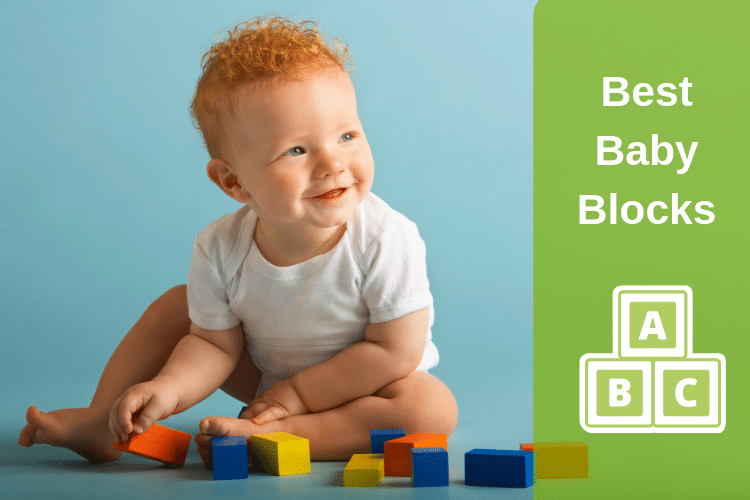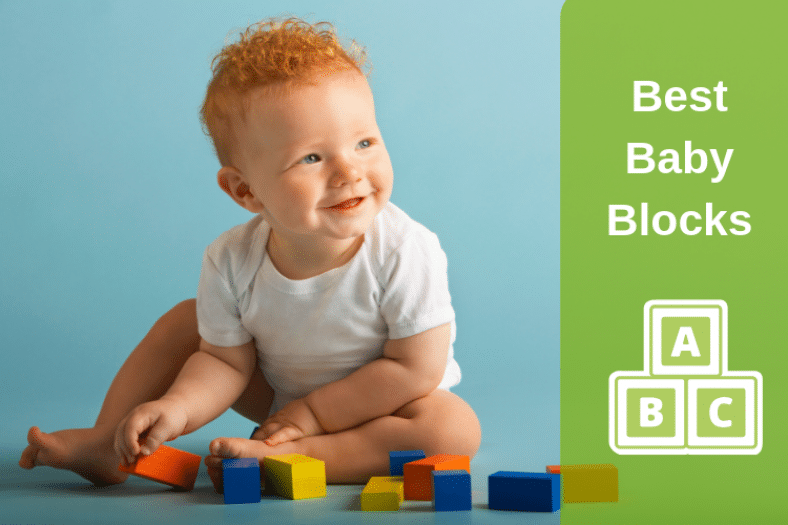 Do you want to divert your kids from toys that make them dependable crowd-pleasers? Don't you want your kids to learn and improve intellectual development while playing? If yes, then don't buy flashcards or magic balls for them. Instead, go for the best baby blocks that will develop and improve intellectual skills. Baby blocks provide to be the countless hours of IQ building and fun for your little munchkin. In addition to the motor skills, your sweetheart is going to develop his/her cognitive thinking by solving simple problems with the use of spatial intelligence. It is critical to their improvement in self-expression and identity.
We have developed a list of some of the best baby locks that you can find out there. In this post, we will provide you with a brief comparison table and then we will review each of our recommendations. Furthermore, we have also developed a small buying guide to provide you with assistance in finding the best baby block for your little one.
| Products | Weight | Pieces | Age Suitability | Materials | Price |
| --- | --- | --- | --- | --- | --- |
| Mega Bloks | 16.0 ounces | 80 | 1 to 5 years | Polyurethane | $$ |
| Fisher-Price | 15.5 ounces | 10 | 6 months to 3 years | Polyurethane | $$$ |
| Melissa & Doug | 71.2 ounces | 100 | 2 to 6 years | Wood | $ |
| B Toys by Battat | 15.5 ounces | 10 | 6 months to 3 years | PVC plastic | $$ |
| IQ Baby | 14.4 ounces | 16 | 1 to 2 years | Polyurethane | $ |
| Kids Korner | 13.1 ounces | 36 | 2 to 5 years | PVC plastic | $$ |
| Tegu | 10.4 ounces | 8 | 1 to 5 years | Wood | $ |
| Shigoo | 0.48 ounces | 30 | 5 to 7 years | ABS plastic | $$$ |
| UNiPLAY | 33.1 ounces | 36 | 3 months to 3 years | PVC plastic | $$ |
| Soyee | 13.4 ounces | 30 | 2 to 5 years | ABS plastic | $$$ |
---
So let's get on with it, shall we!
See more about The Best Ride-On Toys in our full review.
Top 10 Best Baby Blocks
1

Classic Building Bag by Mega Bloks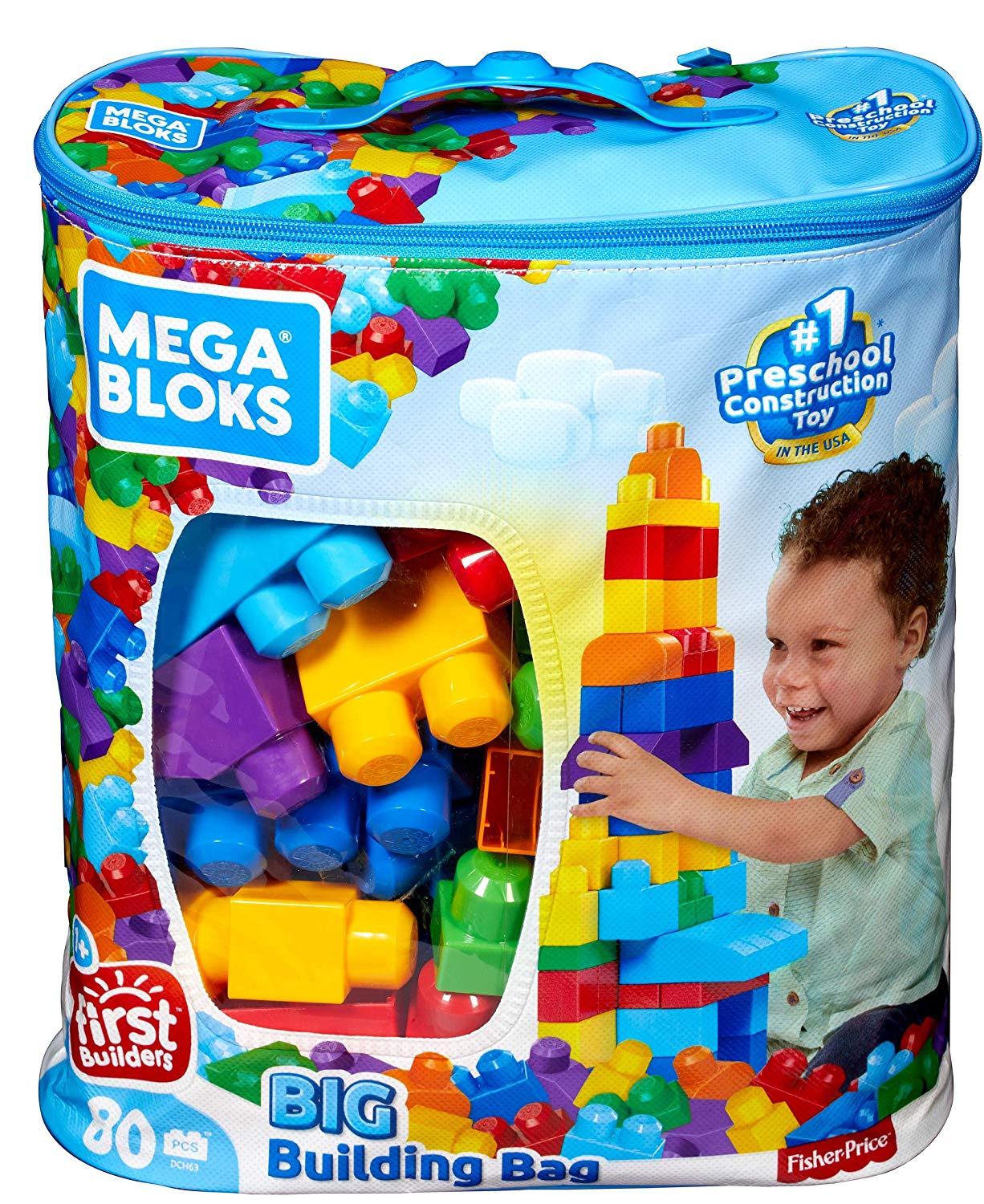 The Mega Bloks creates big classic building bag that assists parents to build multiple benefits related to developments such as the motor skills and creativity for problem-solving and these construction toys helps to grow minds of little toddlers. This is the best option to keep their children busy in a positive way because they can build anything that they imagine each time.
They build and rebuild for a new toy creating. The storage of the blocks is the main headache of the parents that looks messy; therefore, the Mega Bloks gives a reusable PVC-storage bag that helps to store easily and clean-up in quickly way. The biggest advantage of playing with these blocks that toddler also learns problem-solving methodologies while building and rebuilding their toys.
The classic building bag of blocks is properly fitted with each other and performs a good job, but some blocks connections are terrible. They even cannot bear their own weight. After some time, if you opened this bag, be careful because sometimes molds appear.
Check Pricing and Availability
PROS:
It helps to develop motor skill and creativity for problem-solving
Toddlers can easily build and rebuild to a toy what they imagine each time
It is easy to store in reusable storage bag after playtime
The colorful blocks help to discover endless possibilities from 1 year to 5-year kids
Toddlers can build a wagon, school bus, and a train as their interest
CONS:
It is not long lasting due to the appearance of mold inside the bag
The blocks not stick with each other properly and even can't bear their own weight
2

Baby's First Blocks by Fisher-Price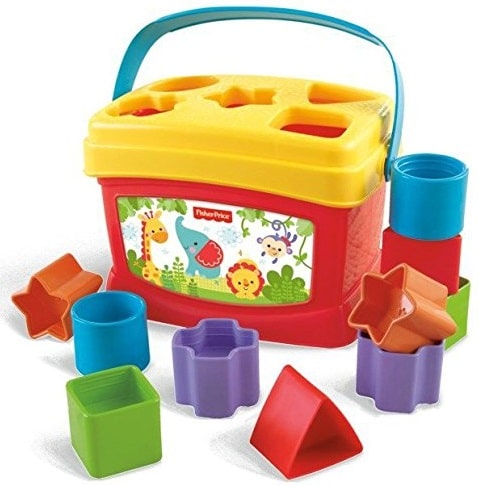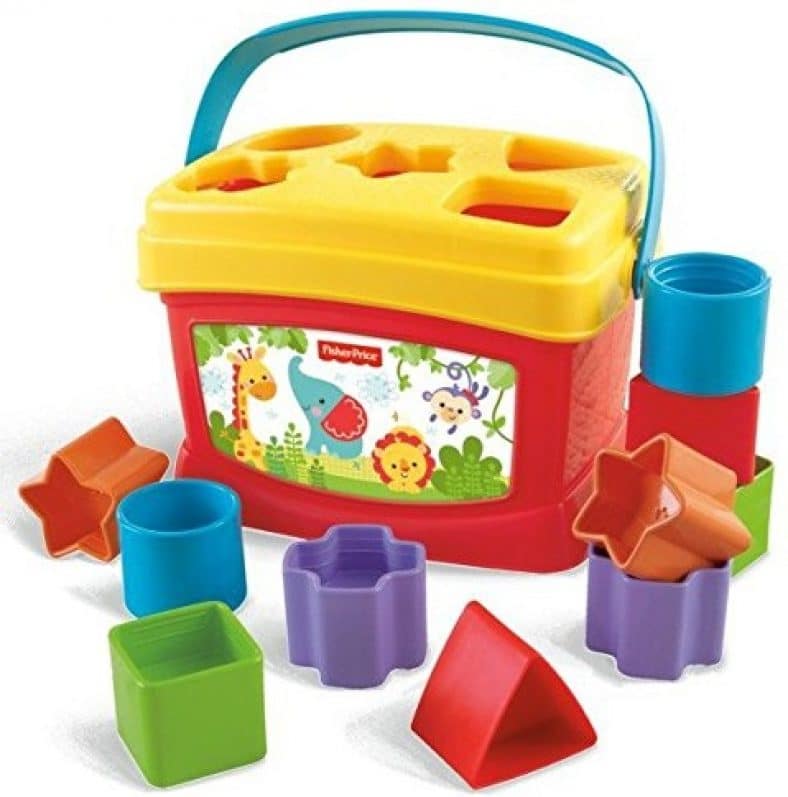 Fisher-Price designs ten colorful shaped blocks that are a very interactive way to enjoy the shape-sorting fun. A toddler can fall the blocks into the bucket as well as identifying shapes; children can drop down by matching with shape-sorting lid. There are five shapes are presented on the lid such as a circle, square, star, triangle, and the mark of plus (+).
Generally, it is best practice to develop early age leaning skills and eye-hand coordination while playing. By using a carry handle, it is easy to move this block set and store the ten shaped blocks into a bucket. The baby can stack, sort, match shapes, and learn to identify different shapes. These shape sorting helps to build untimely identification skills to your children. It is easy to grab and hold for enjoying learning fun.
However, if you are looking for early identification skill with interactive learning then this Fisher-Price constructed block is an ideal option for your toddlers. However, the top lid of the shaped pattern is not smoothly fined where children get frustrated and stop to fix or match shapes.
Check Pricing and Availability
PROS:
These blocks create early identification skill in children
The 10 pieces blocks are easy to store and grasp
It is well suitable for 6 months to 3-year toddler
This is an ideal option for interactive learning
Children can easily learn about five different shapes
CONS:
The top lid is not finely designed due to shape isn't set down smoothly
3

Wooden Building Blocks by Melissa & Doug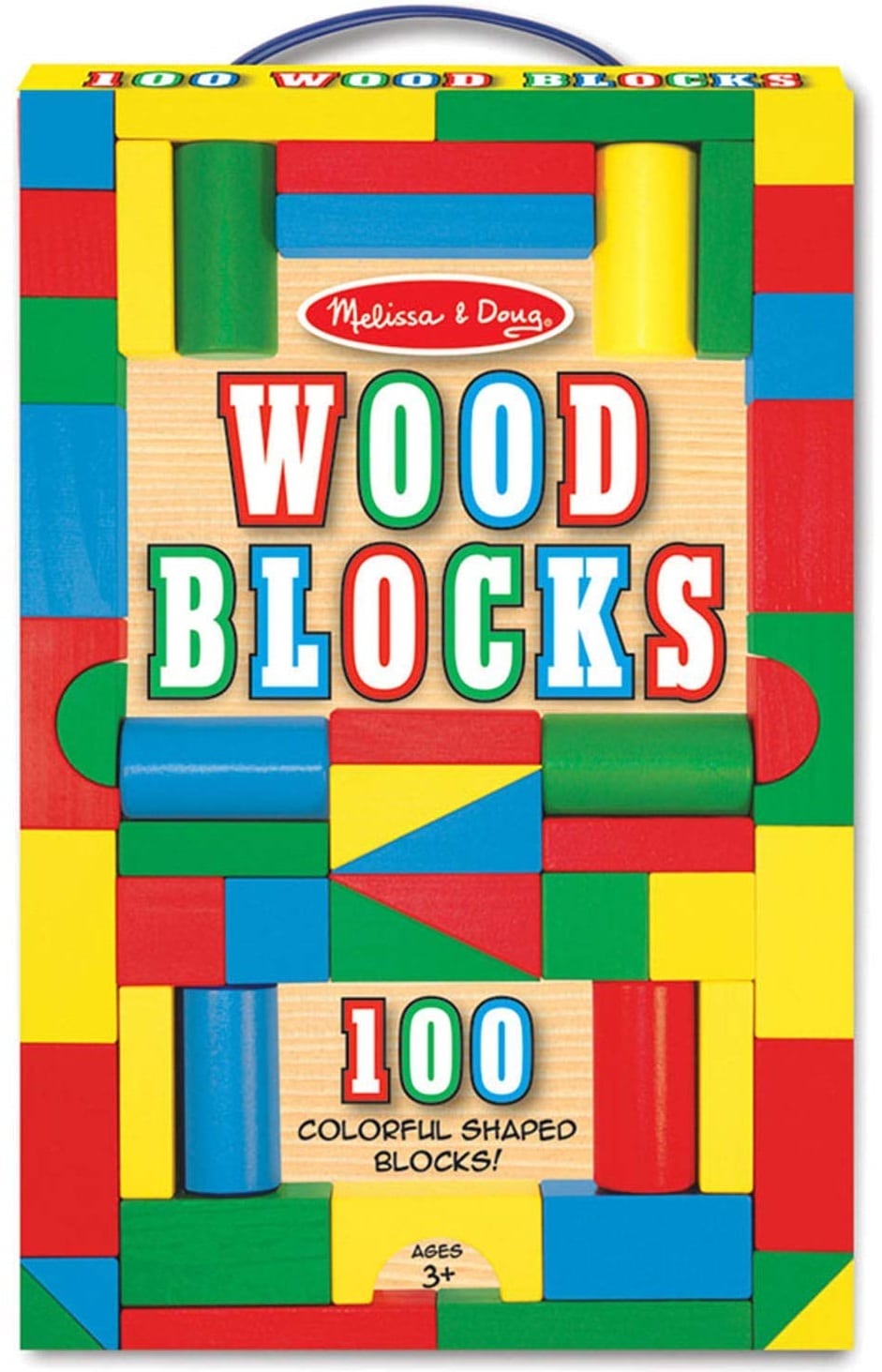 Doug's wooden blocks come with 100 solid blocks that have bright colors like blue, red, green, and yellow. There is a flexible variety of shapes such as a cube, half circle, cylinder, rectangular prisms, arches as well as different two sizes of rectangular planks and triangles. This big and complete set of block presents an opportunity for children for constructing a castle, tower, towns, and more.
Furthermore, these lightweight wooden blocks offer the children to play with plenty of ways, which inspires the children to come up their own twist. The company's goal to develop multiple encourages to children, for example, creativity, free play, discovery, learning, and imagination as well.
With all the advantages, the sizes of these blocks are too small for the toddlers to enhance the motor skill as well as activity or educational skill. It is difficult to handle too small blocks to build any toys from little cute hands. It is recommended for 2-year to 6-year children.
Check Pricing and Availability
PROS:
These blocks are made of wood that increases its durability and reliability
This set includes nine shapes and four colors that develop early math concept in children
It helps to perform activities like educational and creative while playing with wooden blocks
The value and the quality of these 100 solid wood blocks are exceptional and for hours to fun
There are a verity of shapes such as cubes, half circle, rectangular prisms, arches, and cylinder etc
CONS:
These blocks come with a lot of pieces but in a smaller size that isn't suitable for toddlers
4

B. toys Stacking Blocks by Battat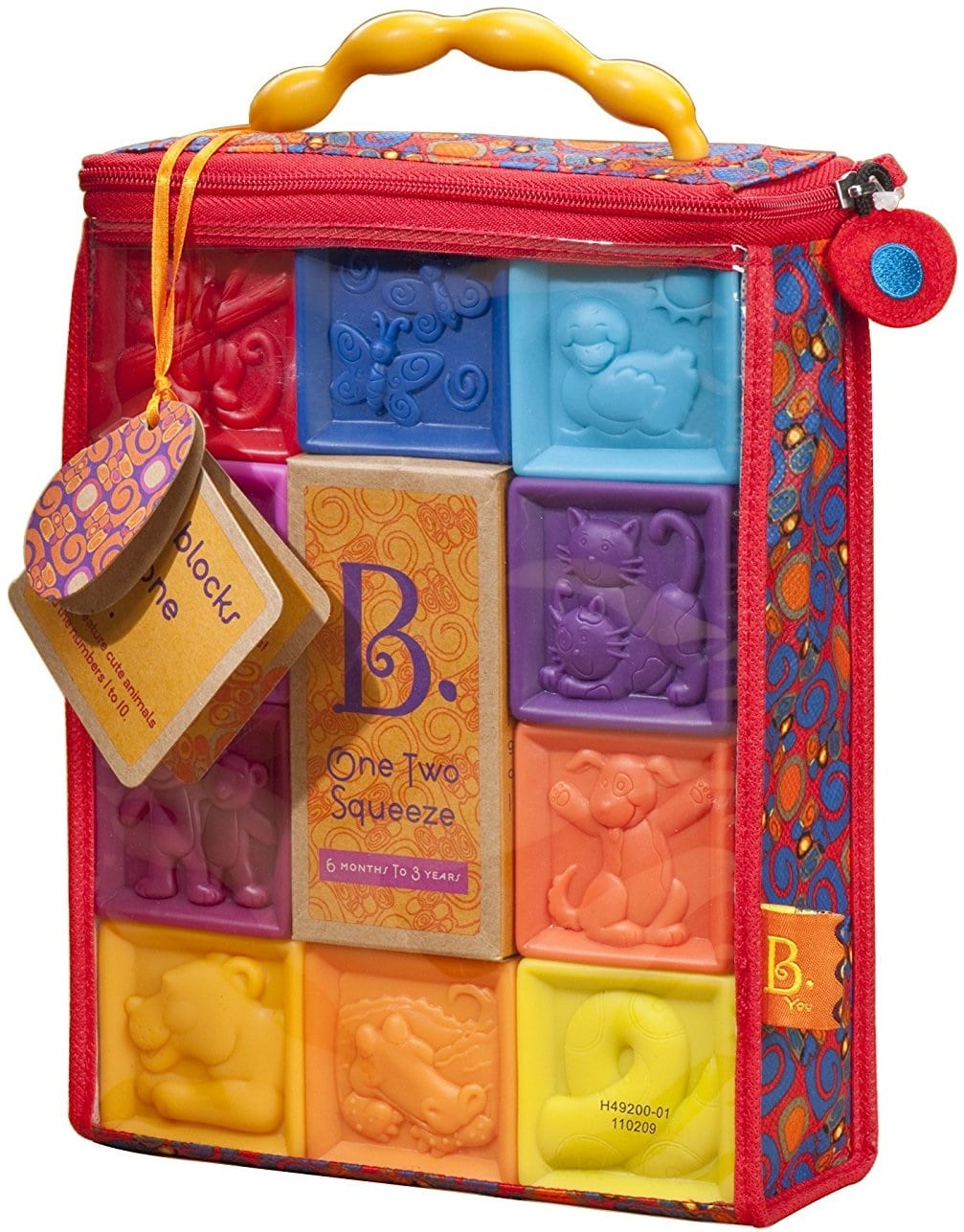 Battat designed B. toys squeeze blocks especially for the curious mind and for little cute hands. Every hand-sculpted block is tangible and educational experiences that are also animals friendly, and the numbers from 01 to 10 on every side. These ten blocks come with 60 delegate images that are suggested for 6 months to 3 years children.
Nevertheless, Blocks are soft, floatable, stackable, chewable and highly durable, which ideal traits are for performing any kind of activity. The shapes and colorful block are more attractive for the children to play and learn at once. It helps to develop multiple learning skill, motor skill as well as education skill in early age.
These blocks are highly featured but some parents find some imperfection in these blocks like dirt stick on it that is not easy to clean as well as some blocks appeared with molds. Try to give these blocks to the children after cleaning and with complete care.
Check Pricing and Availability
PROS:
There are ten number of blocks that have 60 images
The children who are 6 months to 3 years can enjoy with these blocks
These blocks are squeezable, squeak-able, floatable, and chewable also
It Is easy to store and carry in a recycled 100-percent polypropylene bag
The blocks are highly durable and softly constructed
CONS:
After using it sometime, the mold or mold develops that is too dangerous for children
It is very difficult to extract the water from these blocks
5

Small World Toy by IQ Baby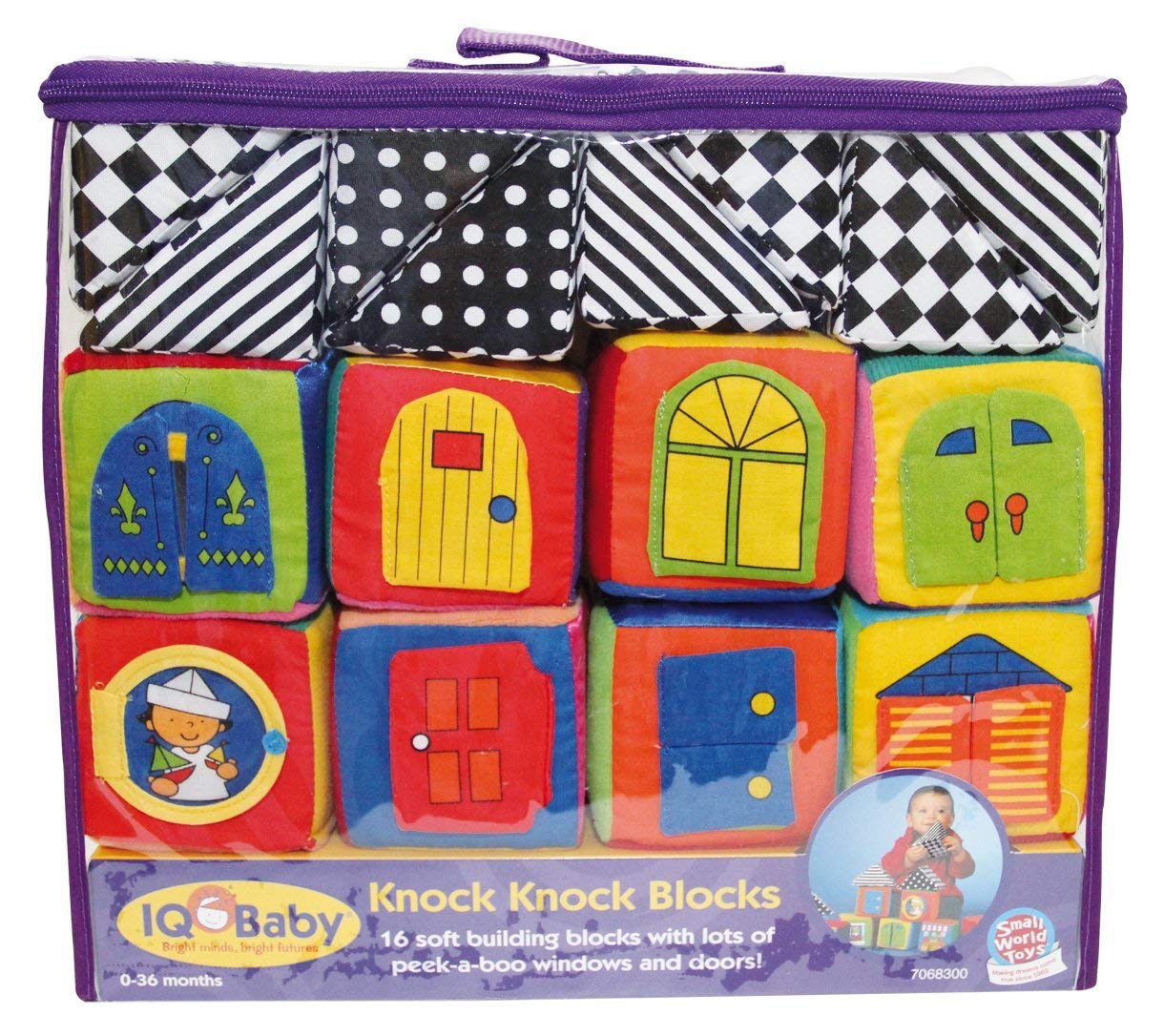 IQ Baby designed a complete set of 16 soft blocks that are light to touch and a perfect option for the little builders. These black and white triangular 08 blocks designed catch the attention of little munchkin. This is ideally to play peek-a-boo fun with cutie pie babies.
The blocks surface is washable and equipped with a storage case that has a handle to carry easily. These blocks are ideally appropriate for the 0-36 month's children. According to a study, toys play a key role in developing the milestones during this critical time that is the best time to start their life.
Conversely, if you looking for colorful and attractive fabric blocks for your little cute 1 or 2 year angles then this is the ideal option for them, but be careful! Keep it in mind that after wash, the color of these blocks becomes fade as well as some parents also feel some awful chemical smell that is too hazardous for the toddlers.
Check Pricing and Availability
PROS:
The high-quality blocks add some extra fun while leaning
The blocks are very colorful that are more attractive for the little munchkin
This is an ideal option for 1 to 2 years old toddlers to early learning skill
Babies love its soft texture that is easily be fitted in the little hands
These blocks construction by fabric that makes the surface washable
CONS:
The fabric quality is not good due to first wash the color fades
Some chemical smell produce that is not safe for toddlers
6

Peg Board by Kids Korner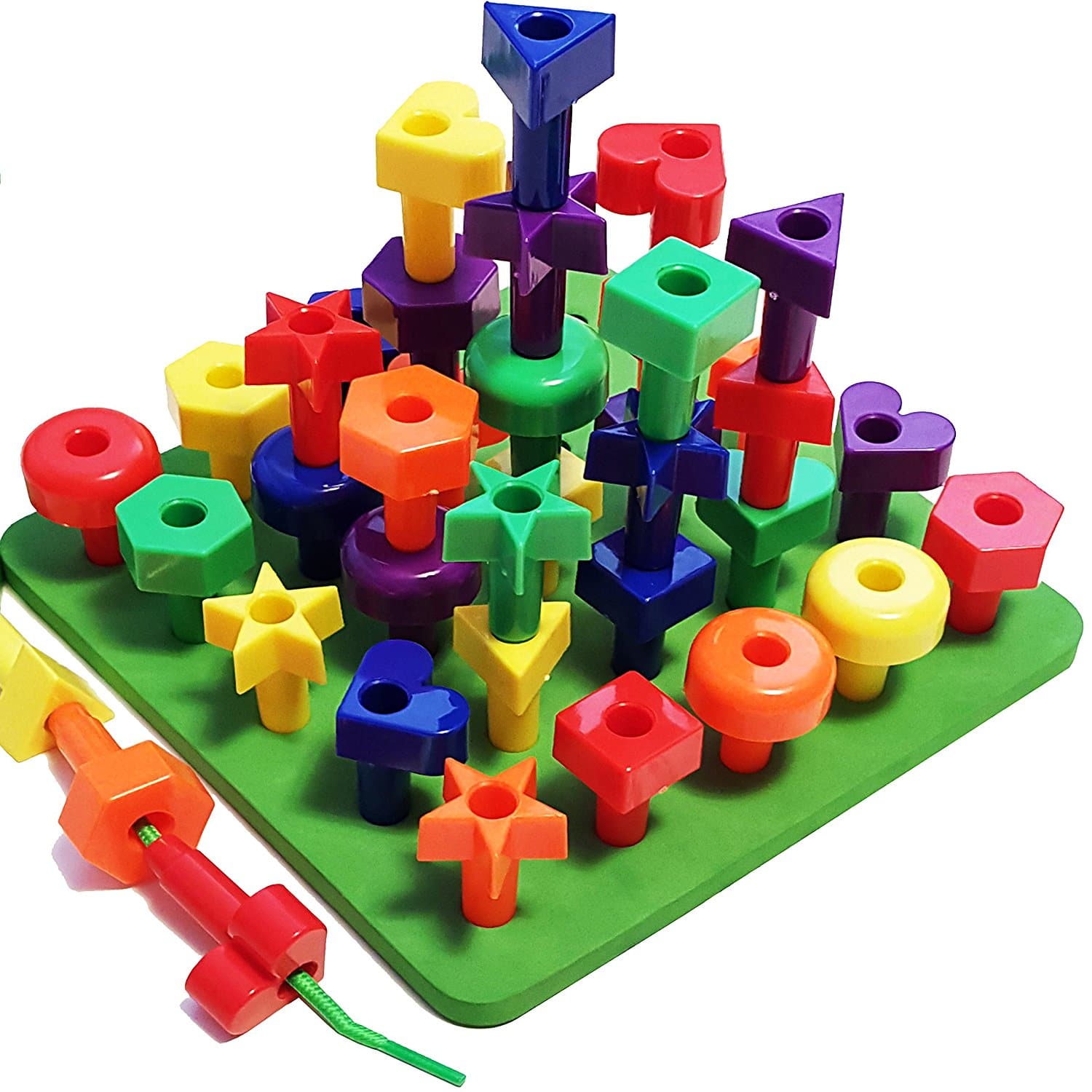 The Montessori peg toys permit your little angles to play, learn, and grow with multiple manipulated pieces together. Children can use this board to learn the matching game, color recognition, and shape. This is an ideal option for learning basic counting skill; identify shapes, colors, and the relation to one another. It is equipped with an activity eBook that has 30 pages of instruction, one pattern card that offers ten patterning activities for shape and color in the eBook download.
Generally, this product is best for the toddlers, preschooler, kindergartner, occupational therapy clients and even for those who want to strengthen their motor skills. This activity board assists to enhance memory skill, provide strength to cognitive muscles, and hand-eye coordination.
However, this board has sharp edges that are not saved for the children as well as it can also hurt the parents. There should be fined edges because it is ideal for the motor, educational, and preschool development.
Check Pricing and Availability
PROS:
It assists you to develop fine motor development
This board is ideal as a Montessori toy and well suited for 2 to 5-year old kids
The product act as a wonderful educational and preschool learning toy
This shape sorter toy helps to create early age development in children
It helps to increase the math skills due to graphing, ten frames, fractions are contained in it
CONS:
The edges of this board are sharp that can hurt your kid's finger
7

Robo Magnetic wooden by Tegu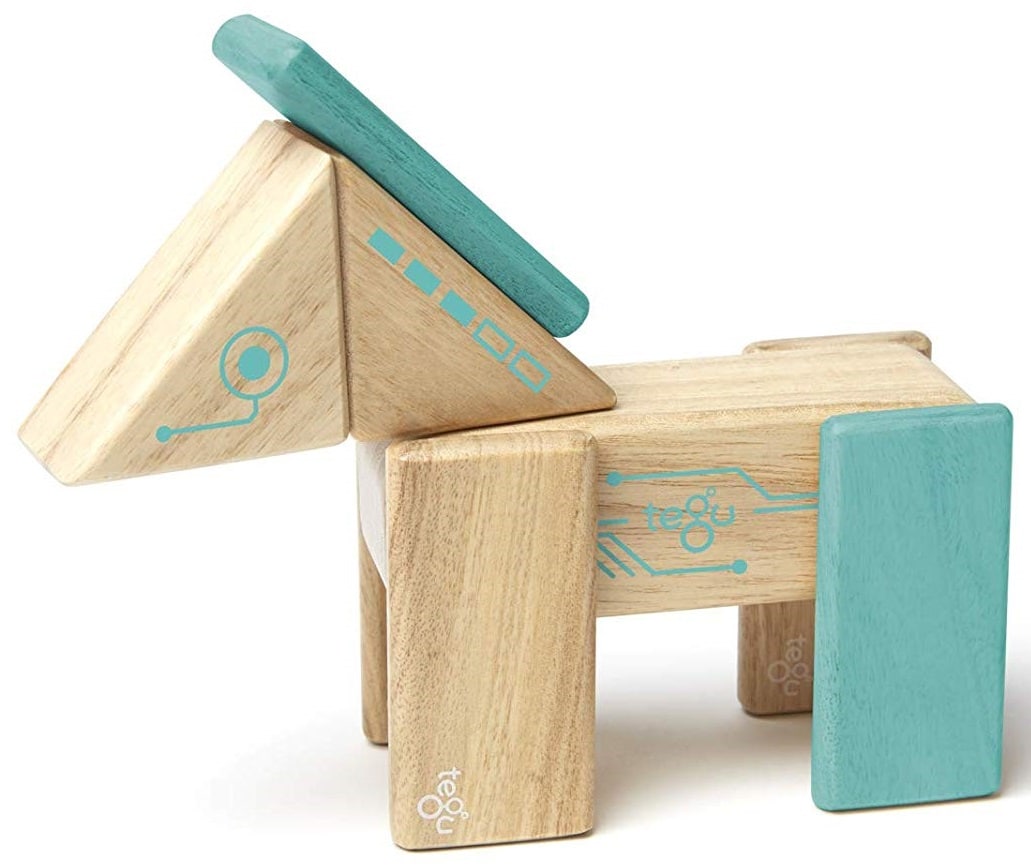 This Robo magnetic wooden block set is completely compatible with other Tegu blocks that increase the reliability of this product. The design of this full set is unusually attractive and ideal for those children who are searching for toys that improve cognitive skill and developments. Therefore, Tegu designed nontoxic, no plastic, wooden-made, no lead, no other small parts, and finally fished with water-based which make it naturally safe for children.
The Robo designed block is most popular because you are able to convert this Robo into anything, which you dream-up. At one time, you can make it star flyer and another time; this can act as Dinobot as well as you can treat this ROBO as Ellie Bot and Tech Rhino.
This is an ideal and perfect product for your children's development, but it comes at a high price. The price of these wooden magnetic blocks is high due to its impressive features such as reliable, durable, and non-toxic water-based that built creativity and discovery fun.
Check Pricing and Availability
PROS:
This product comes with water-based non-toxic finishes that make it highly durable and long-lasting
Tegu is built for open-ended fun, creativity, and discovery
Robo can convert itself into anything like Ellie-Bot, Dinobot, and Tech Rhino
It is recommended to use up to 5-year children for brilliant creativity
This product is highly compatible with magnetic wooden blocks.
CONS:
It is a much expensive option for your children
8

Building Block by SHIGOO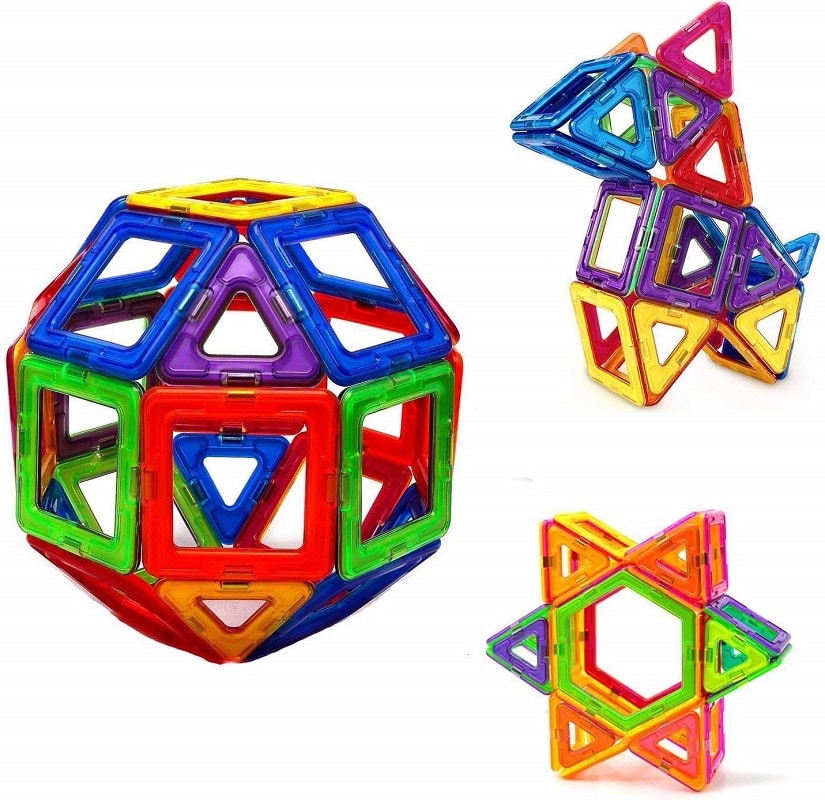 The SHIGOO building blocks are manufactured by using ABC non-toxic plastic to makes the smooth edges that will not ever hurt your little angel. The children can build any building, car, school bus etc because it all depends on your kid imagination and thinking. They can also prepare two-dimension or three-dimension models of their interest.
Generally, the blocks are developing multiple developments in your children as this SHIGOO magnetic block do. The brilliant and outstanding design of this block set helps for brain development as well as education skill by connecting the blocks. It helps to create a strong interaction between child and parents because both can do fun by creating different models.
SHIGOO blocks also have the main drawback; the magnet is not worked properly after some use. The power of magnetic become week that will create difficulty to stick block each other's and trouble to create 2D or 3D models.
Check Pricing and Availability
PROS:
It is manufactured by using high-quality non-toxic plastic that is a safe material for kids
This product helps to develop sensory, creativity, and artistic cognitive ability
It helps to build a strong interaction between parents and child
SHIGOO blocks are suitable for 5 to 7-year old children
Children can make two-dimension or three-dimension creation as their requirements
CONS:
The power of the magnet is a week where difficult to stick blocks with each other
9

Building Blocks by UNiPLAY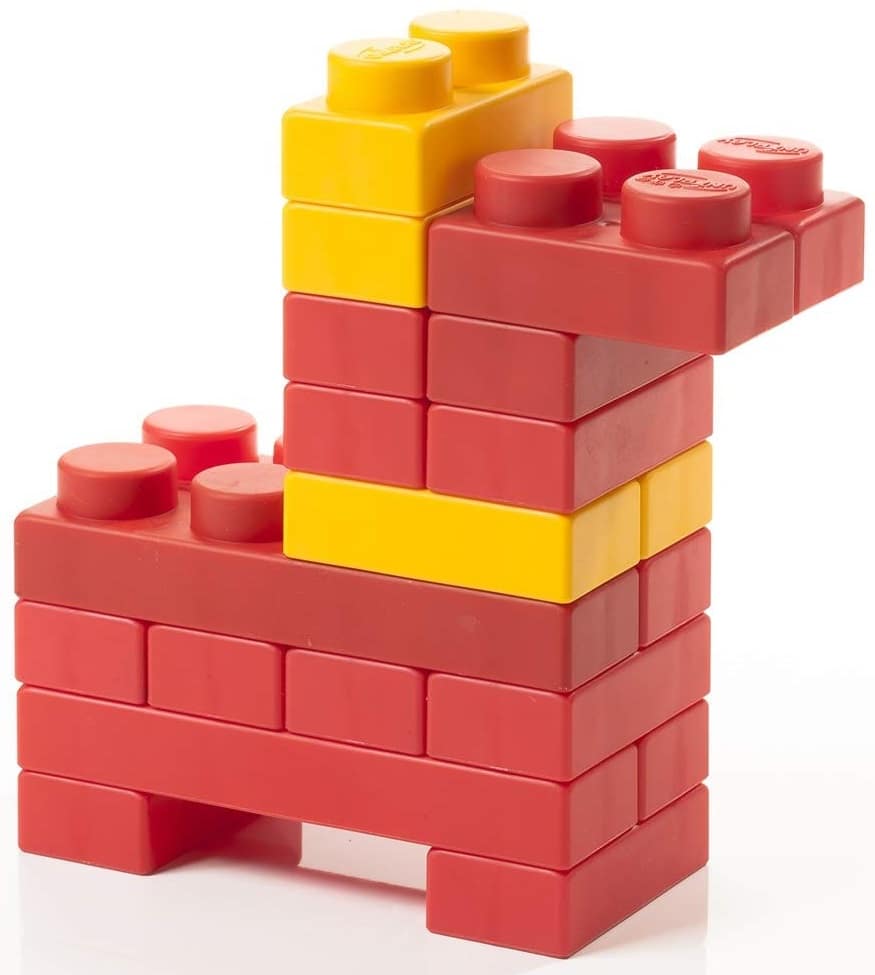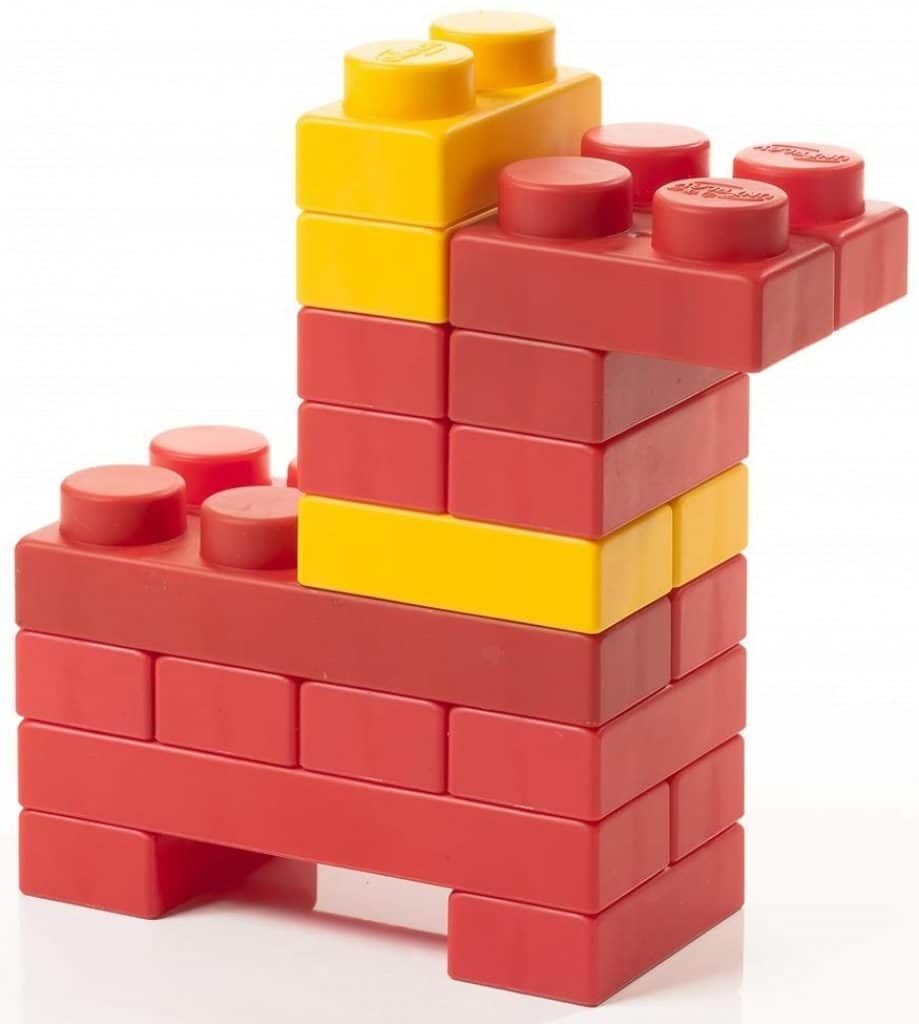 The Soft Blocks for building from UNiPLAY is set that contains 36 pieces and is a good option to use as a starter kit. The material used in the construction of these blocks is food grade PVC plastic. It means that these blocks are safe if your little one decides to put them in his/her mouth.
These blocks are antibacterial and non-toxic. The plastic is BPA free and hundred percent safe for your kids. The kit works well for preschoolers, toddlers and babies alike. You can also buy a 12-pc variant of this kit too to check whether your kid goes along well with these blocks.
You can also use the 12-pc variant as an add-on to this kit too. More, pieces will only provide your kid with more creative opportunities. The kit emphasizes the recreational safety of your sweetheart and it goes well for all babies that range from three months to three years. These blocks will train the little hands of your baby and will enable them to develop good motor skills along with some hand-eye coordination.
One drawback of this product is that it is not the best option for the toddlers. The kit can serve well as an add-on but not a primary toy in such a scenario. Some of the blocks don't fit well at all.
Check Pricing and Availability
PROS:
The kit comprises of 36 pieces and you can use a 12-piece variant as an add-on to provide your little one with more creative opportunities.
The material used in the construction of these blocks is BPA free and is antibacterial.
It is best suited for preschoolers and toddlers.
It will enable your baby to develop good motor skills and hand-eye coordination.
CONS:
The pieces loosely attach with one another.
It is not the best option available on the market for your playful toddler.
10

Magnetic Blocks by Soyee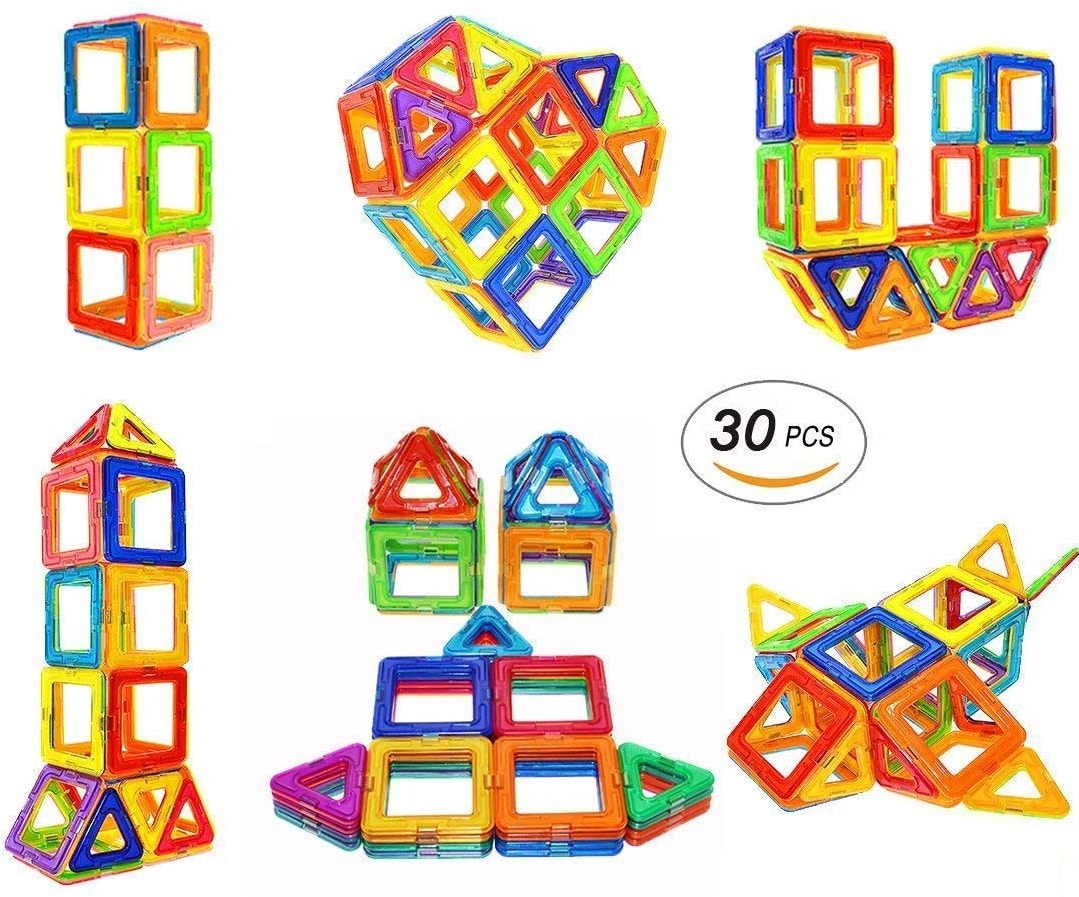 The Magnetic Blocks by Soyee is suited for babies with age ranging from two to five years old. It is equally good for both boys and girls.
Your cutie pie is going to love it as s/he will be able to enjoy numerous construction options. The magnets used in these blocks are very easy to use and your kid is going to build very conveniently while having fun. Best suited for toddlers, the magnetic blocks set comprises of 30 pieces and serves well as a starter set. It comes at a very affordable price.
There are 16 square shaped blocks and 14 triangle shaped blocks in this kit. You are also able to put all these pieces safe and sound in a carrying bag for convenient storage. It is a starter kit which means that any kid who is going to use the blocks for the first will feel at home with these. You can also use it as an add-on to the existing block kit of your kid. Of course, with more pieces, your kid will have more options to explore!
The only issue with this starter kit is that it might not be compatible with all other blocks from different brands. These pieces will only work with other blocks from Soyee or those pieces that come with magnets in them.
Check Pricing and Availability
PROS:
The Magnetic Block kit is best suited for toddlers.
The kit comprises of 16 square and 14 triangle blocks with magnets.
It is compatible with other block kits from Soyee.
If your kid is new with blocks then this kit is going to be very helpful for him/her.
CONS:
It is not compatible with block kits from other brands, especially those that don't come with magnets.
It is only suitable for toddlers and not the babies of age under 2 years.
---
Find out more about The Best Sensory Toys.
Buying Guide
Baby blocks are classics toys for your baby but classic doesn't mean that these toys are useless and boring for your little one. These blocks are more than just toys because with their help your baby develops numerous useful skills including cognitive thinking, simple problem solving, developing self-expression and identity. Therefore, when choosing the best building blocks for your little one, you need to consider the following attributes:
Every toy or bag of building blocks comes with age suitability and you should consider it seriously. Because your baby is not going to understand the blocks then s/he will not able to use them productively.
An infant is not going to like the toys that are designed for toddlers. On the other hand, toddlers will hate working around the stuff meant for infants. Therefore, you need to be accurate when choosing these toys and understand their recommended age suitability.
Another important aspect that you should consider before buying the best baby block for your kid is to assess what material does the manufacturer has used in the construction. Of course, your baby cares less about these things and s/he is going to put anything in his/her mouth without a second thought.
Therefore, you need to look whether the material is free from BPA and other hazardous or harmful substances. You must also look for any small parts or components that your baby can swallow and prohibit him/her from doing so. Always look for food grade blocks and toys that are FDA approved or come free of BPA.
It is important that you must have a look at how many pieces do come in the package. Some of them are very basic but do offer plenty of versatility. Your baby can make numerous designs with them. However, because your baby is going through a learning curve, therefore, you need to provide them with every opportunity to improve their creativity.
Therefore, you must look for products that come with numerous pieces. Some manufacturers of these blocks include up to 150 pieces as well. A number of pieces simply mean that your child will have more options to be creative.
Most people don't consider this an important element. However, weight and dimensions have a significant role to play as well. You don't want a toy that is too big for the tiny hands of your cutie pie. Furthermore, s/he is not going to have fun with a toy that is too heavy either. Babies love to grab and throw around things so to avoid any injuries you need to keep the weight and dimensions in your mind.
Aesthetics have a key role when you choose baby blocks or toys for your little one. Always look for those favorite colors that your baby prefers. If s/he has a toy in his/her favorite color, s/he will always keep coming back for more. Don't buy a color theme that is the least of the favorites of your kid or s/he will end up throwing it around and not using it at all.
Can I wash these baby blocks?
Yes, you can wash these baby blocks whenever you deem necessary. You can either wash them using soap or detergent. However, make sure that they do not cause irritation for your baby if s/he has sensitive skins.
Different materials come with different instructions for cleaning. You can clean plastic blocks or toys with a cloth damped with warm water and soap. Wipe thoroughly and let it dry. You can clean wooden blocks or toys with a soft damp cloth.
Some of the wooden blocks come with magnets, are they safe?
Yes, the magnets are hidden within the block and your little one cannot access it under any circumstances. Most of the manufacturers make these designs by following strict quality assurances to keep them safe for babies.
Why do these toys come with age suitability rating?
The baby blocks come with different ratings for age suitability. These blocks may have numbers, shapes, animals, words or anything that you want your kid to learn. The learning capabilities develop with age and you don't want to overburden the growing mind of your baby. An infant is not going to understand how to use a toy made for toddler and a toddler will show no interest in a toy designed for an infant.
You may be interested in The Best Building Toys.
Conclusion
After reviewing some of the best baby blocks that money can buy, the winner of this roundup turns out to be the Big 80-Pc Building Bag from Mega Bloks. You can also buy a 150-Pc version of this building block bag and a bag for match learning too.
Your young one will stay involved for a good period of time learning and enhancing cognitive ability. It is also compatible with different other building block sets from Mega Bloks to provide your baby with endless building opportunities. The bag to contain these blocks is made of PVC and comes with a zipper. Moreover, it comes at a very good price too.
Hope you have found this post interesting and informative. If you think that we missed out on something then let us know by dropping your comment in the section below.
Have fun with your little one!