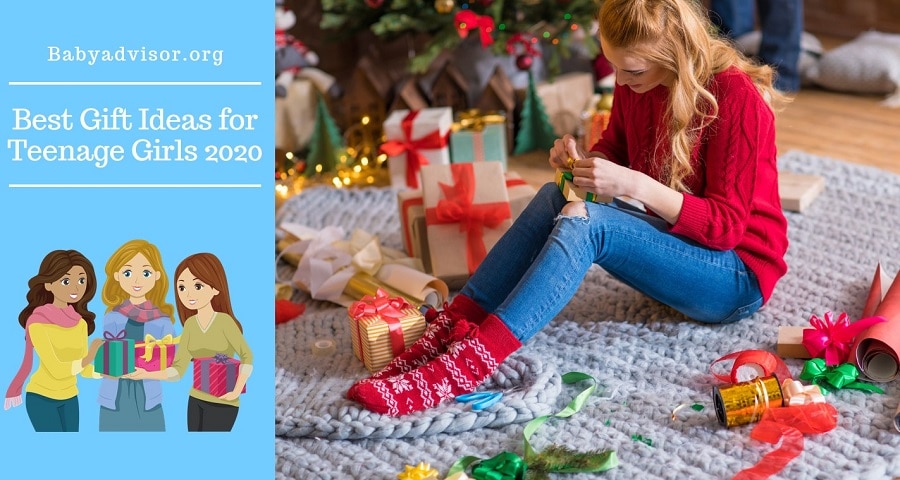 Are you looking for ideal and super cool gift for that teen in your life, but don't know which will impress her? Here we present the ultimate ideas to thrill every type of teenage girl out there.
Teenagers can be quite picky, making it hard for us to surprise them with a gift. They might love it or hate something you have invested so much in. So, the struggle is real, and that's why we spent hours and hours to find the coolest stuff that they would love.
In this list, we present the ultimate perfect gift for teenage girls with all kinds of style, and we believe that at least one of the pieces will appeal to your teenage daughter. It doesn't matter whether she is notoriously hard to buy a gift for or the pickiest girl you know, one of these gift ideas will put a smile on her beautiful face.
Concerned about the age? Worry not! We've picked top gifts for teenagers of all ages. That's you'll find things like Roku premiere, moon lamp, Bluetooth speaker, and a camera. These are just a few to mention; scroll down to discover more.
Best Gift Ideas for Teenage Girls
Nothing is more important to a teenage gal than her looks, and having her hair look stunningly beautiful is what she needs. This one-step hair dryer and volumizer hot airbrush deliver incredible results. It has a unique design for smoothing hair while detangling and improving its volume with ease. We love it because it comes with a great option for styling flexibility, three heat/speed settings, plus 1100- watt power. With this dryer, girls get to experience a new kind of bold.
---
Does the teen on your hands like spending most of her time indoors watching TV? Roku Premiere makes streaming simple with just a quick setup. The quality of the pictures is incredibly high, with vivid colors and sharp resolution.  It's everything teens needs from series to movies on the most popular streaming channels. The remote is simple as it comes with shortcut buttons to get your princess started already. Do you know what made us include the piece on this list? It's privacy! Your teenage girl doesn't have to disturb the whole house streaming movies of their age because they can use a mobile app.
---
Have you ever seen your teenage friend, daughter, or relative taking selfies and photos with her phone every time she gets hold of it? This girl needs the camera as a gift, and we guarantee you that she will love it. Noticing and surprising these teens with the small things they adore and cherish is the least you could do. This fancy mini camera has an attractive design and comes in different colors like Lime Green, Ice blue, Flamingo pink, Smokey white, and Cobalt blue. If you were to ask us, her favorite color would work perfectly fine.
---
Check Pricing and Availability
Tribit XSound Go Bluetooth Speaker will give your teenage girl an enjoyable 24-hour playtime. Is this teenager a lover of music? She will undoubtedly love it! She can take it on her trips and still get to enjoy its stimulating sound. If she wants to stay in the house, this audio piece will fill her room with an amazing distortion-free sound, even when she cranks it to max volume. It doesn't matter where she wants to take her playlist. It is waterproof, meaning it can sing in the rain, by the beach or pool. Whenever here music needs to be, she can listen to it effortlessly.
---
This pair of training gloves will make your teenage gal feel and look like a boxing champion. The material is dense and double-layered to ensure shock absorbency and promote proper punching. They are available in different sizes to fit small hands. Comfort while wearing the pair is less of your concern because they have full mesh palm to ensure breathability and relaxation. They also come with hook-and-loop closure and ever shield design to ensure wrist protection.
---
Who doesn't love frozen yogurt ice cream? Of course it's every teenage girls' favorite, and that's why we've included Cuisinart Frozen Yogurt, Ice Cream, & Sorbet Maker in our top picks. It makes ice cream quickly and allows your teenager to be more creative, especially when mixing the ingredients. The formula for coming up with the creamiest ice cream is pretty simple and will take a maximum of 20 minutes. Your teenage baby girl will only pick her recipe, gather and pour the ingredients into the freezer bowl, and turn the mixing arm on for the maker to do all the hard work.
---
The package might seem small but has a surprisingly serious sound that will excite that beautiful teenage girl in the house. Ultimate ears make incredible magic out of music to give your princess 10 hours of continuous musical ecstasy, brilliant and immersive sound. The music can be controlled right from the speaker by simply pressing the ultimate ears buttons put at the top to play, pause, and skip songs. This Bluetooth speaker doubles the fun, leaving the user a little crazy and dancing like no one's looking.
---
I'm not surprised why every teenage girl wants to have this backpack. I mean, it is incredibly amazing, super cute, and stylish for teens of all ages. Its features have everything to do with why it is part of this list. We selected it because it is the ideal laptop backpack material ideal for college girls. Aside from its main compartment, it has several small pockets for your teenage girl to put her cell phone, keys, earphones, pens, and other girly stuff. As you know, girls will forever remain girls; they always carry small and much stuff with them. The backpack also has adjustable straps making it comfortable to carry around.
---
We selected these bath bombs because they offer freshness and allows one to smell and feel the difference. They don't contain any toxic ingredients, as they are purely natural. It is actually the only set you get large variety quantity plus premium quality. The package comes with six unique ultra-moisturizing fuzzy bombs that will make your teenage daughter want to get more to enjoy luxurious baths every day.  I mean, who wouldn't want to have such a magical bath experience and pleasure? Of course, not anyone I know. So, give it a shot, and she will definitely love what the pack has to offer.
---
Is your teenage daughter a lover of kitty cat socks? 5 Pairs Women's Cute Animals Socks will be a perfect gift. These funny, cool, and cute socks are a very good choice for a teenage girl who loves cats because they feature cat paws and cat face on the upper part. Worry less about the quality because they are 80% cotton, 15% Acrylic, and 5% spandex. Not to mention, the fabric is very soft and comfortable, giving a perfect experience.
---
Check Pricing and Availability
It is pretty much assured that your lovely teenage girl will fall in love with this Portable Inflatable Lounger, especially if she loves going to the beach. No more lying in the annoying sands of the beach. With this air Lounger, she can also go on ventures, explore and relax whenever she finds herself. The inflatable Lounger gives an enjoyable time with just a quick and easy set-up, making it an awesome gift for those teenagers who love spending some great time outdoors.
---
There are different moon lamps, but this particular piece makes a perfect gift for teenage girls. Although this charming moon lamp might appear small, it comes with very powerful features. We included it on our list because the user can experience 16 different colors and select their favorites. So, your teenage girl can switch to blue or red during the day and light warm yellow at night to make her bedroom look super attractive and aesthetic. The battery stays up to six hours or up to 12 hours when the brightness is kept at its lowest.
---
What's more important than staying hydrated? With this Brimma leak-proof bottle, your teenage daughter can carry flavored water anywhere, since plain water is tasteless and boring. We all need something lively and having a fruit infuser water bottle is the real deal. Remember that no added calories and sugar; it's all-natural. The bottle has incredible features, including its recyclable plastic, shatterproof handle that makes it potable, and flip-top lid. Do you know what else made us love the bottle? It has a large 32 Oz size that your teenage girl will adore.
---
It might be traditional but has an awesome vibe that any teen will find interesting. This Mahogany Soprano Ukulele has stunning features that we found charming and adorable to make a perfect gift. It has a good-looking walnut bridge and fingerboard, 12 Brass Frets, a Mahogany neck, GraphTech, and so on. Ukulele will give your teenage girl that lifestyle she has ever wanted as it can be played in neighborhoods, classrooms, and music venues. It is easy and simple to use, allowing one to play lots of songs while enjoying its great sound.
---
Teenagers not only love listening to music, but they also like feeling the beats at heart. So, buying this amazing Beats Solo3 Wireless On-Ear Headphones makes a perfect gift for your teenage gal. These headphones made it to our top selection because of their premium playback that maximizes breadth, clarity, and balance through fine-tuned acoustics. Also, they have a custom comfort due to their adjustable cushioned ear cups. Therefore, if that lovely teen is not comfortable, she can easily customize the piece.
---
How close are you to that teenage girl you want to surprise? This Willow Tree hand-painted sculpted figure might be the perfect gift to express the closeness and emotions of a well-lived life. It is always important to remind those we love how we care and think about them, and that's why we thought of this sculpted figure. I mean, what another way can we express our emotions to our special loved ones, if not through this actual beautiful figure? I don't think there is. Buy a gift that speaks for itself, and bring endless smiles to your teenage daughter, sister, or best friend.
---
Fu Store Mermaid Tail Blanket is ideal for comfy and fun. It is adorable, and we believe it will make a perfect gift for a teenage girl. This selection has a skin-friendly material, and very warm yet breathable for all seasons. It is exquisite and elegant to be let down, not even by a picky teen.  It makes a perfect gift because of its beautiful patterns, special shape, and high-quality materials. However, it is essential to note that one should wash the blanket before use and not in a machine wash.
---
This protective stick-on double pocket is exactly what your teenage princess needs to keep small things safe. She may put her money, earphones, keys, and cards in different pockets. It comes with separate storage units to make it more tidy and easy to find things. Hence, making one more organized. The wallet is perfect and convenient for those who love running, going to the gym, traveling, or even exercising. Don't worry about the color choice because there is plenty to choose from.
---
Every teenage girl needs this Lighted Vanity Mirror to avoid messing up with the makeup. The mirror is super precise and perfect for all things, including lipstick, liner, and brows. We love it because it offers a comfortable viewing angle. Your goddess can even take it with her anywhere she pleases. This ideal essential tool for every woman is durable and has no risk distortion like chemicals, metal, heat, scratch, and fingerprints.  And that's why we recommend it as a perfect gift.
---
If your teenage girl is known for falling love with canvas bags, this dot backpack will be her favorite gift. After all, every teen needs a cute and durable backpack like this to keep things organized. We have even gone the extra mile to look for a lightweight backpack that is shoulder-friendly for that teen in your life. Its padded straps and cushion are also sturdy and comfortable, especially when carrying something heavy like a laptop.
---