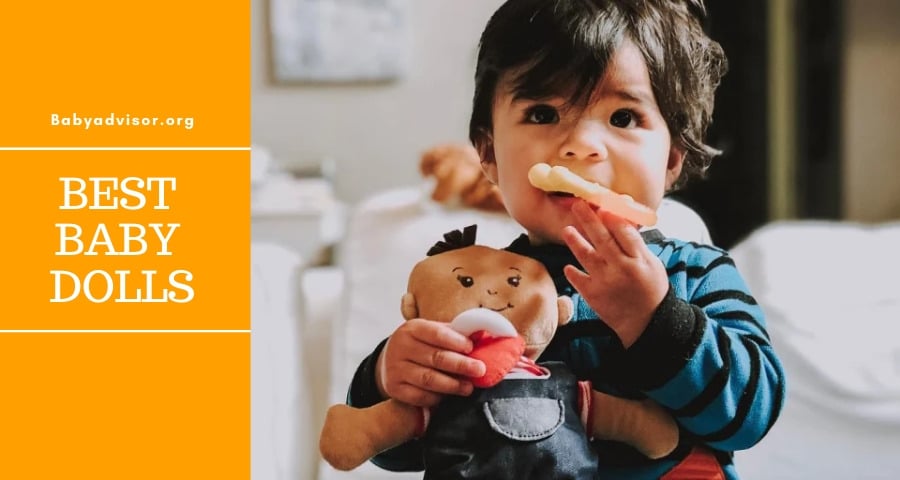 Baby dolls are a must-have toy for all children, starting at a young age. You might not think that your older infant or toddler will enjoy a baby doll, but you'd be surprised. Kids of all ages love the best baby dolls.
All four of my kids received baby dolls for their first birthdays. It always brought me such joy to watch their eyes light up, and how instinctually, they loved and cared for their dolls. Boys and girls need to foster their emotional and nurturing side to help them build empathy for others.
---
Quick Recap of Baby Dolls
---
The Benefits of Playing with Baby Dolls
Dolls are some of the oldest toys that kids have played with throughout history. We know that dolls have been used for thousands of years for good reasons. Baby dolls represent the child themselves, and it gives children a better way to access an understanding of themselves.
Despite what the culture might tell you, dolls are for all genders. Playing with baby dolls provides opportunities for growth for kids.
Here are some ways that playing with baby dolls can help your child.
When your child plays with dolls, he's working on social skills that are necessary during the early developmental years. It's a way for children to communicate with each other kindly and learn how to take care of each other.
Encourage Empathy & Compassion
One of the best reasons to play with dolls is that it helps your child process emotions, such as empathy. Not only does it teach responsibility, but dolls help your child empathize with those around them. We all want our kids to grow up into caring people.
If you play with your child or your child plays with friends and their dolls, it can help develop language skills. Children need to work on how to communicate with each other, and it works toward strengthening their vocabulary.
Encourages Imagination & Creativity
Dolls are a way for your child to use their imagination and creativity. Have you ever watched your child make their doll cry and need to be fed? That's using their imagination.
Your child might create scenarios – for example, the doll is crying because he just received a vaccination shot at the doctor's office. Not only is this using their imagination, but it also helps to release emotions that might be pent up from previous experiences.
---
How to Pick the Best Baby Doll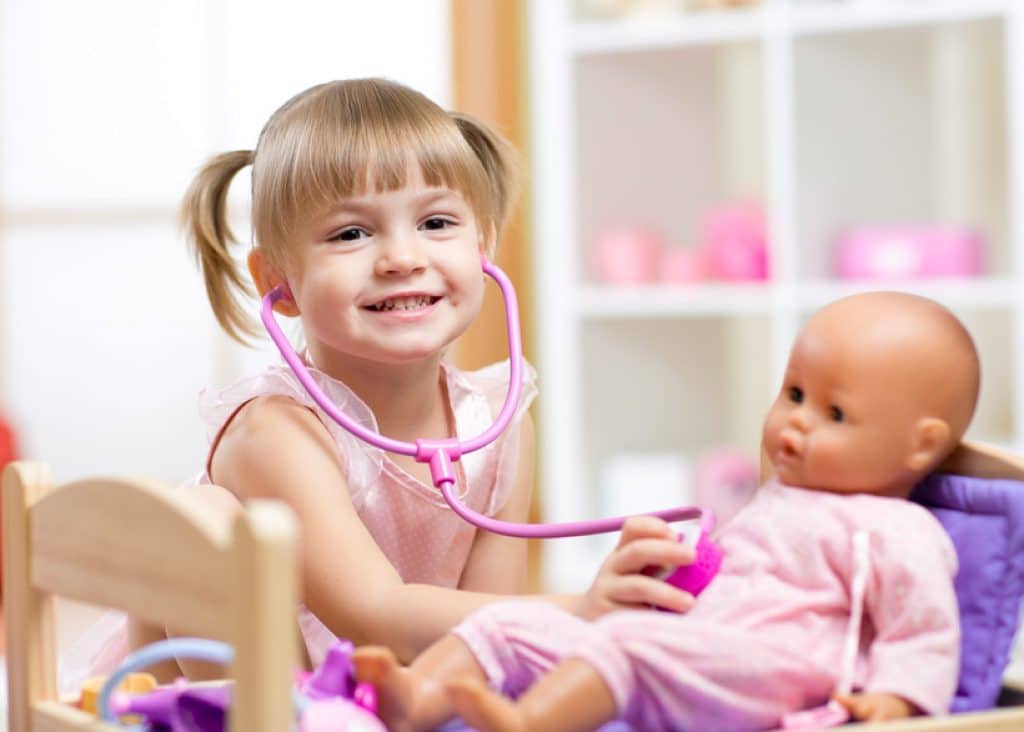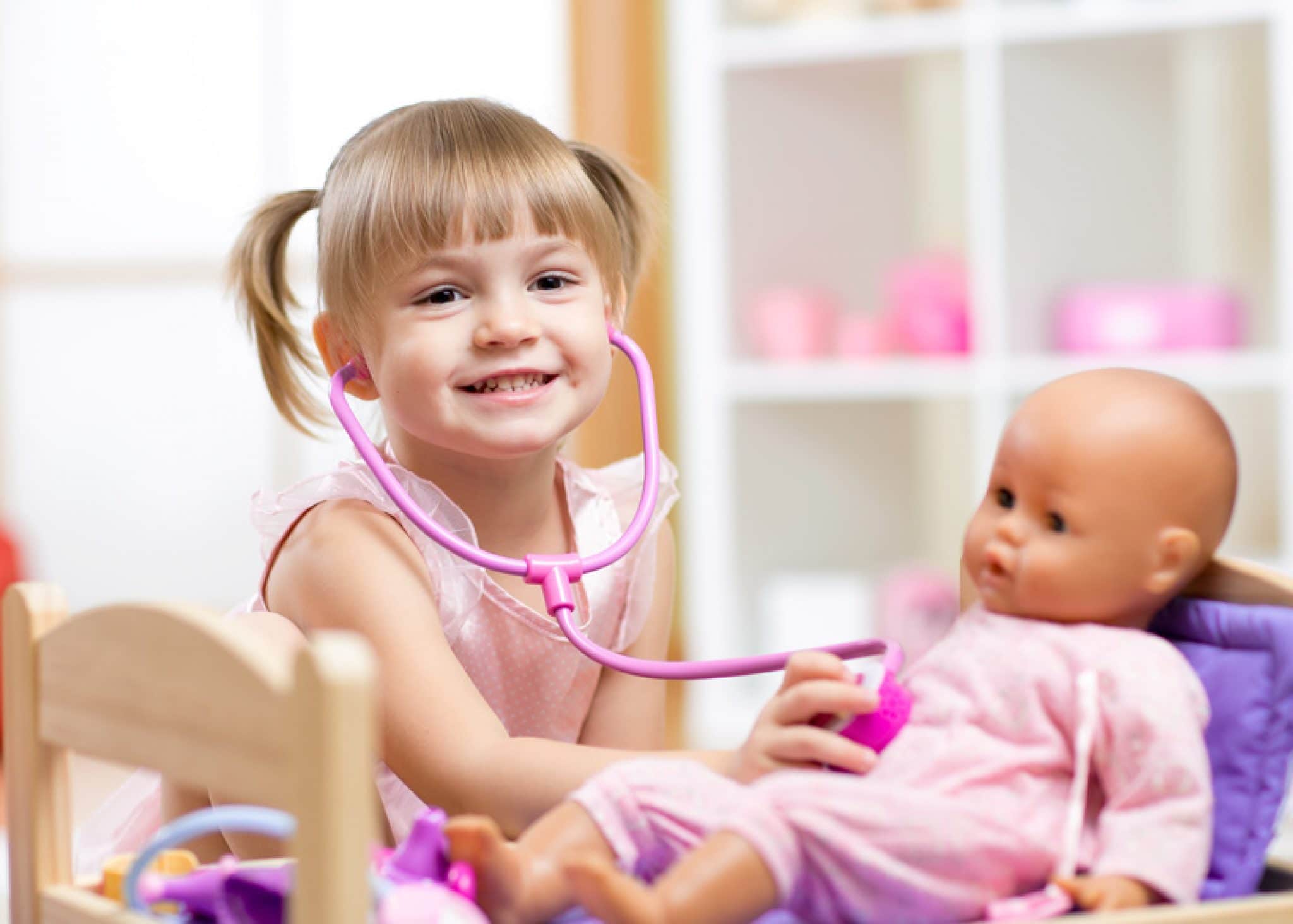 When you search for baby dolls online, you'll find that there are hundreds of options, and that's not an understatement. You have to be able to find the right out of all the choices, and that can be hard.
If you're like me, I get analysis paralysis. I stare at all of the different choices, read the descriptions, and then I can't make a decision.
Look at the type of materials used for the doll. Is it soft and comfortable to hold? For infants and toddlers, you'll want to have soft materials that your child can cuddle and love. It makes it more appealing to hold and cuddle.
For older children, you might want to look at harder dolls. These dolls typically are the ones that walk, talk, drink water, and other
Most doll manufacturers include a general recommendation for an age range for the doll. This range isn't always perfectly correct. Some dolls are entirely cloth, and you can toss those into the washing machine. Ones wholly made of plastic can be wiped down, but the combination of fabric and harder plastic makes it harder to keep clean.
Dolls get dirty. I've noticed that all of our dolls need to be washed from time to time. While I do love dolls that are entirely machine washable, some are hand wash only. Look to see if the clothes are removable, which makes it easier to keep clean.
Some dolls include accessories, but not all. Look at the price and what is included. Do you feel as if you get a good deal for your money? Are you going to need to purchase extra accessories for the doll? Kids want to have extra clothes, bottles, blankets, and other accessories to include with their doll.
Last but not least, the price range always matters. You want to be able to fit the doll into your budget comfortably. The great thing about baby dolls is that you can find great dolls for as little as $10 and some closer to $100. You'll find something that fits into your price range.
---
The 8 Best Baby Dolls Review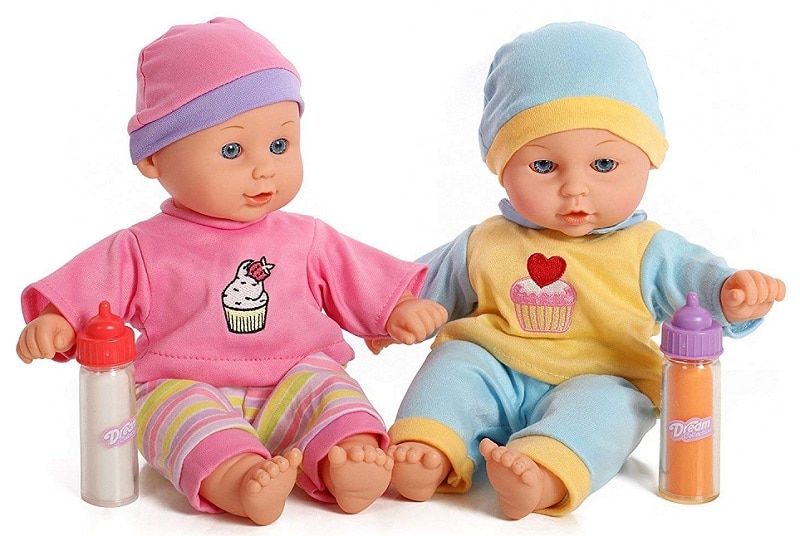 What's better than one baby doll? Two baby dolls!
The Mommy & Me Doll Collection comes with twin dolls. One is a girl, and one is a boy, and each comes with their bottle. One bottle is filled with milk, while the other is filled with juice. Both dolls are fully dressed in their removable outfit.
These dolls are great for young children, such as toddlers, because they measure 12 inches high. They're made of soft materials, so your toddler can carry the dolls around and love on them.
Check Pricing and Availability
---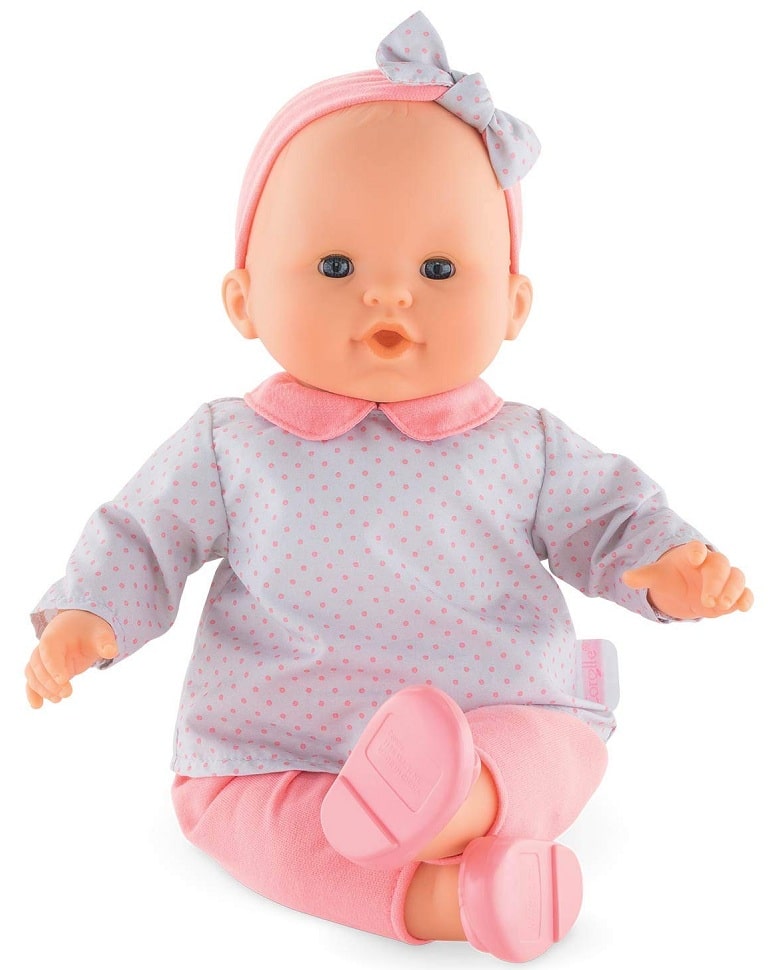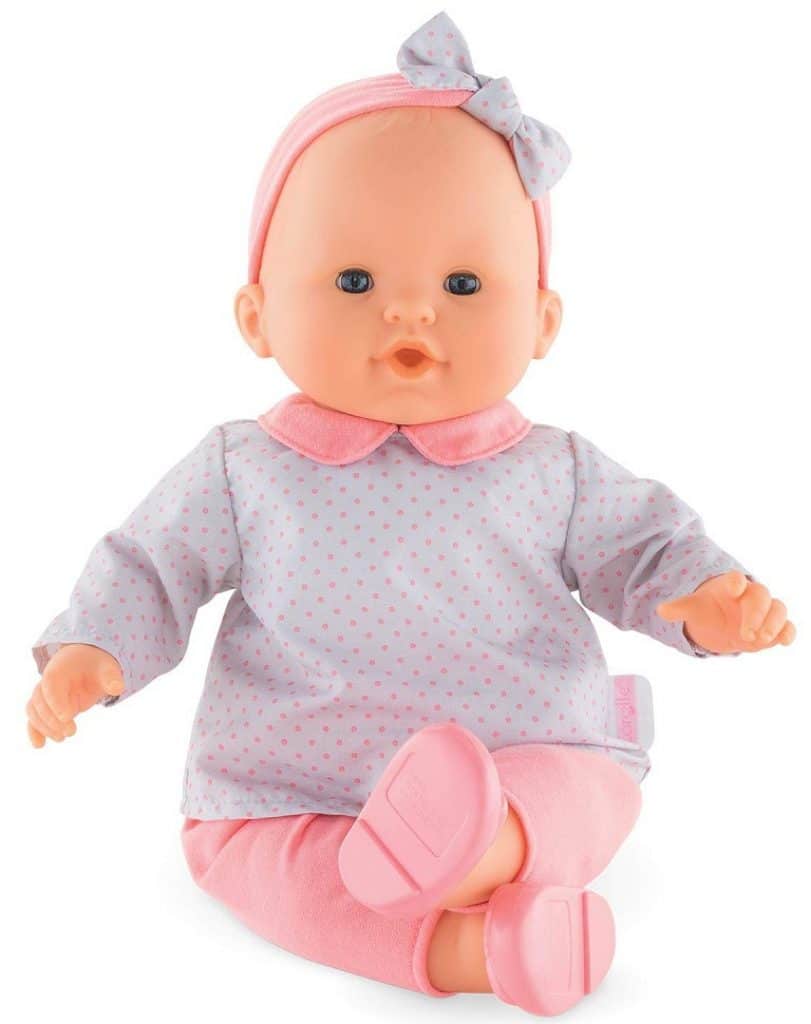 If you're looking for the perfect baby doll for a toddler, look no further than the Corolle Mon Grand Poupon. Louise is a large, 14-inch soft-bodied baby doll that has adorable blue eyes. Her size is perfect; she will fit right into your toddler's arms without being too small for your child to enjoy.
Corolle made the doll's face, arms, and legs out of soft vinyl, which is the perfect material choice. It gives the baby the shape that you need without being too hard, and Corolle scented this doll with the light scent of vanilla. That's a signature of Corolle.
The doll has realistic sleeping eyes, which are securely inserted for security. When your child puts the baby down to sleep, the doll's eyes close, just like a real baby. The doll comes dressed in a pant set, a matching headband, and removable pink shoes. This doll can wear any Corolle baby fashion outfits.
Check Pricing and Availability
---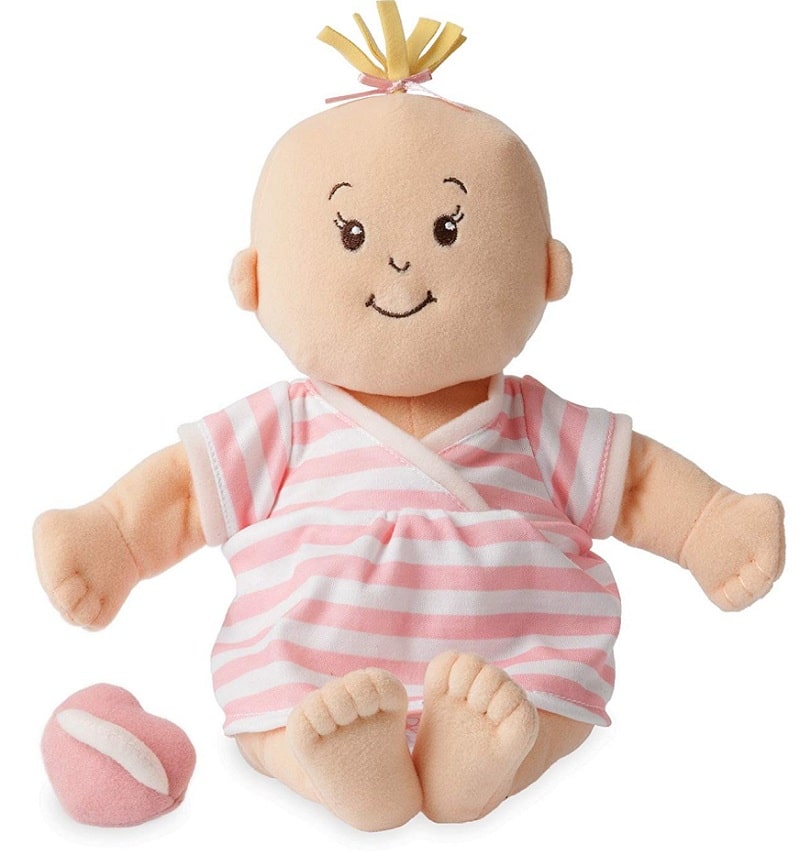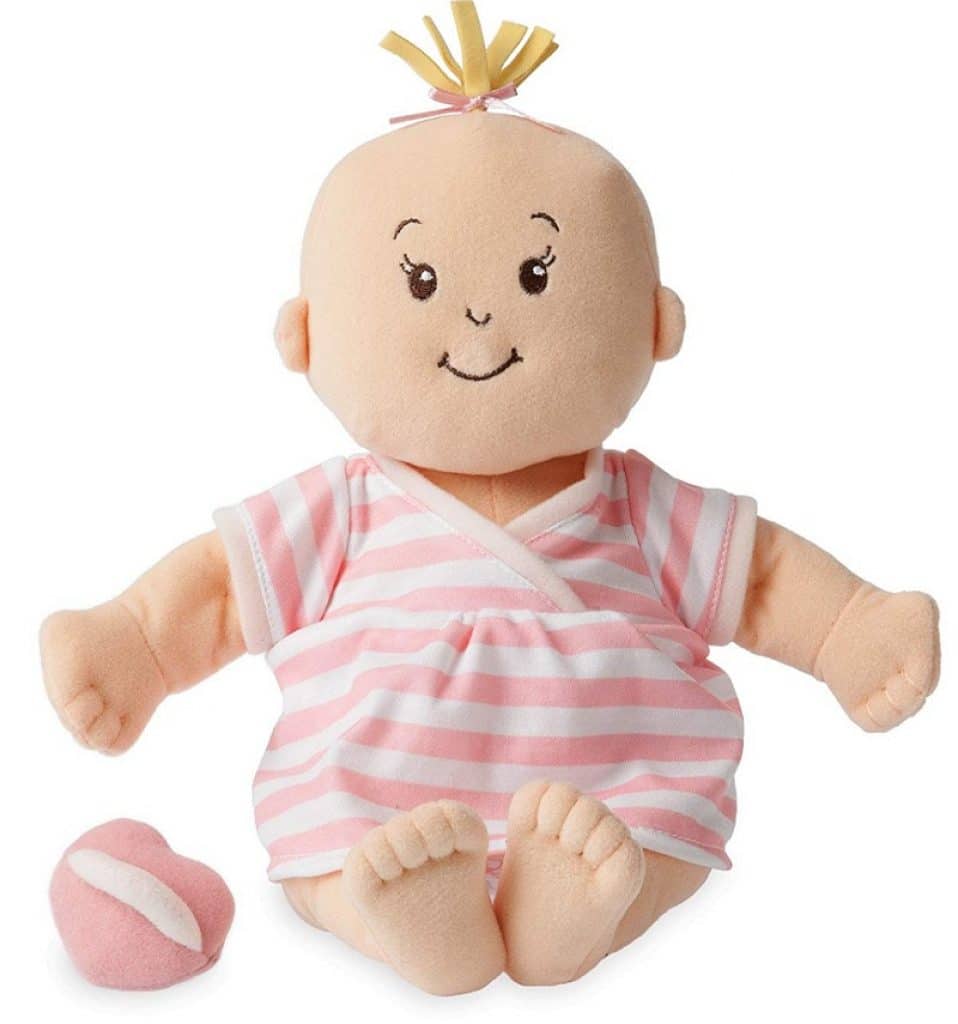 Say hello to Manhattan Toy's award-winning Baby Stella. This doll comes in a collection of boy and girl dolls, but all of them are the same soft, nurturing dolls and come with the same accessories. Stella measures 15," which is a bit larger than other dolls for this age range, but these dolls are designed for ages 12 months and up.
Baby Stella is an excellent choice for your child's very first baby doll. It's an ultra-soft doll that has embroidered toes and a belly button. Your baby will love to cuddle this doll, as well as the removable outfit, diaper, and magnetic pacifier.
Babies cannot resist the smile and open arms on Stella. You'll find your baby attaching and removing the magnetic pacifier frequently. It's a favorite thing for little kids to do!
Check Pricing and Availability
---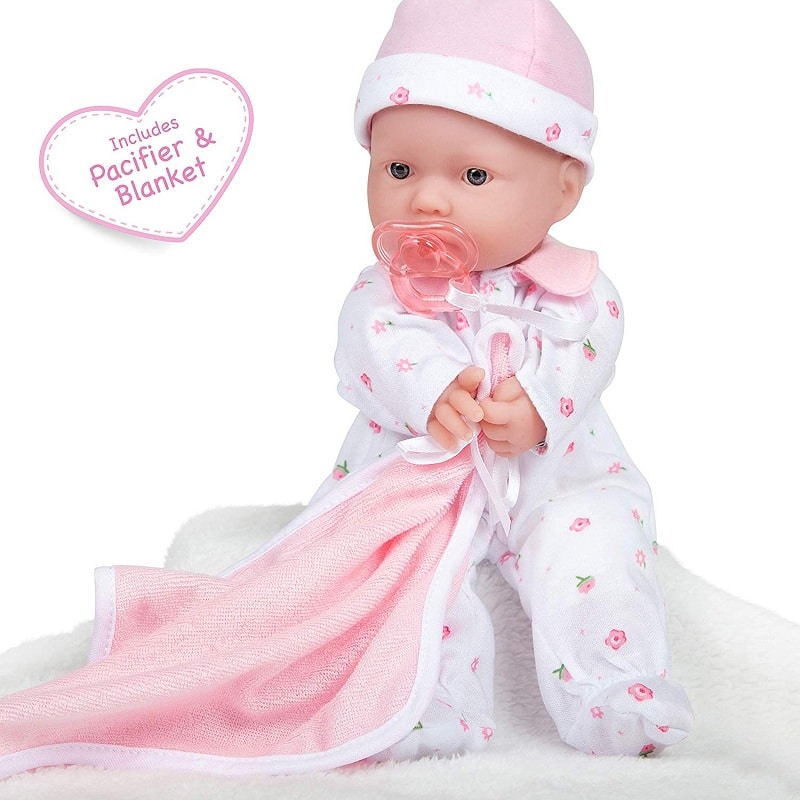 JC Toys made La Baby as realistic looking as possible with many details, including a soft, vinyl head, arms, and legs. This doll measures 11 inches, which is the perfect size for small children to carry and hold.
JC Toys made this doll with a soft and cuddly body that encourages your baby to hold and nurture this doll. It comes dressed in an adorable pink outfit and a matching hat, and this doll is available in multiple ethnicities.
Something that you'll like, as a parent, is that the body is hand washable, and you can remove the outfit. The doll has sculpted hair and fixed open eyes, and the entire doll is fragrance-free, BPA-free, and perfect for your little toddler.
This doll is safety tested and approved for children ages 12 months and up.
Check Pricing and Availability
---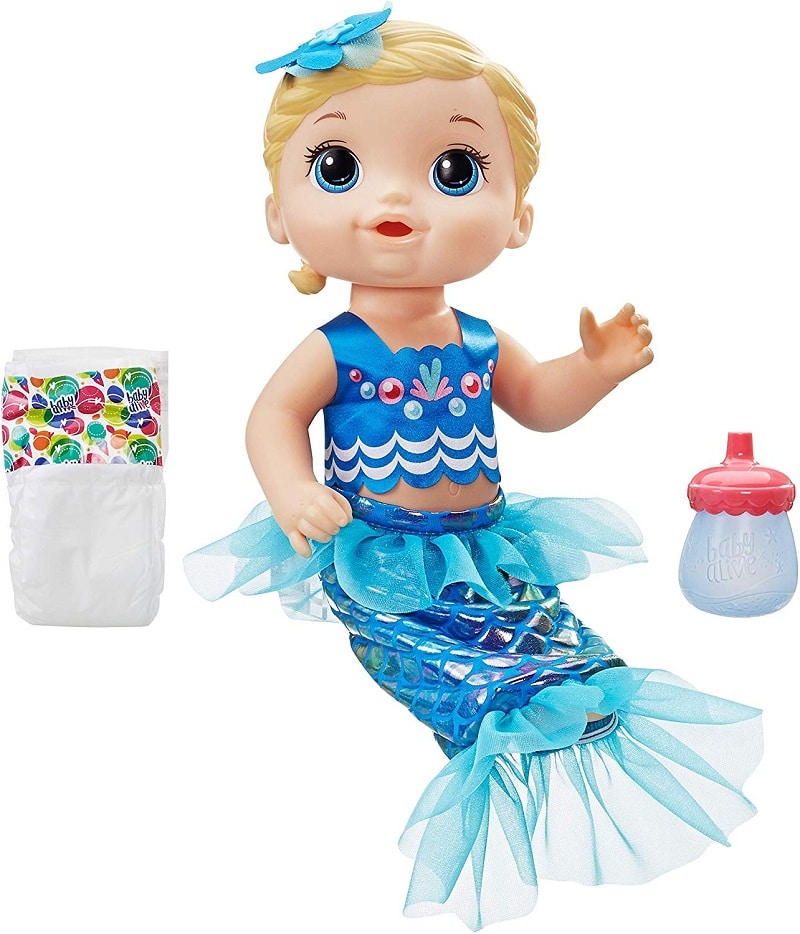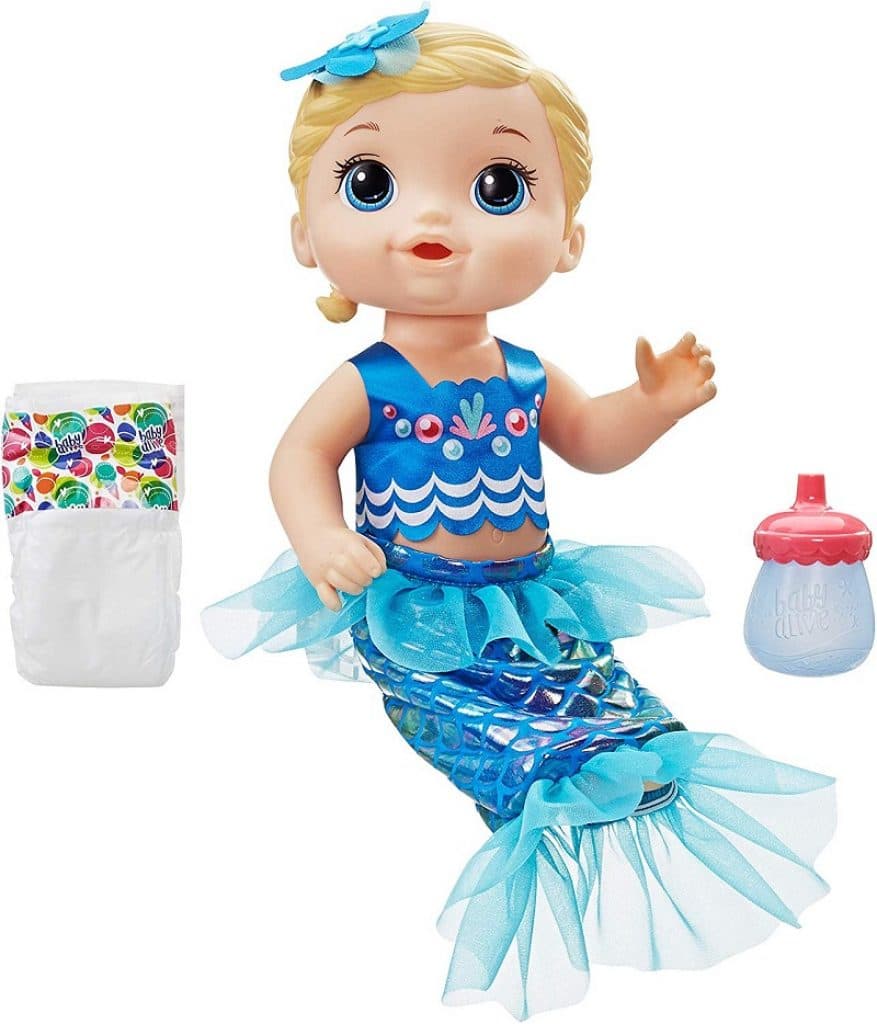 Are you looking for an inexpensive yet fun doll for your child? The Baby Alive Shimmer 'n Splash Mermaid is an excellent choice! Your child will have tons of fun in and out of the water with this baby doll. If you remove the skirt of this doll, you can transform the doll into a mermaid with a shimmery tail.
What child doesn't love a mermaid?
When Baby Alive isn't in the water being a mermaid, your child can take care of her just like an ordinary baby doll. You can give her a bottle, and she drinks it, which means she also wets her diaper too. You'll need to have extra doll diapers on hand because you know that your child will feed this baby doll dozens of bottles.
Baby Alive Shimmer 'n Splash comes with a removable top, a removable mermaid tall swimsuit bottom, a bottle, and a diaper.
Check Pricing and Availability
---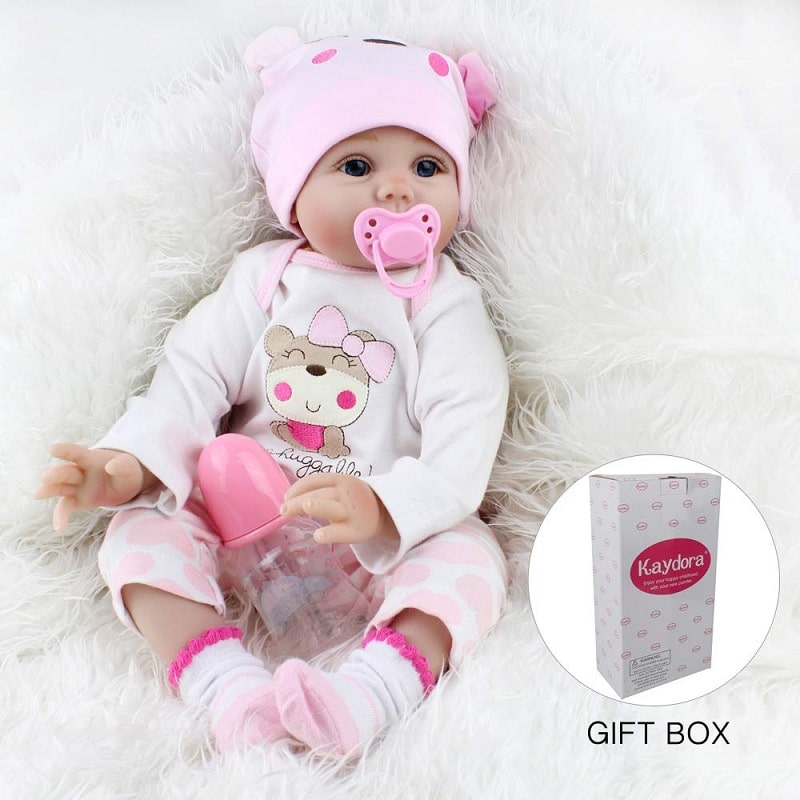 Reborn baby dolls have gained quite a following for children, and the Kaydora gives you an affordable choice for a reborn baby doll. Kaydora created this 22-inch long doll with dozens of perfect details from head to toe. The doll has a soft cotton cloth body that gives this doll a real baby feel.
When your child holds this doll, it'll be the perfect size for his arms. She does weigh 2lbs, so this doll is better for kids three years old and up. Reborn dolls are designed to be loved and cared for kindly.
You and your child will like all of the extra details that Kaydora added to this doll. It has a realistic wig that feels like real human hair, perfect for making little hairstyles.
Check Pricing and Availability
---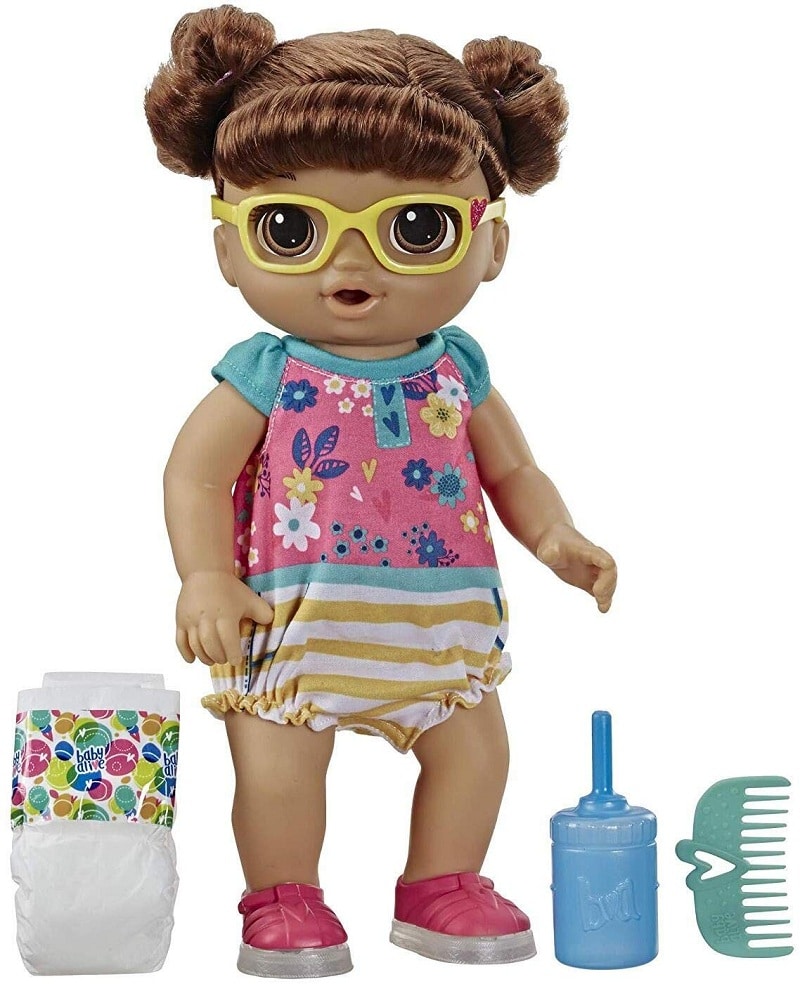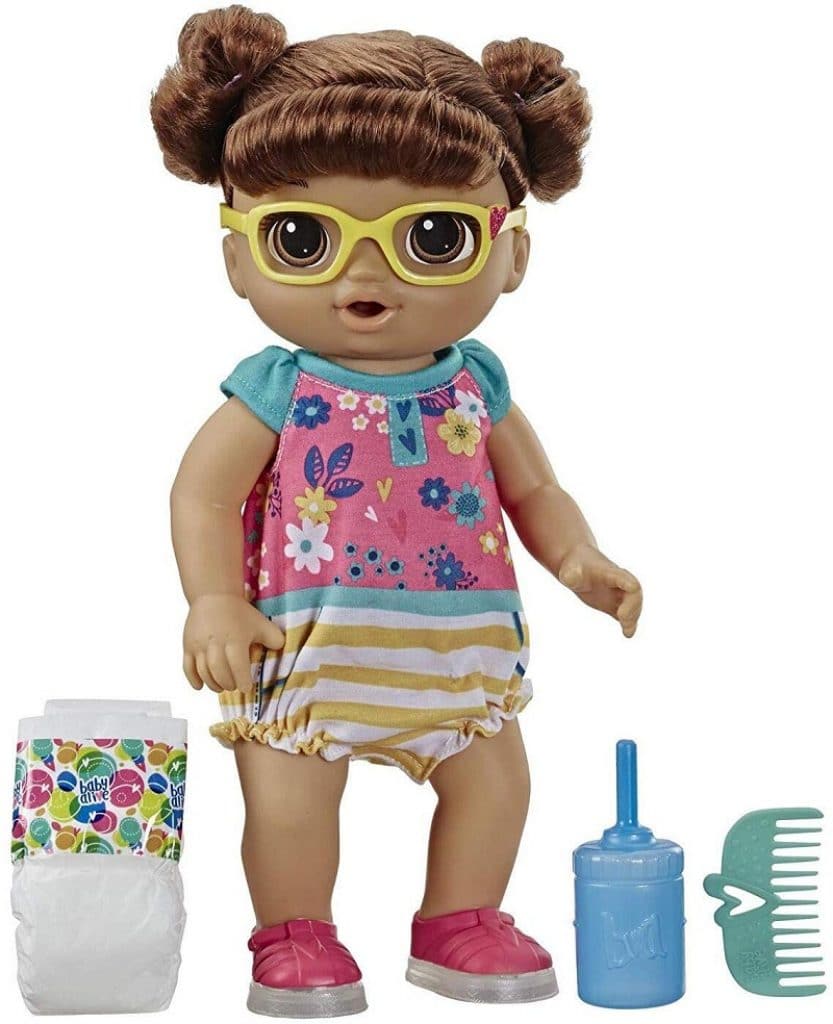 Is your child ready for a doll that does more? For kids three years old and up, the Baby Alive Step 'N Giggle is a great pick. She is a doll with 25+ sounds and phrases, and she responds to you in English or Spanish.
Her shoes light up with each step that she takes – yes, she walks! Your child will think this little doll walking around is hilarious. You can feed this doll a bottle, and she will drink and pee. What little kid doesn't love changing a baby doll's diaper? Additional diapers are sold separately, so be sure to have a few on hand.
Baby Alive included other accessories that your child will love. She has removable glasses, a removable outfit, a comb to brush and style her hair, and a diaper.
This doll would be too advanced for a 12-month-old, but your 3-4-year-old child will get a kick out of all these features!
Check Pricing and Availability
---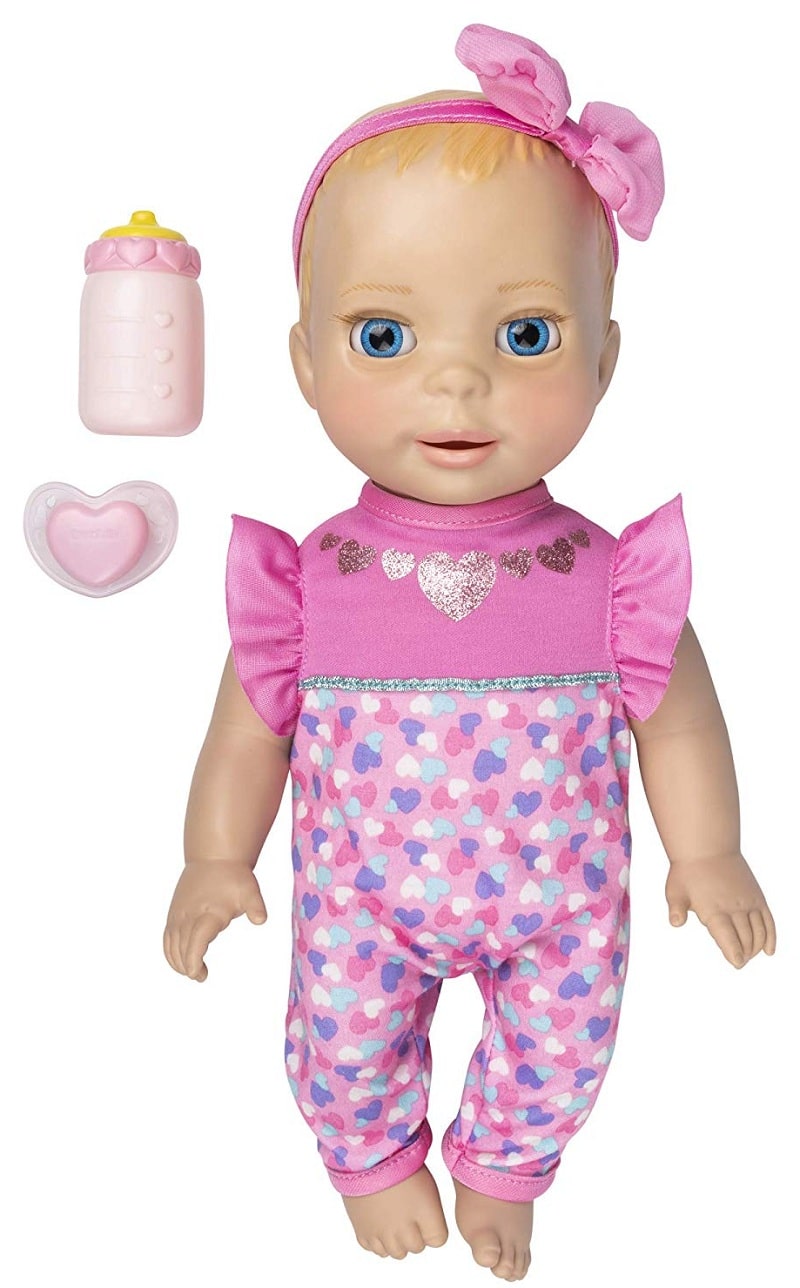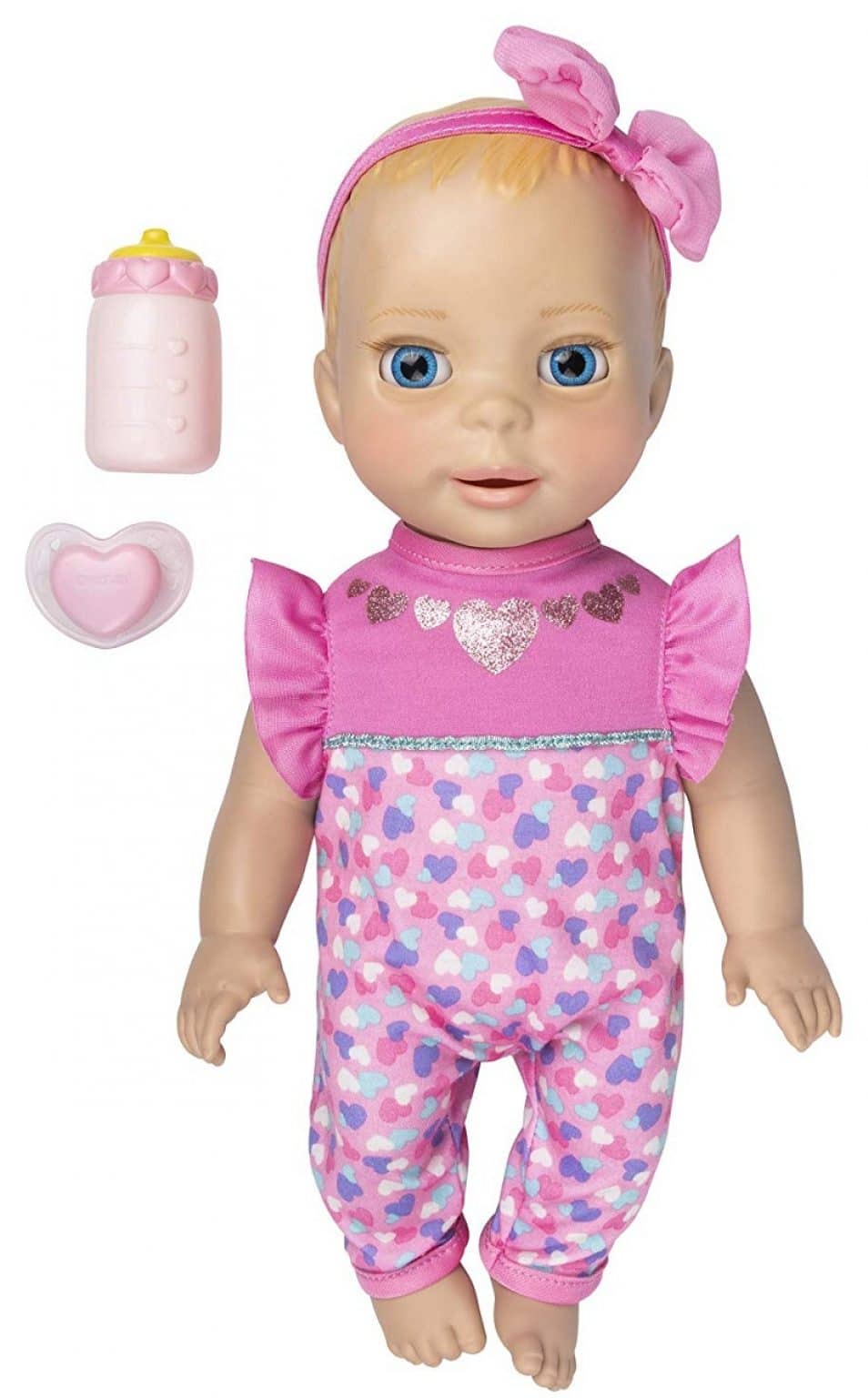 Next on our list is the Luvabella Interactive Baby Doll that lets your child discover and explore newborn moments. This doll is perfect for little kids who are four years old and up.
What makes Luvabella unique is all the natural expressions, realistic facial movements, and sounds that she makes. Your child can find many ways to love and play with this doll. For example, put her bottle or soother accessory into her mouth, and she suckles on them.
As you play with her, she gets fussy, cries, or starts to giggle or yawn. You can rub her back, and she responds or play with her.
Luvabella loves to be tickled, and she responds to touch. You can rock her to sleep and more, giving your child that authentic experience of nurturing a baby. When she's sleeping, you can watch her tummy rise and fall and listen to her heartbeat. She feels so real that both adults and kids think Luvabella is fantastic!
Check Pricing and Availability
You may also love to read: Best Toddler Slides for The Ultimate Fun!
---
Buying the Best Baby Dolls for Your Child
Baby dolls are a must-have toy for your child. There are many benefits to playing with dolls, and most dolls are an inexpensive gift that will give your children hours of enjoyable playtime. Pick one or more of these choices for the best baby dolls for your child.