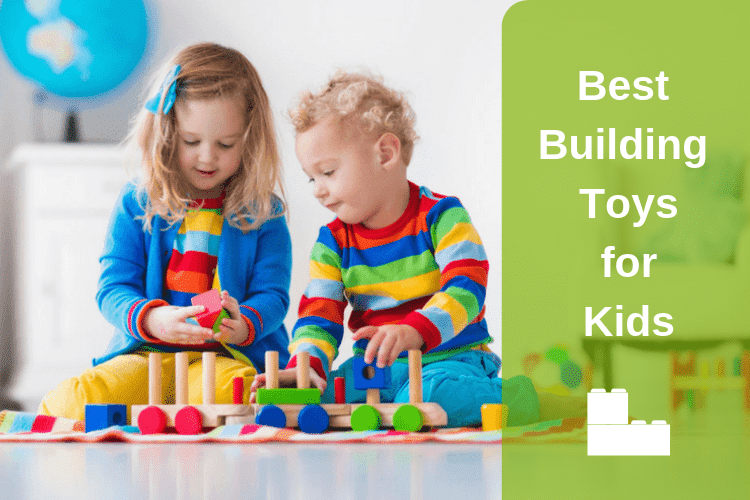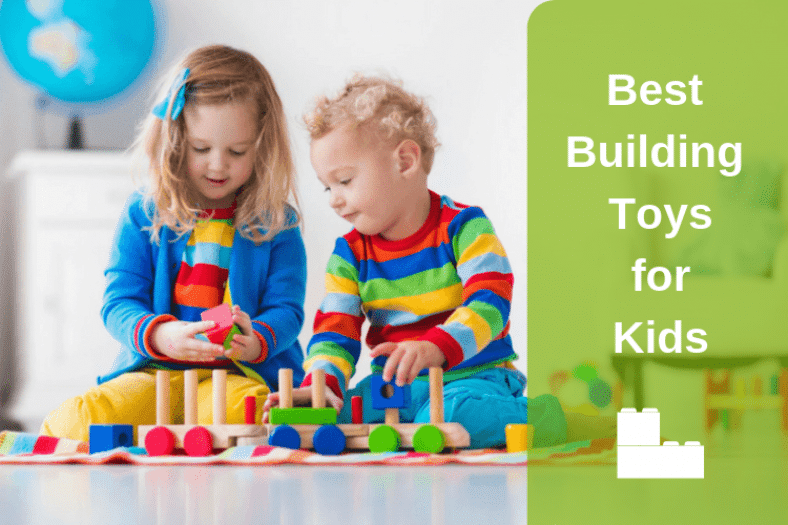 Looking for good educational toys? Do you want to entertain your child in a way that benefits their development? The best building toys can do just that!
When you think of building toys, you may think of blocks specifically – but there are actually a ton of different types of building toys out there! Building toys are excellent for your child's development. They benefit things like hand-eye coordination, imagination, motor skills, critical thinking, and more!
As an added bonus, building toys are an amazing way to keep your child busy for longer periods of time. I can't think of a single toy that has ever entertained either of my children for as long as their various building toys do. They get your child really engaged in their play as they explore and create!
---
Learn more about The Best Sensory Toys in our complete review.
What are building toys exactly?
For most people, building toys equal blocks. Blocks are definitely the most common and well-known types of building toys. They are far from the only type of building toys, though! Building toys are any toys that your child takes different pieces of and puts them together to create something.
---
What are building toys good for?
Building toys are good for all sorts of things! They have many benefits to your child's development. Building toys promote critical thinking, creativity, and problem-solving skills benefiting your child's mental development. They also aid in your child's physical development as they practice hand-eye coordination and fine motor skills!
---
At what age should I get my child building toys?
Children of almost all ages can benefit from building toys. Blocks tend to be the best first building toys for children and most blocks are recommended from around one year old. Although, many children can benefit from blocks even earlier than a year old. So, as your child nears their first birthday, consider a good set of starter blocks. As your child ages, it is a good idea to get them a variety of different building toys that are appropriate for their age and development.
---
Choosing Building Toys for Your Child
Building toys are one product in particular that varies a lot when you are looking at your different options. One set of building toys can be entirely different than another set of building toys. So, there are definitely a few things that you will want to carefully consider when you are choosing which building toys are best for your child.
The most major consideration that you absolutely need to think about is your child's age and stage of development. This is very important with building toys because they do vary so much. Building toys that are best for a one-year-old will probably not hold the attention of or benefit a 10-year-old. It works the opposite way as well – building toys that are great for older children are likely to be inappropriate for a smaller child. Some can possibly even be choking hazards.
Most building toys have clear age recommendations to help you get an idea of what children they are most appropriate for and beneficial to. However, for something like this, what age the toys are best for is just an approximation. That's where your child's development comes into play. Nobody knows your child better than you do. Use your own judgment and common sense to decide if a specific toy will be appropriate and beneficial for your child. Just make sure to always avoid potential choking hazards with kids under the age of 3.
You'll certainly need to decide what type of building toy it is that you're after. This goes back to you knowing your child best as well as knowing what you want your child to most get out of the toys. Decide if you want building toys that are relatively simple like some building blocks or something more complex that has lots of different types of pieces.
With most building toys, your child will simply use their hands to put pieces together and take them apart. However, there are some building toy options that include tools for your child to practice with. You'll also want to think about if you want something larger or smaller when you are considering the type of building toys you prefer for your child.
Another important consideration when picking out the best building toys for your specific child is the number of pieces that a particular set of building toys come with. There are benefits and drawbacks of having a lot of pieces just like there are some of both when you have less pieces overall. Building toy sets with under 100 pieces are nice because they do tend to be a lot easier to keep track of, put away and transport. However, pieces with several hundred pieces can be really great as well because they have so much more potential with what your child is able to create.
You may be interested in The Best Ride-On Toys.
7 Best Building Toys for Your Child
1

Tinkertoy Super Building Set – Best Overall Building Toys
Features:
200 pieces
Building ideas booklet
Bright colors
Snap-together pieces
Multiple types of pieces
Ages 3+
Check Pricing and Availability
You likely remember Tinkertoys from your own childhood! They have been around since 1913 and there is a reason that they have been so popular for generations now. These amazing, classic building toys are our pick for the best overall building toys hands-down.

There are so many amazing things to love about Tinkertoys. These are a true American classic toy. This is a set of 200 pieces in total. The pieces include many different types like solid rods, bendable rods, flags, spools, joints, and more. The pieces are all made of high-quality materials in the USA.
One important thing to keep in mind if you do happen to familiar with these well-loved toys is that they have been greatly improved upon. They were already amazing to begin with, but now they effectively snap together to ensure that your child's creations don't accidentally fall apart.
The bright colors help to stimulate your child's senses while your child practices important hand-eye coordination and fine motor skills putting together the different pieces. It also encourages great cognitive development through creativity and critical thinking.
Building Ideas Booklet:
Something that I really love about this set of Tinkertoys is that it comes with a helpful booklet full of building ideas. The booklet features 30 different building ideas that can be accomplished with the pieces included in the set. It can be great to let your child just go at it and build whatever they can think of, but its also nice to have these ideas to fall back on from time to time.
Not only will it give fresh inspiration, but it can also be very beneficial for your child mentally to learn to follow instructions and recreate what they see in front of them. Some of the ideas range from nice and simple like a little fish to more complex and intricate like a bridge or windmill!
Such a popular brand of high-quality toys certainly doesn't' come cheap, though. These are the most expensive building toys of all those that we've reviewed. The higher price may throw some off, but keep in mind that most parents would still consider them very worthwhile with good value.
PROS:
200-piece set gives plenty of pieces to work with
Different types of pieces encourage creativity and greater building possibilities
Relatively small pieces help to develop hand-eye coordination and basic fine motor skills
Included building ideas booklet provides inspiration and teaches your child to follow examples.
Bright colors add more fun and god visual stimulation
CONS:
Most expensive option on our guide
There is no going wrong with this amazing set of classic building toys! Tinkertoys have been around for generations and it looks like they'll continue sticking around. They are amazing for development and provide so much fun for your child at the same time!
2

IMDEN Magnetic Blocks – Best Magnetic Building Toys
Features:
Magnetic building pieces
96 individual pieces
Specialized pieces
Bright colors
Multiple shapes
High-quality ABS plastic
Rounded edges
Ages 3+
Check Pricing and Availability
Magnetic blocks are a little newer to the market than Tinkertoys but are gaining popularity quickly! This awesome set of magnetic blocks from IMDEN is aour pick for the best magnetic building toys and is absolutely perfect for your little builder!

Even though these are called blocks, they really aren't actual blocks at all. This set of 92 pieces is made up of different shapes that are mostly flat. It comes with squares, rectangles, triangles, hexagons, and some specialized pieces as well. For example, some of the specialized pieces are wheels on axels that allow your child to create a myriad of different vehicles! Some of the specialized parts can even come together to create an awesome, rotating Ferris wheel!
There are magnets in the different pieces that make up this set from IMDEN. They allow the pieces to easily connect and hold onto each other in a fun and innovative way! The magnetic connections allow an incredible amount of freedom during building that you won't find with many other building toy options that simply click into place in very specific ways.
Another really neat inclusion with these magnetic building toys is the number and letter cards. This set includes 26 letter cards – one for each letter of the alphabet. It also includes number cards and even mathematical symbols to help encourage early mathematics skills. The cards snap firmly into the square magnetic pieces allowing your child to make blocks or a number of other things with the cards within the squares.
Sample title
IMDEN has even included a special carrying bag for your child's magnetic building toys. This helpful bonus gift gives you the perfect place to efficiently store the building toys in between uses. With 96 different pieces, having a good place to store them is definitely very important. It really helps to prevent your child from losing pieces and even makes this an easily portable set of toys perfect to take along with them to a friend's or family member's house.
There is also a booklet included that provides building ideas and examples. Some parents and children find this frustrating because it includes some examples that can't be built with just the pieces that come in this set. Some of the ideas require additional sets in order to achieve the results shown in the booklet.
PROS:
Includes 96 individual pieces for plenty of building options
Magnetic connections allow for greater freedom when building
Included carrying bag makes it easier to store, transport, and keep track of all the pieces
Rounded edges help protect little hands
Alphabet and number cards add a nice educational aspect to your child's building fun
CONS:
Ideas booklet includes ideas that can only be achieved with additional purchases
These fun and unique building toys are a great choice to give your child some more versatility in their building toys. They can be used to make tons of different cool building projects. They are relatively affordable, very high-quality magnetic building toys that will certainly keep your child well-entertained!
3

Mega Bloks Classic – Best Building Blocks for Toddlers
Features:
80 pieces
Bright colors
Larger size
Ages 12 months+
Included carrying case
PVC-free
BPA-free
Check Pricing and Availability
Another amazing choice of building toys that most people are sure to recognize are these classic Mega Bloks. Mega Bloks have been around for many years now and are without a doubt the best building blocks for toddlers! These are a great first building toy. You'll find with many options of building toys that they are best saved until your child is around 3 years old. Mega Bloks are more appropriate for younger children with a recommended age starting at just 12 months.
What is unique about these building blocks compared to most building toy options is their size and simplicity. The blocks come in different shapes and sizes, but they all connect together in the same simple way. This provides variety while also making it simple for even younger children to play and build with them. The size is also ideal for children starting at 12 months of age. They are large and easy for little hands to work with!
These Mega Bloks also come with a super convenient carrying case! The case is a soft bag with a zipper closure. The lid opens wide to make it easy for even your toddler to put the blocks away and it has plenty of room to hold all of them. It also has a strong handle for easy carrying! The bag is free of PVC and BPA as well, so you know it's safe for your little one. 
Bright Colors:

These classic Mega Bloks also come in a variety of very bright, well-known colors. This provides great visual stimulation as well as an opportunity for color education. As you play with your child, you have the chance to talk to them about the different colors, which is an important way for them to learn their colors faster. They can also use them as sorting toys as they put each color of blocks into different piles.

Due to the larger nature of these building blocks, they do tend to fit a little more loosely than most building toy options. They still have decent connections for the type of blocks they are but will definitely come apart more easily than many other options. While it is nice that it's easy for even the youngest of toddlers to get them apart, it can be inconvenient and frustrating when they come apart unintentionally.

PROS:
Comes with 80 blocks to provide good building opportunity
Affordable price is easily fit into most budgets
Carrying case adds convenience for storage and portability
Bright colors increase stimulation and educational opportunity
CONS:
Fit together more loosely than most building toys
Overall, there is no doubt that Mega Bloks are the best building blocks for toddlers. They are very well-made, come in the perfect size, and are the perfect way to provide your young child with a reasonable challenge that will keep them busy and aid in good development!
4
ToyVelt Take Apart Dinosaurs – Best Building Toys with Tools
Features:
6 dinosaurs
218 total pieces
Screwdrivers
Wrenches
Bright colors
Interchangeable parts
Ages 3+
Check Pricing and Availability
These super original dinosaur toys are our pick for the best building toys with tools! Unlike most building toys out there, these actually come with tools to help take apart and build the toys. This provides a whole new set of beneficial challenges that will keep your child entertained!
The ToyVelt Take Apart Dinosaur set comes with 6 different dinosaur toys. Of the 6 different toys, there are 2 ceratops dinosaurs, 2 brontosaurus dinosaurs, and 2 t-rex dinosaurs. Each dinosaur toy is made up of different colorful parts that are held together by simple plastic screws. Each dinosaur has its own set of 2 different tools. That way your child and their friends or other family members can all play together at the same time building up and taking apart the dinosaurs.
The two tools included for each dinosaur are a screwdriver and a wrench. Each screw has a bolt-shaped head on it. This means that your child can use the screwdriver and the wrench interchangeably depending on the position of the screw and the dinosaur parts. This is a fantastic way for your child to learn basic tools skills. It also increases fine motor skills, hand-eye coordination, and problem-solving abilities.  
Interchangeable Parts:

The different parts of the dinosaurs are interchangeable. So, your child doesn't have to worry about making sure that the exact same parts are all used together each time they build their dinosaurs. This allows them greater freedom and an increased chance for creativity as they move around the parts to create different dinosaurs of different colors.

With 218 pieces – many being the relatively small plastic screws – there are quite a few pieces with this set. This is nice in some ways, but it can also be hard to keep track of all of them and most parents find that some pieces get lots over time.

PROS:
Included tools help to teach basic tool skills with a focus on fine motor skill development
Interchangeable parts promote freedom and creativity during building
Multiple dinosaurs increase entertainment factor and provide a good opportunity for make believe play
Great building toy for a wide range of ages starting as young as 3 years old
CONS:
Large number of small pieces are hard to keep track of
This is a unique toy that can be wonderful for a variety of children of different ages and interests. If your child happens to be a big dinosaur fan like mine, these will especially be a hit! They are well-made, provide a healthy challenge, and teach lots of important skills!
5
IQ BUILDER Educational Toy Building Set – Best STEM Building Toys
Features:
164 pieces
3 e-books
Bright colors
Phthalate-free
Lead-free
BPA-free
Storage tub included
Check Pricing and Availability
From IQ BUILDER comes these amazingly versatile and super fun building toys. These building toys hold endless possibilities and are our top pick for the best STEM building toys. STEM stands for Science, Technology, Engineering, and Mathematics. These toys promote STEM education, which is known to have a significant importance in today's society.
This set of building toys comes with quite a few different types of pieces. An important part of the set are special balls that have different holes all around them to allow them to be connected to other parts. The set also includes a variety of different sized connector rods as well as connector plates that come in different shapes and sizes. The set includes large squares, rectangles, and 2 different sized triangular connector plates. As a bonus, they also include wheels and wheel connectors for even greater possibilities!
Altogether, the set includes 164 different pieces. The set also comes with access to several e-books. You can access a beginner e-book, an intermediate e-book, and an advanced e-book. Each one has lots of different great ideas on how to use the pieces in your set to create all sorts of different models. Your child can copy the model ideas exactly or use them for inspiration for their own creations!
Safety Tested:

To ensure their toys are completely safe and give you peace of mind, IQ BUILDER has made sure to have their toys independently tested by a CPSC-accredited lab in the United States. This means a lot more than just saying that their toys are safe, because they are holding themselves accountable for their claims through the independent testing. So, you can know for sure that these building toys are BPA-free, lead-free, and phthalate-free!

This is definitely a more challenging set of toys than most of our options. It is rated for 3 years of age and up. However, it might be too challenging for some 3-year-olds. This can still make an excellent option for older kids and may work well for more advanced 3-year-olds.

PROS:
Hands-on STEM learning is extremely beneficial to your child's future
Helps to build hand-eye coordination and fine motor skills while also encouraging creativity and problem-solving
3 different e-books provide great ideas for children with different levels of building skills
Included tub provides the perfect way to easily store and transport the building toys
Independent safety-testing gives you added peace of mind
CONS:
Possibly too challenging for even 3-year-olds
Overall, these are definitely an incredible option of building toys. They are best suited to older kids, although some children as young as 3 may be able to use them. The STEM education they provide is an excellent thing to have in your child's arsenal and they are sure to have hours of fun with them as well!
6
VIAHART Brain Flakes – Most Affordable Building Toys
Features:
500 disks
1.3-inch diameter per disk
Bright colors
Ages 5+
Reusable plastic container
Check Pricing and Availability
Most of the building toys on our list come at a fairly decent and affordable price, but these are our pick for the most affordable building toys! These simple building toys are by far the least expensive option in our guide AND they come with more pieces than any of the other toys that we have reviewed! There are 500 individual pieces that come in this building toys set, so the value is really unbeatable.
These are VIAHART's Brain Flakes! These are refreshingly simple building toys with seriously endless possibilities. This is definitely the type of toy that will keep your child busy and content for hours on end. They are simple plastic disks that have slots all around the edges that allow them to easily connect together. They come in a variety of fun bright colors ranging from pink and orange to blue and purple!
Each disk is just under 1 ½ inches in diameter. This makes them relatively small without being too tiny to easily work with. The small size actually gives you even more possibilities as you build all the pieces together to create virtually anything you and your child can think up! Your child can build animals, plants, people, vehicles, and so much more!
Easy to Use:

One of the nice things about these building toys is that they are super easy to use. Even children with the most basic of fine motor skills should easily be able to connect and take apart these pieces. While they provide less of a challenge to use, they make up for that with the amount of creativity and thought that goes into creating different models and figures. These certainly can help to sharpen fine motor skills and hand-eye coordination, though! They just really shine when it comes to creativity and imagination!

While these are fairly simple to use, they are also pretty small. They are recommended for children ages 5 and up. Although, the manufacturer does note that they can be used by children as young as 3 if the child is a little more advanced. Plus, with so many tiny pieces, these can definitely be a little harder to keep track of.

PROS:
Reusable plastic container provides an easy form of storage and/or transportation
Disks are the perfect size for little hands to effectively build with
500 individual pieces give tons of room for creative and complex building projects
Smaller pieces let kids practice fine motor skills and hand-eye coordination
CONS:
Not ideal for most children under the age of 5
Tons of small pieces are harder to keep track of
These aren't just the most affordable building toys, but they are actually very fun and beneficial for your child. They are best for slightly older children but will last a long time before your child outgrows them. There are great possibilities for children of all ages and skills with these building toys.
7
Crazy Forts Fort Set – Best Fort Building Set
Features:
44 connecting rods
25 ball joints
Large building play
Durable
Easy to use
Expandable
Check Pricing and Availability
Finally, we have the best fort building set from Crazy Forts! This is a great choice because it is much larger than the other building toy options. It gives a new perspective to building for kids and adds gross motor skills into the equation!
This is a really unique take on fort building! Building forts is a nearly universal childhood past-time. I remember when I was a kid, we usually just used the dining room chairs and threw a sheet over. I can't even start to imagine how much more we could have done with this amazing fort set and I'm super excited to get it for my own kiddos so that we can have all-new fort-building adventures!
This set comes with 2 different types of pieces. There are balls with different holes throughout them as well as connecting rods. It comes with 25 of the balls and 44 of the rods for a total of 69 pieces. Your kids can out these together in any way they can think up to create a variety of different structures. They can keep it simple with a large square shape or shake things up with an igloo or rocket. There are tons of possibilities and it will be a great way for your child's creativity to soar!
Something that I really love is that after your child actually builds their fort, they can throw a sheet on top and keep the play going with role-playing and make-believe fun as they travel to outer space or go ice-fishing!
Expandable:

There is a decent number of building pieces included in this set. It allows you some versatility when building, but many parents do complain that it doesn't feel like enough if you want to build anything large or remotely complex. A really fun option is to simply buy more than one set. The more sets you have, the more versatility you have and the larger and more complex the buildings your kids can make are.

PROS:
Expandability allows greater possibilities with multiple sets
Easy to use pieces allow easy building that promotes gross motor skills and fine motor skills
Larger scale building gives your child a new perspective on building
Fort building promotes creativity and imagination during and after building
CONS:
Relatively expensive – especially if you choose to more than one set
This fort building set gives your child to practice building on a larger scale. It can be very beneficial for development and, of course, tons of fun! It brings gross motor skills into the equation and encourage imaginative play during the building process and after they've completed building their fort!

Want to read more? Check out our review of The Best Bath Toys.
Final Words on Building Toys
Building toys are definitely not something that you want your child to go without. They are not only a really great way to keep your child busy and entertained, but they are incredibly beneficial in multiple ways. They help your child practice all sorts of important skills and really aid in their overall development both physically and mentally.

Blocks are a great building toy, but it's important to provide your child with multiple types of building toys as they age to get the most out of their building play! We hope our guide and recommendations have helped you to find the best building toys for your child!