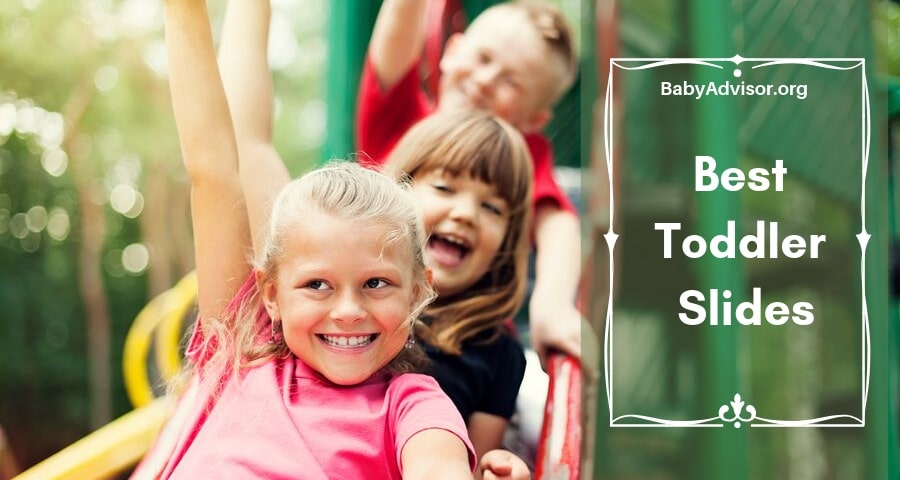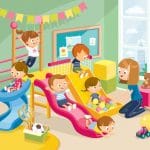 Having a toddler slide at your home offers a fun way for your child to satisfy his climbing desires. Slides are a classic toy, and you can't convince most kids to get off of them. Toddlers climb up and down the ladder, sliding over and over again. Having one of the best toddler slides at home is definitely a must-have for any parent. 
We've had multiple slides throughout the last few years, and all of my kids have thoroughly enjoyed them. They're a play item that's worth purchasing, and they have excellent resale value, which is something you might want to consider. 
---
The Benefits of Playing on a Toddler Slide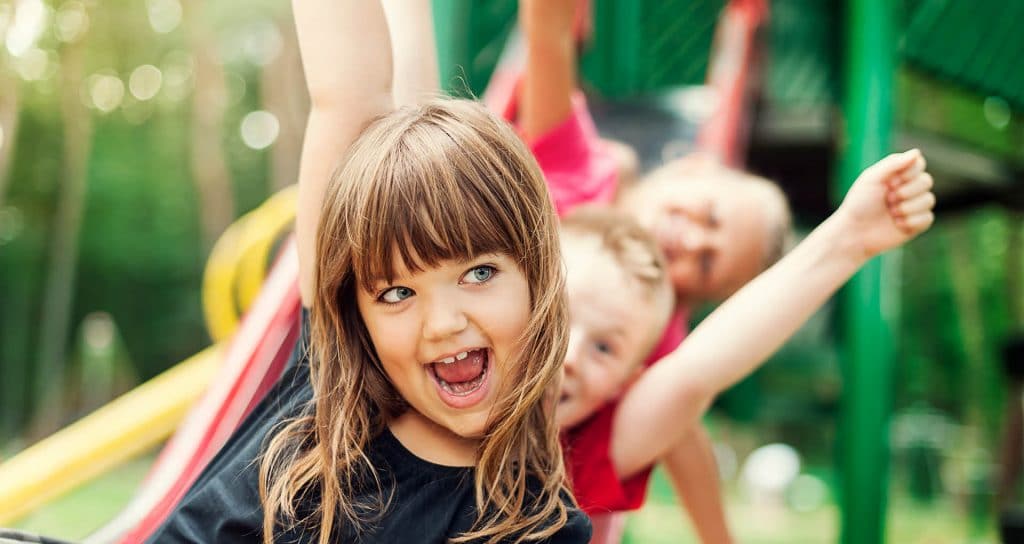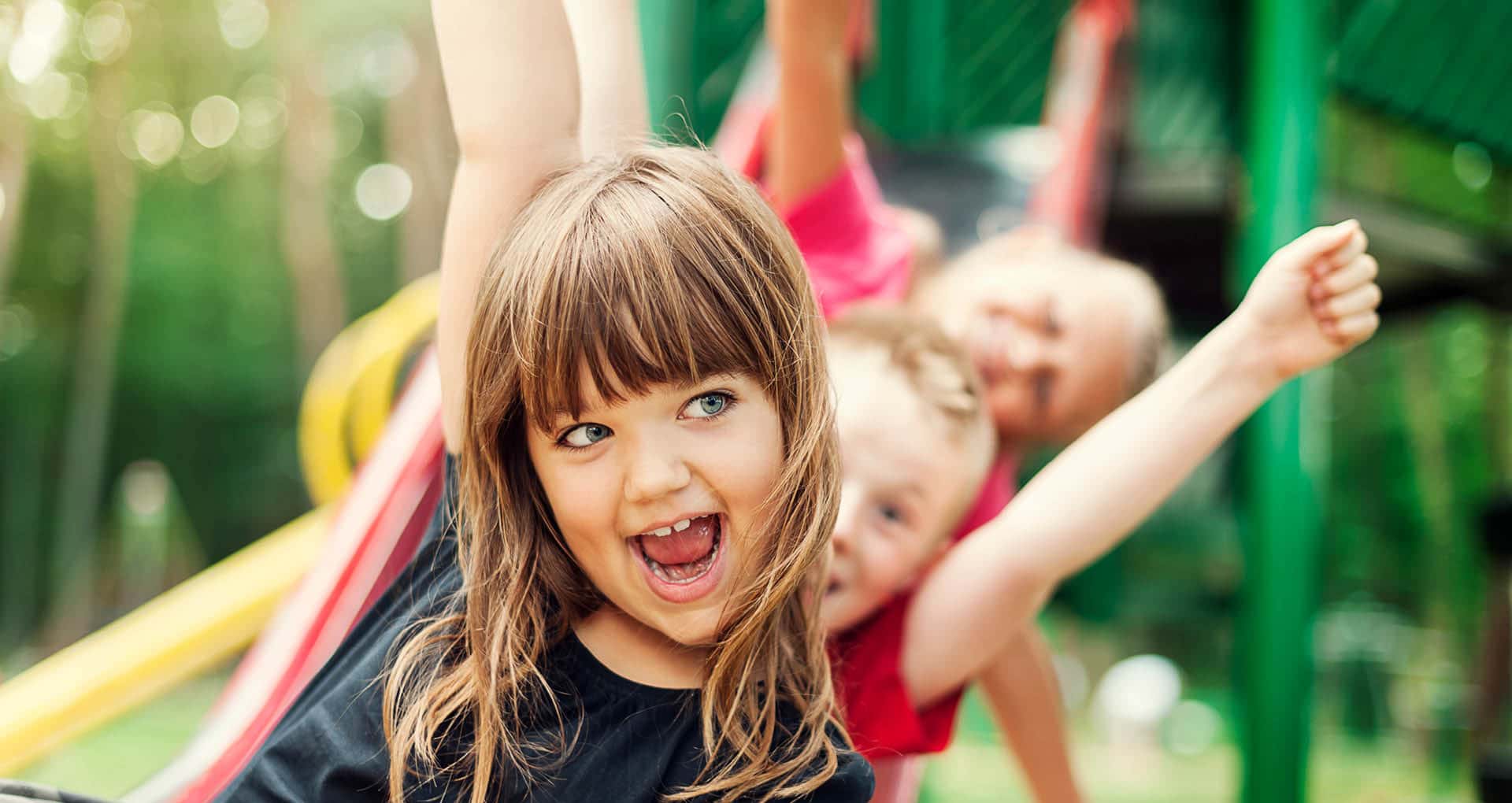 Having a toddler slide gives your child something to do that is fun and healthy. It's a versatile toy that works for girls and boys. All kids love playing on a slide! 
Here are some benefits of having a toddler slide for your child:
Your toddler has to climb the steps of the slide, and that helps to strengthen his core muscles. Those are muscles that stabilize, align, and move the trunk of your body. Strengthening this muscle enough good posture at a young age. 
Plus, it's a fun way to strengthen your child's muscle; they have no idea they're "working out." 
If you go to a daycare or preschool center, then chances are you'll notice they always have a few slides available. Children interact together, learning how to share the slide and take turns. They have to talk together to figure out who goes next. It's a great social skill developer as they grow older. 
Enhances Spatial Awareness
Stepping up onto the next step of the ladder requires toddlers to understand space. They're learning to understand the relationship between the positioning of their feet and their surroundings. It's setting the foundation for learning these conceptions. 
It takes several days for your child to figure out how to climb up the slide and go down it on their own. That's because they need to be able to coordinate their movements properly. It involves coordinating their legs and hands so that they can climb up the steps and go down.
---
You may also interested: Best Baby Bath Toys for Newborns & Infants.
How to Pick a Toddler Slide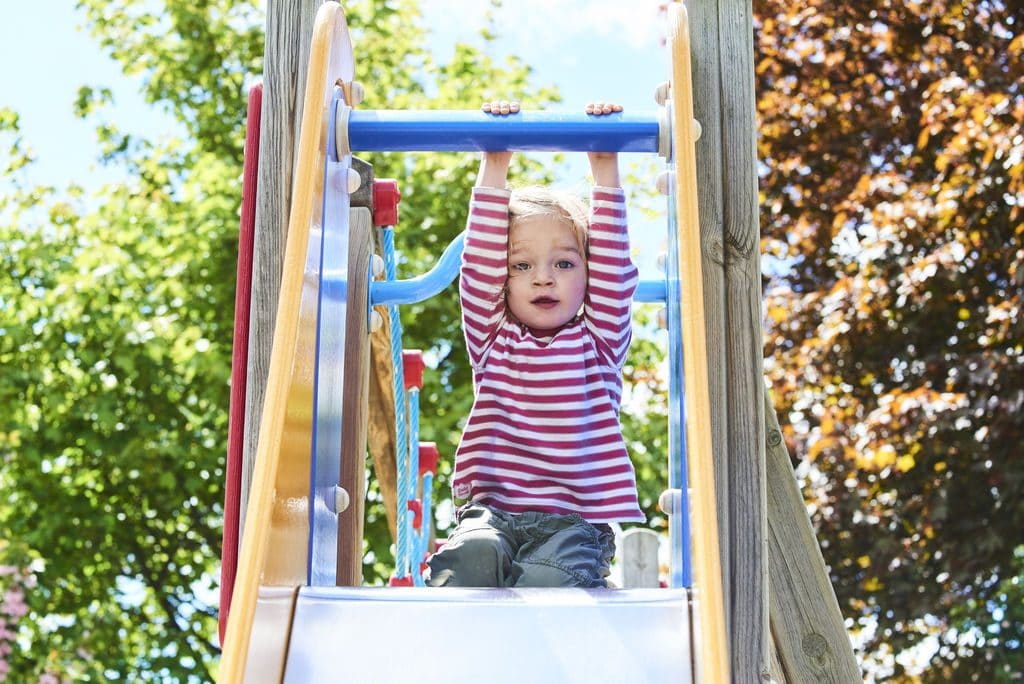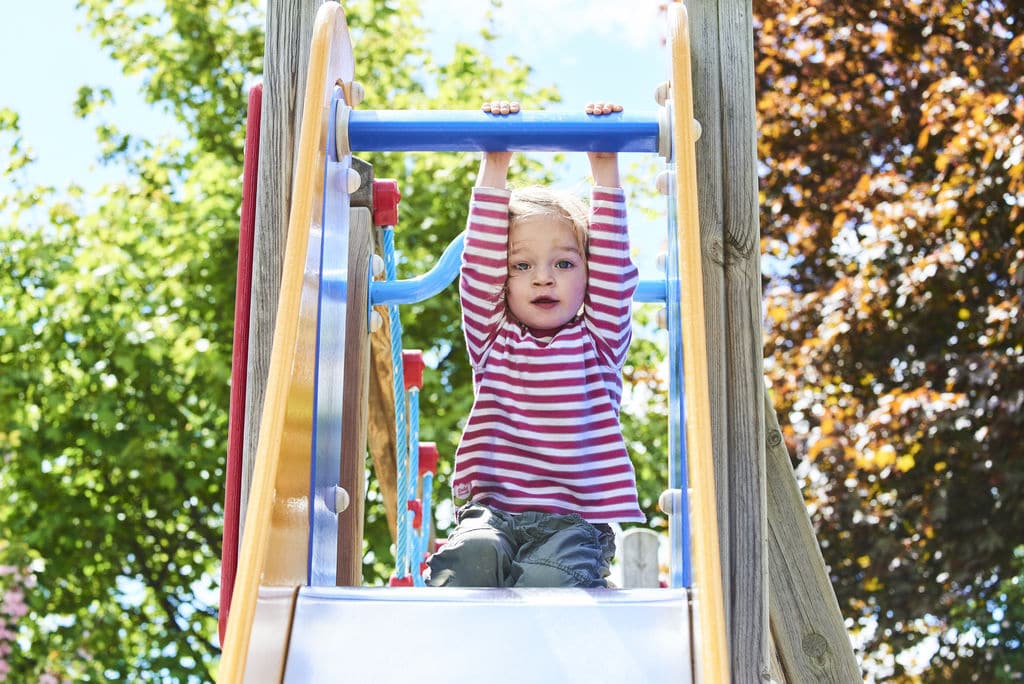 You'll find dozens of toddler slides on the market; they're so popular after all. You might wonder how you should pick one. How big does it need to be? Should it be inside or outside? Let's take a look at how to make the decision. 
Different slides come with various features. You have to figure out which features you would find interesting, so you have to decide which ones look like fun for your child.
Even simple features matter. For example, handles at the top of the slide make it easier for your child to pull themselves to the top. Another example is that you might find a slide with space underneath the slide. These areas can serve as a hide-and-seek location. 
The material used for your toddler slide matters, as well. Most of the slides are made of durable plastic that is hard enough to support the weight of a toddler. At the same time, the materials typically need to make it lightweight and easy to move around the room or outside. 
Make sure that you avoid material products in a children's slide at all costs. The slides should be constructed entirely of plastic. Not only does that make it safer for your child, but it also means that the slide is lightweight and versatile. 
If you live somewhere that has cold winters, you might want a slide that can be used inside or outside. Some slides fit perfectly into playrooms and let you get the most bang for your buck. Your toddler won't be able to use it for as long as he should if it's outside covered in snow for a quarter of the year, or longer. 
Take a look at the recommended age ranges for each slide. The manufacturer typically has an age range that they suggest, and it's based on the physical development required to enjoy the toy as well as safety. For example, taller slides tend to be for older toddlers for safety reasons. 
All parents know that the safety of their children is paramount. The slide should be, ideally, made of non-toxic materials. It should have raised sides, so your child is directed straight to the bottom and doesn't fall over the edge. If you want an even safer slide, pick one with a gentle slope. 
You'll find slides in all different sizes. Some are bigger while others are small, perfect for the new toddler. Ideally, the toddler slide you pick will be big enough that your child can use it for at least two years. Some of the small ones are only fun for a short period until your child quickly outgrows it. 
---
The 5 Best Toddler Slides
1

Little Tikes Red First Slide
The Little Tikes First Slide is the iconic toddler slide that you might envision in your head when you think of one. While it has an overall simple design, it's one of the top-rated choices by parents and has been a favorite for years. 
Sometimes, simple is just better, and that's the overall truth about the Little Tikes First Slide. It's designed for beginners, and only one child can slide at a time. 
Special Features
That being said, there are some reasons why this toddler slide stands out. Let's take a look. 
It only weighs 9 pounds, so it's lightweight and easy for parents to move around.

You can fold it for easy storage.

It's one of the most affordable choices, costing less than $40. 

Despite the affordable price tag, Little Tikes used durable plastic that can last for years to come. It's way more durable than you might assume by first looking at it. 

You can quickly assemble this slide without using any tools. Three pieces of the slide snap together. 

The recommended age range is 18 months to 4 years old, with a weight limit of 60 pounds. There is no recommended height limit, but it's best for kids under 50 inches. 
Check Pricing and Availability
PROS:
Lightweight
Folds
Affordable
CONS:
Could Be Dangerous If Not Assembled Correctly
---
2

Step2 Play and Fold Jr. Kids Slide
Step2 is one of the most recognizable brands of outdoor play gear for toddlers. Their Play & Fold Slide is a simple, small, and lightweight slide that you can move around and store with ease. It comes in gender-neutral colors, so you can pick a color palette that works with multiple kids. 
It's important to note that, while this does say that it's for kids 1-5 years old, it's not ideal for tiny toddlers. If your child is under the age of 2 years old, he might need help going up the steps. They didn't add a handle at the top of the steps for your child to grip. 
Special Features
A few features to note include:
The age range for the Step2 Play & Fold is 1-5 years old. 

It weighs 15lbs. 

It's easy to assemble without the need for any tools. 

The steps on the ladder are extra wide and spaced, which makes it easier for toddlers to climb upward. 

It has a broader base, and thicker plastic than other toddler slides on the market. That means it's designed to be more stable than some of the other slides. 

The gentle slope allows for a smoother landing and a long ride that makes your child want to use it over and over again. 

The slide length is 2.5 feet, and the height is 22 inches. 
Check Pricing and Availability
PROS:
Easy to Store
Neutral Colors
Affordable
Decent Length
CONS:
Better Suited for Kids Over 2 Years Old
No Handles At The Top
---
If you want a slide that's also attached to a small climbing gym, the Panda Climber is an excellent choice for kids between the ages of 18 months and five years old. It's wide, measuring 3 feet tall and four feet wide. 
That means it won't fold easily, but it offers plenty of fun for your children. That does mean this toddler slide is better for outdoor use, only due to the size, but if you have an ample indoor play space, any kid will enjoy this in their playroom. 
Special Features
Other features of this toddler slide include:
The distribution of the weight and width of the bottom makes it unlikely that it'll topple over. 

It's durable, capable of being used for years to come. 

There is a big opening underneath the slide that your child can use as a hideout or a play space. 
Check Pricing and Availability
PROS:
Slide and Climbing Gym
Durable
Fun for Wide Age Range
CONS:
Heavy – 33lbs
Doesn't Store Easily
---
4

Little Tikes Hide and Seek Climber
Here is another example of a climber and a slide, but it's not as big as the Panda Climber. Little Tikes added a small tunnel, a basic rock climbing wall, and a slide. Now, that sounds like a lot, but the height of this is only 18 inches. So, it's truly best for children between the ages of 1-2 years old. The slope in the slide is gentle, making it perfect for toddlers. 
Special Features
Here are some of the excellent features of the Hide and Seek Climber:
You kids can use it at the same time. 

It can accommodate children up to 45 pounds. 

It's designed for backyard use, according to the manufacturer, but many parents prefer to use it inside. 

The climber is small and lightweight so that you won't have any issue carrying it from location to location. At the same time, it's made with sturdy plastic, so it'll hold up under your child. 

The rock climbing wall has easily accessible foot-holds. 
Check Pricing and Availability
PROS:
Gentle Slope
Versatile
Durable
Well-Designed
CONS:
Smaller Than Expected
Reports of Missing Instructions
---
5

Step2 Play Ball Fun Climber with Slide
Here is another excellent option by Step2, and it's a great one if you have a young toddler in your home. The Play Ball Fun Climber offers a lot of stimulation to keep your child focused and entertained by the slide. Not only do they have the slide, but your child can watch balls zig-zag and drop down from the structure. Plus, they can play hide and seek underneath the slide.
Special Features
That's not all there is to love about the Play Ball Fun Climer!
This slide is a perfect size. It's big enough that you can use it outside, but it's small enough that you can put it inside. 

Putting this climber together is so easy, and that's a plus for all parents. 

More than one child can play on it at one time. 

Step2 includes two colorful plastic balls with it. Your child can enjoy playing catch, rolling the balls, and dropping them from the top, and watching them go through the obstacles. 

You can fill the play ball pit with water or sand for enhanced sensory play. Step2 included a non-leak drag plug for an easy way to empty the basin. 
Check Pricing and Availability
PROS:
Easy to Assemble
Durable and Sturdy
Versatile
CONS:
Plastic Might Warp
Only for Younger Toddlers
---
Safety Tips for Using a Toddler Slide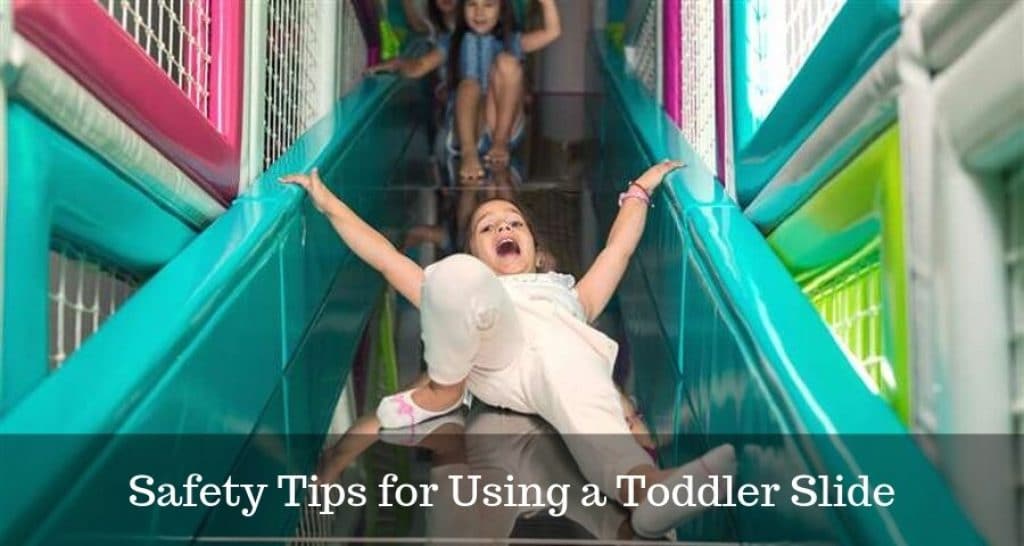 Toddler slides are, for the most part, safe, but keep these tips in mind to be sure you avoid any unfortunate accidents.
Supervise Your Child at All Times
Even if the product has safety features, your child can still have an accident. He could fall off the slide or land on another child. If you have a wild child, you might find your child licking or biting the slide – we just never know! 
It's best always to have your child monitored closely. Keeping an eye on your child is a smart idea. Set it up somewhere that you can watch or get to quickly if something happens. 
Pick a Safe, Well-Known Brand
You might feel tempted to go for an unknown brand to help save some money, but the problem with that is you might encounter a low-quality slide. Low-quality might equal a weak design, and that could lead to injury to your child. It also could mean that the materials are toxic or unsafe for your child. 
Never Exceed Weight Limits
Exceeding the weight limits for any child product is never a smart idea. The weight limits are set based on the thickness of the materials, and the products are only tested to that weight limit. If you go beyond that weight, you can damage the slide and, potentially, injure your child. 
Place The Slide on Even Ground 
Always make sure that you put the slide on even ground. If you have the slide inside, that's not too difficult to determine. Putting a slide outside can be trickier. Make sure you wiggle it around and see if it is tilted at all. That increases the risk of the slide falling over, injuring your child. 
---
Read More: Best Baby Camping Gear for Your Next Adventure.
Conclusion
There are many choices for toddler slides on the market. That's why we simplified the decision by narrowing it down to the five best toddler slides. 
To make the final choice, think about your child's age range and weight, as well as what type of features you want. You might want just a simple slide, or you could prefer a toddler slide with different ways for your child to have fun. 
No matter which one you pick, your child will be happy to have one of these slides to play with every day.