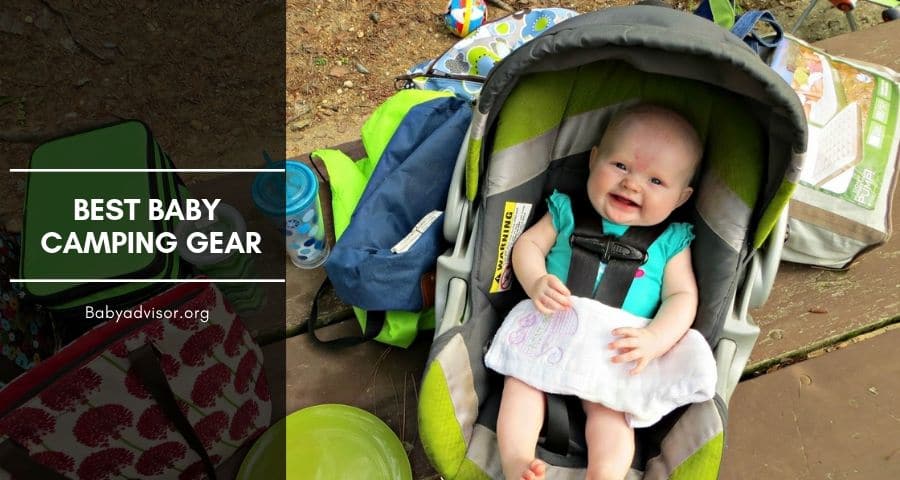 Going camping with your family is a fun, kid-friendly vacation, but taking your baby into the great outdoors can be a bit challenging. Camping is an excellent way for families to spend time and bond while enjoying nature, but babies can – and do – complicate things just a bit. You want to make sure you prepare ahead of time and bring the best baby camping gear.
Trust me; you want to keep your baby comfortable. A crabby baby can ruin your camping trip, and everyone else wants to have a good time. Your baby wants to have a good time as well, but he has to have a few comforts that he is used to from home.
Where is the best place to buy camping gear online? Let's dive into what baby camping gear you need to bring with you.
---
A Quick Overview of Baby Camping Gear
---
The Best Baby Camping Gear
You need a bit of everything when it comes to baby camping gear. You need a place for your baby to sleep, a place for baby to play, and ways to keep your baby comfortable. Here are our picks for the best baby camping gear.
1

Portable High Chair by Ciao Baby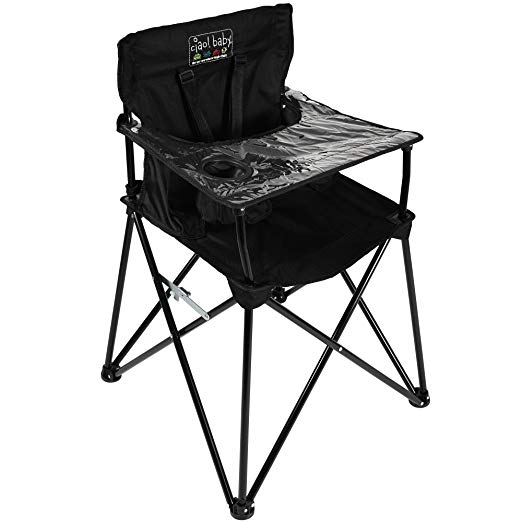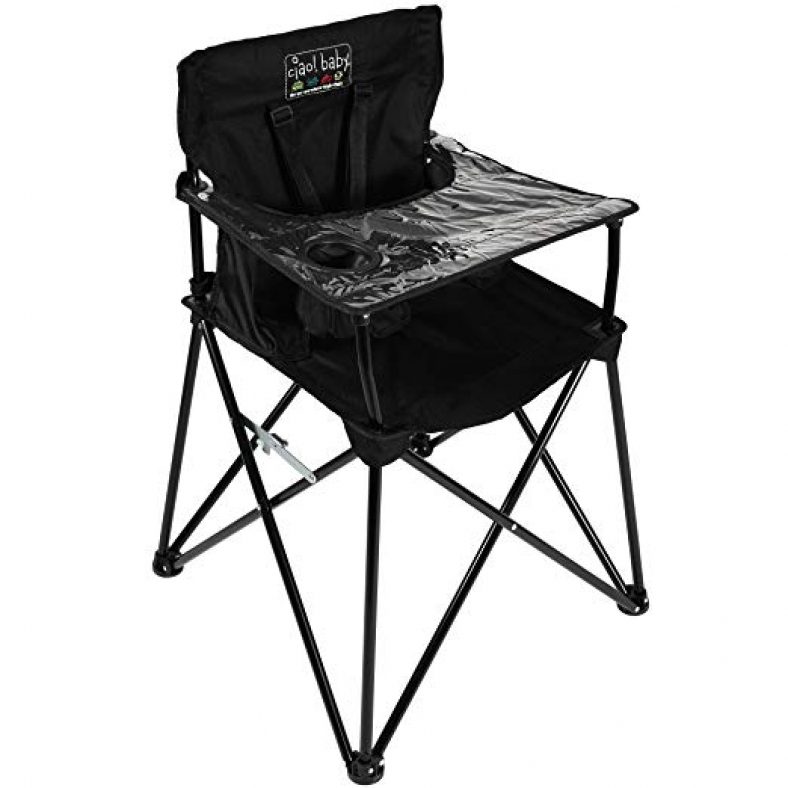 One of the highest-rated baby camping gear items is Ciao Baby's portable high chair. It's lightweight and has a compact design that makes it perfect for packing your vehicle while preparing to head outdoors. Parents love the exceptionally sturdy design that can hold babies who weigh up to 35 pounds. Ciao Baby added a  strap along with a rail guard forming to part of the food tray.
This Portable High Chair is perfect for camping with a baby, and you don't have to worry about setup or hassles. It only weighs 8 pounds! Ciao Baby's High Chair has an easy to fold design that makes it just as easy to store with your other lawn chair.
You can use it for babies three months to 3 years old. It also comes with a case that makes loading and unloading very easy. When you're ready to use it, pull it out of the case and pop it open! When your baby makes a mess – which is bound to happen – wipe it clean with water.
Check Pricing and Availability
PROS:
No assembly required
Lightweight
35-pound weight limit
Attached tray
Easy to clean
CONS:
Tray slants toward the child.
No harness, just a safety belt
---
2

Brica Fold N' Go Travel Bassinet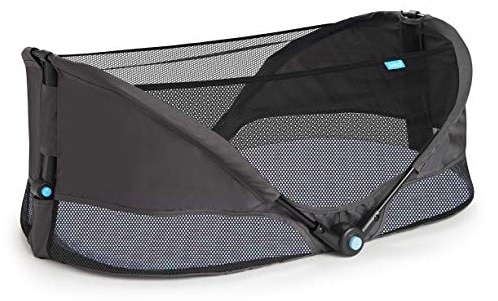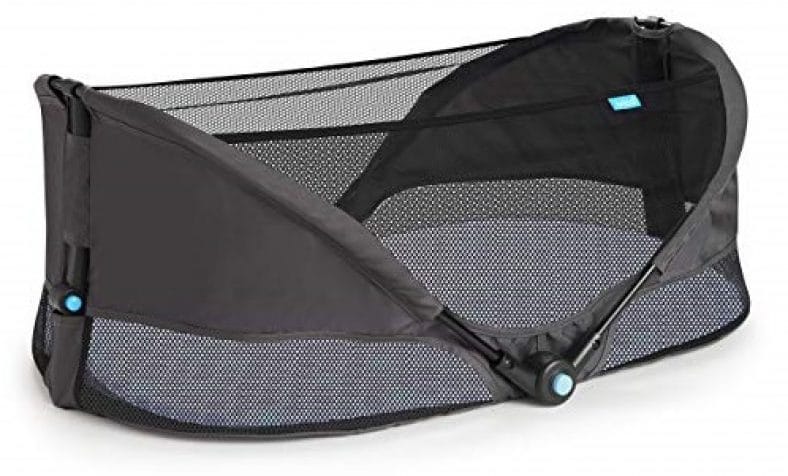 Your baby needs somewhere to sleep when you're camping, and the Brica Fold N' Go Travel Bassinet is a durable, comfortable, and portable choice for families. The bassinet comes with fully redesigned mesh panels that not only provide ample air circulation but also keep insects and bugs away from your baby.
Brica recreated the fabric that they used as well to allow for more comfort and breathability. It features improved Safe-T-Lock technology that makes it easier to lock and secure whenever you need to move the bed. Also, when you open the bassinet, you'll hear audible clicks that let you know it's locked in place.
Taking along the Brica Fold N' Go is a smart idea; it gives you a place to put your baby down to sleep or to play when you need free hands. Parents love that it folds flat for secure storage and comes with the mattress and a fitted sheet.
Check Pricing and Availability
PROS:
Mesh keeps out the bugs
Lightweight
Portable
Includes a mattress and fitted sheets
CONS:
Might be too stiff for your baby
---
3

Pop N' Sit Portable Booster by Summer Infant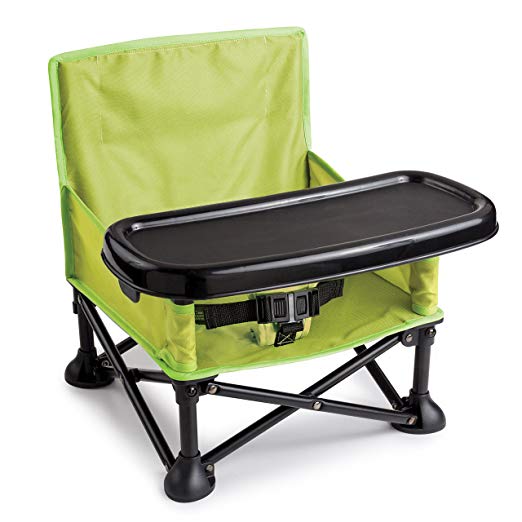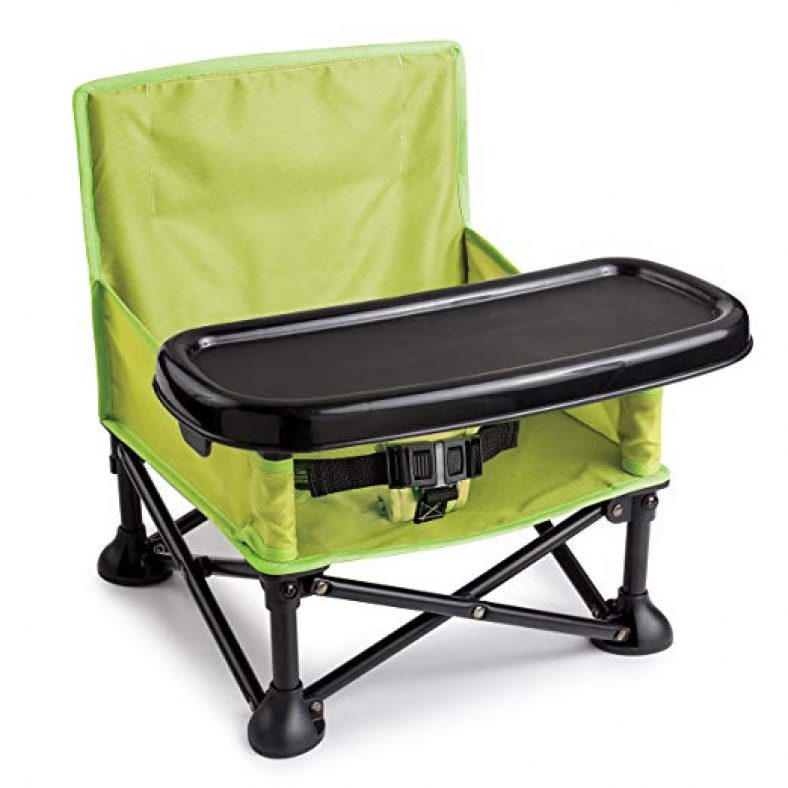 If you don't want to bring a full-sized high chair with your baby, the Pop N' Sit is an excellent compromise with a compact design and built-in safety features that make it great for outdoor adventures. It's a portable booster seat that is lightweight with a compact folding design that can be set up in seconds.
Summer Infant added a built-in 3-point safety harness and safety straps that can mount the booster seat to a standard-sized chair. Parents love that the tray is removable so that you can toss it in the dishwasher for easy cleaning. You can even spray the chair off with a hose!
It also works as a small camping chair for your child, so long as you have a flat, sturdy surface to set it. Summer Infant added a sturdy feet system, so you can set it down on the ground as well.
Check Pricing and Availability
PROS:
Has a 3-point safety harness
Dishwasher safe tray
No assembly required
For babies ages six months and up to 37lbs.
CONS:
Belt buckles are stiff and hard to unlock.
The tray is hard to attach.
---
4

Pop N' Play Ultimate Portable Playard by Summer Infant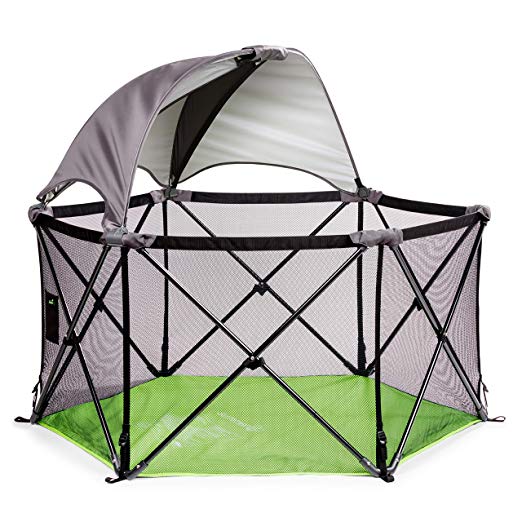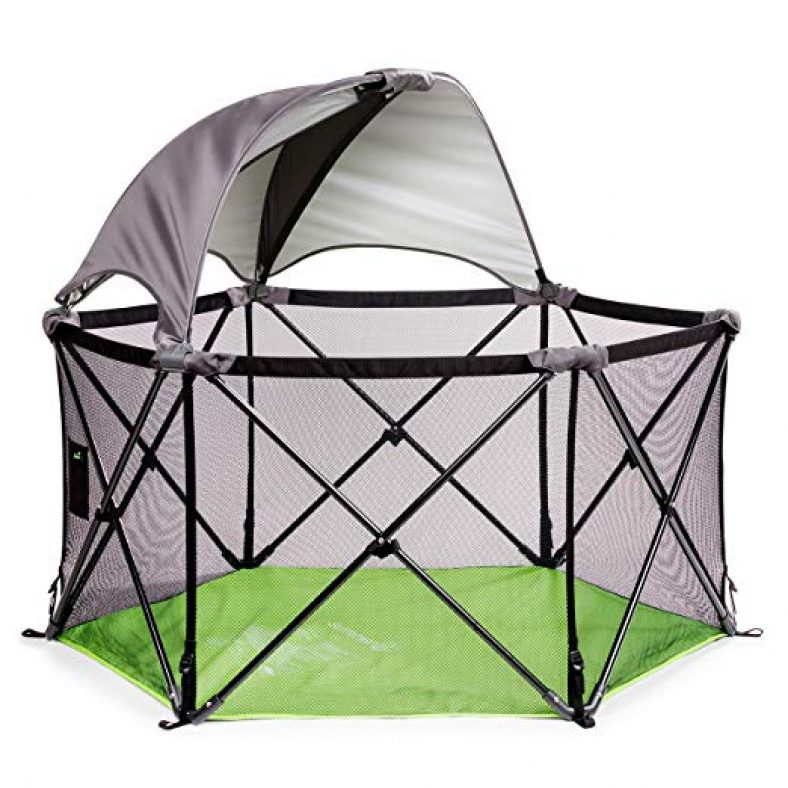 How do you keep your child safe while out of your arms? You need a portable playard, and Summer Infant created one that is perfect for camping with your baby. The Pop N' Play gives your baby a place to play in a safe, comfortable environment, no matter where you are.
Taking your baby camping and letting them play on the ground is tricky. There are always tons of stuff that your child can play with or put in their mouth, like rocks or leaves. So, the Pop N' Play gives your baby that safe place to play, and it means that you don't have to hold them the entire time you're camping.
Summer Infant created this playard to give your baby an ample space of freedom with 14 square feet. It folds up flat, so you can toss it in your car. Some parents don't like the metal frame, but you could cover it if you're concerned. Pool noodles are perfect for covering up the frame legs. Summer Infant also added a protective sun dome to protect your child from harmful sun rays.
Based on the reviews, you can see that parents love about the Pop N' Play, and they find other times to use it like going to the lake for the day, going fishing, or at picnics.
Check Pricing and Availability
PROS:
Spacious play area
Shade canopy protects your child from UVA and UVB rays
Lightweight
Foldable
Mesh breathable sides
CONS:
No padding on the support bars
---
5

Summer Infant Pop N' Jump Baby Camping Gear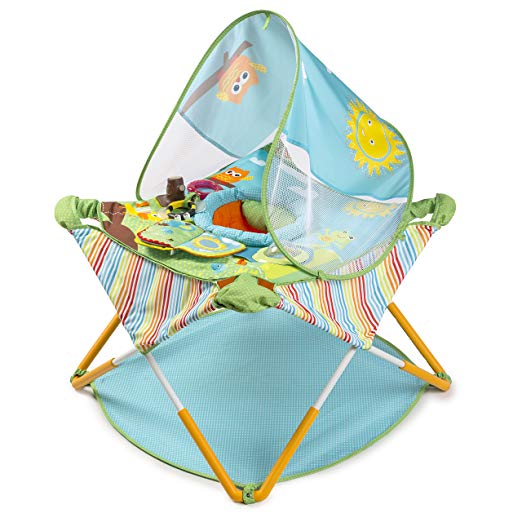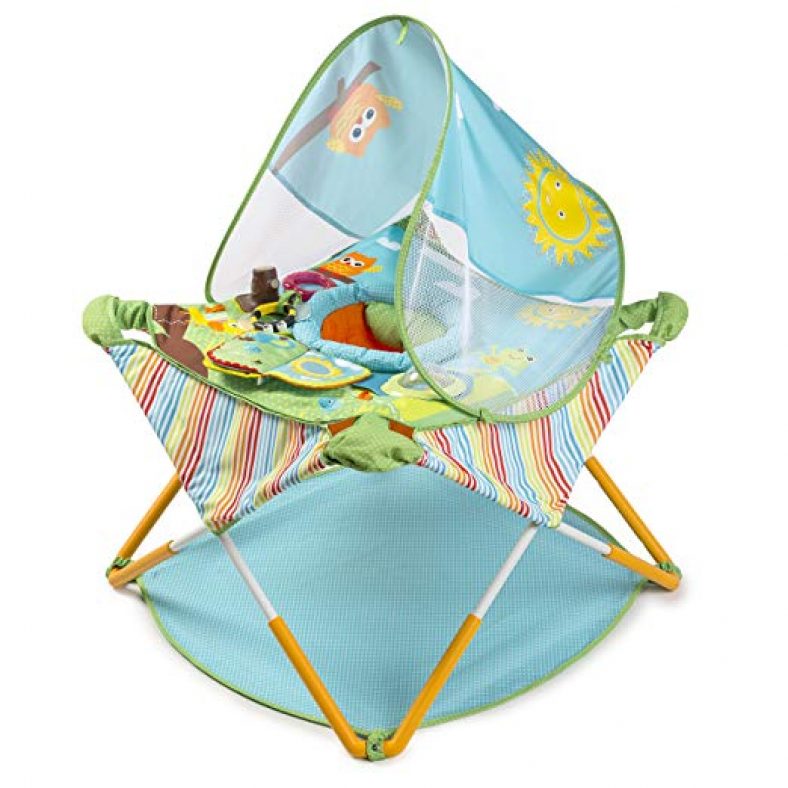 If your baby is old enough for a jumper, the Summer Infant Pop N' Jump gives your baby a safe place to sit while you're busy cooking. Some baby camping gear is essential, but this falls under the category of not necessary but awesome to have anyway. Babies need to be entertained as well!
Summer Infant created this brilliant, portable activity center that folds up into an easy to carry bag made for transporting. On the activity center, you'll see a spinner ball, rattle, a teether, and a mirror book. Parents love the canopy over the top of the Pop N' Jump that keeps your baby safe from the UV rays.
If your baby makes a mess, the support seat is removable and machine washable. You can toss it in the washer without having to worry. Underneath of the Pop N' Jump, Summer Infant put soft fabric, so your baby won't step on rocks or sharp objects. The material is perfect!
Check Pricing and Availability
PROS:
Lightweight folding frame
Sun canopy
Removable and machine washable fabric
Compact fold with carrying bag
CONS:
Hard to undo the locking mechanism
Challenging to snap on the sun canopy
---
6

My Cot Portable Bed by Regalo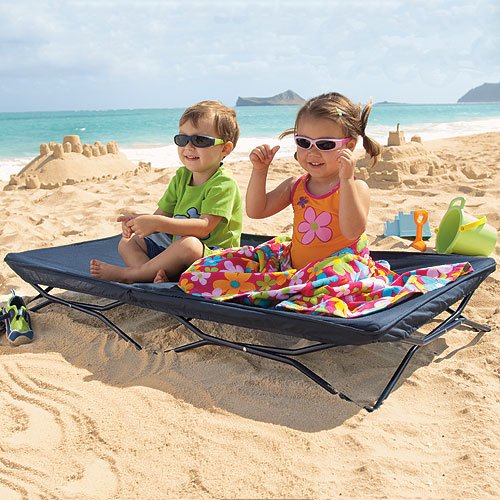 If you have a toddler who needs a bigger bed, the My Cot Portable Bed by Regalo is the perfect baby camping bed. Regalo crafted it from a combination of steel and plastic, so it's lightweight, portable, while also being strong and durable.
A bed liner comes as a fully reinforced canvas that can hold big kids up to 75 pounds. Regalo included a removable cover, and it folds to fit into a small carrying bag. The legs help the bed sit off the ground, so your child doesn't sleep on uncomfortable ground.
Regalo includes a fitted sheet, making it easy to clean this cot. Parents find that it's more durable than an air mattress for a toddler, and your kids are just as comfortable.
Check Pricing and Availability
PROS:
Has a carrying case
Quick assembly
Folds up compactly
Includes a fitted sheet
CONS:
No locking mechanism for joints
---
7

Baby Delight Go With Me Chair Baby Camping Gear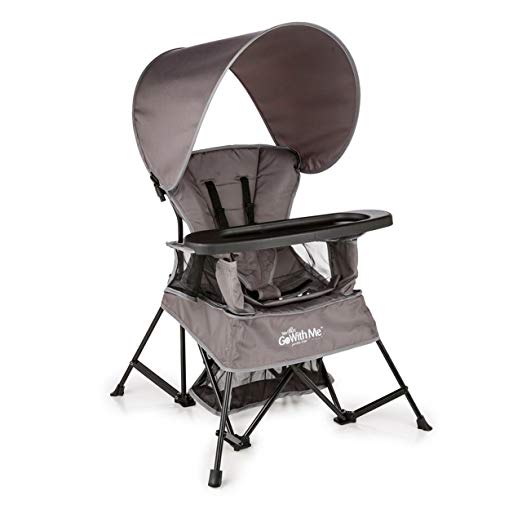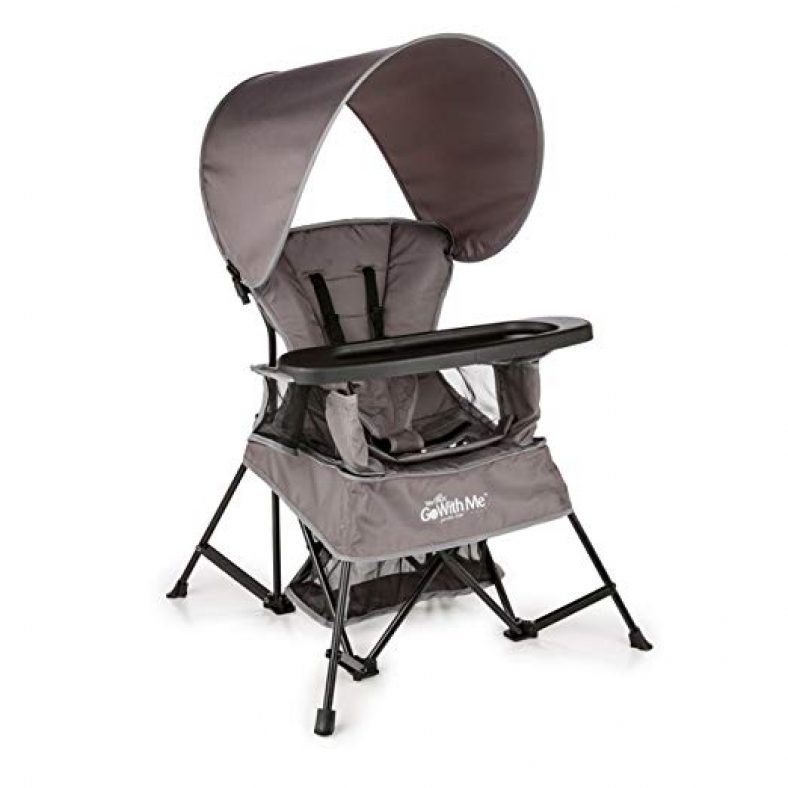 Baby Delight created this awesome chair for babies while camping. It comes in the form of a sturdy chair which can be used for the outdoors. You can start using it when your baby is approximately three months old until they're 75 pounds in weight so that you can use it for several years!
It has a five-point, removable harness that helps to keep your baby secure, and it can be removed when your child gets too big. Baby Delight included a removable snack tray, sun canopy, and a carrying bag. The sun canopy is removable, so you can take it off when your baby is too big for it.
As your baby grows, a flap on the seat detaches, revealing two leg holes that are perfect for letting your baby stand with support. So, it adjusts from babyhood until big-kid ages.
If you're worried about stability, don't be concerned! It features an angled platform foot with eight points of contact for balance, so you don't have to worry about it tipping over. Underneath, there are protective leg enclosures with netting, which is also a storage area under the chair.
Check Pricing and Availability
PROS:
Flexible sunshade
Stable, hard to knock over.
Small carrying case
5-point safety harness
CONS:
Small cupholder
Hard to unclip the tray
The tray sits kind of high for a little baby.
---
8

Baby Deedee Sleep Nest Sleeping Sack Baby Camping Gear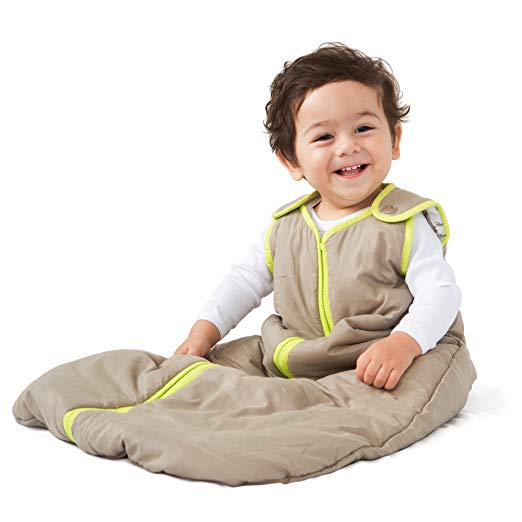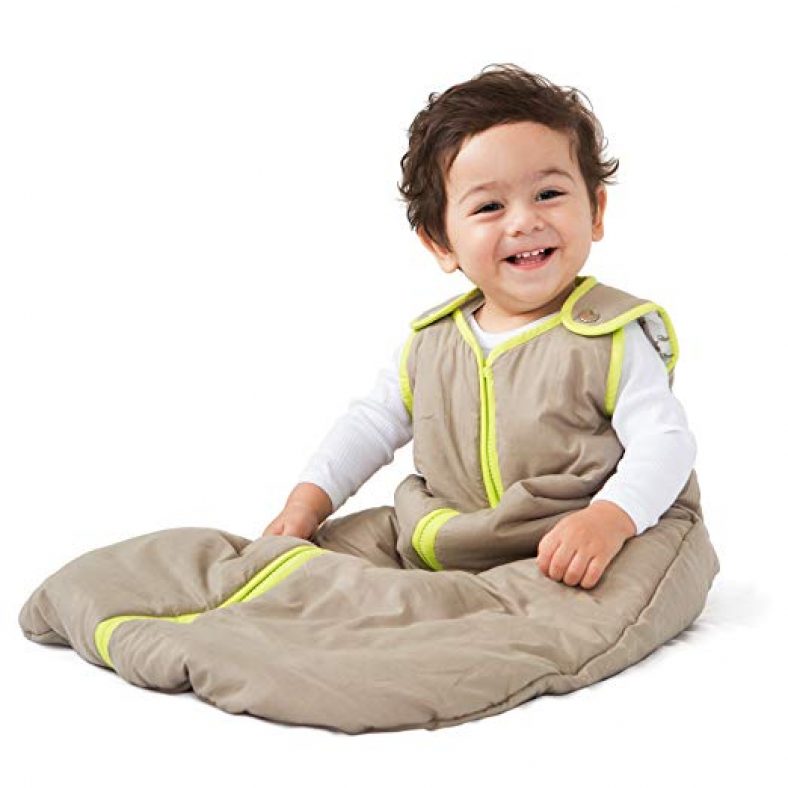 Are you wondering what your baby is going to wear when your baby is sleeping at night? The Baby Deedee Sleeping Sack keeps your baby comfortable, warm, and cozy even on colder nights.
Baby Deedee features a soft, quilted interior with a TOG rating of 2.5. The fabric is breathable, so you don't have to worry about your baby overheating when he's sleeping. There are several sizes available so that you can find the right one for the age of your baby, and they also sell different colors.
Putting on the sleeping sack is easy. It has easy on and off shoulder snaps with a high-quality zipper in the middle. The design means that you don't have to struggle to get your baby's hands through any armholes. It creates a unique cocoon shape that keeps your baby secure and comfortable.
Check Pricing and Availability
PROS:
Easy to put on and off
Warm
Breathable
Great for chilly nights
CONS:
Armholes are a bit big.
Too long
---
9

Battery Operated Clip On Mini Fan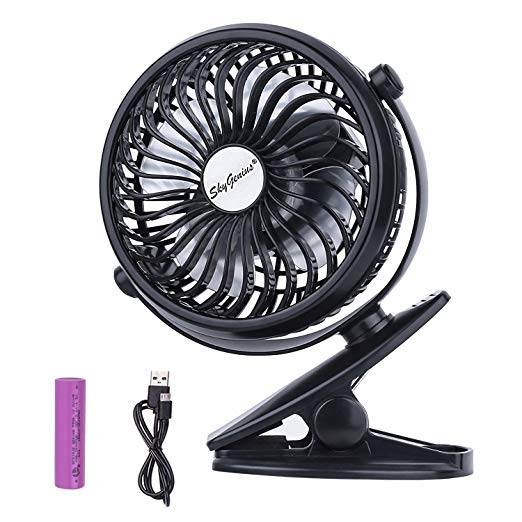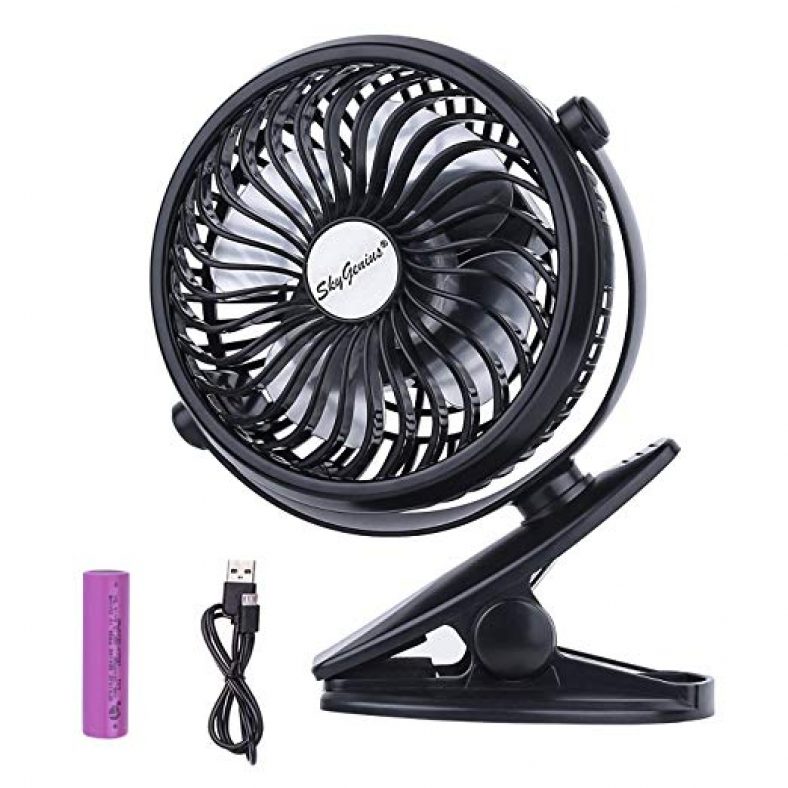 Camping can be hot, especially if you're camping in the summer. This battery-operated clip-on mini fan can be used for strollers, bouncers, high chairs, and playards. It solves the problem of your baby being too warm; it clips onto anything that you want with a single rechargeable battery.
To charge the battery, all you have to do is use the easy charging system with a USB connection. You can plug it into an outlet, computers, power bank, or anything with a USB power port. It can work up to six hours, providing your child with plenty of fresh air.
Putting a fan near your child can make you feel worried; safety matters. This fan is a compact size that can keep the airflow optimal. You'll be surprised at the powerful breeze that can come from a fan this size. It has a high-quality constructed motor that reaches its max power at 75 feet per square foot.
Even when you put the fan on high speeds, it isn't loud at all. It's so quiet, great for naps in the stroller while camping. You can control the speed, so you can give your little one just the right amount of air that is needed.
Check Pricing and Availability
PROS:
Portable battery operated
Low noise
Powerful motor
Compact size
CONS:
The rechargeable battery cannot be removed from the fan.
Doesn't have a long life on full power.
---
10

PreparaKit First Aid Kit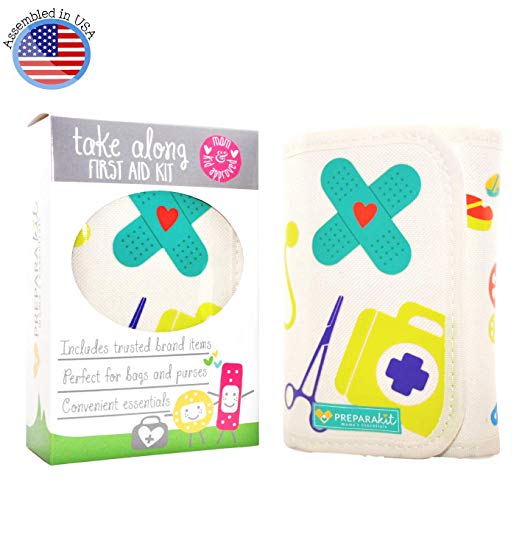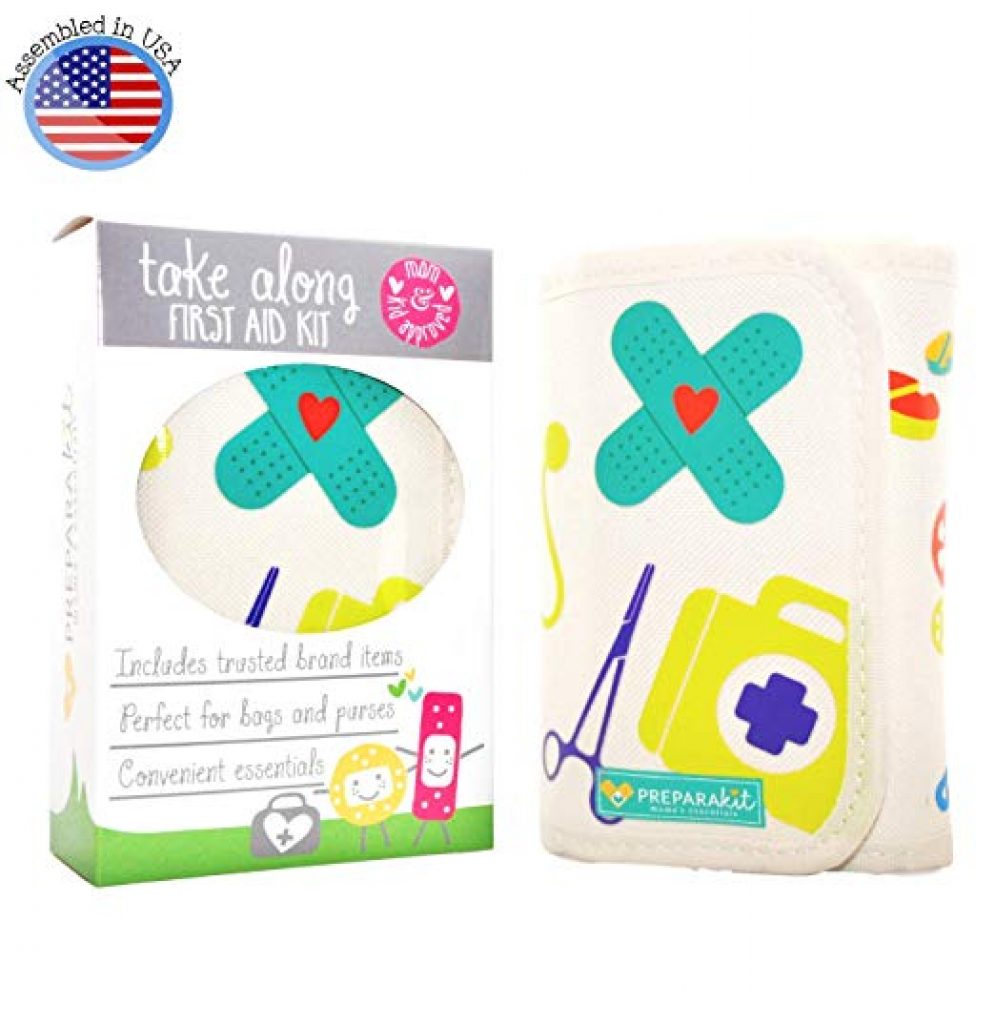 Unfortunately, babies can get hurt when you go camping. Your baby might get a bump on the head, scraping their legs, or any other number of incidents. Having the PreparaKit First Aid Kit means that you can have everything you need to treat your baby right away.
PreparaKit First Aid Kit has all of the essential pieces that you need, and a nurse designs it. The kit features over fifty items, such as bandages, antiseptic wipes, gauze pads, nail clippers, antibiotic ointment, burn creams, safety pins, anti-itch cream, thermometer strips, and more.
It's not a massive kit, measuring around five and a half inches tall, so it's a solid compact tote. PreparaKit fits easily into diaper bags, so it won't take up too much space. It's latex-free and only contains the best quality first aid supplies.
Check Pricing and Availability
PROS:
Has what you need for your child
Pick between one of the three cute case designs
Includes thermometer and antiseptic alcohol
CONS:
Would be cheaper if you purchased in bulk
---
11

Clevr Cross Country Baby Backpack with Stand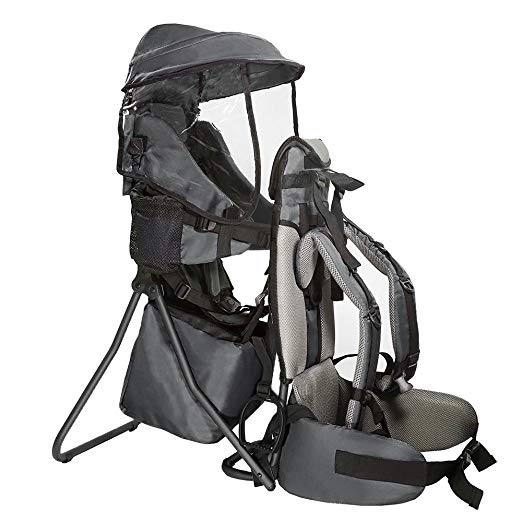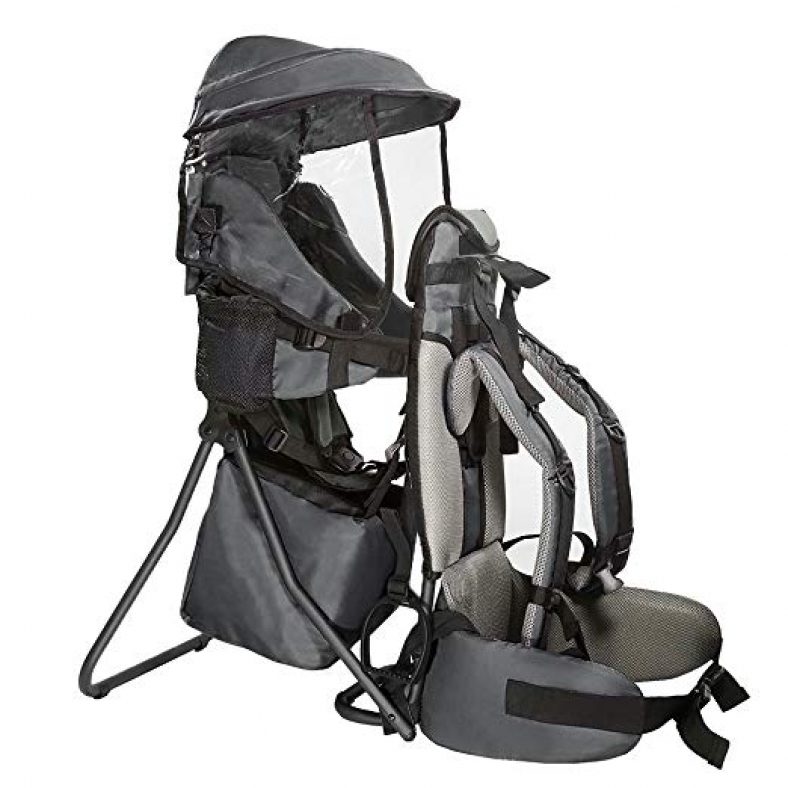 If you want to go hiking with your baby, you need some baby carrier, and the Clevr Cross Country provides a safe place for your baby to be kept while you're walking. Parents have the freedom to go wherever it is that they want to go with their baby in tow.
Clevr Cross includes a stand, so you can put the backpack down without it getting dirty. It also has a sun visor shade that protects your baby from the harmful sun rays, and the visor doubles as a rain guard. Since it's so lightweight, you can hike up the closest mountain. It's only 5 pounds, so it won't weigh you down.
Parents like the hip belt and front closure design that reduces the stress put on your shoulders, distributing the weight evenly across your body. Since it's a backpack as well, you have plenty of storage space; you only have to carry one bag instead of two. You have plenty of space to carry bottles, diapers, and wipes, so you'll always be prepared.
Check Pricing and Availability
PROS:
Lightweight – weighs 5.1 lbs
Includes retractable sun and rain canopy
Offers lumbar support and padded shoulder and hip belts
Designed for kids between 6 months and four years old
CONS:
Not ideal for taller adults
The belt buckle is too small to support a large amount of weight.
Low maximum weight – 33 lbs
---
Questions to Consider when Picking Baby Camping Gear
If you're camping at all, with or without a baby, it's essential to check your surroundings and make sure you're getting the appropriate type of camping gear. Your baby needs to be comfortable and at the right temperature.
For example, are you camping someplace that has a lot of sunlight or will you have plenty of shade because you're in a forest? Is the area known for having a lot of insects?
Also, do you plan on going on a hiking adventure or are you going to splash in the creeks? These things matter, so you know what you need to pack.
Now, think about when you're camping. Is it winter, summer, spring, or fall? The most important thing is the temperatures. You have to pack the appropriate clothing for your baby, as well as the blankets and shoes needed.
The length of your stay is significant because you need to make sure that you have everything you need. Nothing is more frustrating than finding out that you forgot something or don't have enough of whatever you brought.
Keep a checklist to make sure that you have everything you need for your camping trip, especially for extended adventures. Longer trips require more entertainment, such as an activity center.
---
How to Pick the Best Baby Camping Gear
Now, how do you decide what baby camping gear you should purchase? Once you answer the questions above, you need some considerations, a way to compare products. Here are some features.
The number one priority of any parent is that you have to keep your kids safe. Camping with a baby can be hard, especially if the baby is mobile. You have to consider a few main hazards, such as bugs, UV rays, and the elements.
Considering that, you need to invest in breathable mesh fabric for the tent or wherever your baby is going to sleep. Waterproof quality materials are necessary too because the weather can always change when you're camping.
Also, remember to pack layers of clothing for your child. Polyester, polypropylene, and wool are the three most popular materials because they're quick-drying, breathable, and warm.
Comfort always matters for your baby! Camping means that you might have to forego some of the plush, super-soft materials that you have in your daily life, but there is no reason why you can't have some cushion and comfort for your baby while camping. Your baby doesn't want to sleep on hard surfaces.
When you go outside, you're at the mercy of the elements. So, part of comfort means considering the elements, so you need bug sprays, UV protection, sun hats, and sunglasses. Those are essential things to consider when going on a camping trip.
Physical Development of Your Child
Just because the gear is developed for infants, it doesn't mean that it's appropriate for your baby. For example, a straight-backed high chair might be labeled for babies, but if your baby doesn't have the trunk support necessary, it might not be appropriate for your child.
Make sure that the baby camping gear you pick matches the physical development of your child.
It pays to consider the strength and durability of the design; even baby camping gear needs to be durable. You want to make sure that any of the equipment you select is sturdy. For example, any high chair that you choose needs to have a wide, stable stance that won't fall over.
It can be hard to determine if the materials are safe for your child, so read the reviews of parents who have used it. Parents tend to be very honest on reviews, so you'll quickly find if the item is durable and robust.
---
Here's the list of best slides for toddlers. Check it out!
Gathering Your Baby Camping Gear
Camping can be a great family adventure, and taking your baby camping doesn't have to be intimidating. All you need is the best baby camping gear. These items keep your baby comfortable, safe, and happy while you all enjoy your outdoor adventures together.