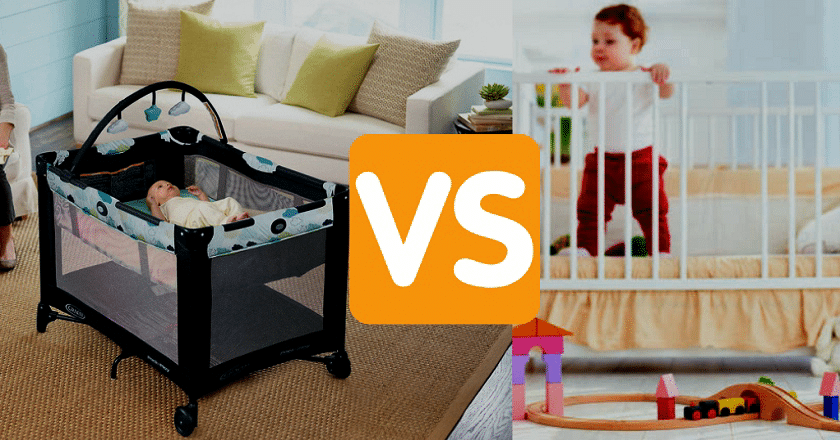 When you are the parent of a newborn, sleep is a subject that is always at the forefront of your mind. You need it and you need more of it… and you will get that extra sleep any way you can.
While thinking your newborn will sleep through the night instantly is a pipe dream (but, hey – keep hope alive) – the bed you choose for your little one can increase your chances of getting a good night's sleep or as much of one as you can possibly get at this stage in your life.
You may also read: Use pack and play for co-sleeping.


Whether you are considering the pack and play easy to assemble and economical, or a lavish crib in a pretty finish, comfort, access to baby and safety all come into play when choosing the perfect space for baby to sleep. Let's weigh the pros and cons of each. Here is how your options stack up…
In this corner, we have the crib. This classic staple of the nursery has been in homes since the 19th century. Cribs are known for their aesthetic look and lasting quality – especially those with heftier price tags. If design is your thing, cribs offer the perfect backdrop for adding textiles to your baby's dream room and many of today's designs are not that different from adult designs. Modern and elegant, some brands feature sleigh bed styles and even some four poster varieties that will make your nursery the most put together on the block.
While the crib is a beautiful addition to any nursery, it can be difficult to assemble and this is especially true for new parents. If you believe you are a master builder – just spend about thirty minutes amidst confusing instructions and screws of varying heights – and when you realize you too have put it together backwards… you will judge yourself – and hard. Though difficult, crib assembly can be done with the right amount of patience or wine.
Once your crib is ready to go, it may be larger than you expected. In short, if you have a small home – it can be a real space hog. If this is a concern for you, consider buying a crib with feet that allows you to store small cloth bins of baby's items beneath it. This will open up more space for stuff while still giving you the look you desire.
Cribs may not always be welcome in mom and dad's room. You already know they can be bulky, taking up your own storage space or taking away from design elements. This can make getting to baby difficult in the wee morning hours. This may mean you sleep less and spend more time getting up and down to visit the nursery instead of reaching over and having baby near for nighttime feedings.
The Pack and Play
PROS:
Ease of Use
Close Proximity for Nighttime Feedings
Transportable and Packs Away When Not in Use
Inexpensive
Easy Assembly
CONS:
Lack of Back Support as Baby Grows
---
Read more: How to choose the best pack and play.
---
The pack and play started out as a playtime space that doubled as a napper… but many parents quickly found out that it had all the qualities of a crib without its permanent residency in their floor. This was great news for moms and dads who lived in tiny apartments where space is as precious as internet videos with cats in sunhats. A pack and play solves the issue of inadequate space easily and effectively.
Affordable and adaptable, the pack and play fits into just about any budget. They can also be found at almost any consignment shop from here to Timbuktu. Depending on sales, many pack and plays sold in the store are as low as 40 dollars, making them a cost-effective solution for parents on a budget.
Putting together a pack away is so simple even the worst carpenter can assemble them. The instructions are simple and usually include not much more than the strategic insertion of poles into fabric pockets. If the assembly is an issue for you – a pack away is the way to go.
While not much of an issue for newborns, when your child gains more weight, they will need more support. Most pack and plays lack the good quality mattress that you can get for a crib. An issue of comfort only comes into effect as your baby grows older but as a temporary solution… it works wonderfully for parents who want to keep baby close at hand.
---
Final Thoughts
As your baby gets older, you may find that you get more sleep… but the early weeks are always a challenge. Remember to catch winks when you can muster them and accept help when offered. If you do this, whether you choose a pack and play easy to assemble and inexpensive or a crib elegant and stylish… you will get a good night's rest – even if it just happens to be noon and your fifth nap of the day.