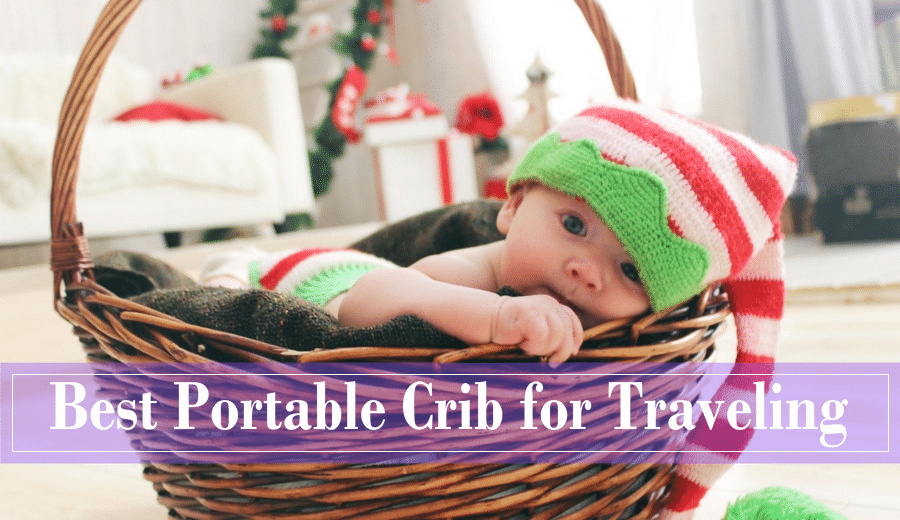 Traveling with an infant can be difficult, to say the least. You have to think about everything, including where your child will sleep. A portable crib is a popular choice for an on-the-go sleeping location!
They are meant to be space efficient, lightweight, and easy for storage and transportation. All of these qualities make purchasing one of the best portable cribs a smart idea if you travel often or just want a second bed for your child.
Baby brands create ingenious additions to portable cribs to make them useful for parents. Some feature a bassinet insert for newborn infants, so parents don't have to bend all the way down to lay their child to sleep. This feature is great for mothers who have c-sections! Other portable cribs have mobiles, hanging shelves, or changing tables attached.
After a few minutes of searching for portable cribs, sometimes called travel cribs, you'll quickly realize that there are many different types and styles. You have a lot of choices, which is a good and bad thing! So, let's dive in our guide to find the best portable crib to suit your family.
---
What is a Travel Crib?
As you might imagine from the name, a travel crib is a portable crib – duh! Most tend to fold up compactly so that you can store it in the trunk of your vehicle. Their lightweight design is perfect for traveling.
No matter the style you select, they are a safe sleeping environment for your infant or toddler while you aren't home. Some parents use them at home because they like the smaller design. Some people use the terms travel cribs and portable cribs interchangeably and others believe there are differences. Truth be told, the only difference might be that some "travel cribs" don't offer space for the child to play. They are only enough room for the baby to sleep.
You'll also notice that some travel cribs are very lightweight and compact. They can be taken on the airplane as a carry-on or fit inside of your suitcase. Most of them don't come with any extras; they are a bare minimum. However, despite these small differences, most people use the names interchangeably.
Most portable cribs are meant for kids who are two years old and under. They aren't as sturdy as a typical crib, so your toddler may be better suited for a toddler travel bed.
---
Do You Need a Travel Crib?
A majority of hotels and home rentals provide travel cribs for their guests, which are basically a playard with a sleeping pad. So, you might wonder if it's even a necessary purchase.
The answer is yes and no. If you go visit family, having a portable crib is convenient. Also, a travel crib gives your infant a place to play without any dangers. This factor is particularly important for when you visit friends and family who may have a baby proofed home. They can be used as a napping spot on the beach or at a park.
---
Types of Portable Cribs
Before you look at other considerations, you have to decide what type of portable crib you prefer. The first style looks much like a portable crib. The sides tend to be flexible, capable of folding. Another type folds out to a cocoon-like tent.
A majority of the portable cribs you will find include a lot of mesh fabrics, but some are wooden as well! The wooden one closely resembles a traditional crib, but just a bit smaller!
The portable wooden cribs with wheels such as the Dream On Me Portable Crib are ideal for stay-at-home parents, in-home daycares, and for families that don't travel often. Portable folding cribs come in metal, wood, and various cloth. It's wheeling make it ideal for rolling between rooms in the house, to keep the baby beside you at all times. Its small size is convenient and can fit through doorways with ease. The open panels on a wooden portable crib are perfect so that you can see baby and baby can see you at all times. 
Cribs that are similar to pack n plays, portable folding cribs, or cribs like the Graco Travelite Crib or Phil & Ted's Traveller Crib, are meant for families that are constantly on the go. A foldable mini crib is ideal for travel. In one summer, my family and I moved 4 times and lived in various places including in a motorhome. Having a foldable, lightweight, portable crib, especially one with a carrying bag or handle made our travels infinitely easier. Plus these mini cribs with changing tables make diapering on the go that much easier. No one likes to lay where they poop, so separate the two with a changing table that comes with the crib. These foldable fabric mesh cribs are ideal for indoor and outdoor use, thanks to their breathable mesh fabric paneling. It makes a great view for baby and a great view for mom and dad.
These are cribs like the MiClassic 2-in-1 Travel Crib. The single unit crib is great for co-sleeping, travel, and cribs for small spaces. Just be sure to get all your traveling done within the first 5 months, before baby outgrows it. It's small size is both a benefit and a disadvantage because it makes the bed ideal for small spaces, but also limits the amount of time the baby can sleep in it. The single unit bedside crib is a very popular choice because it is cute, stylish, and functional.
Traditional stationary cribs: perfect for no one.
Factors to Consider When Purchasing a Portable Crib

All portable cribs have similar characteristics. Most are lightweight, made with flexible sides, and fold compactly. Despite their similarities, portable cribs do differ. Here are some factors to consider before making a purchase.
One of the first things you should consider is how easy it is to set up the portable crib and how easy it is to take down. You don't want one that is like a jigsaw puzzle. Taking a long time for these tasks is silly and frustrating. Some might take a few tries in the beginning, but you should be able to figure it out.
Also, you don't want a manual that is hard to read. Some seem to make the task even harder with terrible descriptions and diagrams.
If you are on the go, the weight and size of the travel crib matters. It should be small enough that it can fit in the trunk of your car. You don't want one that feels as if you are carrying a ton of bricks. Lightweight is an important factor, as well as the size when collapsed.
Think about how you travel. If you tend to travel by airplane, you will want something that is as lightweight as possible and compact. If it could fit in the overhead compartment, that's even better! If you only travel by vehicle, you are only limited by the size of your trunk and how many people are in your family.
Do you want to sleep without comfort? Neither does your child. Thin mattresses are uncomfortable for your child, and a lack of airflow could make your child feel hot.
Another thing to consider is if the portable crib comes with a mattress at all. Some don't include them, which means you have to purchase them separately. Others are thin, so you might find yourself searching for a comfortable replacement.
You want to make sure the portable crib you select is suitable for the age of your child. What works for a newborn infant may not work for an older infant. Some will work for toddlers, while others are meant only for non-mobile infants. You should consider the age of your child now and in the upcoming months.
Oddly shaped portable cribs make it difficult to find extra sheets. If the crib you pick doesn't offer extra sheets, look to see if the company sells extras. You want at least one extra sheets in case your child pukes or has a diaper explosion. No one likes having to rush to wash sheets before the next naptime.
Check the price of those sheets as well! Who wants to spend $30 on a single set of sheets? That's the price we pay for queen or king sized sheets!
Do you want your portable crib to double as a play area for your child if you are busy? The most recognizable name is the Pack 'n Play brand, which are larger portable cribs that can serve as a replacement for a crib. If you want your child to be able to play in the crib as well, it has to be large enough for a few toys and for your child to crawl around comfortably.
Parents are in charge of their child's safety, and it is of utmost importance. Any and all travel cribs that you might consider must meet American standards. You should always consider if there is any space between the mattress and the crib and how a toddler or infant could fall out of the crib.
Consider looking at the materials and chemicals used to create the portable crib. Some parents feel more comfortable when their child is surrounded by less chemicals. Nowadays, many parents try to expose their children to as few chemicals as possible, especially to things such as BPA and lead that we know can cause problems!
---
The Best Portable Cribs
1

Baby Bjorn Travel Crib Light – Best portable crib for travelling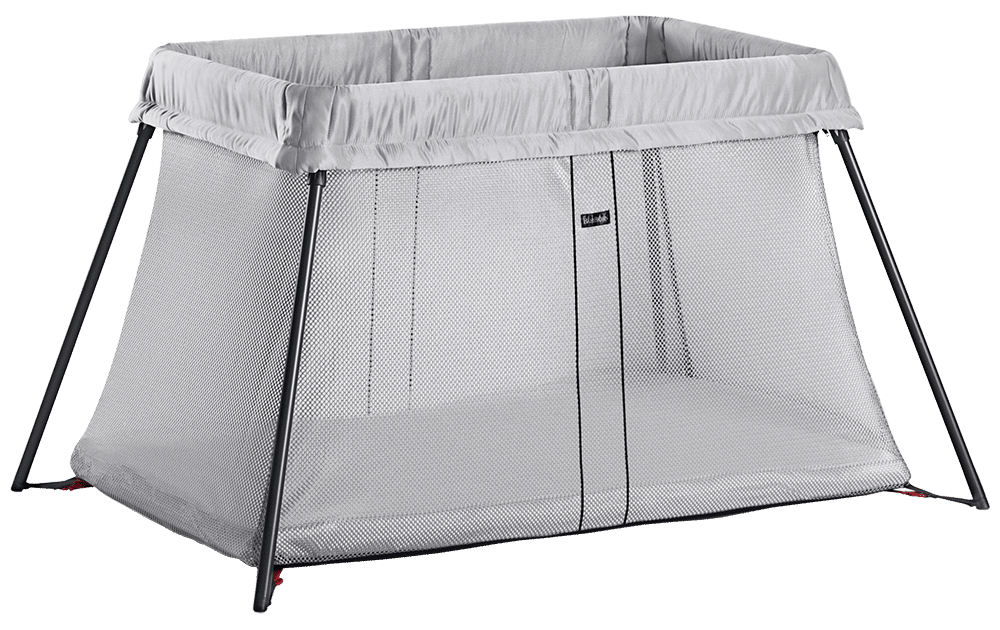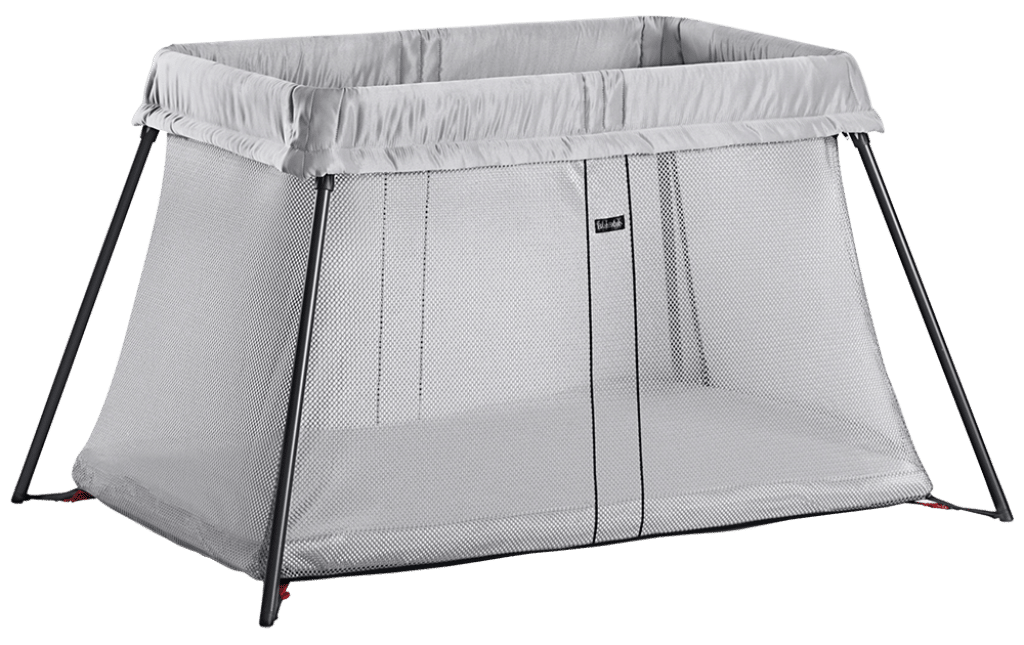 Baby Bjorn may be known for its baby carrier, but the travel crib is one of the top choices. It is lightweight, made with high-quality materials, and sturdy. Parents have no issues assembling and disassembling it. The compact size makes it easy to use in any situation. Due to its quality, you'll be able to use it through multiple children.
The Travel Crib only weighs 13 lbs, so it's easy to move around once set up. It includes a bag that means traveling with the crib is easy. You can store, carry, and stow in any space, so it's perfect for any type of trip.
The size of the portable crib is large enough that your child can play in it freely. The Baby Bjorn is perfect for families who want a durable and portable crib that you can take anywhere. It only takes a few moments to assemble and take apart, plus it's not hard to maintain. You don't have to worry about any loose parts to attach. The legs unfold automatically, and then you place the mattress in next, creating a stable travel crib to use at home or on trips.
Baby Bjorn included a soft, comfortable mattress, and your baby will love sleeping there. The mattress has a built-in base plate that ensures it stands firmly on the floor. Also, the hook-and-loop attachments keep the mattress in place. If your child makes a mess, both the mattress cover and crib fabric can be removed and washed in the machine!
The Travel Crib has open, mesh fabric side panels, so you can keep an eye on your child. The mesh also promotes air ventilation. You can feel comfortable placing your child in this portable crib. It is JPMA Certified, and all of the fabrics are in accordance with Oeko-Tex Standards. That means that all the fabrics are free of harmful and allergenic substances. You can purchase organic cotton, fitted crib sheets to go with the Travel Crib.
However, the Baby Bjorn portable crib is expensive and not budget-friendly.
Check Pricing and Availability
PROS:
Lightweight
Carrying Bag Included
Easy to Set Up
Mesh Sides
Free of Harmful Chemicals
CONS:
Expensive
Doesn't Include a Fitted Sheet
Mattress is Thin
2

Lotus Travel Crib and Portable Baby Playard – Best portable folding convertible crib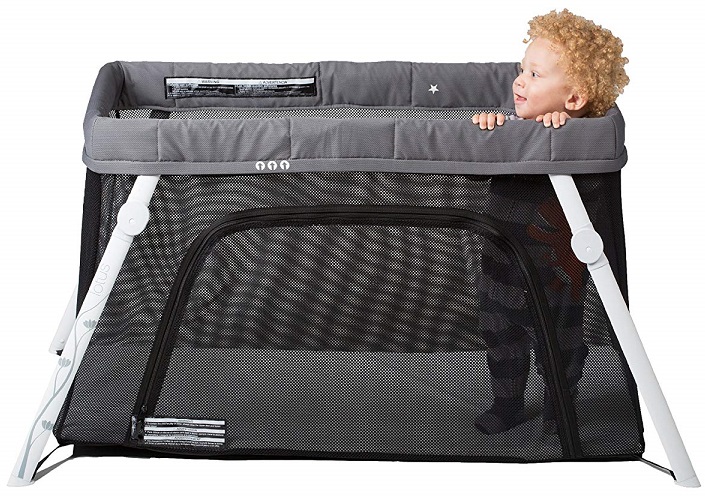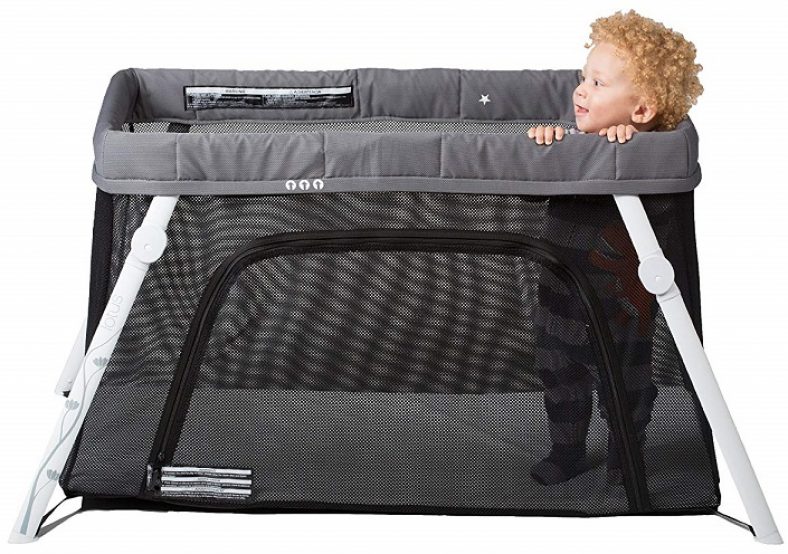 Traveling families love the Lotus Travel Crib because it's portable and easy to take anywhere. You'll have no problem setting it up anywhere. The ease of transportation is a key factor for parents. The Lotus Crib can fold up and be taken wherever you want. It is lightweight, so carrying in and out of locations is easy.
The Lotus is more than just a travel crib because it works everywhere! Setup only takes seconds, so you can use it everywhere and every day. Once you fold it down, you can place the portable crib into the lightweight backpack, which keeps both of your hands open. It only weighs 13 lbs, so carrying the crib won't be cumbersome at all!
People tell you to get down on a child's level, and the Lotus Crib allows you to do so. The zip-down sides allow you to get right into the crib with your baby to breastfeed, cuddle, or play. This feature is perfect for those babies who really prefer to nurse as they fall asleep.
If you don't want to use the Lotus Crib on-the-go, you'll find that the size makes it a comfortable playard for kids. The sides are mesh screens, so you watch your child play. Mesh screens also increase the airflow, which will keep your child comfortable while sleeping.
The Lotus Crib works from birth until toddlerhood, when your child no longer needs a crib. When folded, it's quite compact. The company includes fitted sheets, a mattress, and a backpack. All of the materials used are non-toxic. Guava Family didn't use any flame retardants, PVC, phthalates, and uses low VOC emissions. The Lotus is certified to the GreenGuard Gold standard.
There are some negatives. It doesn't come with a sheet, and the sheet specific for this crib is quite costly. You have to attach six Velcro tabs and feed them through little holes in the bottom of the crib.
Check Pricing and Availability
Want to learn more? Check out our complete review here: Lotus Travel Crib video Review.


PROS:
Quick Assembly
Backpack Included for Carrying
Lightweight – 13lbs
Zip-Down Sides
Mesh Sides for Ventilation
Free of Chemicals
CONS:
Expensive
Pricey Fitted Sheet
Hard to Attach Mattress
3

Graco Travel Lite Crib  – Smaller playards design as Crib for small spaces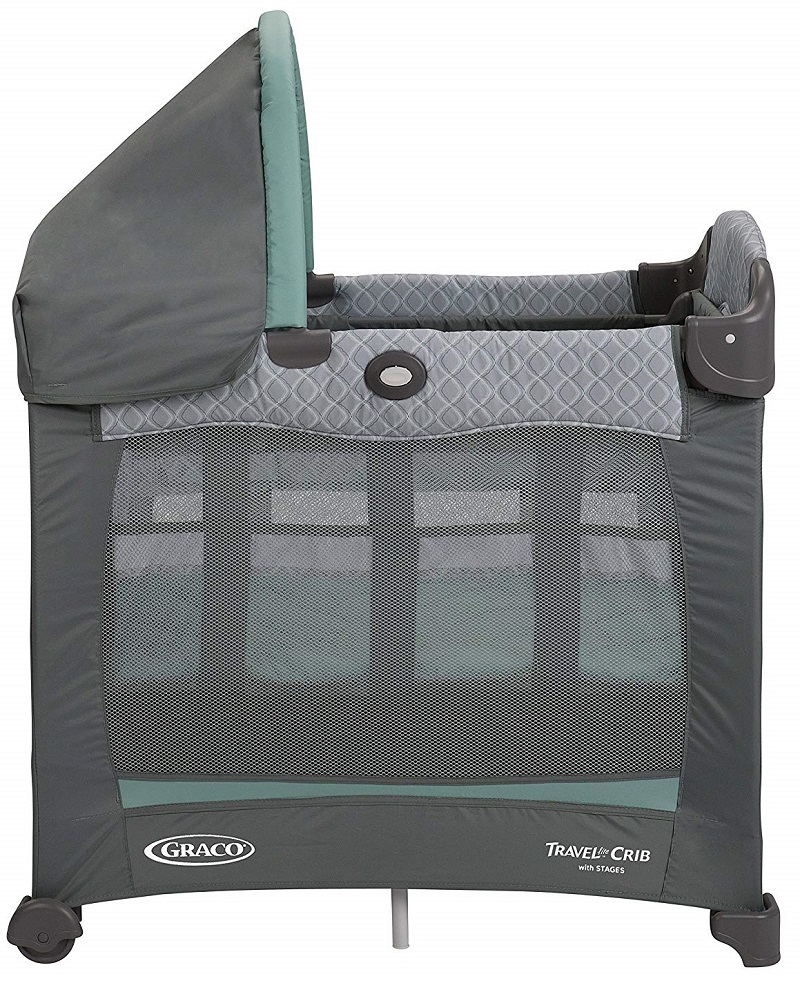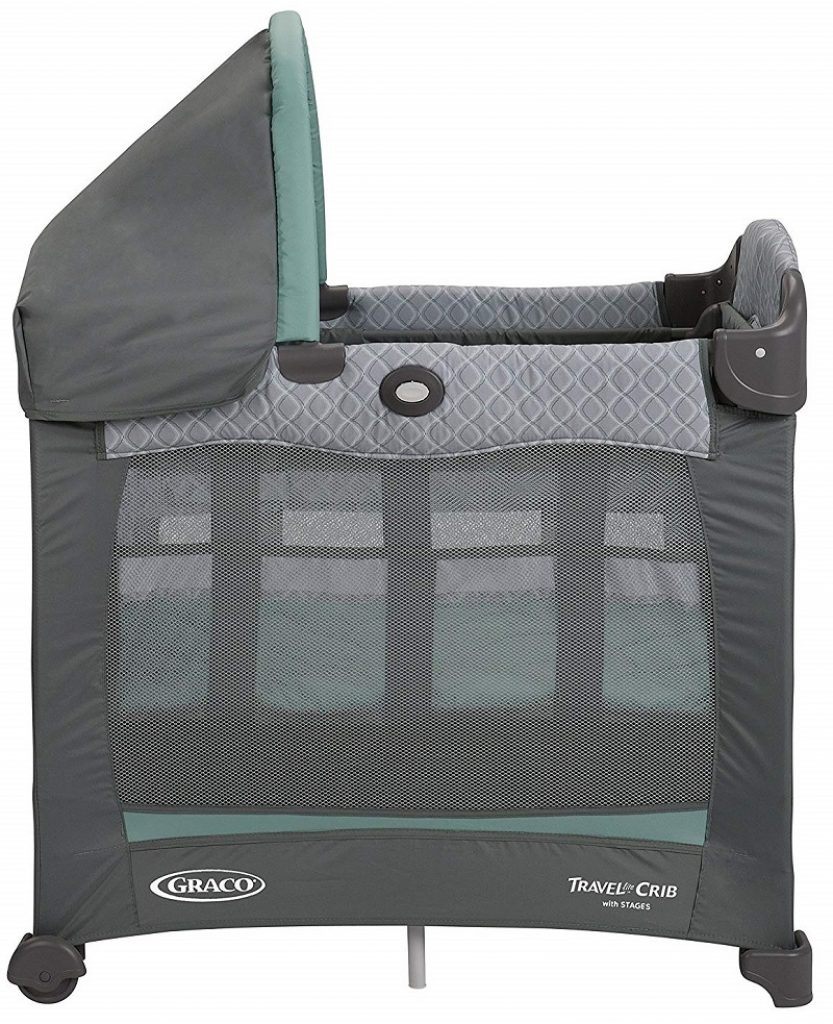 Graco is one of leading baby brands on the market. Chances are you already own at least one product by Graco. The Graco Travel Lite Crib doubles as a compact playing area for your child, containing him for safety. Unlike traditional playards, this one is 20% smaller than others, so it's ideal for traveling or small spaces.
If you want to use it with a newborn baby, Graco included a cozy infant bassinet. The removable infant bassinet creates a comfortable sleeping place for your new baby. You can remove the bassinet when your child starts to roll around and needs more space.
One of the best reasons to purchase the Graco Travel Lite is that the crib is adjustable. It grows with your child, so you don't have to keep buying a new portable crib as your child gets older. The Travel Lite converts into a spacious playard, and it's lightweight, allowing you to move around with ease. Small wheels make it easy to move around no matter where you are.
The crib only weighs 20 lbs, so transportation isn't an issue. However, there are choices that are lighter that might be better if weight is an issue. If you're concerned about comfort, Graco included a quilted, thick mattress. The canopy provides shade for your child, so you can place it anywhere you like. Graco also added dangling soft toys hanging from the canopy.
One thing to note is that the pad cover can't be removed for washing. You can only wipe it down with a washcloth and soap. The mattress is far from comfortable; it's rather thin compared to other choices.
Check Pricing and Availability
PROS:
Smaller Than Average Playard
Removable Infant Bassinet
Wheels for Easy Moving
Canopy for Shade
Dangling Toys
CONS:
Heavier Than Other Choices
Thin Mattress
Can't Remove Pad Cover for Washing
4

Fisher Price Ultra-Lite Day and Night Play Yard – All-Rounder Choice
Parents love baby gear items that are versatile and multi-functional, and the Fisher Price Ultra-Lite fits that bill. It offers a comfortable, spacious place for your child to sleep and play. While it is a safe sleeping environment, it serves best when used as a play yard. You can place your child in the Ultra-Lite to play as you finish chores around the house.
One feature that makes the Ultra-Lite stand out is the inclined sleeper section that placed on top. It has a padded mattress and head support for comfort. The inclined sleeper portion is machine washable, which is needed for diaper explosions. The inclined portion is very similar to the Fisher Price Rock'n' Play Sleeper that is really popular! They even added a three-point restraint to keep your child safe, especially if older siblings are around.
On the outside of the play yard, Fisher Price added a built-in travel changing bag, so you can store wipes and diapers. There is also a vinyl changing mat for convenience. You can use standard crib sheets for this playard, and assembling is quite easy. It comes apart in a few quick steps with no loose pieces.
This playard earned its name because it's a lightweight choice, weighing around 12lbs. That's really impressive considering the crib features an inclined sleeper, a padded play space, and a diaper changer. It is a versatile piece of baby gear that also comes with a travel diaper clutch with an easy-to-clean vinyl changing pad and wipes.
Check Pricing and Availability
PROS:
Large Enough for Kids to Play In
Inclined Sleeper for Infants
Machine Washable
Built-In Changing Bag
Can Use Standard Crib Sheets
Lightweight – 12lbs
CONS:
Head Support Not Removable
Mattress is Really Thin
Really Low to Ground – Hard to Lay Baby Down
5

4Moms Breeze Classic Portable Playard – Most Easy to Use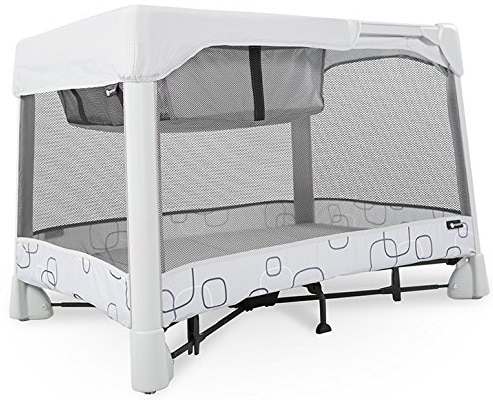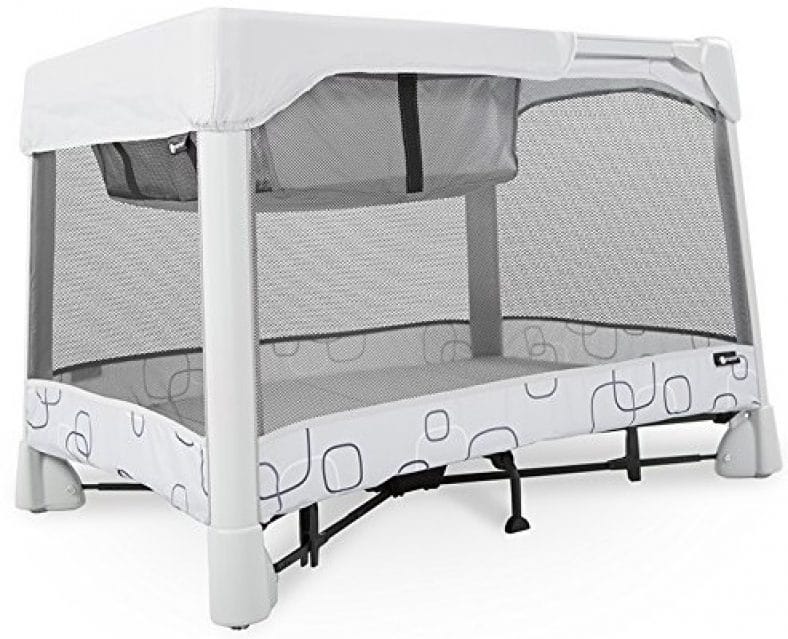 You might recognize the brand name 4Moms. They are known for their inventive MamaRoo, one of the top baby swings on the market today. 4Moms pulled out all the stops for the Breeze Classic Playard; they truly understand what parents need and want in baby gear.
First, the Breeze is seriously one of the easiest portable cribs to assemble and disassemble. All you have to do is push once to open and pull once to close. You can do it in one-handed. What a breeze – get it?
4Moms added a removable bassinet to the top of their Breeze Classic. They do sell a few other varieties of portable cribs, but they don't include a removable bassinet. This feature may not matter to you, but if you have an infant under 18lbs who isn't able to sit up, you'll enjoy the bassinet. It means you don't have to lean all the way down to put your child to sleep.
Once you collapse the Breeze, it comes with a convenient travel bag. A bag is nice because it prevents the crib from getting dirty while in storage or in your trunk. 4Moms sells a variety of cute sheets for their Breeze playard, but they are kind of pricey. You can also purchase a diaper caddy to hang on the side!
That leads us to the two glaring negatives. First, the price is quite steep. The Breeze is far from a budget-friendly option. It's more for the parents who have the money to spend. Second, it's heavier than the other playards, but not by much. It weighs 23lbs. That's not a ton, but if you are lugging it through an airport, 5lbs makes a difference, so this could be a deciding factor for you!
Check Pricing and Availability
PROS:
Easy to Assemble and Take Apart
Removable Bassinet for Newborns
Convenient Travel Bag
Spacious for Playing
CONS:
Expensive
Sheets are Pricey
Heavy
6

Graco Pack 'n Play On-The-Go Travel Playard – Budget Choice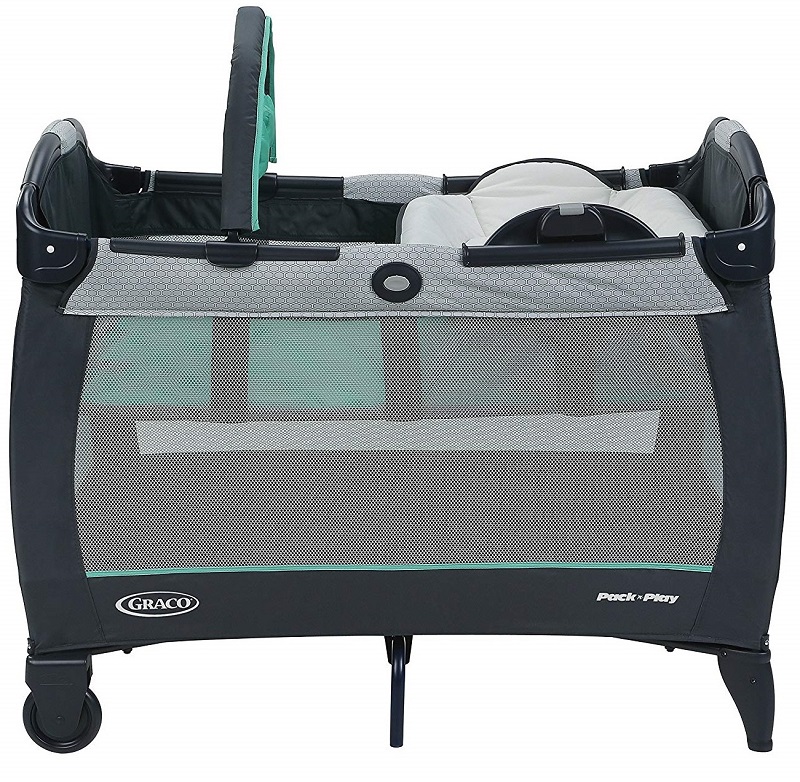 Affordability matters for many parents and Graco offers one of the most affordable travel crib choices. Graco intended for the On-The-Go to be used from birth up until your child is a toddler. It includes a detachable bassinet that folds up with the crib. That feature is nice because many require you remove the bassinet and store it separately, which isn't very convenient.
The napper is reversible, turning into a changing station where you can change your child's diaper and outfit in a sanitary space. The bassinet is meant for children under 15lbs. The napper underneath of the bassinet is meant for babies under three months old, who are unable to roll over. Children less than 35 inches tall can use the playard without worry of falling out.
Graco included convenient storage pockets for extra wipes, toys, and more. A toy bar hangs soft toys for your child to enjoy. Also, parents love Graco's signature push-button fold, allowing you to fold the playard quickly without any problems.
Like every choice, the On-The-Go has a few negatives. Setting it up can be frustrating at first, and the fabric has to be spot cleaned. It's not removable or machine washable, so that means handling large messes can be problematic. Also, it's not very lightweight, weighing 28 pounds. If you plan to drag it through airports, this choice may not be for you!
Check Pricing and Availability
PROS:
Detachable Bassinet
Changing Station
Storage Pockets for Wipes and Diapers
Dangling Toy Bar
CONS:
Hard to Set Up
Only Spot Cleaned
Not Lightweight
7

Phil & Teds Portable Traveller Crib – Lightest Choice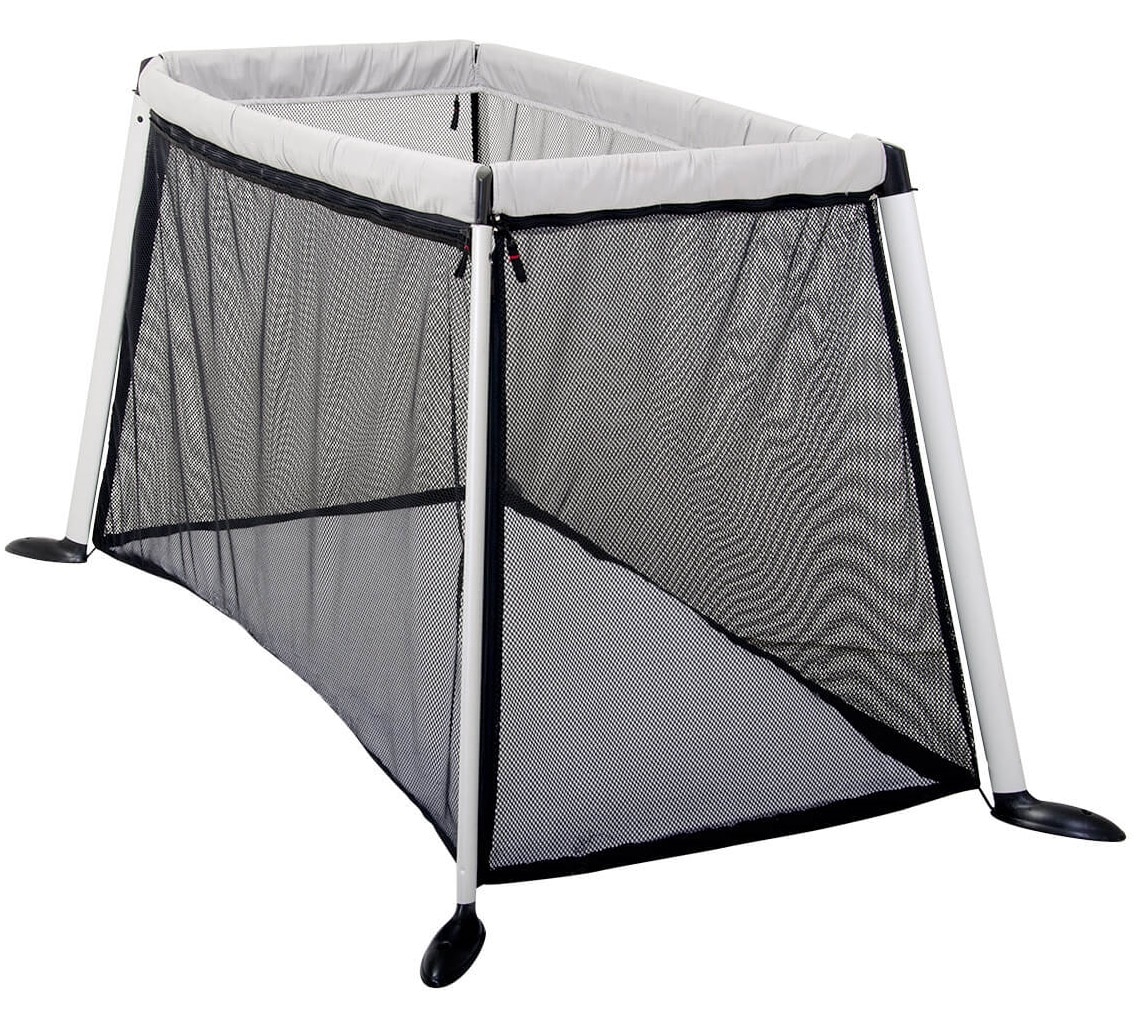 If you want the lightest portable crib possible, Phil & Teds have your solution. It is the only portable crib that is lighter than your baby! The Traveller is ultra-compact and lightweight, perfect for use at home or on the go. Each pound counts when you want to travel with a baby; their gear can wear a ton! The Traveller is the lightest choice on the list, weighing only 7lbs. Yes, you read that right. Some babies weigh more than that at birth.
While on the go, the Traveller fits into a small, carry bag that will fit right into your trunk or in the overhead bin of an airplane. Phil & Teds include a self-inflating mattress and a set of non-toxic sheets. The mattress is a self-expanding, thermally insulated mattress, and the sheets are Oeko-Tex Certified.
Parents love the zip away sides that allow parents an easy way to place their child into the crib, or lets mother lay down near their baby to breastfeed. If left open, your child can freely crawl in and out of the crib, making it a great play space. All four sides are mesh, promoting air ventilation and the perfect environment for comfortable sleeping.
Setting up the Traveller takes just a few seconds, and the construction means its sturdy enough for sleeping and playing. You can use it with your child from birth up to three years old.
Check Pricing and Availability
PROS:
Lightest Choice – Only 7lbs!
Carrying Bag Included
Comfortable Mattress
Includes a Set of Sheets
Zip Down Wall for Access
CONS:
Pricey
No Included Bassinet
8

Delta Folding Portable Baby Crib – Best Foldable wood crib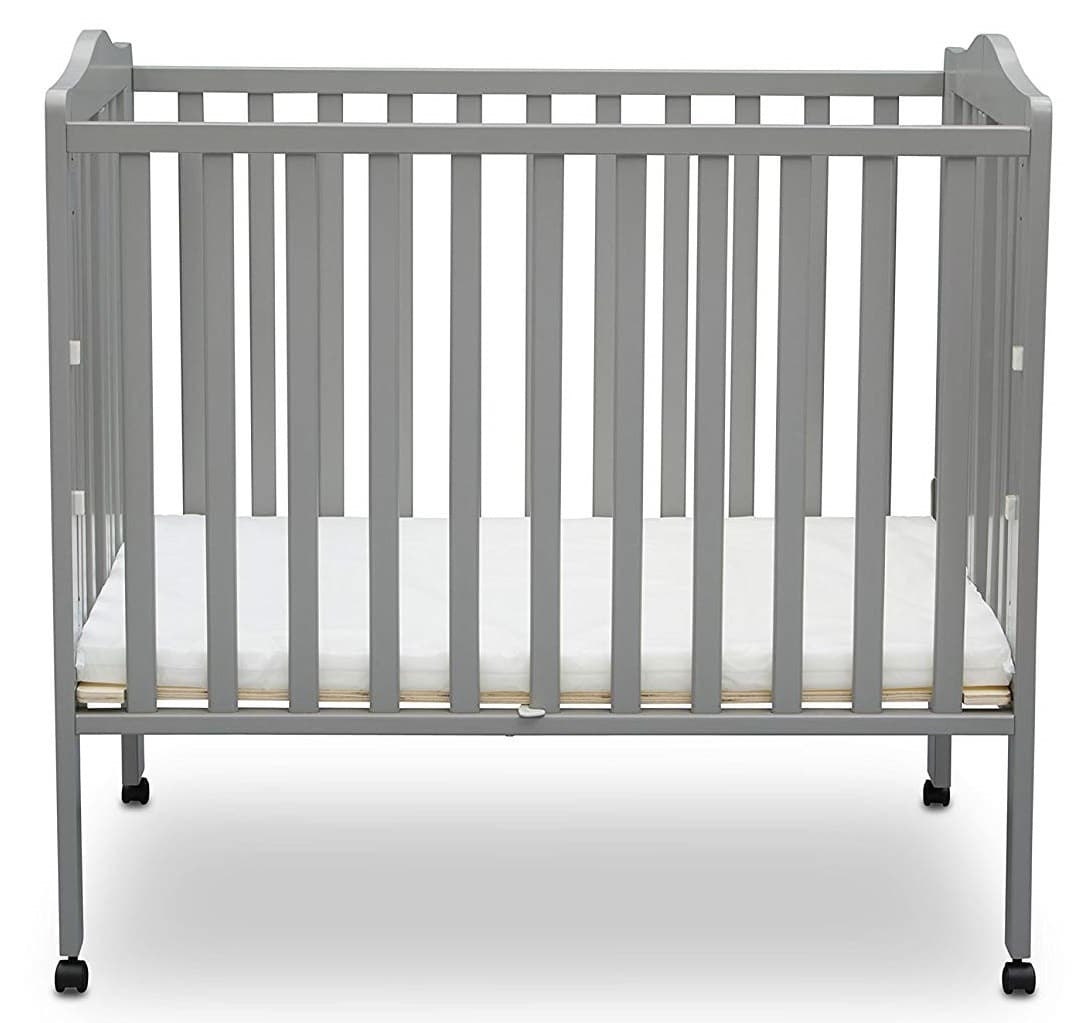 Delta Children created their Folding Portable Crib for small spaces and traveling. Like their full-size cribs, Delta creates well-built, versatile products, and its wheels let parents move it throughout the house with ease. You can keep your baby close by at all times. It's also great for traveling, giving your child a safe and comfortable place to sleep.
Unlike the other choices on the list, the Delta Children Mini Crib is made with durable wood and closely resembles a traditional crib. However, it's not a traditional crib because it folds up easily, perfect for transportation. The AAP now recommends that babies room share with their children for at least six months, and this Mini Crib makes room sharing easy.
Parents can purchase the Mini Crib in a few colors – grey, white, dark chocolate, dark cherry, or natural. All of Delta Children's cribs are JPMA certified and tested above industry standards. There are two mattress positions for height, so you can lower the mattress as your child begins to sit or stand.
The clear negative with the Delta Children Mini Crib is that it doesn't fold as compactly as other choices, but it's not lightweight. It weighs 34 pounds! It does fold flat for storage, and the included mattress stores in the crib when folded.
Check Pricing and Availability
PROS:
Durable and Well-Constructed
Multiple Colors Included
Exceeds Standards
Folds Up Easily
CONS:
Not Super Compact
Heavy
Pricey for What You Get
9

MiClassic 2-in-1 Travel Crib – Perfect for co-Sleeping
Another choice for a budget-friendly portable crib is by MIClassic. It features a one-second open and folding system that makes it easy to transport and store. The Portable Crib folds compactly into an included carrying bag, which makes taking places easy. You can store it in your trunk, and it only weighs 15lbs!
Unlike other choices on the list, the One Second Fold Crib has a rocking mode that can soothe your child to sleep. Many babies love being rocked to sleep. Then, you can switch to a stationary mode for when your child is asleep. All of the walls of the portable crib are made with breathable mesh, so parents can communicate with their baby or simply watch their baby sleep.
MIClassic includes a mattress pad has a supporting frame in the bottom. It only has three separate pieces – the main bassinet and two legs that attach underneath. The folding mechanism is easy. All you have to do is give a quick pull on the nylon strap in the center of the mattress. You place the folded crib into the tote bag. The tote bag is made with nylon material, so sliding the crib inside is easy. However, the tote bag is quite thin and likely to get holes or tear.
However, it's otherwise basic. There are no lights, vibrating, or noise options. Also, the mattress pad doesn't come completely out. It doesn't have any storage for diapers. The bassinet does comply with all  regulations and standards under CPSIA, so you can feel confident that your child is in a safe sleeping environment.
Check Pricing and Availability
PROS:
Easy to Open
Rocking Mode and Stationary Mode
Breathable Mesh Sides
Fits into a Tote Bag
CONS:
Tote Bag Is Bad Quality
No Storage
No Extras Included
10

Dream On Me 3 in 1 Portable Folding Stationary Side Crib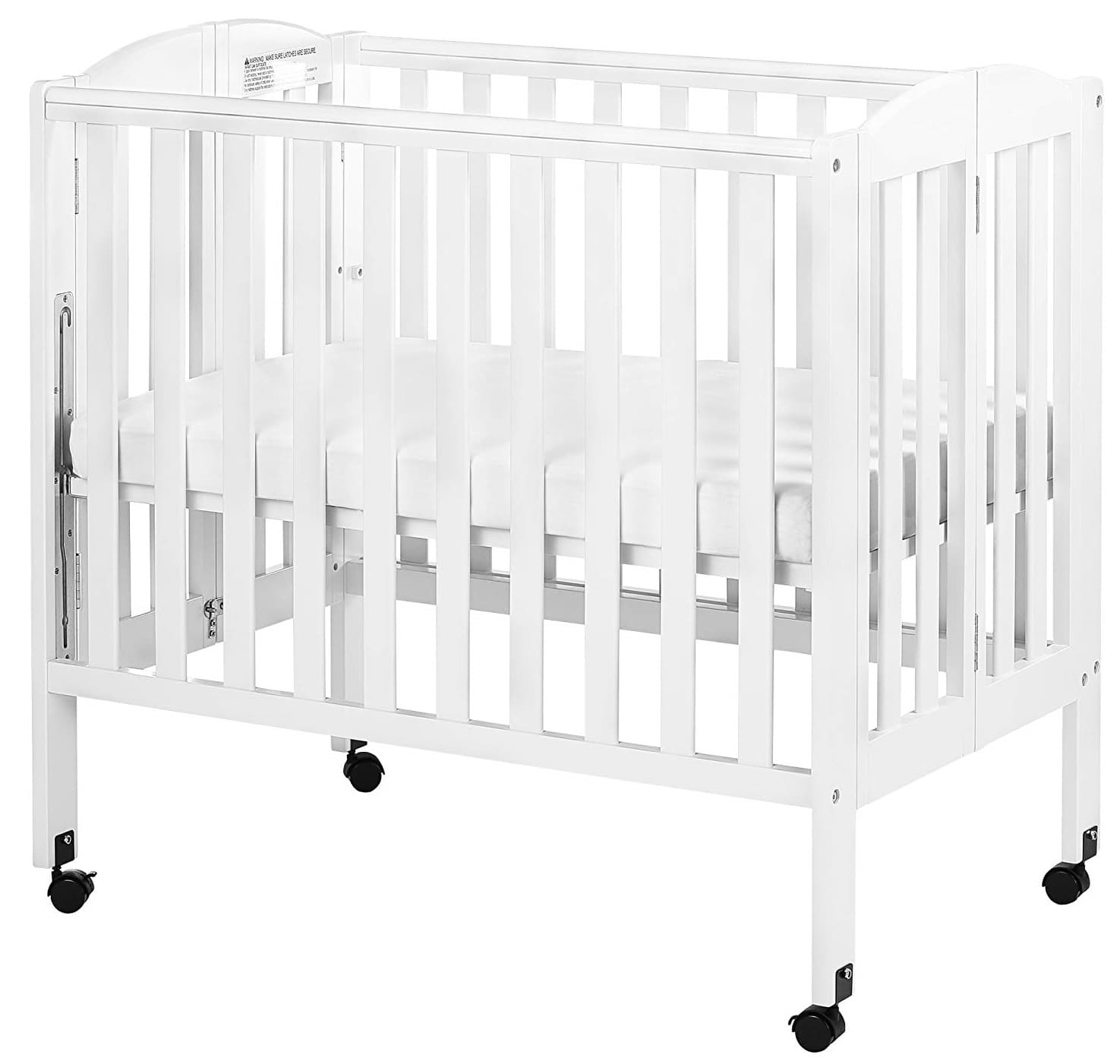 The last pick for the best portable crib is made by Dream On Me. You might recognize their brand because they sell several of the top choices for baby mattresses. The 3 in 1 is a space saving choice for parents. It has a lightweight, portable frame that folds flat for storage. This portable crib works well for parents who travel often and for those who live in a small space and need every inch possible.
Dream On Me kept parents in mind when they created their portable crib. It is multi-functional, handy, and safe. We know that safety matters the most! There are three mattress supports, and the crib can convert to a playpen and a changing station.
One of the most important qualities to know is that Dream On Me meets or exceeds all ASTM and CPSC standards. This portable crib is free of phthalates, latex, lead, and BPA. Dream On Me also added hooded safety wheels with locking casters that prevent little fingers from getting pinched. The wheels do allow parents to move the portable crib from place to place. Also, it has a stationary (non-drop side) rail system for increased safety.
Just like our other wooden portable crib, the Dream On Me isn't lightweight, weighing in around 32lbs. Parents can pick between six finishes – cherry, espresso, natural, white, storm grey, and french white.
Check Pricing and Availability
PROS:
Great for Families in Small Spaces
Wheeled
Durable Construction
Locking Caster Wheels
Can Be Used as Playpen or Changing Station
CONS:
Heavy
Not Ideal for Airplane Travel
Not Super Compact
---
Summary
So, now that you have a look at a few choices for the best portable cribs, you have to make a choice. I know it can be complicated! Here are a few suggestions.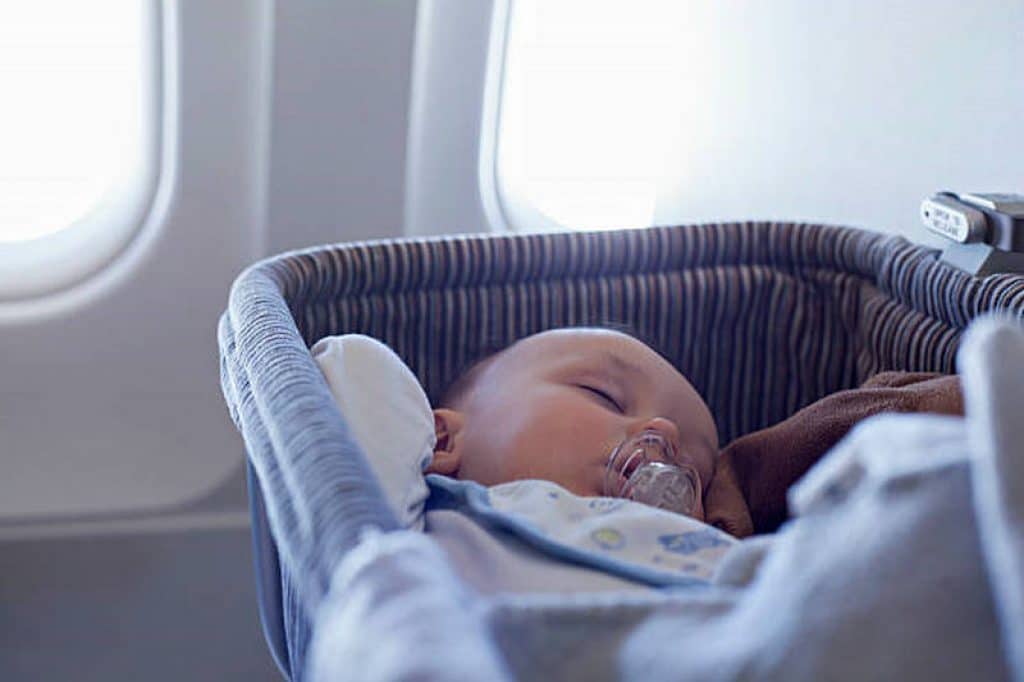 Step to Pick the Right Portable Crib for You
Pick Based on Price: That perfectly, lovely travel crib of your dreams could have all of your desired features, but it is three times your budget. That's silly. There is no reason to purchase something you can't afford. Money is always a concern. Obviously, picking the cheapest option just because it's cheap isn't wise, but you don't necessarily need the most expensive either!
Consider Your Child's Age Range: So, you have your budget set and narrowed down the selections. Focus! Which of these choices is best for your child's age range? If your child isn't a newborn infant and you aren't planning to have more children, you don't have to pick one that is perfect for all ages. If your child is a toddler, consider a travel toddler bed instead.
Think About Your Needs: Do you fly a lot, or do you drive to your destinations? Do you spend time at the grandparents house or do you stay in hotel rooms? Portability is important. You might prefer something lightweight and compact that will fit in your trunk.
Find the best co-sleeper for your babies safety and comfort!
---
Final Words
It's up to you to make a decision. Portable cribs are a great purchase even if you don't travel often. They are a versatile product! A portable crib can be set up in the common family spacing, giving baby a place to play or sleep. Parents can complete chores or take a quick shower when they have one set up somewhere close!
No matter how you decide to use your portable crib, remember that it's a great purchase for any family! Do you have a favorite portable crib, or one that you really want to purchase? Let us know in the comments!