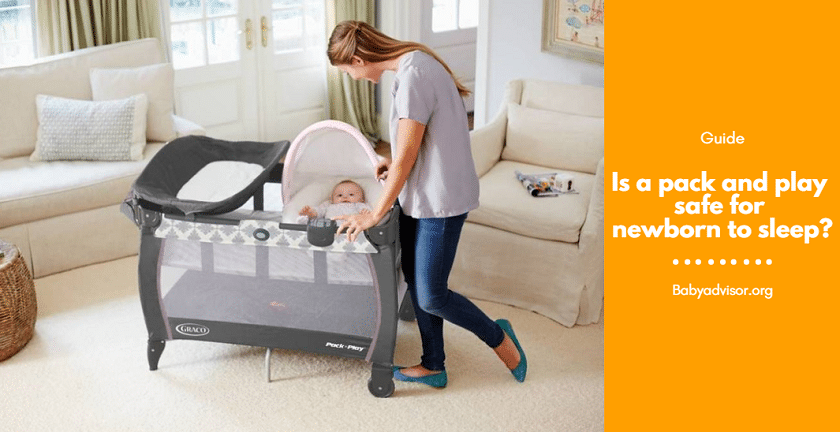 With a wide range of baby accessories available, you may be wondering which products are best for your child. As babies spend a considerable amount of time sleeping and napping, you want to be sure his sleeping arrangements are safe. One question many parents ask is "Is a Pack and Play safe for newborn to sleep?"
Read More:
Why The Pack And Play Is Safe For Your Baby
Not only is a Pack and Play safe, but it is also one of the safest ways your infant can sleep. There are a number of features that make it a safe product, even for the smallest babies.
The sides of the Pack and Play are made of netted fabric. While this feature makes it easy for baby to breathe clean, fresh air, it provides an additional benefit. Unlike standard cribs with bars, the baby will be safely enclosed in his playard. You will not need to worry about his fingers or hands becoming caught in crib bars
A playard with a removable napper makes it ideal for the smallest infants. The napper is attached near the top of the playard so it is easy for you to watch him when he sleeps. As the napper is the correct size for infants, it will provide baby with an important sense of security
The fabric is easy to clean, so baby can sleep in a fresh environment. Your baby can avoid discomfort, and germs that can lead to illness
The toy bar is removable, so baby can sleep without being distracted by toys
The push-button fold feature adds to its safety. You do not have to be concerned about the playard accidentally closing or folding while baby is in it.
How To Increase Baby's Safety
When your newborn sleeps in his Pack and Play, there are some steps you can take to increase his safety.
If the mattress that comes with his playard does not appear to be firm enough, it is easy to replace it with a firmer mattress. While a mattress should be comfortable, firm mattresses are safest for a baby's sleeping environment. Consider purchasing a mattress before he outgrows his newborn napping station
The toy bar should be removed when you are not present. Although a newborn cannot reach the bar, it will not be long before he develops this ability. If he tries to reach for the toys, he can have a slip and fall accident
Avoid using blankets when your baby sleeps. The newborn napper station will cradle him in warmth and comfort. When he outgrows this feature, choose one-piece sleepers that are the correct material and thickness for the temperature in your home
Toys should be kept out of baby's sleeping environment. Stuffed toys can interfere with his breathing if he is close to the toys when he sleeps. Your baby can enjoy his toys, but not in his sleeping area
Feed your baby before bedtime. Unless his pediatrician advises differently, a baby should not be put to bed with a bottle. Not only is there a risk of choking, it can become a habit that is difficult to break
Pack and Play playards with nappers are meant to accommodate a baby's growth. You should not continue using the newborn napper station when he is able to roll over. Regardless of baby's size, this generally occurs when a baby is between two and four months old. When he can roll over, he is ready to make the transition from the napper station to sleeping on the mattress.
---
Final Thoughts
This information is equally useful whether you are looking for sleep accessories for your own newborn or planning to purchase a gift for another parent. Safety is always one of a parent's main concerns, and a Pack and Play makes safety easy. The baby can be happy and comfortable every time he sleeps, and his parents can be confident that he is safe
With many features and options, you can use a playard at home or while you are traveling. The answer to your question "Is a Pack and Play safe for newborn to sleep?" is yes. It is safe, healthy, comfortable, and convenient.