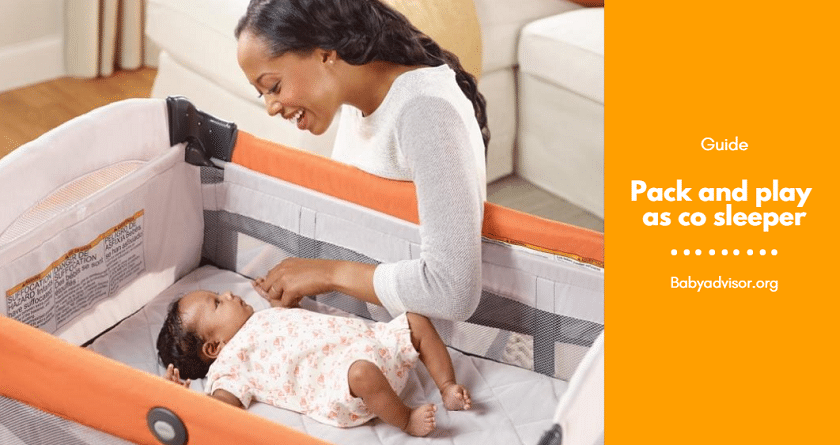 Using the pack and play as co sleeper saves parents a good deal of money and frustration. That's because it saves on the cost of buying both a crib and a playpen. The piece is also easy to assemble and can be easily transported in a way that cribs simply can't. Even more importantly, it is designed with this purpose in mind.
Read More: Pack and Play or Crib: which much fit for your family?
Safe Alternative to Co-Sleeping in the Adult Bed
While it is hard to resist co-sleeping, it is not a safe option for small children. Parents risk knocking small children out of bed while sleeping. Children are also at risk of rolling off the bed via unsure movements, and parents might even smother their child by rolling onto him or her, preventing the child's ability to breathe. All of these scenarios put the child in danger of death. If on vacation or in tight quarters, never allow the child to co-sleep in an adult bed. Instead, use a Pack and Play.
Safety Recommendations
The Pack and Play provides a great deal of support for a young baby. It provides a safe enclosure for a child to enjoy both sleep time and awake time.
A baby can use this piece until he or she:
reaches thirty-five pounds and/or
develops the ability to crawl out of the Pack and Play
A parent and /or guardian must also keep in mind not to use:
blankets,
new mattresses that didn't come with the product,
stuffed animals, and/or
other free standing items.
Size Concerns
While it is true that the Pack and Play is not as big as most standard cribs, a child under thirty-five pounds who lacks the ability to crawl out of the structure usually doesn't need a lot of space to move around. When he or she reaches these stages then a change should be made to a bigger sleeping space to both facilitate comfortable movement as well as to promote safety. It is important to:
make sure the new structure provides stability for the size of your child,
contains no harmful items such as unnecessary bedding or unsafe mattresses that obstruct breathing,
and follow the guidelines according to the packaging.
Also, keep in mind that any child that suffers from over stimulation often falls asleep faster in a smaller space that contains less overstimulation. Cribs allow energetic children to move in a way that prevents a good night's sleep for everyone. The Pack and Play doesn't. An added bonus to this sleeping solution comes from how much space it saves families that in apartments or small homes. Some versions of it even feature a changing space which saves even more money and room.
Baby Loves the Familiarity
Another great reason to use the Pack and Play for sleep is because it provides the baby with a familiar space in which to sleep when on the road. This piece goes everywhere with ease so if vacationing or taking a trip for whatever reason, this piece is the one you don't want to leave at home. The familiar surroundings will help your baby sleep with ease because he or she knows the feel and smell of the Pack and Play. That means sleeping while on the road just got a lot easier for families.
Check our Top Picks for Pack and Play Here.
Keep the following in mind when using the Pack and Play as a crib:
Use the bassinet as the sleeping space for tiny children. Smaller babies benefit from the bassinet that comes with the Pack and Play. Once a child becomes too big for the bassinet, that piece can be removed and the playpen used as a bed instead. The playpen provides a perfectly safe sleeping environment as long as it is kept clear of items that obstruct breathing/cause strangulation.
Never use the bassinet once the child's weight reaches fifteen pounds, he or she can roll over, or push up onto the knees. At this time, switch to using the play pen area only.
Never place more than one child in the bassinet.
Never place a child under the bassinet.
Do not use the canopy with the bassinet to avoid overheating the child.
Only use the mattress that comes with the product. That's because the included mattress comes in a design that works with the flexible sides of the bassinet and the playpen. Replacing the mattress may cause suffocation because it doesn't fit correctly into either area of the Pack and Play, allowing the child's head to become stuck in a way that prevents breathing.
If you follow these instructions, it's easy to use the pack and play as co-sleeper and much more.