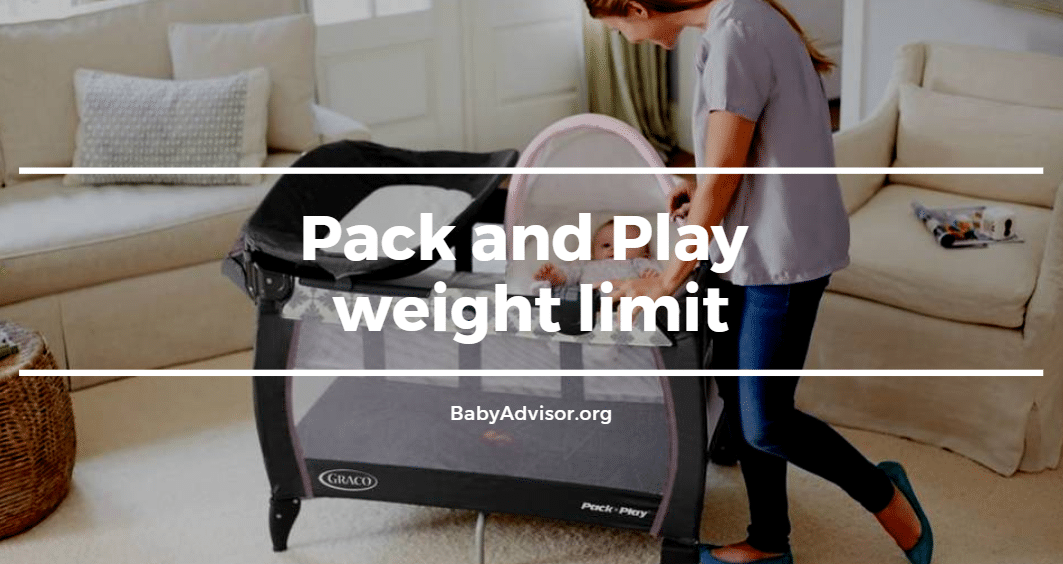 Many parents with babies know about the Pack and Play. The structure becomes a bassinet, canopy, portable crib, or playard as needed. It offers a convenient solution for the transport of a child and the child's belongings.
It provides a lot of restful joy for the baby and peace of mind for parents, too. However, even parents that are familiar with the product may lack familiarity with the recommended weight limit. While this product offers a great deal when used correctly, it must be used correctly.
Read More: A Buying Guide to Pack and Play.
That means parents need to take the time to learn what the Pack and Play require in terms of safety. Keeping baby safe means that parents must also keep the Pack and Play weight limit in mind. No worries, though, as the design and instructions make that easy to do!
Correct Assembly
The weight limits won't matter if other safety concerns are not followed as well. Breaking those concerns down into safety steps makes the process easier to understand
The Pack and Play features a space for the storage of instructions so make sure to always keep the instructions in that provided space
The bassinet must be fully assembled and installed before using this piece. The design depends on this.
Store the rails in the bassinet pocket. NEVER put the bassinet in the Pack and Play while you're using it.
To avoid overheating and endangering your baby, do not use a canopy with the bassinet.
ALWAYS use the mattress that comes with the Pack and Play. The design of this mattress follows specific anti-suffocation guidelines that work with the structure of the Pack and Play. Placing another mattress in the Pack and Play may result in serious injury or death to the child. This includes water mattresses. Never use a water mattress with this product. Never use any sort of plastic bag or plastic film as a mattress cover. Such items increase the chance of suffocation
Only place one child in the bassinet at a time. Never place a child underneath the bassinet whether the bassinet is empty or not.
It is important that parents pay attention to these instructions and guidelines because the manufacturer, Graco, has provided them for a reason. Graco maintains a high level of confidence among consumers because of their integrity and standards!
Our in-depth analysis of the Graco Pack and Play Playard with cuddle cove rocking seat.
The Weight Limit of Pack and Play
First, it is important that parents never try to extend their use of this product by adding or removing parts to adjust for weight considerations. This will not only affect the integrity of the products, but it will do nothing to account for extra weight. More importantly, it could result in serious harm or even death to the child.
There are two weight considerations to keep in mind with this product.
First, stop using the bassinet when a child reaches fifteen pounds (15 pounds), can roll over, or push up on his or her hands and knees. A bassinet is designed for quiet use, and children with these abilities have passed the bassinet stage.
Second, cease using the whole piece once the child reaches thirty pounds (30 pounds), reaches thirty-five inches, or can climb out. Permitting a child that has reached these milestones to continue use of the Pack and Play put the child in extreme danger.
Read more useful things about Pack n Play Height Limit.
Getting Your Money's Worth
Some parents are put off by the weight limits, but all products geared for children come with this age and size restrictions. In fact, even playgrounds and amusement parks use them. They provide a wealth of information for parents and help keep children safe
Typically, children reach thirty pounds sometimes between one and a half to three years. That means that generally speaking, Pack and Play provides a few years of helpful use for parents. The children will have time to adjust to using it, and come to love it.
By the time children reach the Pack and Play weight limit, most of them will be happy to move on to a product more suited to their growing size and need for visual stimulation.
They cannot express these feelings, but growing bodies usually appreciate the extra room and visuals. Check out Graco for other dependable, safe furniture pieces that growing children of all ages love. Graco has what children love and need!