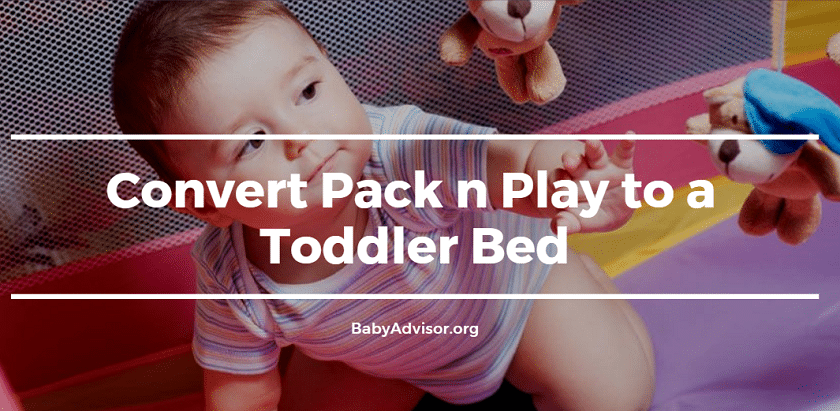 One of the primary reasons parents invest in a pack n play is the versatility it offers. Wouldn't it be nice to know you don't have to get rid of it as your child continues to grow?
One benefit of using a playard is that it can grow with your baby and it can even be used as a substitute for a crib when they are small. Parents soon find that their baby outgrows the bassinet, if the playard came with one, and they must transition the growing baby into the bottom portion of the pack n play.
This area is perfect for the small child to nap or play in. But what can a parent do when the baby grows into toddler stage? It might be time to convert the pack n play to a toddler bed.
Reasons Parents Might Need to Use the Pack n Play for a Toddler Bed
When parents purchase a pack n play, they may think it is going to last forever. Even though they are built to be very sturdy and versatile, the child will eventually outgrow it. Then what?
It is time for parents to figure out other sleeping options for their toddler. But there is a way to use the playard as a bed for your toddler. Some parents decide to use it for a toddler bed because their budget does not allow the purchase of another new bed at the time.
Other parents do not want to forego the extra expenditure, and why should they if there is another viable option? Using the pack n play for as long as possible will save money in the long run. A third reason to convert a playard is simply to show your creative side. It takes a bit of creativity to make the conversion, but it's simple and it's fun.
Making the Actual Conversion
After parents decide they indeed want to convert the playard into a bed, the rest is easy. The simplest way to transform it from a bed for a baby to a toddler bed is to carefully cut out one of the mesh sides using a sharp box cutter, knife or a pair of scissors.
In order to create this opening on one side, be sure to avoid the seam; and stop at the edge of the mesh panel. By removing one of the side panels, you allow your child to have easy access when getting in and out of bed. It is not far off the ground so there's no danger of the toddler falling or getting hurt.
Creative Options
If you have extra fitted sheets that you are using with the pack n play, you can place one over the top to make a sort of canopy bed or tent. If your playard came with a mobile, you can leave it attached so there is a focal point for the toddler.
In situations where parents don't have either one of these, the bed will still be suitable. Parents can use sheets or other types of sheet like materials or blankets to create a tent-like bed for their child; or it can just be left open.
Benefits of Using a Playard for a Bed for a Toddler
Of course, one benefit of using a pack n play for a toddler bed is that parents can save money since they do not need to buy a separate bed. But the playard, even when modified to use as a toddler bed, is still very versatile.
You can throw a couple of extra blankets or small pillows in so the child has a "reading nook" to look at their picture books; or you can add a battery operated light so the toddler can pretend they are really camping out. Using the playard for a variety of purposes makes it just that much more of a value.
You may want to learn how to pick the best pack and play for your baby.
---
Final Words
So if you, as a parent, thought the playard was a good value before, wait until you see how truly versatile it can become. By converting the pack n play to a toddler bed, parents will be able to get even more use out of it for a longer period of time.